Korean Beef Bowl is a simple 30-minute dinner recipe that is perfect for busy weeknights. Made with ground beef & pantry staples, it's so quick & easy.
Do you love quick & easy dinners? I know, stupid question. Who doesn't love super delicious meals that are simple to make?
Life is so busy & full that I don't have a ton of time to make dinner. But I don't want to compromise quality, which is why recipes like this Korean Beef are my "go-to" when I'm short on time.
Pair this with my Instant Pot White Rice too!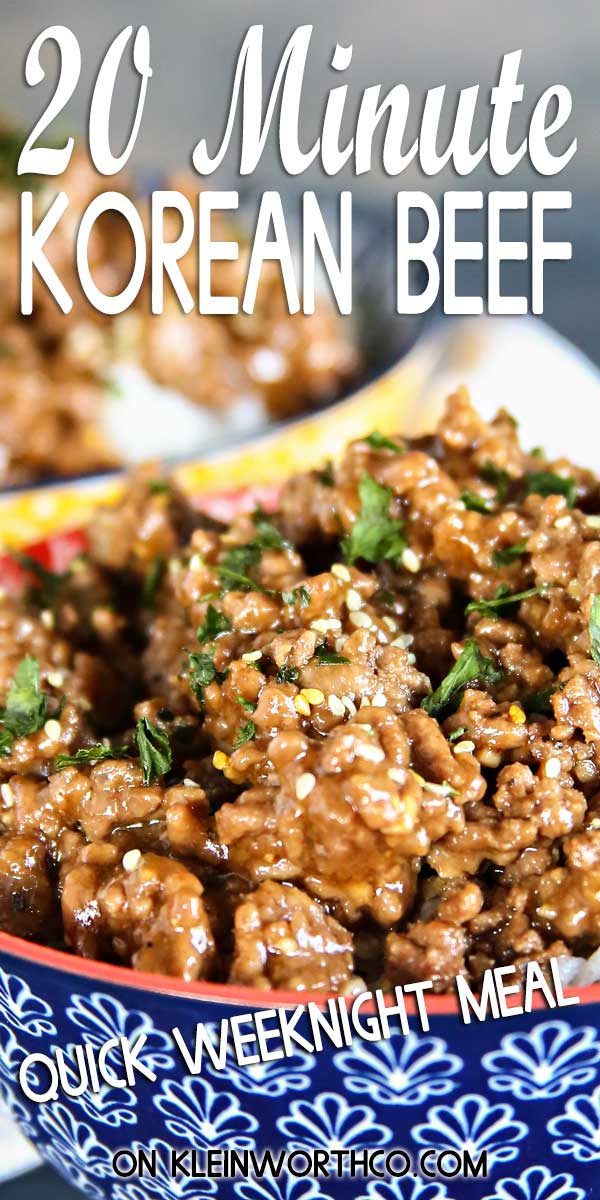 Growing up in So Cal, my school had a high population of students of Asian descent. This meant that I had the pleasure of trying so many incredible recipes when having dinner at my friends' houses and I just fell in love with them all.
One of my favorites was Korean Beef. That sweet but zesty sauce makes something as simple as ground beef taste incredible. My family can't get enough.
Easy Korean Beef
This post contains some affiliate links. Click here to read my full disclosure policy.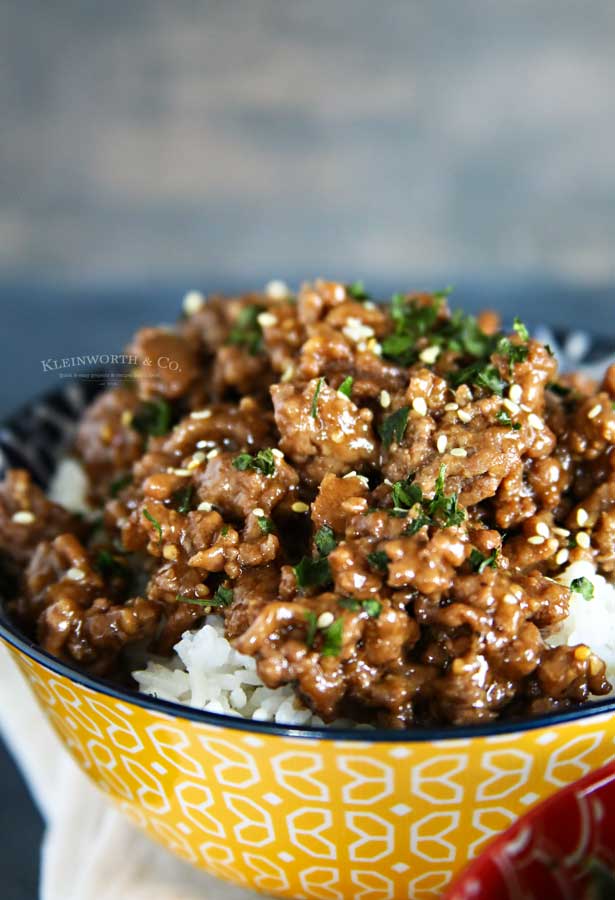 I really love the simplicity of this recipe too. Not only is it quick for me to toss together on those crazy nights when we are running between the dance studio & theater rehearsal, but it is quick enough that my son can make his own when he gets back to his apartment from his long days in the lecture hall.
The bonus is that it only takes a handful of dishes, so the cleanup is just as fast too.
Here are some commonly asked questions
What is the best type of ground beef for this recipe?
Because this recipe doesn't call for draining the fat, I like to use a 90-95% lean ground beef. This way you have a leaner meal and less hastle too.
Can I use reduced sodium soy saucee?
You bet, reduced sodium soy sauce works great with this recipe.
What if I can't find sesame oil?
That's fine if you can't find sesame oil. You can sub in vegetable or canola oil if you need to. However, I highly recommend using it when you can because it makes the nuttiness of the recipe more intense.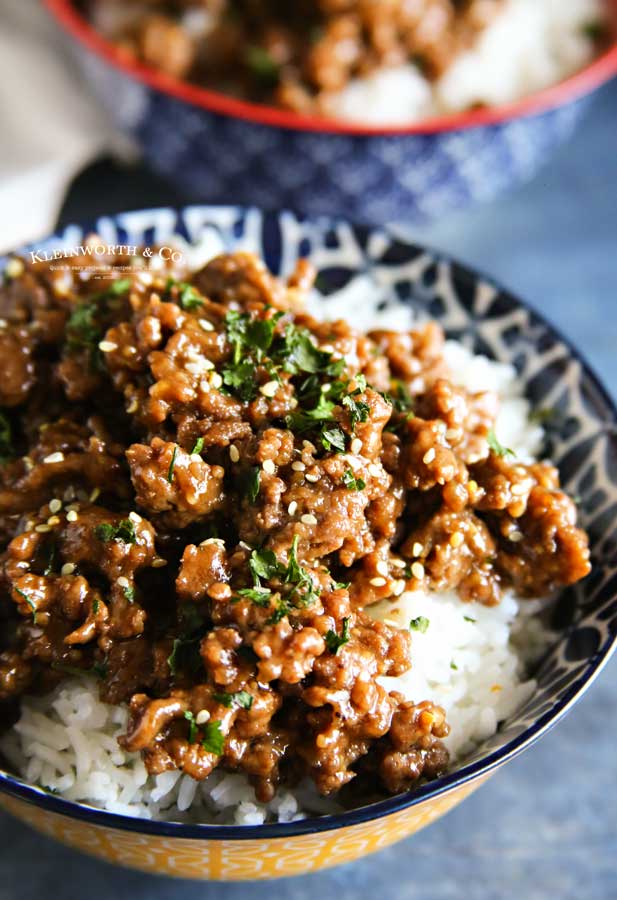 How many can this serve?
So technically this recipe serves 8. But in my house we have 3 adult children who almost always load up. So this was enough for the 5 of us with a little left over.
Korean Ground Beef
Can this recipe be doubled?
You can, but that is a lot of food. We are talking 4 pounds of ground beef for a double batch. But if you are feeding a crowd, go for it. If this is too much, you can always cut it in half too.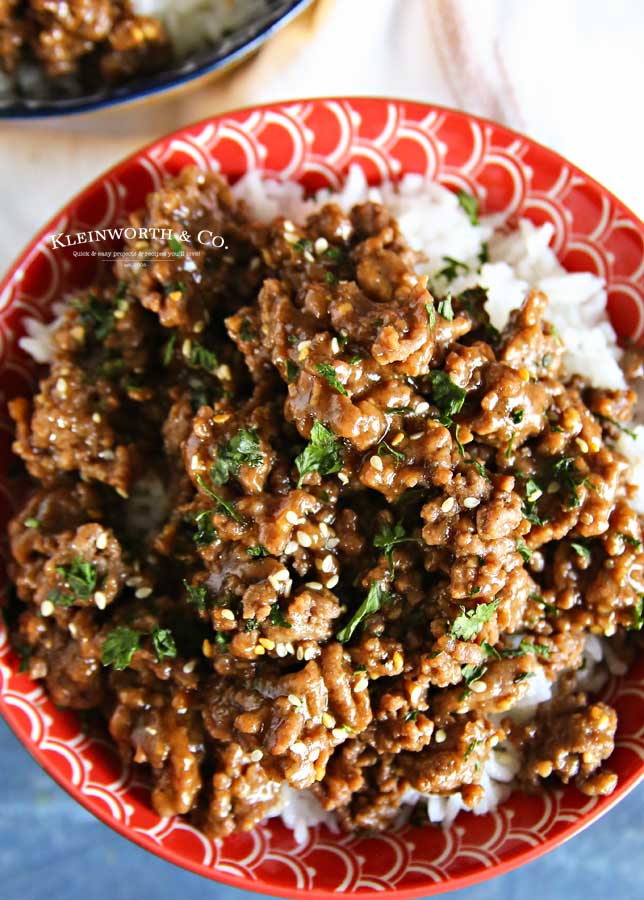 HOW DO YOU MAKE Korean Beef?
Brown the ground beef and garlic in a large skillet over medium heat, cooking until no pink remains. Be sure to change out your spatula midway through to avoid cross-contamination.
In a small bowl, whisk together brown sugar, soy sauce, sesame oil, ginger, red pepper flakes and pepper.
Once the ground beef is cooked, pour the sauce mixture into the pan, stir and simmer for 1-2 minutes before serving over a bed of white rice.
If you want a thicker sauce, combine cornstarch & water in a small bowl and then stir into beef. Simmer for 1 more minute to thicken. Sauce will also thicken as it cools.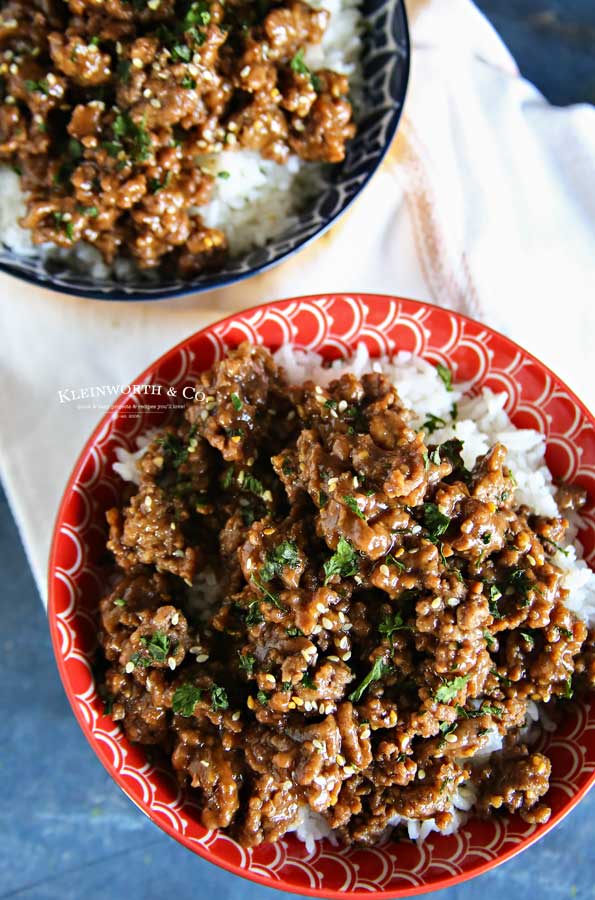 What is the best way to store leftover Korean beef?
Place any remaining beef in a shallow, airtight container and keep refrigerated for up to 3 days.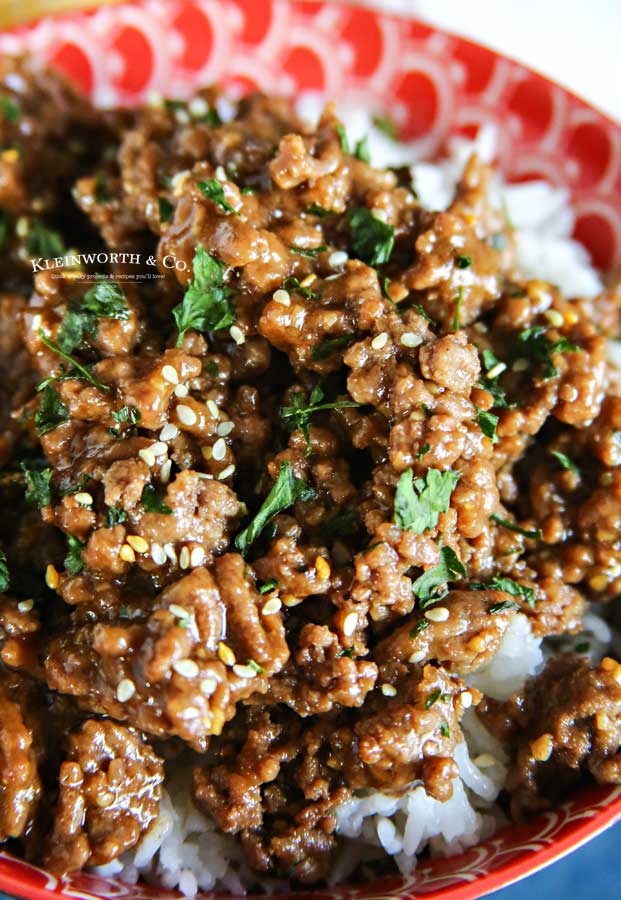 To make Korean Beef you will need…
lean ground beef
minced garlic
packed brown sugar sugar
soy sauce
sesame oil
ground ginger
crushed red pepper flakes
pepper
cornstarch
water
rice for serving
sesame seeds for garnish, if desired
Asian Ground Beef
Products I love when making Korean Beef…
This Korean Beef rice bowl recipe is SUPER EASY and delicious – and if you're like me, then you maybe already have some of these items on hand OR maybe you have never made homemade asian ground beef before, & you might be a bit nervous – but you're going to love it. I have made a list below of the things I absolutely can't live without when it comes to making this dinner recipe.
If you love this Easy Korean Beef recipe, you're going to love these other dinner recipes too. Please click each link below to find the easy, printable recipe!

ground beef bowl
If you love this recipe for Korean Beef as much as I do, please write a five star review, and be sure to help me share on facebook and Pinterest!
This is THE BEST!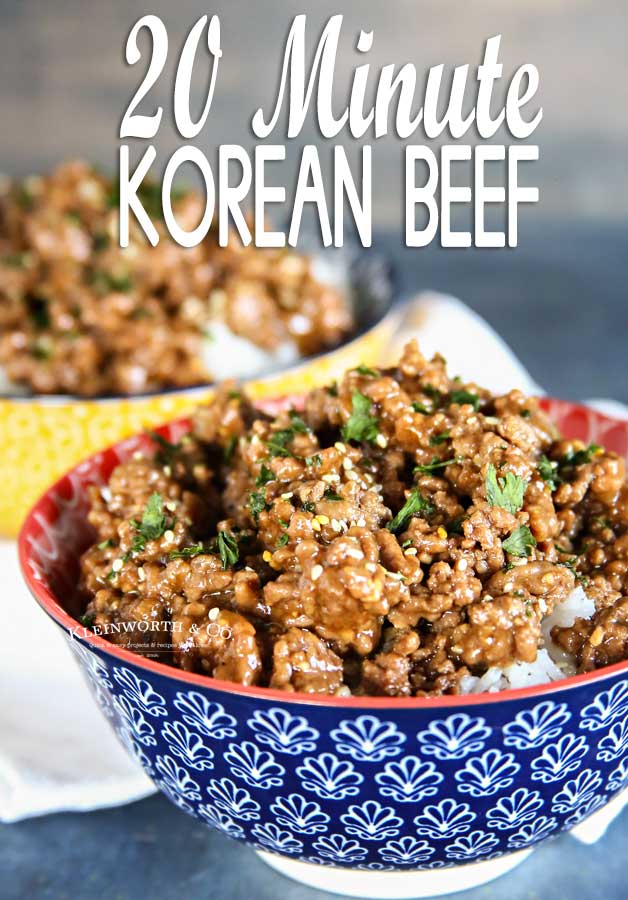 CONNECT WITH KLEINWORTH & CO!
Be sure to follow me on my social media, so you never miss a post!
FB, Pinterest, IG, Email Subscription
Reader Interactions