Coconut Macaroons are the perfect spring treat. A twist on the classic macaroon recipe, this one is made without eggs. Definitely a great Easter dessert.
This macaroon recipe is made without eggs, which makes them thick & chewy. Everything I love about a good macaroon for sure. These are definitely a great dessert for all you coconut lovers out there.
Do you love macaroons? I can't get enough. But then again, I have a serious love for all things coconut. Which of course makes me super excited for spring & summer when coconut recipes & scents are everywhere.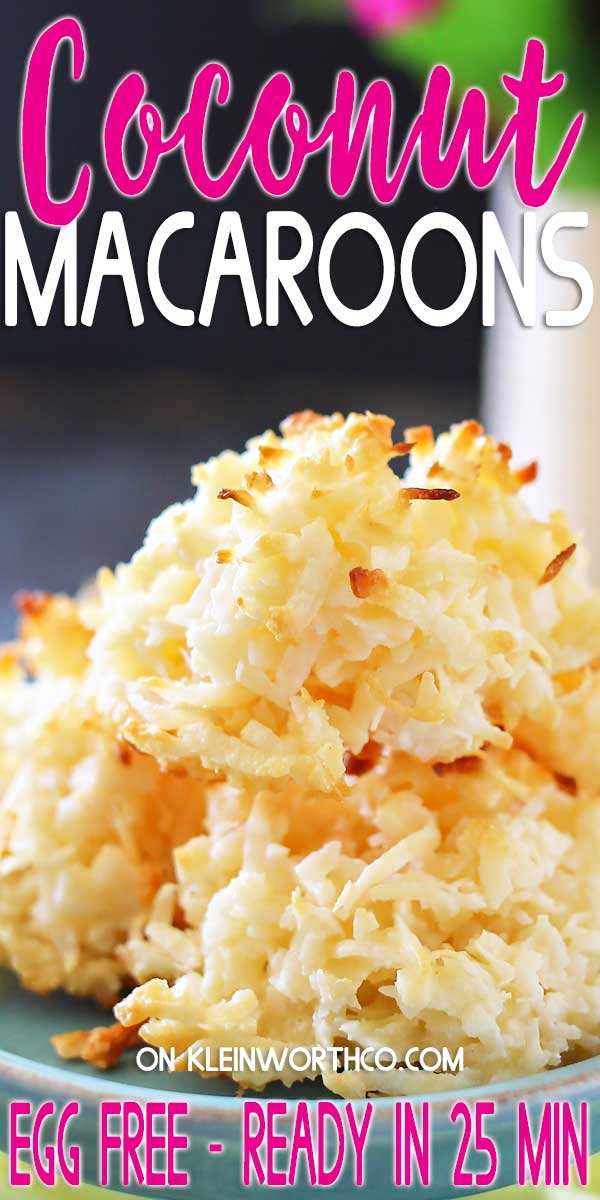 Now that we are coming up on Easter I started thinking I needed to whip up some macaroons. Then I realized that I have never really shared just a plain macaroon recipe with you all.
I have a classic recipe that uses eggs that I was going to share, but years ago I came across this recipe from Dorothy at Crazy for Crust that doesn't use eggs. I have been making it for years- with my own twist of course.
coconut macaroons recipe
This post contains some affiliate links. Click here to read my full disclosure policy.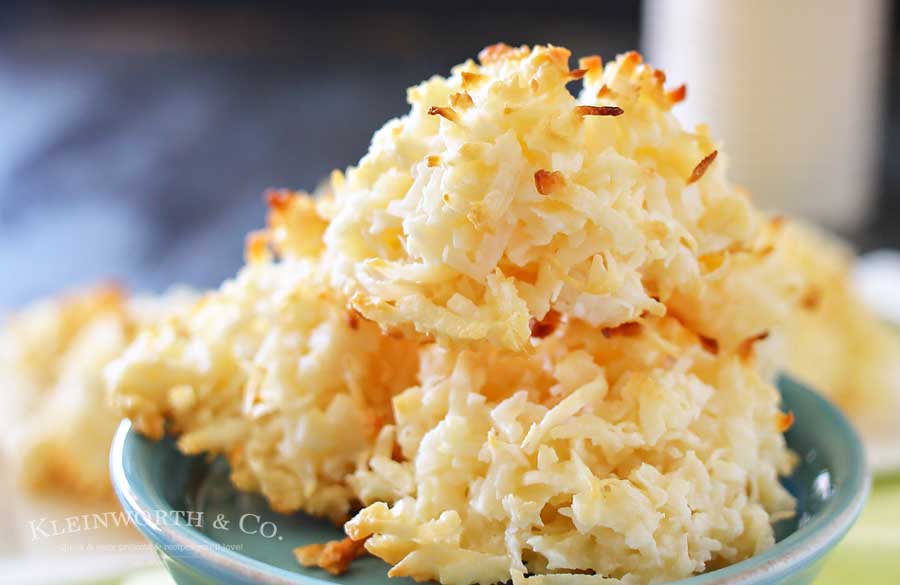 Oh my word, I really had a hard time not enjoying every single one of these all by myself. I thought for a moment that I would send a batch with the boy when he went to work- you know, just to get them out of the house.
But I just couldn't do it. I couldn't part with them. So I did eat them all, or at least all the ones I didn't share with the kids. I did end up giving up a few.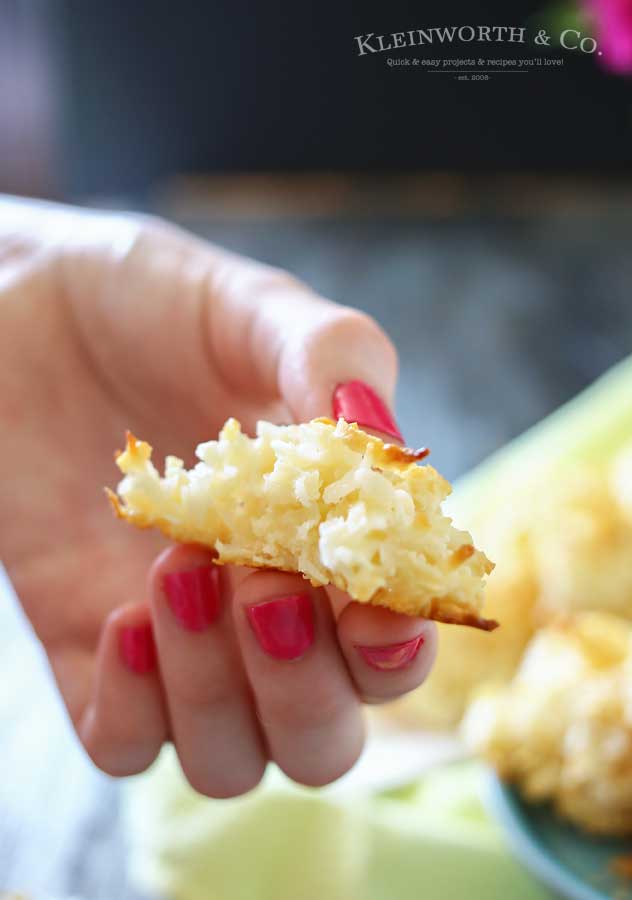 But my goodness, these are so incredibly soft & chewy – I literally swoon for these cookies & I can't get enough.
They really are a coconut lovers dream. Everything you would want & you can make them without eggs, which is awesome.
Here are some commonly asked questions
Can I make this recipe without the butter extract?
You can, just use extra vanilla extract. But I do have to say, the butter extract gives a depth of flavor that you can't get with just vanilla.
What is the best way to store leftover coconut macaroon cookies?
The easiest way is to place in a large airtight container & store at room temperature. I like a large plastic bowl with a lid or a zip-top bag works great too.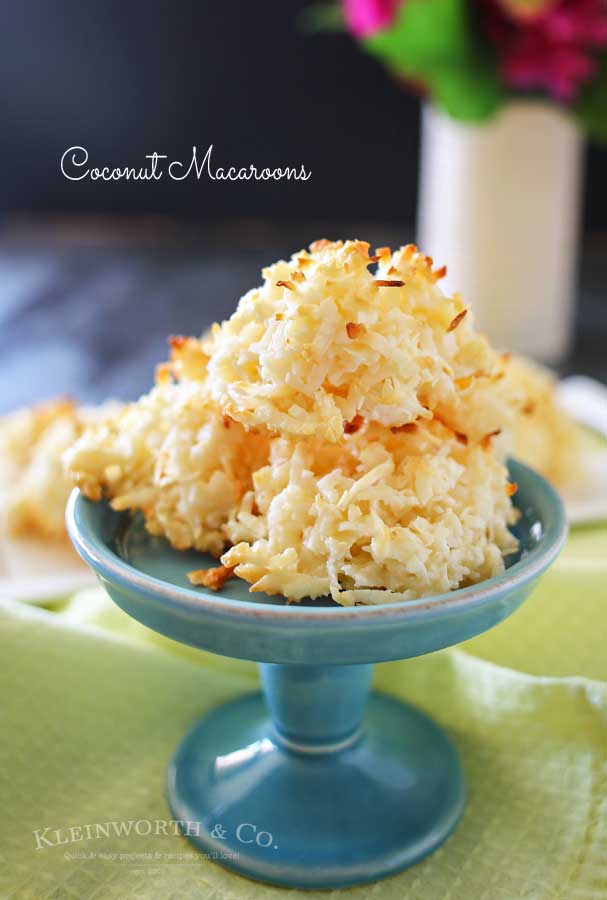 How many can this serve?
This recipe makes about 15 cookies, depending on how large you make them.
coconut macaroon cookies
Don't miss these other great recipes with coconut!
Can this recipe be doubled?
Yes, you can double this recipe – yielding about 30 cookies. I usually make a quadruple batch if I plan on sharing.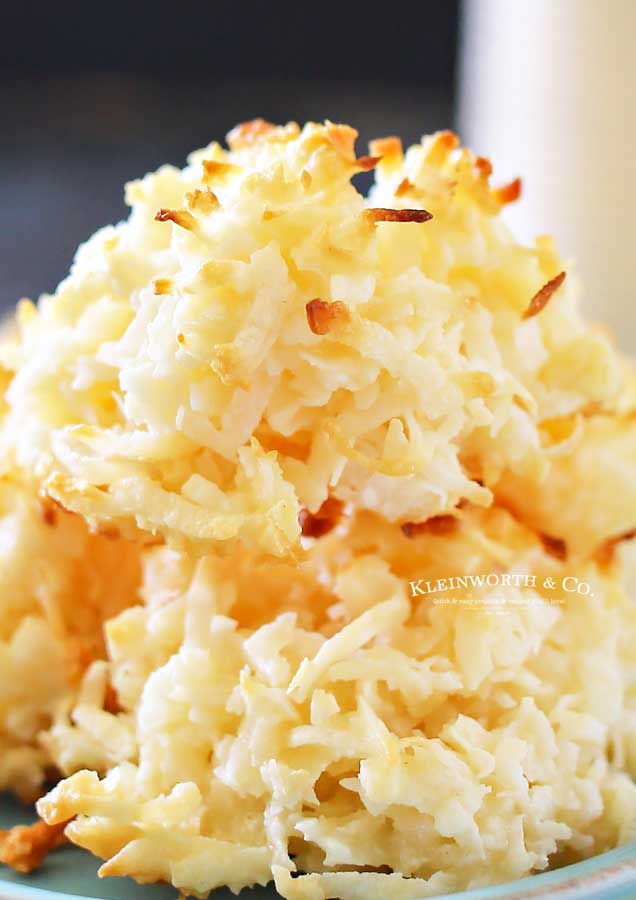 HOW DO YOU MAKE Coconut Macaroons?
Preheat oven to 350 degrees & line baking sheets with parchment paper.
Combine all ingredients in a large bowl & stir well until fully combined.
Drop 1-2 tbsp balls of dough onto prepared cookie sheets.
Bake 11-14 minutes, or until the tops are slightly golden & bottoms are light brown.
Cool on baking sheet & then transfer to airtight container.
Store at room temperature.
Can I use unsweetened coconut?
Because they are cookies & cookies are supposed to be sweet, I don't recommend using unsweetened coconut. You need the sweetness of the coconut paired with the other ingredients to give these the right flavor & consistency.
Can I use gluten-free flour?
Yes, you can use gluten-free flour if you like. I recommend using a 1:1 gluten-free flour so you don't need to add any additional ingredients.
easy coconut macaroons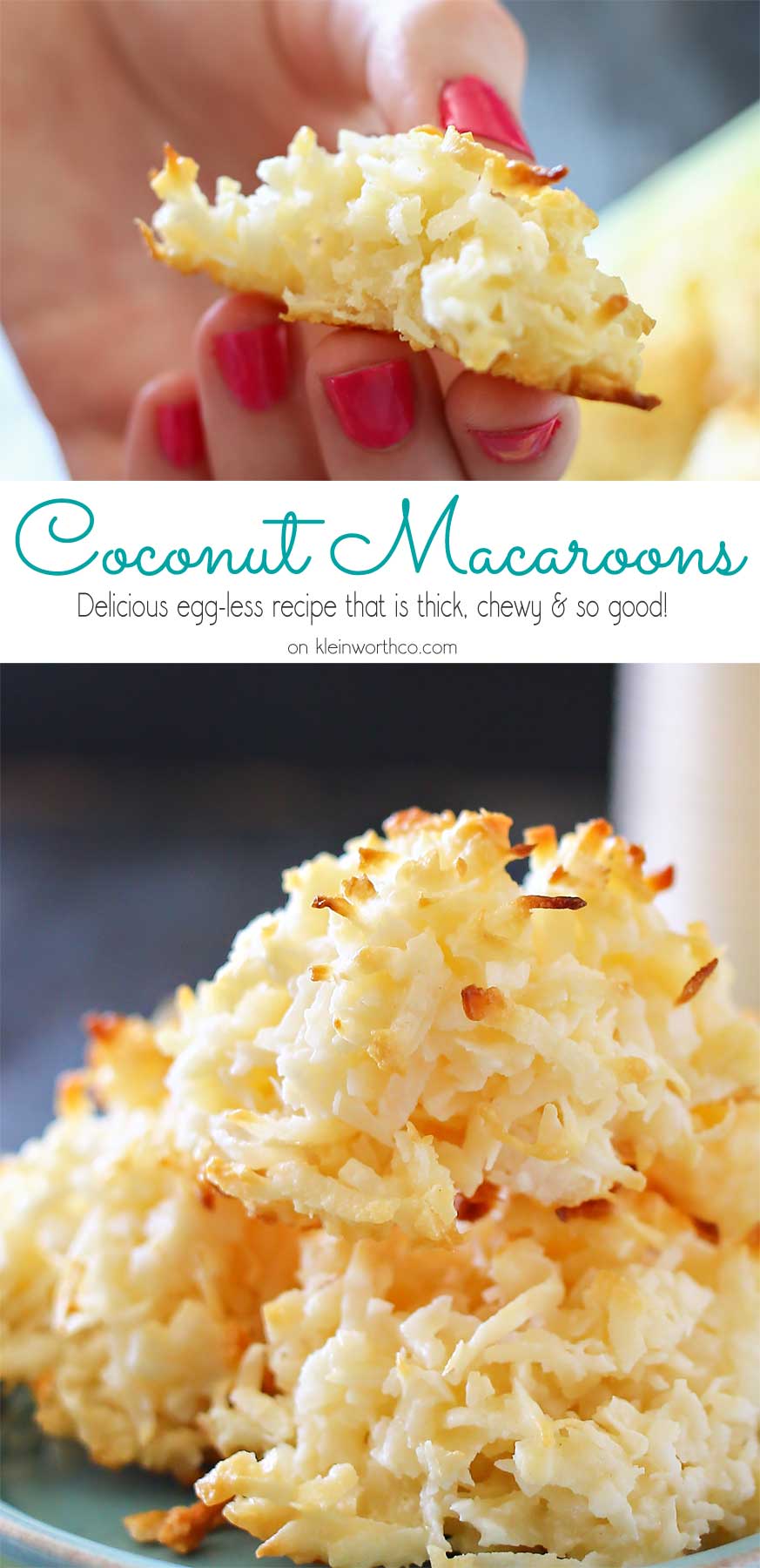 To make Coconut Macaroons you will need…
all-purpose flour
shredded sweetened coconut
salt
sweetened condensed milk
vanilla extract
butter extract
Products I love when making Coconut Macaroons…
This Coconut Macaroons recipe is so EASY and delicious – and if you're like me, you probably already have most of these items on hand! OR maybe you have never made macaroons before, & you might be a bit nervous – but you're going to love the how easy this dessert is to make. I have made a list below of the things I absolutely can't live without when it comes to making this yummy treat.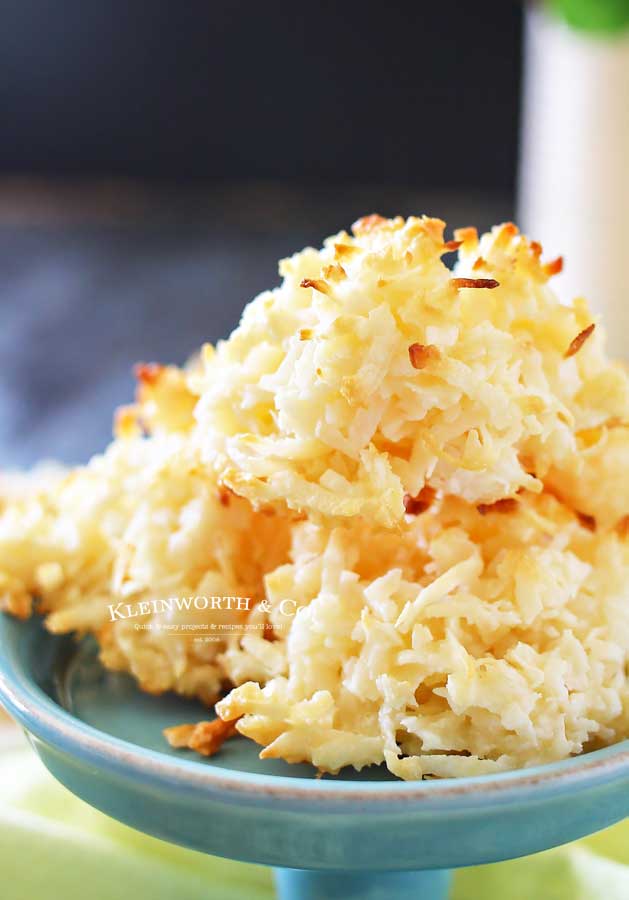 These are absolutely the perfect treat to share this Easter!
Scroll to the bottom for the Printable Recipe
macaroon cookie recipe
If you love this Coconut Macaroon recipe, you're going to love these other quick & easy spring recipes too. Please click each link below to find the easy, printable recipe!
macaroons recipes
If you love this Coconut Macaroon recipe as much as I do, please write a five star review, and be sure to help me share on facebook and pinterest!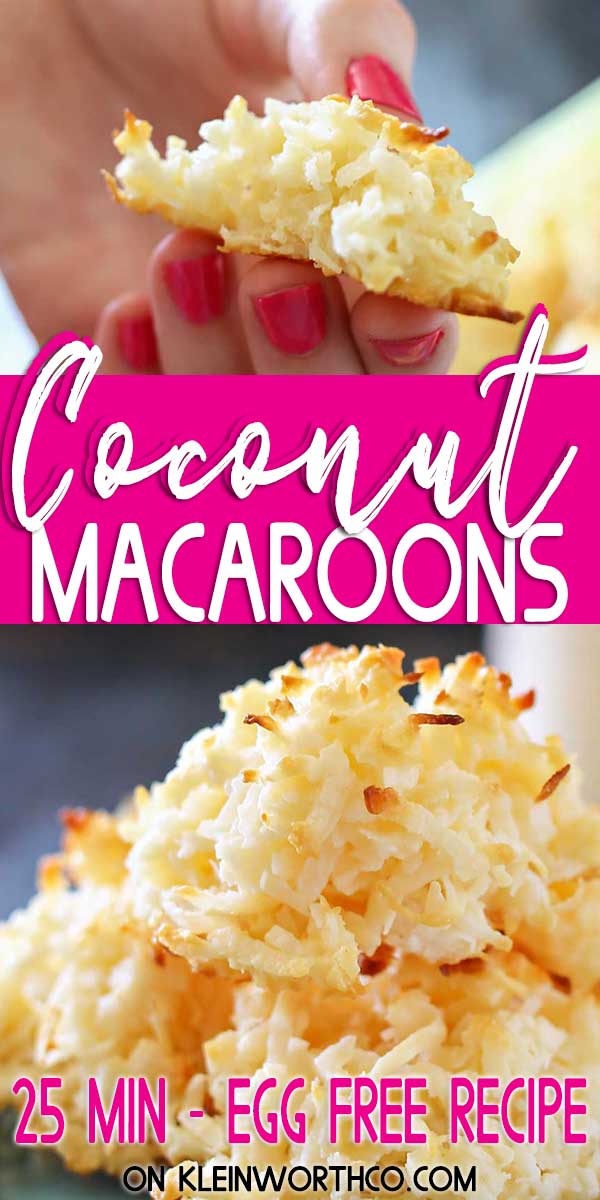 CONNECT WITH KLEINWORTH & CO!
Be sure to follow me on my social media, so you never miss a post!
FB, Pinterest, IG, Email Subscription
Reader Interactions