Crusty Italian Parmesan Bread is one of the easiest bread recipes to make. Great with just about any dinner, one loaf is never enough. So delicious.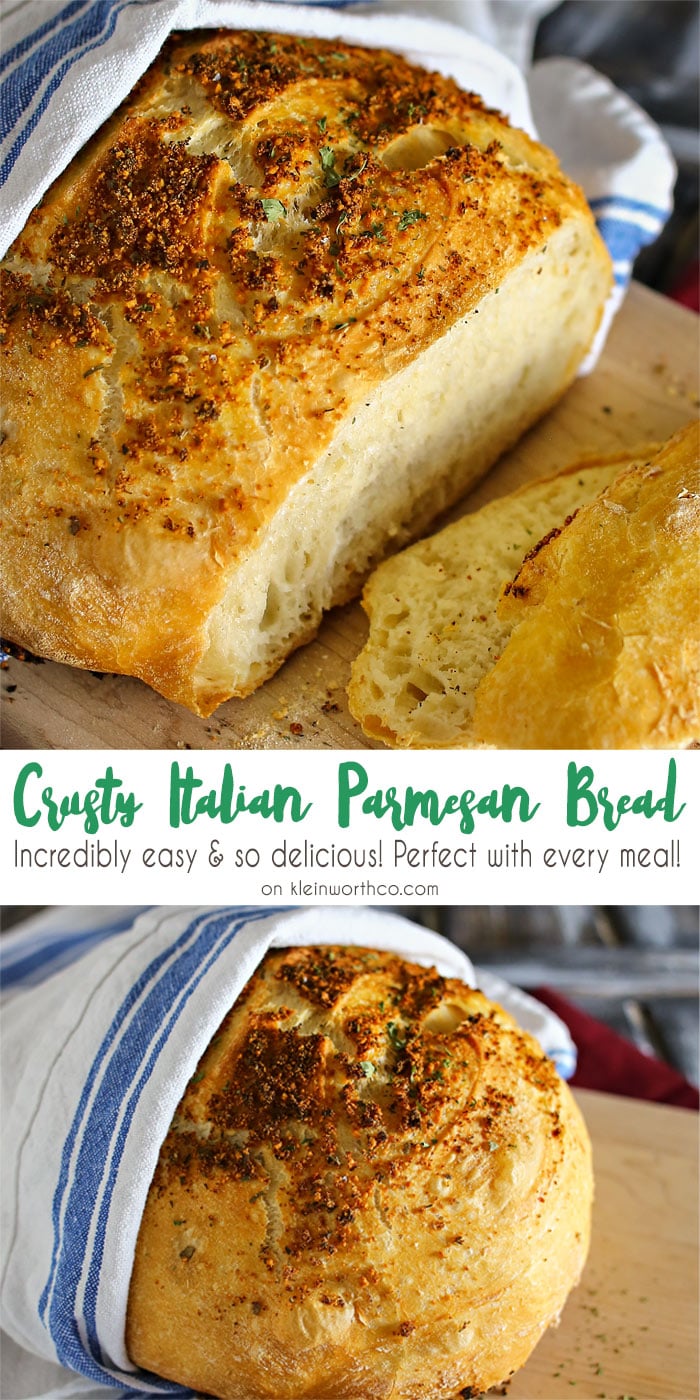 Do you love bread? I REALLY love bread & can't seem to get enough. There's something so satisfying about making your own that I think I'm addicted to it. We all really love the smell through the house, the feel of the dough – it's all so good! There's this one particular recipe that's so simple. I find myself whipping up a batch of the dough when I get up in the morning & by the time we make dinner, it's ready to bake. Because it's so easy, we make it quite often. It pairs perfectly with just about any meal. If I leave the savory seasonings off the top of this recipe, this crusty bread is perfect for breakfast toast with a little blackberry jam. But I really love to slice some right off the loaf & make a killer grilled cheese on the side of tomato soup. Our favorite ways to enjoy it is loaded with Italian seasonings & Parmesan cheese for Crusty Italian Parmesan Bread. YUM!
Crusty Italian Parmesan Bread
This post contains some affiliate links. Click here to read my full disclosure policy.
To make this recipe you will need…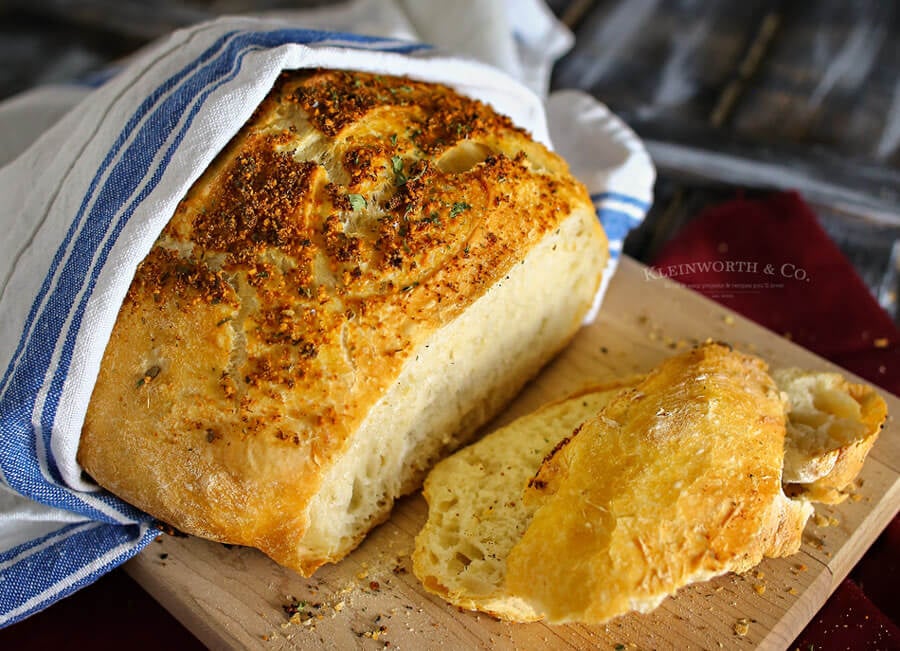 Honestly, I can't get enough of this stuff. It's all we can do to wait for it to cool down enough to be touched before we are slicing the loaf & all 5 of us attack it like we haven't eaten in days. When I think about it, it's really quite ridiculous, but my goodness, we just can't help ourselves. My favorite is having it warm with a little bit of melted butter on the side of a Cobb salad or a plate of pasta. The family absolutely loves it & the loaf is gone before we know it. Poof, just like that- GONE! I think you are going to really love it too. The fact that it's incredibly simple is a plus. Enjoy!
Crusty Italian Parmesan Bread
Crusty Italian Parmesan Bread
Crusty Italian Parmesan Bread
Prep Time8 hrs
Cook Time45 mins
Total Time8 hrs 45 mins
Servings: 1
Ingredients
3-4 cups all-purpose flour
1 tsp salt
1/2 tsp dry active yeast
1-1/2 cups lukewarm water 115 degrees is perfect
1 tbsp parmesan cheese
1 tbsp granulated garlic
1/2 tsp onion powder
1/2 tsp basil
1/2 tbsp parsley
Instructions
In a medium size bowl, combine 3 cups of the flour, salt, yeast & water & mix with a wooden spoon until fully combined

Place plastic wrap over the top of the dough (touching the dough- not just covering the top of the bowl)

Set aside in a warm, dark place to rest at least 8 hours (up to about 24 hours)

Remove dough from bowl & place on a well-floured surface & work into a ball (if it's too wet or sticky you can work more flour in- but it should not be too firm)

Allow to rest approx 30 minutes

Place cast iron dutch oven with lid in oven & preheat oven to 450 degrees

Carefully remove once preheated & spray bottom with cooking spray

Place dough in pot, slash the top several times

Sprinkle with cheese, granulated garlic, onion powder, basil & parsley

Cover & bake 30 minutes

Remove lid & bake an additional 10-15 minutes or until golden & brown

(you know it's done if it sounds hollow when tapped with your fingernail)

Cool slightly before serving
Crusty Italian Parmesan Bread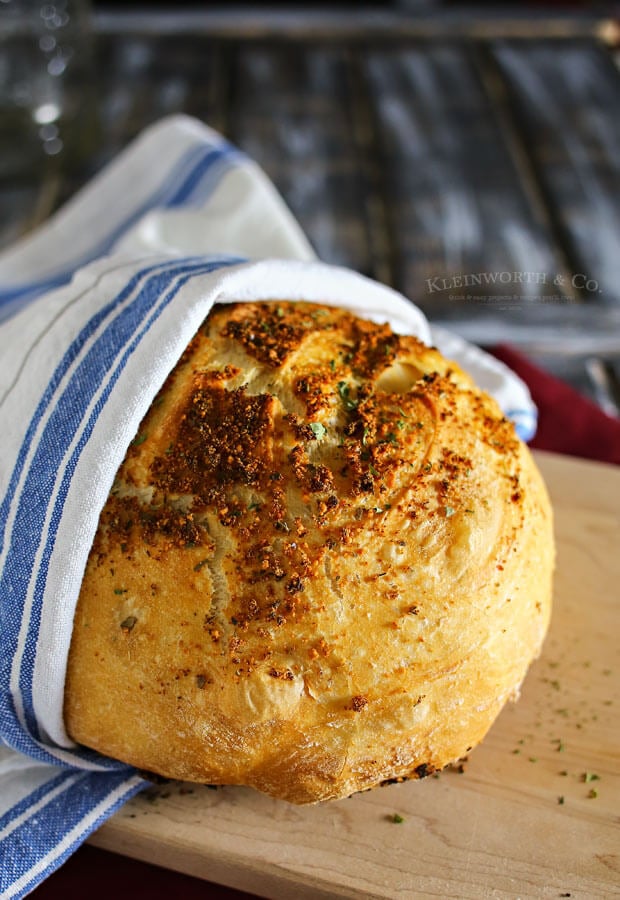 This is one bread recipe you will make again & again! I promise!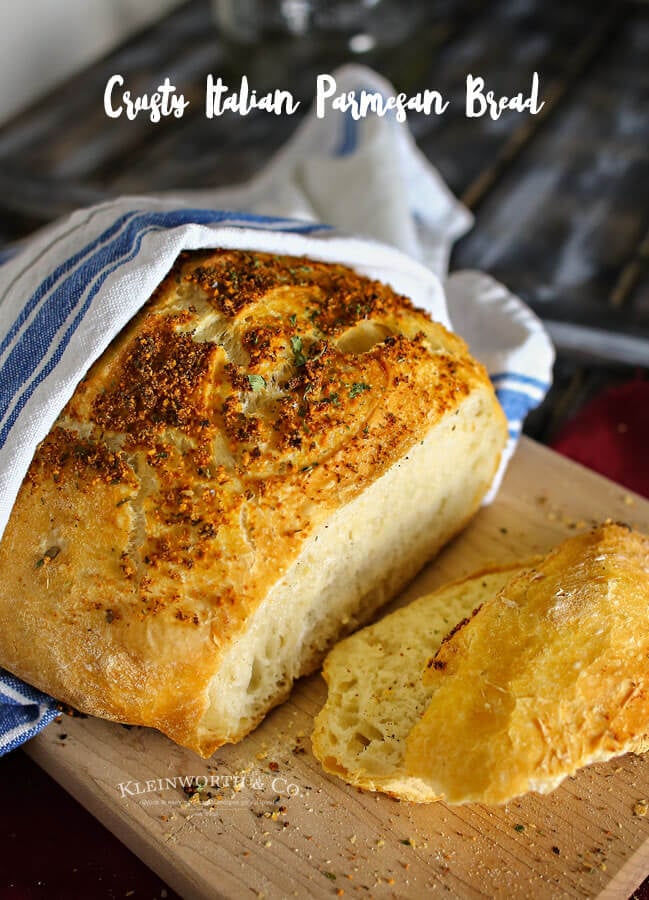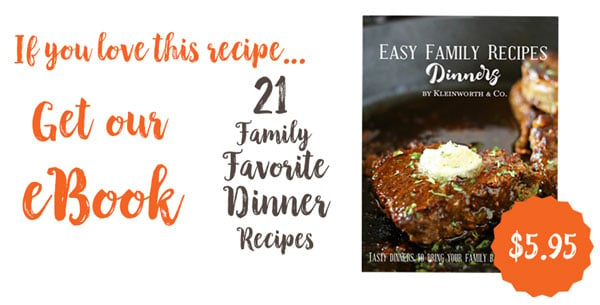 If you make this recipe- please leave a link or tag me on Instagram @KleinworthCo
Check out these easy family dinner ideas that you can make with this?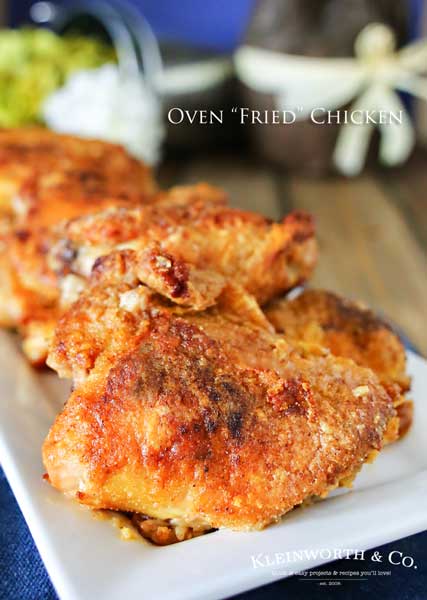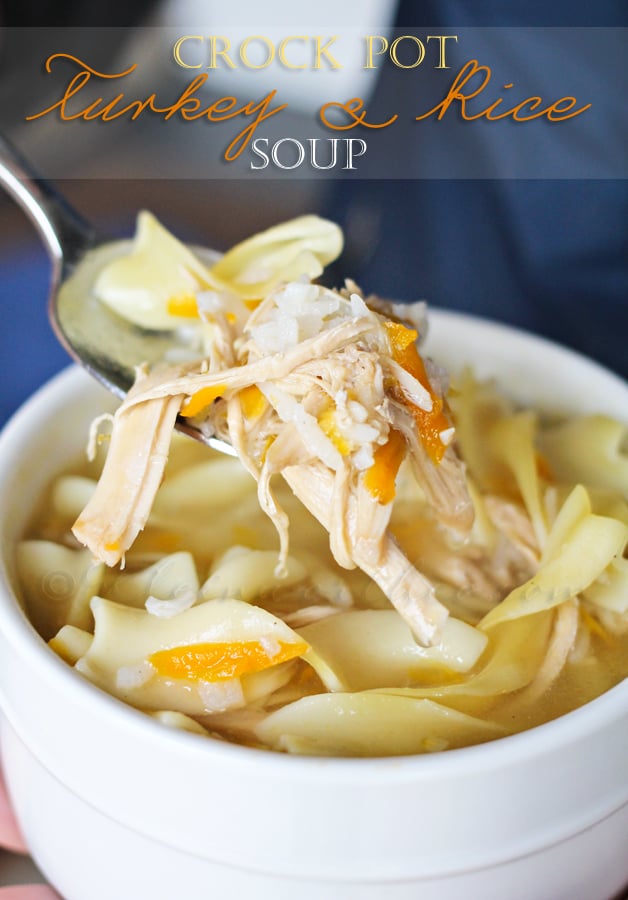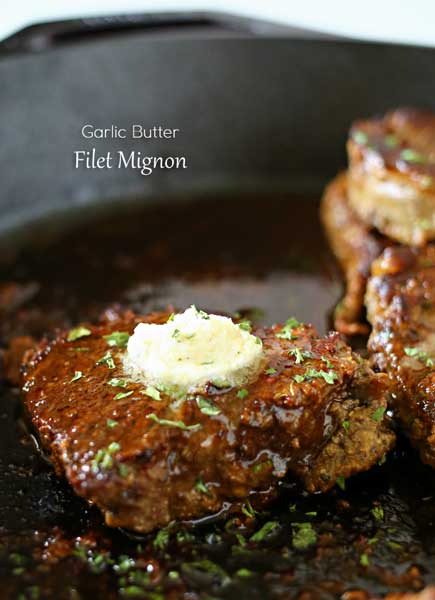 Don't miss these great ideas from these bloggers….
Chicken & Broccoli Alfredo Stuffed Shells from Life In The Lofthouse
Crispy Parmesan Chicken with Creamy Lemon Garlic Pasta from The Best Blog Recipes
To see where I am linking today- visit HERE