Funfetti Cake Batter Dip is a quick 5 ingredient dessert recipe that only takes 5 minutes to make. Super easy, great for after school snacks, parties & more.
I love dessert dips. Just because it's hot outside doesn't mean that my desire for treats goes away. But I have to do my best to bake as infrequently as possible to keep the house cooler in these hot months.
That's where the beauty of dessert dips come in because not only are they a delicious no-bake treat, but they only take 5 minutes to make.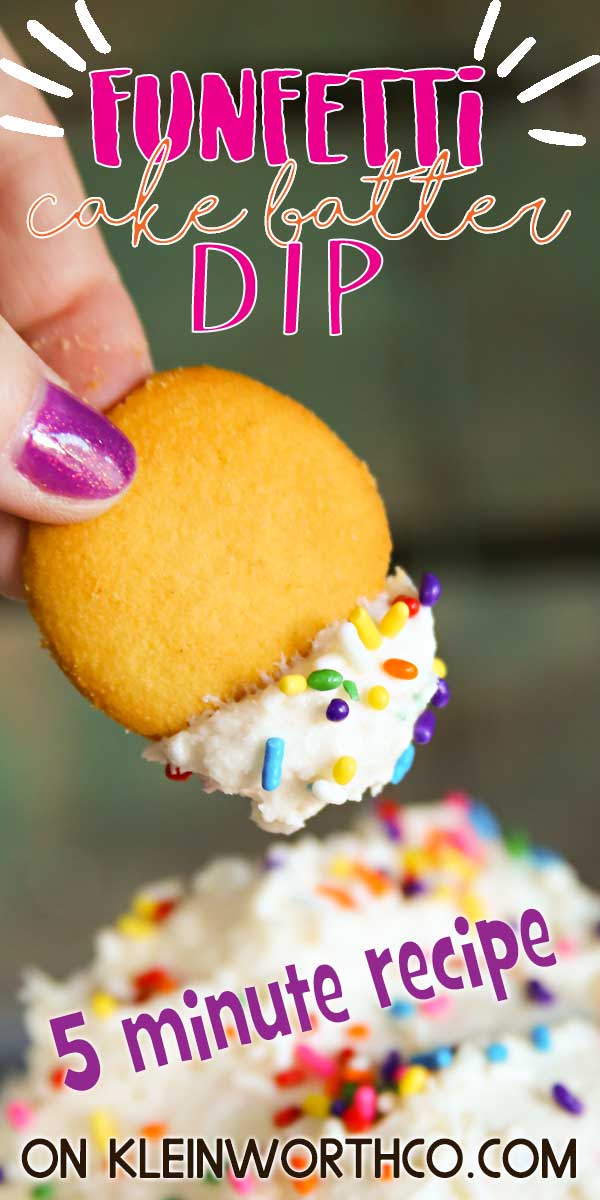 Not only are dessert dips easy but they are incredibly tasty. I might even say addictive. You can enjoy them with crackers, cookies, or just by the spoonful if you don't have to share.
The best part is that they only require a handful of ingredients and take just a couple of minutes to whip up.
CAKE BATTER DIP
This post contains some affiliate links. Click here to read my full disclosure policy.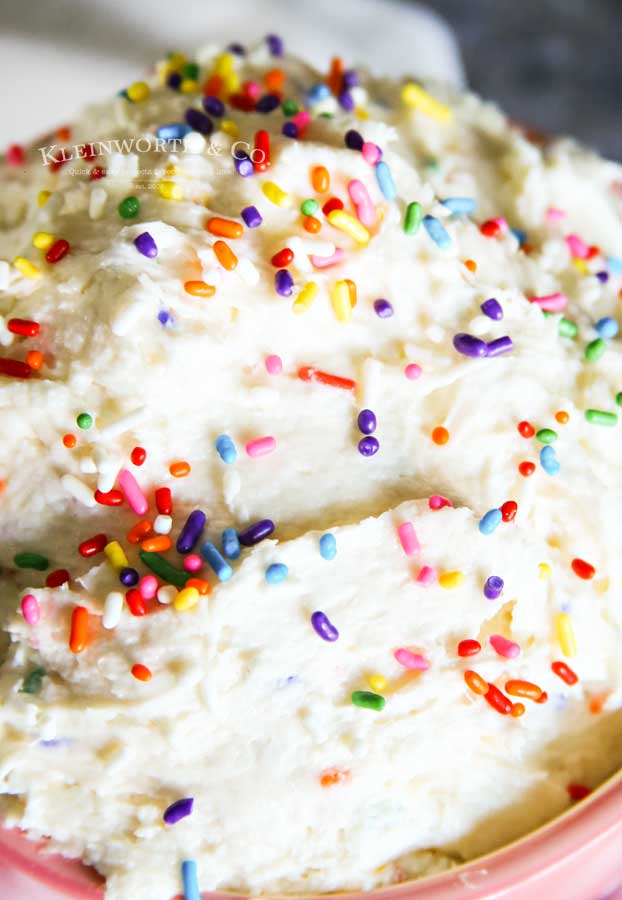 Now, because I grew up with a baker, the flavor of cake batter is at the top of my favorites list. I used to lick the bowl and loved every bit of it.
Unfortunately the cake batter falls into the same category as raw cookie dough and can make you sick. Not that I cared at the time. But these days it is something we all worry about.
So when I can create recipes that give me that flavor I love so much, without all the guilt or worry – I'm all for it.
Add the funfetti sprinkles that bring so many smiles and I'm in love.
Here are some commonly asked questions
Can I use a different flavor of cake mix?
Yes, absolutely, that will work just fine. It just won't be funfetti. You can get the same flavor by using a white cake mix and extra jimmies.
Can I use regular whipped cream instead of whipped topping?
Unfortunately regular whipped cream doesn't have the stability that whipped topping has. You need that stability to keep this dip in a dip consistency, instead of a liquid. So you will need whipped topping for this recipe.
Can this cake batter dip be frozen?
Yes, because the whipped topping is usually frozen and cream cheese has a high-fat content, this should freeze just fine.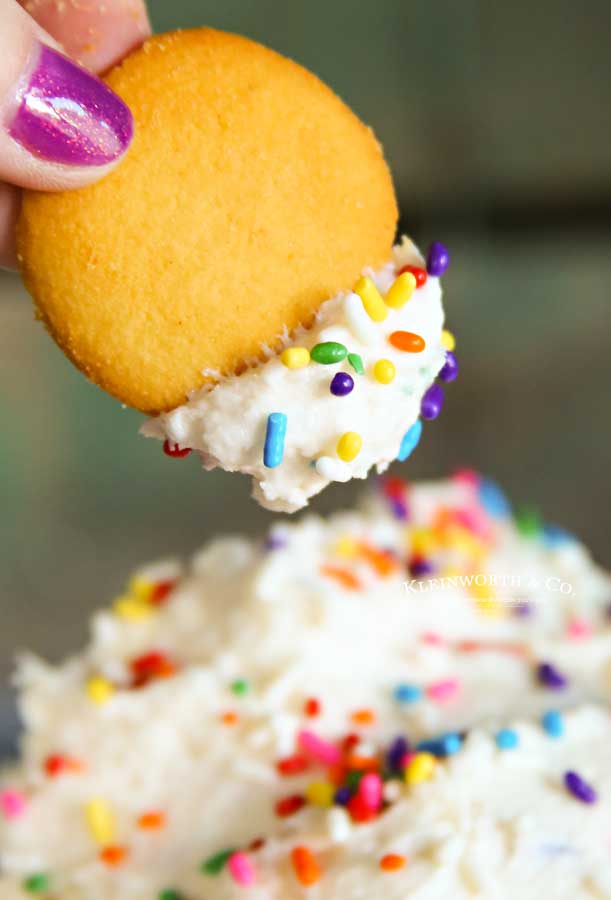 How many can this serve?
This recipe makes about 3 cups, so it will depend on how to divide it. We usually split the dip into 3-4 individual-size servings for the kids & I. But if you are serving at a party, people will generally dip a few times & so you can serve many more.
funfetti cake dip
Can this recipe be doubled?
You can, and we do it often. I like to make a double batch for parties because this stuff is a HIT.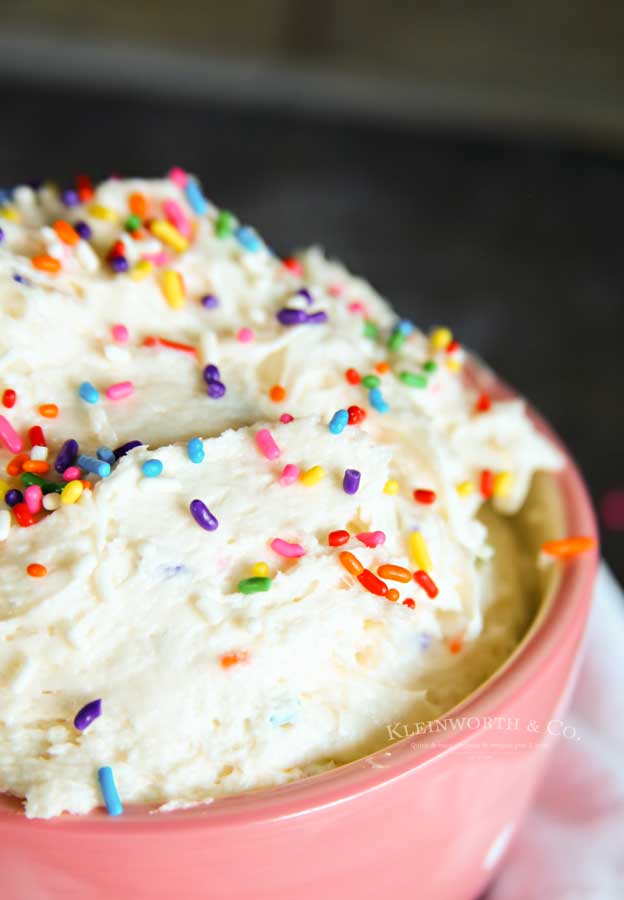 HOW DO YOU MAKE Funfetti Cake Batter Dip?
Combine the whipped topping and the cream cheese to the mixer bowl and beat on high until fully combined and smooth.
Add the cake mix and the 2 tbsp of the milk and stir slowly, adding more milk as needed until it reaches the desire consistency.
Fold in most of the sprinkles, reserving a small portion for sprinkling over the top when serving.
Refrigerate until ready to serve.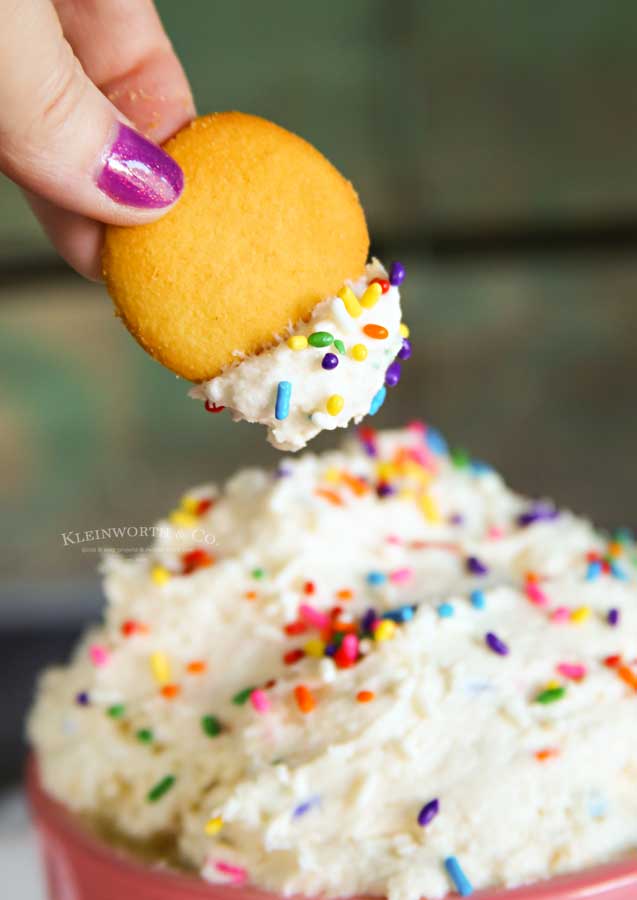 What is the best way to store leftover cake batter dip?
Just keep it refrigerated for up to 7 days. As long as you don't let it sit out at room temperature for too long, this should keep well when chilled.
Other Sweet Dessert Dips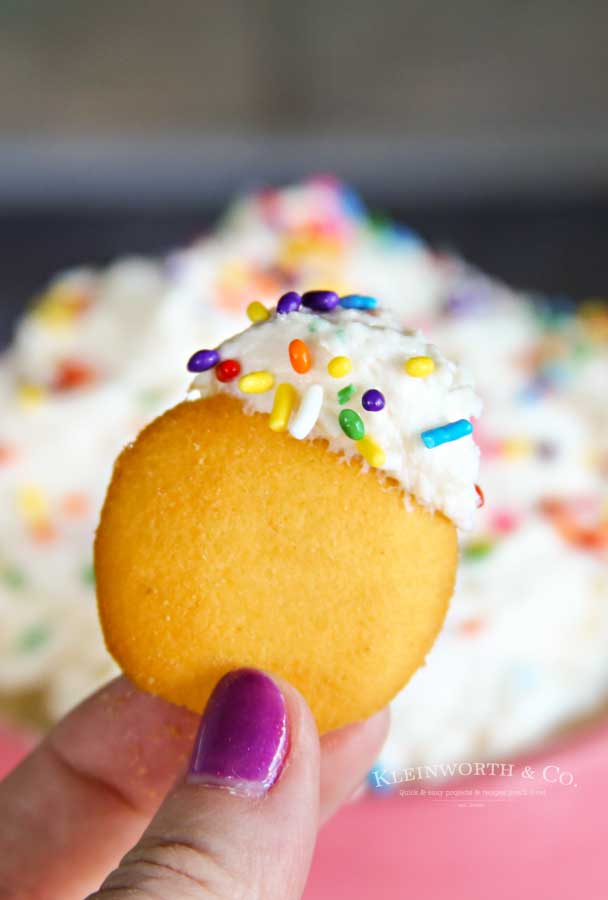 Can I use different mix-ins?
Yes, of course. This dip is great with nuts, mini M&M's & candies mixed in.
What are the best sprinkles for this dip?
This is important – just because the package says "sprinkles" doesn't necessarily mean that it is in-fact sprinkles.
I see a lot of people using colored sanding sugar that is labeled as sprinkles.
This will not work as well because when that sugar gets wet – like when mixed into a moist dough or dip or when placed in the refrigerator, it will sweat & the color will bleed out. Please use JIMMIES for this recipe.
To make Funfetti Cake Batter Dip you will need…
cream cheese
whipped topping
funfetti cake mix
milk
sprinkles/jimmies
funfetti dip
Products I love when making Funfetti Cake Batter Dip…
This Funfetti Cake Batter Dip recipe is SUPER EASY and delicious – and if you're like me, then you maybe already have some of these items on hand OR maybe you have never made dessert dip before, & you might be a bit nervous – but you're going to love it. I have made a list below of the things I absolutely can't live without when it comes to making this treat recipe.
If you love this Easy Funfetti Cake Batter Dip recipe, you're going to love these other treats too. Please click each link below to find the easy, printable recipe!
funfetti dip recipe
If you love this recipe for Homemade Funfetti Cake Batter Dip as much as I do, please write a five-star review, and be sure to help me share on Facebook and Pinterest!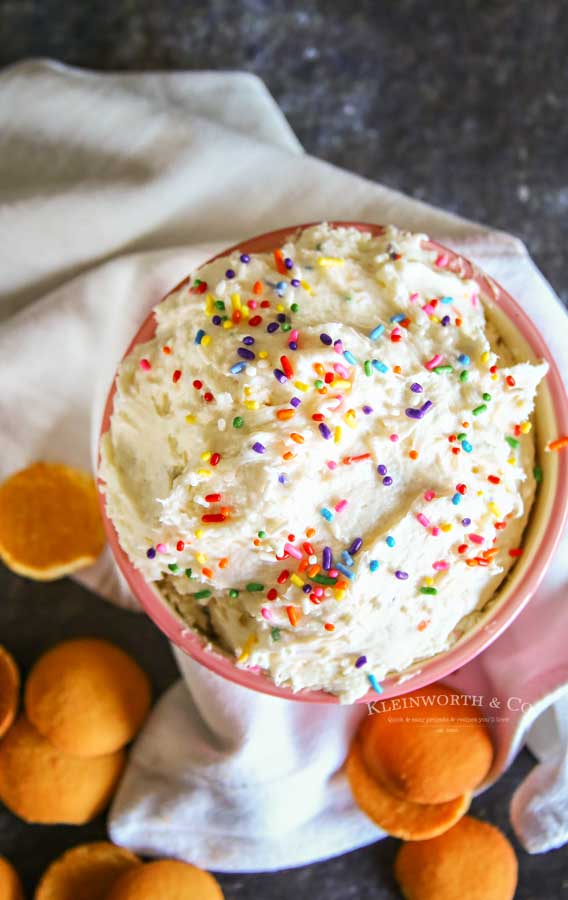 CONNECT WITH KLEINWORTH & CO!
Be sure to follow me on my social media, so you never miss a post!
FB, Pinterest, IG, Email Subscription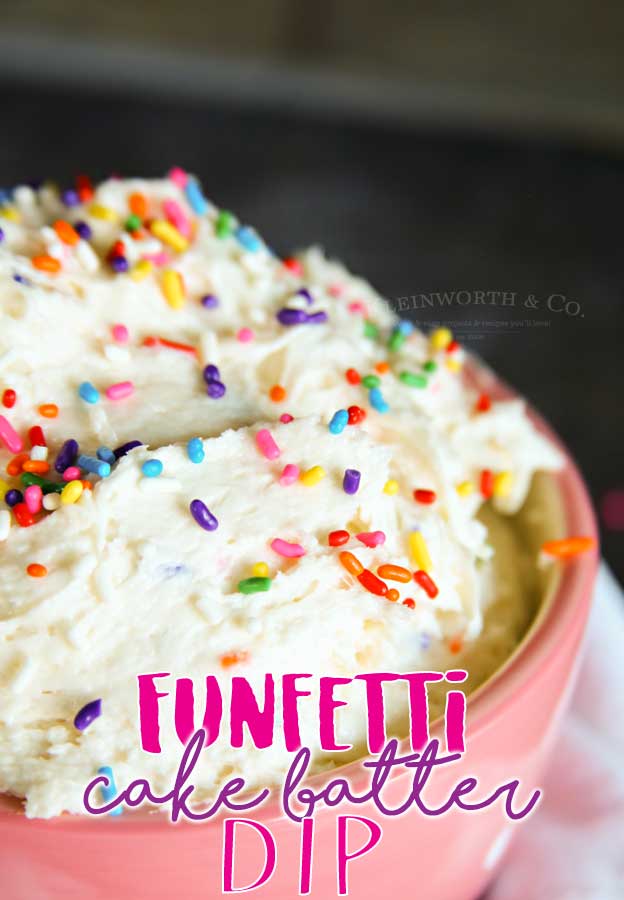 Reader Interactions