Brownie Batter Cookie Dough is an easy 5-minute dessert recipe. Everything you love about raw cookie dough & brownie batter, but safe to eat because it's made without eggs.
My friends, I have been eating raw cookie dough for as long as I can remember. In fact, my mom used to leave just enough in the bottom of the bowl with the intention of eating it, instead of baking it into cookies.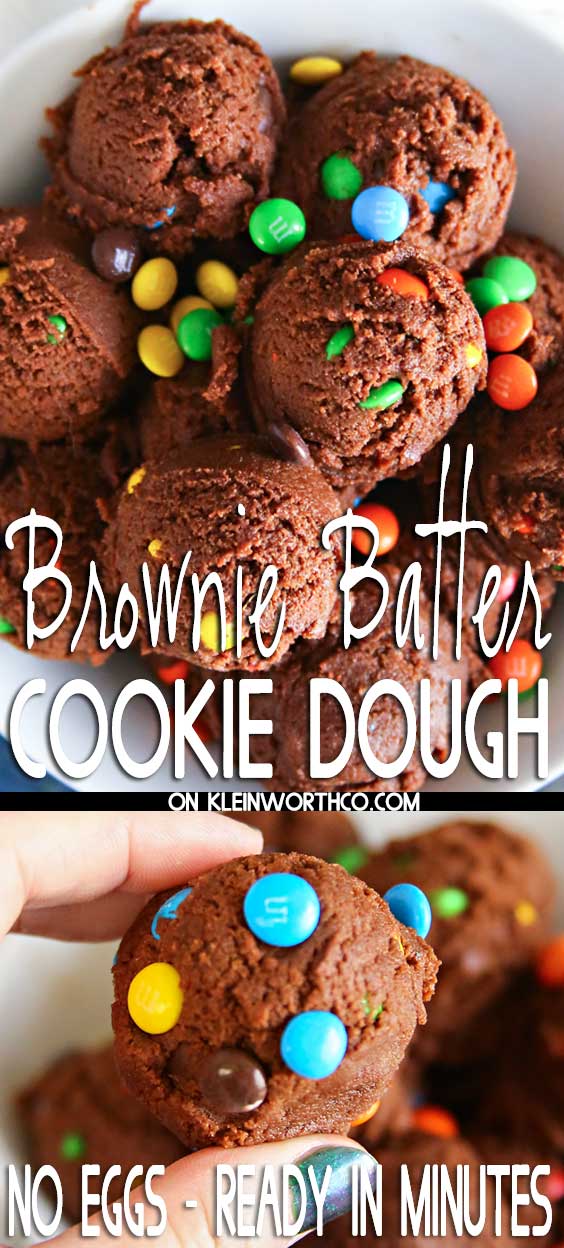 We knew it had raw eggs in it. We didn't care – it was good – along with the brownie batter too.
For years the hubs would give me grief about eating the batter or the dough. Constantly trying to get me to not eat it.
cookie dough recipe
This post contains some affiliate links. Click here to read my full disclosure policy.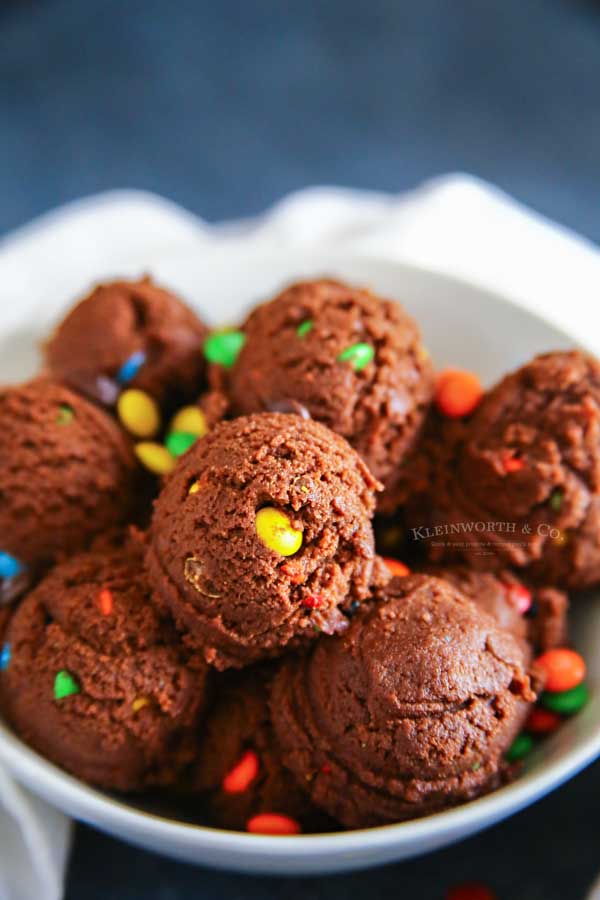 I didn't listen because I love it so much. So fast forward to now – when I can actually create dough for the sole purpose of eating it.
I can tell you that it makes my little heart go pitter-patter. It is so freaking good & I crave it all the time.
Fortunately this recipe only takes about 5 minutes to make. So I can literally make it & satisfy the craving almost as soon as it strikes.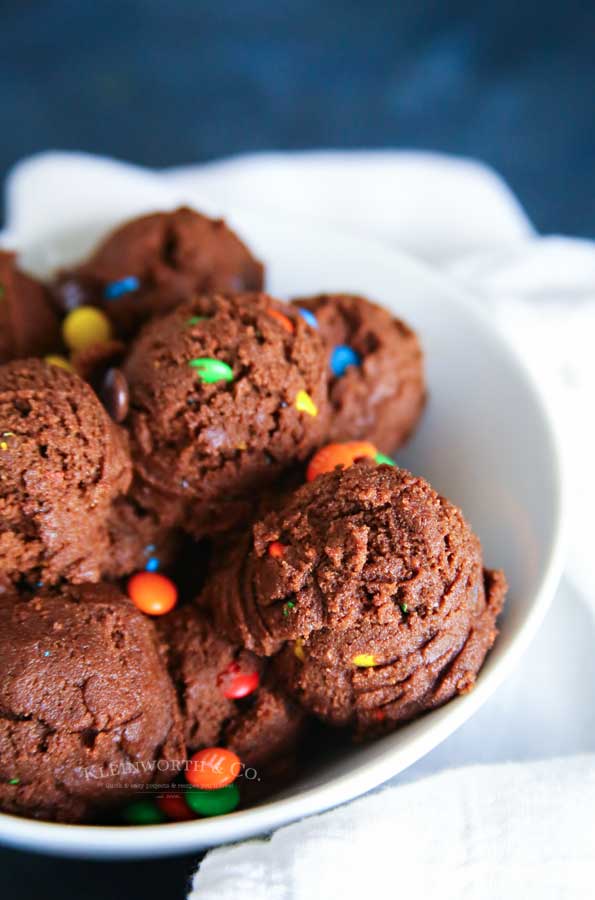 Of course, now that my girls are old enough to be helping me in the kitchen I have to decide – do I delegate the task of making it, in exchange for sharing some with the two of them? Or do I just make it myself & not share a single bite? It is quite a delema.

Here are some commonly asked questions
Can I bake this cookie dough into cookies?
Nope. This dough doesn't contain any of the ingredients you would need to get this dough to bake into cookies.
Things like levening agents like baking soda & eggs are needed in regular cookie dough. They are what hold the dough together when it is heated & what makes the cookies rise & keep their shape.
If you were to bake this dough it would result in a puddle of goo on your baking pan.
What is the best way to store leftover Brownie Batter Cookie Dough?
The easiest way is to place it in an airtight container & store in the refrigerator. Because this does still contain butter, it is important to keep this chilled.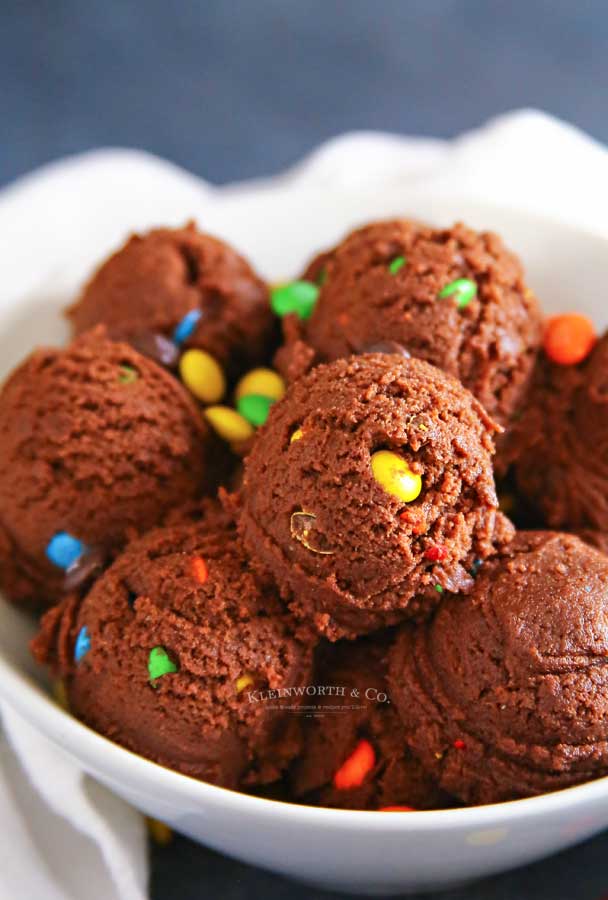 How many can this serve?
I typically get enough for 3-4 people, but that will depend on how much each person serves themselves.
chocolate cookie dough
Can this recipe be doubled?
Absolutely! I love to double this recipe if I plan on sharing or I want enough to last through the week & have a little bit each day.
Can this recipe be halved?
Absolutly. When cutting this recipe it makes just over a personal-size – so probably enough for 2 or one person for 2 nights with a moderate serving.
HOW DO YOU MAKE Brownie Batter Cookie Dough?
Combine butter, granulated sugar & brown sugar in a large mixing bowl & beat well until light & fluffy.
Slowly beat in cocoa powder, milk & vanilla.
Stir in flour, salt & mix-in of choice. (I like mini m&m's)
**If you are concerned about killing bacteria in the flour, you can either pour the flour onto a baking sheet & bake in a 350 degree oven for 5 minutes or place on a microwave-safe plate & microwave for at least 1-2 minutes or until it reaches 160 degrees.
Can I use a gluten-free flour, almond or coconut flour?
Yes, you can use any of those types of flour & this recipe will still be just as amazing. ENJOY!!!!
Should I use salted or unsalted butter?
This is really a personal preference. If you are happy with just a little salt to cut the sweetness, then use unsalted butter. I usually use whatever I have on hand, because when the craving strikes, I really don't care about what butter I have. But I typically keep salted butter on hand & I love that little bit of extra salt with the sweet in this dough.
Should I use light or dark brown sugar?
Being that I make my own brown sugar & I typically make it light, that is what I use. However, you can use dark if that is what you have on hand.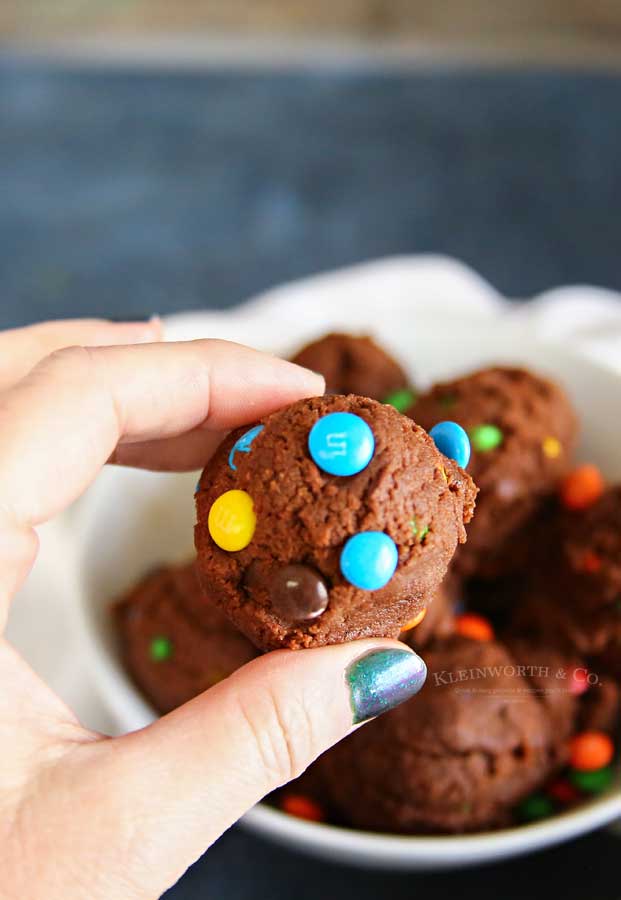 edible brownie batter
To make this recipe you will need…
butter
granulated sugar
brown sugar
cocoa powder
milk
vanilla extract
all-purpose flour
salt
mix-ins – like mini m&m's, sprinkles, nuts or mini chocolate chips
Products I love when making Brownie Batter Cookie Dough…
This Brownie Batter Cookie Dough recipe is so EASY and delicious – and if you're like me during the fall season, you probably already have many of these items on hand! OR maybe you have never made edible cookie dough before, & you might be a bit nervous – but you're going to love the how easy this treat is to make. I have made a list below of the things I absolutely can't live without when it comes to making this yummy dessert.
I love this recipe & I know you will too!
Scroll to the bottom for the Printable Recipe
best cookie dough recipe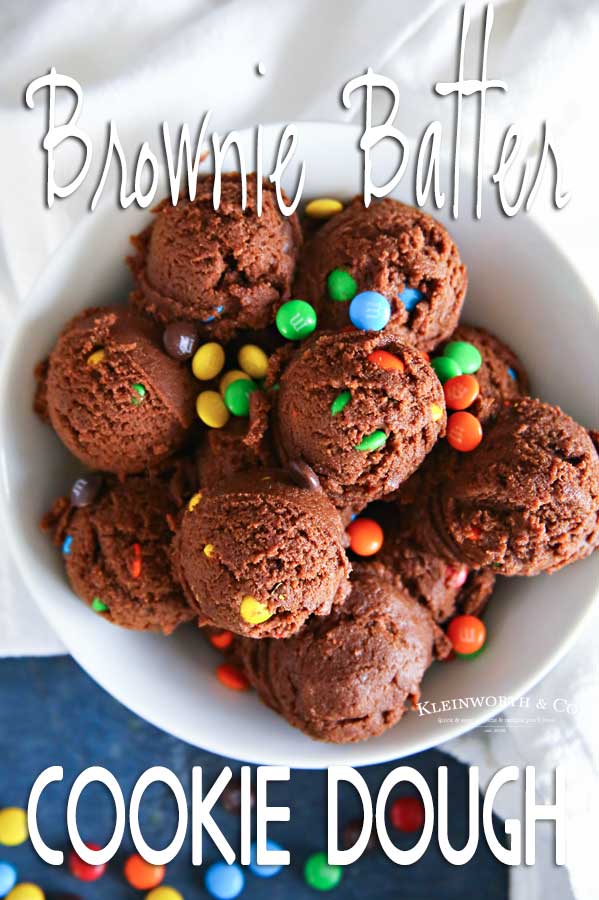 If you love this Brownie Batter Cookie Dough recipe, you're going to love these other quick & easy dessert recipes too. Please click each link below to find the easy, printable recipe!

how to make edible cookie dough
If you love this Brownie Batter Cookie Dough recipe as much as I do, please write a five star review, and be sure to help me share on facebook and pinterest!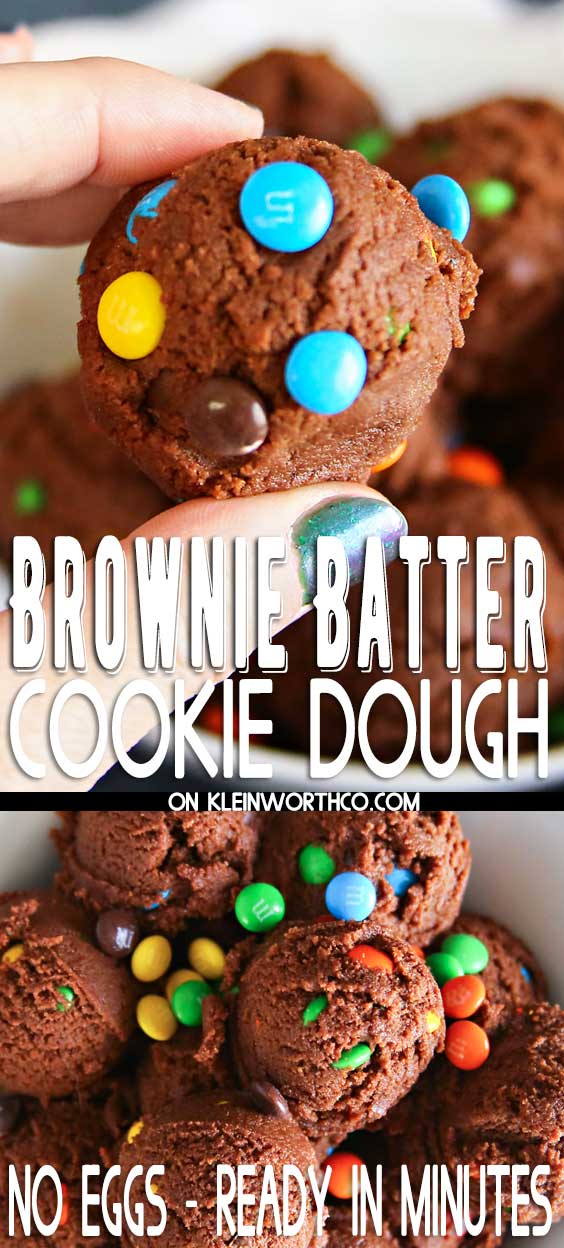 CONNECT WITH KLEINWORTH & CO!
Be sure to follow me on my social media, so you never miss a post!
FB, Pinterest, IG, Email Subscription
Reader Interactions