St. Patrick's Day Mint Chocolate Chip Cookies are a tasty treat to enjoy on St. Patrick's Day. Perfect for parties & a favorite of mint chocolate lovers.
I couldn't help myself. I was in the kitchen & my bag of minty M&M's was sitting there just begging for some attention. So I decided to whip up some cookie dough with them & pop it in the fridge to chill.
Don't miss my St. Patrick's Day Cake Mix Cookie Bars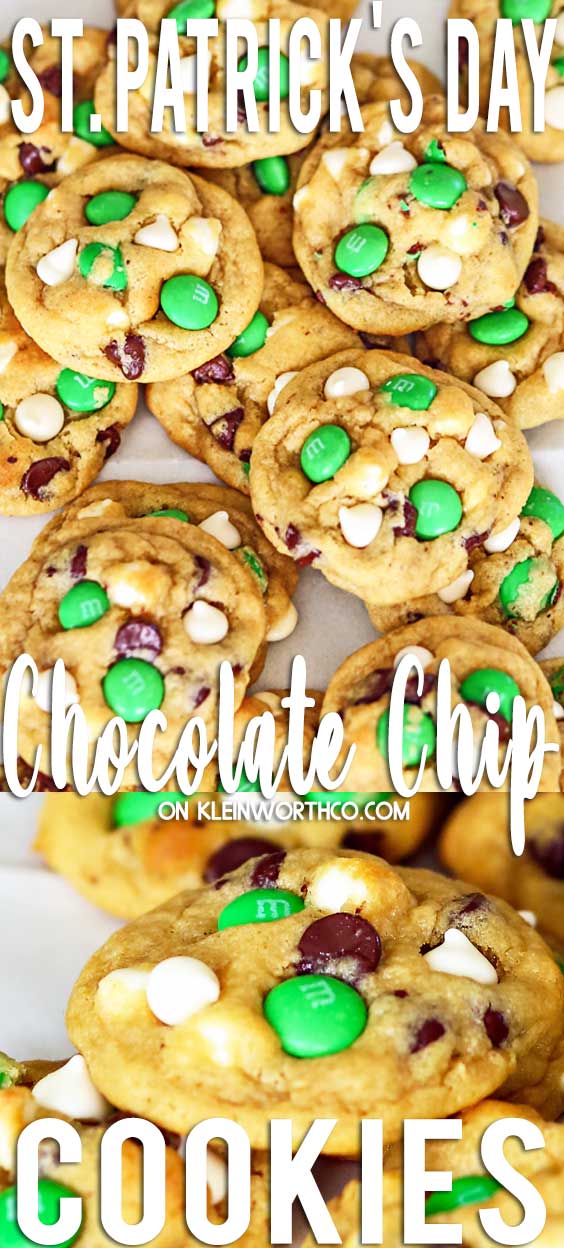 Then the next morning I finished them up resulting in these St. Patrick's Day Mint Chocolate Chip Cookies. I had just enough to take half with me to visit the hubs in the hospital after his surgery & leave the rest here at home for when he returned.
He was oh so thankful to see these come in the door & the whole container was gone before we left him for the night. I must say- adding mint St. Patrick's Day M&M's to my favorite chocolate chip cookie recipe was a great idea. SO GOOD!
mint M&Ms cookies recipe
This post contains some affiliate links. Click here to read my full disclosure policy.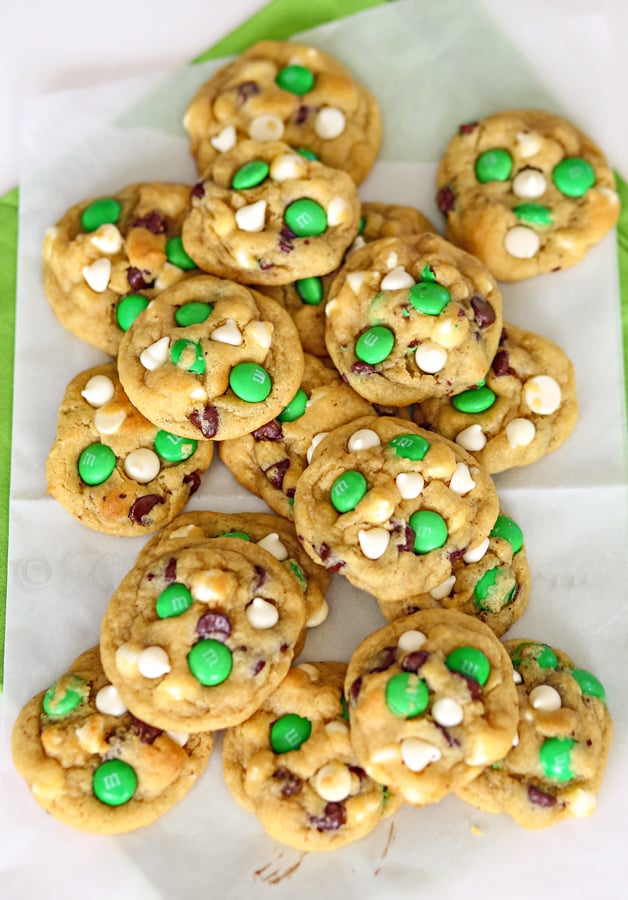 I like to do an equal mix of semi-sweet chocolate chips & white chocolate chips along with the M&M's. It balances out the flavors.
These were so soft & chewy – I may need to whip up another batch because they went way too quickly!!!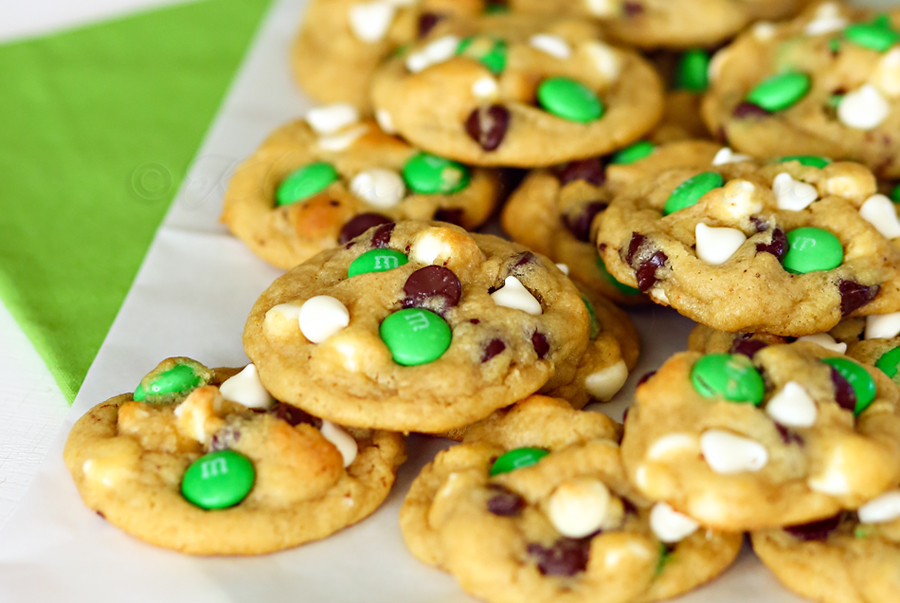 I think it is fair to say that all of us in this house are completely obsessed with the mint & chocolate combo.
While there are plenty of really great goodies out there to choose from most of the time, it is really nice when we get close to St. Patty's Day & there seems to be a better selection. Like the Mint M&M's – they are so good & I just can't get enough. I'm happy they seem to be a bit easier to find these days too.
Here are some commonly asked questions
Can I make this recipe without the white chocolate M&M's?
Yes- of course you can make this with all white chocolate or without any. That is a personal preference. I just think that the white chocolate chips add a nice pop of color & flavor in there.
What is the best way to store leftover cookies?
The easiest way is to place in a large airtight container & store at room temperature. I like a large plastic bowl with a lid or a zip-top bag works great too.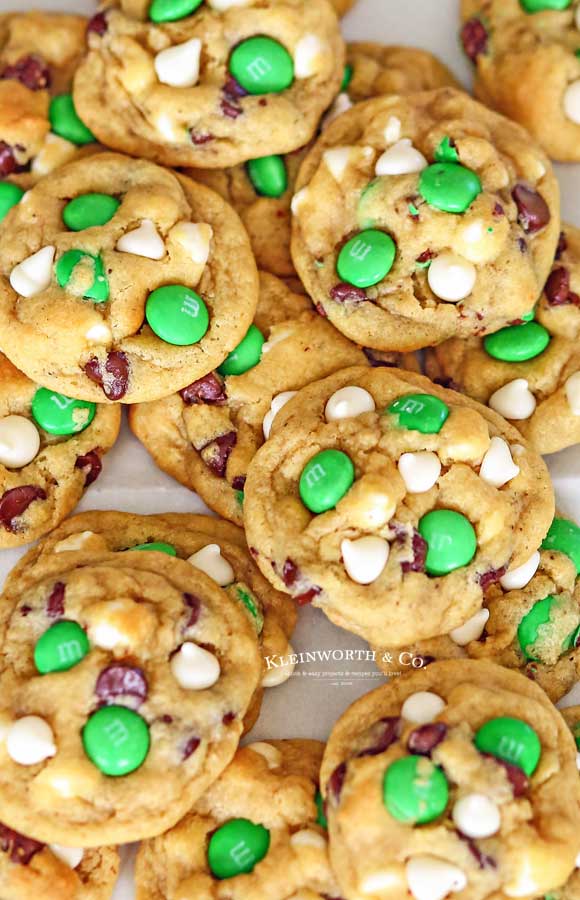 How many can this serve?
This recipe makes about 28 regular-size cookies. Feel free to cut this recipe in half if you want a smaller batch.
white chocolate M&M cookies
Can this recipe be doubled?
Yes, you can double the dough on this recipe if you need to. That will make a WHOLE LOT of cookies – which is great if you are having a bake sale or need to take these cookies to a potluck or holiday party. I guarantee they will be gone in a flash.
HOW DO YOU MAKE St. Patrick's Day Mint Chocolate Chip Cookies?
In mixer bowl – beat butter, margarine, sugar & brown sugar together until fluffy.
Add egg & vanilla – beat well.
Add in flour, pudding mix, baking soda & salt – slowly stir first & then beat until all ingredients are completely incorporated.
Slowly stir in chocolate & white chocolate chips.
Fold in 1/2 the M&M's.
Remove beater, cover & refrigerate overnight (extremely important that you do this).
The next day preheat oven to 350 degrees.
Roll dough into balls – it will be firm & you will need to press it all together.
Place dough balls on baking sheet & bake cookies for 9-12 minutes (mine were perfect at 11).
Remove & immediately top each cookie with a few extra chocolate chips, white chocolate chips & M&M's before they cool.
Leave cookies on baking sheet to cool.
Repeat this process with remaining cookies.
I used 3 – 3/4 baking sheets for all these cookies. It's important to not place dough on a hot cookie sheet. Start with a cold cookie sheet with each batch to ensure that the cookies bake consistently.
Store in an airtight container at room temperature.
Why do I have to chill the dough for St. Patrick's Day Mint Chocolate Chip Cookies?
This is REALLY important. Chilling the dough makes it easier to roll the cookies because the dough is less sticky. Chilling the dough also helps to keep the cookies from spreading too much when they are baked. Please do not skip this step.
Should I use salted or unsalted butter?
I personally use whatever I have on hand. But if you are watching your salt intake, stick with the unsalted butter for these cookies. I wrote my original recipe using unsalted butter but then tried it with salted butter & liked them just the same.
Do I have to use margarine or can I just use more butter to replace it?
The margarine is to help the cookies hold their shape and give them more volume. If you replace it with more butter it will result in a flatter & less asthetically pleasing cookie.
st patrick's day cookie recipes
To make St. Patrick's Day Mint Chocolate Chip Cookies you will need…
butter – room temperature
margarine
packed brown sugar
granulated sugar
vanilla extract
egg- room temperature
all-purpose flour
instant vanilla pudding – not cook & serve
baking soda
table salt
semi-sweet chocolate chips
white chocolate chips
Mint St. Patrick's Day M&M's
Products I love when making St. Patrick's Day M&M Cookies…
This Minty M&M Cookie recipe is so EASY and delicious – and if you're like me, you probably already have many of these items on hand! OR maybe you have never made M&M cookies before, & you might be a bit nervous – but you're going to love the how easy this cookie recipe is to make. I have made a list below of the things I absolutely can't live without when it comes to making this yummy treat.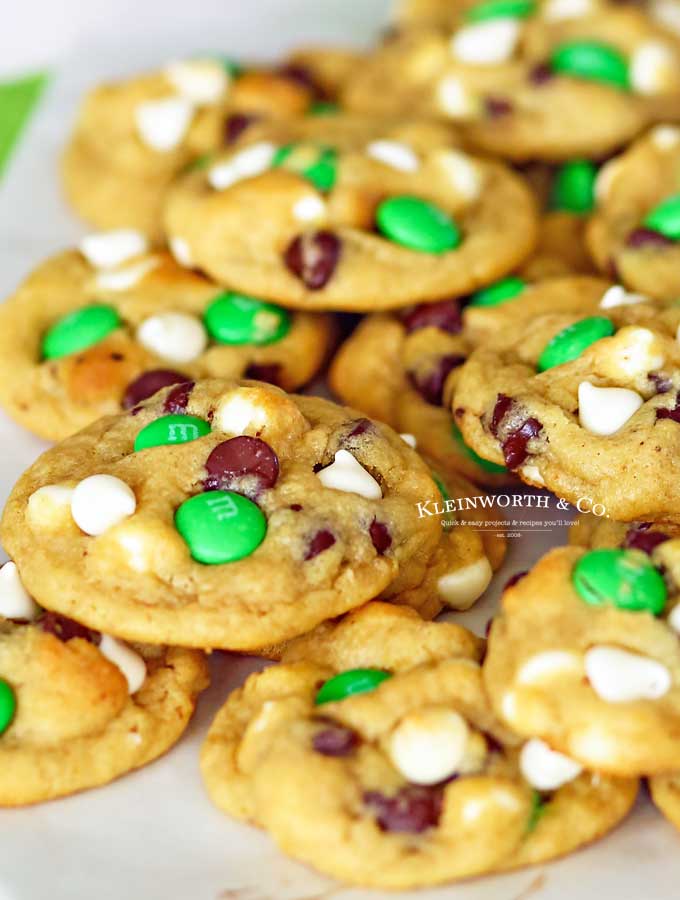 The kids love this for holiday class parties & snacking after school!
Scroll to the bottom for the Printable Recipe
saint patrick's day treat recipes
If you love this Mint M&M's Cookie recipe, you're going to love these other quick & easy St. Patty's Day recipes too. Please click each link below to find the easy, printable recipe!

st patricks day dessert ideas
If you love this Mint M&M's St. Patrick's Day Cookie recipe as much as I do, please write a five star review, and be sure to help me share on facebook and pinterest!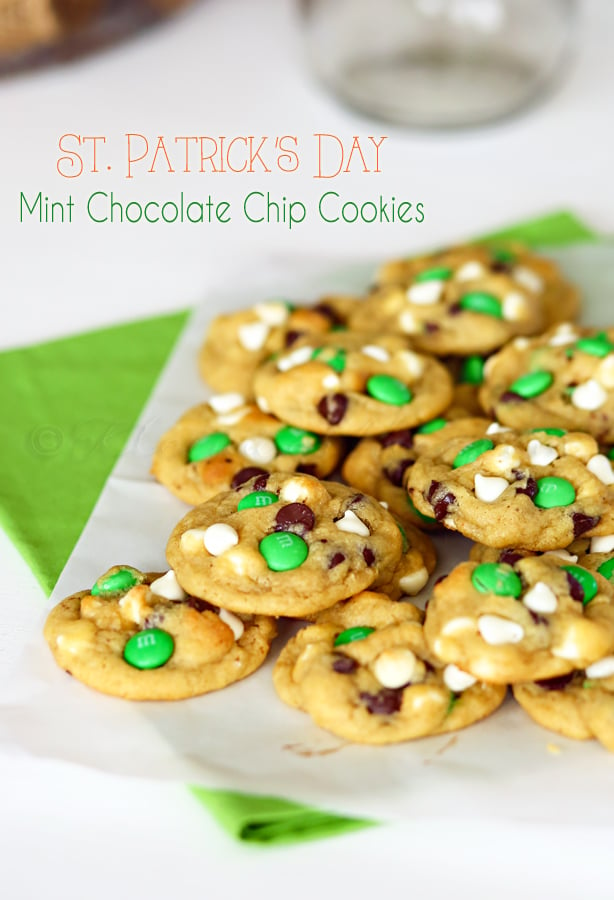 CONNECT WITH KLEINWORTH & CO!
Be sure to follow me on my social media, so you never miss a post!
FB, Pinterest, IG, Email Subscription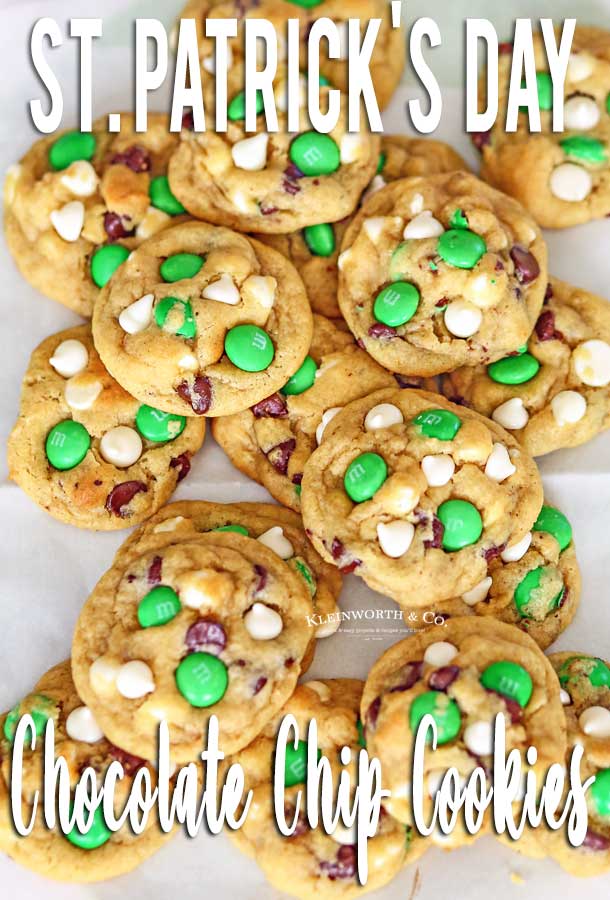 Reader Interactions