& Easy No-Bake Peanut Butter Balls are easy to make treats that are great for the holidays. Perfect for Christmas parties & neighbor gifts – you'll love them!
Our family loves making goodies this time of year. I remember spending nearly every evening baking & creating goodies with my mom during the holiday season each year.
She loved making treats & giving them as gifts to everyone she knew. Some of the recipes were her own genius creation & others were family recipes like these Easy No-Bake Peanut Butter Balls.

Don't miss my easy peanut butter eggs too!
This post is brought to you in partnership with Albertsons. I thank them for supporting Kleinworth & Co. because it helps me to continue to bring to you amazing and inspiring content!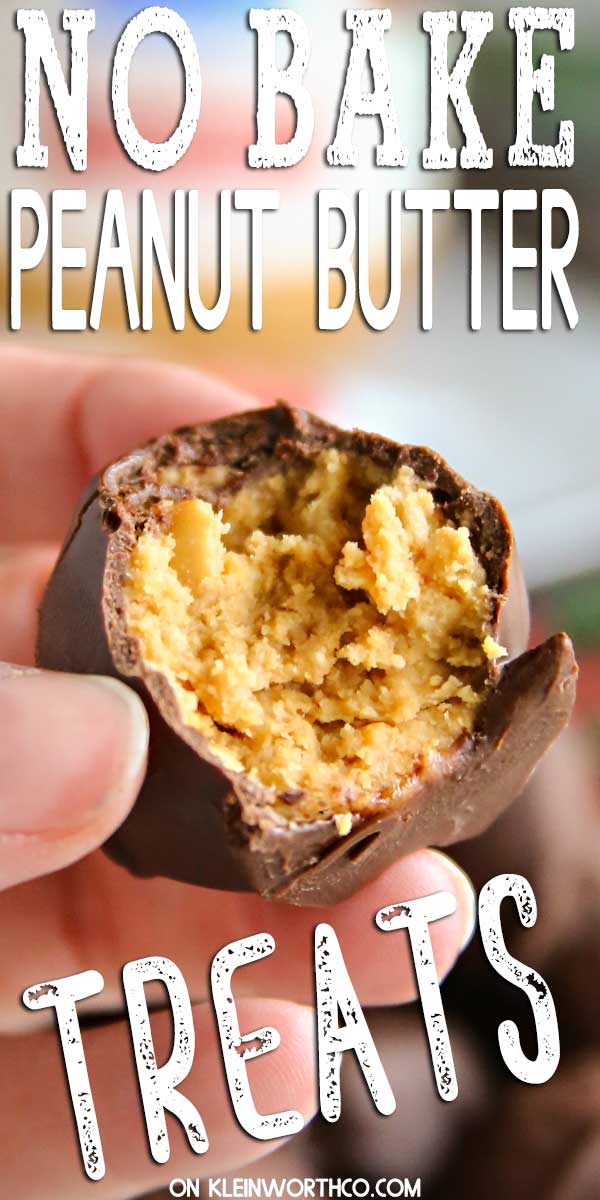 These peanut butter balls were always a favorite that I looked forward to each & every year. I'm excited to share this family recipe with you here today.
peanut butter balls recipe no bake
With all the things happening this time of year, it can really take its toll on everyone. That's why I like to keep things easy when it comes to making goodies.
If you love no-bake treats. Don't miss our No-Bake Pumpkin Pie & be sure to check out our classic Buckeyes recipe too!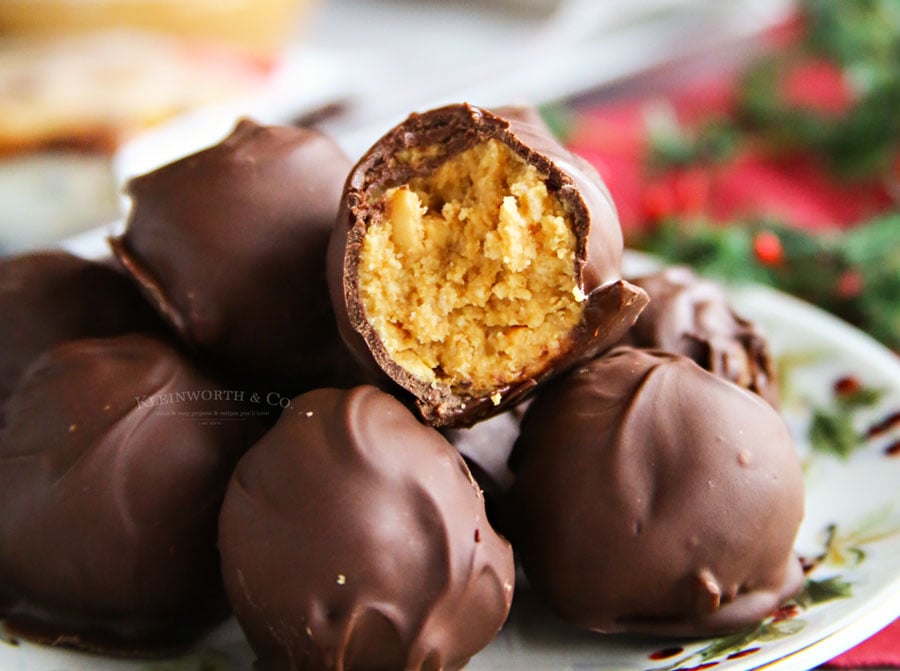 No need to slave away in the kitchen for hours to make these super delicious treats. They take less than an hour & which includes chill time.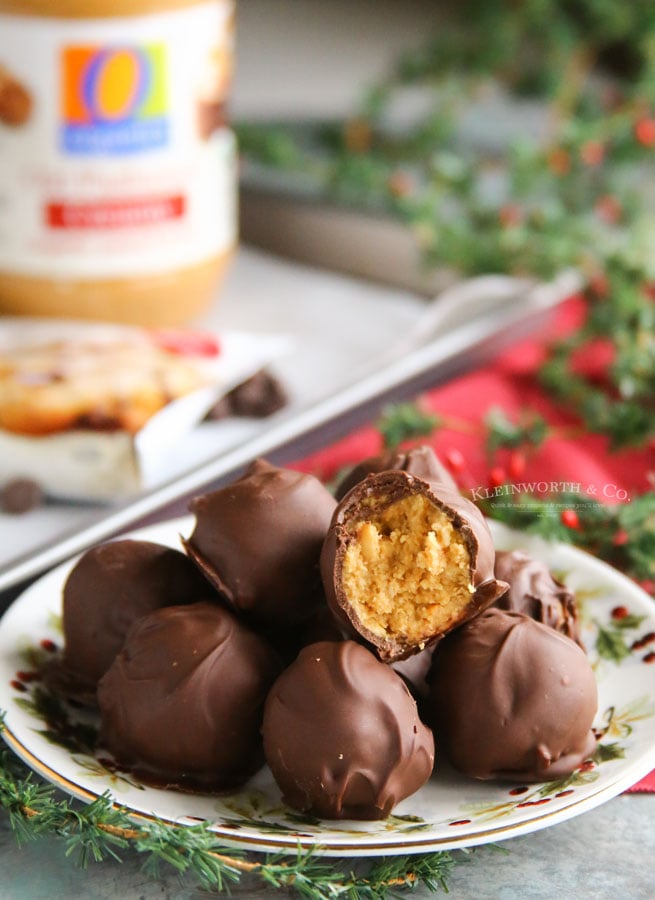 I grabbed some O Organics® Peanut Butter & 51% Cocoa Semi-Sweet Chocolate Chips along with the other ingredients for these peanut butter balls. O Organics, available in the Northern Idaho area exclusively at Safeway, offers a wide variety of USDA-certified organic products that are available to everyone at a great value.
We love that Safeway makes it easy to eat healthier with such a wide variety of products, including everything I need for my favorite holiday treats. You can also find O Organics at Albertsons, Jewel-Osco, Vons, Pavillions, Randalls, Tom Thumb, Shaw's, Star Market, United Express, United & Carrs/Safeway.
Easy No-Bake Peanut Butter Balls
Here are some commonly asked questions
Can I use milk chocolate chips instead?
Yes, absolutely, that will work just fine. They will have a slightly different flavor, but they are still delicious.
Can I use a sugar substitute?
I have not personally tried it, so I can't say how that would turn out. But if you would like to try it, I suggest a product that offers a 1:1 swap. Please let me know how it turns out.
Can these peanut butter balls be frozen?
Yes, I do it often. It usually starts with me putting them in there to chill faster when I'm in the process of making them. I'm very impatient. But then I get side-tracked and forget about them in there. I usually find them the next day and they are always fine. For long-term freezing, make sure to put them in an airtight container or zip-top bag after the chocolate has set.
Safeway is my one-stop-shop for all my holiday baking needs. Safeway has over 400 USDA-certified O Organics products in nearly every aisle. I love that they believe that great-tasting organic food should be available to everyone. It can be hard to find organic foods here in our small town. If it wasn't for Safeway I'd have to travel pretty far to find them.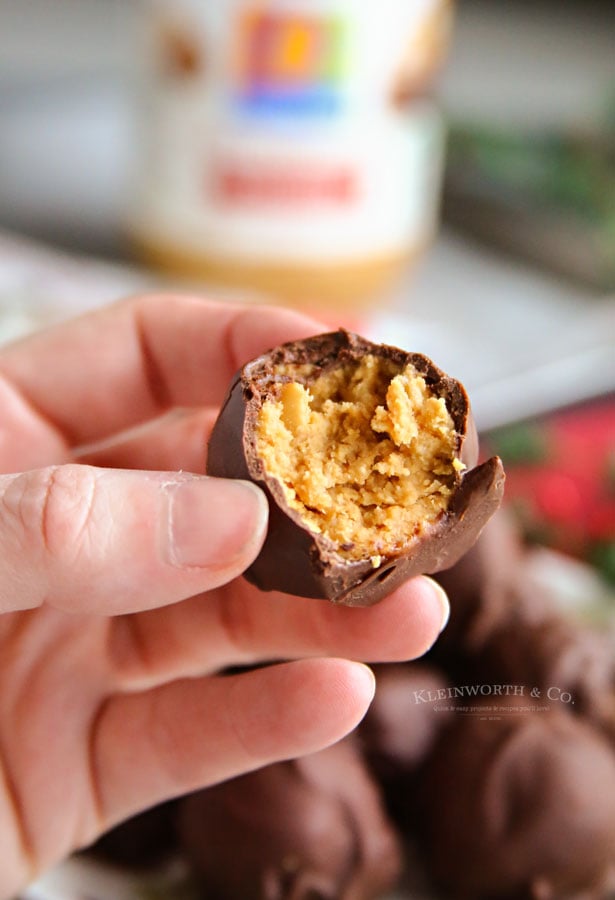 Check out the video tutorial for this recipe. It's is as simple as mixing the ingredients, rolling into balls & coating in chocolate. The recipe doubles well & I would suggest you DO double it. These are a favorite with every one I make them for. They go pretty quick, so I usually make a triple batch.
simple peanut butter balls
How many can this serve?
This recipe makes about 30-36 peanut butter balls. More than enough to bring to an office party, give as gifts or just enjoy while you spend time with the family.
recipe for peanut butter balls
Can this recipe be doubled?
You can double this recipe, and we do it often. I highly recommend doubling this if you are making them for more than just your personal family enjoyment. They go quickly – everyone loves them.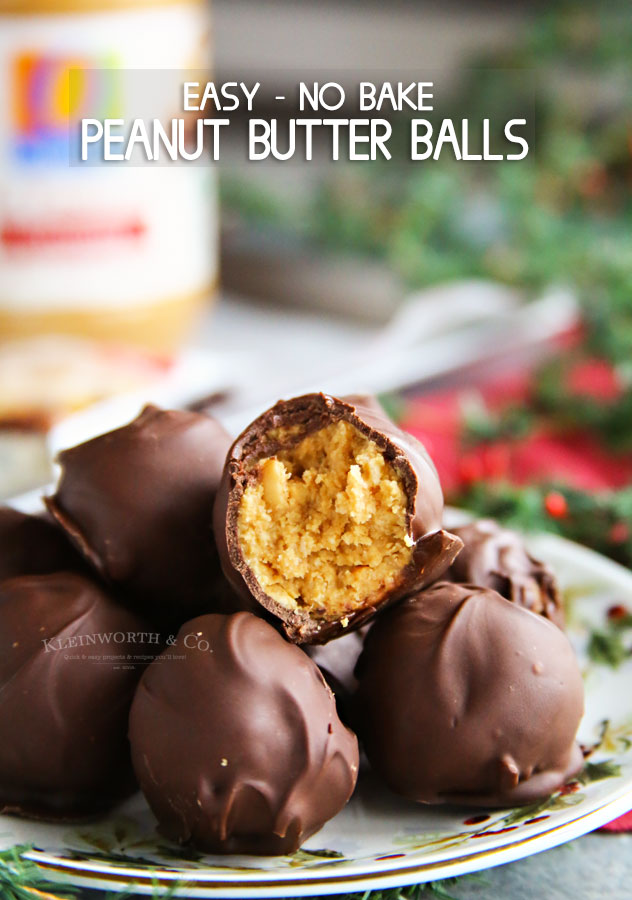 HOW DO YOU MAKE No-Bake Peanut Butter Balls?
Combine peanut butter, graham cracker crumbs, confectioners sugar, and butter in a large bowl. Stir or work together with hands until well combined.
Shape into teaspoon-sized balls & place on a parchment-lined baking sheet. Chill at least 30 minutes in the freezer.
Melt chocolate in 30-second intervals in the microwave, stir gently until smooth.
Using a fork, dip peanut butter balls into melted chocolate & transfer to the lined baking sheet.
Chill at least 30 minutes to set chocolate.
What is the best way to store leftover Peanut Butter Balls?
If your house isn't too warm, these can be stored in an airtight container at room temperature. If you keep things a bit more toasty, they can be stored in the refrigerator. Just take them out and let them warm up for a few minutes before serving.
To make Easy No-Bake Peanut Butter Balls you will need…
Peanut Butter
crushed graham crackers
confectioners sugar
butter softened
Semi-Sweet Chocolate Chips
easy peanut butter balls
More Awesome Peanut Butter Recipes
3-Ingredient Peanut Butter Cookies
Products I love when making Peanut Butter Balls…
This Peanut Butter Balls recipe is SUPER EASY and delicious – and if you're like me this time of year, then you maybe already have some of these items on hand OR maybe you have never made homemade Peanut Butter Balls before, & you might be a bit nervous – but you're going to love them. I have made a list below of the things I absolutely can't live without when it comes to making this no-bake recipe.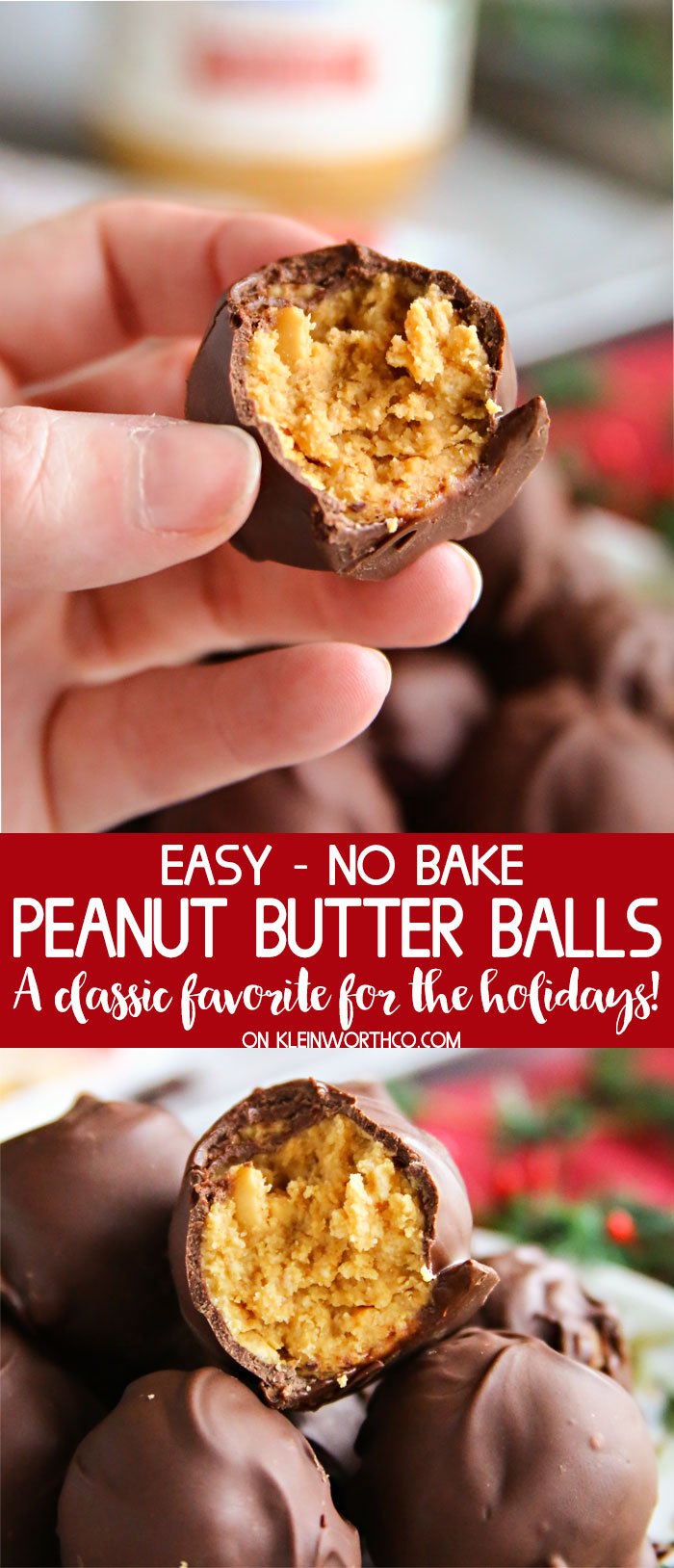 If you love this Easy No-Bake Peanut Butter Balls recipe, you're going to love these other treats too. Please click each link below to find the easy, printable recipe!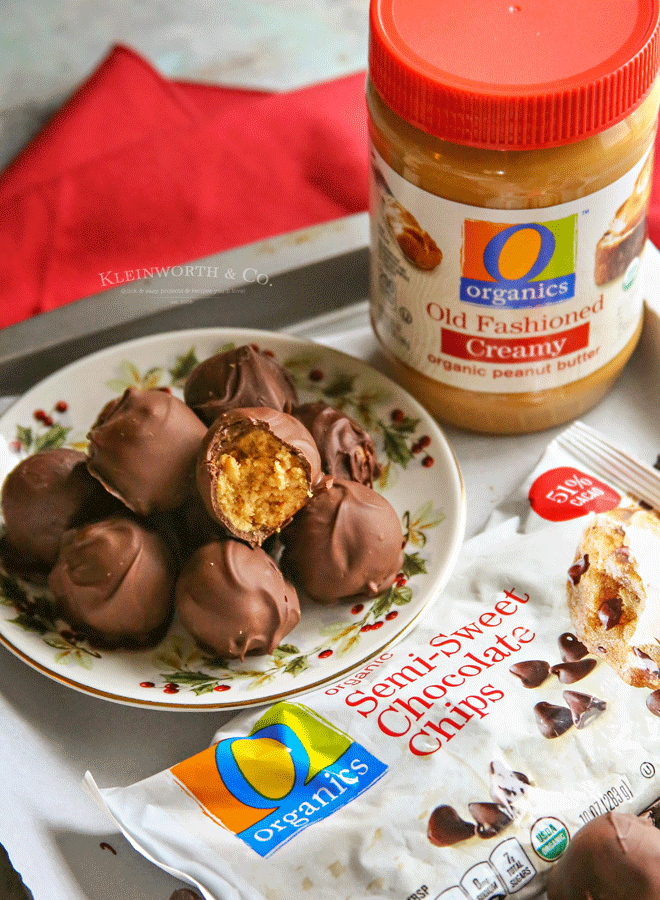 no bake peanut butter balls with graham cracker
If you love this recipe for No-Bake Peanut Butter Balls as much as I do, please write a five star review, and be sure to help me share on facebook and Pinterest!
CONNECT WITH KLEINWORTH & CO!
Be sure to follow me on my social media, so you never miss a post!
FB, Pinterest, IG, Email Subscription
Reader Interactions