Homemade Crunch Bars are an easy to make, 3-ingredient recipe. If you love rich, chocolaty crisp candy bars, you will love this quick no-bake recipe.
What is your favorite candy bar? I have many I love very much, but there is one in particular that I like because it's light & yet rich, chocolaty with crunch. Crunch candy bars are something I crave. But I crave these Homemade Crunch Bars even more.
You see, I never know when the craving will strike. But when it does, it is nice to know that I can take just a couple minutes in the kitchen to whip up a batch that makes enough for the whole family to indulge after dinner.
Scroll to the bottom for the Printable Recipe
Seriously, it only takes a few minutes of prep & 3-ingredients (yep, just 3), a couple of hours in the freezer to firm & that is it.
Chocolate Crunch Bar
This post contains some affiliate links. Click here to read my full disclosure policy.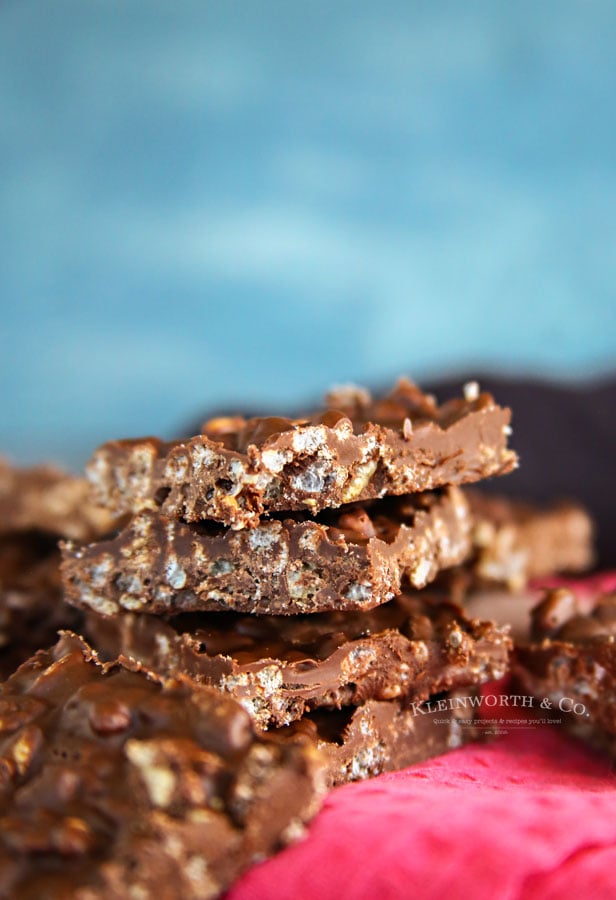 What you want to do is combine the chocolate & coconut oil in a bowl & pop it in the microwave on 30 second increments. Then once it is completely melted & silky smooth you fold in your crisp cereal until it is all coated. Spread it out in a small pan & freeze for a couple hours before cutting. That is it. Anyone can do this.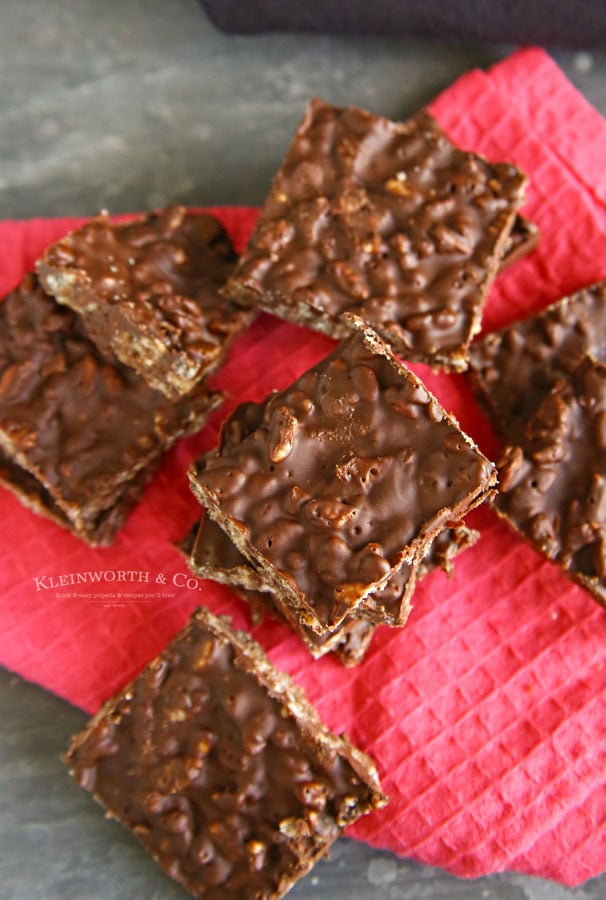 Here are some commonly asked questions
Can I use semi-sweet chocolate chips?
Yes, that will work just fine. It just won't be quite as creamy and will taste slightly different than you would get with a milk chocolate bar.
Can I use shortening instead of coconut oil?
Yes, that works just fine for getting that really smooth chocolate and is comparable to the coconut oil in the final result.
Can these crunch bars be frozen?
Yes, I do it often. Often times I have over estimated on my ingredients and have too much to reasonably eat. Popping these in the freezer is a great way to make the recipe in bulk & then have some for later.
HOW DO YOU MAKE Homemade Crunch Bars?
Line an 8×8 pan with parchment paper & set aside.
Combine the chocolate & coconut oil in a bowl & microwave on 30-second increments.
Once it is completely melted & silky smooth, fold in your crisp cereal & stir until it is all coated.
Spread it out in prepared pan & freeze for a couple hours before cutting.
Can I make these vegan or gluten-free?
Yes – you can. Most chocolate chips are already gluten-free. But you can pick up vegan chocolate chips for this. You can also use vegan gluten-free brown rice crisp cereal for this dessert.
What is the best way to store leftover crunch bars?
These can either be stored at room temperature or in the refrigerator – depending on how hot you keep your house or what season it is. I like them at room temperature. Just store them in an airtight container or zip-top bag for up to 1 week.
Homemade Crunch Bars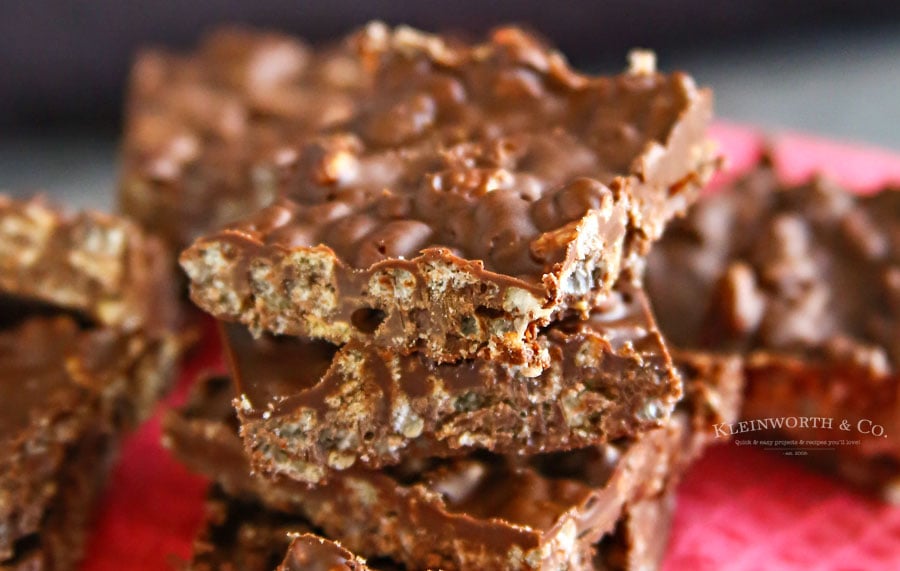 Can I double this recipe?
Absolutely. Sometimes I double it & spread it out in a 9×13 pan. Other times I use a 9×9 pan & make them extra thick.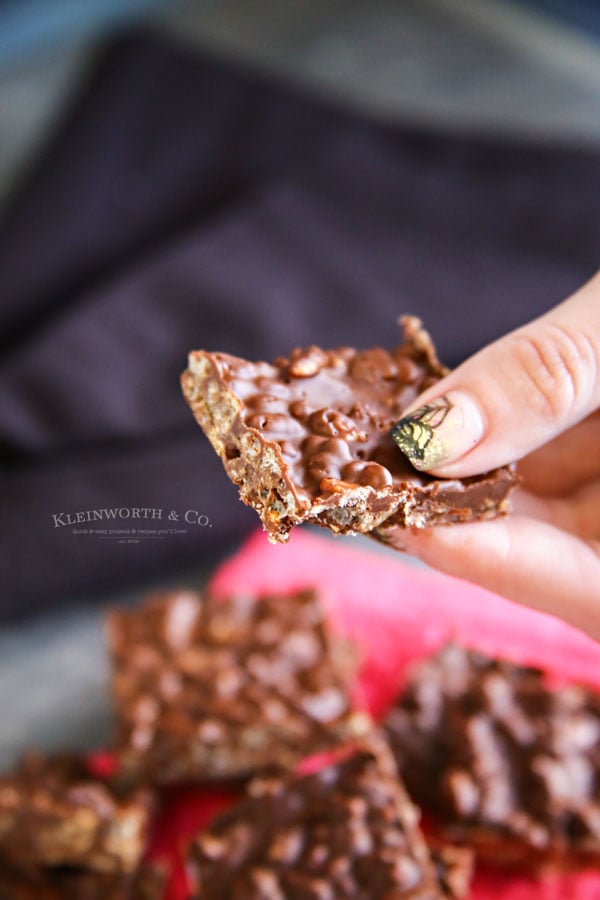 If you love Crunch Bars – this will be your new favorite recipe!
To make Homemade Crunch Bars you will need…
milk chocolate chips
coconut oil
crisp cereal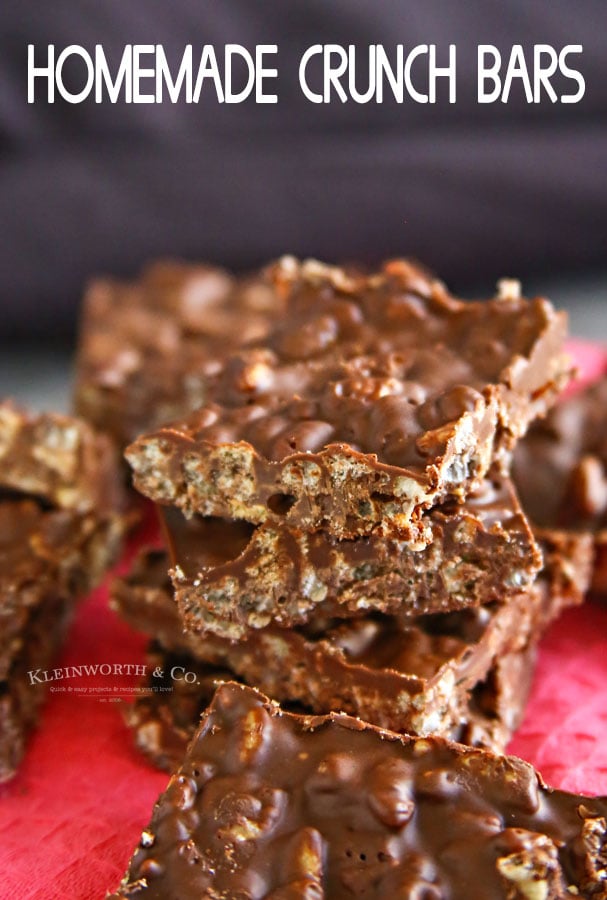 crunchy chocolate
Products I love when making Homemade Crunch Bars…
This Homemade Crunch Bars recipe is SUPER EASY and delicious – and if you're like me, then you maybe already have some of these items on hand OR maybe you have never made copycat candy bars before, & you might be a bit nervous – but you're going to love it. I have made a list below of the things I absolutely can't live without when it comes to making this treat recipe.
How to make Homemade Crunch Bars
If you love this easy chocolate crunch bar recipe, you're going to love these other treats too. Please click each link below to find the easy, printable recipe!

crunch chocolate bar
If you love this recipe for Homemade Crunch Bars as much as I do, please write a five star review, and be sure to help me share on facebook and Pinterest!
CONNECT WITH KLEINWORTH & CO!
Be sure to follow me on my social media, so you never miss a post!
FB, Pinterest, IG, Email Subscription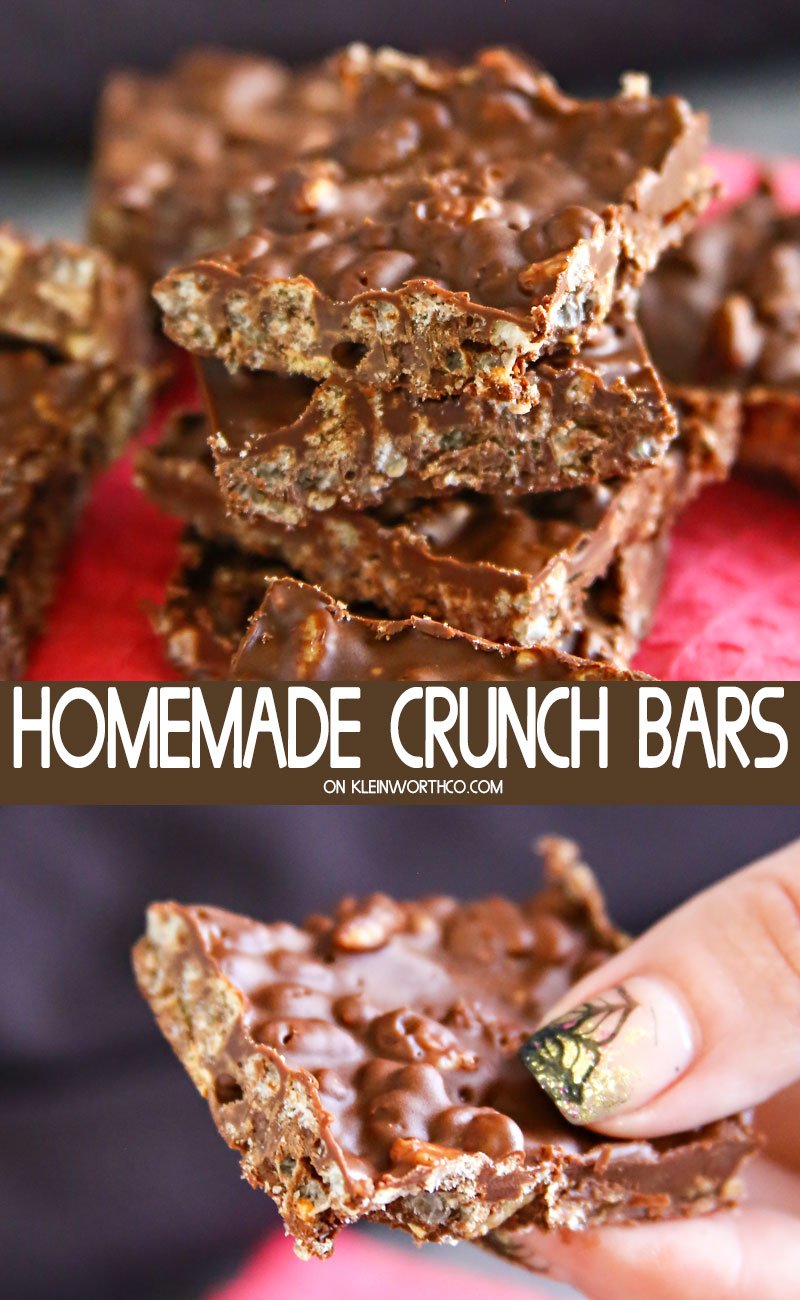 Reader Interactions