Sausage Cheese Dip is the perfect game day snack. Only 6 ingredients needed for this party appetizer that is great for tailgating, holidays & bbq's.
My friends, there are few things I love more than game day snacks. I could literally eat them for every single meal, each and every day.
So when it comes to snacks like this Sausage Cheese Dip, I have a hard time sharing. This stuff is addictive and the whole family LOVES it.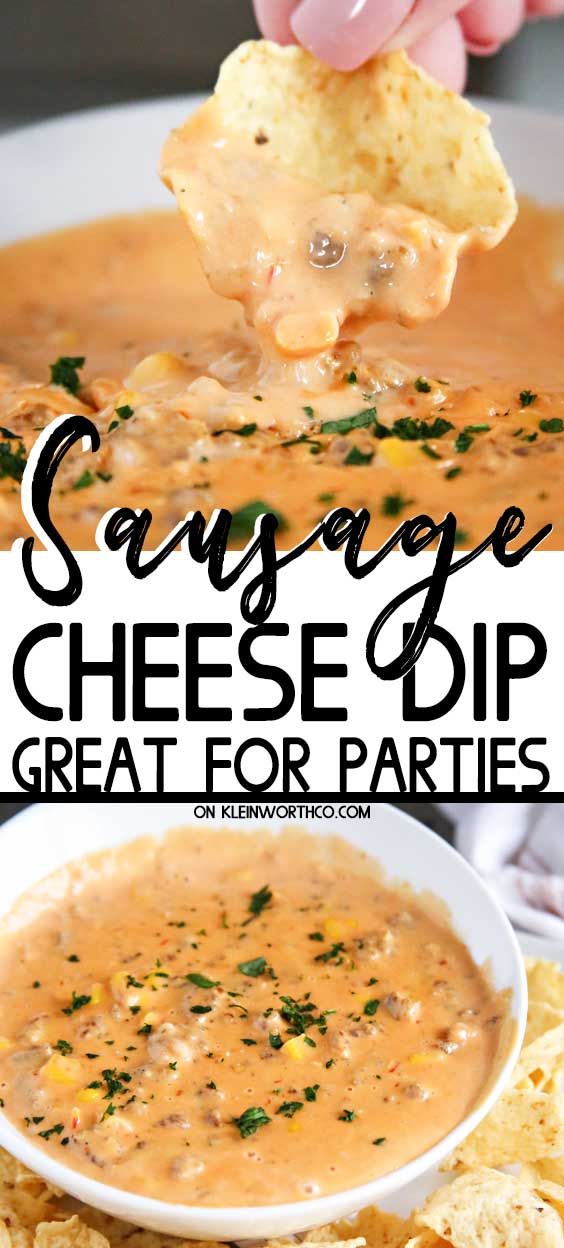 The first time I had this snack we were at a pool party with friends. Once I had the first bite, swimming was over for me. It didn't matter that it was 120 degrees outside.
I stayed on the porch and near the dip bowl so I could eat until I was stuffed. It was absolutely ridiculous. But man this stuff is good.
sausage dip
This post contains some affiliate links. Click here to read my full disclosure policy.
So fast forward many years & here we are. I'm making this dip and the family BEGS for it all the time! I don't blame them. Not only is it so good, but I really have no excuse to not make it because it is so easy to make.
The best part is that everyone at your game day parties will love it too. I can guarantee that. Unless, of course, they don't eat cheese or sausage. Then, you probably want to have some other options. But for those cheese lovers out there, this is pure heaven.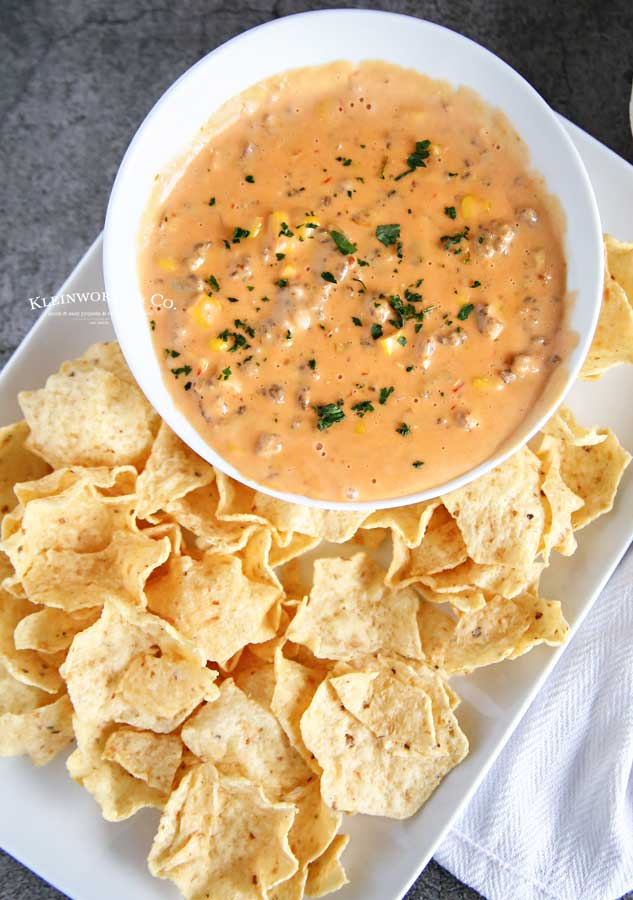 Keep in mind, this isn't just for game day though. As I said, we had ours at a pool party. So this is perfect for holiday parties, backyard bbq's and so much more.
Here are some commonly asked questions
How can I make this in the slow cooker?
Making this in the slow cooker is so easy. First you need to brown your sausage in a skillet. Then transfer the sausage into the slow cooker with the remaining ingredients. Heat on low for about 1-2 hours, stirring occasionally. Keep on warm & make sure to stir throughout the afternoon while your guests are enjoying it.
Mine turned too thick, What now?
This can be caused by overcooking. If this happens, just add a splash of milk and stir in while heating on low until it thins out again.
What is the best way to store leftover dip?
After serving, place leftover dip in a shallow airtight container. Be sure to label with the date before refrigerating. This recipe should keep for up to 3 days. As with most things, it is important to get food into the refrigerator within 1 hour after serving to prevent bacteria growth.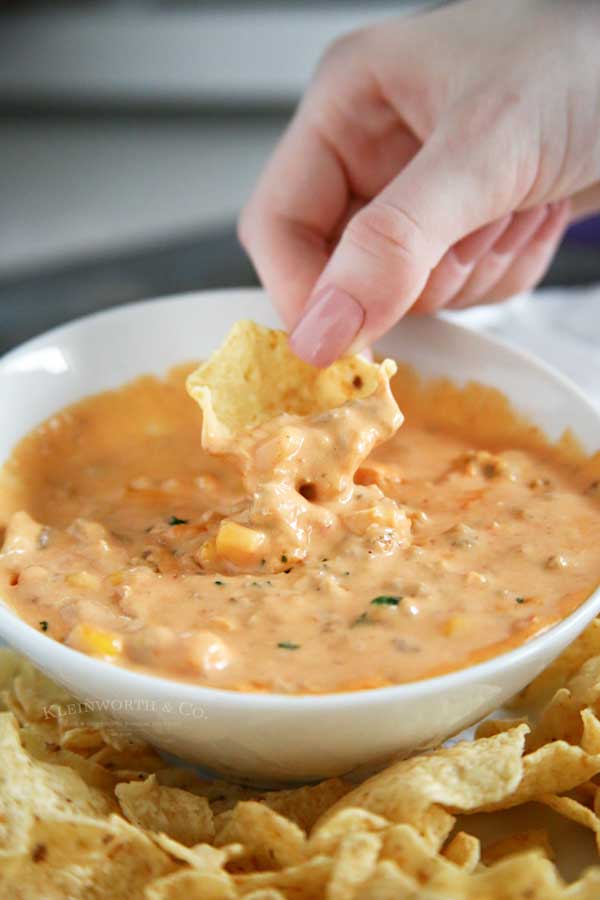 Why use a shallow container to store the leftovers?
Well, when the container is shallow, the contents chill faster than if you were to use a large, deep container. Ideally, you don't want it to take too long for the leftovers to get to their chilled/stored temperature. As I mentioned, if the food remains above about 35 degrees for more than 1 hour after cooking, the bacteria starts to grow.
So, if the deep container of food takes several hours to finally get to that 35 degrees, the bacteria has been growing in your leftovers for those several hours. Not exactly what you want to happen.
How many can this serve?
This will depend greatly on portion sizes & the appetites of your crowd. We were able to easily have 10 people snacking on this dip for an afternoon without running out. But when it comes to my family of 5, we usually polish it off in 2 days. But we also like to add it to our tacos & burritos – so it does go faster that way.
velveeta sausage dip
Can this recipe be doubled?
Yes, absolutely! If you have a large pot or enough space in your slow cooker, you can definitely double this recipe.
HOW DO YOU MAKE SAUSAGE CHEESE DIP?
Brown the sausage in a large skillet over medium heat until fully cooked and no pink remains.
Drain any grease and transfer to a saucepan.
Add the cream cheese, Velveeta, salsa, corn and granulated garlic.
Heat over medium-low, stirring frequently until the cheese is melted and the mixture is well combined.
Transfer to a serving dish and enjoy with tortilla chips or scoops.
To make in a slow cooker, just add the browned sausage to the slow cooker along with the other ingredients and heat on low for 1-2 hours, stirring occasionally.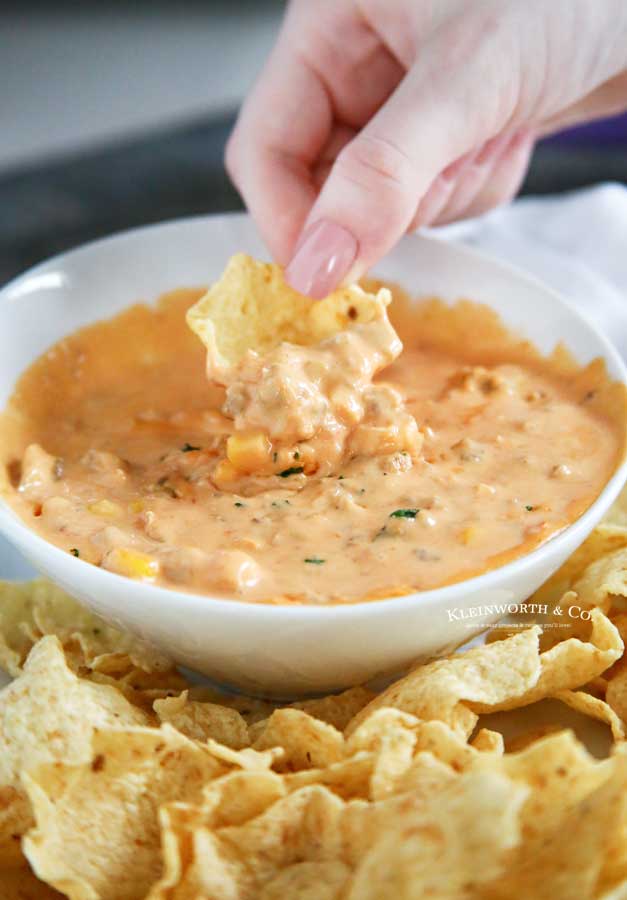 What if I don't have sausage?
You can make this recipe with ground beef if you don't have sausage. I also like to toss in leftover rotisserie chicken or pulled pork if that is what I have on hand at the time.
What if I don't have salsa?
No problem. This recipe is great when using Ro*Tel in place of the salsa. It adds a nice kick that isn't too much, but super delicious.
Other Delicious and Easy Dips
Slow Cooker Buffalo Chicken Dip
More Cheesy Recipes to Try
Cream Cheese Rotel
Ingredients for Sausage Cheese Dip
ground sausage
cream cheese
Velveeta
corn
salsa
granulated garlic
Products I love when making this dip recipe…
This rotel sausage cheese dip recipe is so EASY and delicious – and if you're like me, then you probably already have many of these items on hand OR maybe you have never made a cheesy appetizer dip before, & you might be a bit nervous – but you're going to love the how simple this recipe is. I have made a list below of the things I absolutely can't live without when it comes to making this snack.
Look at that! Holy- YUM guys!! I love this stuff!
Queso with Sausage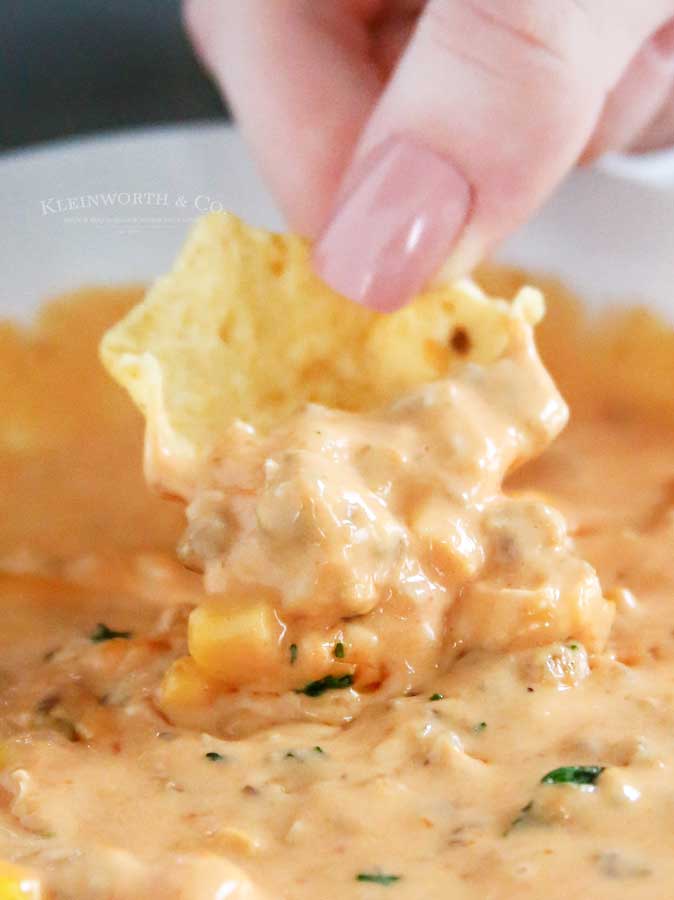 ---
If you love this Sausage Cheese Dip recipe, you're going to love these other delicious recipes too. Please click each link below to find the easy, printable recipe!
---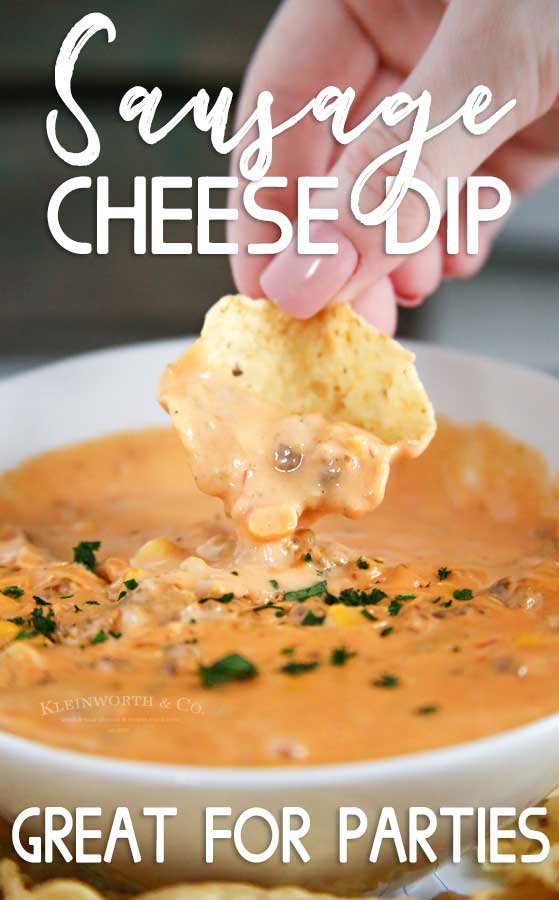 Sausage Queso Dip Recipe
---
If you love this easy Sausage Cheese Dip recipe as much as I do, please write a five star review, and be sure to help me share on facebook and pinterest!
---
---
Reader Interactions