Break out the pressure cooker and warm up with this super easy Instant Pot Chicken Chili that is ready in just 30 minutes. It's the perfect dinner for busy weeknights or a cold blustery day. Recipe for the slow cooker and stovetop versions too.
There are some things that I really, really love. Chicken chili tops that list, especially on cold days.
For as long as I can remember, the hubs and I have been making chili. I love it with just about any type of meat added in. But there is something about this Instant Pot Chicken Chili that is absolutely irresistible.
How about our Instant Pot White Chicken Chili too?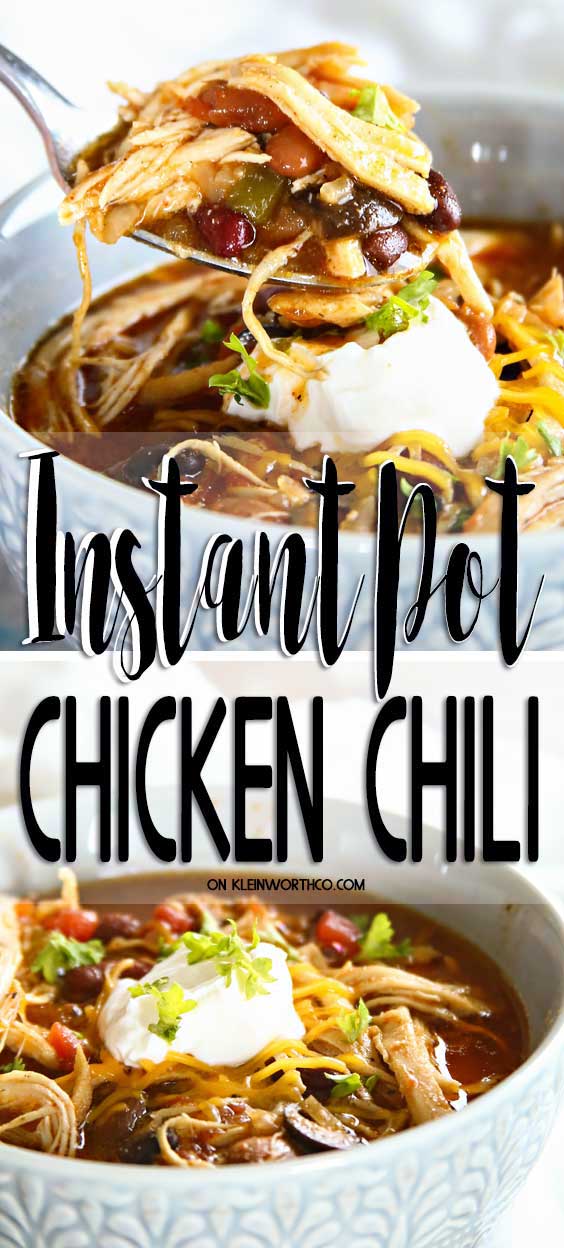 I think part of it as to do with the fact that I am completely obsessed, like crazy obsessed, with pulled meat. It doesn't matter if it is beef, chicken or pork, I can't get enough.
I will choose pulled meat over just about anything else whenever given the opportunity. So adding this pulled chicken to the chili I already love just makes my heart sing.
If you love easy dinners – you don't want to miss our Instant Pot Chicken and Dumplings too!
chicken chili recipe
This post contains some affiliate links. Click here to read my full disclosure policy.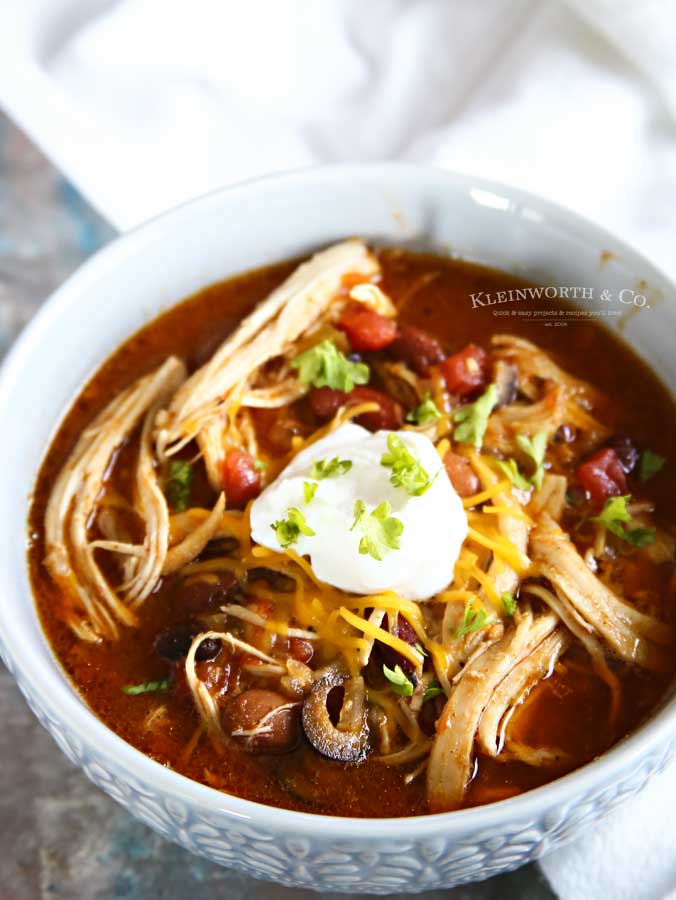 I really love that I can make this recipe with leftovers, which is what I do quite often. There are so many times when I have a bunch of chicken leftover from tacos the night before. But everyone is already burnt out on tacos and wants something different.
That being said, this recipe can be made with rotisserie chicken, which makes it just as fast as using leftovers.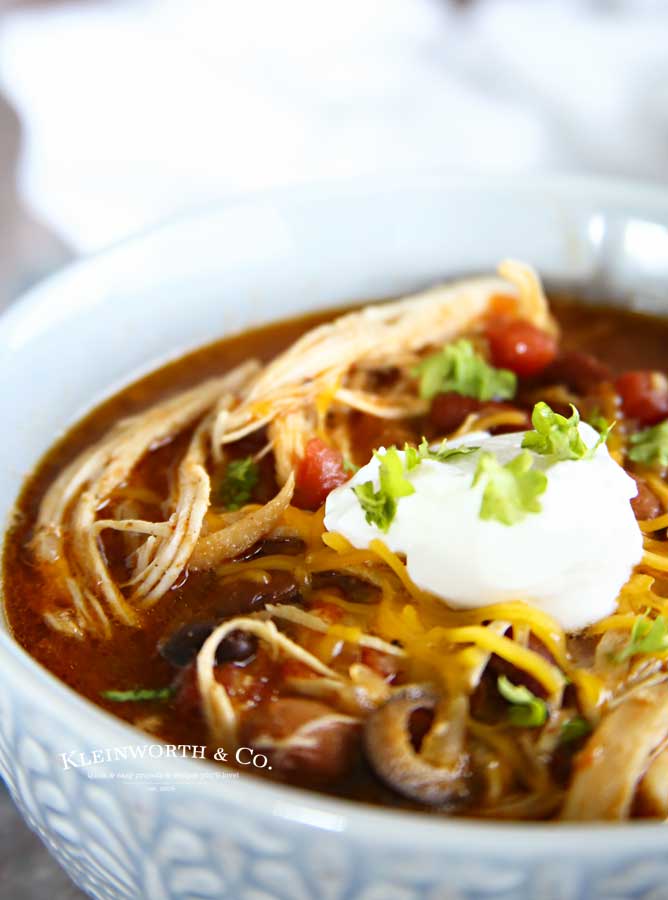 But I think you will love that this recipe is toss & go. I'm all about quick and easy and I don't like a lot of steps. So whenever I can just toss everything in & keep the prep time to under 5 minutes, I'm all for that.
I mean, really, who has time for a bunch of steps? The pressure cooker is supposed to make life easier, right?
So this one is simple and practically effortless, which is AWESOME!
Here are some commonly asked questions
Can I make this recipe with another type of meat?
Yes- you can use leftover turkey, pulled beef, ground beef, ground sausage or ground turkey. It is all delicious in this chili recipe.
What is the best way to store leftover chili?
After serving, place leftover soup in a shallow airtight container. Be sure to label with the date before refrigerating. This recipe should keep for up to 3 days. As with most things, it is important to get food into the refrigerator within 1 hour after serving to prevent bacteria growth.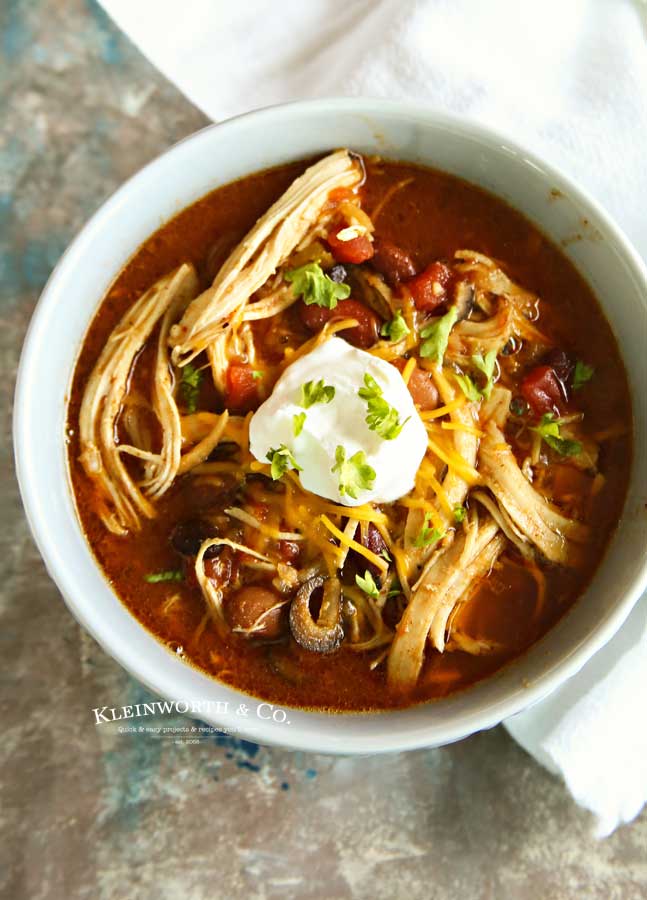 How many can this serve?
This will depend on the size of your portions. I can feed my family of 5 (with 3 adult children) for 2 nights. That does include some seconds too. This is for the hungry crowd.
chicken chili instant pot
Can this recipe be doubled?
This depends on the size of your pressure cooker. But in general I would not recommend it. The Instant Pot will not cook effeciently if it is overly full.
That being said, you can double this if you want to make the slow cooker version and you have 2 crockpots. I often have both going at the same time for this recipe & then we just freeze the second pot for another time.
Can this be made on the stovetop?
Yes, you absolutely can make this recipe on the stovetop. It's really easy. Just dump all of the ingredients in a large stockpot & bring to a simmer over medium heat. Reduce heat to low & continue to simmer for about 20 minutes before serving.
HOW DO YOU COOK CHICKEN CHILI IN THE CROCKPOT?
Combine rotisserie chicken, pinto beans, black beans, small red beans, sliced olives, diced tomatoes, dried minced onions, diced green chiles, minced garlic, granulated garlic, pepper, chili powder & water in the slow cooker.
Cover & cook on high for 4 hours or on low for 6 hours.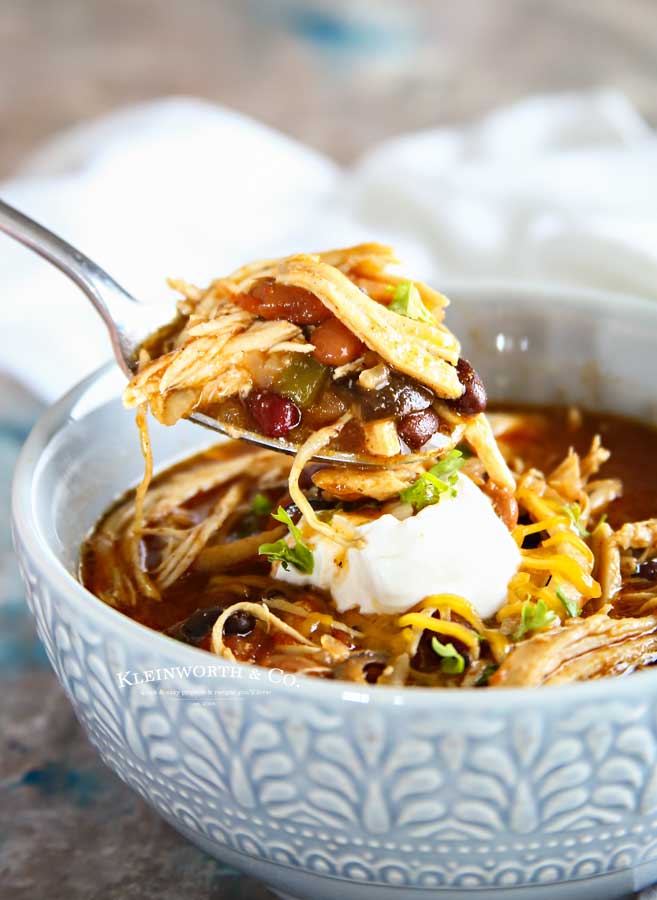 Is it necessary to use a specific type of pressure cooker?
No, not at all. I just happen to have an Instant Pot, but pressure cookers have become so popular over the last couple years that just about every big & small appliance company makes one. This will work with them all.
HOW DO YOU MAKE Instant Pot Chicken Chili?
Dump all of the ingredients in the pot.
Stir, place the lid & set on manual high pressure for 10 minutes.
Once it is done cooking, slow release for 10 minutes & then quick release.
Can you freeze chicken chili?
Yes you can freeze chicken chili. Just make sure that the chili has cooled to warm. Then place in a shallow, airtight & freezer-safe container. Label with the contents & the date before placing in the freezer. I like to use a zip-top bag & then lay it flat on a cookie sheet. The cookie sheet is great just in case you have a small leak, it can catch any spills without a mess.
Why use a shallow container to store the leftovers?
Well, when the container is shallow, the contents chill faster than if you were to use a large, deep container. Ideally, you don't want it to take too long for the leftovers to get to their chilled/stored temperature. As I mentioned, if the food remains above about 35 degrees for more than 1 hour after cooking, the bacteria starts to grow.
So, if the deep container of food takes several hours to finally get to that 35 degrees, the bacteria has been growing in your leftovers for those several hours. Not exactly what you want to happen.
pressure cooker chicken chili
To make this recipe you will need…
rotisserie or leftover chicken
pinto beans
black beans
small red beans
sliced olives
diced tomatoes
dried minced onions
diced green chiles
minced garlic
granulated garlic
pepper
chili powder
water
cheese, sour cream, parsley, chives, for garnish if desired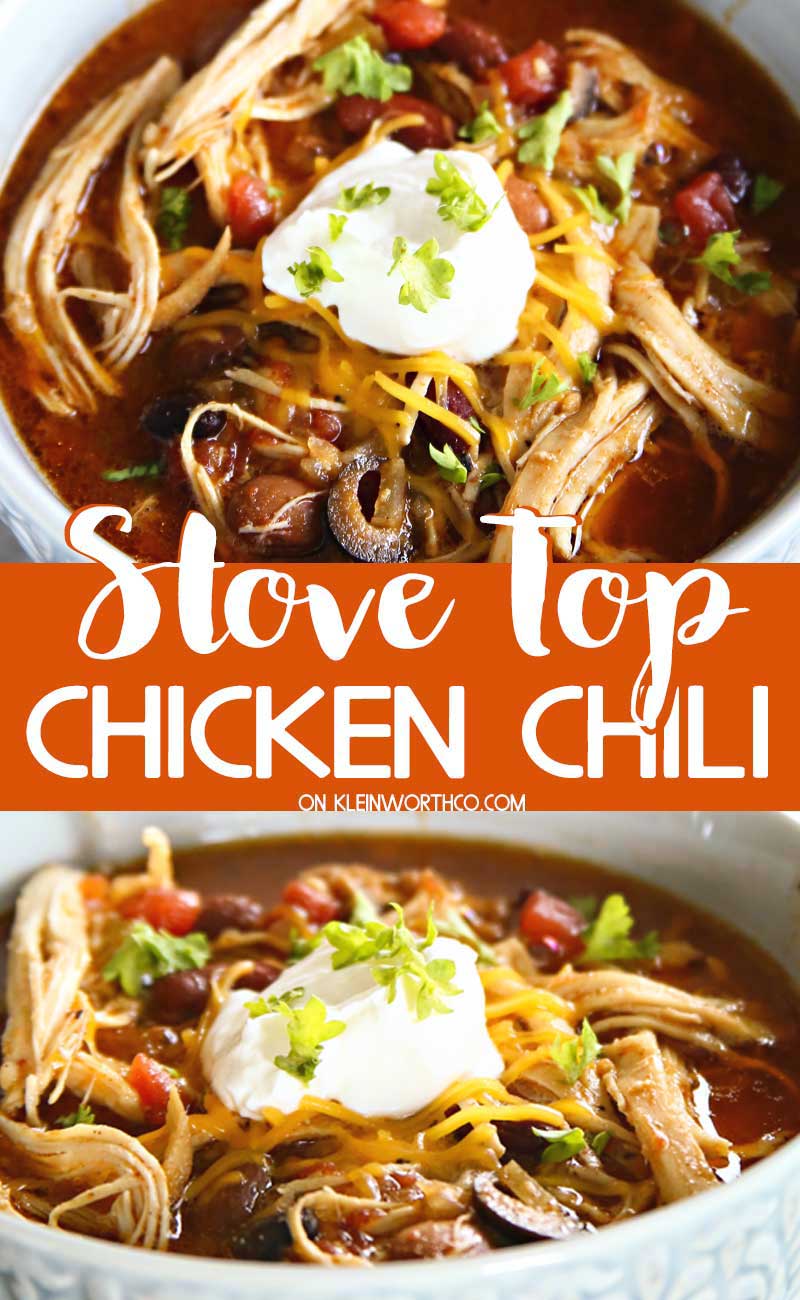 Products I love when making Instant Pot Chicken Chili…
This chicken chili recipe is so EASY and delicious – and you probably already have many of these items on hand! I have made a list below of the things I absolutely can't live without when it comes to making this awesome dinner.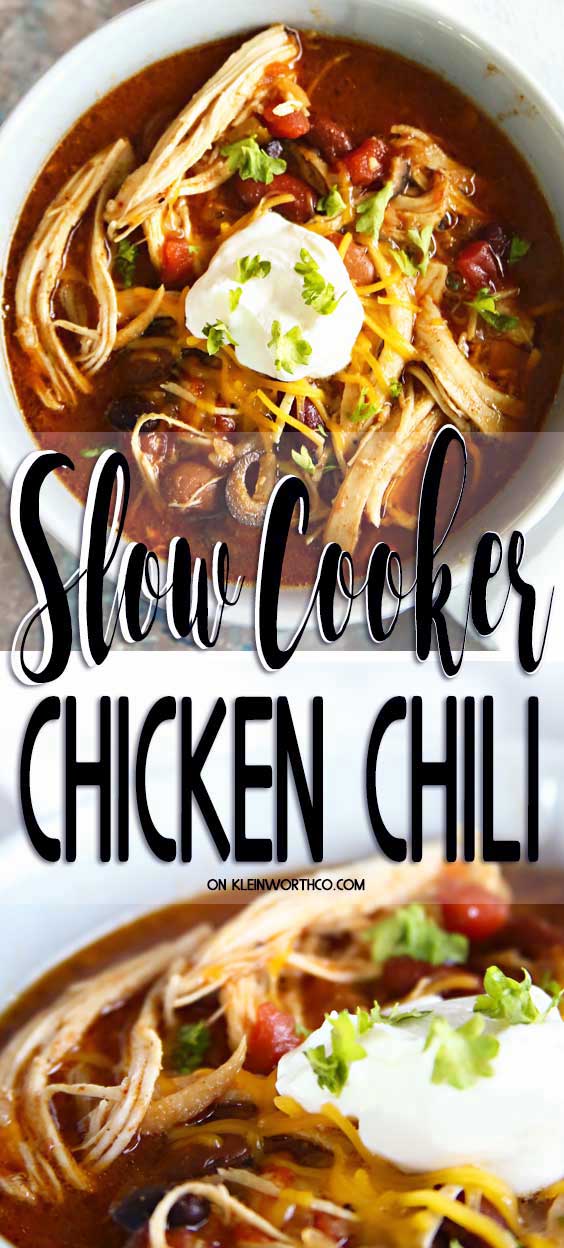 If you are looking for a quick & easy chicken chili recipe, this one is AWESOME!
Scroll to the bottom for the Printable Recipe
rotisserie chicken chili in instant pot
If you love this pressure cooker chicken chili recipe, you're going to love these other delicious dinner recipes for your Instant Pot too. Please click each link below to find the easy, printable recipe!

instant pot chicken chili recipe
If you love this chicken chili recipe as much as I do, please write a five star review, and be sure to help me share on facebook and pinterest!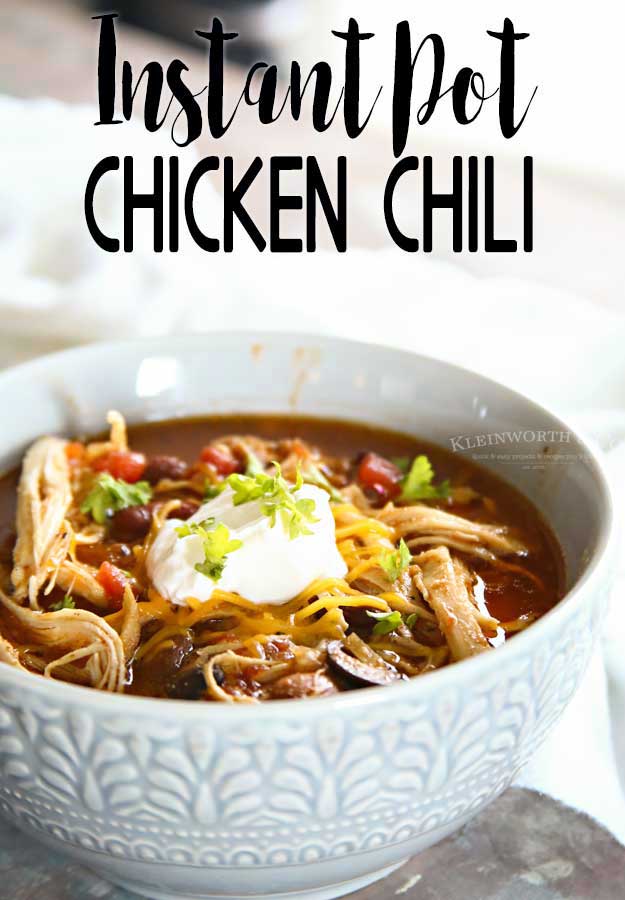 CONNECT WITH KLEINWORTH & CO!
Be sure to follow me on my social media, so you never miss a post!
FB, Pinterest, IG, Email Subscription
Reader Interactions