This is such a quick & easy chicken soup dinner recipe. Loaded with all the good stuff, like potatoes, chilis, black beans & corn all tossed into the pressure cooker and ready in under 30 minutes. Hearty Chicken Soup – Instant Pot is positively delish!
Winter has set in and it is fridged out there. That means all I want is a warm bowl of soup that I can enjoy while sitting by the fire to take the chill off a bit.
But of course, I like meals to be fast, because who wants to cook when they just spent hours shoveling the driveway? I make this Hearty Chicken Soup in the pressure cooker and it is done in less than 30 minutes.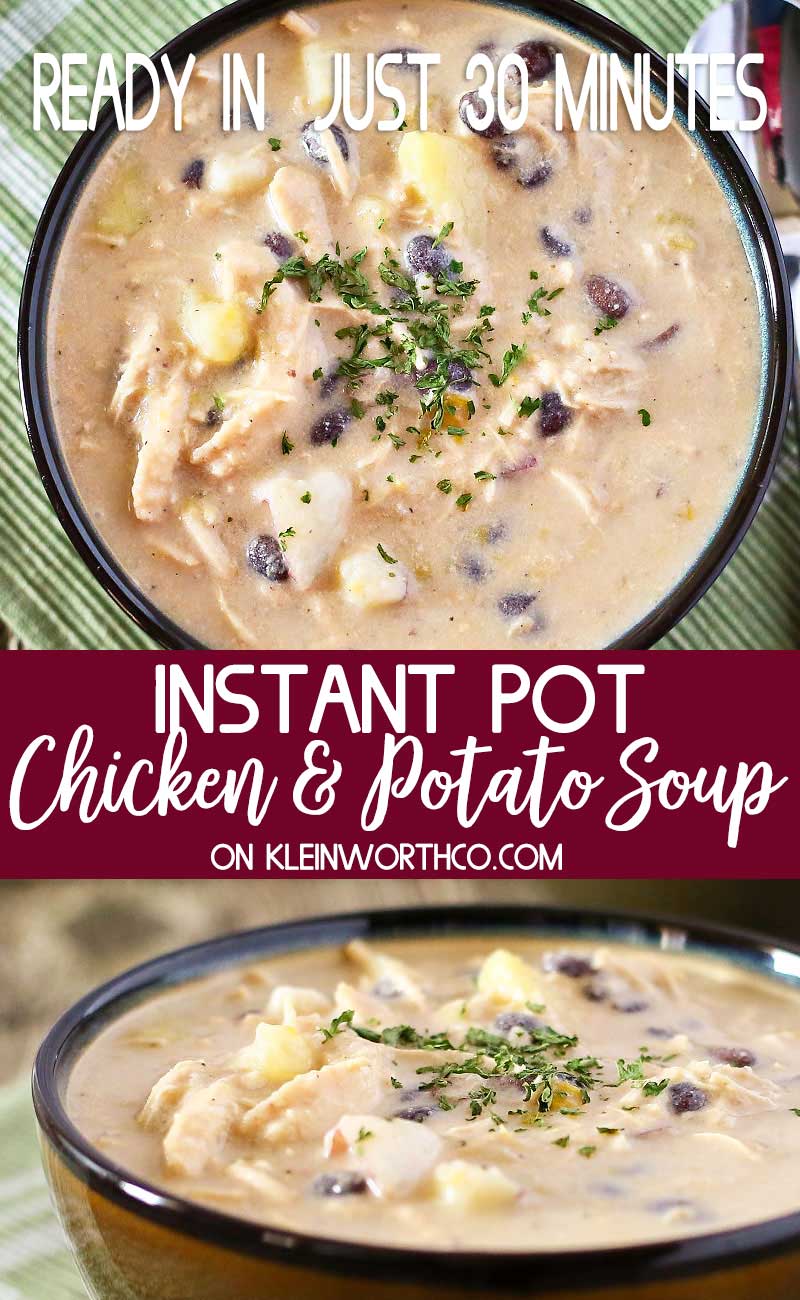 For me, the pressure cooker should be all about simplicity. Don't get me wrong, I have plenty of recipes that are a bit more "hands-on" if you will. But I always gravitate towards the ones that are pretty much "dump & go".
I have always been that way. Whether it is the slow cooker or the pressure cooker, I want it easy. Because really, those small kitchen appliances are meant to make things easier, right?
pressure cooker chicken soup recipe
This post contains some affiliate links. Click here to read my full disclosure policy.
That's what I love about this soup. I can just toss it all in the pot, walk away & maybe clean the kitchen, sort the mail, mop the floor or whatever. I don't have to mind it the whole time.
When it's done, I just add the last couple ingredients while I'm waiting for everyone to make their way down to the kitchen and dinner is ready. You really can't beat that.
I also love that it gives me a chance to use up any leftover chicken I might have from tacos or something else the night before.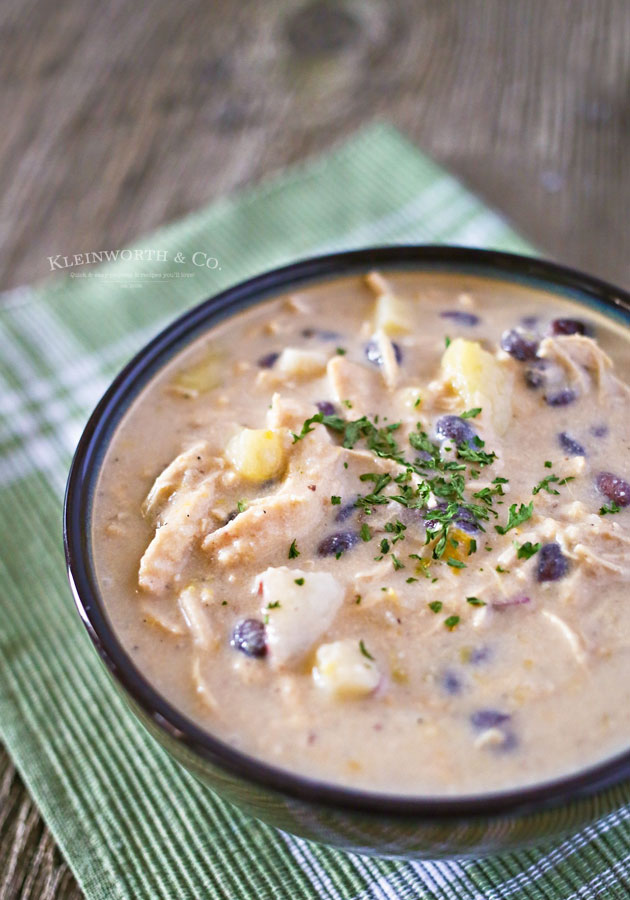 Even better, if there is something you think would taste great in this soup, by all means, toss it in there. We love to change it up to suit our needs at the time.
So I took the shredded chicken, threw it in the pot & just kept adding stuff in there. Needs to be heartier- add some potatoes. Needs a pop of color- add some peppers. Now I want it creamy…. you get the idea.

Here are some commonly asked questions
How can I make this in the slow cooker?
Making this in the slow cooker is so easy. Just combine the chicken broth, rotisserie chicken, sweet chilis, corn, potatoes, black beans, minced onions, salt & pepper in the slow cooker & stir. Cover & set on high for 4-5 hours. Add in the heavy cream, cheese & cornstarch before serving.
Can I make this on the stovetop?
You bet! Just combine the chicken broth, rotisserie chicken, sweet chilis, corn, potatoes, black beans, minced onions, salt & pepper in a large stockpot & stir. Bring to a boil over medium heat. Reduce the heat and simmer for about 30 minutes or until potatoes are fork-tender. Add in the heavy cream, cheese & cornstarch before serving.
What is the best way to store leftover soup?
After serving, place leftover soup in a shallow airtight container. Be sure to label with the date before refrigerating. This recipe should keep for up to 3 days. As with most things, it is important to get food into the refrigerator within 1 hour after serving to prevent bacteria growth.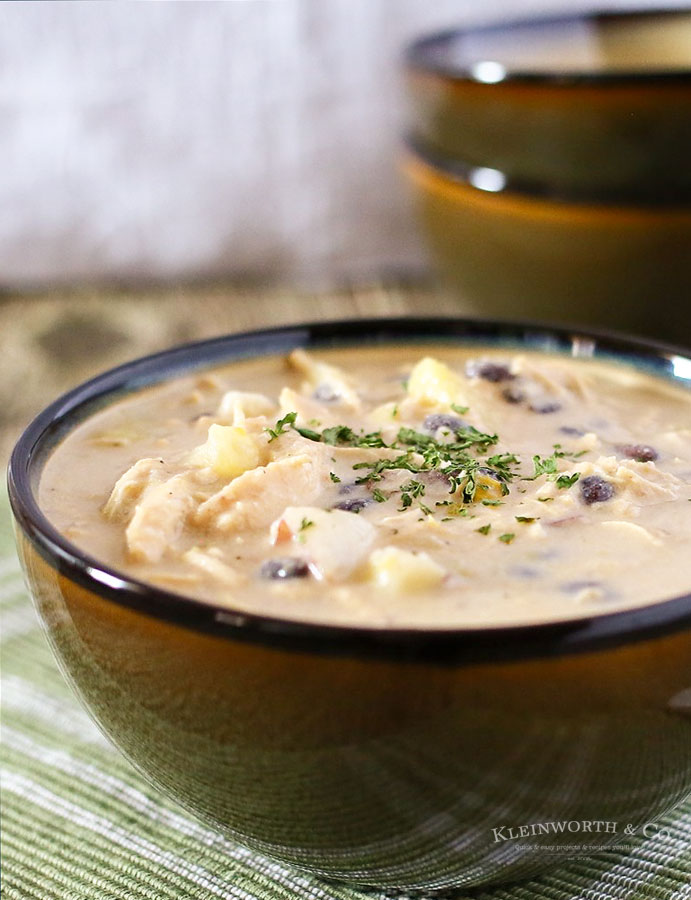 Why use a shallow container to store the leftovers?
Well, when the container is shallow, the contents chill faster than if you were to use a large, deep container. Ideally, you don't want it to take too long for the leftovers to get to their chilled/stored temperature. As I mentioned, if the food remains above about 35 degrees for more than 1 hour after cooking, the bacteria starts to grow.
So, if the deep container of food takes several hours to finally get to that 35 degrees, the bacteria has been growing in your leftovers for those several hours. Not exactly what you want to happen.
How many can this serve?
This will depend greatly on portion sizes & the appetites of your crowd. This recipe feeds our family of 5 for 2 nights. We have 3 young adult children, (one of which doesn't live here most of the time) so we usually don't have a ton of leftovers of most things, but this was perfect for us all & we had a little bit to enjoy to the next day.
instant pot potato soup
Can this recipe be doubled?
Because of the space constraints of the Instant Pot, I don't recommend it. However, if you are making this on the stovetop or in the slow cooker, you could double this, especially if you have 2 slow cookers that you could have going at once.
HOW DO YOU MAKE INSTANT POT CHICKEN AND POTATO SOUP?
Add broth, chicken, diced chilis, chopped potatoes, corn, beans, minced onions, salt and pepper to the pressure cooker pot insert.
Close the lid, set to sealing position. Cook on manual for 3 minutes.
Once done, quick release the pressure and carefully remove the lid.
Slowly pour in heavy cream. Stir well.
Add cheese – stirring until completely melted.
Finally, whisk in the cornstarch to thicken your soup & make it extra creamy before serving.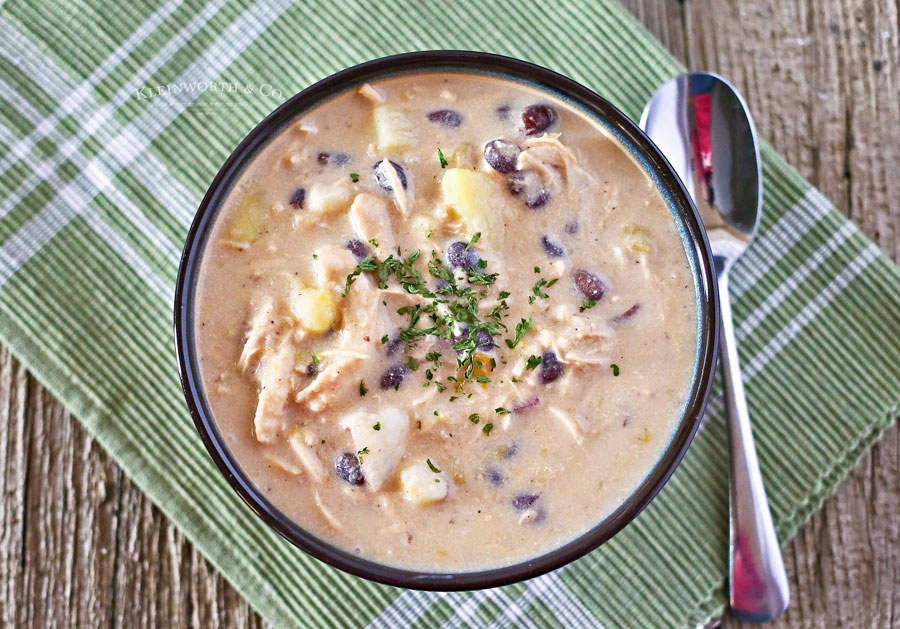 Can this be made with fresh chicken?
Absolutely. If you want to use fresh chicken, you will need to cut it into 1″ pieces and cook on the saute setting until browned before adding your other ingredients. Then increase the pressure cooking time to 10 minutes.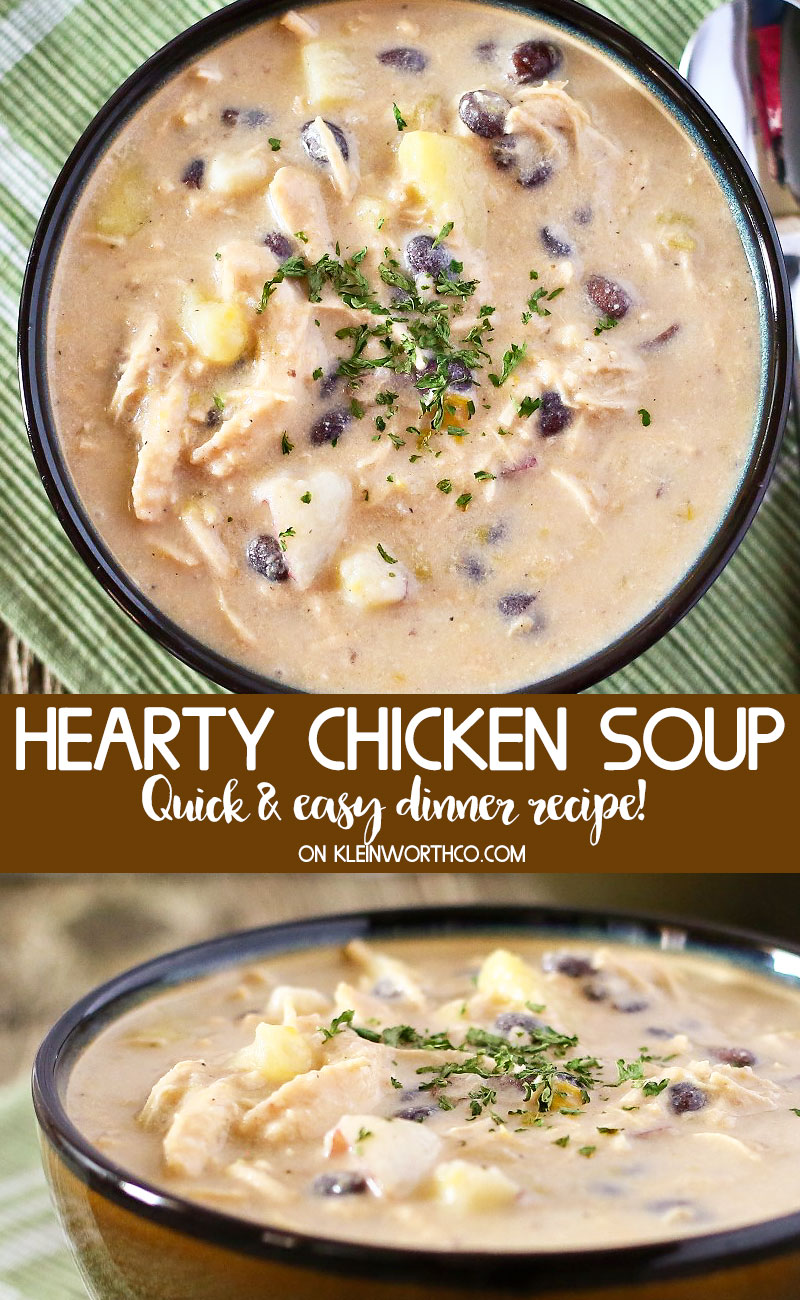 Chicken Potato Soup
To make this recipe you will need…
chicken broth
rotisserie chicken or cooked/shredded leftovers
sweet chilis – finely chopped
corn canned or frozen is fine
russet potatoes peeled & diced
black beans
minced onions
salt
pepper
heavy cream
cheddar cheese
cornstarch
Products I love when making this Hearty Chicken Soup – Instant Pot recipe…
This chicken and potato soup recipe is so EASY and delicious – and if you're like me, then you probably already have many of these items on hand OR maybe you have never made a pressure cooker soup before, & you might be a bit nervous – but you're going to love the how simple this recipe is. I have made a list below of the things I absolutely can't live without when it comes to making this dinner.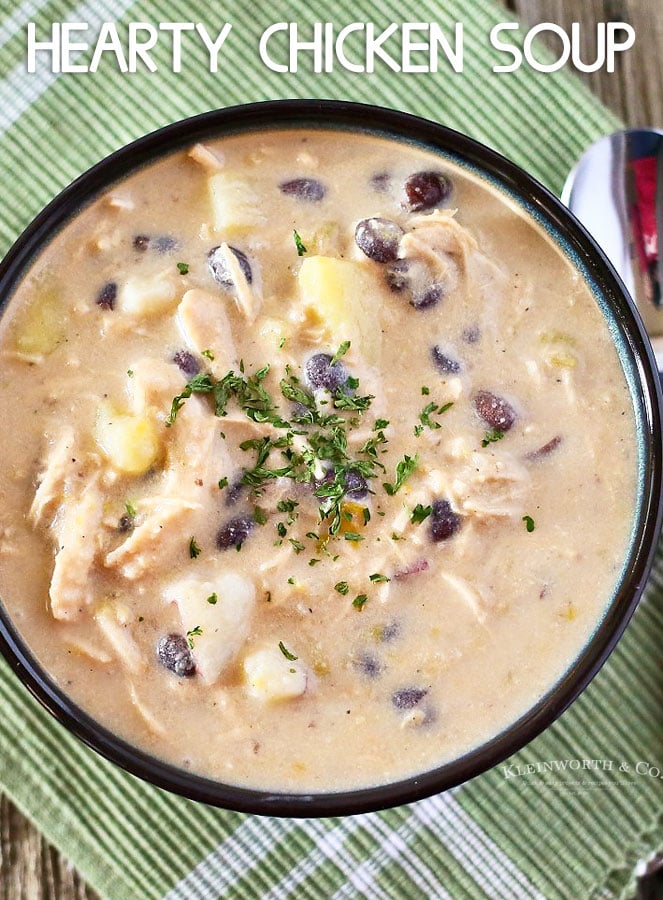 Look at that! Holy- YUM!!
Scroll to the bottom for the Printable Recipe
Rotisserie Chicken Soup Instant Pot
If you love this easy chicken and potato soup recipe, you're going to love these other delicious recipes too. Please click each link below to find the easy, printable recipe!

Instant Pot Hearty Chicken Soup Recipe
If you love this easy Hearty Chicken Soup recipe as much as I do, please write a five star review, and be sure to help me share on facebook and pinterest!

CONNECT WITH KLEINWORTH & CO!
Be sure to follow me on my social media, so you never miss a post!
FB, Pinterest, IG, Email Subscription

Reader Interactions