Cheesy Pepperoni Pizza Pinwheels are the perfect game day snack. With only a handful of ingredients to make, they are great for any party!
I love appetizers! In fact, I think I have said on more than one occasion that I could completely live off of them. This is why I really love it when the holidays and tailgating season come around & I can make recipes like these Cheesy Pepperoni Pizza Pinwheels.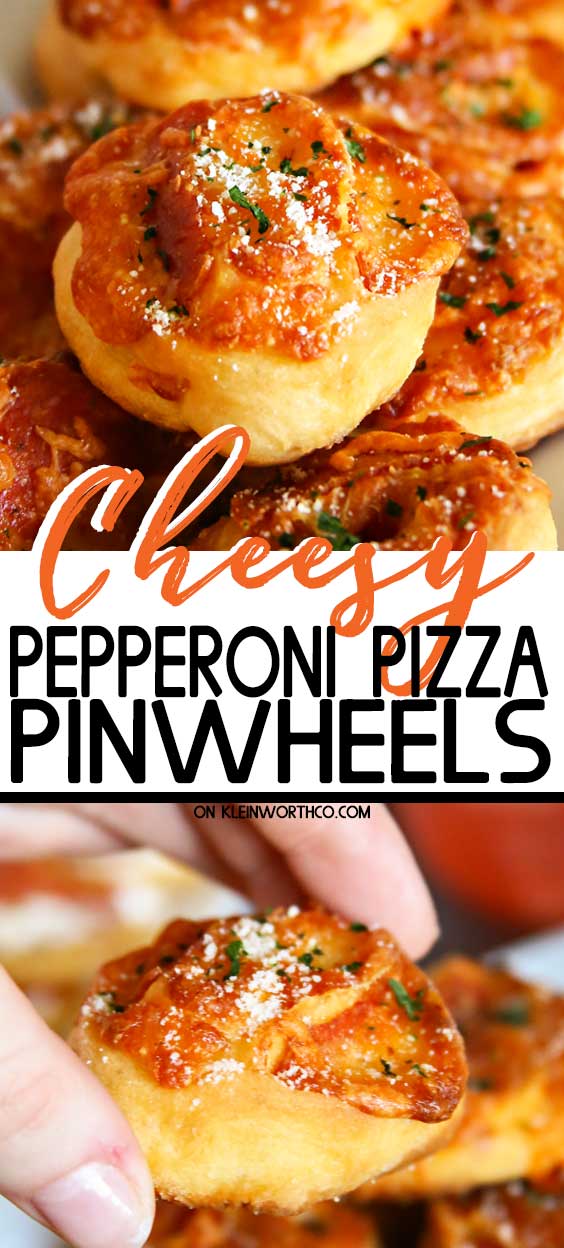 We love appetizers so much in our family that it isn't unusual for us to completely abandon a traditional dinner for the holidays and just gather around the island for snacks instead.
When we would go to my mother-in-law's house for the holidays she would always have the best spread of snacks. She was the queen of hosting parties & always had such great party food.
Pizza Pinwheels
This post contains some affiliate links. Click here to read my full disclosure policy.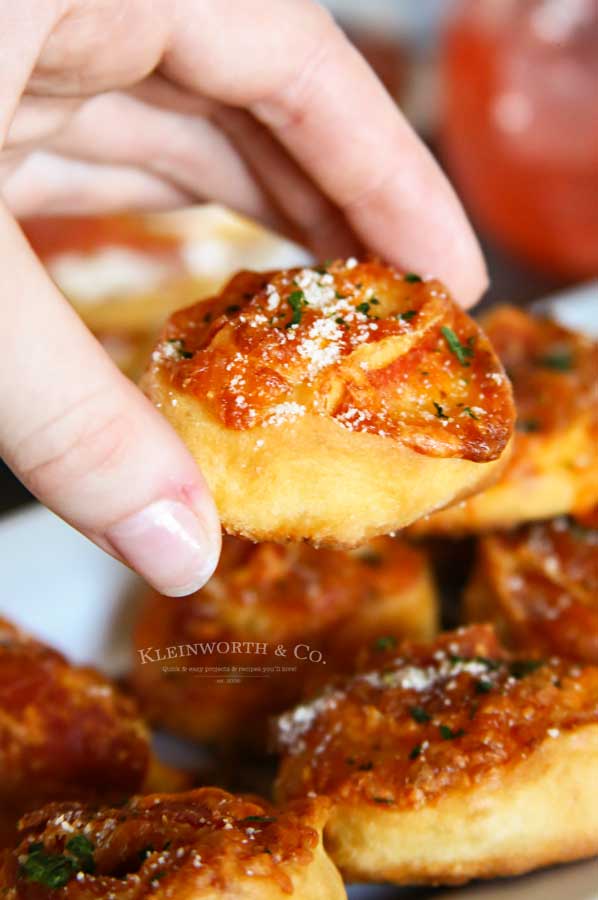 As soon as we would arrive I would hand the babies off to whatever relative hadn't seen them in a while & then I would camp out near the food so I could just nibble all day long.
It wasn't a bad gig & the food was oh so good. The kids were happy to be able to play with their cousins & I was happy to have all the snacks I could ever want.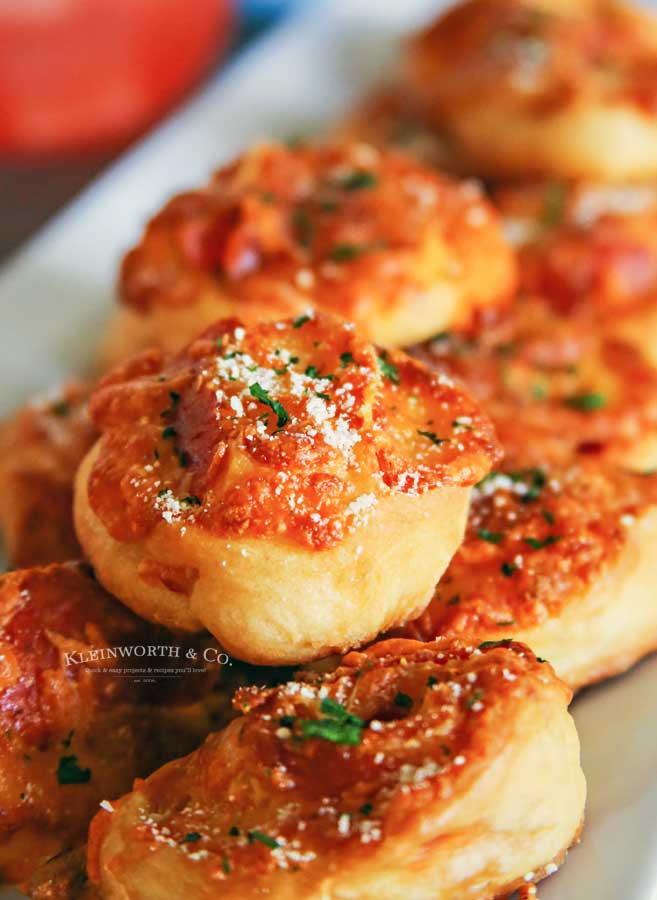 One thing I always loved were the pizza pinwheels. When I found out just how easy they are to make, I was 100% in love.
I mean, we are talking about a handful of ingredients & a few minutes in the oven. It's no wonder why these are the perfect party snack.
I love how easy you can change them up too. Whatever you might be craving, wrap that on in there too. It is all so good.
Here are some commonly asked questions
Can I make this recipe with different meats?
Sure thing. If you want ham & cheese or salami or roast beef, you can easily turn these from pizza pinwheels into something completely different and give your guests a whole lot of options.
What is the best way to store leftover Pepperoni Pizza Pinwheels?
The easiest way is to place any leftovers in a large airtight container & store in the refrigerator. I like a large plastic bowl with a lid or a zip-top bag works great too.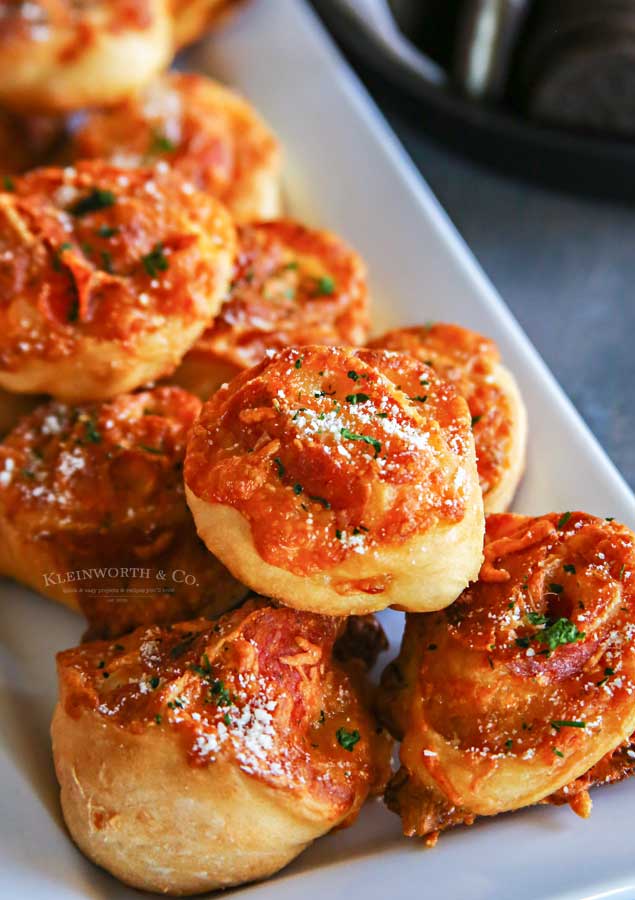 How many does this serve?
This recipe makes about 12-15 pinwheels, depending on how thick you slice them.
Pepperoni Pizza Pinwheels Recipe
Can this recipe be doubled?
Yes, you can double this recipe if you need to. You might have to bake them in batches, which works fine. They are so quick and easy so you can make a lot.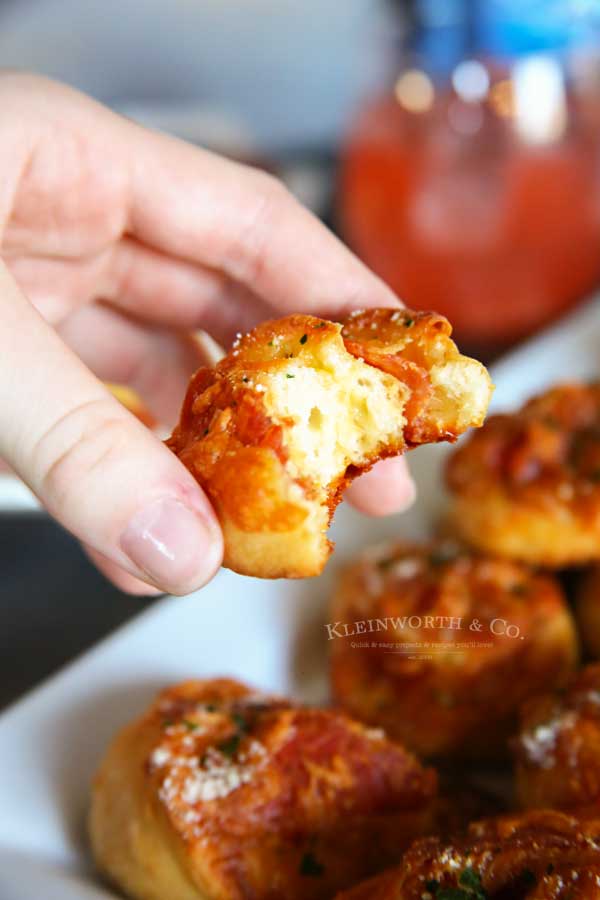 Should I use salted or unsalted butter?
I personally use whatever I have on hand. But if you are watching your salt intake, stick with the unsalted butter when brushing the tops of these pinwheels. I happen to like the added salt to give a little extra flavor.
HOW DO YOU MAKE Pepperoni Pizza Pinwheels?
Preheat oven to 350 degrees. Line a baking sheet with parchment & set aside.
Roll out your refrigerated pizza dough into a flat rectangle.
Sprinkle the fiesta blend and the mozzarella cheese over the top of the dough.
Add pieces of pepperoni, evenly spaced on top of the cheese.
Roll the dough, starting on the long end of the rectangle, making sure to carefully roll the cheese and pepperoni tightly – like a cinnamon roll.
Slice the long log into 1-2″ slices & place 1″ apart on the prepared baking sheet.
Sprinkle with parmesan cheese.
Bake 25-30 minutes – until puffed, browned and the cheese is melted.
While baking, melt the butter & whisk in the garlic salt.
Once the pinwheels are done baking, brush with the melted garlic butter before serving.
Can I add sauce?
Yes, if you want to drizzle marinara sauce in with the cheese & pepperoni before rolling, you can do that. I chose to use the marinara as a dip instead so that the inside of the pinwheel wouldn't fall apart from the added moisture. But if you go light on the sauce it will be delicious.

Can I use homemade dough?
You bet! I have a 2 ingredint pizza dough that works great for this. It is for a thin crust style pizza, so it doesn't puff up quite as much. Just be sure to make 1/2 or even a 1/4 batch, because it makes a lot of dough.
What else can I serve these with?
These would be pretty tasty when dipped in ranch dressing, sriracha ranch dressing or even some bbq sauce or fry sauce.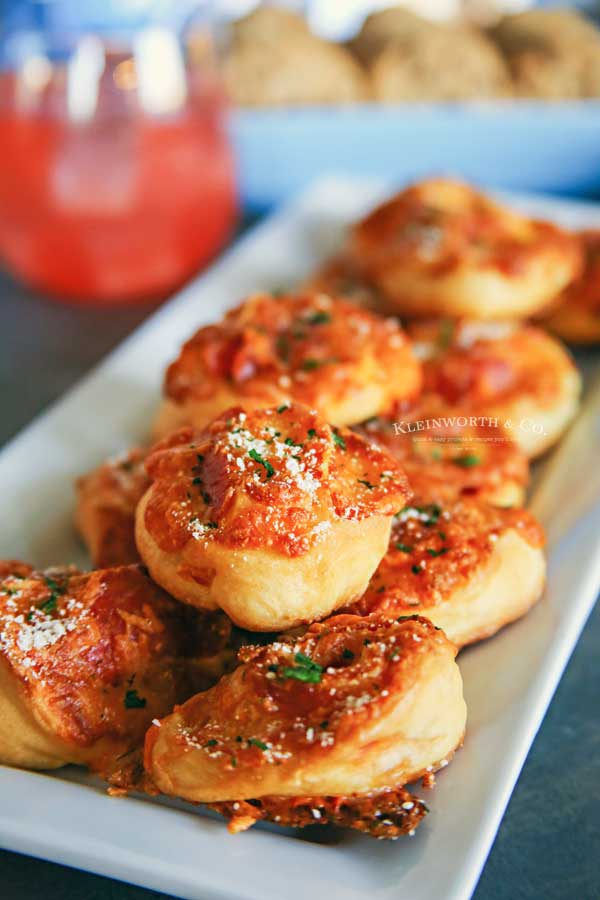 Pepperoni Game Day Snacks
To make this recipe you will need…
refrigerated pizza crust
fiesta blend cheese
mozzarella cheese
pepperoni
parmesan cheese
butter
garlic salt
parsley for garnish if desired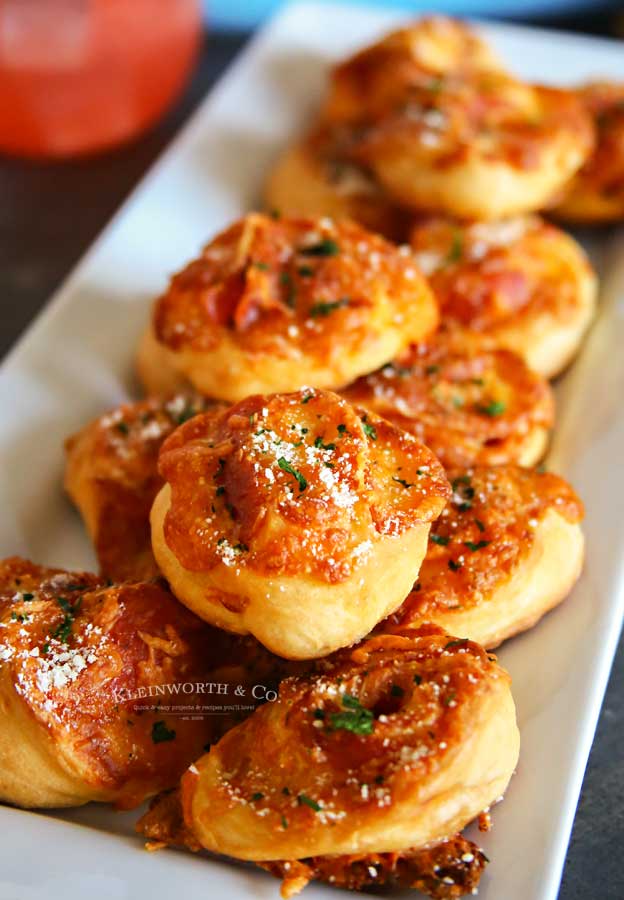 Products I love when making Cheesy Pepperoni Pizza Pinwheels…
This Cheesy Pepperoni Pizza Pinwheels recipe is so EASY – and if you're like me this time of year, then you probably already have all of these items on hand! OR maybe you have never made pinwheels before, & you might be a bit nervous – but you're going to love adding these to your game day or party. I have made a list below of the things I absolutely can't live without when it comes to making these.
Definitely perfect for any party!!
Scroll to the bottom for the Printable Recipe
easy pizza pinwheels
If you love this Cheesy Pepperoni Pizza Pinwheels recipe, you're going to love these other easy party food recipes too. Please click each link below to find the easy, printable recipe!
Best Pepperoni Pizza Pinwheels Recipe
If you love this recipe for Cheesy Pepperoni Pizza Pinwheels as much as I do, please write a five star review, and be sure to help me share on facebook and pinterest!
CONNECT WITH KLEINWORTH & CO!
Be sure to follow me on my social media, so you never miss a post!
FB, Pinterest, IG, Email Subscription
Don't miss these other fantastic recipes…
Sausage Rolls | Tornadough Alli
Rotel dip | Spaceships and Laser Beams
Reader Interactions