Holiday Party Punch is a delicious holiday party drink packed with cranberry, pineapple & lemon. Keep it "kid-friendly" or spike with rum or vodka for adult parties.
Have you ever enjoyed some party punch? Whether you have had the kid version or the adult version, there is something so special about a big beautiful bowl or pitcher of this perfect looking beverage.
I remember growing up I was always hanging out by the punch bowl. I think it was because I only got punch during the holiday season, which made it all the more special.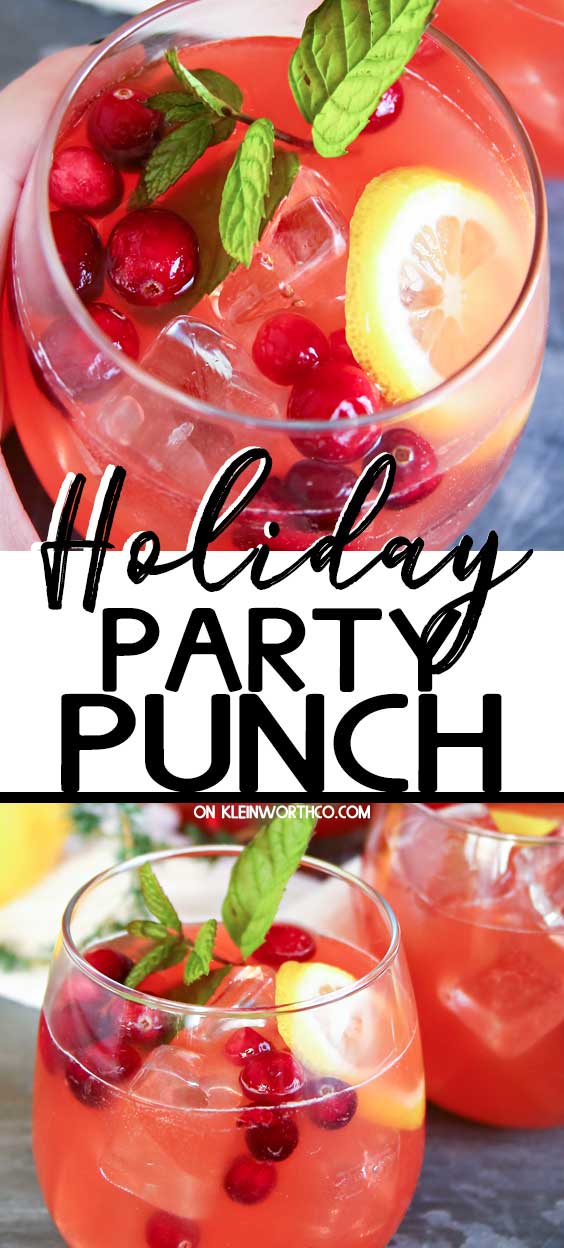 If your guests are anything like me, they will be mesmerized by the beauty of the colors of this punch! The uniqueness of the beverage, the way you enjoy it & the people you enjoy it with make the entire experience different than any other.
I can tell you that your guests will love this punch, that is for sure! As you watch your friends & family smiling & laughing with one another while enjoying an ice-cold glass of punch together. That is what the holidays are all about.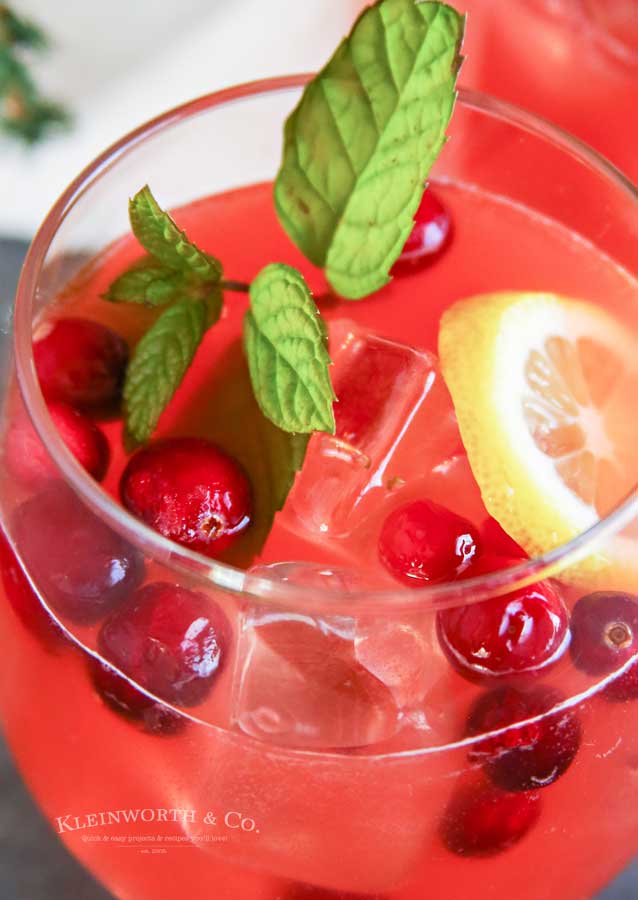 Party punch has been bringing folks together since the 17th century. It was originally invented as a beer alternative by men working on the ships for the British East India Company. Who knew?
holiday punch recipes
This post contains some affiliate links. Click here to read my full disclosure policy.
It is said that the men couldn't keep their beer cold & it became flat & rancid because of the warmth while sailing in the Indian Ocean. So something else had to come about to take its place. 
The sailors found ingredients indigenous to there destinations & created the punch by using rum, citrus & spices. For a long time, they were incredibly popular. But then party punches slowly went away throughout the nineties.
Fortunately they are making a huge comeback today! What better way to offer a delicious beverage to your guests, than a beautiful glass of punch?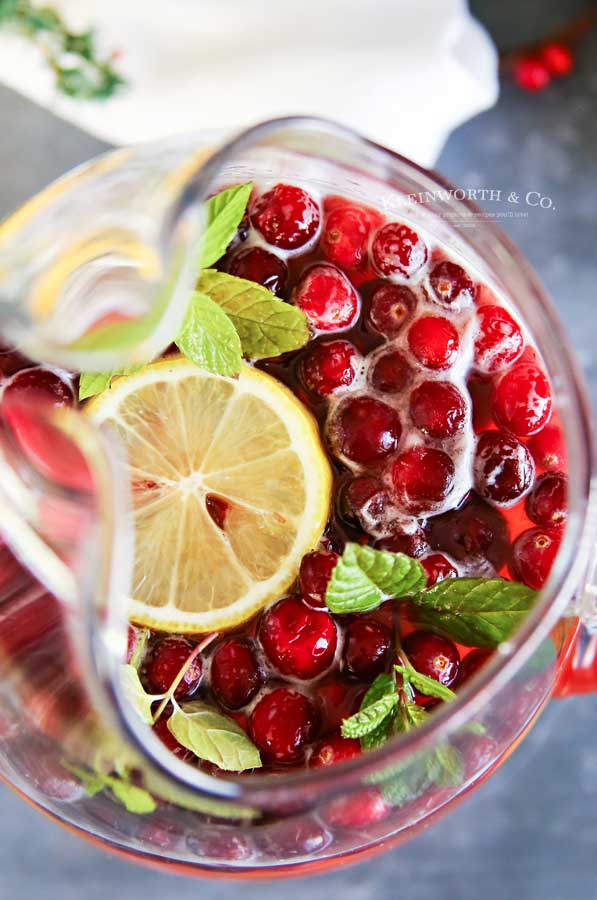 christmas punch alcohol
Here are some commonly asked questions
Can I use a different type of juice?
Absolutely. If you want to use a cran-apple or pomegranate-cranberry juice in place of the straight cranberry, that will be just as delicious. You can also sub in lime juice or orange juice depending on your preference instead of the pineapple juice.
How do you keep the punch cold?
I like to make a double batch of this punch, leaving out the soda & alcohol on the second batch. Then I pour it into a bundt pan or jello mold & freeze. Then I have a large "ice cube" that is not only pretty but won't dilute the punch when it melts. If you add frozen cranberries instead of fresh ones, they can help act as ice cubes as well.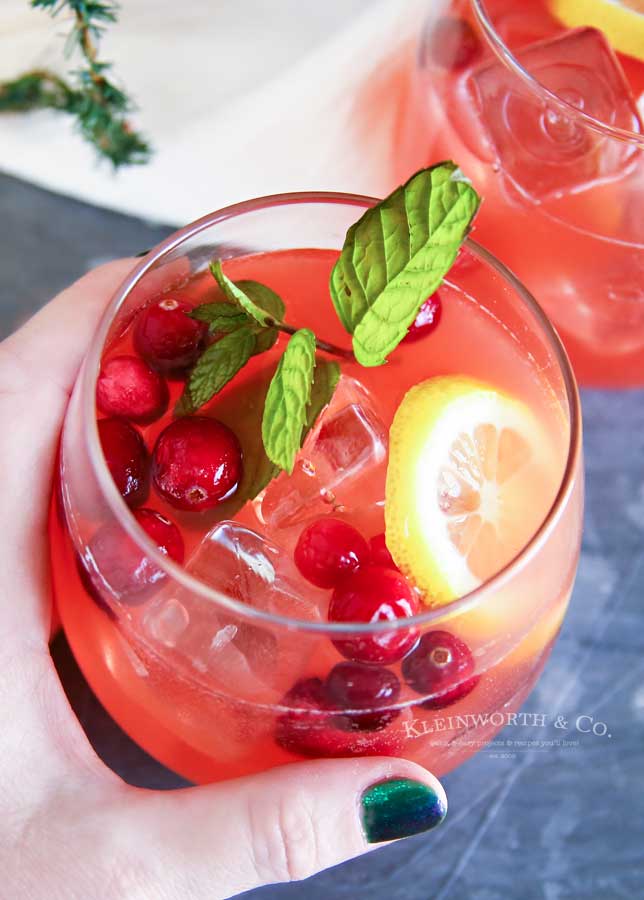 Can this recipe be doubled?
Yes, if you are making this for a large crowd, you can definitely double this recipe. Just break out a very large punch bowl or several pitchers to keep your guests coming back for more.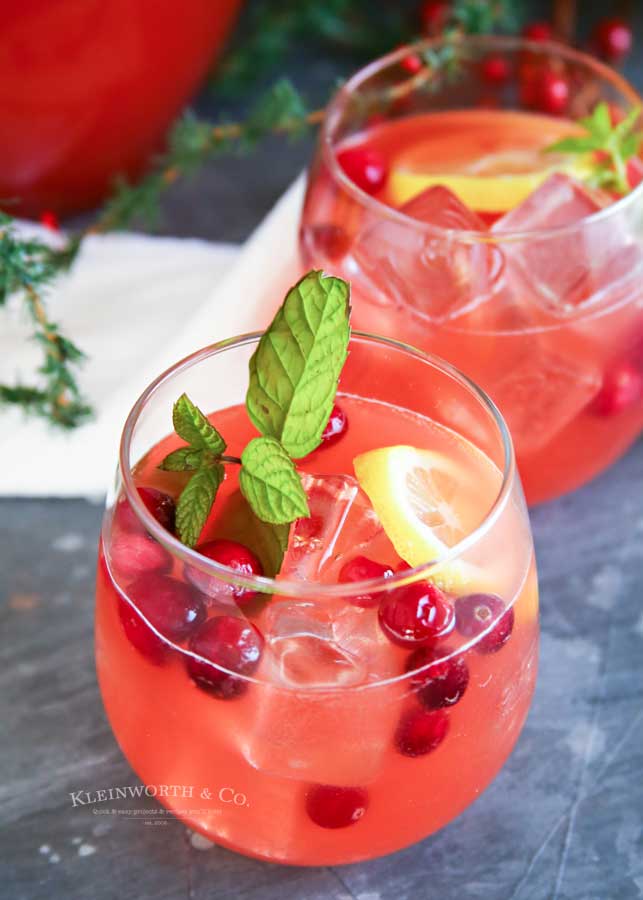 HOW DO YOU MAKE Holiday Party Punch?
Combine the cranberry & pineapple juices in a large pitcher & stir until combined.
Add in 7-Up – stir.
Add in optional rum, vodka or champagne- if using.
Garnish with fresh cranberries, lemon wheels & mint sprigs if desired.
christmas party punch recipes with alcohol
Can I use another flavor of soda?
Yes, if you don't want to use 7-Up, you can sub in gingerale, Sprite or lime flavored sparkling water. Any clear, carbonated drink of choice should do the trick.
To make this recipe you will need…
cranberry juice
diet 7-Up
pineapple juice
fresh cranberries
lemons
mint sprigs – opt.
rum, vodka or champagne – opt.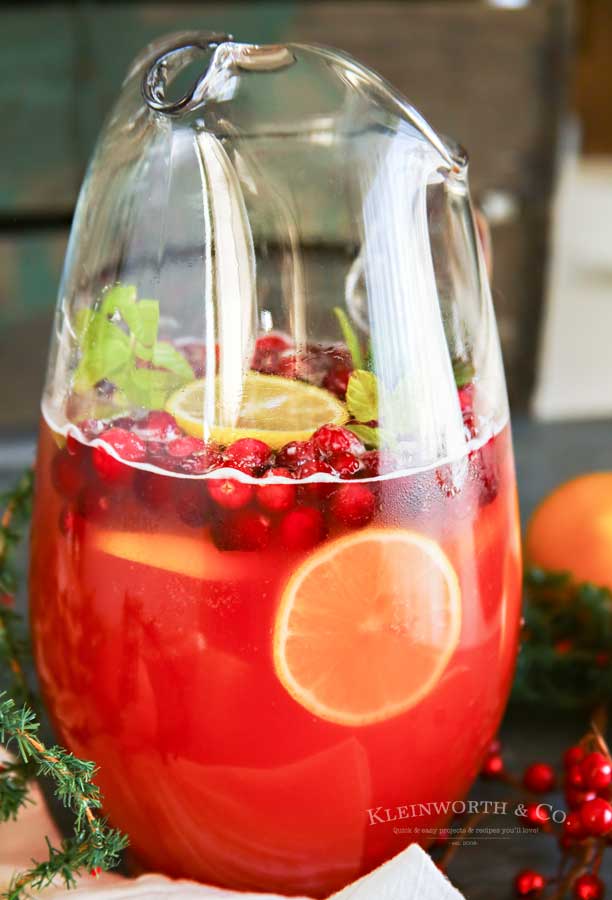 Products I love when making Holiday Party Punch…
This party punch recipe is so simple to make – and you probably already have many of these items on hand this time of year just like I do! OR If you've never made your own punch before, you might be hesitant – but you & your guests are going to love this recipe for your holiday parties. I have made a list below of the things I absolutely can't live without when it comes to making this punch recipe.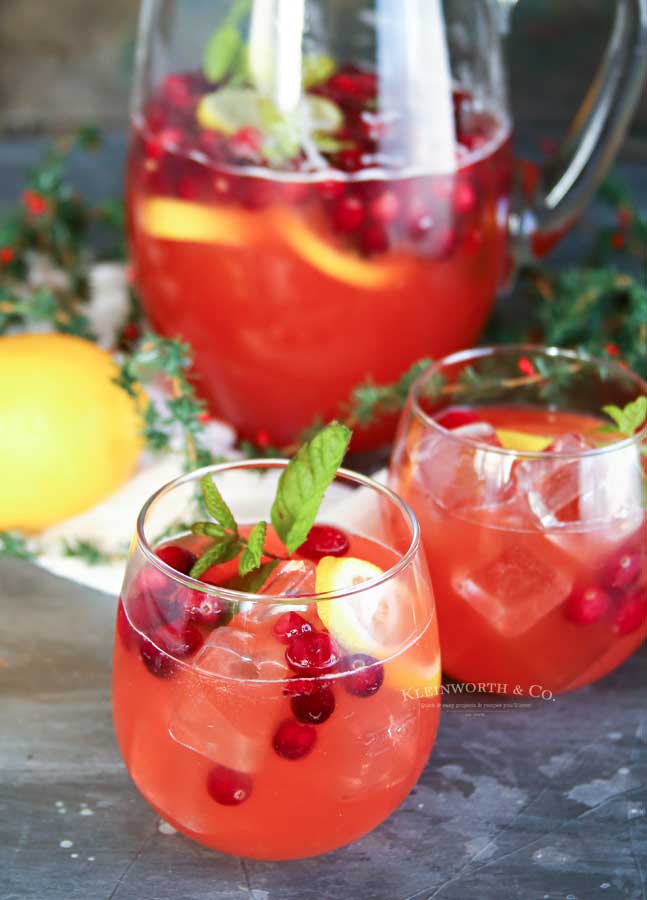 If you love this Holiday Party Punch recipe, you're going to love these other holiday party recipes too. Please click each link below to find the easy, printable recipe!

Check out these awesome ideas too…
Spicy Pomegranate Moscow Mule | half baked harvest
Christmas Mimosas | Happy Go Lucky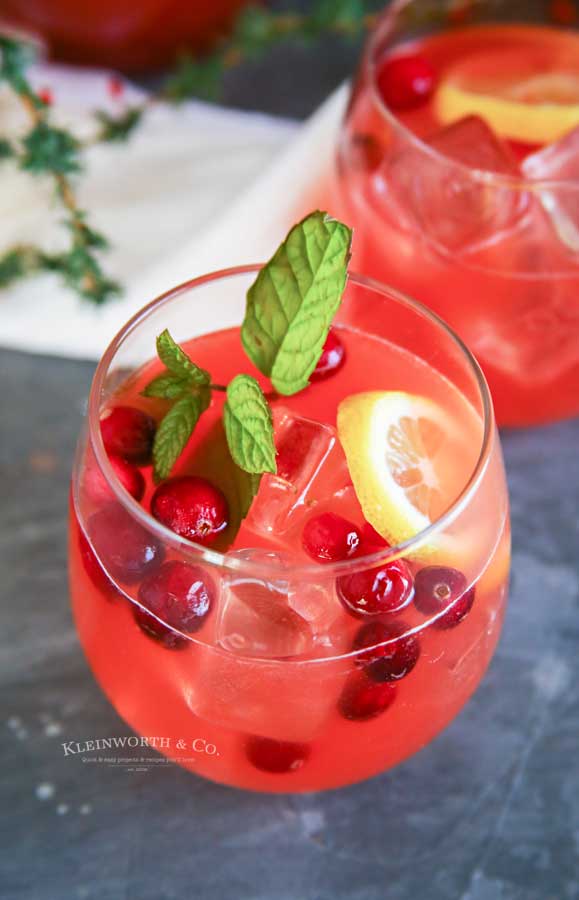 I hope this makes your holiday parties amazing!.
Scroll to the bottom for the Printable Recipe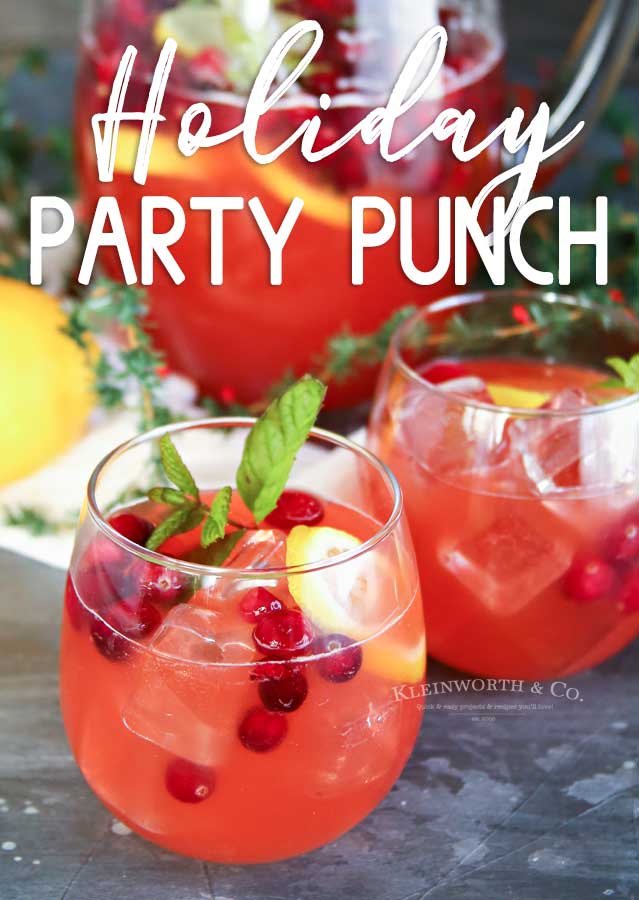 If you love this recipe for Holiday Party Punch as much as I do, please write a five star review, and be sure to help me share on facebook and pinterest!
CONNECT WITH KLEINWORTH & CO!
Be sure to follow me on my social media, so you never miss a post!
FB, Pinterest, IG, Email Subscription


Reader Interactions