Frosted Peppermint Bark Brownies are fudgy brownies topped with peppermint cream cheese frosting, creamy chocolate ganache & crisp peppermint bark! Mmmm!
Are you a peppermint lover this time of year? There are some in our house that get super excited when all the peppermint flavored products start hitting the market for the holiday season. Which is why these Frosted Peppermint Bark Brownies are a HUGE HIT!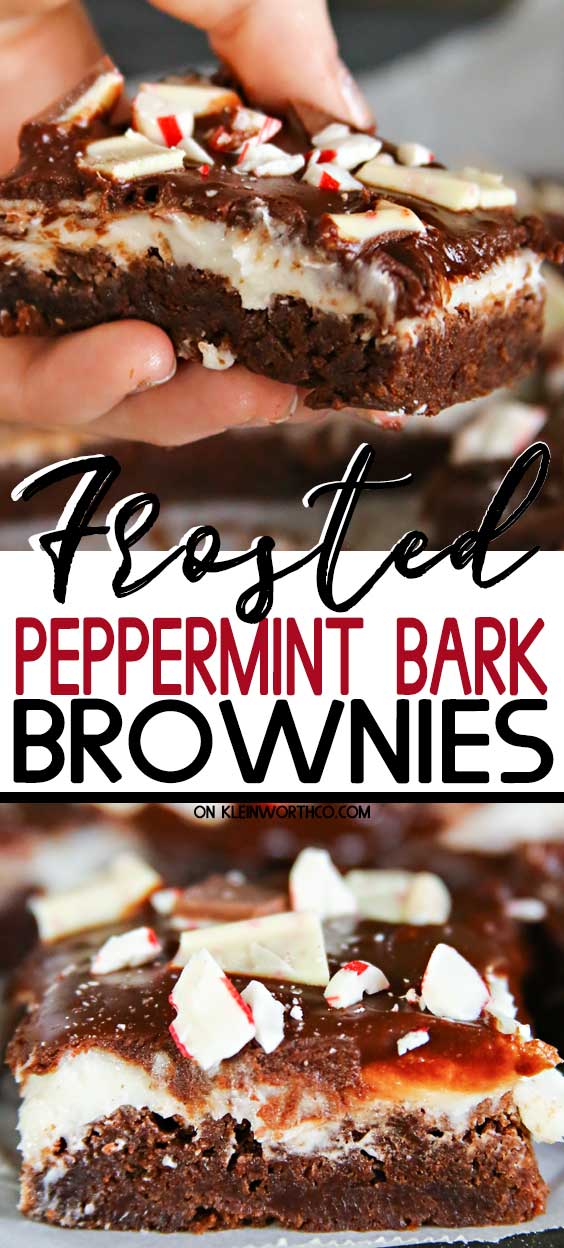 What I love about these brownies is that they are so easy to make. I can do it with a box mix or my favorite homemade one-bowl brownie recipe depending on how much time I have.
That thick layer of peppermint frosting is where it is at though. So creamy with the perfect amount of peppermint flavor, without being overpowering. I have never been super excited about peppermint, except when it is paired with chocolate as we have done here. It is pure heaven, my friends!
Peppermint Brownies
This post contains some affiliate links. Click here to read my full disclosure policy.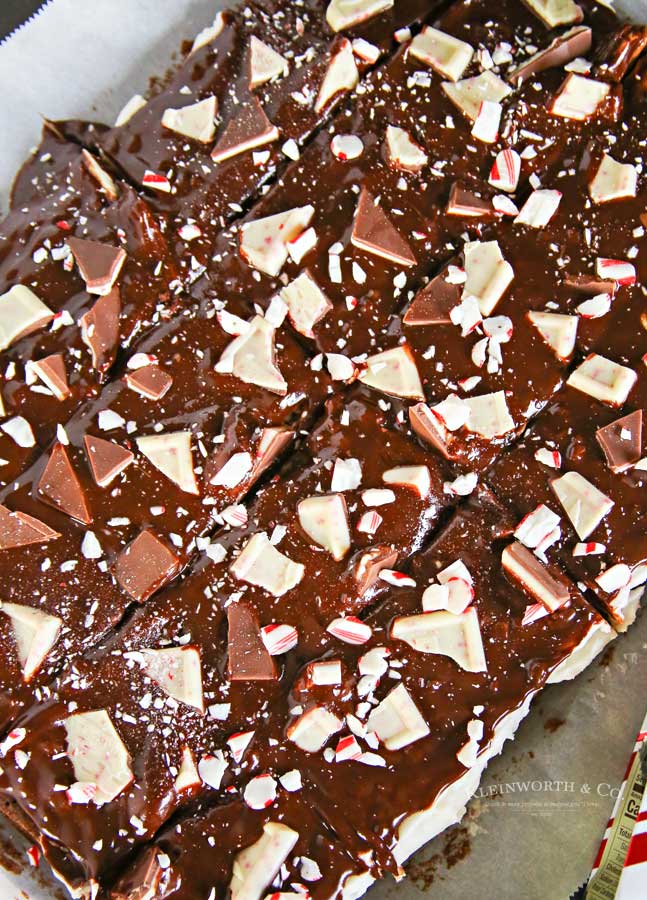 Growing up, my mom baked a lot. She did it for a living when I was really little & then it sort of became her side-hustle. She was incredibly talented when it came to making over the top cakes & treats.
But the funny thing about that was I don't think we ever really made anything but a box mix for brownies. In fact, I can say with certainty that we never thought of adding frosting or decorating our brownies.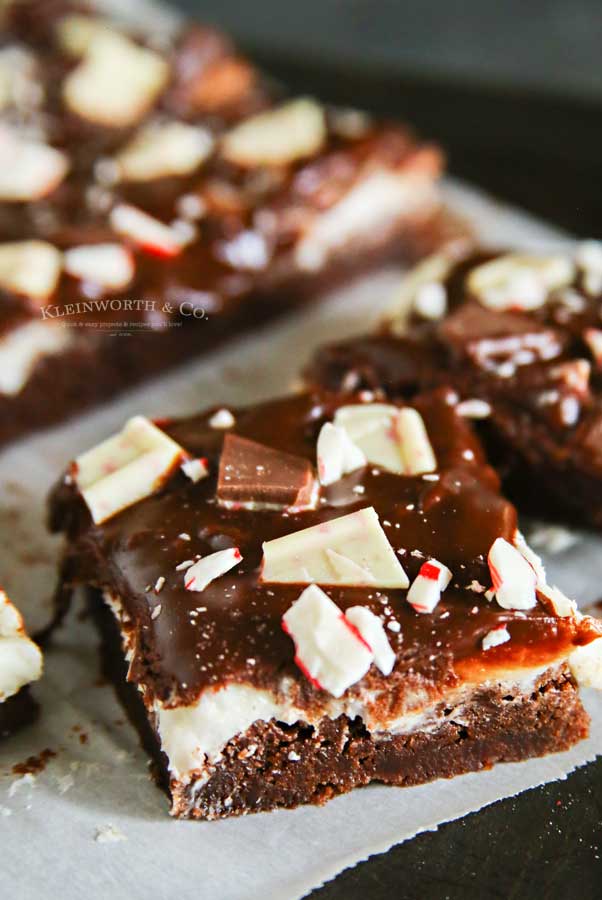 It is sort of strange, really. That mom would spend days making the perfect cake, but when it came to brownies the only thing we did was maybe add walnuts or occasionally chocolate chunks.
So when I started making recipes to share here, I sort of got a little excited with the thought of frosting & decorating brownies.
With these, adding not just frosting, but also another layer of silky chocolate ganache & then topping that with peppermint bark, I couldn't be happier! These just make my day!
Here are some commonly asked questions
Do you have a homemade brownie recipe I can use instead of a box?
Sure thing. I really love using my super easy Nutella Brownie recipe for this. It is so simple & only takes a few ingredients.
What is the best way to store leftover brownies?
I like to just cover the top of the baking pan with foil. Normally I would store brownies at room temperature, but since these have frosting on them, I keep them refrigerated. Then I take them out while we make dinner so they can warm up a bit before I server them for dessert.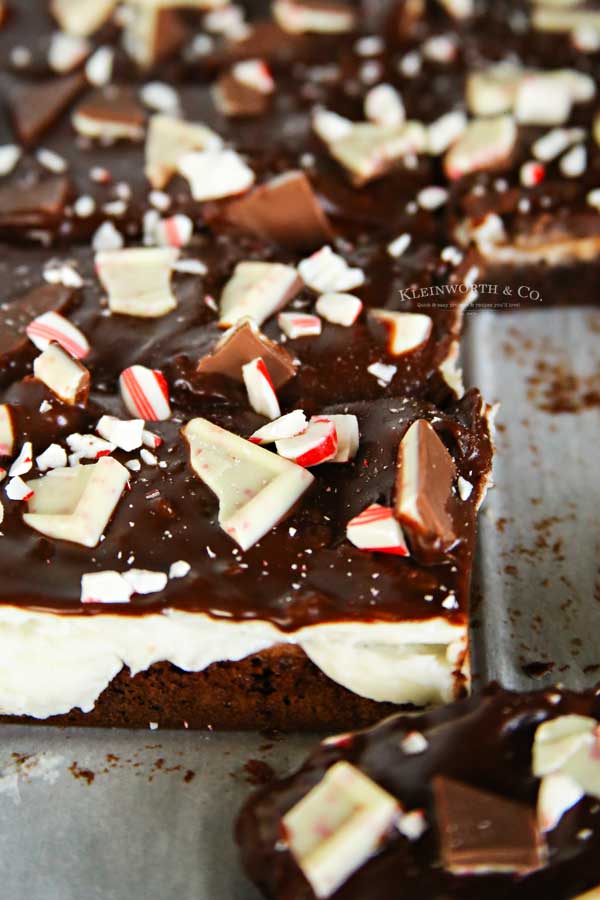 How many does this serve?
This recipe makes about 24 brownies. It really depends on how large or small you decide to cut your pieces.
Holiday Brownies Recipe
Can this recipe be doubled?
Yes, you can double this recipe if you need to. You will have to make 2 boxes of brownie mix, each baked in their own baking pan. You can still bake them side-by-side at the same time. Then double the frosting/ganache/topping ingredients & divide between the two batches. Just don't try to double the recipe & make it all in one pan.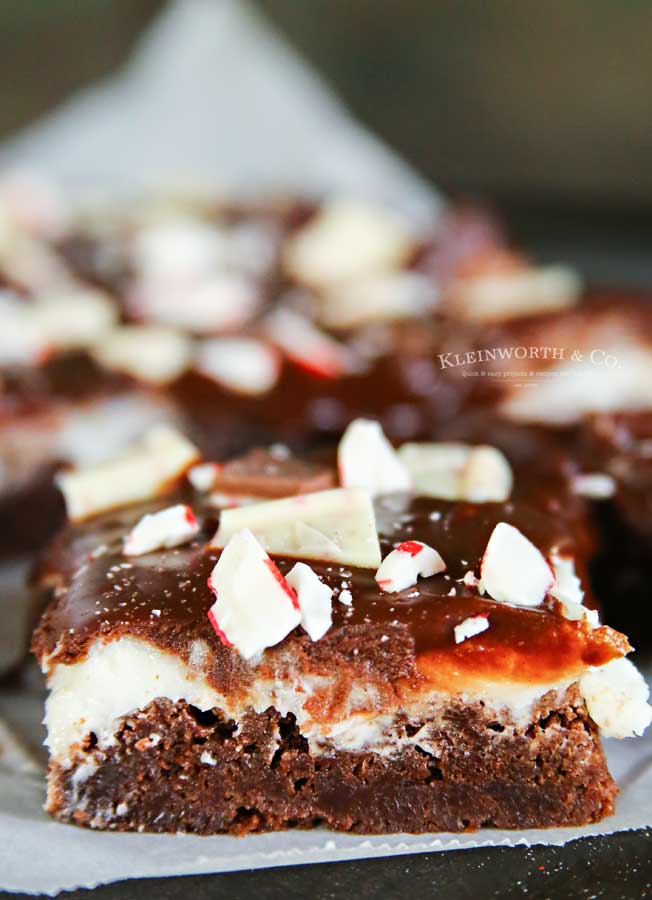 Should I use salted or unsalted butter?
I personally use whatever I have on hand. But if you are watching your salt intake, stick with the unsalted butter for this recipe.
HOW DO YOU MAKE Frosted Peppermint Bark Brownies?
Preheat oven to 350 degrees.
Prepare the brownies to the package directions for a 9×13 baking pan. Bake per instruction on box.
Allow the brownies to cool before decorating.
While the brownies are cooling, combine the confectioners sugar, butter, cream and peppermint extract in a large mixing bowl.
Spread over cooled brownies.
Place frosted brownies in the refrigerator so that the frosting can firm up before adding the ganache.
While the frosted brownies are chilling, make the ganache by combining chocolate chips and butter in a small saucepan.
Heat over low, stirring constantly until completely melted & silky smooth.
Pour over frosted brownies and smooth out into an even layer with an offset or silicone spatula.
Chop the peppermint bark and crush the candy canes before sprinkling over the top of the brownies.
Do I have to chill the brownies?
I have found that chilling the brownies inbetween each step of the process makes it a whole lot easier to prepare these. Spreading frosting on chilled brownies keeps the crinkly tops from pulling up & getting mixed into the frosting, making it so much easier to spread.
The same goes for adding the ganache on top of the frosting. Chilled frosting will pull & mix less easily than frosting that is room temperature. This is especially true when adding a warm ganache on top.
How do I properly measure the confectioners sugar?
The official way is to spoon the sugar into the measuring cup & level off. However, for making frosting I usually fluff the sugar with a spoon & then gently scoop it into the measuring cup & then level that off before adding to my butter. Make sure your sugar isn't packed down when scooping or packed tightly into your measuring cup. This will make your frosting too dry.
Peppermint Chocolate Desserts
To make this recipe you will need…
brownie mix + package ingredients
confectioners sugar
butter – divided
heavy whipping cream
peppermint extract
mini chocolate chips
candy canes – crushed
peppermint bark – chopped
Can I use regular chocolate chips for the ganache?
I'm sure that you can. However I'm not sure what the measurement would be for the larger chocolate chips. I will have to do some experimenting & come back with an update.
Products I love when making Frosted Peppermint Bark Brownies…
This Frosted Peppermint Bark Brownies recipe is so delicious – and if you're like me, then you probably already have all of these items on hand! OR maybe you have never made frosted brownies before, & you might be a bit nervous – but you're going to love these for the holiday season. I have made a list below of the things I absolutely can't live without when it comes to making these.
brownie mix
peppermint extract
mini chocolate chips
parchment paper
candy canes
Perfect for all you peppermint lovers out there!!!
easy peppermint dessert
If you love this Easy Frosted Peppermint Bark Brownies recipe, you're going to love these other easy holiday recipes too. Please click each link below to find the easy, printable recipe!
Best Peppermint Brownies Recipe
If you love this recipe for Peppermint Bark Brownies as much as I do, please write a five star review, and be sure to help me share on facebook and pinterest!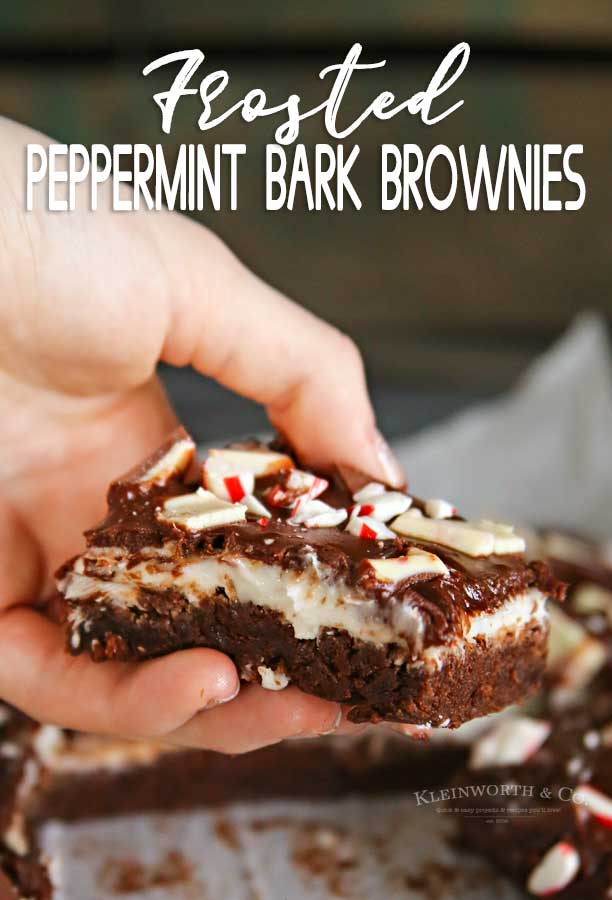 CONNECT WITH KLEINWORTH & CO!
Be sure to follow me on my social media, so you never miss a post!
FB, Pinterest, IG, Email Subscription
Reader Interactions