These Homemade Potato Chips are so easy to make. Just potatoes, salt & your microwave is all you need. No oil, better for you, simple & so delicious too. 
It's time to get back to the grind. I'm sure many people have resolved to eat out less & brown bag it to work. That's a great resolution! Don't miss my Air Fryer Potato Chips too!
This post was sponsored by the US Potato Board. I thank them for supporting Kleinworth & Co. because it helps me to continue to bring to you amazing and inspiring content!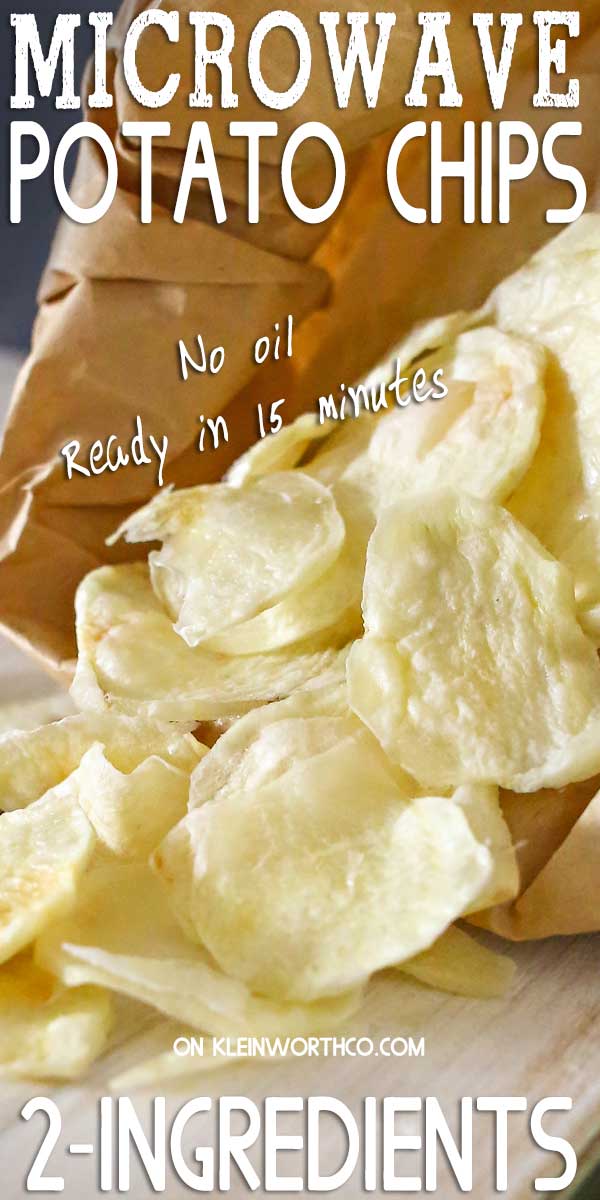 I know I feel so much better when I eat less food "to-go" but it's hard to make those changes. The easiest part about sticking to something is to make yourself think you aren't missing anything by making the change.
For example, you might be inclined to add a bag of chips to your lunch you are now packing. But that might defeat the purpose of skipping the meal out at fast food.
homemade potato chips recipe
This post contains some affiliate links. Click here to read my full disclosure policy.
So cutting out a bag of chips in your lunch is smart. But maybe you can have those chips you love.
Just take a few minutes on the weekend & make your own Homemade Potato Chips. They are so simple & you can add them as a snack all week long.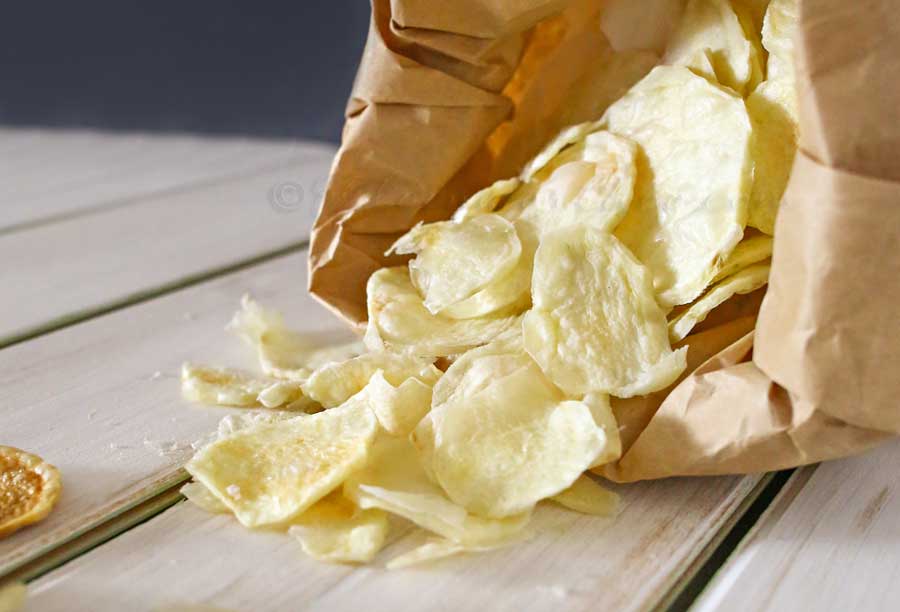 I know what you are thinking, "homemade chips- doesn't that require oil & defeat the purpose". Nope – no oil & they are still so tasty.
I'm telling you, these are simple & incredibly good. I may never buy a bag of chips ever again.
Plus it's a great way to use up any remaining potatoes you may have in the pantry. Just a couple goes a long way. Potatoes are a nutritious way to add vital nutrients to your day.
Here are some commonly asked questions
Can I add other seasonings?
Sure, that works fine. I like to keep it simple, but these are also great with a sprinkle of ranch seasoning, cheese popcorn seasoning & so many others.
Are these really that easy?
Absolutely! I know it seems like it can't be true, but these really are incredibly simple to make, no oil required.
What is the best way to store leftover chips?
Just like any other potato chip, these will be best when kept in an airtight container. Just make sure they are completely cooled before sealing them up.
Note that since they do not have preservatives like the ones in the store, you will probably want to eat them within a couple of days after making them.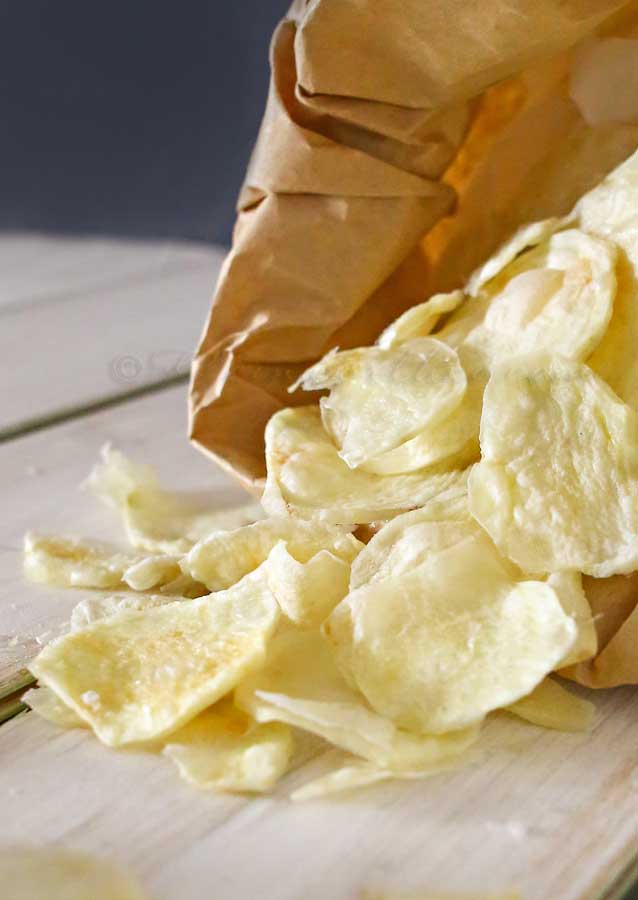 How many can this serve?
This will depend greatly on portion sizes & the appetites of your crowd. We typically get enough for 1-2 people out of each potato. So plan accordingly.
homemade chips
Can this recipe be doubled?
Yes, you can double this recipe. You can triple it, make as many as you like. The only limit is how many potatoes you have.
HOW DO YOU MAKE HOMEMADE POTATO CHIPS?
Peel potato & then use a mandolin or food processor to cut it into thin slices.
Place slices in a bowl of water to keep from browning while you work.
Place a piece of parchment paper on a glass or ceramic, micrawave-safe plate.
Spread out potato slices on the parchment in a single layer.
Sprinkle with salt if desired & microwave on high 3-7 minutes. (this depends on your microwave & thickness of your slices)
They are done when crisp & slightly golden.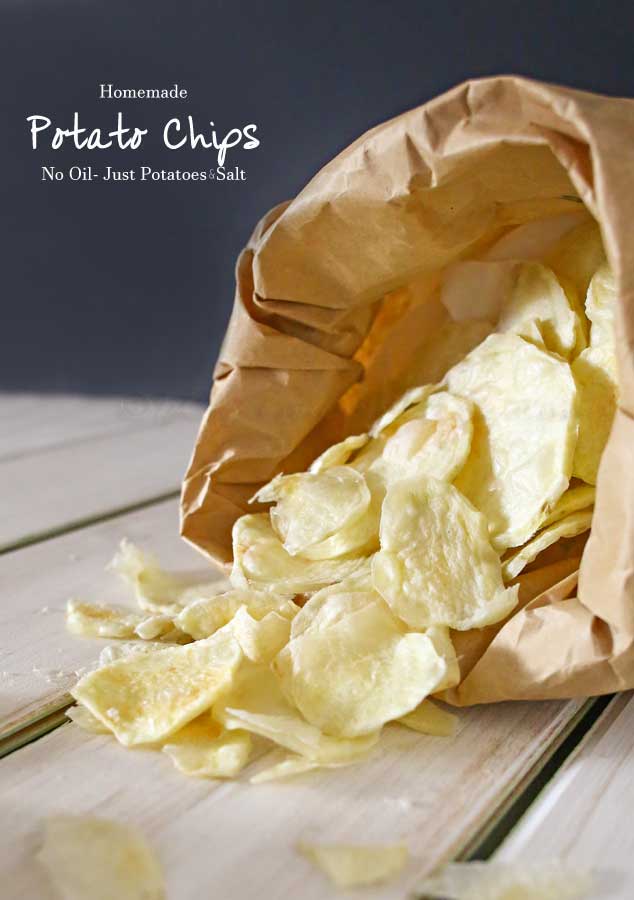 Can these be made without the salt?
Yes, you can make these completely plain if you want to. I add just a little bit of salt for my taste. But making your own chips is a perfect way to enjoy while having control over the amount of salt they have on them.
No Oil Potato Chips
To make this recipe you will need…
Products I love when making these potato chips…
This potato chips recipe is so freaking EASY and delicious – and if you're like me, then you probably already have many of these items on hand. But maybe you you are skeptical or you might be a bit nervous – but you're going to love the how simple this recipe is. I have made a list below of the things I absolutely can't live without when it comes to making this easy snack.
Try using America's favorite foods- potatoes in your lunch! These are DELICIOUS!
Connect with the US Potato Board on Facebook, Pinterest, and Instagram.
Scroll to the bottom for the Printable Recipe
microwave potato chips
If you love this easy potato chip recipe, you're going to love these other delicious snack recipes too. Please click each link below to find the easy, printable recipe!

Homemade Potato Chips
If you love this easy Homemade Potato Chip recipe as much as I do, please write a five star review, and be sure to help me share on facebook and pinterest!
CONNECT WITH KLEINWORTH & CO!
Be sure to follow me on my social media, so you never miss a post!
FB, Pinterest, IG, Email Subscription
Homemade Kettle Chips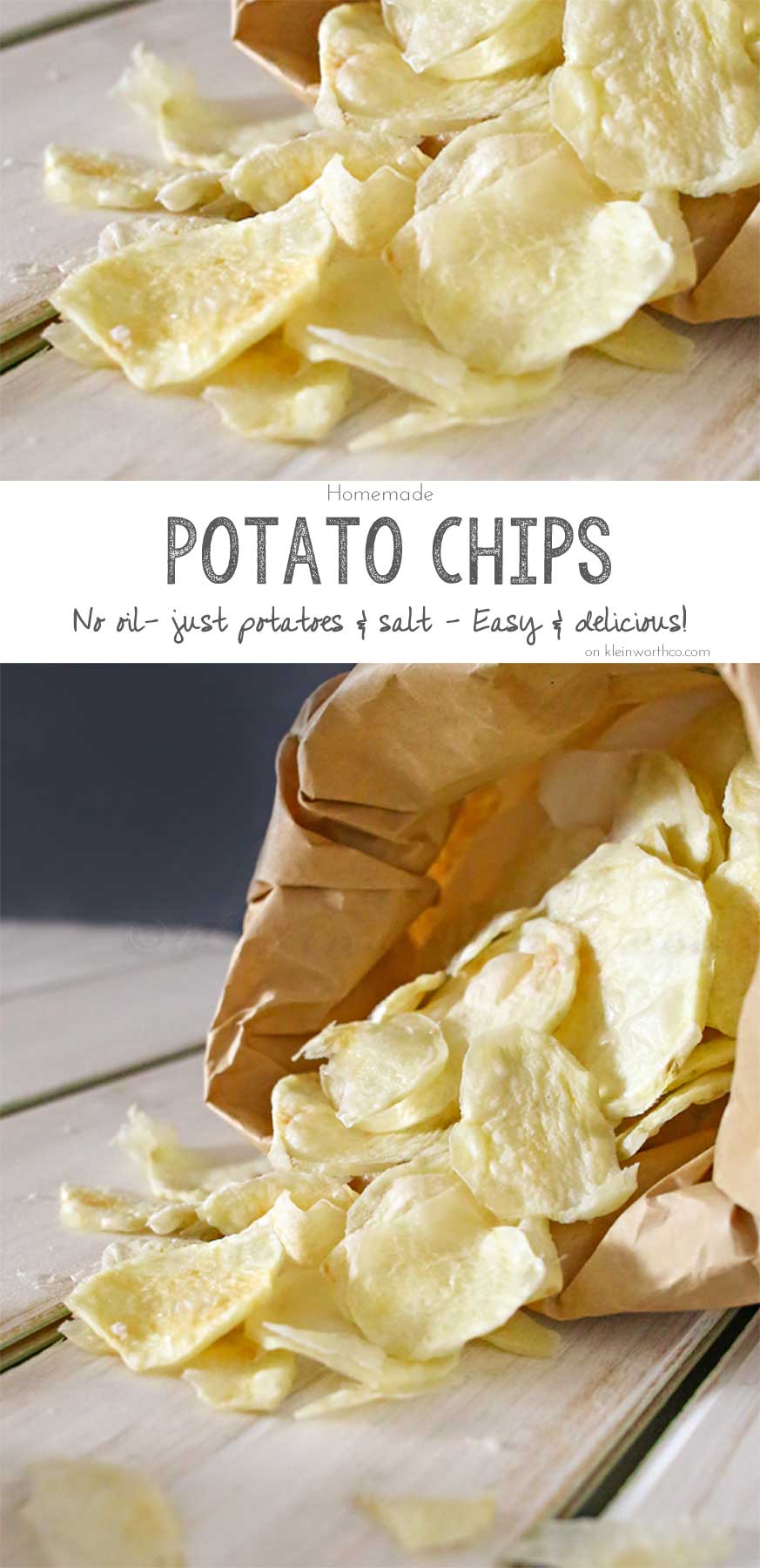 Reader Interactions