Remember back in December when the fabulous Kristyn shared her Frosted Holiday Mint M&M Brownies? Well I have not been able to get them off my mind. I have been trying to forget them – but they kept calling me. Then the kids saw the post & that was the end of that. I had to make some – only I had a little fun with them for Valentines Day instead. I started with my Red Velvet Brownie recipe that I shared a couple years ago. Then used Kristyn's idea for the frosting & added some super fun Valentine Sprinkles & M&M's I picked up on a recent excursion & there you go- a positively delightful goodie that everyone loves. I love Yummy Bar Recipes!
Valentine Red Velvet Brownies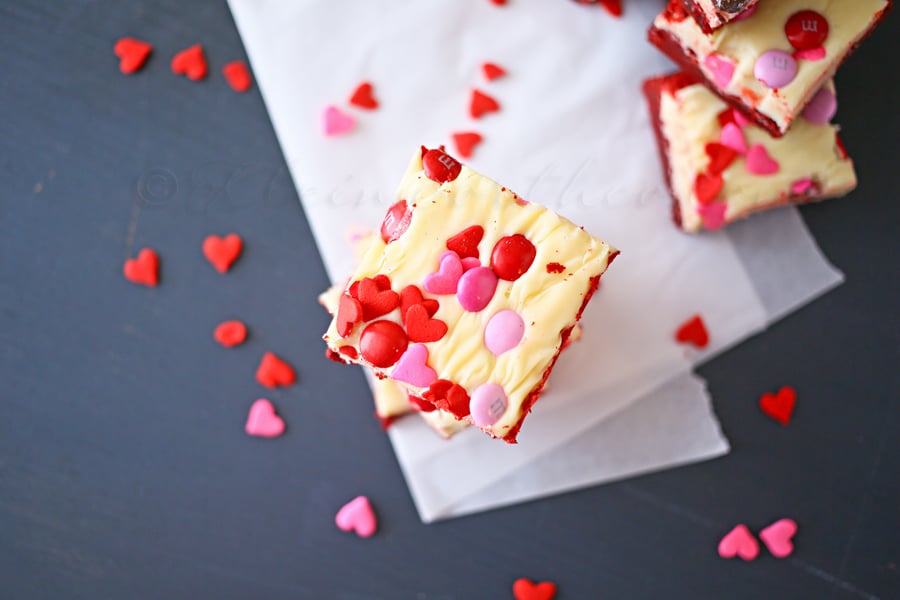 Aren't they just adorable??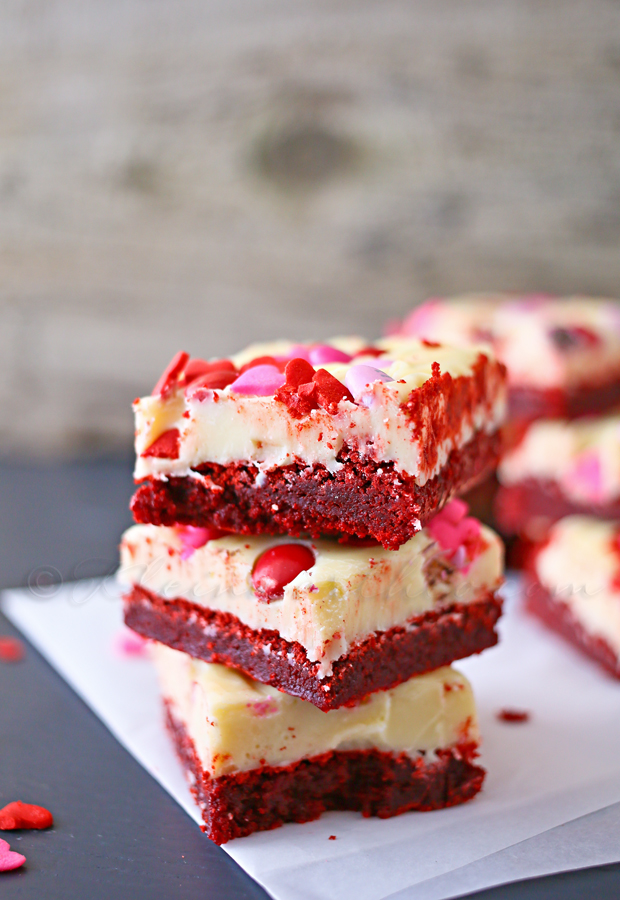 Oh my- red velvet is a true favorite of mine. Get ready- I may have more to come.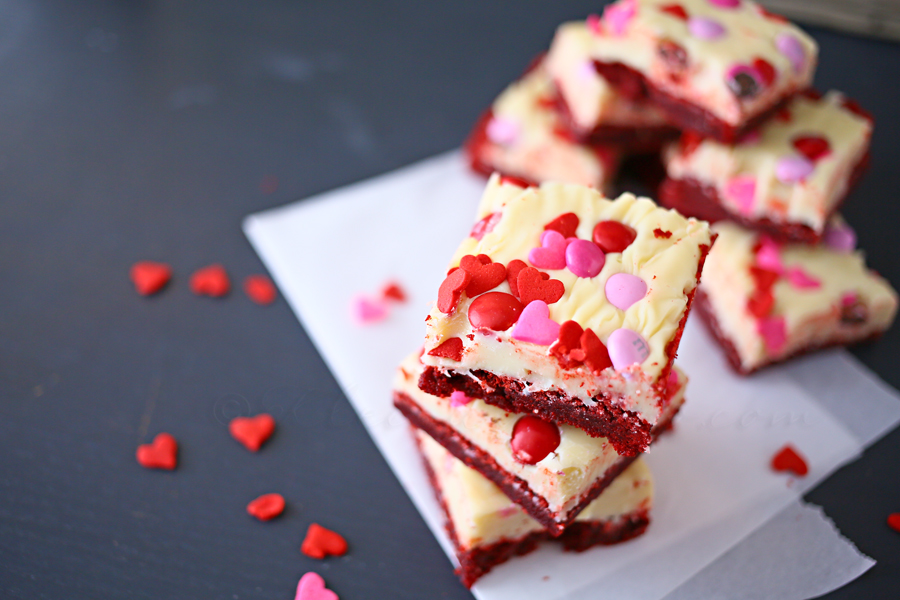 Yeah- these didn't last long. I couldn't help myself- I barely shared.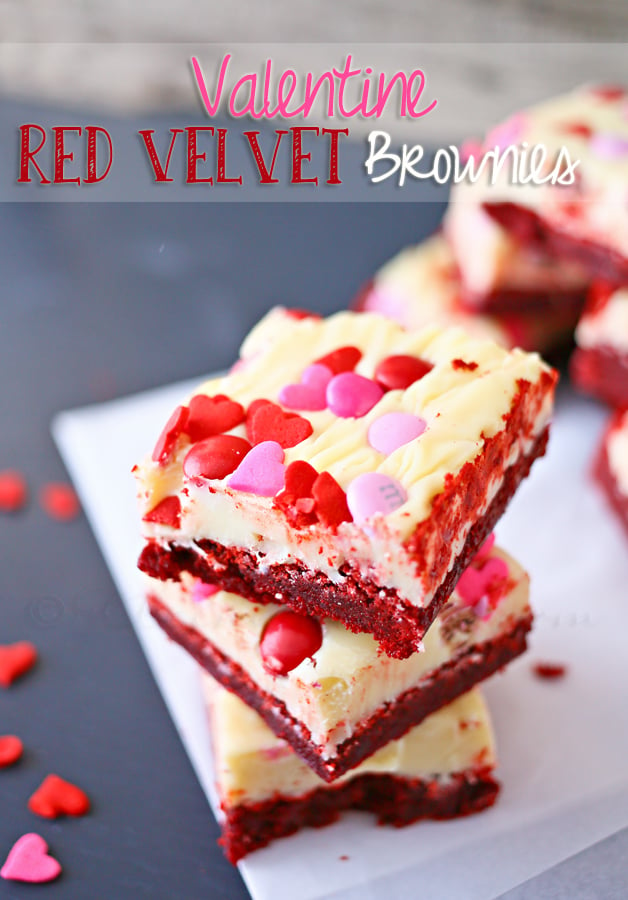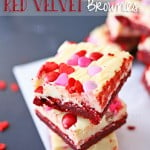 Valentine Red Velvet Brownies
Ingredients
Brownies
1/2 cup 1 stick butter - diced
1/3 cup semi-sweet chocolate chips
1-1/2 cups granulated sugar
3 large eggs
1 tsp vanilla extract
1/4 tsp salt
2 tbsp red liquid food color OR 1 tbsp red gel food color
1 cup all-purpose flour
1/2 tsp baking powder
Frosting
1- 14 oz can sweetened condensed milk
2 cups white chocolate chips
Sprinkle with 1/2 cup Valentine M&M's & 1/8 cup Heart Shaped Sprinkles
Instructions
Preheat oven to 325 degrees

Use either non-stick foil or just use regular foil & then spray with non-stick spray & line a metal 9"x9" baking pan. (please do this- as it helps remove the brownies from the pan later on.)

Stir butter & chocolate in a heavy large saucepan over low heat until all is melted.

Remove from heat.

Whisk in sugar & then eggs- one at a time.

Stir in vanilla, salt & food coloring.

Sift flour & baking powder & stir in & blend well.

Transfer batter to prepared pan.

Bake until puffed & dry looking- or until a toothpick inserted in the center comes out with some moist batter attached. (about 35-45 minutes).

Cool completely in pan on a rack.
Once Cool- prepare your frosting.
In small saucepan combine sweetened condensed milk & white chocolate chips.

Heat until completely melted & combined.

Pour immediately onto brownies while they are still in the pan.

Top with your M&M's & sprinkles

Allow to set before cutting. I popped mine in the refrigerator overnight.
Want More Red Velvet?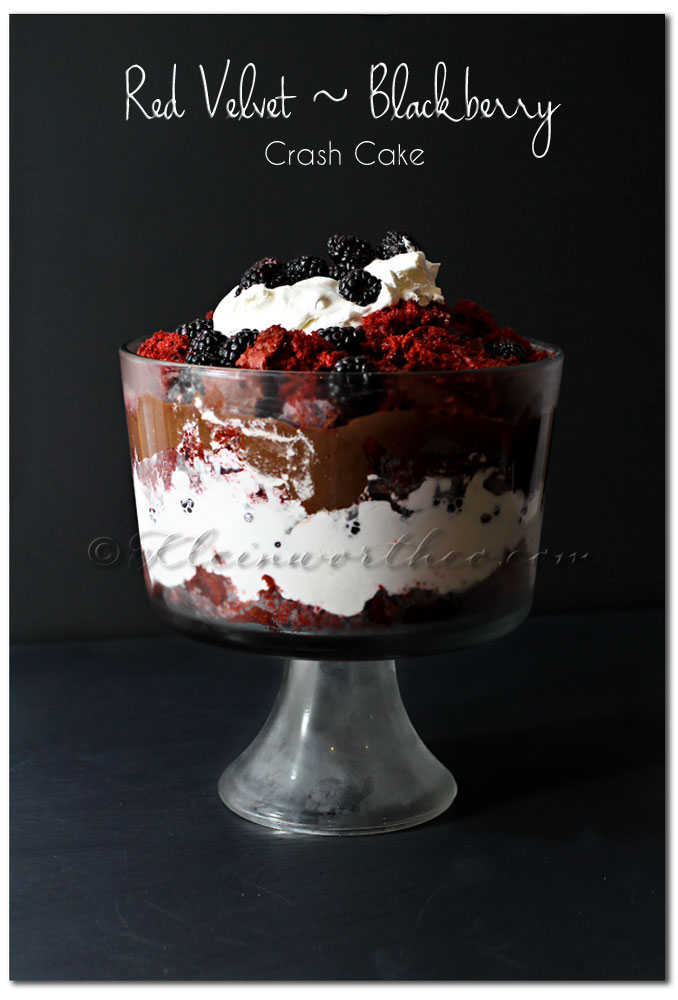 Red Velvet Blackberry Crash Cake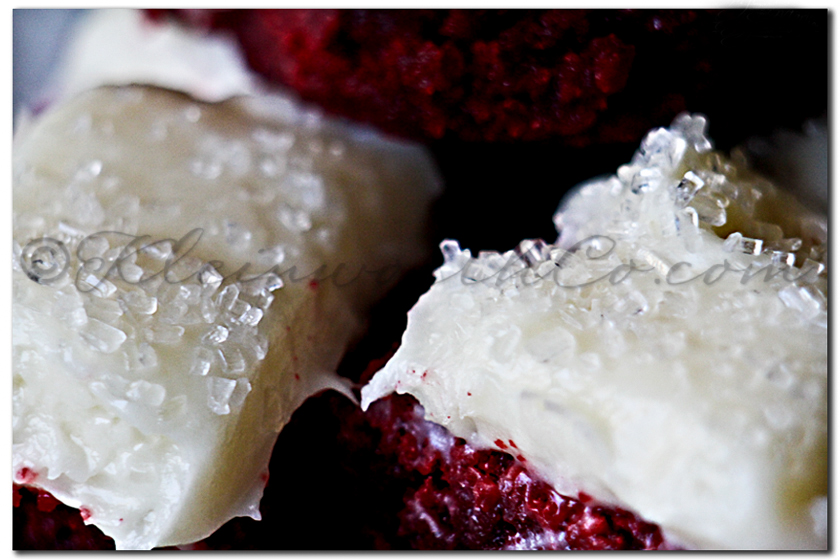 Frostbitten Red Velvet Brownies
To see where I am linking today- visit HERE
[include id="1″ title="Footer Ad"]
5