Valentine Chocolate Chip Cookies are soft, chewy, deliciously buttery cookie recipe loaded with M&M's. Great for giving to your sweetie this Valentine's Day.
Do you ever create a little something that you just CAN'T WAIT to share? It actually happens to me quite often. The other day I made these Valentine Chocolate Chip Cookies that are just to die for!!!
I have been playing with my chocolate chip cookie recipes for a while trying to create the "perfect" cookie. The first round I made of these particular Valentine's cookies took nearly all my Valentine M&M's & they didn't turn out photo-worthy.
They tasted great – but they weren't the whole package if you know what I mean. The perfect cookie to me has to have it all.
Chewy, soft with a little crisp on the edges, perfectly golden & just the right amount of puff without being cakey.
This batch is 100% all of those things. I think I have finally created "THE" recipe & I'm so thrilled to share it with you all.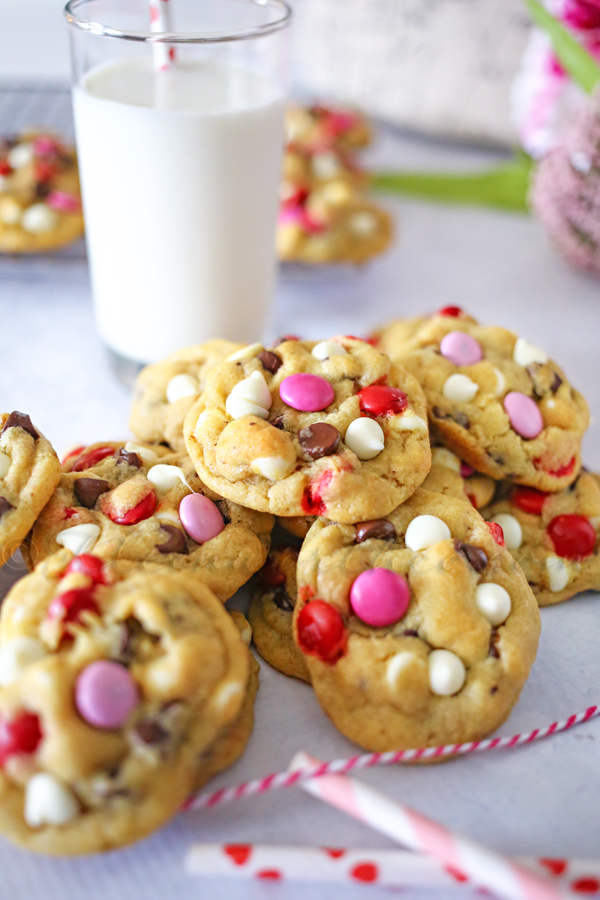 These are INCREDIBLE! All the things I listed above & then the cute little Valentine colors – swoon.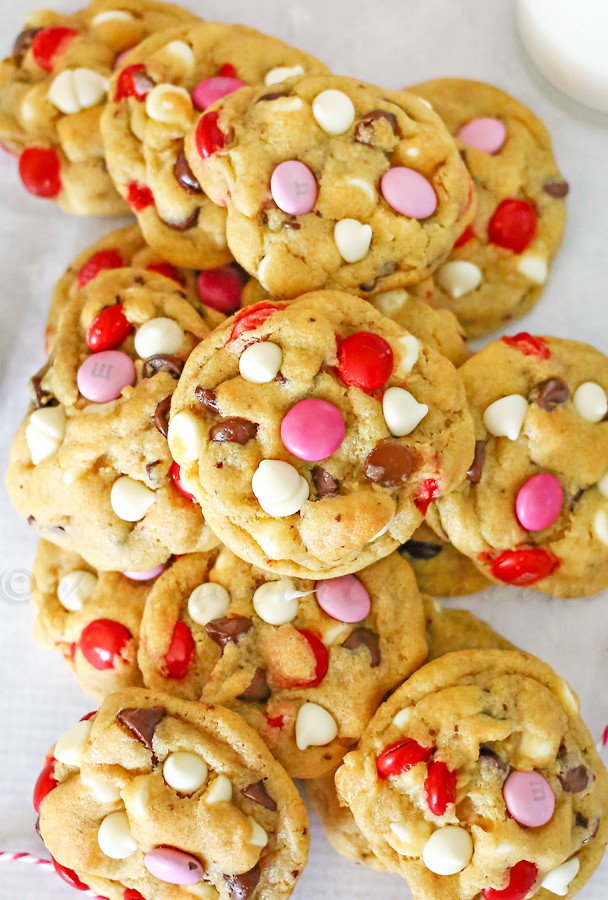 They keep well- like 2 days later they were still soft. I can't tell you beyond that because they didn't last that long.
To make this recipe you will need…
butter
margarine
granulated sugar
vanilla extract
egg
all-purpose flour scooped lightly
instant vanilla pudding – not cook & serve
baking soda
salt
semi-sweet chocolate chips
white chocolate chips
Valentine M&M's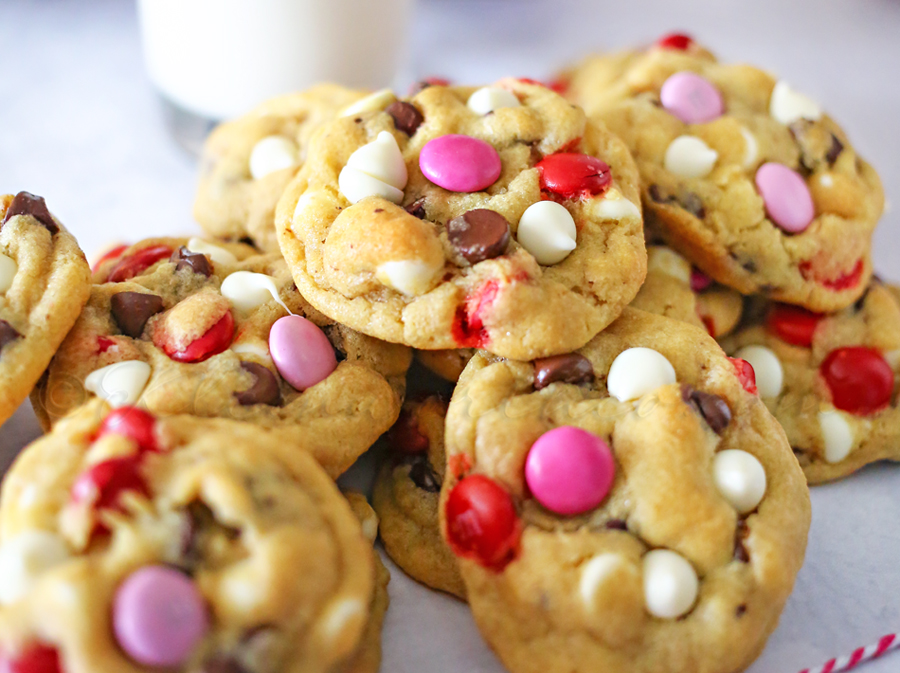 I mean, I'm pretty picky about cookies. I like them fresh – like still hot fresh.
Then through that evening I may have a couple more. Beyond that- I rarely indulge because the freshness is gone.
Other Dreamy Desserts for Valentine's Day
Sprinkle Sugar Cookies for Valentine's Day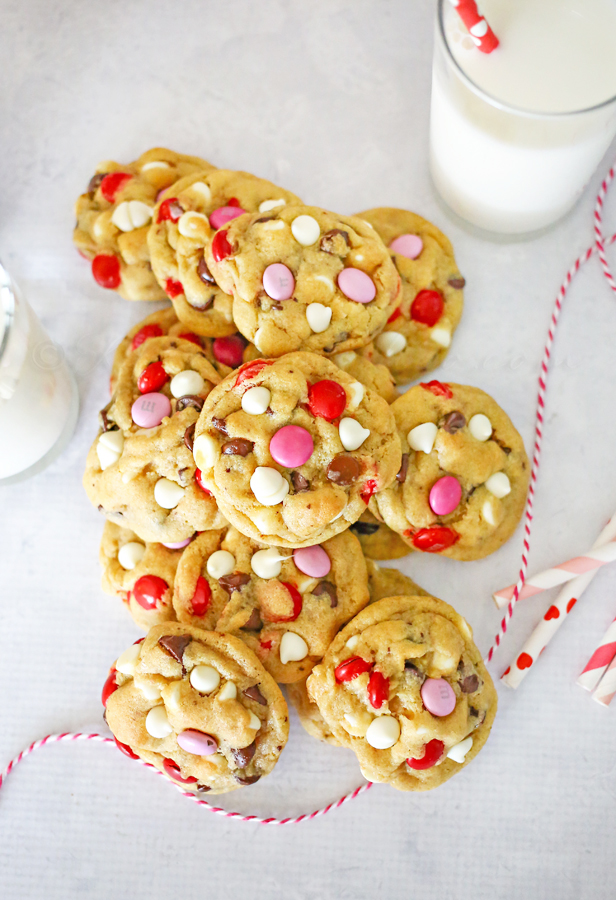 I like that crunch of the M&M when it's still melty inside. Once it firms up – it's not as enjoyable for me.
These were so good – I didn't even notice that the M&M's chocolate had hardened inside.
HOW DO YOU MAKE Valentine's Chocolate Chip Cookies?
In a mixer bowl – beat butter, margarine, sugar & brown sugar together until fluffy.
Add egg & vanilla – beat well.
Add in flour, pudding mix, baking soda & salt – slowly stir first & then beat until all ingredients are completely incorporated.
Slowly stir in chocolate & white chocolate chips.
Fold in 1/2 the M&M's.
Remove the beater, cover & refrigerate overnight (extremely important that you do this).
The next day preheat oven to 350 degrees.
Roll dough into balls – it will be firm & you will need to press it all together.
Place the dough balls on a baking sheet & bake cookies for 9-12 minutes (mine were perfect at 11).
Remove & immediately top each cookie with a few extra chocolate chips, white chocolate chips & M&M's before they cool.
Leave cookies on baking sheet to cool.
Repeat this process with the remaining cookies.
I used 3-3/4 baking sheets for all these cookies.
Store in an airtight container at room temperature
I had a hard time walking away from the bowl.
That was when I knew this could be THE ONE recipe that I abandoned all others for.
Looking for more Valentine's Ideas?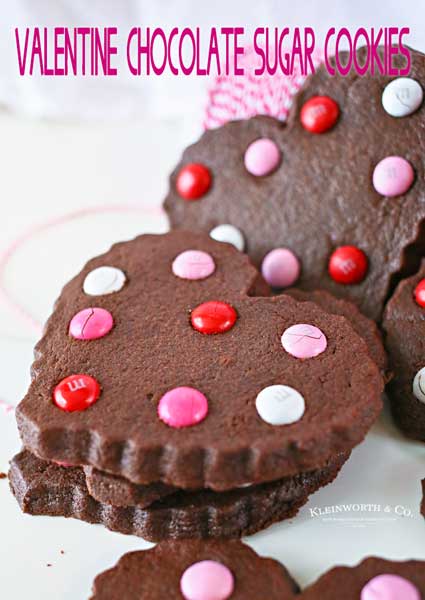 Valentine Chocolate Sugar Cookies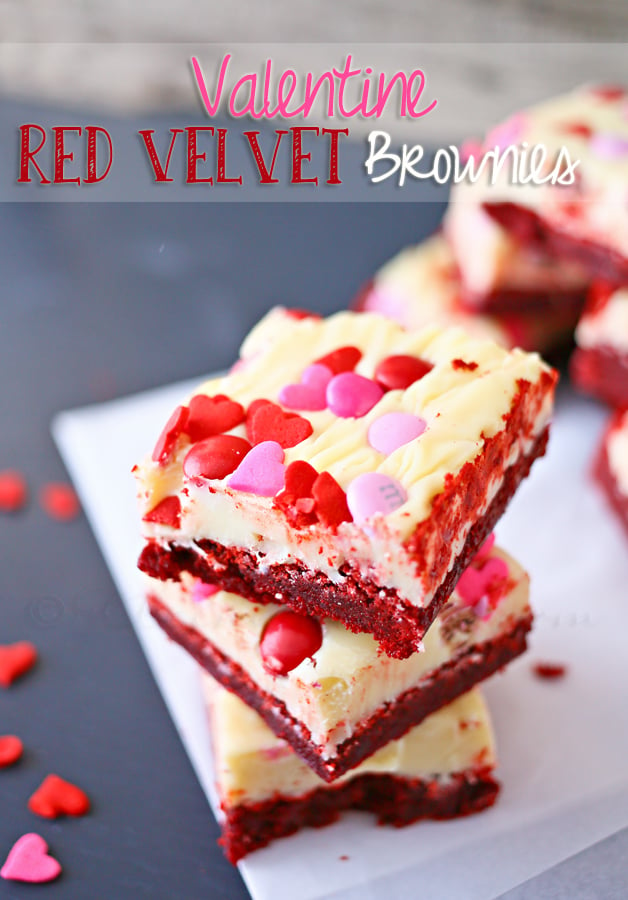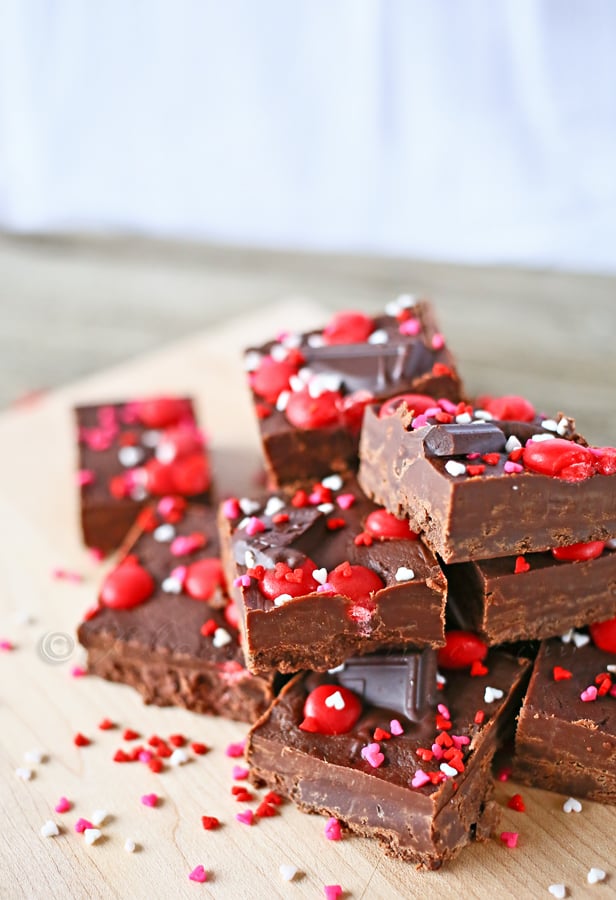 More Great Cookies You Don't Want to Miss
Reese's Potato Chip Cookie Bars
Chewy Ritz Cracker Oatmeal Cookies