Prosciutto French Onion Tea Sandwiches are perfect for bridal or baby showers, Mother's day celebrations, or backyard pool parties. Super easy & delicious.
August tends to be a very busy month for us in regards to celebrations. I mentioned earlier that the munchkin celebrated a birthday.
This month we also celebrate the birthday of my niece & the anniversary of my brother & sister-in-law. And before we had hit mid-month we also celebrate the hubs birthday.
Scroll to the bottom for the Printable Recipe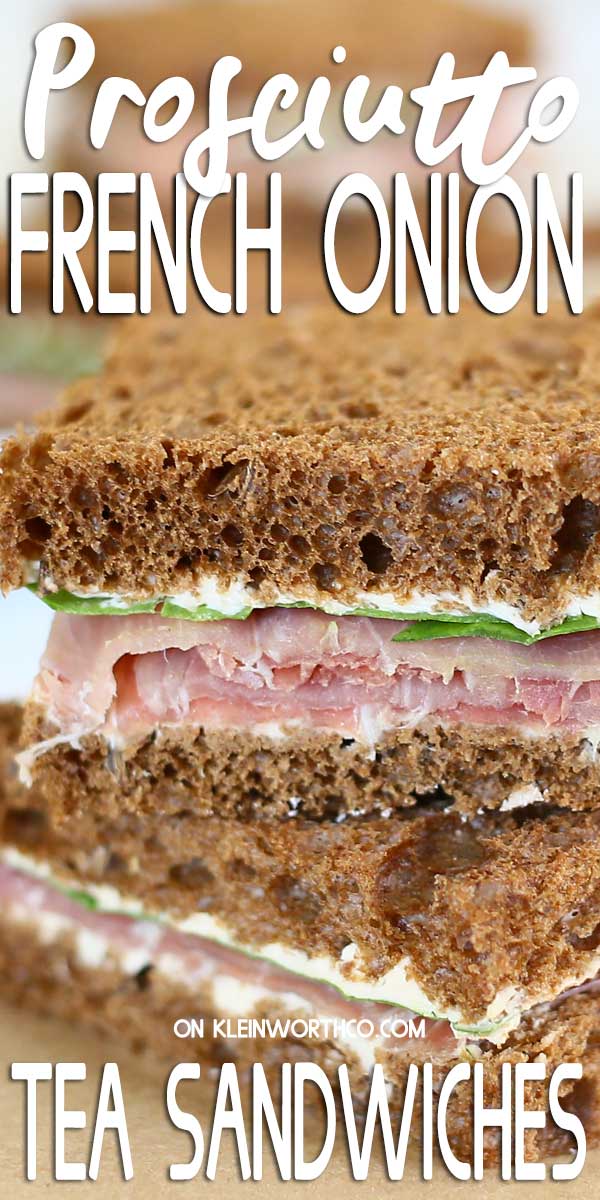 So I have been quite busy with planning & prepping & entertaining. I knew that for the hubs birthday we would have a small & casual gathering for lunch.
I wanted a light & a fresh menu that was easy to put together. So one thing we made were these Prosciutto French Onion Tea Sandwiches. Perfect light summer refreshments when hosting parties.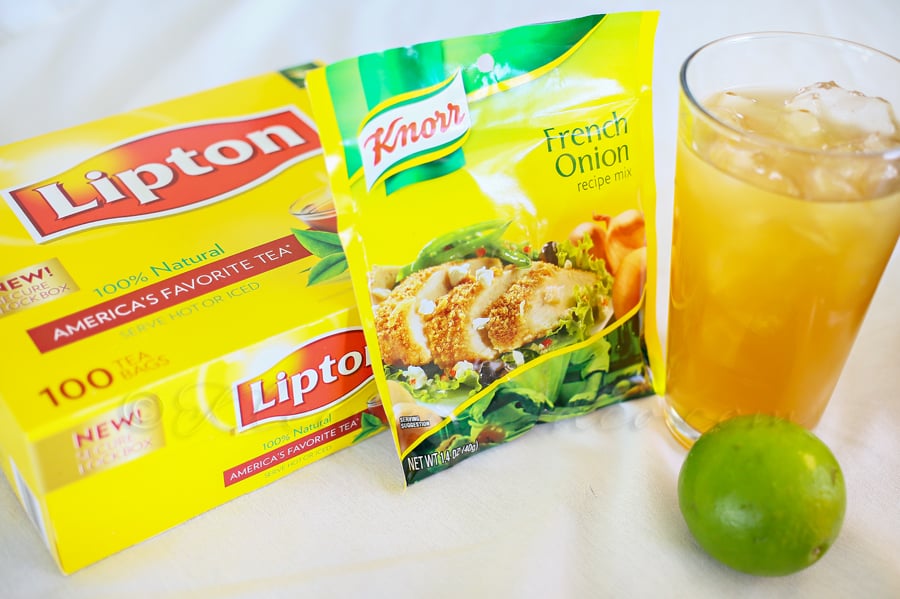 Here's a closer look – this is what you are looking for.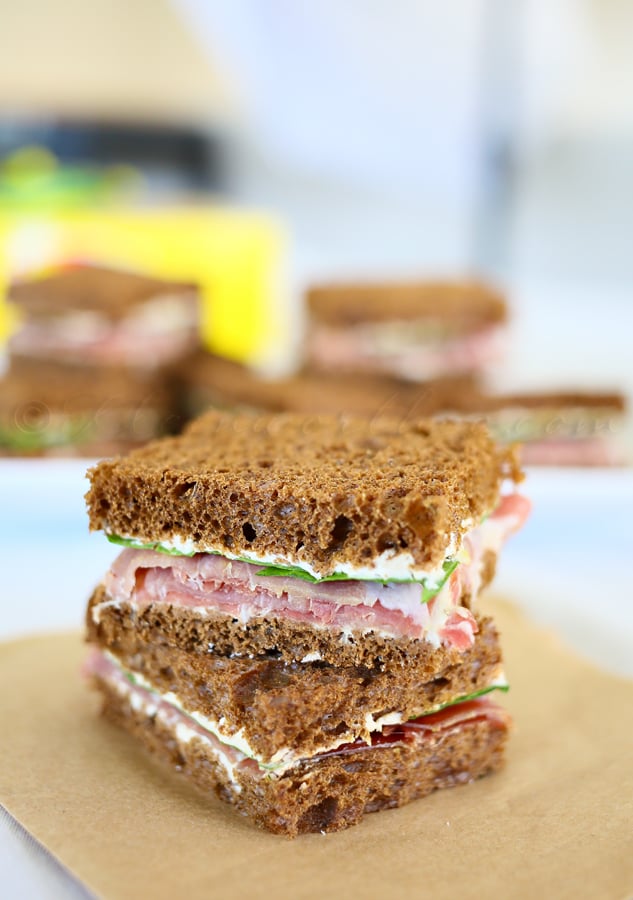 Here are the tea sandwiches. Just a little cream cheese & the Knorr French Onion recipe mix whipped together into this spread.
Then add the prosciutto & a little baby spinach. So tasty – especially on this pumpernickel bread.
Pumpernickel bread is my kid's favorite so whenever I can find a recipe to use it in I will. Plus – the color looks great with the other ingredients inside.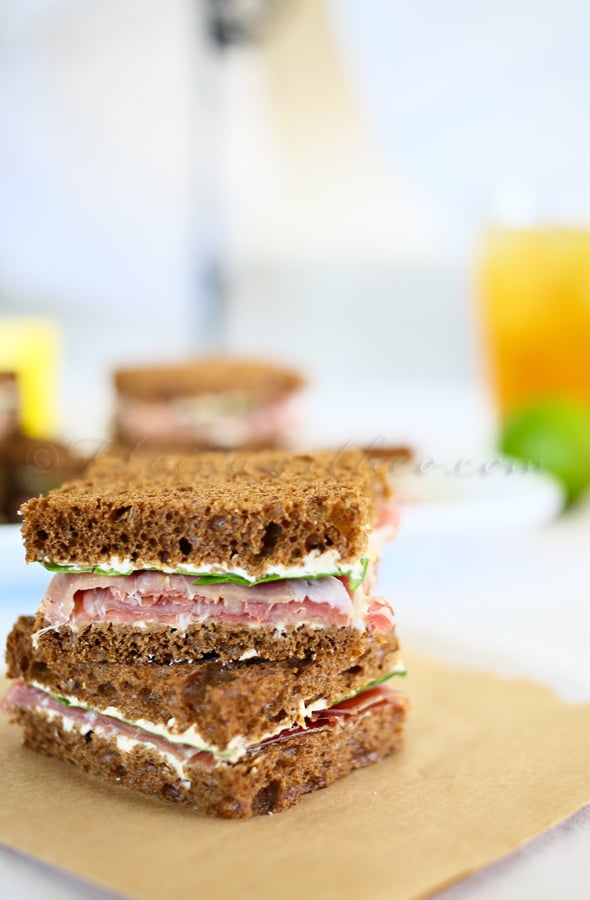 Here are some commonly asked questions
Can I use frozen spinach in these tea sandwiches?
I don't recommend making this with frozen spinach as it won't be crisp in the sandwich. I don't think anyone wants to bite into soggy spinach that has leaked excess moisture into the bread of the sandwich. That wouldn't be great.
Can I use a substitute for the French onion mix?
I have not personally tried it, so I can't say how that would turn out. But if you have an alternative brand of French onion mix that you prefer, you can give that a try.
Can these sandwiches be made ahead of time and frozen?
Yes, I think you could do that, but you would want to add the fresh spinach after thawing and before serving. For the reasons I mentioned above, I don't advise frozen spinach on the sandwich. You can, however, make these ahead of time and refrigerate until your party.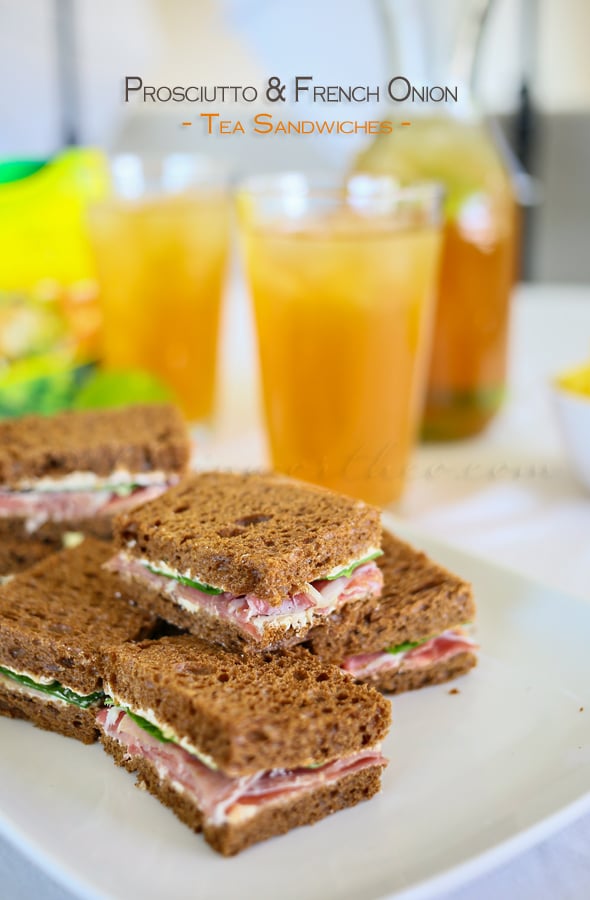 How many can this serve?
This recipe makes about 12 tea-size sandwiches. So depending on how many each person actually has you could feed 6-12 people with this recipe.
recipe for Prosciutto Tea Sandwiches
Can this recipe be doubled?
You can, and we do it often. Definitely a good idea to double the recipe if you are hosting a large party.
HOW DO YOU MAKE Prosciutto and French Onion Tea Sandwiches?
Whip the cream cheese & French Onion mix together in a small bowl
For each sandwich…spread the cream cheese mixture evenly on both slices of the bread.
Add 2 slices prosciutto, followed by a layer of baby spinach.
Close sandwich & cut crusts off & then cut in half. Each full sandwich should yield 2 tea sandwiches.
What is the best way to store leftover tea sandwiches?
Place any leftover tea sandwiches in an airtight container or zip-top bag and refrigerate for up to 3 days.
To make Prosciutto and French Onion Tea Sandwiches you will need…
cream cheese
Knorr French Onion Recipe Mix
Pumpernickel bread
Baby spinach
Prosciutto
Best Tea Sandwiches
Products I love when making Tea Sandwiches…
This Tea Sandwich recipe is SUPER EASY and delicious – and if you're like me, then you maybe already have some of these items on hand OR maybe you have never made tea sandwiches before, & you might be a bit nervous – but you're going to love them. I have made a list below of the things I absolutely can't live without when it comes to making this party recipe.
If you love this Easy Prosciutto & French Onion Tea Sandwiches recipe, you're going to love these other party foods too. Please click each link below to find the easy, printable recipe!

Prosciutto Sandwiches
If you love this recipe for Prosciutto French Onion Tea Sandwiches as much as I do, please write a five-star review, and be sure to help me share on Facebook and Pinterest!
CONNECT WITH KLEINWORTH & CO!
Be sure to follow me on my social media, so you never miss a post!
FB, Pinterest, IG, Email Subscription
Reader Interactions