Coconut Lime Tea – perfectly brewed with the refreshing flavors of coconut & lime. Such a delicious way to hydrate all summer long.
You know – the weather has been so fickle. This time of year it can't decide if it still wants to be summer or if it really would rather start heading into fall.
We have a couple of days of low 80's – which is soooooo nice. (The So Cal girl in me really wishes it were like that all the time) But then it gets back up near 90 again & I start heading for the kitchen for a cool down.
Scroll to the bottom for the Printable Recipe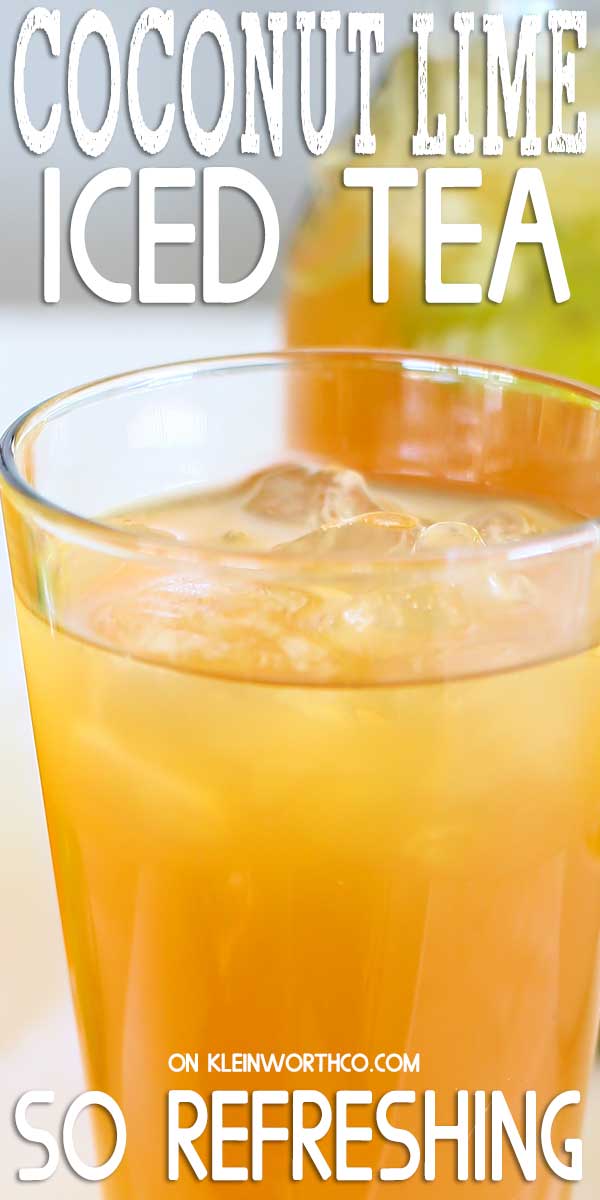 One thing I'm grabbing for a lot when it's hot- this Coconut Lime Tea. You know how I love coconut flavored things.
Then add that wonderful lime twist – mmmmmmmm. I suppose summer could stick around a little bit longer.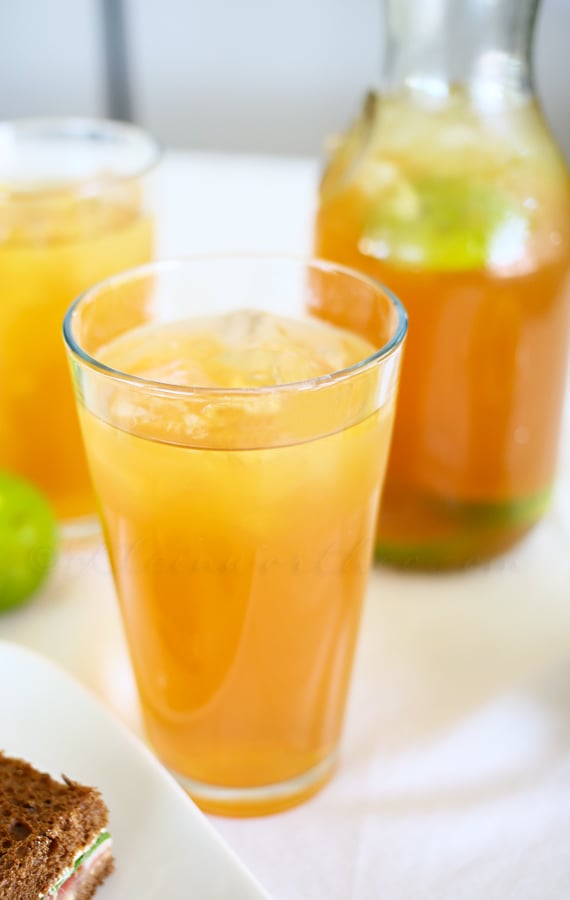 Really – I know I say it a lot here – but I love coconut. Having it added to this tea is fabulous.
Here are some commonly asked questions
Can I use freshly squeezed lime instead?
Yes, absolutely, that will work just fine. I think it ends up being about 1 squeeze of half of a lime.
Can I use sugar-free coconut syrup?
Yes, if you need to go sugar-free, that should work fine. The flavor will be slightly different, as you would expect from sugar-free ingredients, but still delicious.
How many can this serve?
This recipe makes about 48 ounces, so it will depend on portions. I can tell you that we all pour tall glasses of this delicious drink – so it goes pretty quickly between our family of 5.
recipe for coconut tea
Can this recipe be doubled?
You can, and we do it often. The pitcher I linked to below holds about 60 ounces, so when I double this recipe I usually need to grab another pitcher as well. But other than that – doubling is super simple.
HOW DO YOU MAKE Coconut Lime Tea?
Place tea bags in boiling water & allow to steep/ brew for about 10 minutes.
Remove the tea bags – transfer to a pitcher.
Stir in coconut syrup & lime juice.
Add in ice or cold water – stir.
Refrigerate until chilled and serve over ice.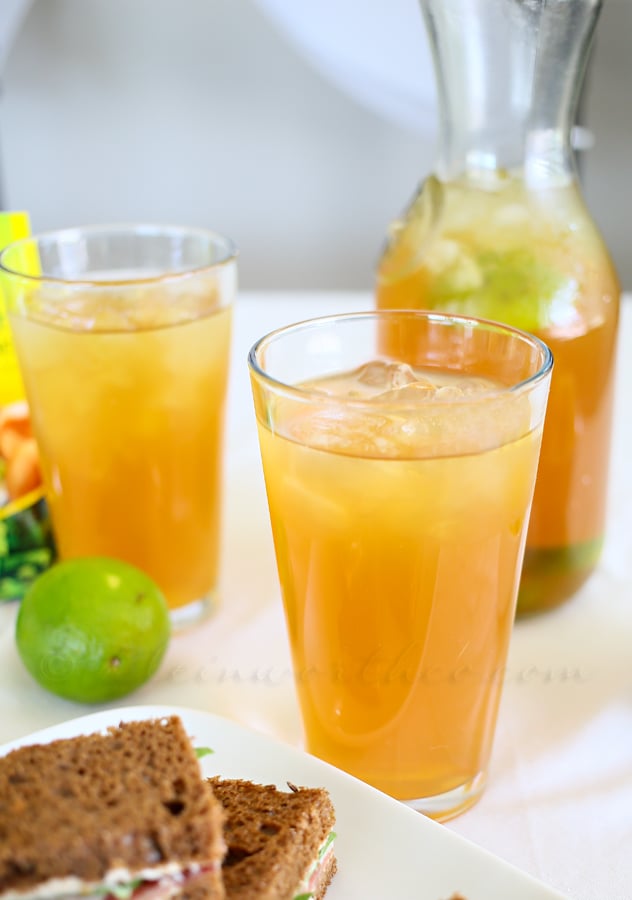 I suppose you could add this to your sun tea if you like. We used to make sun tea all the time when the kids were little. I would drink it by the gallon.
But then we moved to just brew it on the stove-top instead because of the bacteria that can grow during the process of making sun tea. It's really simple to do on the stove & quick too. Plus, it turns out perfect every time.
To make Coconut Lime Tea you will need…
boiling water
black tea bags
coconut syrup
lime juice
ice or cold water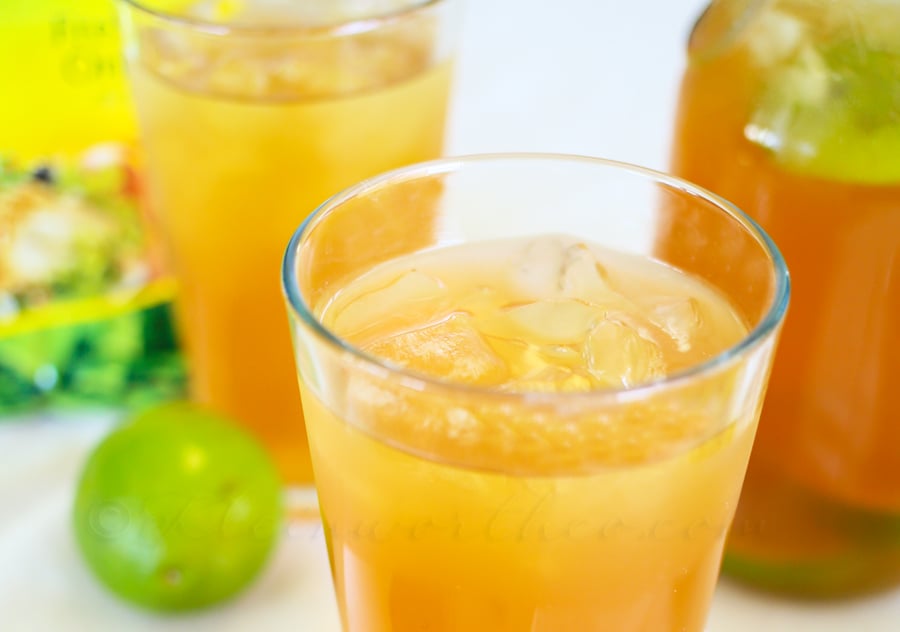 Doesn't it look refreshing?! Come on over & have some! We can sit on the porch & chat a while.
best flavored iced tea recipe
Products I love when making Coconut Lime Tea…
This Coconut Lime Tea recipe is SUPER EASY and delicious – and if you're like me this time of year, then you maybe already have some of these items on hand OR maybe you have never made homemade flavored iced tea before, & you might be a bit nervous – but you're going to love it. I have made a list below of the things I absolutely can't live without when it comes to making this drink recipe.
If you love this Easy Coconut Lime Tea recipe, you're going to love these other drinks too. Please click each link below to find the easy, printable recipe!

Coconut Iced Tea Recipe
If you love this recipe for Coconut Lime Tea as much as I do, please write a five star review, and be sure to help me share on facebook and Pinterest!
CONNECT WITH KLEINWORTH & CO!
Be sure to follow me on my social media, so you never miss a post!
FB, Pinterest, IG, Email Subscription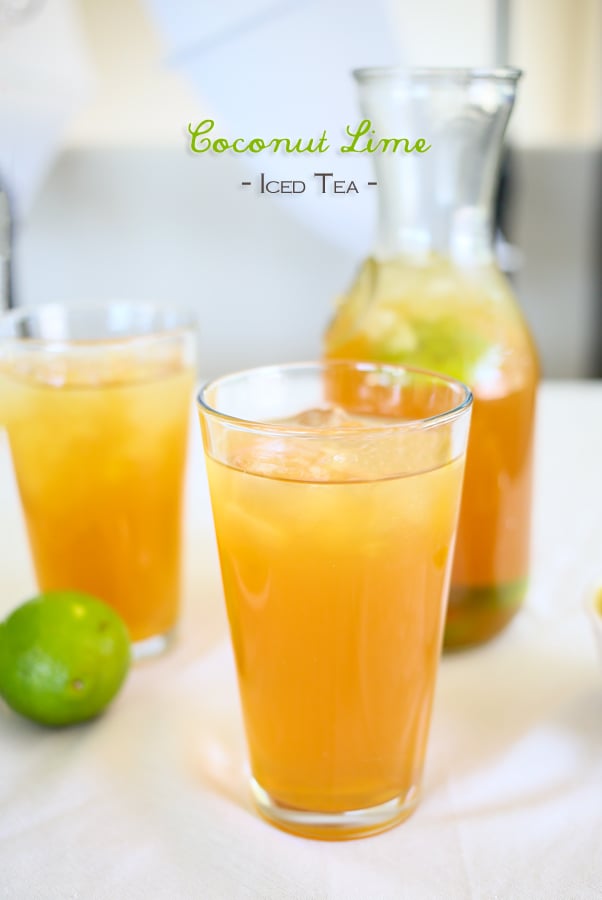 Reader Interactions