Looking for a perfect Meatless Monday snack? This Spinach Artichoke Dip is vegan but tastes just like the classic cheesy dip. It's simple, easy & delicious!
As most of you know, our family is big on making great food, gathering around & enjoying a good game. Food & sports are something we all enjoy together.
We go through several hours of prep on game day & the spread is fabulous. But honestly, it can take its toll. So we have been expanding our horizons & creating new recipes that are every bit as good as our classic family favorites but lightened up.
Scroll to the bottom for the Printable Recipe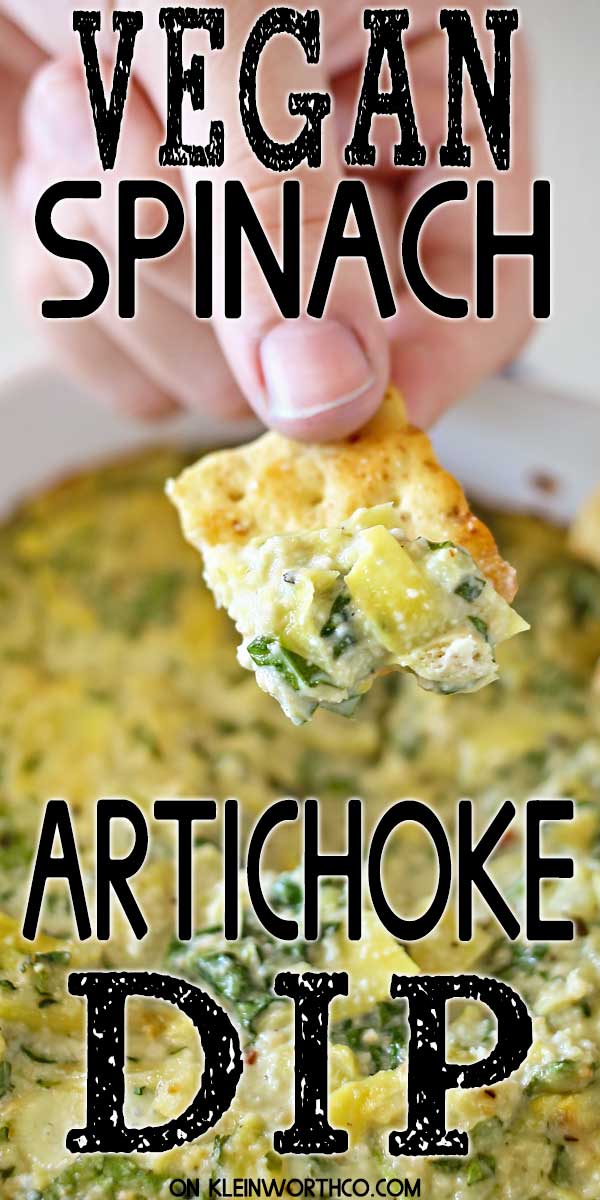 Easy Spinach Artichoke Dip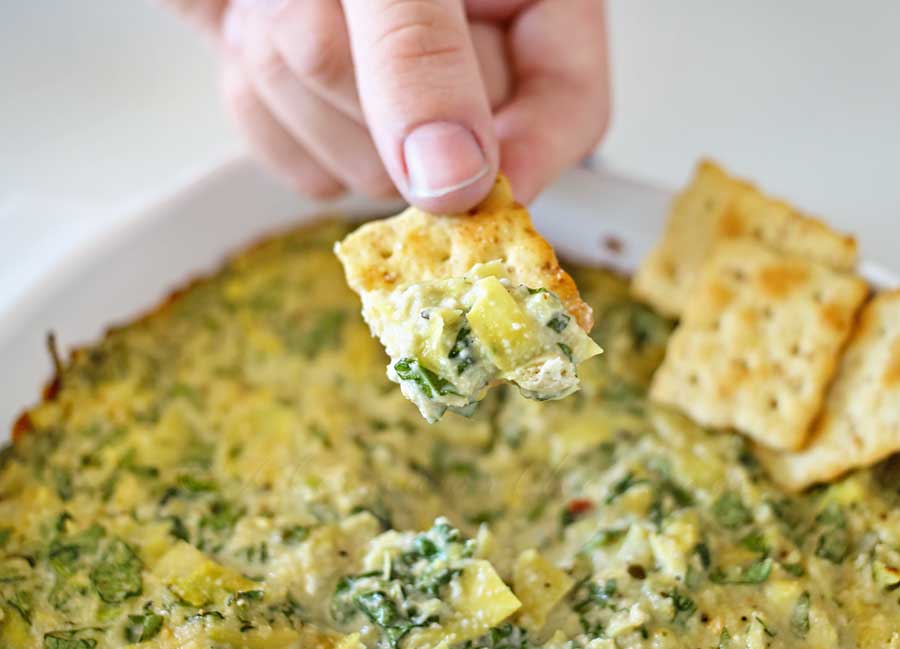 Like this Vegan version of Spinach Artichoke Dip. It's creamy & sooooooo good. Just scoop with some of your favorite vegan crackers & you have yourself a delicious snack.
I used almond milk while creating this recipe. It's so simple- you won't believe it. It's easy as blending the ingredients & then baking for a few minutes.
I know- the family was shocked at how quickly this came together. Definitely shortened my time in the kitchen before the game & that's always a plus.
Here are some commonly asked questions
Can I use frozen spinach?
Yes, absolutely, that will work just fine. Just be sure to thaw it & wring out any excess moisture before proceeding with the preparation.
Can I use another milk alternative?
I have not personally tried it, so I can't say how that would turn out. But I would imagine that coconut, oat, rice, cashew milk or any other variety would work just the same.
Can this dip be made ahead of time?
Yes, I do it often. I usually blend the ingredients, transfer to the baking dish, and then refrigerate until closer to game time. Then I pop it in the oven when we are just about ready to serve everything else. This way it comes out hot and ready to enjoy immediately.
How many can this serve?
Since this is a dip and most people just sort of graze when it comes to dip, you should be able to serve this to a party for 8-10 people. That is assuming this isn't the only thing on the menu. If that is the case, I can tell you that my family of 5 adult appetites can finish this off by the time game day is over.
recipe for hot spinach dip
Can this recipe be doubled?
You can, and we do it often. But be sure to distribute the mixture between 2 baking dishes instead of trying to get it all into one small one or into one larger one. That will change the baking time too much.
HOW DO YOU MAKE Homemade Artichoke Spinach Dip?
Preheat oven to 435 degrees.
Combine almond milk, lemon juice, garlic, salt, ground mustard, black pepper & cashews in blender & blend on high until very smooth. Depending on your blender this could take 1-2 minutes or as many as 5-6.
Add artichoke hearts & spinach – pulse 2-3 times to coarsely chop into your blended mixture – you want this chunky.
Transfer to a small baking dish – I used a 1/2 quart Corning Ware dish.
Bake 16-20 minutes – making sure to not cook over. (it will discolor the spinach)
Serve warm.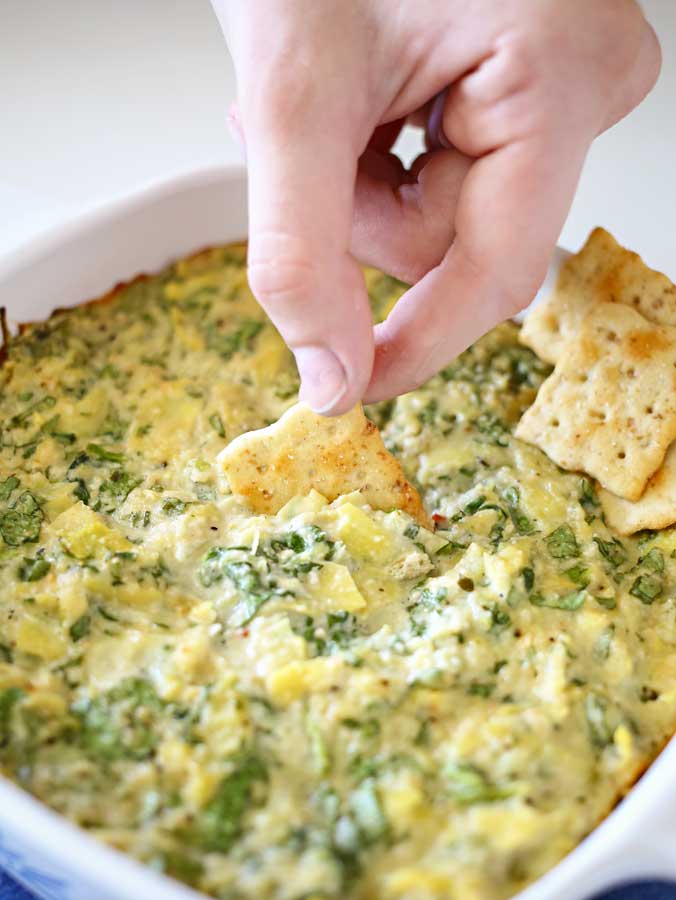 What is the best way to store leftover Spinach Dip?
Take any leftovers and transfer to an airtight container or cover the baking dish with plastic wrap or foil. Keep refrigerated until ready to enjoy again.
Can this recipe be made with another type of nut?
I have not personally tried it. But you might be able to use pine nuts, almonds, walnuts, hazelnuts, soaked sunflower seeds, sunflower seeds or tahini (sesame seed butter).
To make Vegan Spinach Artichoke Dip you will need…
spinach leaves
marinated artichoke hearts
plain non-dairy milk
raw cashews unsoaked
lemon juice
minced garlic
coarse sea salt
ground mustard
black pepper
Spinach Dip Recipe
Products I love when making Spinach Artichoke Dip…
This Spinach Artichoke Dip recipe is SUPER EASY and delicious – and if you're like me, then you maybe already have some of these items on hand OR maybe you have never made spinach dip before, & you might be a bit nervous – but you're going to love it. I have made a list below of the things I absolutely can't live without when it comes to making this appetizer recipe.
If you love this Easy Spinach Artichoke Dip recipe, you're going to love these other snacks too. Please click each link below to find the easy, printable recipe!

easy spinach dip
If you love this recipe for Spinach Artichoke Dip as much as I do, please write a five star review, and be sure to help me share on facebook and Pinterest!
CONNECT WITH KLEINWORTH & CO!
Be sure to follow me on my social media, so you never miss a post!
FB, Pinterest, IG, Email Subscription