Simplify your dinner with this Oven Fried Chicken that comes out crispy & delicious in about an hour. Less mess & clean up, the best-baked chicken recipe. Ever!
My mom was a baker. She did a great job making sweets. But that is where it really ended for her in the kitchen. She didn't really cook much that I can remember & so when I got out on my own I lived on things like toast & hamburger helper. Easy stuff.
So when I met the hubs we ate a lot of what he calls bachelor food. But I knew we couldn't live on that forever.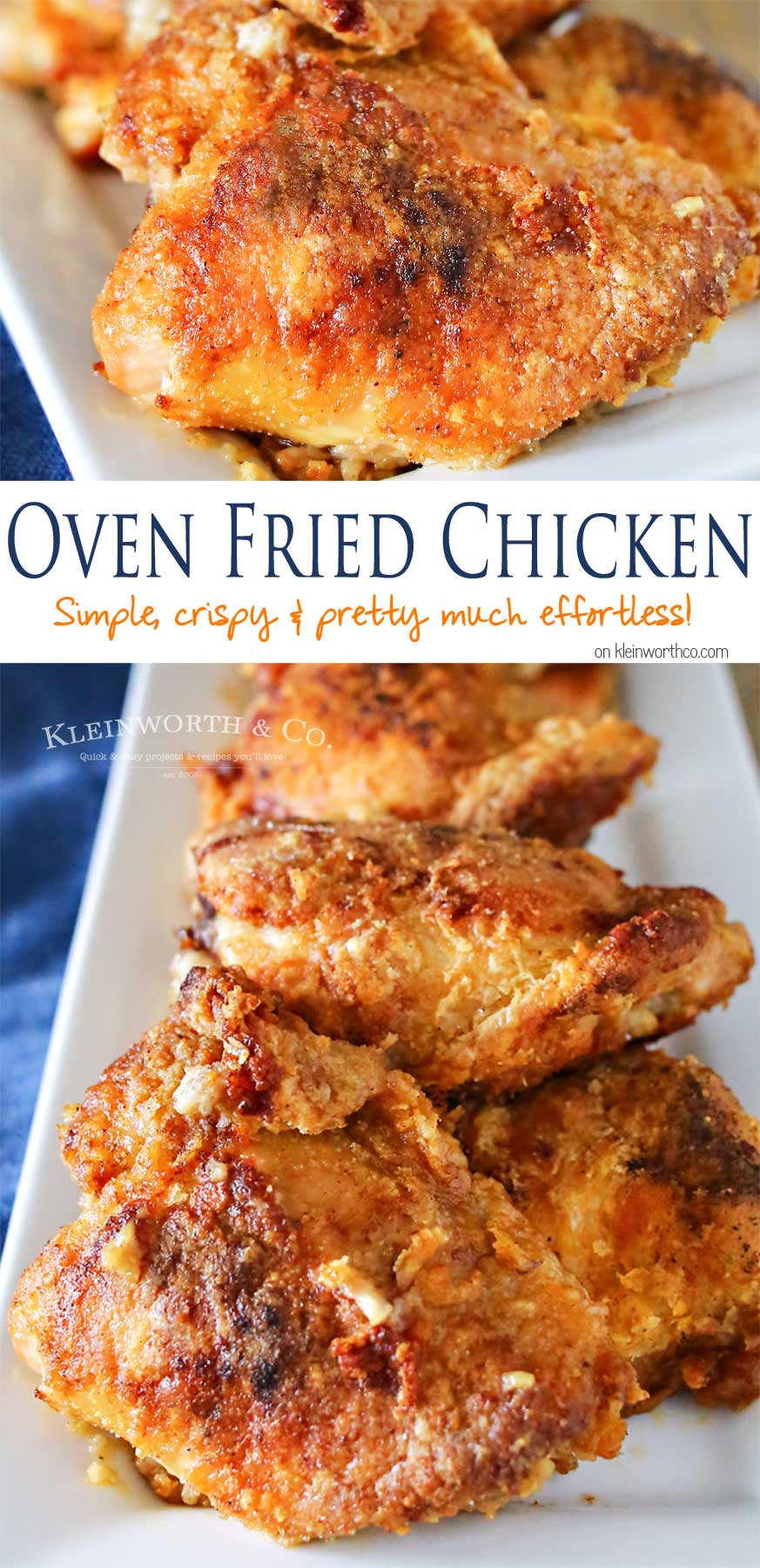 So I started learning the basics & one of the first things I perfected was fried chicken. I make it in a handful of different ways – all equally as good as the next.
But the one that I make the most – this Oven Fried Chicken.
oven fried chicken recipe
This post contains some affiliate links. Click here to read my full disclosure policy.
It's so simple to make. I like to coat my chicken using a zip-top bag. Just toss in there with my favorite flour– close & shake. It keeps the mess to a minimum & it does a great job.
I have been making this recipe for 20 years & I can tell you that each & every time we marvel at not only how easy it is to make but just how tasty it is after a long day.
Oh & did I mention that it takes less than 10 minutes to prep & a little over an hour to cook. That's it! I told you it was easy!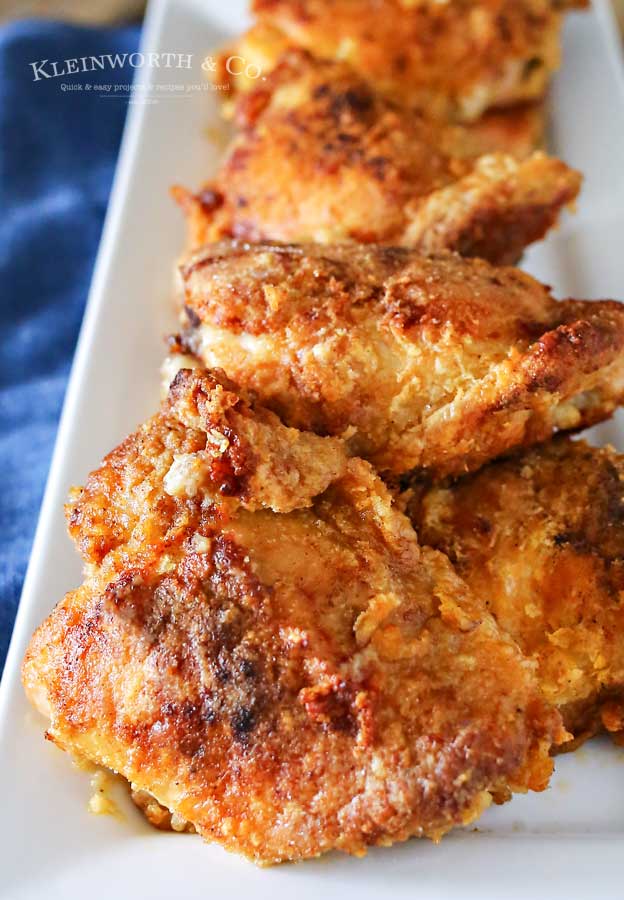 It really is no wonder this recipe has been pinned several-hundred thousand times & shared on Facebook over 1 MILLION TIMES. It is CRAZY EASY!
This recipe is the one that even my son makes now that he's out on his own. He can cook once & live off the leftovers all week, which is so great considering how busy he is with work and classes.

Here are some commonly asked questions
Can this be made with drumsticks?
You can do that. Just cook for about 40-45 minutes, turning them over after about 30 minutes. You'll know they are done when the meat is no longer pink at the bone and the juices are clear. A meat thermometer inserted near the bone should register 165 degrees.
How do you think this would be using Almond Flour to make this recipe Keto-friendly?
I don't think it would hurt to give it a try. If you make it, please let me know how it turns out.
What is the best way to store leftover chicken?
After serving, place leftover chicken in a shallow airtight container. Be sure to label with the date before refrigerating. The chicken should keep for up to 2 days. As with most things, it is important to get food into the refrigerator within 1 hour after serving to prevent bacteria growth.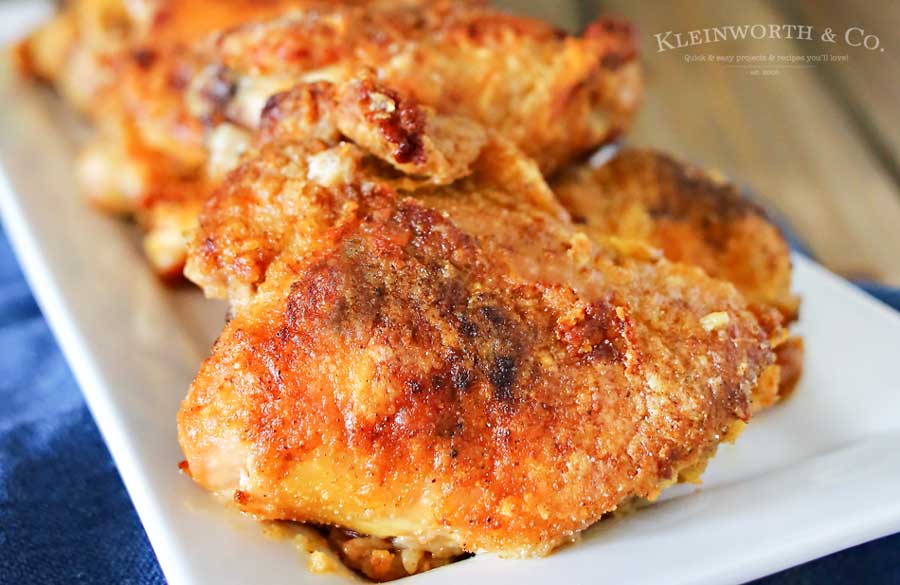 Why use a shallow container to store the leftovers?
Well, when the container is shallow, the contents chill faster than if you were to use a large, deep container. Ideally, you don't want it to take too long for the leftovers to get to their chilled/stored temperature. As I mentioned, if the food remains above about 35 degrees for more than 1 hour after cooking, the bacteria starts to grow.
So, if the deep container of food takes several hours to finally get to that 35 degrees, the bacteria has been growing in your leftovers for those several hours. Not exactly what you want to happen.
How many can this serve?
This will depend greatly on portion sizes & the appetites of your crowd. I typically buy the large pack of chicken thighs that contains 8-10 pieces. So if all 5 of us in our family has 1-2 pieces each, it can feed us for 1 dinner.
oven baked fried chicken
Can this recipe be doubled?
Yes, you can double this recipe. But due to constraints on how much the pan can hold, you might have to do 2 baking pans and bake them side-by-side.
HOW DO YOU MAKE OVEN FRIED CHICKEN?
Preheat oven to 425 degrees.
Spray a 9×13 metal, stoneware or enameled cast iron baking dish with cooking spray & set aside.
Combine chicken & flour in a large gallon size zip top bag- seal & shake well until chicken is coated in flour.
Remove each piece of chicken from the bag & place skin down in prepared baking dish.
Sprinkle with seasonings & bake 30-35 minutes.
Remove & turn each piece of chicken over to skin side up- sprinkle with more seasonings.
Bake an additional 30-35 minutes.
Remove from oven & transfer chicken to a plate lined with paper towels.
Sprinkle with additional salt.
ENJOY!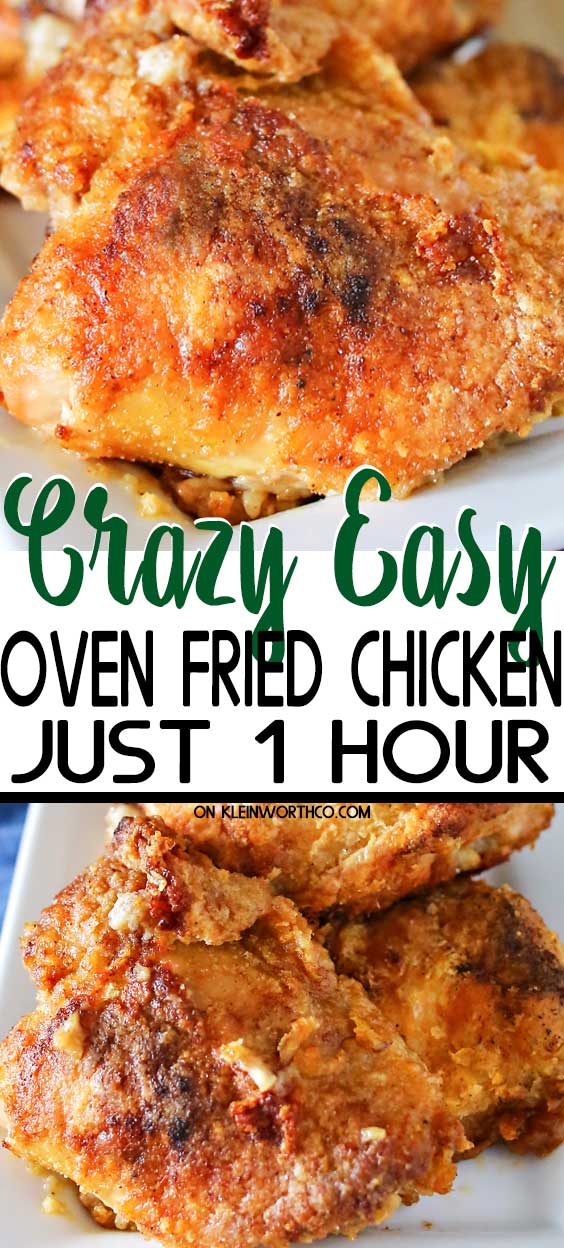 Can this be made with frozen chicken?
I don't recommend trying to make this recipe with frozen chicken. It would drastically increase the cooking time and result in the skins burning while trying to get the internal temperature to a safe level.
***NOTE: Due to some safety concerns with baking glass cookware at high temperatures, please use a Metal Baking Dish, Corningware or Enameled cast iron dish.
How to Oven Fry Chicken
To make this recipe you will need…
chicken thighs with skin
all-purpose flour
salt
pepper
smoked paprika
Products I love when making this fried chicken recipe…
This chicken recipe is so EASY and delicious – and if you're like me, then you probably already have many of these items on hand OR maybe you have never made fried chicken in the oven before, & you might be a bit nervous – but you're going to love the how simple this recipe is. I have made a list below of the things I absolutely can't live without when it comes to making this dinner.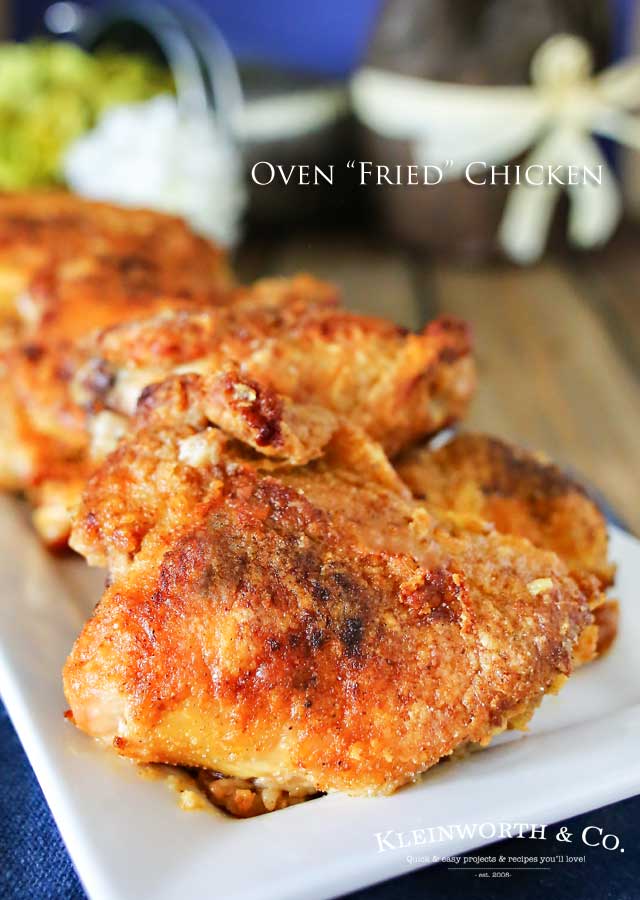 Look at that! OH it is SO GOOD!!
Scroll to the bottom for the Printable Recipe
Oven Fried Chicken Thighs
If you love this easy fried chicken recipe, you're going to love these other delicious recipes too. Please click each link below to find the easy, printable recipe!

Crispy Oven Fried Chicken
If you love this easy Oven Fried Chicken recipe as much as I do, please write a five star review, and be sure to help me share on facebook and pinterest!

CONNECT WITH KLEINWORTH & CO!
Be sure to follow me on my social media, so you never miss a post!
FB, Pinterest, IG, Email Subscription