Rainbow Pinwheel Cookies are the perfect dessert for St. Patrick's Day. Delicious green & white pinwheel cookies coated in rainbow sprinkles to bring you the luck of the Irish!
I love celebrating the holidays with fun food. A few years back I created these Rainbow Pinwheel Cookies for St. Patrick's Day.
But with all that was going on, I never had the chance to share them with you before the holiday happened. So today I finally get to show you just how cute these cookies are.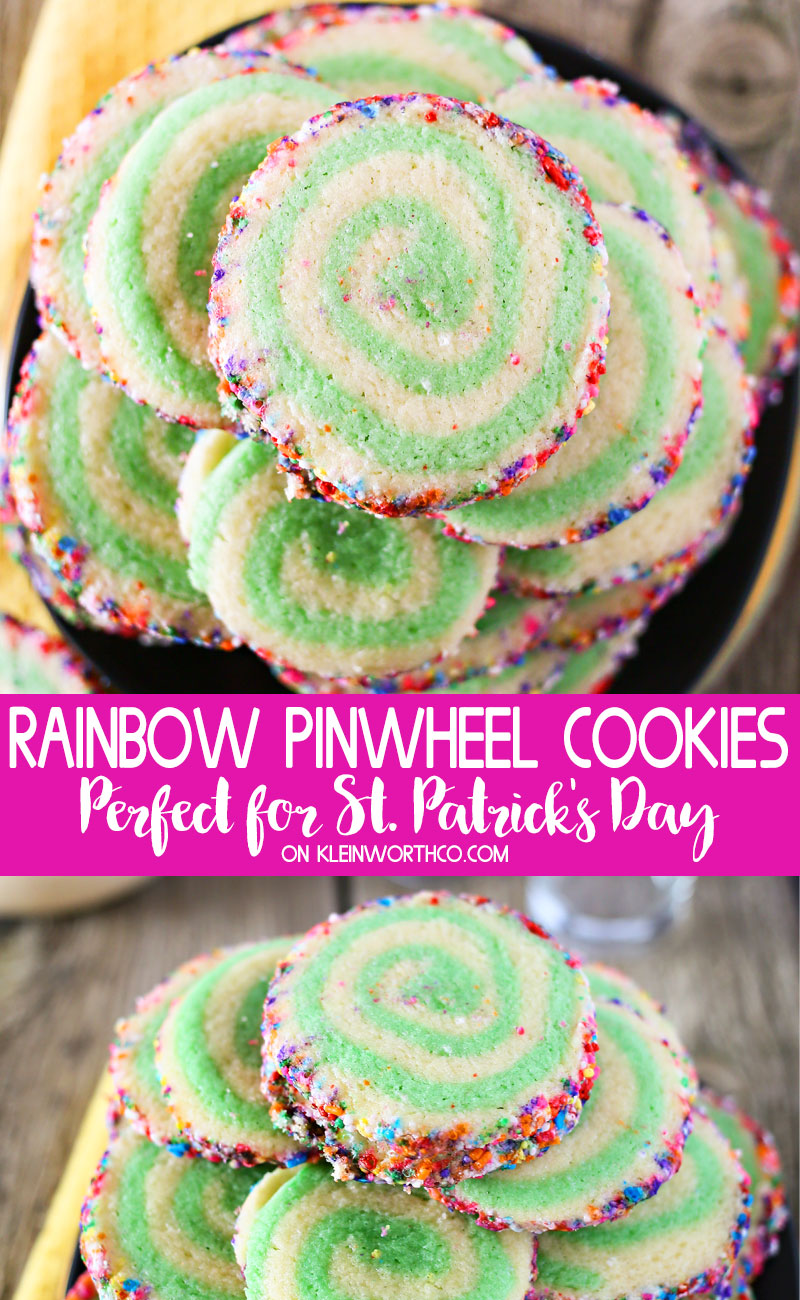 This post contains some affiliate links. Click here to read my full disclosure policy.
Look how happy they look!!! Swirls & rainbows- how could one not eat these with a huge smile?
I wish we had a party happening this year – these would be the perfect thing to bring, don't you think? I think they are perfect for all those fun class parties for the kiddos or even the occasional office party to celebrate the luckiest of all days.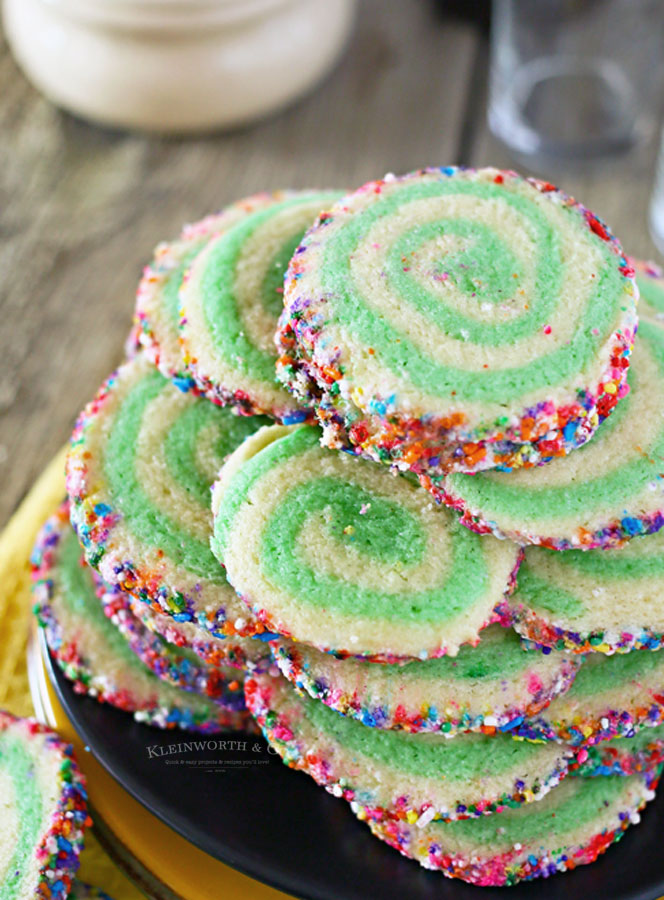 Honestly, anything with rainbows makes me smile. I guess that's why I love St. Patrick's day so much.
My little bit of Irish comes on out & the kids & I have so much fun researching all these fun ideas & really enjoy celebrating all things Irish this time of year.
St Patrick's Day Recipes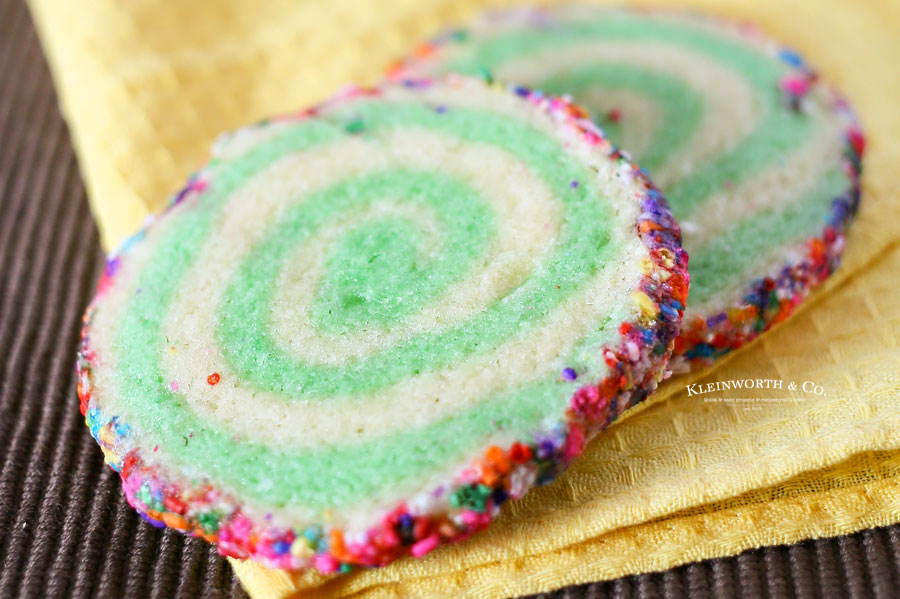 It is one of our favorite ways to celebrate holidays – with fun recipes like these Rainbow Pinwheel Cookies.
Here are some commonly asked questions
What is the best way to store pinwheel cookies?
Once the cookies have cooled to room temperature, place them in an airtight container or zip-top bag. They should stay soft for several days. I don't recommend refrigerating them.
Do I really need to chill the dough?
Yes, Yes, Yes! Chilling the dough is important for a couple of reasons. First – while the dough is chilling the ingredients are coming together. It gives a better overall flavor to the cookie.
The second and probably even more important than the first – is that chilling helps the dough hold together during the baking process.
Without chilling, the dough would not only be too sticky to really roll it into balls. But it would also spread way too much while baking – leaving flat and not very appealing cookies in the end. Please don't skip the chilling process.
What are the best sprinkles for this dough?
This is important – just because the package says "sprinkles" doesn't necessarily mean that it is in-fact sprinkles.
I see a lot of people using colored sanding sugar that is labled as sprinkles.
This will not work as well because when that sugar gets wet – like when mixed into a moist dough or when placed in the refrigerator, it will sweat & the color will bleed out.
Should I use salted or unsalted butter?
This is really a personal preference. If you are happy with just a little salt to cut the sweetness, then use salted butter.
I usually use whatever I have on hand & I really don't pay too close attention to what butter I have. But I typically keep salted butter on hand & I love that little bit of extra salt with the sweet in this recipe.
These days with groceries being more difficult to find – I basically get whatever the store has available at the time and make it work.
Rainbow Cookies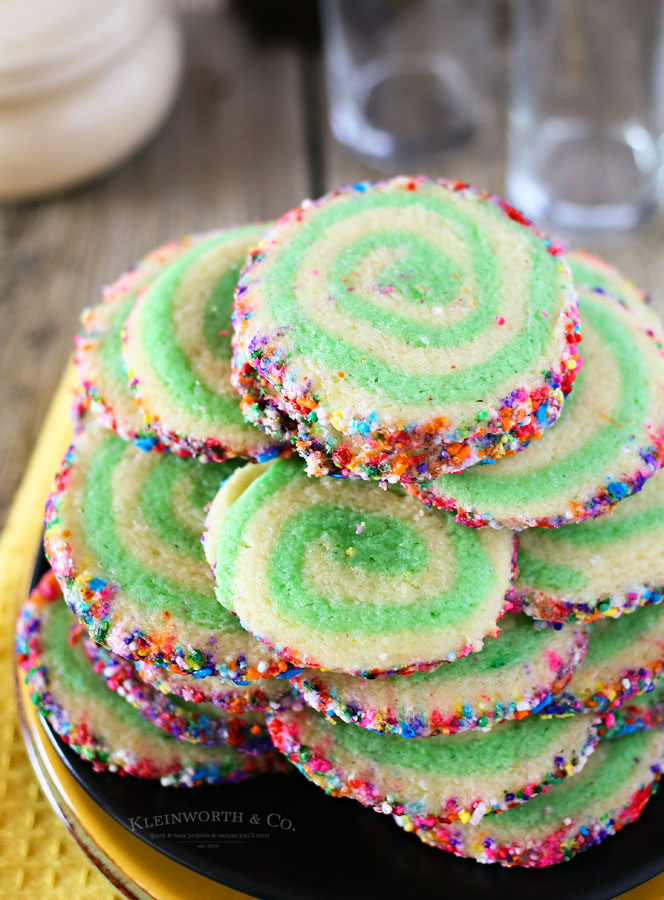 Are you excited to share these on St. Patrick's Day? I sure am!
HOW DO YOU MAKE RAINBOW PINWHEEL COOKIES?
Combine flour, salt & baking powder in a bowl, mix and set aside.
In another large mixer bowl, cream together the softened butter & sugar.
Once smooth, add the eggs & vanilla and beat well.
Add the flour mixture to the butter mixture a little at a time. Mix until the dough is smooth and flour is fully incorporated.
Remove ½ of the dough & wrap it in plastic wrap – refrigerate at least 1 hour.
With the remaining dough in the bowl- add several drops of food color & beat well until combined & dough becomes the desired color- you can keep adding drops & then beat until you get it to where you want.
Remove the tinted dough & wrap it with plastic wrap. Chill in the refrigerator for 1 hour.
Preheat the oven to 350 degrees.
On a lightly floured surface, roll out each ball of dough separately to about ¼ inch thickness.
Using a pastry brush, apply a little water to the darker layer of the dough.
Roll the lighter color of the dough around the rolling pin and transfer it to the top of the darker colored layer of the dough. A little bit of water will help them stick together.
Trim the edges so you end up with a neat and tidy rectangle.
Gently roll the dough from one of the wider ends to form a log.
Work the log and even it out if the middle is thicker than the ends.
Pour some sprinkles into your hand & brush the outside of the dough with a bit more water and then press the sprinkles into the outside of the dough log.
Wrap the dough in plastic wrap and refrigerate for another hour.
Once chilled, slice the dough into rounds – they should be about ¼" thick. The thinner the blade used to slice them, the better. A thick blade will tend to squish the dough.
Bake in the center of a preheated oven at 350 degrees for approximately 8-10 minutes.
How to soften the butter to room temperature?
There are a couple of ways to do this. The first being that you can take the butter (& any other ingredients that need to be at room temperature) out, leave it on the counter for about 30 minutes while you prep for baking.
I usually start with all my chilled ingredients and pull everything I need out onto the counter before getting started – so I know for sure I have everything before I'm mid-way through I realize I'm out of something.
But sometimes it's winter and that isn't enough time to get the ingredients warmed up – OR – I'm just not that organized to plan ahead. It happens. So I have another couple of tricks.
Second – I place the butter in the microwave – wrapped in the paper. (don't do this if it is wrapped in foil) Then I microwave for 2 seconds – flip – go another 2 seconds – flip again – and continue for 2 seconds on each side.
This is usually enough to get it perfect – sometimes stopping before if it feels soft enough. Take care when doing this method – overly softened butter from the microwave WILL ALTER the end result of the recipe. Don't over-do it.
My third method is to place the wrapped butter sticks in a zip-top bag and place it in a bowl of warm water. I do this with the eggs too. If the water isn't too hot it can be THE PERFECT way to get "room-temperature" ingredients.
Why do the ingredients need to be at room temperature?
Room temperature ingredients help to ensure that everything blends together perfectly. You don't want any pockets of unblended butter. You want everything evenly disbursed for the perfect cookie texture.
Ingredients for Rainbow Pinwheel Cookies
all-purpose flour
baking powder
salt
butter- softened
granulated sugar
eggs
vanilla extract
green food color
rainbow sprinkles or jimmies
Can these cookies be made ahead of time?
You bet. This cookie dough can be made ahead of time and kept in the refrigerator for up to 4 days prior to baking. You may need to let it sit out at room temperature for about 10 minutes before rolling and baking.
What can I make with rainbow sprinkles?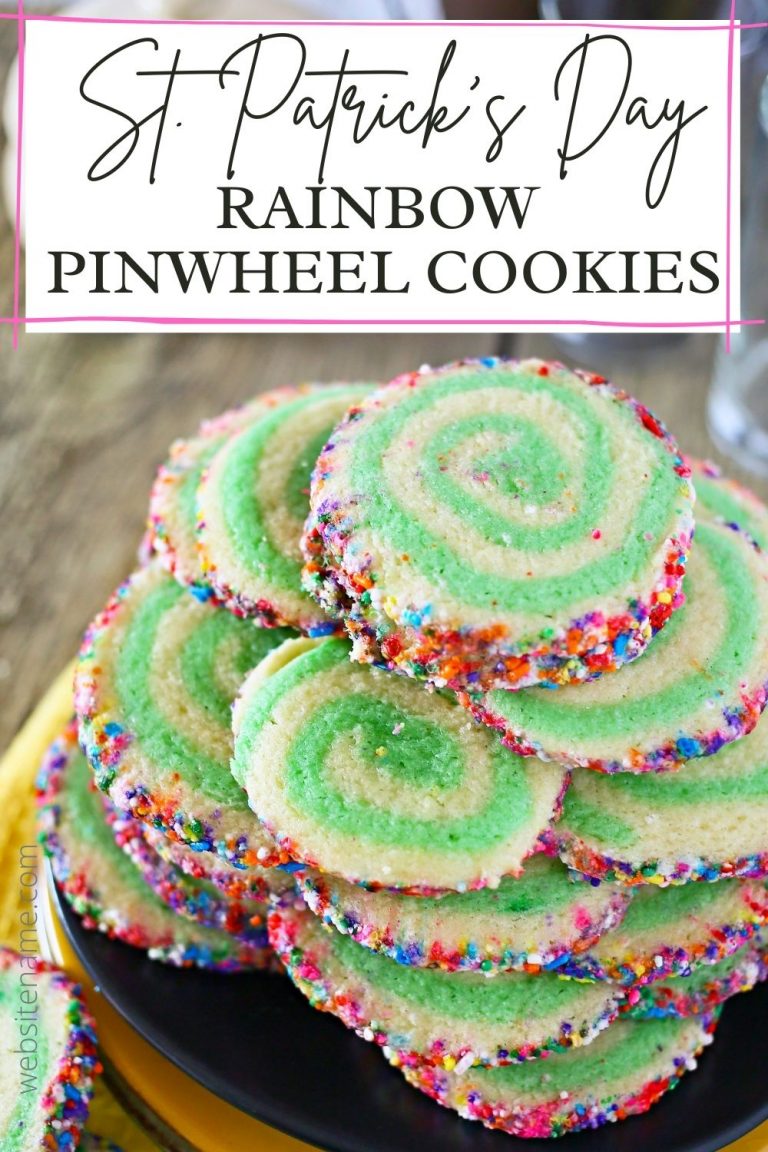 Products I love when making pinwheel cookies…
This cookie recipe is SUPER EASY and delicious – and if you're like me this time of year, then you maybe already have some of these items on hand OR maybe you have never made pinwheel cookies before, & you might be a bit nervous – but you're going to love them. I have made a list below of the things I absolutely can't live without when it comes to making this cookie recipe.
If you love this Easy Cookie recipe, you're going to love these other treats too. Please click each link below to find the easy, printable recipe!

Rainbow Truffles Recipe
This Rainbow Truffles Recipe is the perfect no-bake treat for rainbow lovers! Made with cake mix & cream cheese, they're easy & so tasty too! Make them for parties, St. Patrick's Day & more.
Check out this recipe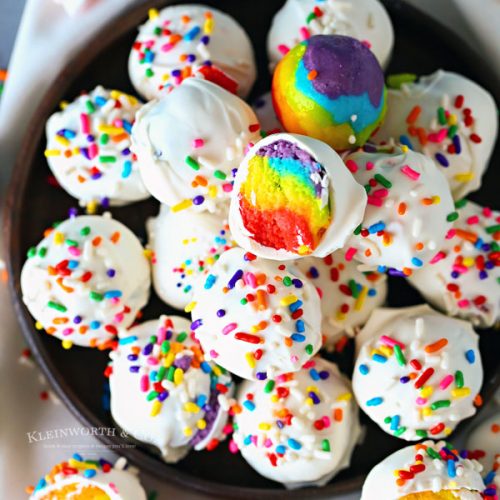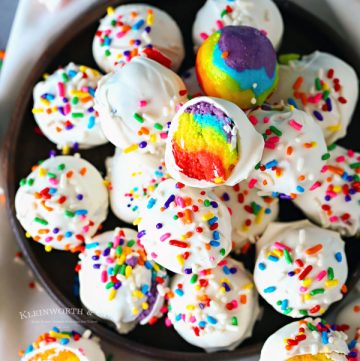 Rainbow Sprinkle Cookies
Rainbow Sprinkle Cookies are a soft and chewy dropped sugar cookie recipe coated in rainbow nonpareils. They're perfect for any celebration – including St. Patrick's Day, Mother's Day, and of course, BIRTHDAYS!
Check out this recipe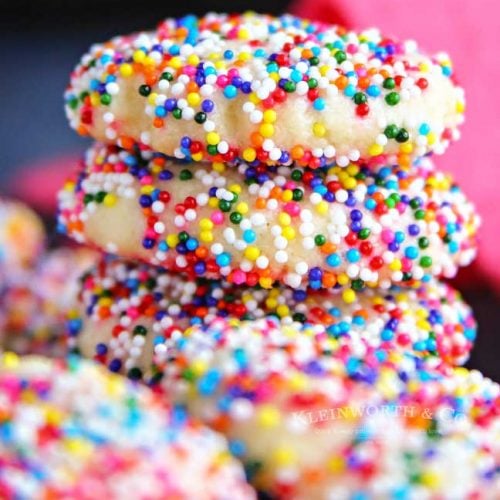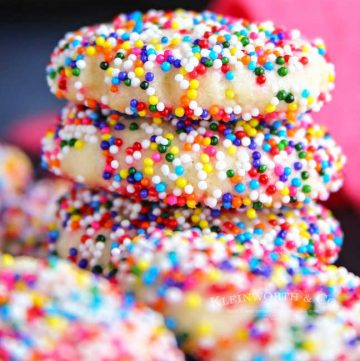 Rainbow St. Patrick's Day Cake
Rainbow St. Patrick's Day Cake is super easy to make & the perfect dessert for your St. Patrick's Day celebrations! Plus it's topped with MARSHMALLOWS!
Check out this recipe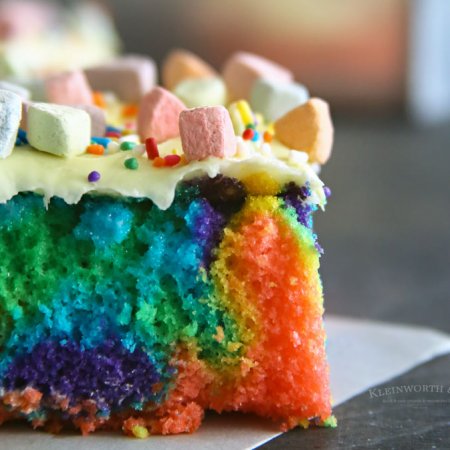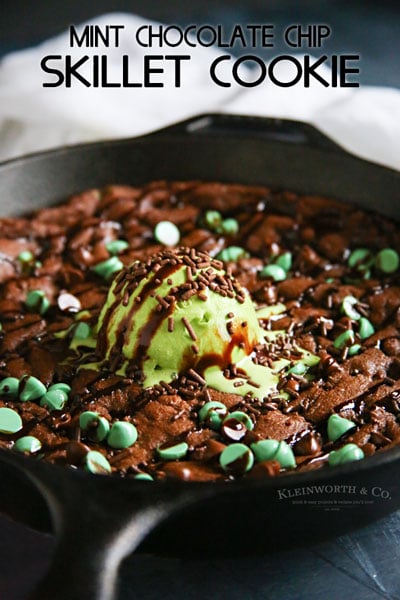 Mint Chocolate Chip Skillet Cookie
If you love this recipe for Rainbow Pinwheel Cookies as much as I do, please write a five-star review, and be sure to help me share on Facebook and Pinterest!
CONNECT WITH KLEINWORTH & CO!
Be sure to follow me on my social media, so you never miss a post!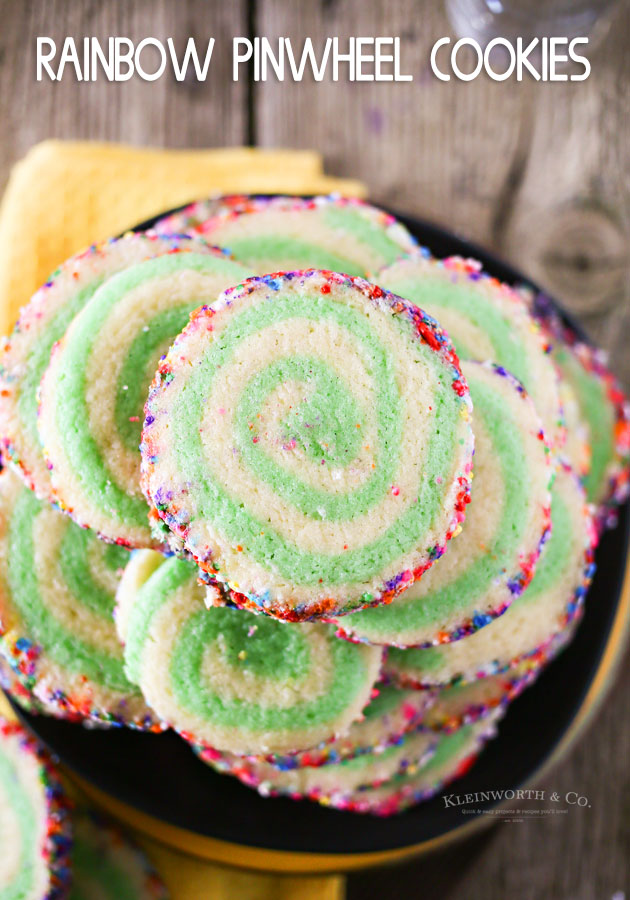 Holiday Cookie Recipes
Rainbow Pinwheel Cookies
Rainbow Pinwheel Cookies are the perfect dessert for St. Patrick's Day. Delicious green & white pinwheel cookies coated in rainbow sprinkles to bring you the luck of the Irish!
Servings: 20 cookies
Ingredients
3 cups all-purpose flour
1 tsp baking powder
½ tsp salt
1 cup butter softened
1½ cups granulated sugar
2 eggs
2 tsp vanilla extract
green food color
rainbow sprinkles or jimmies
Instructions
Combine flour, salt & baking powder in a bowl, mix and set aside.

In another large mixer bowl, cream together the softened butter & sugar.

Once smooth, add the eggs & vanilla and beat well.

Add the flour mixture to the butter mixture a little at a time. Mix until the dough is smooth and flour is fully incorporated.

Remove ½ of the dough & wrap it in plastic wrap – refrigerate at least 1 hour.

With the remaining dough in the bowl- add several drops of food color & beat well until combined & dough becomes the desired color- you can keep adding drops & then beat until you get it to where you want.

Remove the tinted dough & wrap it with plastic wrap. Chill in the refrigerator for 1 hour.

Preheat the oven to 350 degrees.

On a lightly floured surface, roll out each ball of dough separately to about ¼ inch thickness.

Using a pastry brush, apply a little water to the darker layer of the dough.

Roll the lighter color of the dough around the rolling pin and transfer it to the top of the darker colored layer of the dough. A little bit of water will help them stick together.

Trim the edges so you end up with a neat and tidy rectangle.

Gently roll the dough from one of the wider ends to form a log.

Work the log and even it out if the middle is thicker than the ends.

Pour some sprinkles into your hand & brush the outside of the dough with a bit more water and then press the sprinkles into the outside of the dough log.

Wrap the dough in plastic wrap and refrigerate for another hour.

Once chilled, slice the dough into rounds – they should be about ¼" thick. The thinner the blade used to slice them, the better. A thick blade will tend to squish the dough.

Bake in the center of a preheated oven at 350 degrees for approximately 8-10 minutes