Back in January I shared with you all my recipe for Soft Pretzel Bites – just in time for the big game. Ever since then I have been craving my favorite Cinnamon & Sugar Pretzel Bites. It has been on my list of things to make & I just kept putting it off. I just kept bumping down on my list hoping the craving would go away – because they are ohhhhh so good. But the craving didn't go away. In fact I just started craving cinnamon like crazy. So I knew I just had to bite the bullet & do it. You know what? I'm oh so happy I did because they were DELICIOUS!! I enjoyed every bite & so did the family. Now I can share them all with you!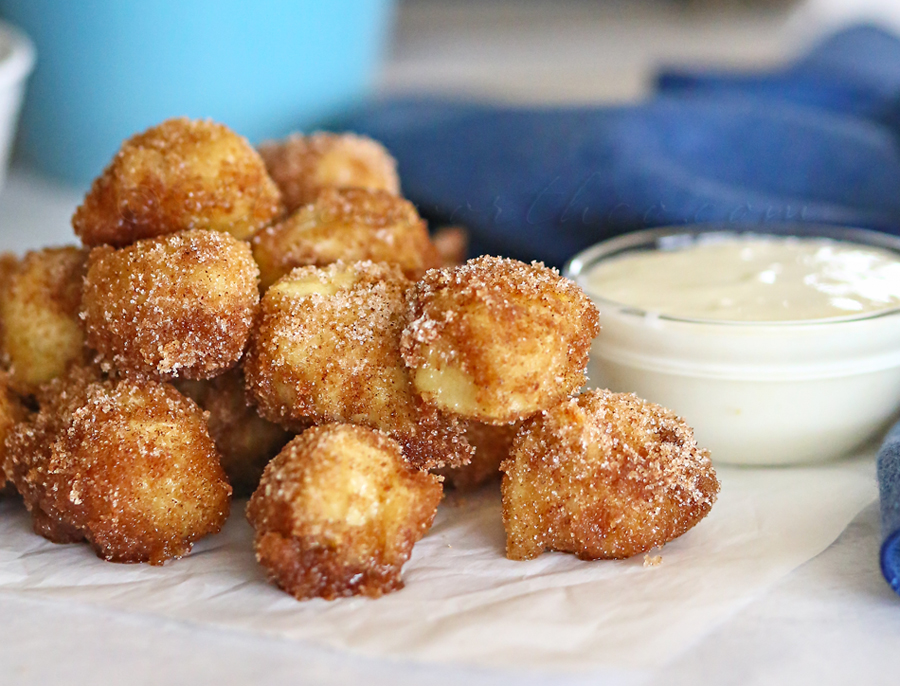 Oh……..I also made a cream cheese dip to go with them. Ooooey-gooey yumminess overload is what that is!!!
Incredible!!! I'm already craving them again!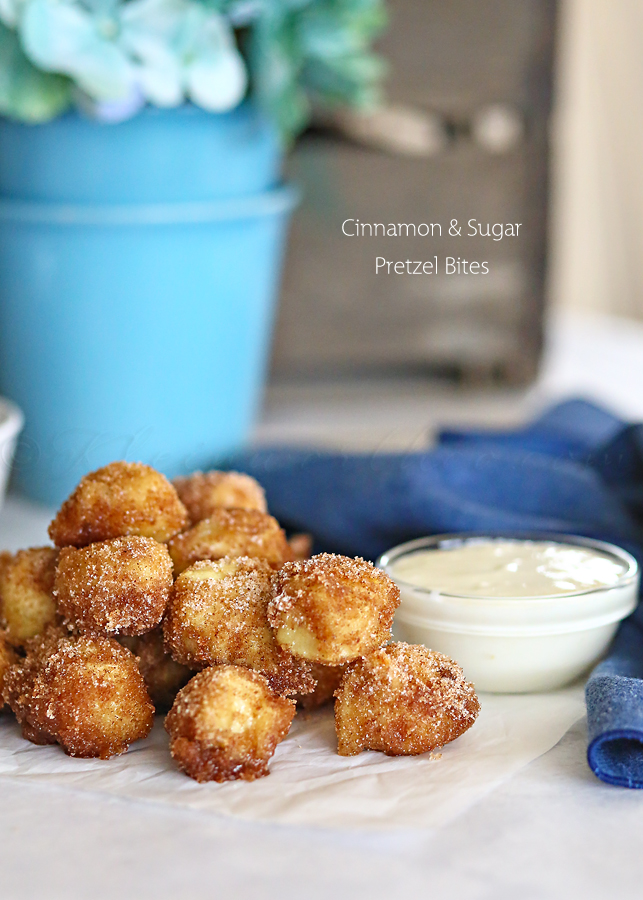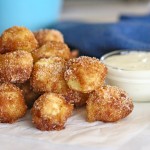 Cinnamon & Sugar Pretzel Bites
Ingredients
2¼ teaspoons active dry yeast
1¼ cups warm milk 110°-120°F
2 tablespoons corn syrup
3¼ cups all purpose flour
1 teaspoon salt
½ cup baking soda
Coating
1 stick butter
1-1/2 cups granulated sugar
3 tsp cinnamon
Cream Cheese Dip
3 ounces softened cream cheese
2 tbsp butter - room temperature
1/2 cup confectioners sugar
2 tbsp milk more if you want a thinner consistency
Instructions
Preheat oven to 450°F.

Line a baking sheet with parchment paper- set aside

Add milk into mixer bowl

Sprinkle yeast over top

Add corn syrup and stir with a fork gently

Allow yeast to bloom for 5-10 minutes

Once it is nice and foamy, it is ready

Fill large stock pot with water and bring to a boil over medium high heat

Add flour and salt to mixer

Knead with dough hook until the dough comes together in one ball

Add more flour a tablespoon at a time as needed- Dough should be tacky- not sticky

Place dough on counter top and form dough into a ball

Using a pastry cutter or butter knife- cut this ball into 60-65 pieces

The easiest way to do this is to quarter the ball of dough

Roll each quarter into an 15-20" strand

Cut that into equal pieces

Carefully, add baking soda to boiling water just a little sprinkle at a time.

CAUTION: IT WILL BOIL RAPIDLY.

Place dough pieces into boiling water about 10-15 at a time

Remove with a slotted spoon after 30 seconds

Place on prepared baking sheet and repeat until all bites have been boiled

Arrange all pretzel bites so they are not touching

Bake for 7-9 minutes until the tops are browned

In a small bowl melt butter for coating

Combine cinnamon & sugar to another small bowl & keep near

Remove bites from oven & immediately add several to melted butter to coat & then transfer to cinnamon/sugar mixture to coat

Return to baking sheet while you work on repeating process with remaining bites
Cream cheese dip
Combine all ingredients in mixer bowl & beat until smooth

Enjoy immediately - unfortunately these don't keep well for an extended period of time

Store any unused dip in refrigerator
Looking for more YUMMY cinnamon recipes?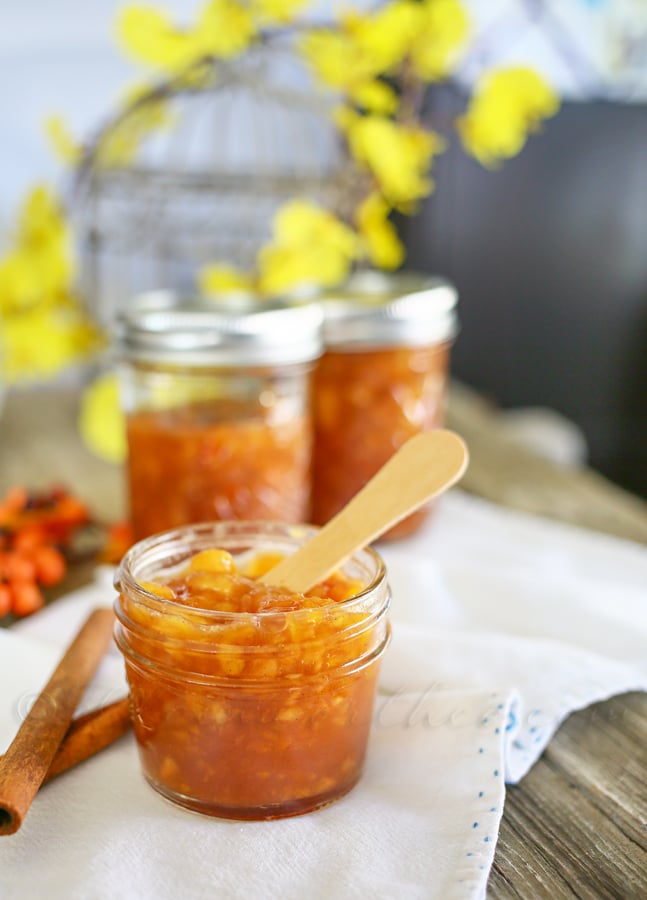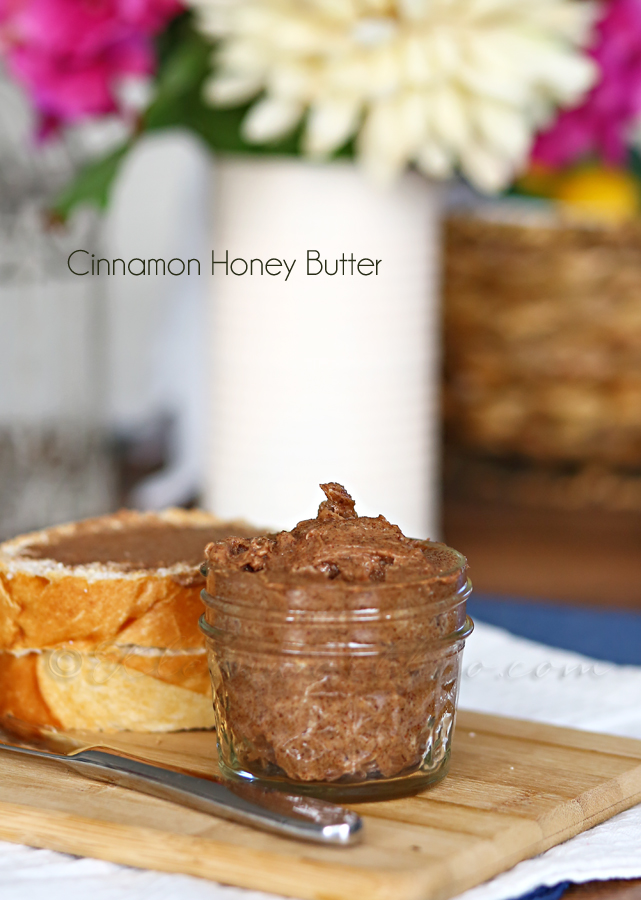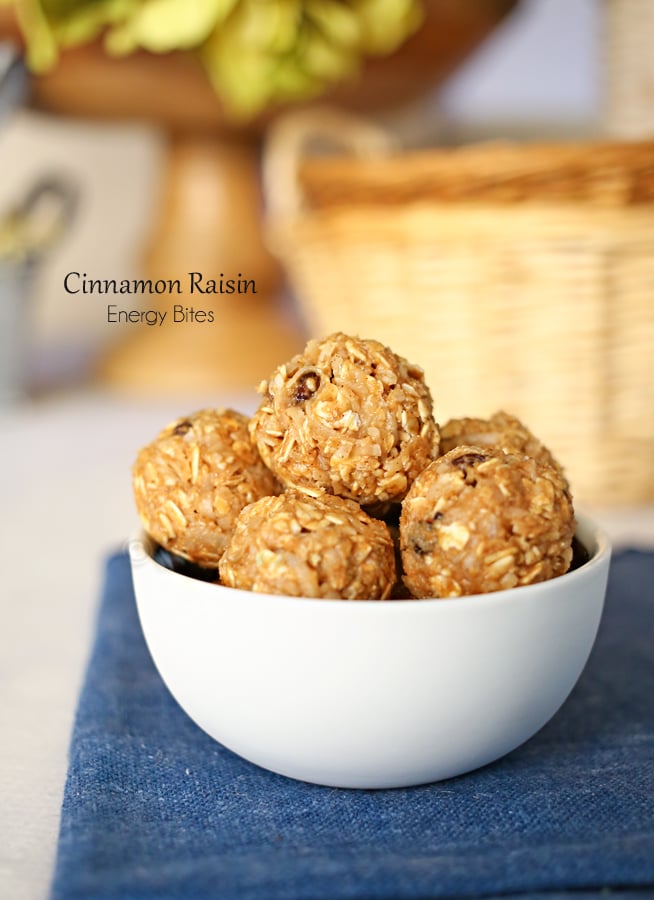 To see where I am linking today- visit HERE