Easy homemade Cinnamon Candy Apples are just like you remember from your childhood days at the theme park or county fair. They are the perfect fall dessert!
With the abundance of apples I have here- it should come as no surprise to you all that I finally decided to do some treat making with them. Last year I did these caramel apples with my homemade caramel.
So I really wanted to do something I had not tried before. The last time we were at Silverwood I was telling my son about the memories of being at the theme parks in So Cal growing up.
Scroll to the bottom for the Printable Recipe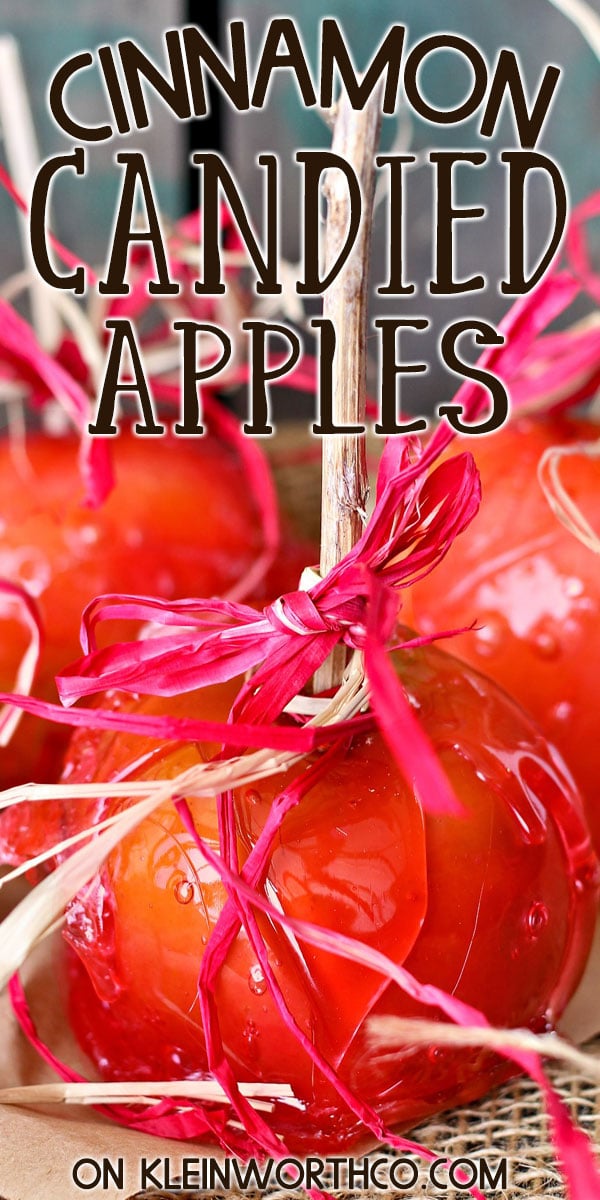 One of my favorite things to get was the candy apples. I was describing to him how full they were of cinnamon flavor. Being that cinnamon is his favorite flavor- he was really wanting me to re-create that for him. So I did.
Here are some commonly asked questions
What are the best apples for candy apples?
You want a firm apple that is a little tart to counter the sweet and spice of the cinnamon candy. I like to use Granny Smith apples for this recipe but you can also use Gala or Fuji too.
Do I have to use a candy thermometer?
Unfortunately, yes. That is the only way to know you have reached the right temperature for the candy coating to set up correctly.
*Note – do not use the clip on the side of the candy thermometer to attach it to the pot. I have found that when it is resting against the side of the pot, it makes that area of the pot heat higher than the rest resulting in not only an inaccurate temperature reading but also burnt food in that area.
homemade candy apples
Can this recipe be doubled?
Absolutely this recipe can be doubled. The boiling time may take a bit longer to reach because of the volume of the ingredients. You will probably need a large shallow stockpot to handle the volume too.
Can I use another flavoring instead of cinnamon?
Of course. I have seen people use bubblegum, root beer, or butterscotch. But you can do any flavor you like.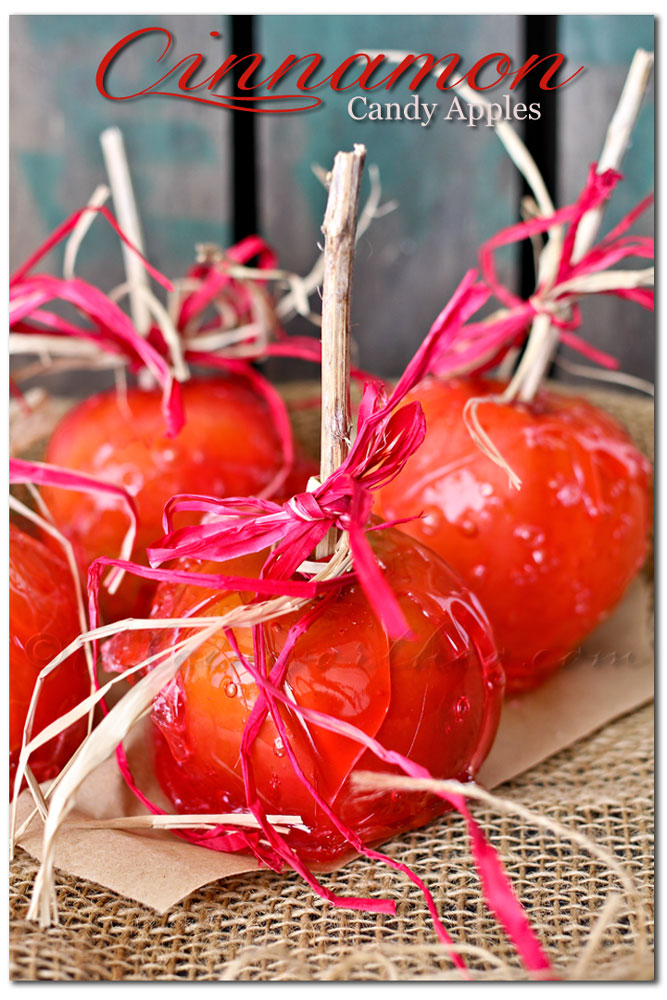 These were every bit as good as I remembered them.
My son says no other treat compares – but he's a bit bias as he literally can't get enough of cinnamon-flavored things. 🙂
Can I make these a different color?
Of course. If you are hosting a party and want to serve these up in the party theme colors, it is easy to do by just changing the food coloring you add.
HOW DO YOU MAKE Homemade Candy Apples?
Line a baking sheet or jelly roll pan with parchment or Silpat. Set aside.
Prepare the apples by washing and drying them, making sure to remove any wax that may prevent the candy coating from sticking. Insert the sticks at this time as well.
Combine the granulated sugar, water & corn syrup in a 2-qt saucepan. Bring to a boil stirring constantly.
Continue to boil until you reach 300 degrees- hard crack temp.
Remove from heat & quickly AND CAREFULLY add in the food coloring & candy flavor. USE CAUTION to not breathe in the steam when adding the flavor oil as the oil droplets in the steam can be harmful to the lungs. Stir.
Immediately start dipping & rolling the apples in the liquid candy. You may need to tilt the pan slightly to cover the apples depending on their size.
I did one coat & then placed them on the parchment. Once they were all coated I drizzled out the remaining candy in the pan over the top of the apples to give an extra coat.
Sprinkle with any decorations desired at this time. Allow the apples to sit at room temperature to harden.
Store in an airtight container or wrap them with plastic wrap.
What is the best way to store leftover candy apples?
Just like you would see at the store where you would buy these, they can be stored at room temperature. I like to wrap mine in plastic wrap or place them in a baggie and close with a twist tie. They don't have to be airtight or refrigerated.
Can I use another type of stick?
Well, yes and no. So, you don't want to go grab sticks from the tree in the backyard. I know they look cool and there are many images of candy apples with natural sticks – even in these pictures. But you want something that is food grade. So I recommend using these sticks if you want that look. Or you can use these bamboo skewers made for candy apples.
To make Homemade Cinnamon Candy Apples you will need…
apples
granulated sugar
white corn syrup
water
red food coloring
cinnamon candy flavoring
red candy apples
Products I love when making Cinnamon Candy Apples…
This Cinnamon Candy Apple recipe is SUPER EASY and delicious – and if you're like me this time of year, then you maybe already have some of these items on hand OR maybe you have never made homemade candied apples before, & you might be a bit nervous – but you're going to love them. I have made a list below of the things I absolutely can't live without when it comes to making this candy apple recipe.
If you love this Easy Candy Apples recipe, you're going to love these other fall treats too. Please click each link below to find the easy, printable recipe!
candied apples
If you love this recipe for Homemade Candy Apples as much as I do, please write a five-star review, and be sure to help me share on Facebook and Pinterest!
CONNECT WITH KLEINWORTH & CO!
Be sure to follow me on my social media, so you never miss a post!
FB, Pinterest, IG, Email Subscription