Monster Cupcakes are the perfect treat for your Halloween party. Funny eyes & colorful frosting, these easy desserts will delight all the ghools & goblins.
Do you love making cute little goodies for the kiddos on Halloween? Even though our kids are older we still make fun treats for them to enjoy while passing out candy each year. Their favorites are these adorable Monster Cupcakes.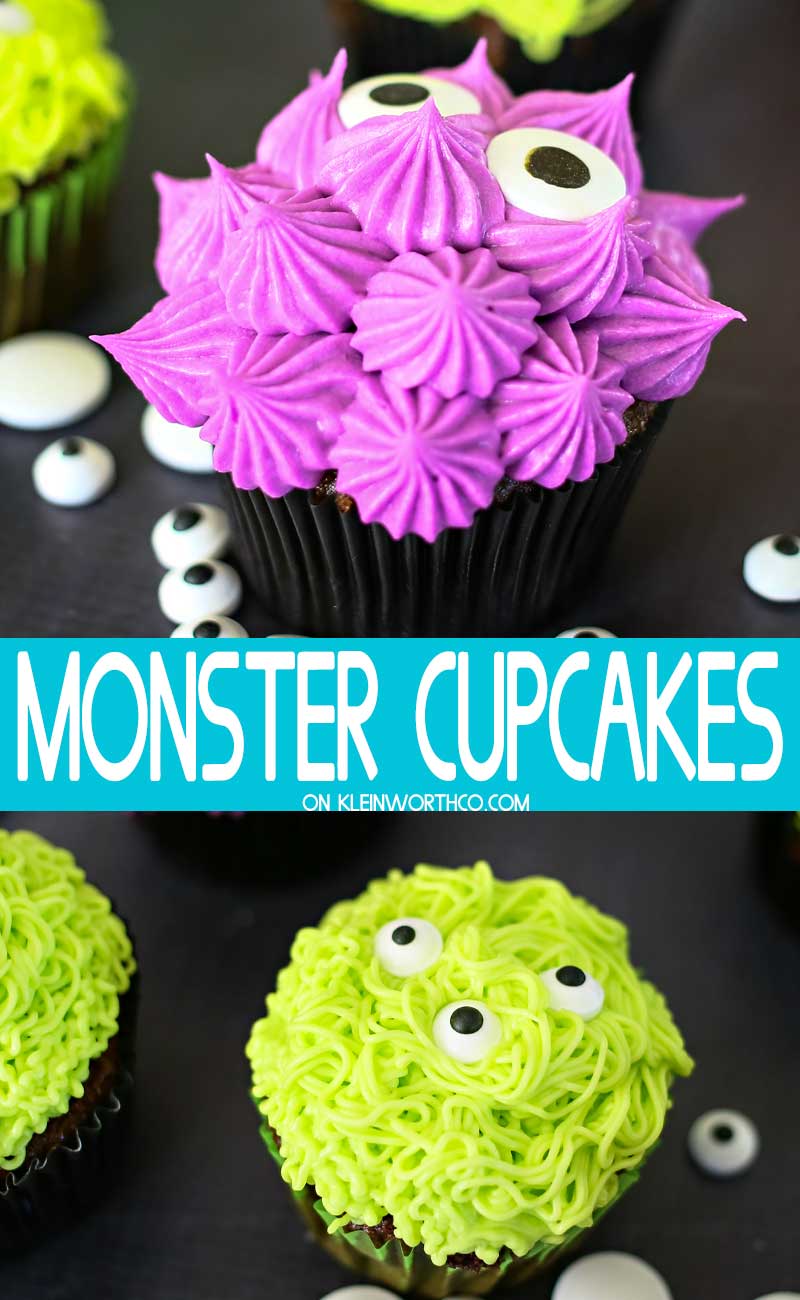 Sometimes it's the easiest little things that are so much fun.
The kids & I decided to pick up some of those fun little eyes & see how creative we could be with them.
First thing was to play with some frosting tips & create these adorable little Monster Cupcakes. They would make the perfect treat for a class party, or some other Halloween gathering. Not too scary so they are good for the little ones too.
The best part is that it can be a family affair when it comes to decorating. Let me show you just how easy & fun these were to make!
HALLOWEEN TREATS
This post contains some affiliate links. Click here to read my full disclosure policy.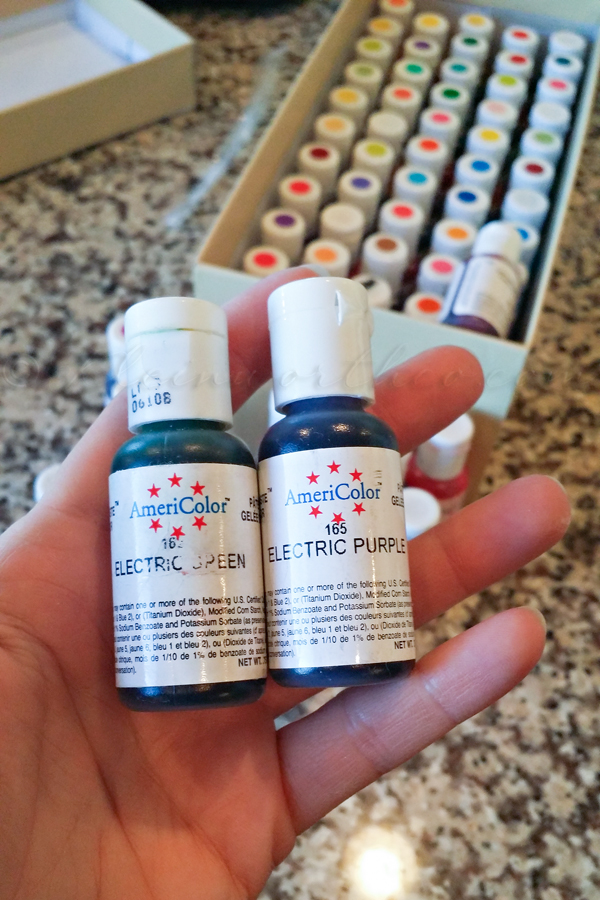 I started with my Basic Buttercream Frosting. It's easy to make with just 4 ingredients. OR you can use white store bought frosting if you prefer.
Then I tinted the frosting using these 2 food dye colors – green food coloring & purple food coloring.
When I want a real punchy color for my frosting – I always choose the electric versions of the colors I am working with. It takes far less dye to achieve to the desired color.
I made one batch of frosting & separated out into 2 bowls & then added my food color & mixed in with a rubber spatula.
Just 3-4 drops on the green & 5-6 drops for the purple to get to these vivid colors.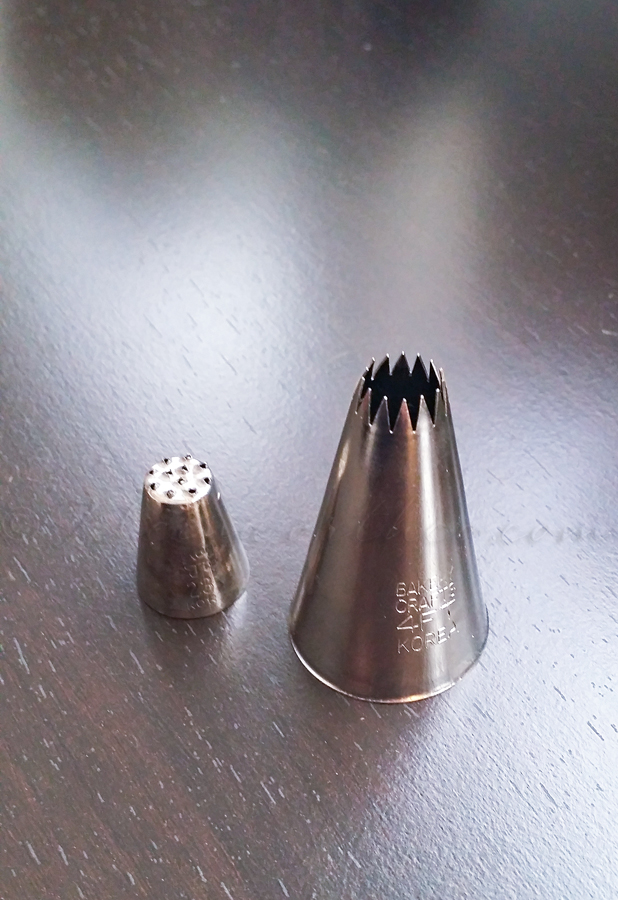 I transferred to my pipping bags – fitted with these tips.
The large one is Size 9 star tip – this one is for the purple cupcakes.
The small one is 234 Decorating Tip for the green cupcakes – gives the look of hair or grass when pipped.
There are many brands that make these same type tips & they are readily available even at places like Walmart these days. You don't have to go to the cake decorating store to find these items anymore.
My picture shows different numbers because these are my mom's that she picked up a good 30+ years ago. I couldn't find the exact brand – but these ones I listed will do the same job.
Here are some commonly asked questions
HOW DO YOU GET THE FROSTING COLOR SO VIBRANT?
It's all about the electric food colors. Just a couple drops into some vanilla frosting will make all the difference. Choose any color you like.
Can I use another type/shape frosting tip?
Yes you can, they will just look different. The best part about these cupcakes is that they are monsters. Monsters come in all whacky shapes, so feel free to get as creative as you like with the frosting & the eyes.
HOW DO YOU MAKE MONSTER CUPCAKES
Bake cupcakes
Beat the butter, vanilla and salt together
Add confectioners sugar and milk
Separate frosting & add food color
Place in piping bag & decorate
Monster Cupcakes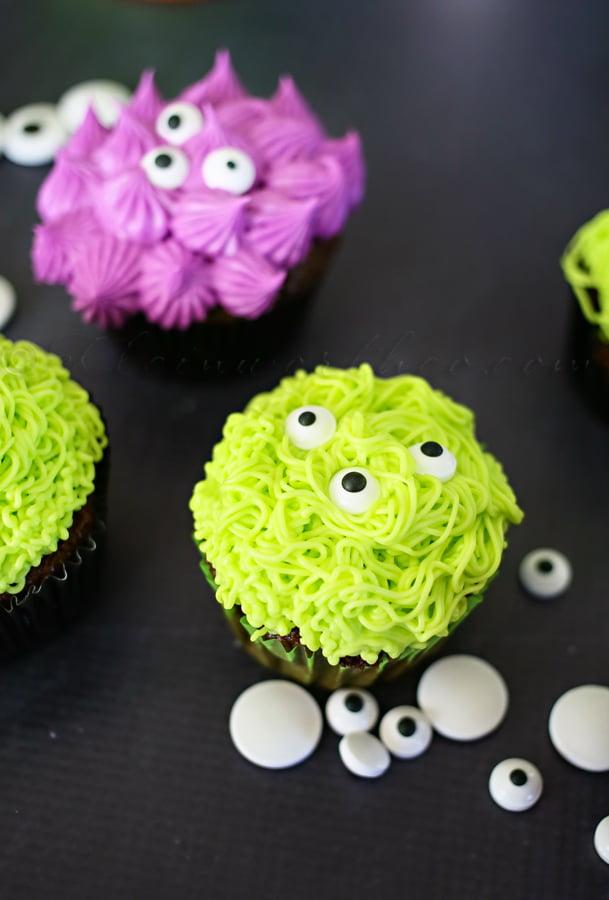 I whipped up 24 cupcakes with my favorite cake mix. No need to get fancy here – regular ol' cake mix will do just fine.
To make this recipe you will need…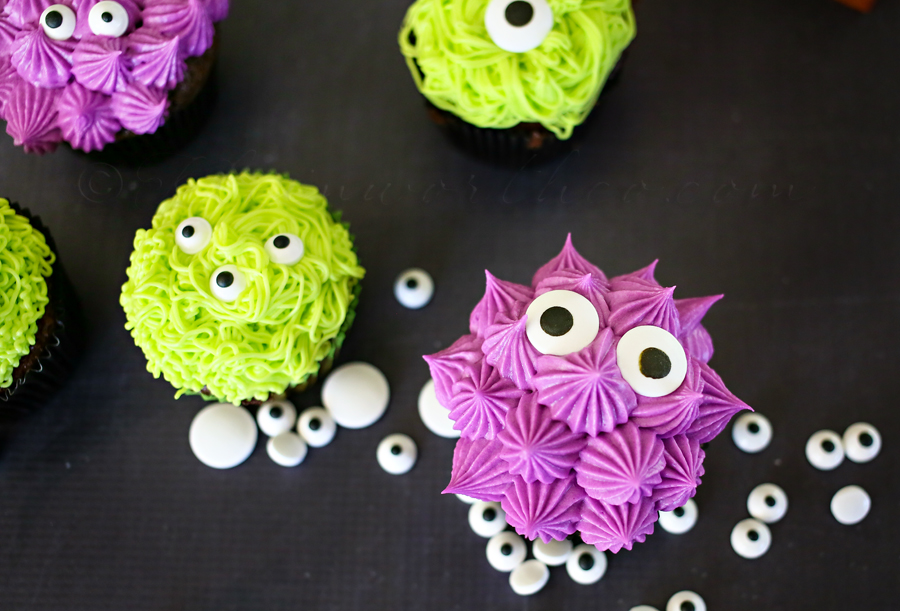 Then I like to freeze my cupcakes before working with them. I find it helps the frosting to chill onto the cupcake fast & helps it hold it's shape.
I just pipped the frosting on in the desired pattern & added the little eyes in various sizes.
These are also easily found at places like Walmart. So easy in fact that I was able to have the hubs pick the up for me. Sending him to find specialty items can sometimes be quite a task – but these eyes were easy for him to find.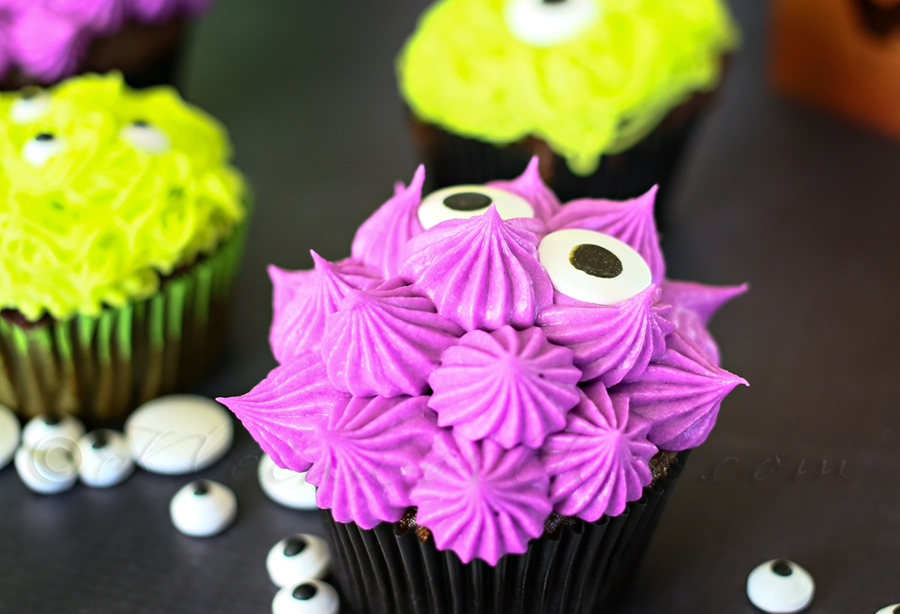 My kids are teens & they still loved helping me with these.  
Granted they were hinting around about getting to sample them as we worked – but really, that's to be expected when working with cupcakes.  
Even I like to rush through the prep & photos so I can get on to enjoying them when it comes to cupcakes.  What can I say??!!
Scroll to the bottom for the Printable Recipe
MONSTER HALLOWEEN CUPCAKES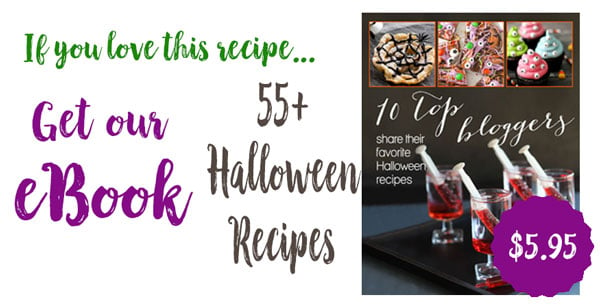 Looking for more Halloween ideas?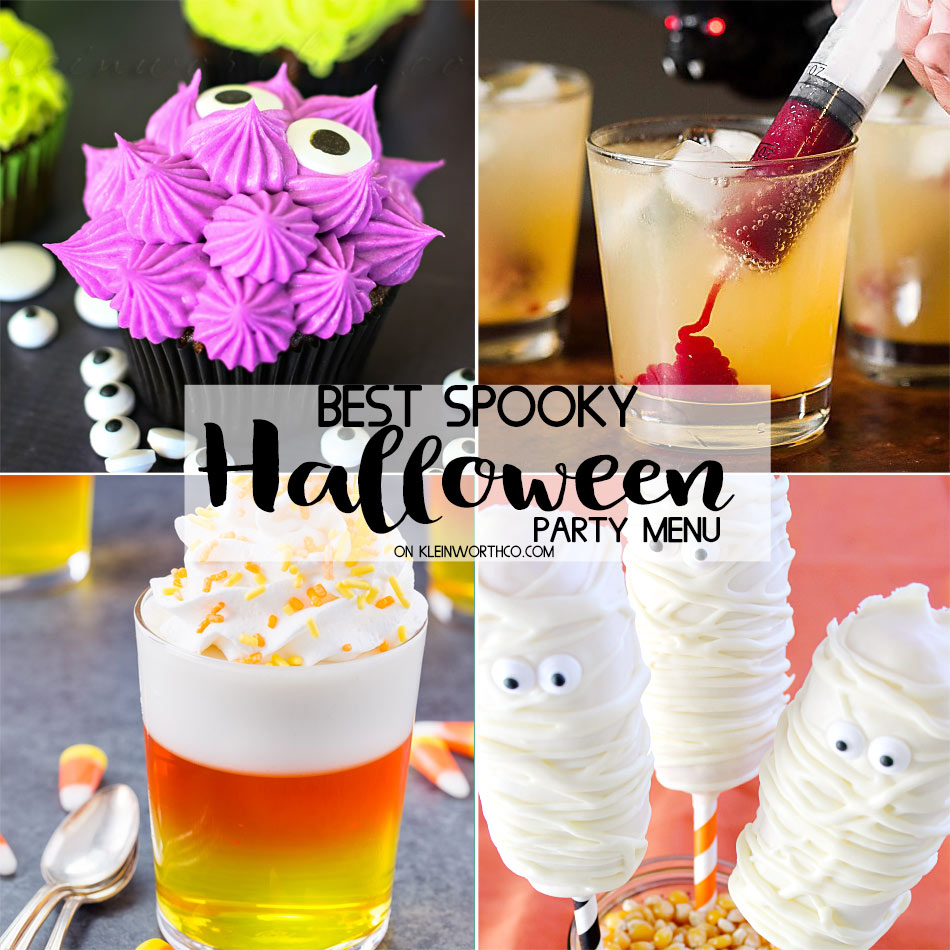 Best Spooky Halloween Party Menu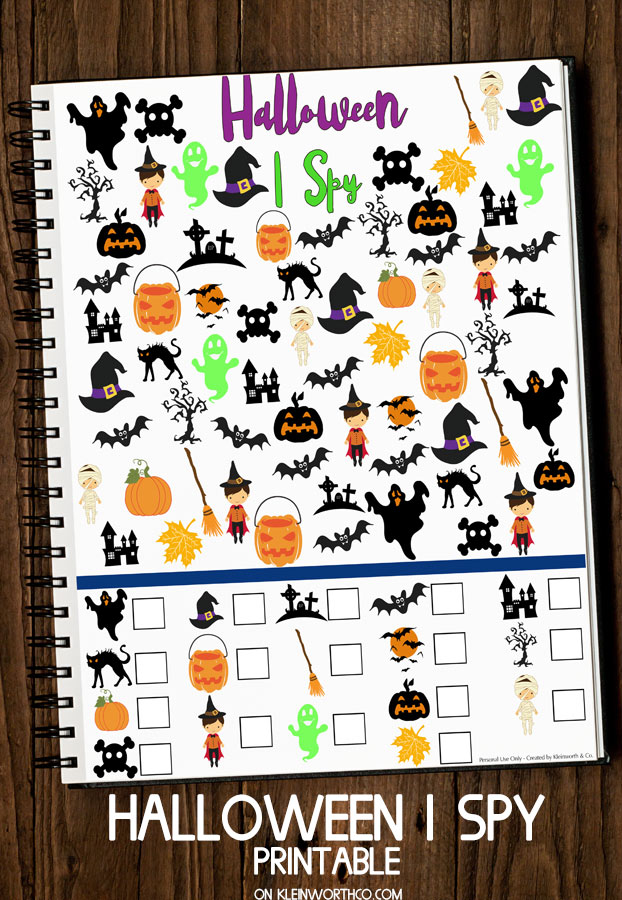 Free Halloween I Spy Printable

20+ Halloween Spooktacular Treats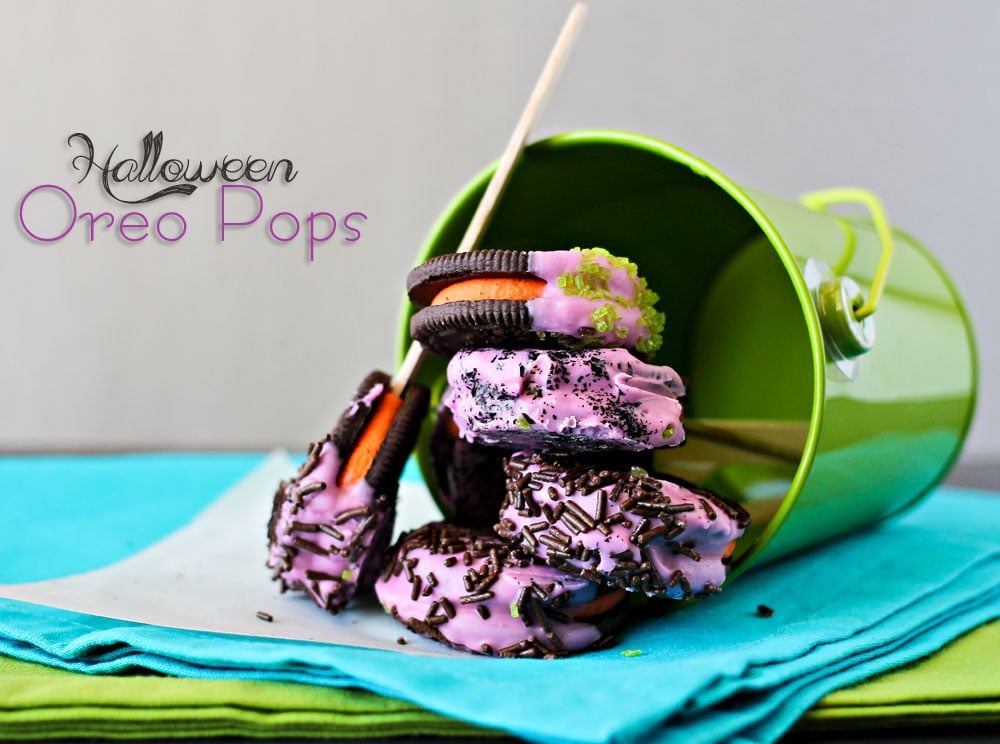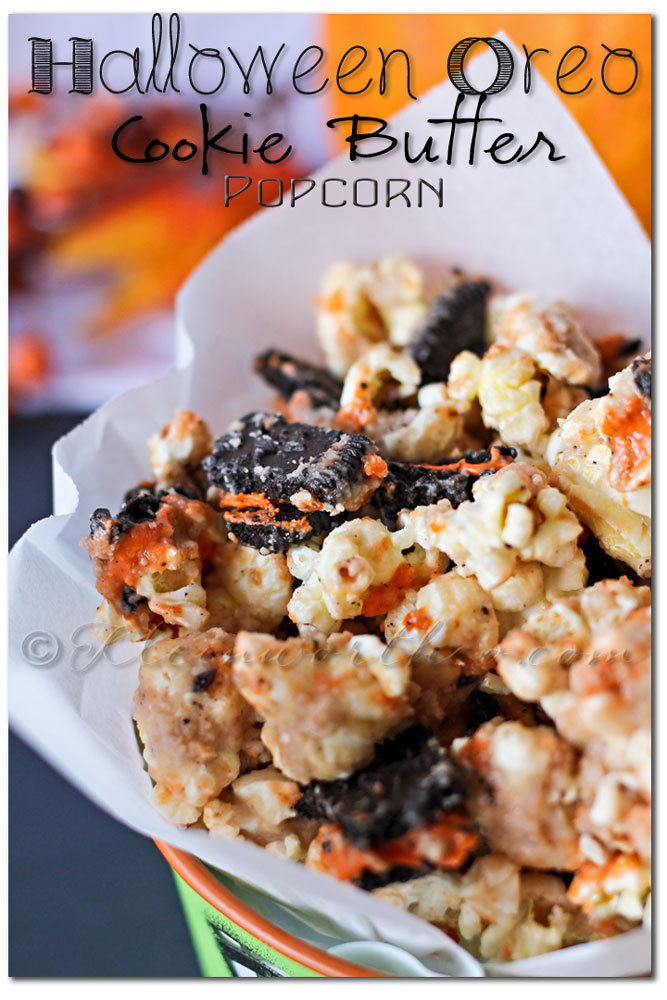 Halloween Oreo Cookie Butter Popcorn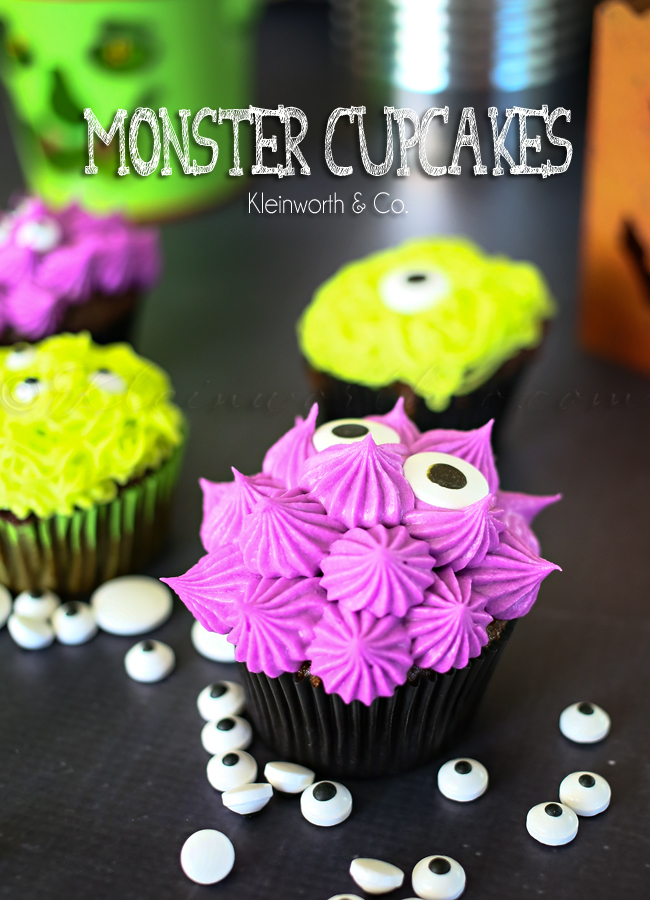 Monster Cupcakes
Monster Cupcakes are the perfect treat for your Halloween party. Funny eyes & colorful frosting, these easy desserts will delight all the ghools & goblins.
Servings: 24
Ingredients
1 box chocolate cake mix + ingredients needed
2 sticks unsalted butter (1 cup) room temperature
2 tsp. vanilla extract
⅛ tsp. salt
4 cups confectioners sugar
3-4 tbsp. whole milk
3-4 drops green food coloring
2-4 drops purple food coloring
1 pkg eyes
Instructions
Preheat oven to 350 degrees and line pans with cupcake liners.

Prepare cake mix & bake according to the box's instructions. Let cool completely.

Make the frosting, in a large mixing bowl (with a hand mixer) or the bowl of a stand mixer, beating the butter, vanilla, and salt together for 1 minute.

Add the confectioner's sugar and milk and beat for 1 minute, scrape down the sides.

Remove a ⅓ cup of the frosting and place in a small bowl.

Add the green food coloring (a few drops) to the large bowl and beat for an additional minute.

Place the green frosting in a piping bag with a grass tip and pipe onto the cupcakes.

Add the purple food coloring (a few drops) to the reserved frosting and mix until combined.

Place the frosting in a piping bag with a large tip and pipe onto cupcakes.

Place the eyes on.
Don't miss these great ideas from these bloggers….
Halloween Cream Cheese Swirl Brownies | Persnickety Plates
Witch's Potion Drink | Lil'Luna