Caramel Sugar Cone Frozen Yogurt is a simple no-churn frozen yogurt recipe loaded with crushed sugar cones and swirled with caramel. Perfect for the ultimate caramel lover.
Do I have a treat for you today!!!!  I came up with this recipe for Caramel Sugar Cone Frozen Yogurt & I think it's my favorite frozen yogurt recipe to date.  
So since it's summer & I'm already in the frozen treat mindset- I just had to get a little decadent & make some really amazing frozen yogurt.
Scroll to the bottom for the Printable Recipe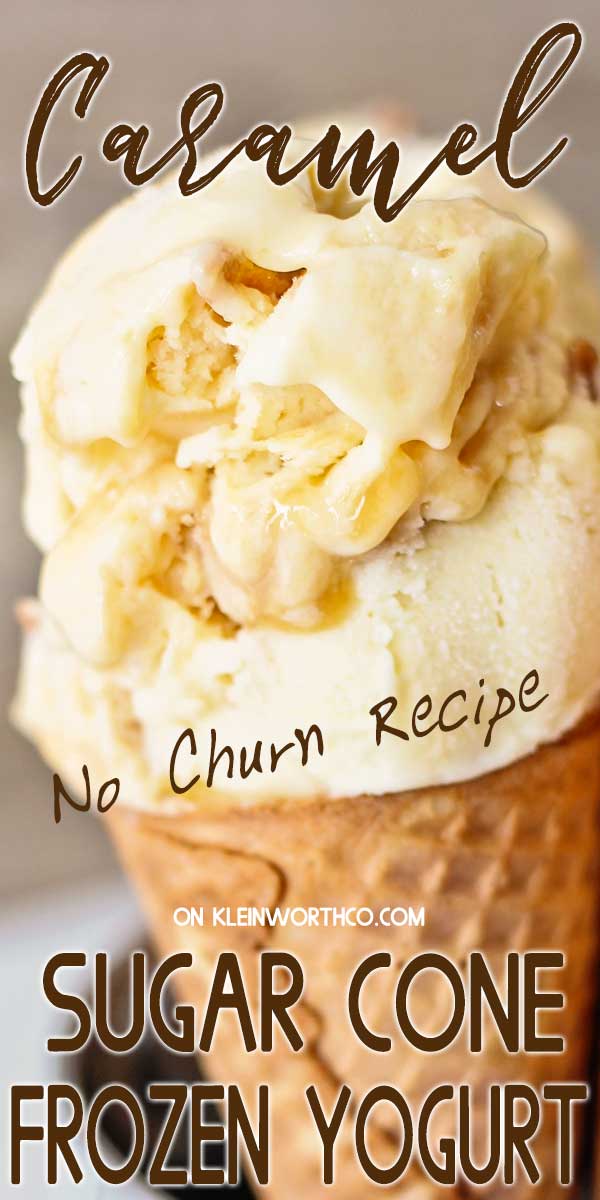 I have always loved frozen yogurt because I can get the flavor and texture of ice cream, but with slightly less guilt. That being said, this one probably wouldn't top any healthy food lists.
With all that caramel and the sugar cones swirled throughout each scoop. This one is super decadent and incredibly delicious.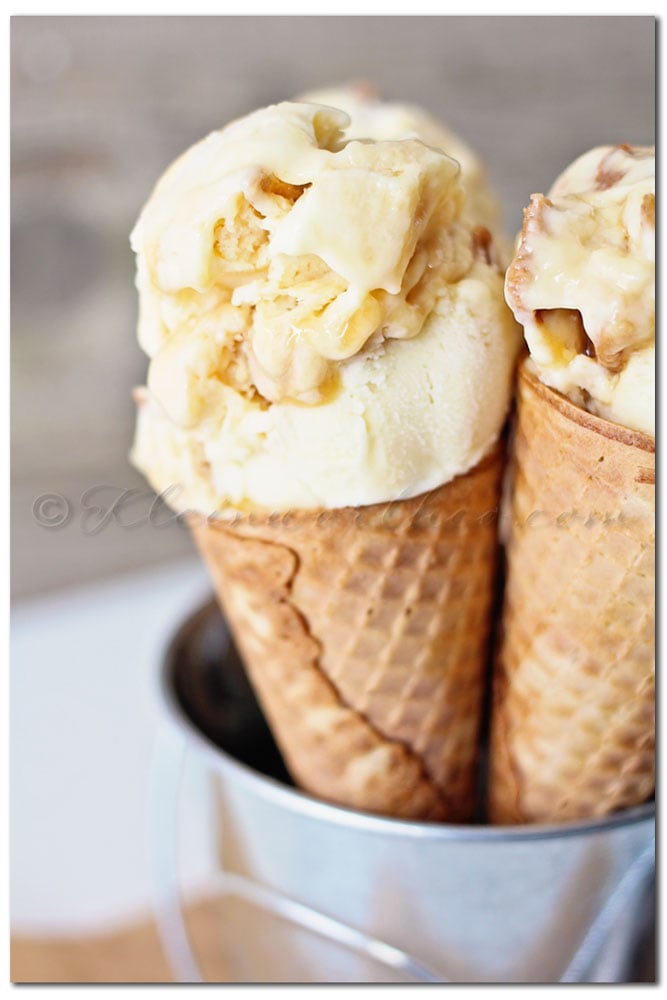 Oh yes- you read that right. There are ribbons of caramel swirled throughout & pieces of crushed sugar cones.  YEP- so good.
I have to say- this was one of the harder ones for me to photograph because I wanted to sample it instead.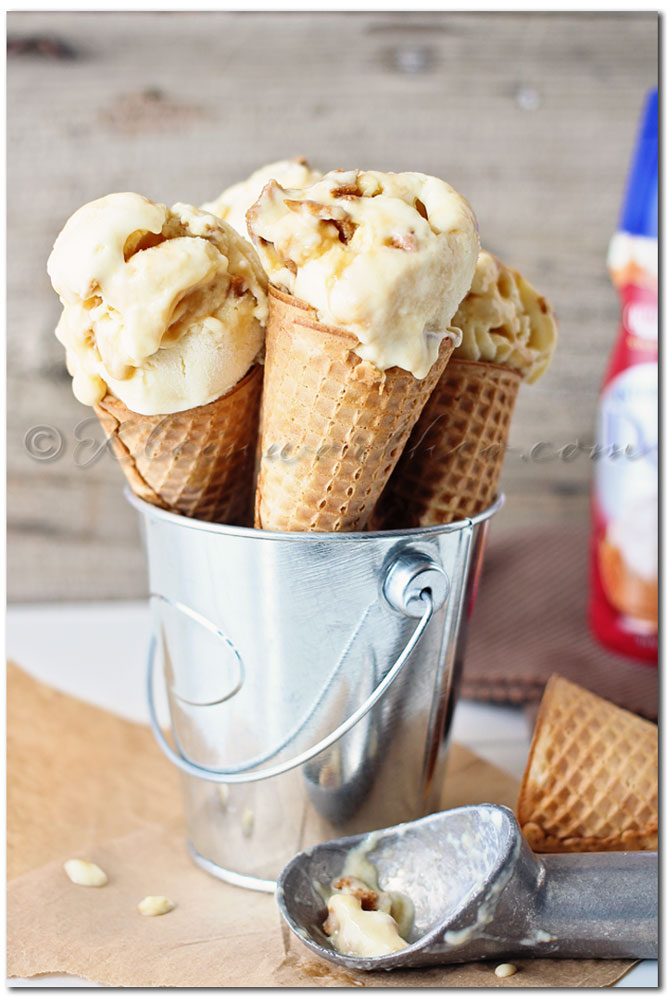 I'm completely obsessed with adding crushed cookies and ice cream cones to so many different dessert recipes like this one. I love the crunch and that added texture that it adds.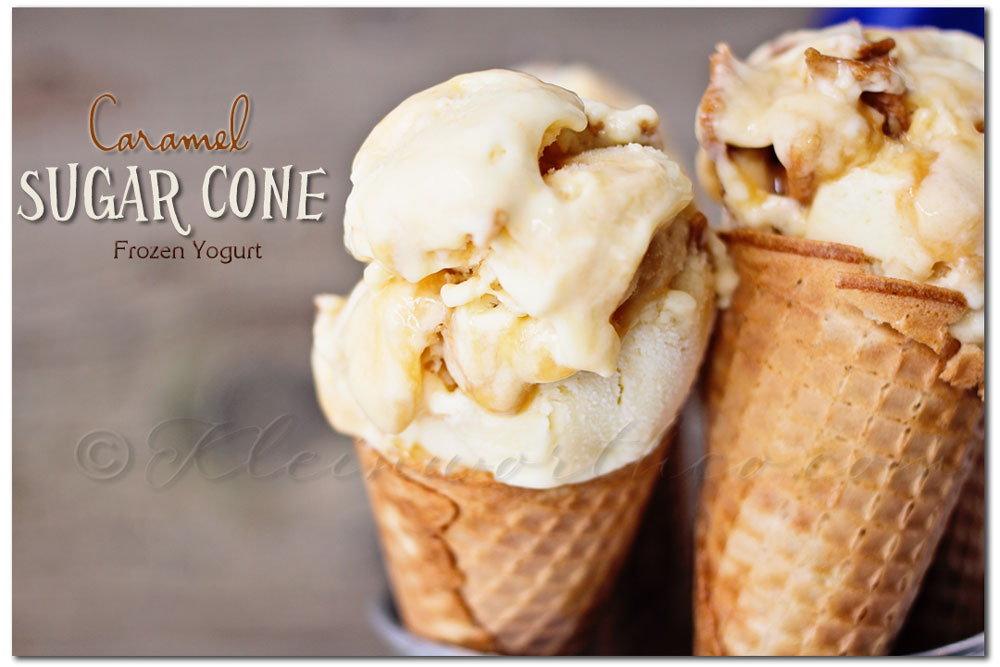 Here are some commonly asked questions
Can I use another type of ice cream cone?
Yes, absolutely, that will work just fine. The cake cones are a bit softer, so I don't think they will hold their crunch when mixed in. But it will be tasty just the same.
Can I add other mix-ins?
You bet. If you want to add other crushed candy or your favorite cookie, that is also great mixed into this frozen yogurt.
Can I use Greek Yogurt?
Greek yogurt isn't the right consistency for this recipe. It will be too thick and won't turn out quite right. Please use regular vanilla yogurt.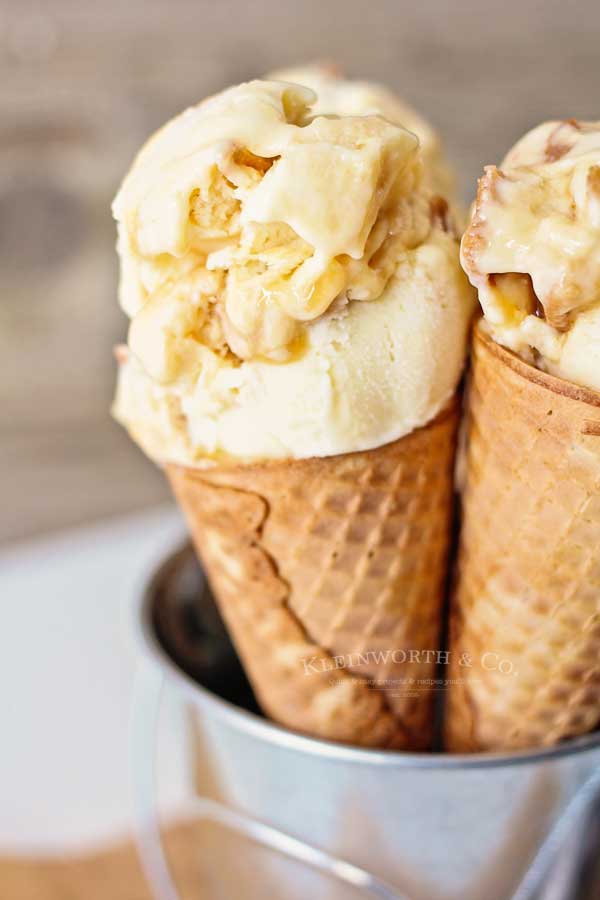 Is this really no-churn?
Yes, it sure is. If you want the consistency to be thicker when adding it to the freezer containers, so that the caramel and crushed cones don't sink too much, you can always churn for about 20 minutes if you have an ice cream maker. But it isn't necessary.
Can I use non-fat or low-fat yogurt?
Unfortunately not if you want a creamy texture. Those varieties don't have the needed fat content to keep the recipe from becoming too icy. Please use regular vanilla yogurt.
Can I use a sugar-free flavoring syrup or pudding?
You can. It will have that sugar-free flavor that comes with sugar-free products. But if you need to go sugar-free, you can do that.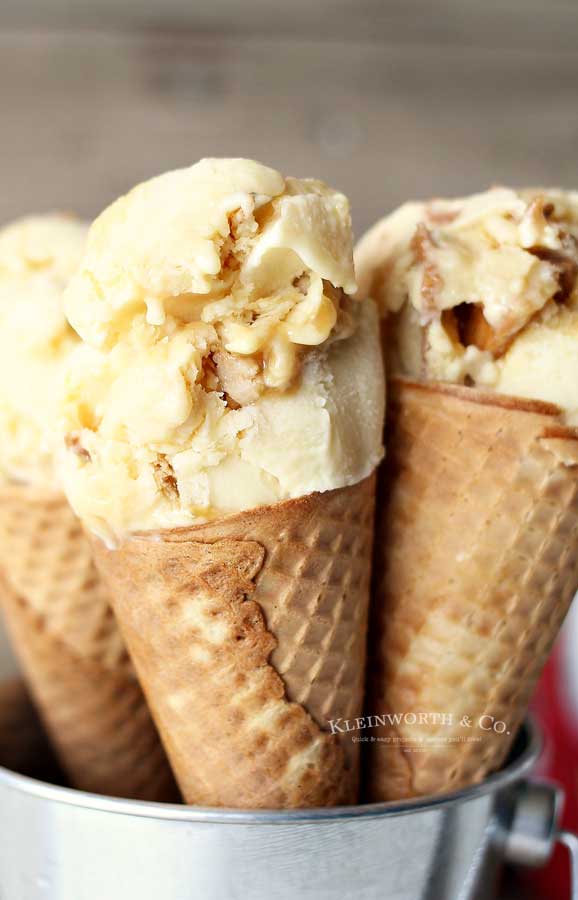 recipe for caramel frozen yogurt
Can this recipe be doubled?
You can, and we do it often. You will probably need to separate it into 2 containers for the freezing process. But you can definitely double this during the mixing.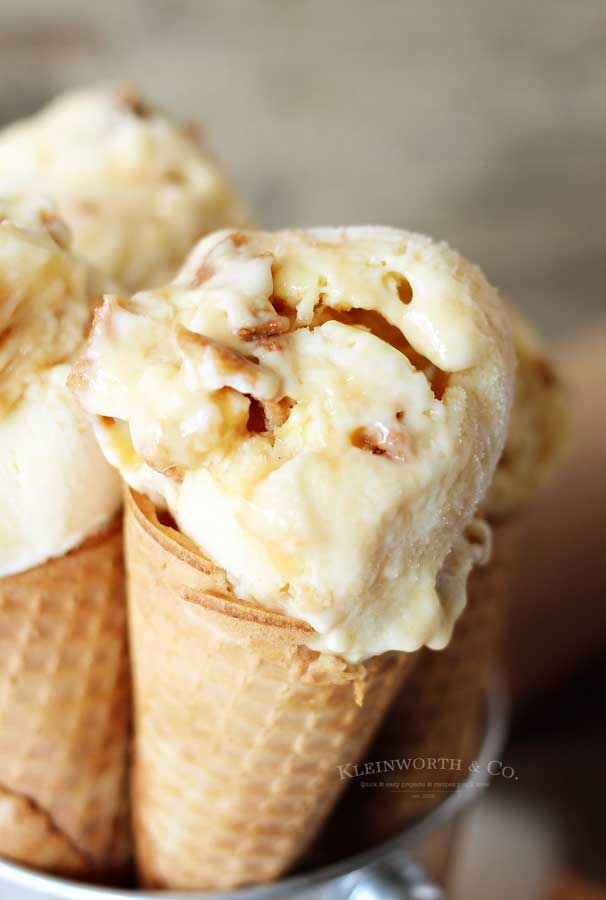 HOW DO YOU MAKE Caramel Sugar Cone Frozen Yogurt?
Pour the pudding powder in the bottom of your mixer bowl.
Add the yogurt, creamer & caramel syrup. Beat together until well incorporated.
Pour into an airtight container.
Add caramel & sugar cone pieces- gently fold in- do not completely mix. Leave ribbons of caramel swirled throughout.
Cover and freeze at least 4-6 hours before serving.
Can I use half and half instead of creamer?
You can, but it will be icier instead of creamy. It still tastes good, but not the same. It also will be lacking the caramel flavor, so you would need to add more of the caramel syrup.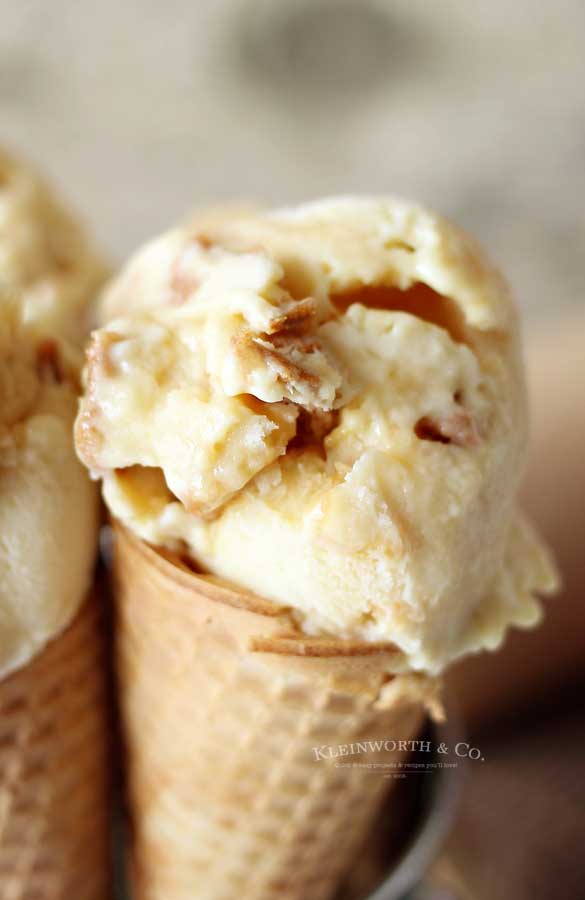 To make Caramel Sugar Cone Frozen Yogurt you will need…
vanilla yogurt
Caramel Coffee Creamer
vanilla instant pudding
Classic Caramel flavoring syrup
caramel sauce
sugar cones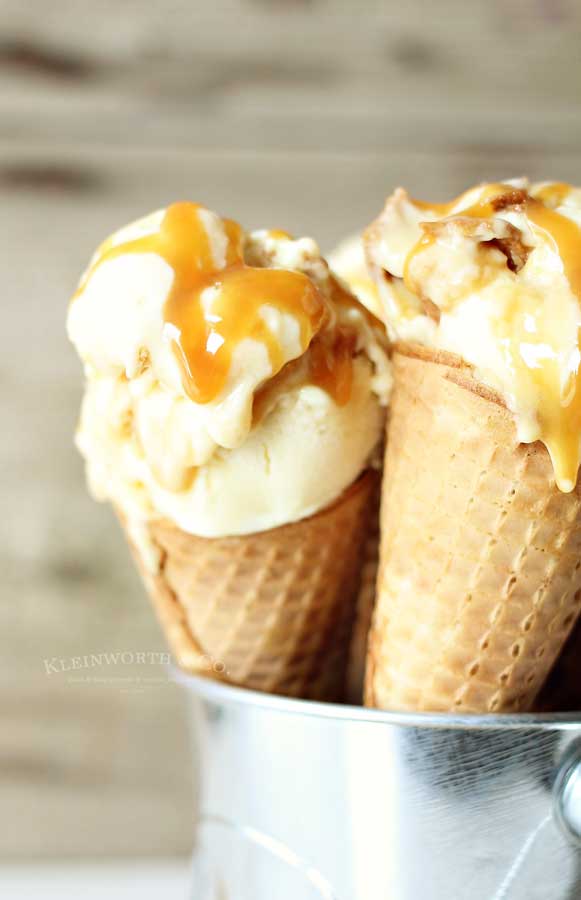 how to make frozen yogurt
Products I love when making Caramel Sugar Cone Frozen Yogurt…
This Caramel Frozen Yogurt recipe is SUPER EASY and delicious – and if you're like me, then you maybe already have some of these items on hand OR maybe you have never made homemade frozen yogurt before, & you might be a bit nervous – but you're going to love it. I have made a list below of the things I absolutely can't live without when it comes to making this treat recipe.
If you love this Easy Caramel Sugar Cone Frozen Yogurt recipe, you're going to love these other treats too. Please click each link below to find the easy, printable recipe!
caramel frozen yogurt
If you love this recipe for Caramel Sugar Cone Frozen Yogurt as much as I do, please write a five-star review, and be sure to help me share on Facebook and Pinterest!
CONNECT WITH KLEINWORTH & CO!
Be sure to follow me on my social media, so you never miss a post!
FB, Pinterest, IG, Email Subscription