15-Minute Drop Biscuits are an easy homemade biscuit recipe that is perfect for every dinner. It brings Easy Family Dinner Ideas to a whole new level.
My hubs has this thing. He has to have 3 items on the plate come dinner time. I wasn't really raised like that. For most of my life, it was just my mom & I.
We lived off things like toast for dinner followed by a bowl of cake & ice cream. Yeah – good thing I had a very fast metabolism at the time.
Scroll to the bottom for the Printable Recipe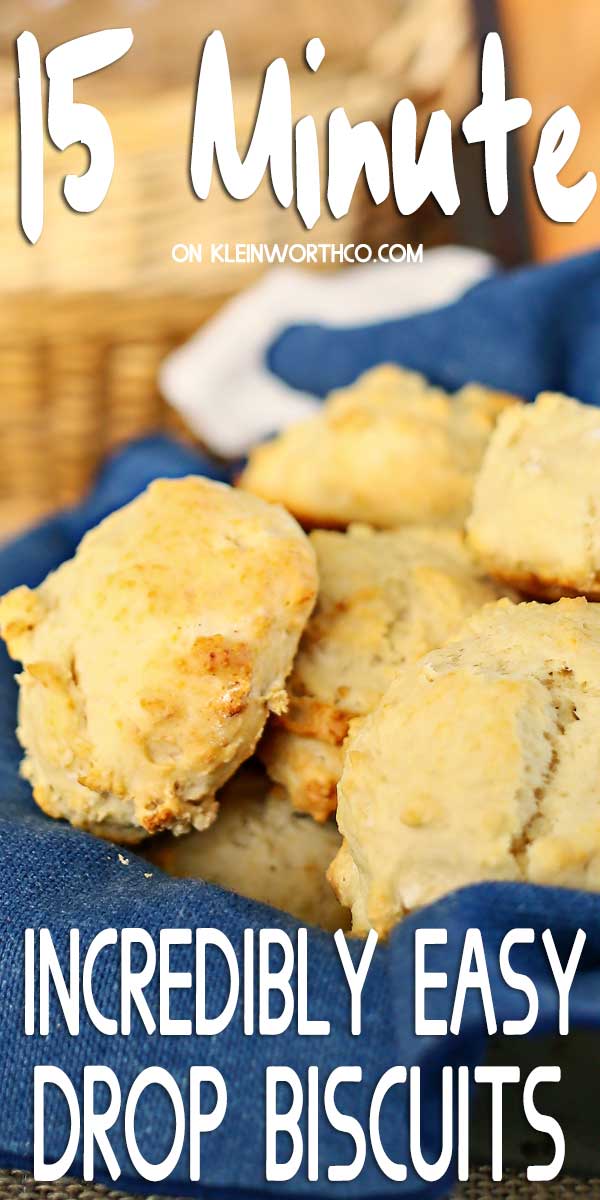 Only when my step-dad would be over for dinner (while they were dating) that we would have "real food".
So it is still an adjustment for me to have the pressure to always have such huge meals on an EVERY night basis. I blame him for my current figure 🙂
easy biscuit recipe
This post contains some affiliate links. Click here to read my full disclosure policy.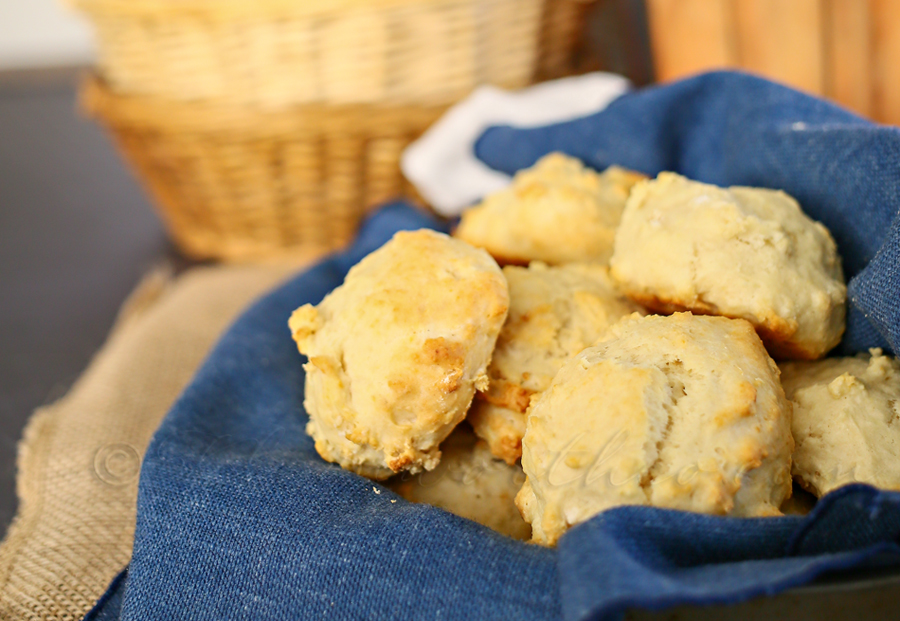 Sometimes it's a struggle to figure out what to have on the side of whatever we are making. If we have a main dish of protein & a side of veggies – then I automatically think we need grain as the third item.
I don't want to do buttered bread all the time – that's boring. So the other night I whipped up these 15 Minute Drop Biscuits to have on the side of our soup. They were definitely a hit!
Here are some commonly asked questions
Can I use regular flour?
If you want to use regular flour, you will have to add an additional ingredient. The self-rising flour already contains the ingredient that helps this dough become biscuits.
To use all-purpose flour, add 4 teaspoons of baking powder to the 2 cups of all-purpose flour you will use for this recipe.
Can I use a mayo substitute?
I have not personally tried it, so I can't say how that would turn out. You will still need a fat source to make these biscuits work. I have heard of some people trying sour cream in place of the mayo. Please let me know how it turns out if you give it a ry.
Can biscuits be frozen?
I have not tried freezing these after baking. I would recommend placing them in a zip-top freezer bag and storing for no more than 3 months before using again.
recipe for drop biscuits
Can this recipe be doubled?
You can, and we do it often. If I know that I have a few meals coming up where we will want these on the side, I do a double or triple batch. Even though they are super fast to make, having some as leftovers keep me from having to run the oven again.
HOW DO YOU MAKE 15-Minute Drop Biscuits?
Preheat the oven to 400 degrees for a conventional or 375 for convection.
Line a baking sheet with parchment. Set aside.
In a medium-size mixing bowl – combine the flour, milk, and mayonnaise, stirring until just combined.
Drop into tablespoon-size mounds onto the lined baking sheet and bake for 12 minutes – or until golden brown.
Optional – brush with some melted butter immediately after removing from the oven.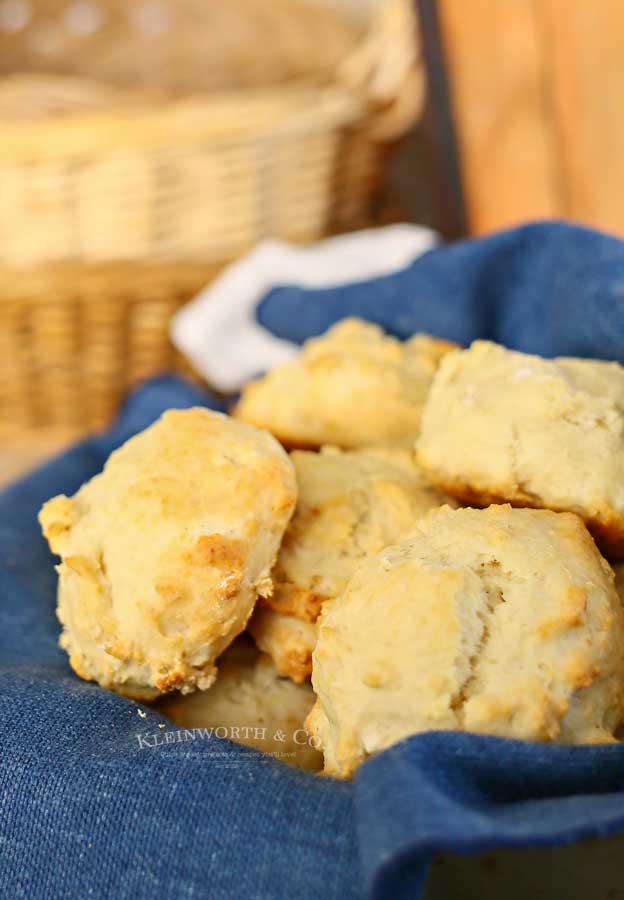 What is the best way to store leftover drop biscuits?
I usually just place them in an airtight container or zip-top bag and leave them in the pantry. If you house is overly hot, I would refrigerate them until you are ready to serve again.
To make 15-Minute Drop Biscuits you will need…
self-rising flour
milk
mayonnaise
3 Ingredient Drop Biscuits
I love that I can literally whip these up faster than it takes me to make the rest of dinner. Hot biscuits right out of the oven are definitely something the family enjoys.
best buscuit recipe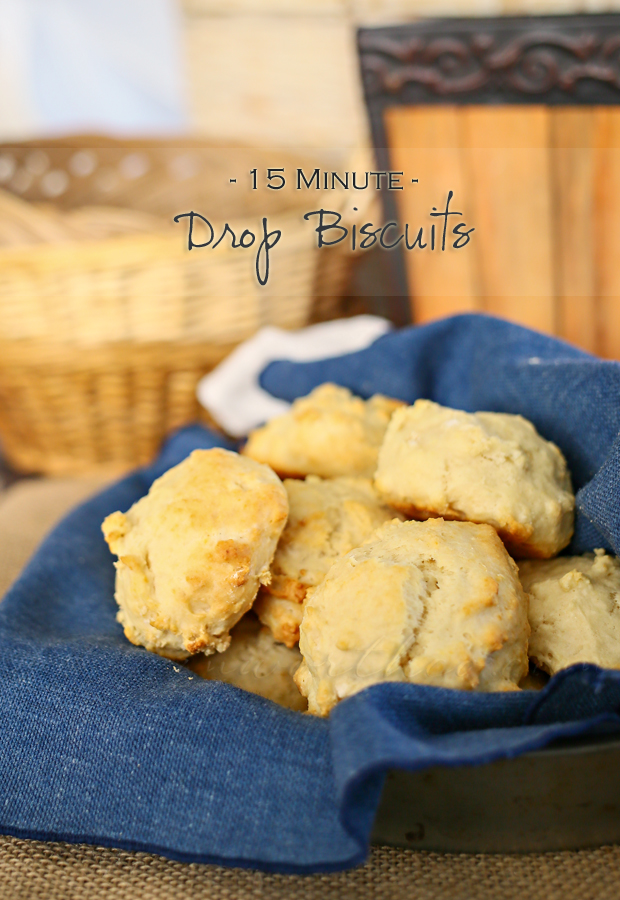 Products I love when making Drop Biscuits…
This Drop Biscuits recipe is SUPER EASY and delicious – and if you're like me, then you probably already have some of these items on hand OR maybe you have never made Drop Biscuits before, & you might be a bit nervous – but you're going to love how easy these are. I have made a list below of the things I absolutely can't live without when it comes to making this biscuit recipe.
If you love this Easy Drop Biscuit recipe, you're going to love these other side dish bread recipes too. Please click each link below to find the easy, printable recipe!

biscuit recipe
If you love this recipe for Homemade Drop Biscuits as much as I do, please write a five star review, and be sure to help me share on facebook and Pinterest!
CONNECT WITH KLEINWORTH & CO!
Be sure to follow me on my social media, so you never miss a post!
FB, Pinterest, IG, Email Subscription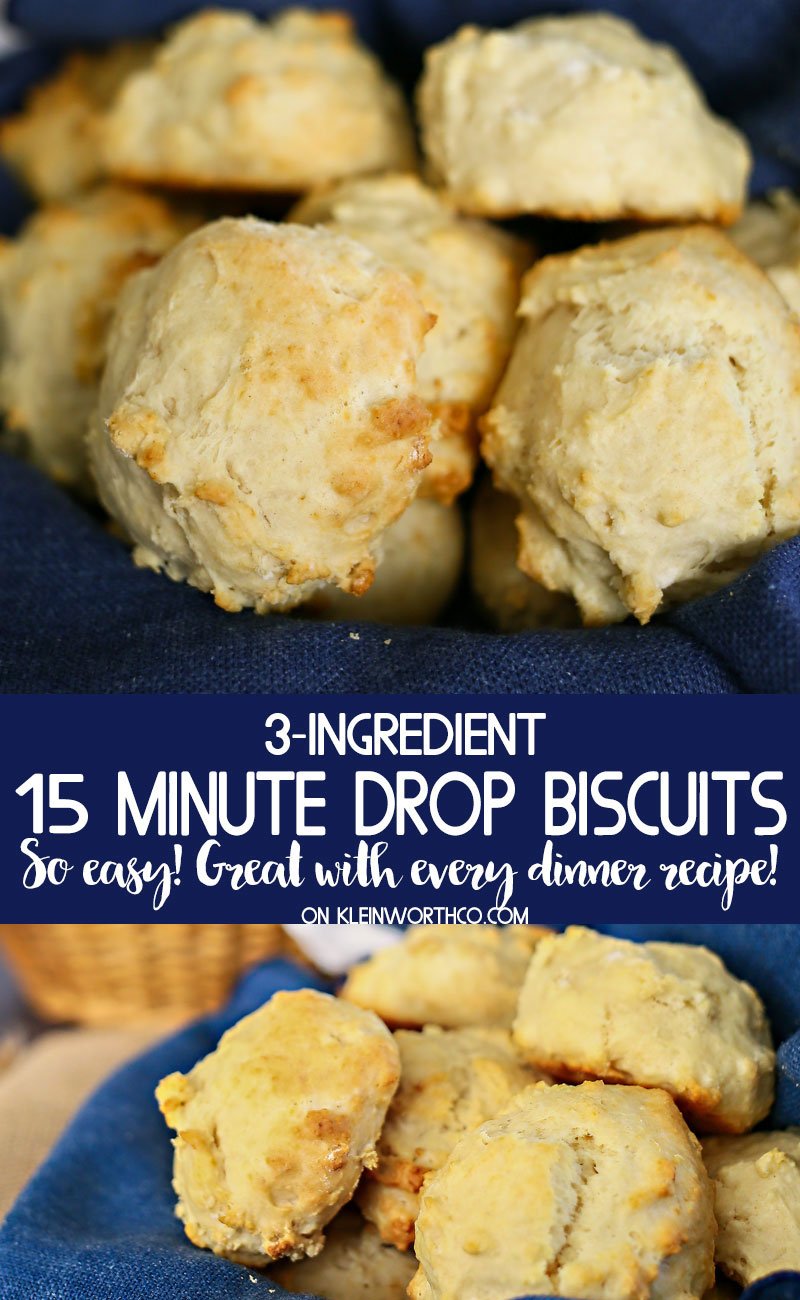 Reader Interactions