Slow Cooker Beef & Broccoli is such a simple recipe. Just toss in your ingredients & in just a few hours you have an easy family dinner that everyone loves. Pair this with my Instant Pot White Rice too!

There are a few recipes that I simply can't get enough of. Do you have those certain recipes you could eat multiple days in a row & if you did, you would be perfectly happy with that? I sure do & beef broccoli is one of them. Add it to lo mein or pile it on over a bed of white rice, oh my word I can't get enough. Obviously take-out all the time would be out of the question. So I decided to create a simple & easy slow cooker recipe so that we could have this one often.
Slow Cooker Beef & Broccoli
This post contains some affiliate links. Click here to read my full disclosure policy.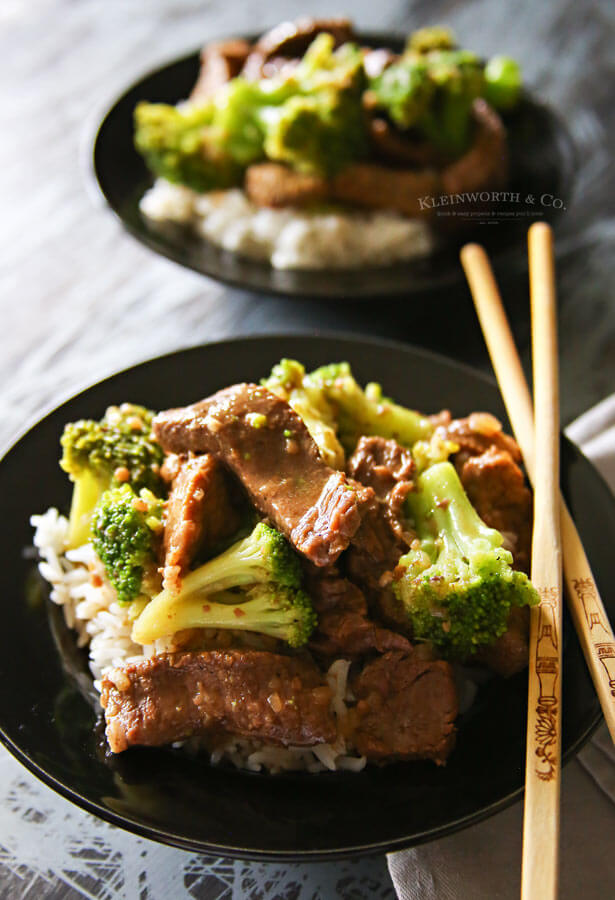 I find myself favoring the beef & the sauce. So sometimes I revert back to childhood & pick out a good portion of those things & leave the broccoli for the family. They like it & so I don't really feel too bad. They do however give me a hard time for doing so, so I try to not hoard all the beef. But if I had it my way, I would probably pick it all out & just enjoy a bowl of beef all by itself. It's just too good.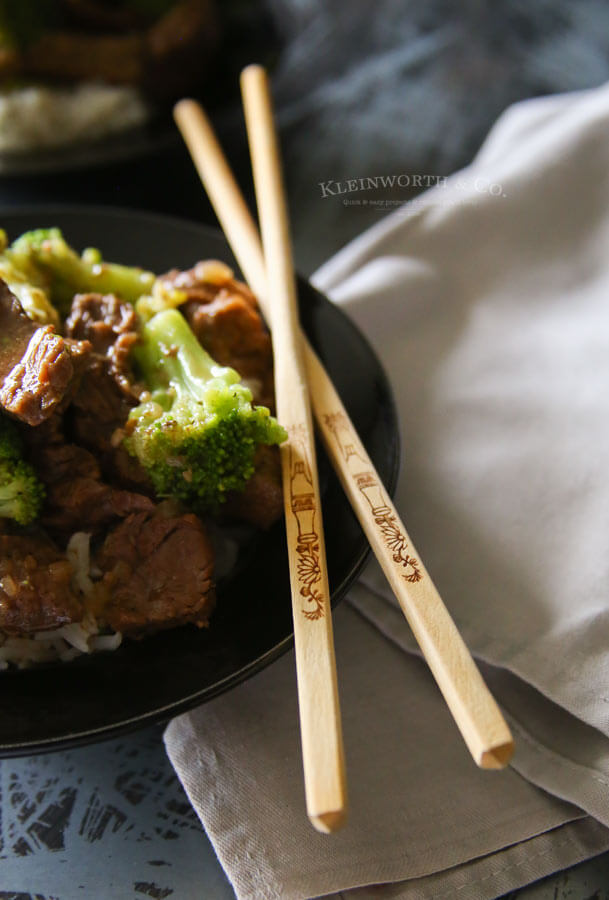 We have really perfected this recipe & now prefer it over our usual restaurant. That sure saves us because I'm telling you – these three teens can really put it away. It's so much more economical to cook than to eat out these days. When it's this easy, why not?!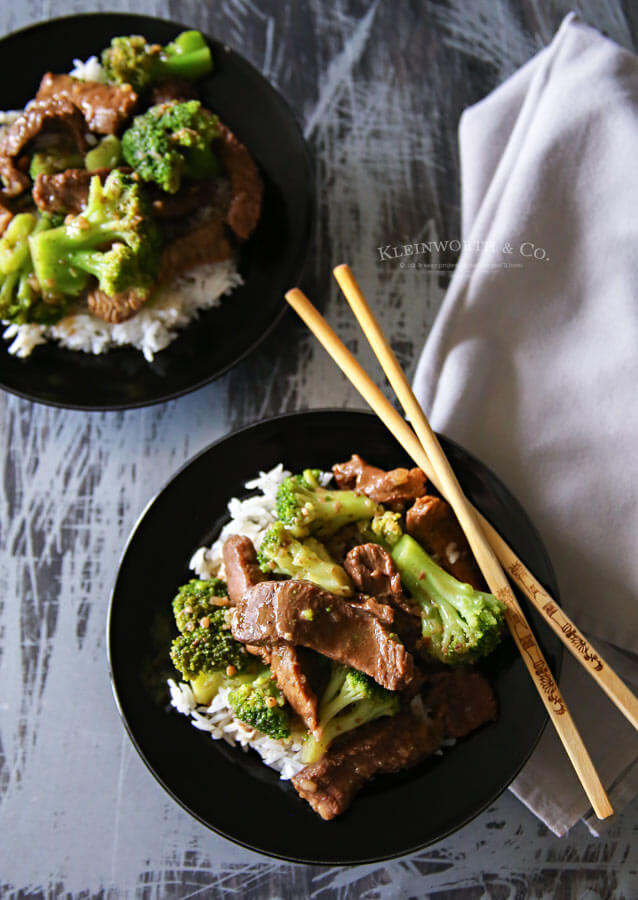 Slow Cooker Beef & Broccoli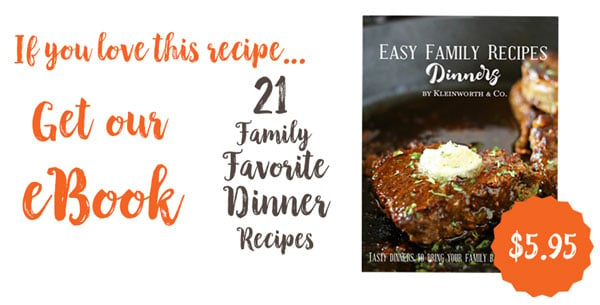 If you make this recipe- please leave a link or tag me on Instagram @KleinworthCo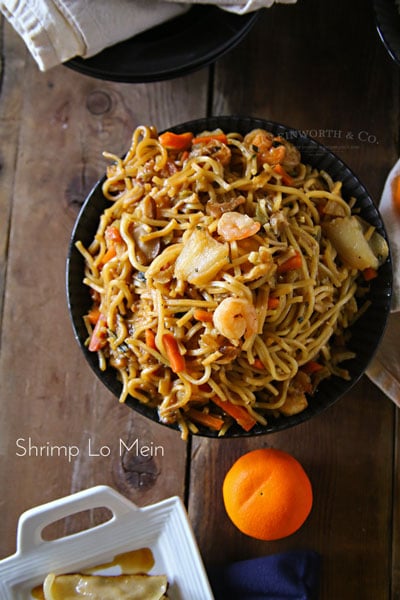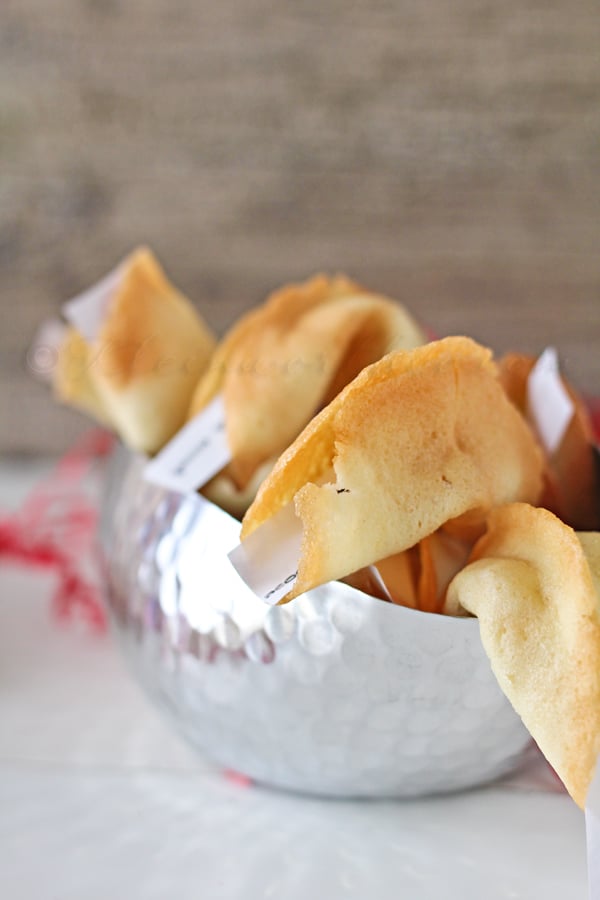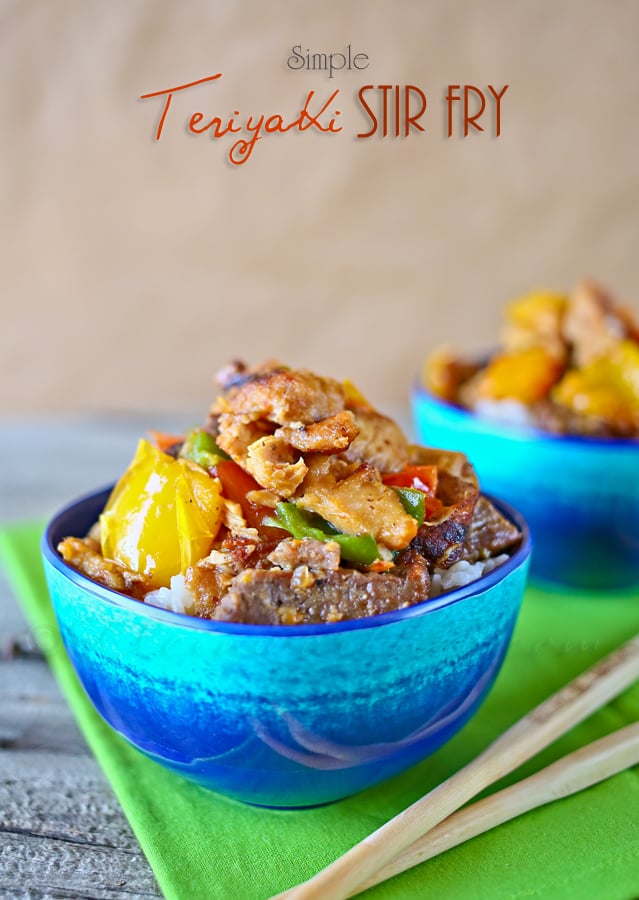 Don't miss these great ideas from these bloggers….
Sweet and Spicy Baked Orange Chicken Tenders from Carlsbad Cravings
Sweet and Sour Chicken from Taste and Tell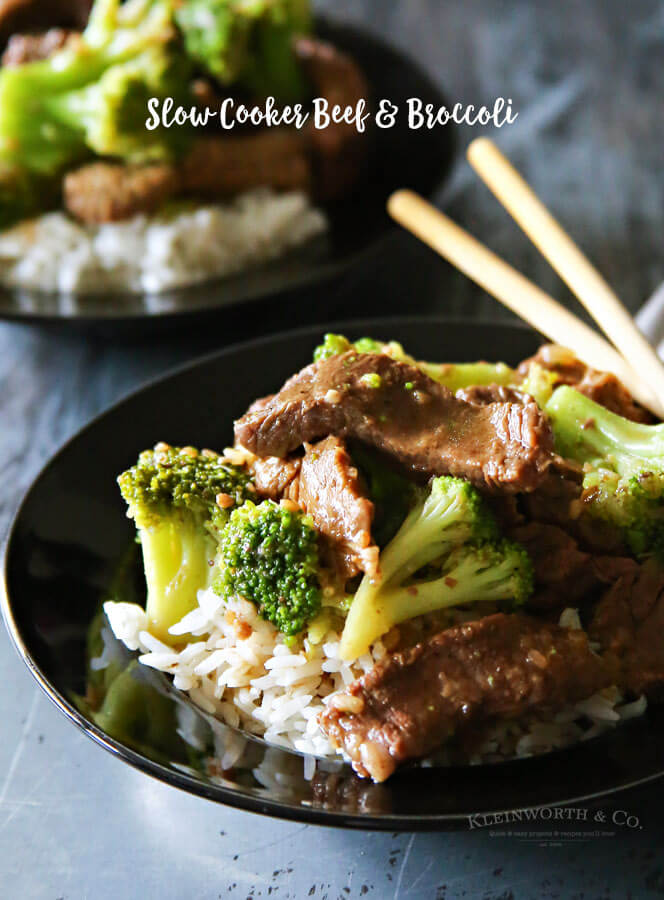 **I use THIS SLOW COOKER to make this recipe!
**Note – this is family size. If you are cooking for 2-3 people or don't want leftovers, you can half the recipe.
Simple, quick & insanely delicious! You can't beat it!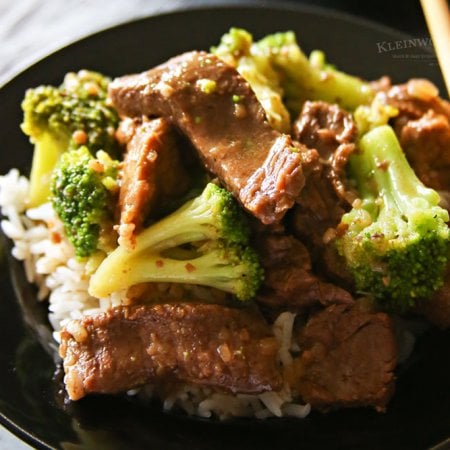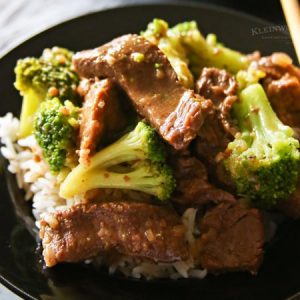 Rate this Recipe
Slow Cooker Beef & Broccoli
Quick & easy beef broccoli recipe that's better than take-out!
Ingredients
3

pounds

flank steak

thinly sliced & chopped into 1-2" pieces

2

cups

beef broth

1-1/2

cups

low sodium soy sauce

2/3

cup

brown sugar

2

tbsp

sesame oil

2

tbsp

minced garlic

6

cups

broccoli florets

¼

cup

cornstarch + ½ cup cold water
Instructions
Spray the inside of a slow cooker with cooking spray.

Add steak, beef broth, soy sauce, brown sugar, sesame oil & garlic

Cover and cook on high for 2-3 hours or low 4-5 hours.

Before serving, in a small bowl whisk cornstarch & water until dissolved. Add to slow cooker and stir.

Add in broccoli

Cover and allow to cook another 35-40 minutes.
Love this recipe?
Follow @KleinworthCo for even more tasty recipes!