Peanut Butter Chocolate Cupcakes are the perfect cupcake recipe for peanut butter and chocolate lovers. The super-easy peanut butter frosting is scrumptious! Topped with a peanut butter cookie and sprinkles- Yummy!
Oh how I love a good cupcake. Lately, we have been on a peanut butter and chocolate kick. Who here loves a good peanut butter and chocolate combo?!
I know I sure do. It's a favorite for everyone here in our house. No one will turn down a treat with those two flavors.
Scroll to the bottom for the Printable Recipe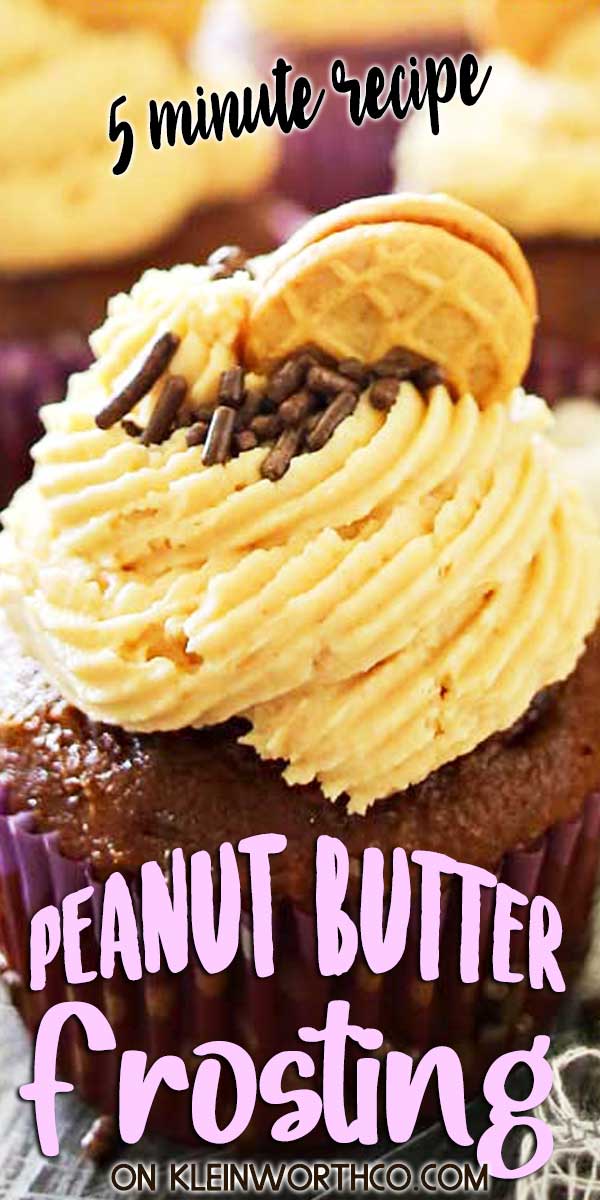 Peanut Butter frosting
If you follow me on Instagram, you saw that my daughter got her braces off. We, of course, had to celebrate in a big way.
We were so happy for her!! So when we got home from her appointment we whipped up these peanut butter chocolate cupcakes to have after dinner that night.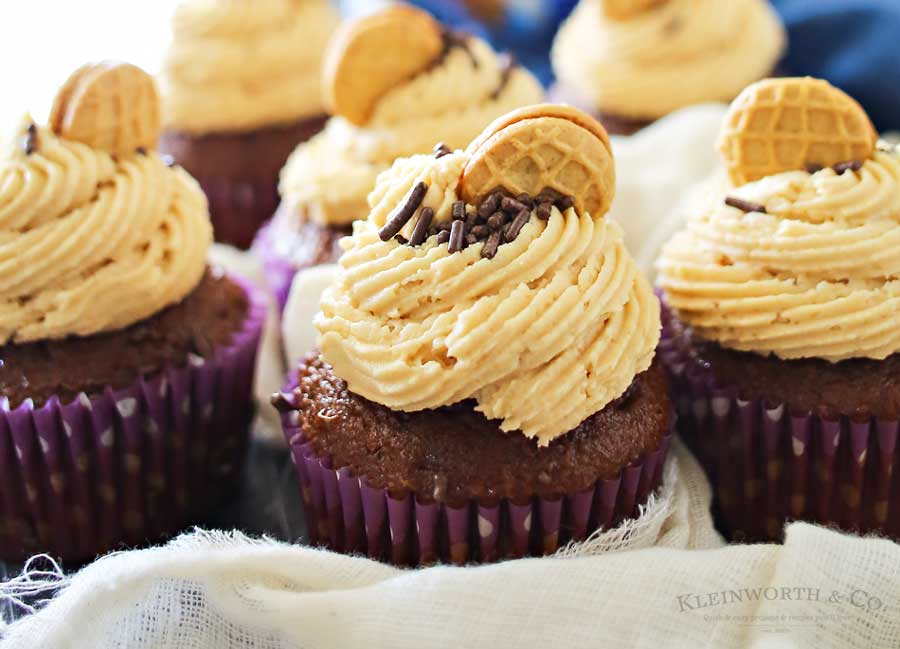 We just used a standard box cake mix because we didn't have much time. While they were baking I whipped up this fabulous peanut butter frosting that I just want to spread on top of everything.
It's so scrumptious. After piping the frosting on, we added some chocolate jimmies and a mini peanut butter cookie to make them extra cute.
Boy, was she sure thrilled to celebrate her new beautiful smile with these that evening. I know the others were happy we had an excuse to enjoy some cupcakes too. They are so delicious!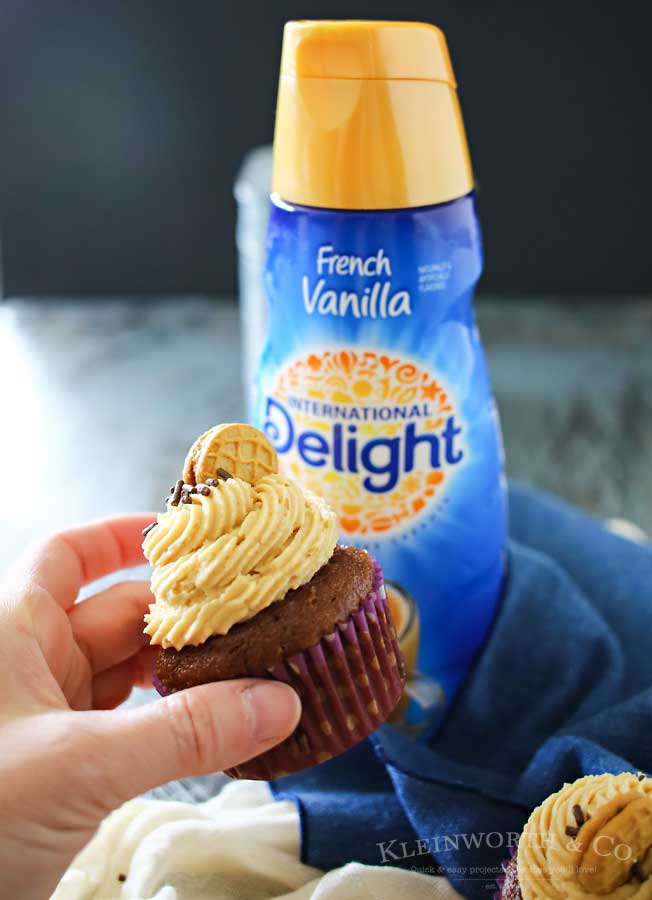 My secret ingredient to making phenomenal frosting- coffee creamer. My favorite to use is vanilla when it comes to making the frosting.
It adds a little something different and special to the frosting that I love. The best part is that I can change that by just picking a different flavor of creamer whenever I like.
These were absolutely the perfect treat to celebrate such a joyous day!
Here are some commonly asked questions
Can I use this with crunchy peanut butter?
If you like a little texture to your frosting, you can definitely use crunchy peanut butter. Just keep in mind that you will need to use a larger piping tip because of the peanut pieces. You don't want to clog your piping tip while decorating.
Can I use a sugar substitute?
I have not personally tried it, so I can't say how that would turn out. But if you would like to try it, I suggest a product that offers a 1:1 swap. I know there are several substitutes for confectioner's sugar on the market, so one of those might work just fine.
Can I use margarine instead of butter?
I don't think the soft consistency of the margarine will be good for this frosting recipe. The frosting won't hold shape, so I don't recommend using margarine.
How many can this serve?
This recipe makes enough for 12 cupcakes with some leftover. But this will depend on how much frosting you are adding to each cupcake too.
easy peanut butter frosting
Can this recipe be doubled?
Absolutely. If you are using this frosting for a layered cake or a double batch of cupcakes, you can definitely double the recipe. Just be sure that your mixer has the capacity for all that frosting.
HOW DO YOU MAKE Peanut Butter Frosting?
Beat the butter & peanut butter in the mixer with the whip attachment until creamy.
Add in the vanilla & coffee creamer.
Slowly beat in 3 cups of the confectioner's sugar and then slowly add in more, one half-cup at a time, until you reach the desired consistency.
Transfer to a piping bag and add to the top of your cupcakes. Or you can spread it onto the cupcakes with a spatula.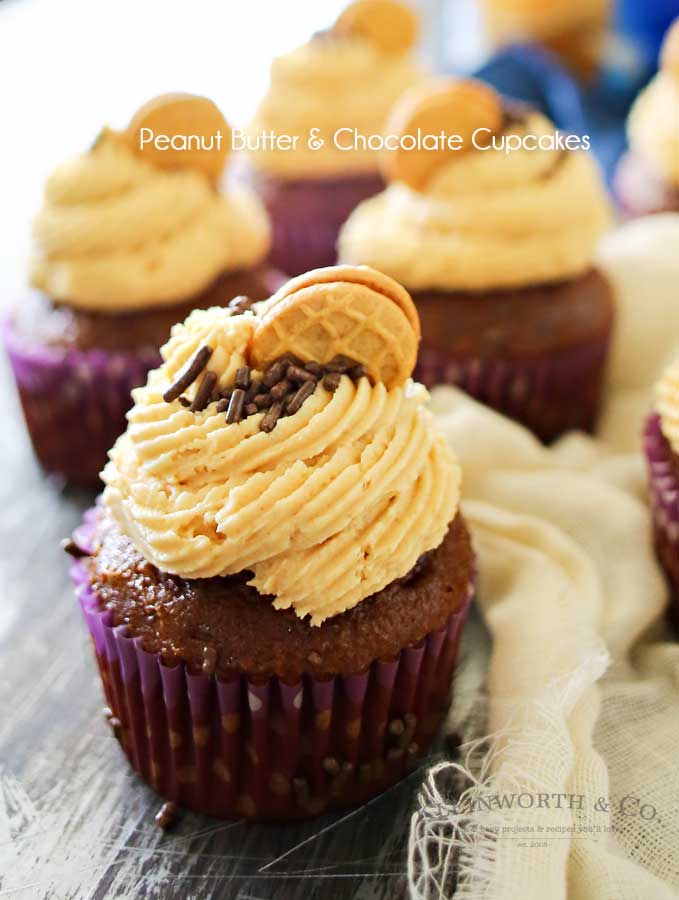 What is the best way to store leftover peanut butter frosting?
So when I have leftover frosting, I like to place it in an airtight container and keep it refrigerated for up to 1 week. Beyond that, I will pop it in the freezer until I am ready for it again.
What is the best way to store leftover peanut butter and chocolate cupcakes?
You can place these cupcakes either in an airtight container or in a pan or on a plate and cover with foil. I like to refrigerate the cupcakes because of the butter in the frosting. Just be sure to leave them out to come to room temperature before serving.
To make peanut butter frosting you will need…
butter – room temperature
creamy peanut butter
vanilla extract
vanilla coffee creamer
confectioners sugar
chocolate cake with peanut butter frosting
If you love this Easy Peanut Butter frosting recipe, you're going to love these other treats too. Please click each link below to find the easy, printable recipe!
peanut butter icing
If you love this recipe for Homemade Peanut Butter Buttercream as much as I do, please write a five-star review, and be sure to help me share on Facebook and Pinterest!
CONNECT WITH KLEINWORTH & CO!
Be sure to follow me on my social media, so you never miss a post!
FB, Pinterest, IG, Email Subscription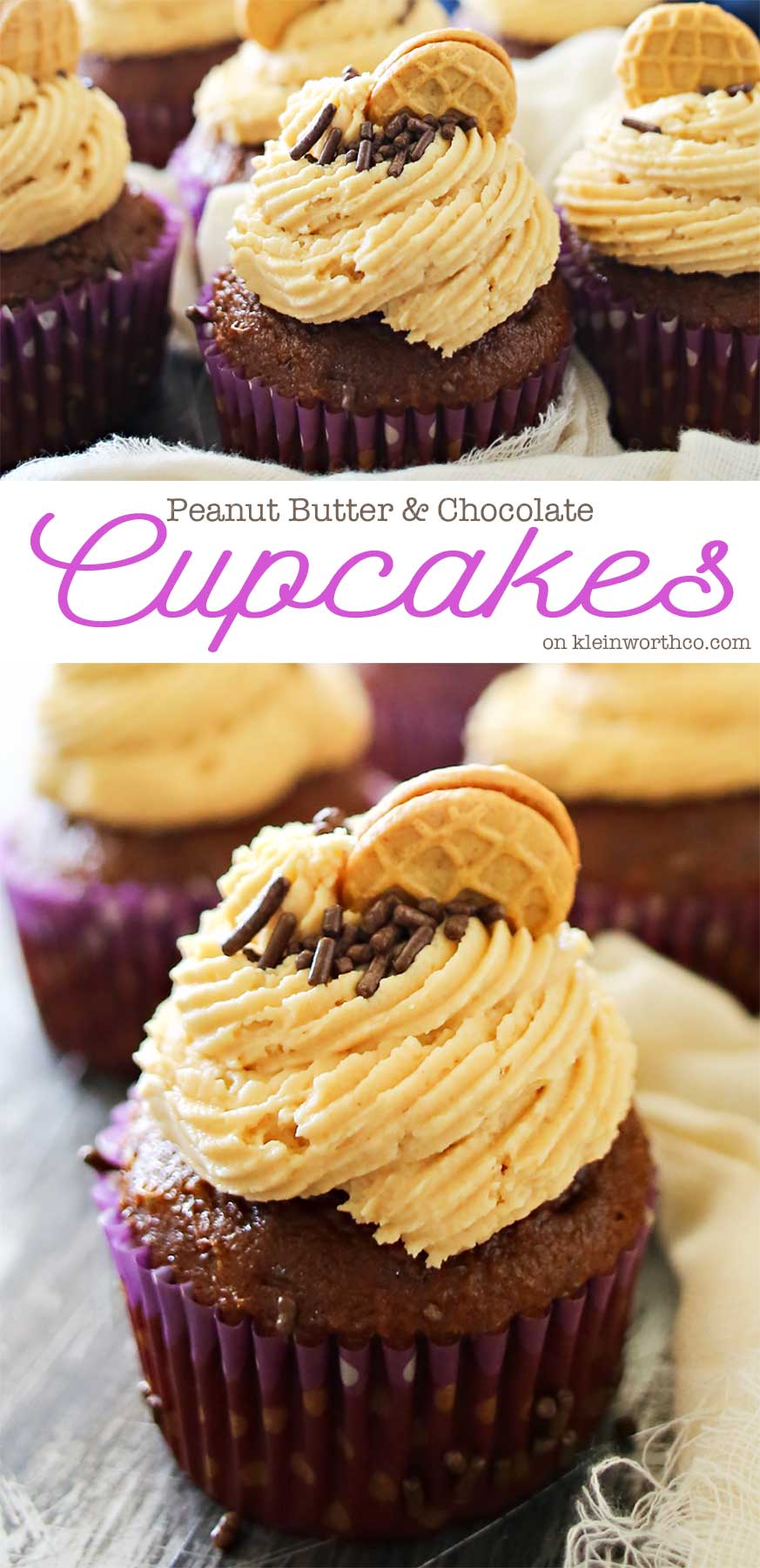 Reader Interactions