We have a smoker that we use regularly for meats, veggies, and sides, but sometimes it's not an option, or it's just easier to cook inside. When that's the case, but I want smoky beef, I turn to this incredibly delicious oven beef brisket recipe.
Brisket is undoubtedly a tough cut of meat but with the right ingredients and cooking process it can come out fork tender and nearly as amazing as what you would get if you'd smoked it. It's all about slow cooking at a low temperature.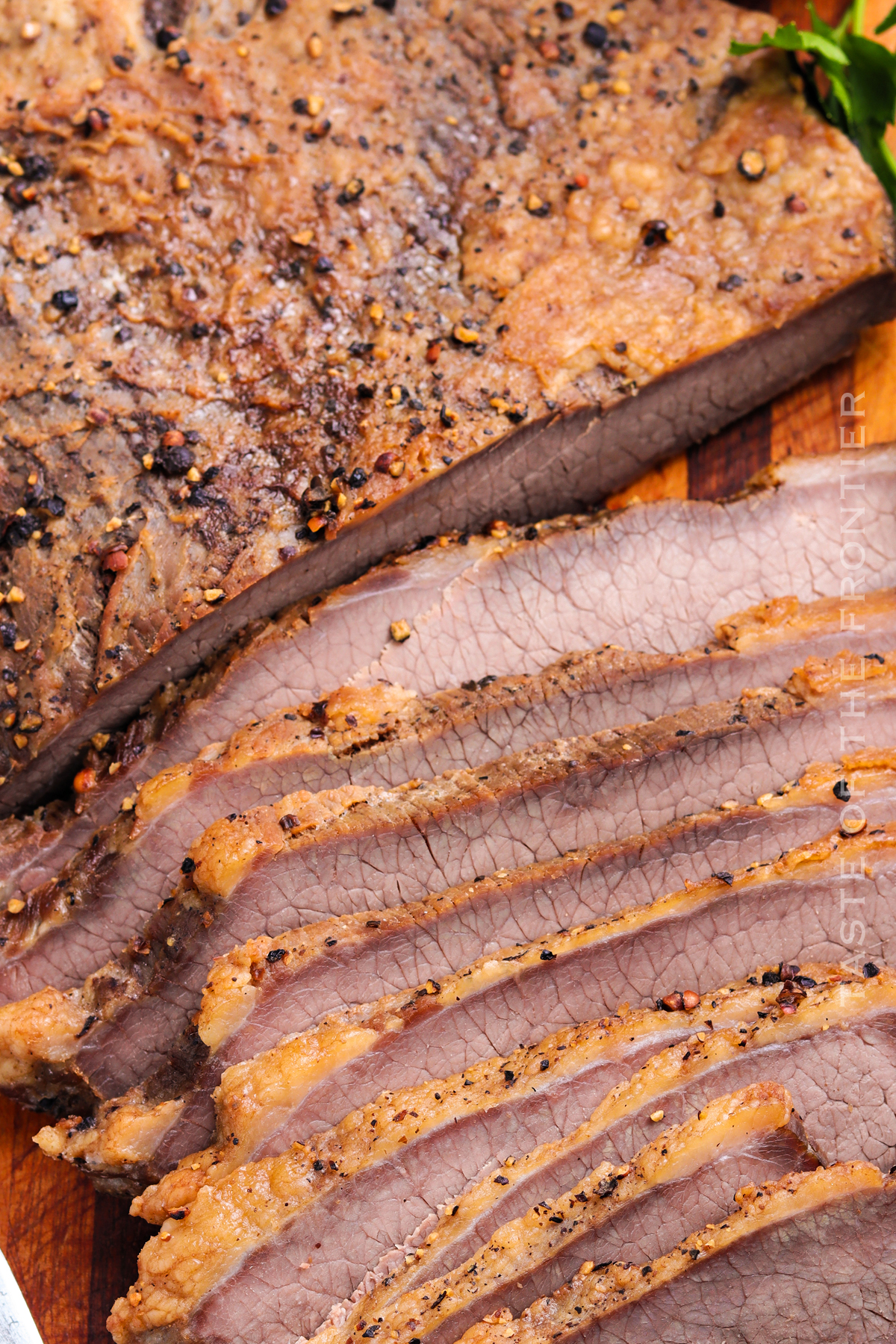 What I love about this recipe is that you can get low and slow cooked tender beef from the oven that's infused with smoky flavor. It also brings all of the umami to the table, incorporating both Worcestershire and soy sauces.
The next time you're craving brisket like you'd find at your favorite BBQ spot, try this recipe for the most tender and juicy beef brisket you can make without a smoker.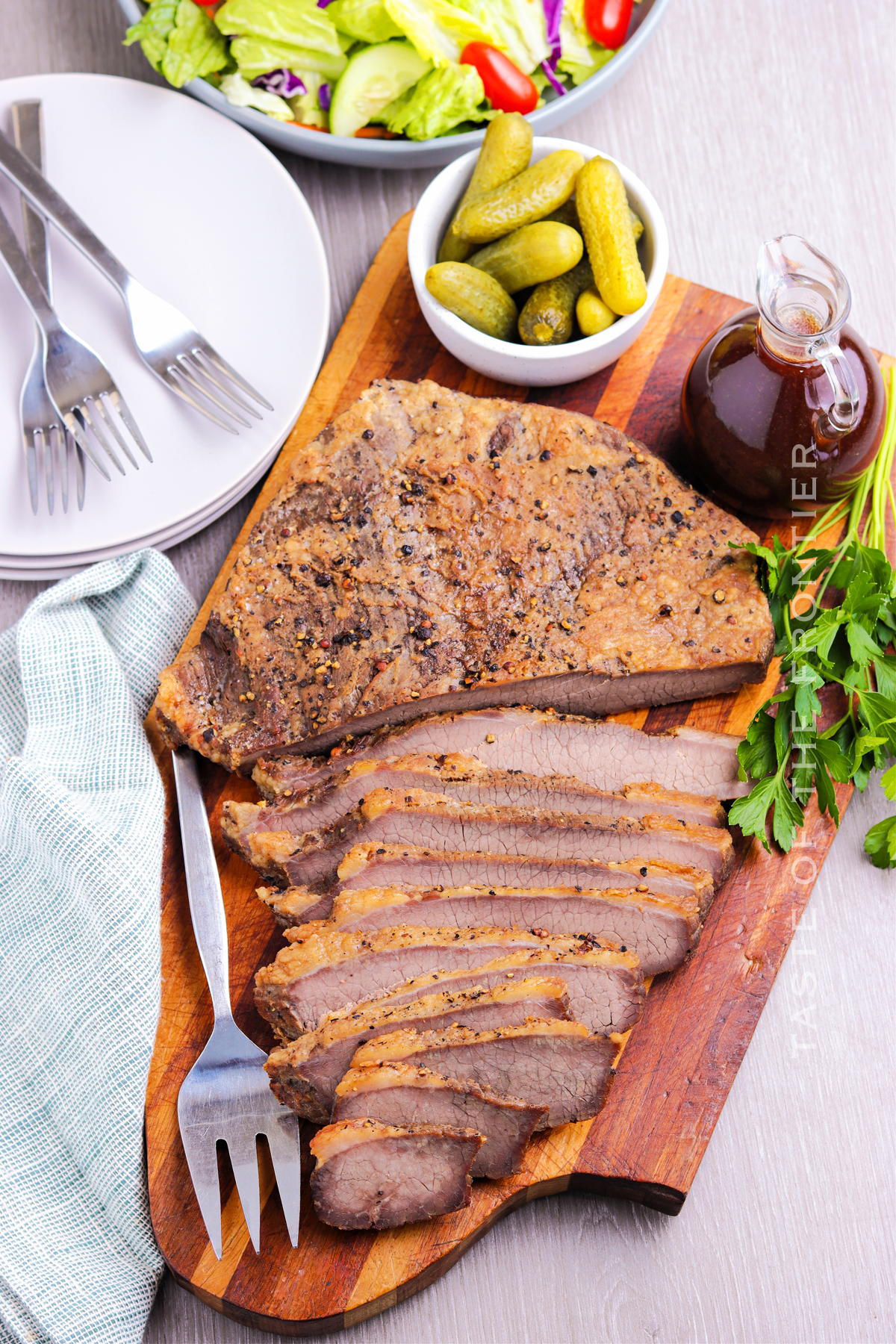 Common Questions about Oven Beef Brisket
What side should I cook my brisket on in the oven?
When cooking brisket it's best to have the fat on top so that it can drip down as the beef cooks. This will create the most tender and moist brisket you can make.
Why should I wrap the brisket?
Called the "Texas Crutch," wrapping brisket while it's cooking in the oven helps the beef to retain moisture and speeds cooking even at low temperatures resulting in a moist, tender brisket. We recommend butcher paper but you can opt for aluminum foil if you choose.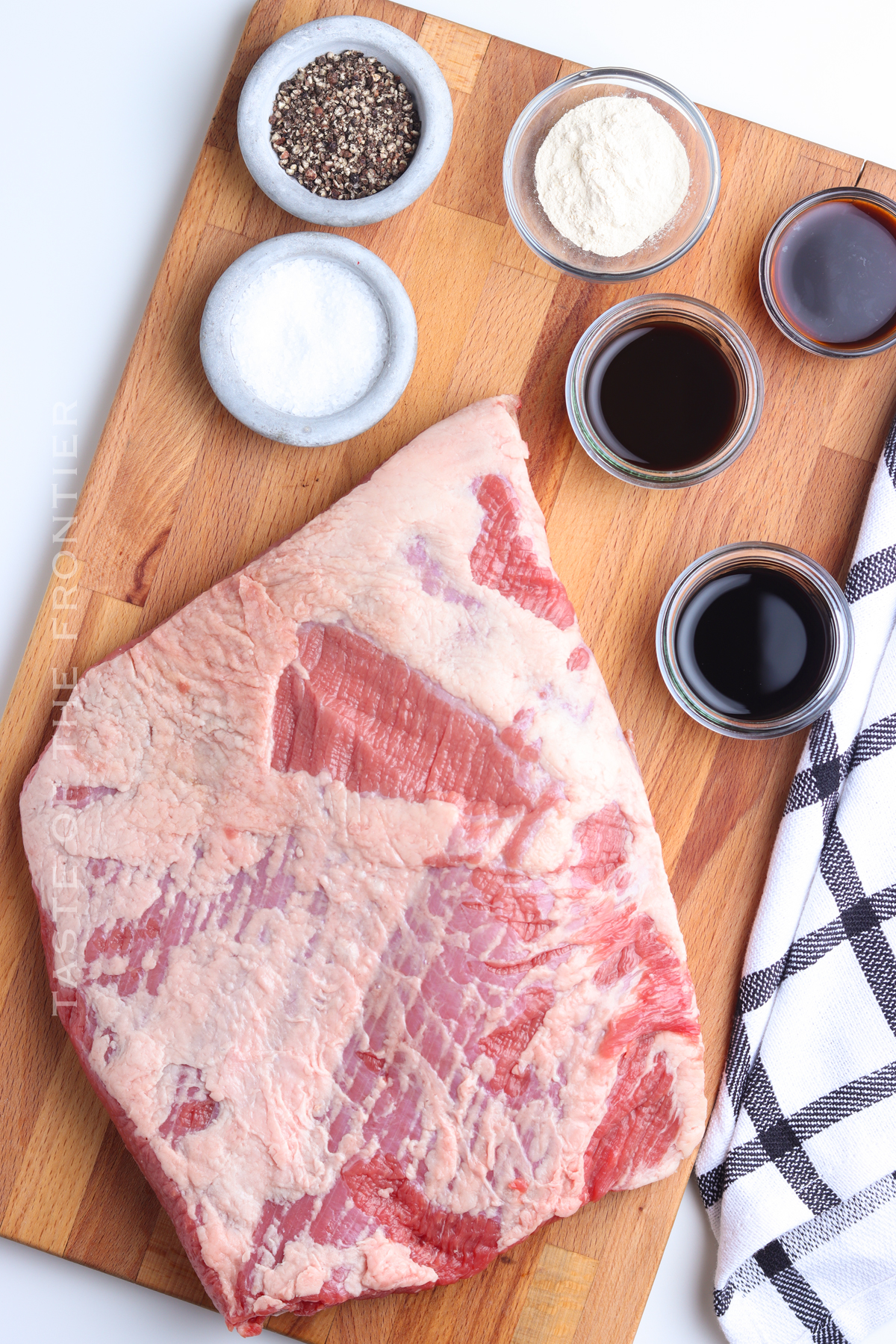 How else can I keep brisket moist?
If you have an extra pan, fill it with water and keep it in the oven while the brisket is cooking to help the beef retain moisture.
Making Oven Beef Brisket Ahead of Time
While you can make this ahead of time it's really best served fresh out of the oven after resting.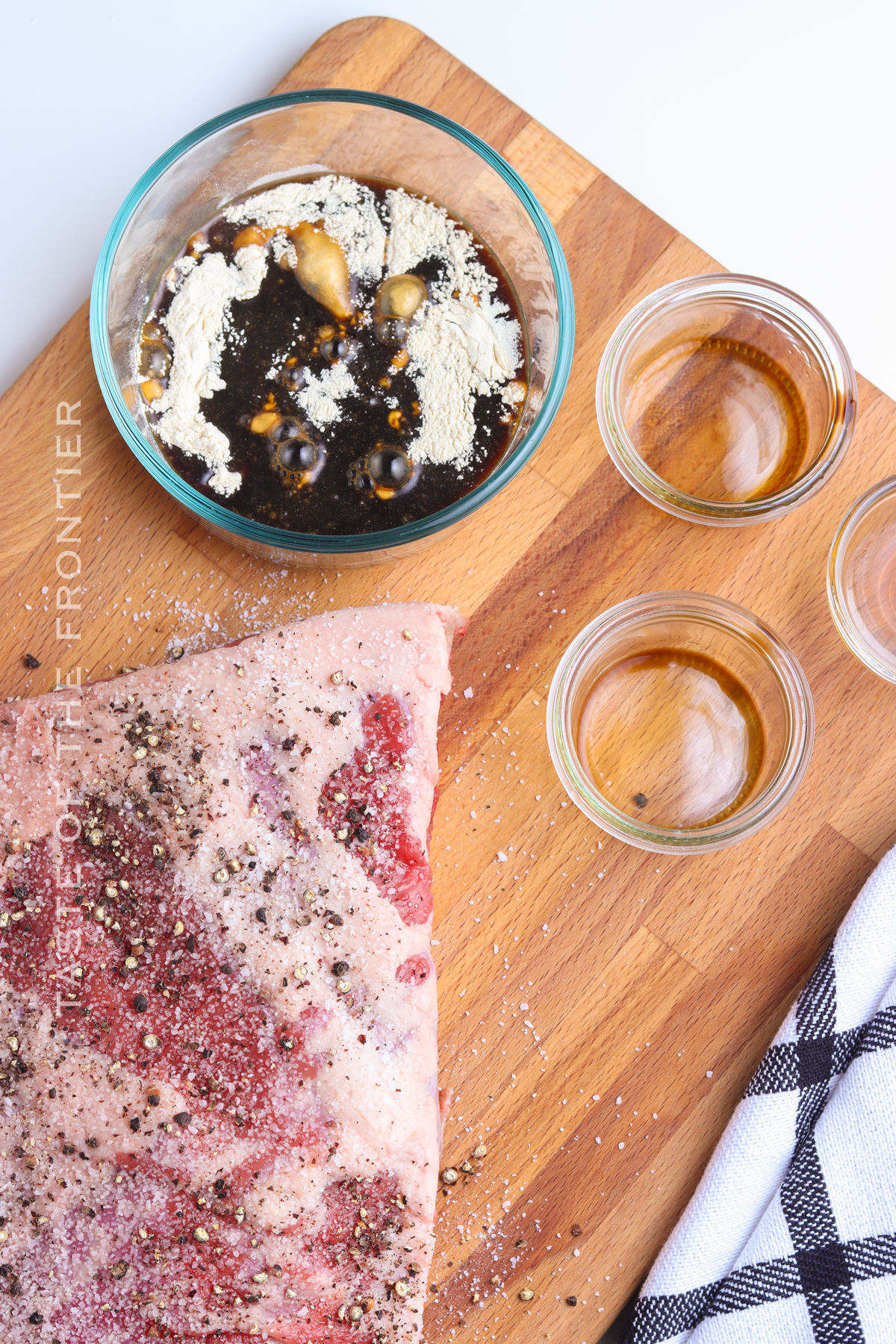 Storage
It's easy to store this oven beef brisket either whole or sliced.
Refrigerator: Store this in the refrigerator for up to 4 days. You can wrap the whole brisket in aluminum foil or you can store slices in an airtight container or ziploc bags.
Freezing: Freeze meat for up to 3 months in a freezer-safe container or freezer bags.
Tips For The Best Oven Beef Brisket
Serve immediately. If you're trying to make an amazing meal for guests, you'll want to serve this straight away — save the refrigerated or thawed slices for leftover dishes.
Keep the oven closed. Resist the desire to open the oven — this meat requires a constant temperature and air flow that keeping the oven closed will achieve.
Let the meat rest. It's so tempting to slice into a delicious hunk of brisket right after pulling it out of the oven but you won't be doing the meat (or yourself) and favors that way — allow it to rest so that all of the juices can settle and you'll wind up with the moistest of meat.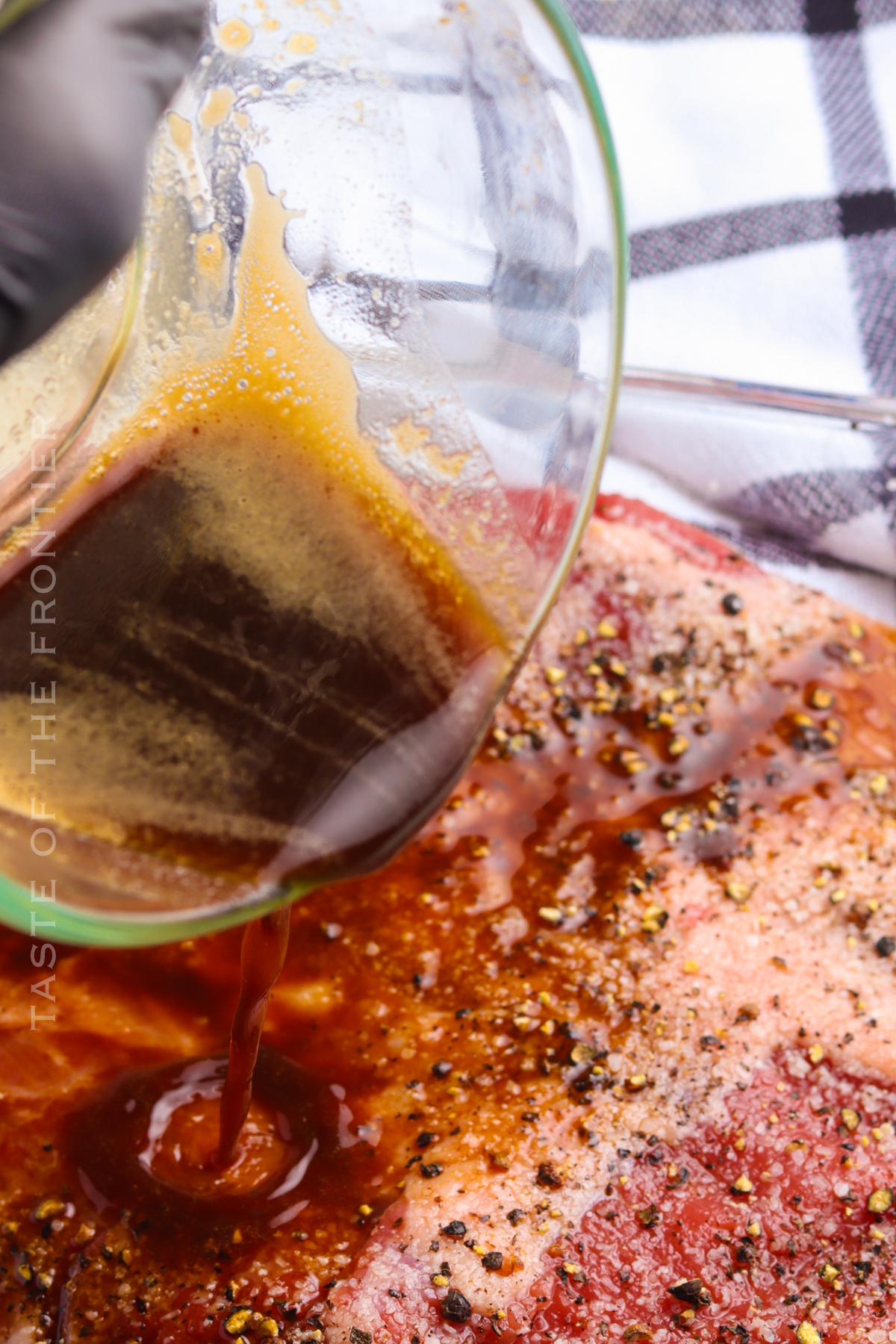 Ingredients
Beef brisket
Kosher salt
Cracked black pepper
Worcestershire sauce
Soy sauce
Onion powder
Liquid smoke
Kitchen Supplies You'll Need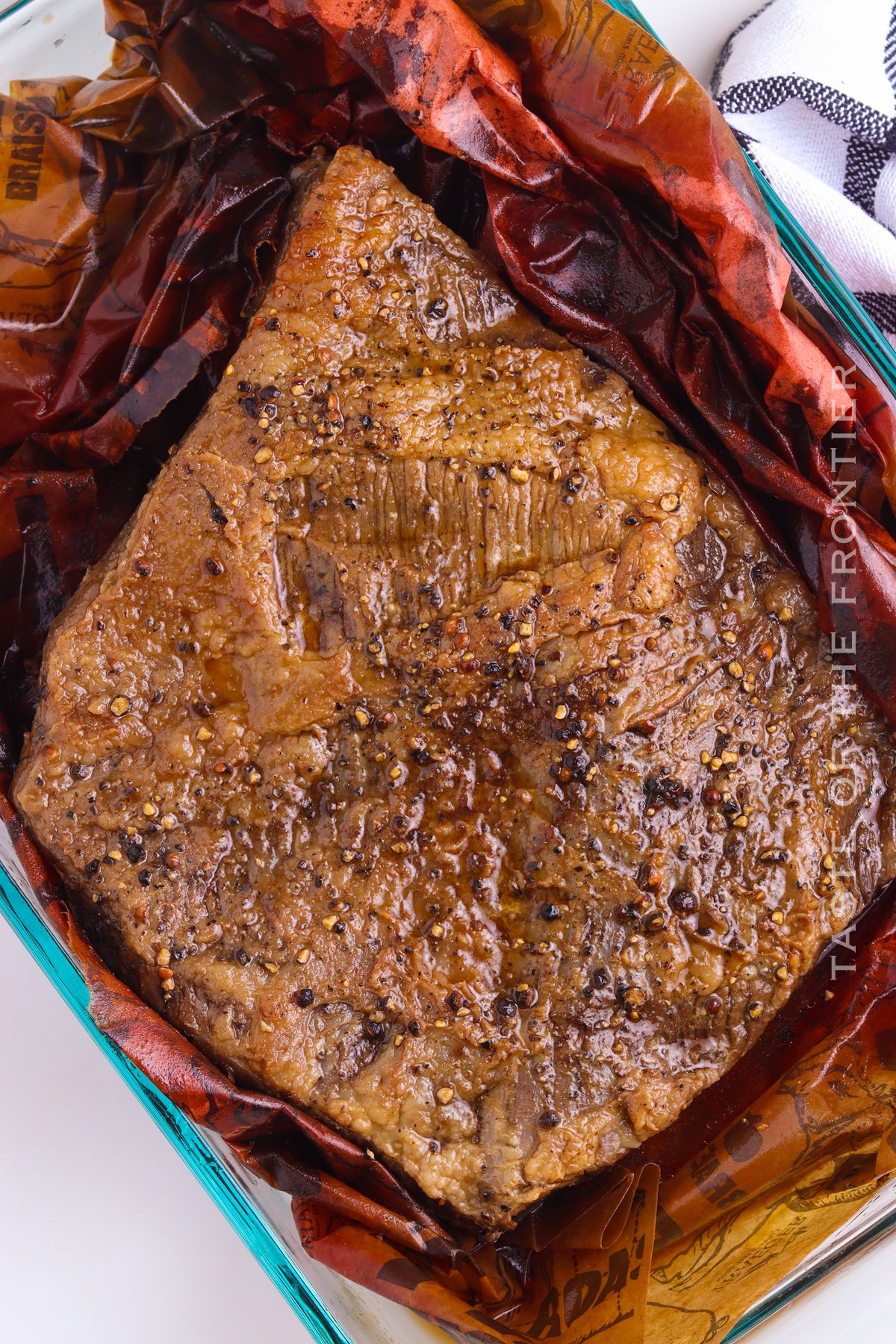 How to Make Oven Beef Brisket
The first step in making a good brisket is to trim it. After that, a few simple steps will result in the most tender beef brisket you've had from an oven.
Using a sharp knife, trim the excess fat off the brisket as well as any silverskin.
Season brisket by shaking the Kosher salt and cracked black pepper over all sides of the brisket.
Once the brisket has been generously seasoned with the salt and pepper, place it with the fat side down into the baking dish or roasting pan.
Pour the Worcestershire sauce, liquid smoke, soy sauce, and onion powder into a small bowl.
Vigorously whisk the ingredients together to incorporate them completely.
Slowly pour the mixture over the brisket before flipping it over.
Cover the baking dish with foil and refrigerate the brisket for no less than 8 hours. Overnight is ideal.
Remove the brisket from the refrigerator to allow it to come to room temperature before cooking.
Once the brisket is ready, remove the foil and place it in the preheated oven. Let the brisket cook uncovered.
After the first hour, remove the brisket from the oven.
Next, turn down the temperature of the oven and allow it to reach the new low heat temperature while you wrap the beef in butcher paper.
Continue to roast the brisket until it reaches the desired internal temperature.
Remove the beef from the oven and allow it to rest for the recommended time.
After it has rested, slice the meat on a cutting board. To achieve the most succulent slices, cut the beef across the grain of the meat and serve immediately.
What to Serve With Oven Beef Brisket
There are few things that you can't serve as side dishes with beef brisket. You can also swap out other meats in dishes to upgrade them.
Veggies – Any veggies work well alongside this smoky beef including lemony asparagus, steamed green beans, fried okra, braised collards, and wilted spinach. If you want to try vegetables other than greens, glazed carrots, fresh sliced tomatoes (in season), grilled zucchini and squash, and root veggies like sweet potatoes or parsnips are a good pairing.
Mushrooms – Saute them or stuff them (with crab or cheese and spinach) and serve them alongside this beef. Add some onions in if you opt for sauteing.
Rolls – Warm dinner rolls are perfect for sopping up the extra juice from the beef or for piling the brisket on them with some cheese and horseradish mayo for a take on either a French dip or a cheesesteak depending on how you do it.
Mac and cheese – There are few beef dishes that I wouldn't be happy to serve macaroni and cheese next to. This starchy, creamy dish pairs well with the earthy flavors of this beef.
Breakfast – Trade out Canadian bacon on a Benedict for this brisket or upgrade a traditional 'steak and eggs' with it. You can also just serve it in place of bacon or sausage.
Barbecue sauce – Slather this meat with your favorite style of sauce.
Cold salads – Potato salad, cole slaw, broccoli salad, and macaroni salad are all great sides for a casual meal.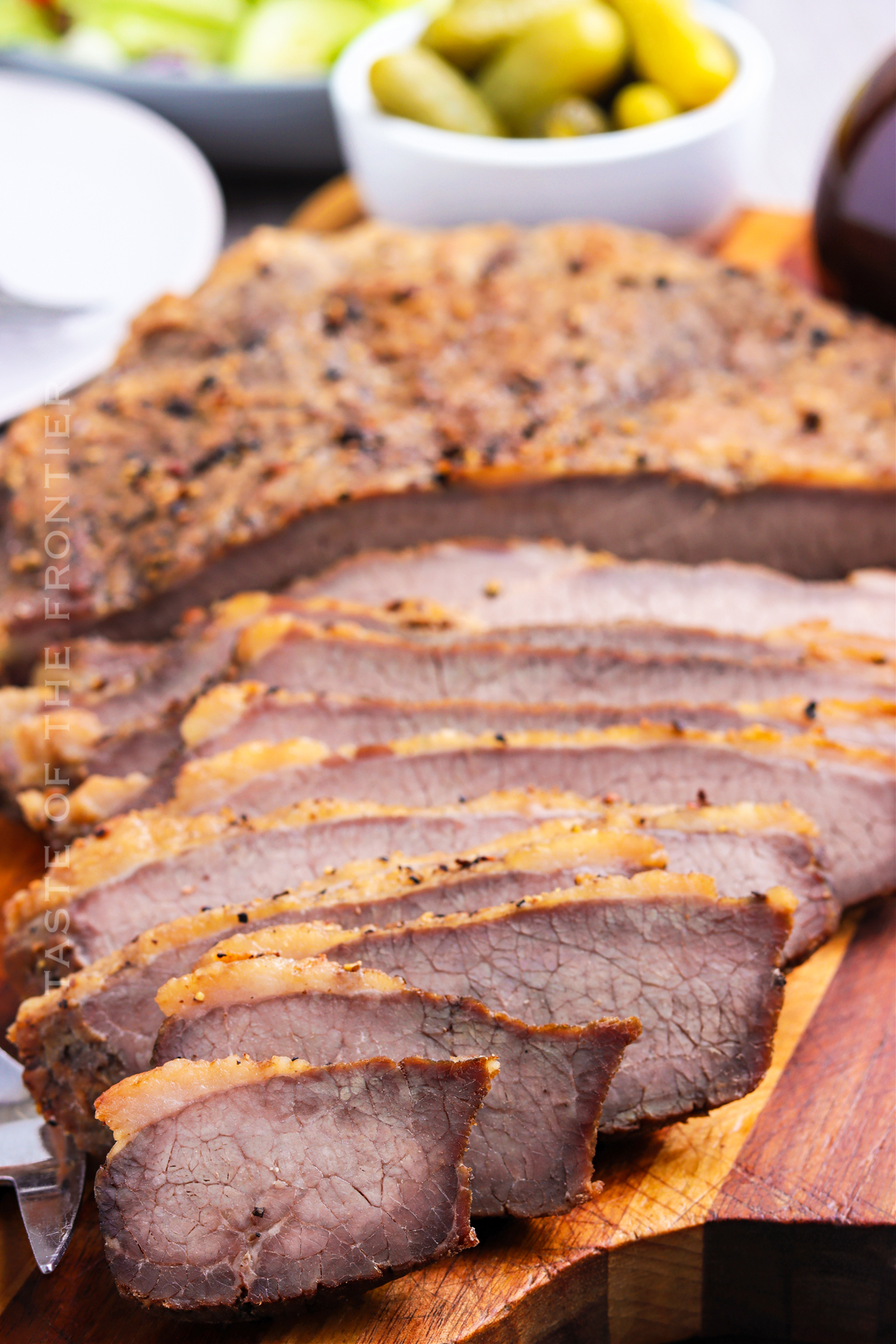 Why You Should Make This Recipe
If you love beef, that's the number one reason to make this recipe. But there are plenty of other reasons.
Easy – There's very little hands-on prep time for this brisket which makes it perfect for entertaining or for a Sunday night dinner that yields leftovers.
Affordable – The beef itself changes in price depending on when and where you source it, but it does tend to run cheaper since it's a tougher cut. All of the rest of the ingredients are inexpensive and potentially already in your pantry.
Plentiful – If you're feeding a crowd, you'll have plenty to go around. If not, you'll have lots of leftover brisket that you can repurpose throughout the week for sandwiches, quesadillas or tacos, and other lunches or dinners.
Versatile – This can just as easily be a casual family dinner as it can be upgraded to a party meal.
Variations and Add-ins
We like this smoky beef brisket just as it is but you can customize it to put your own signature seal of approval on it.
Garlic – Shake some garlic powder on or spread minced garlic on the meat.
Heat – If you want a spicy coating try using cayenne, chili powder, or crushed red peppers.
Sweetness – Add a bit of honey or brown sugar to the soy sauce mixture to add sweet flavor.
Smoke – For more smoky flavor experiment with adding smoked paprika before roasting.
Dry Mustard – Try adding dry mustard to the mix for more depth of flavor.
Umami – Pour in some hoisin or oyster sauce for added Asian-inspired flavors.
Dry rub – If you have a beef dry rub that you already love, use it instead.
Olive oil – Experiment with patting olive oil before adding the other rubs and ingredients to create a nice bark on the outside of the brisket.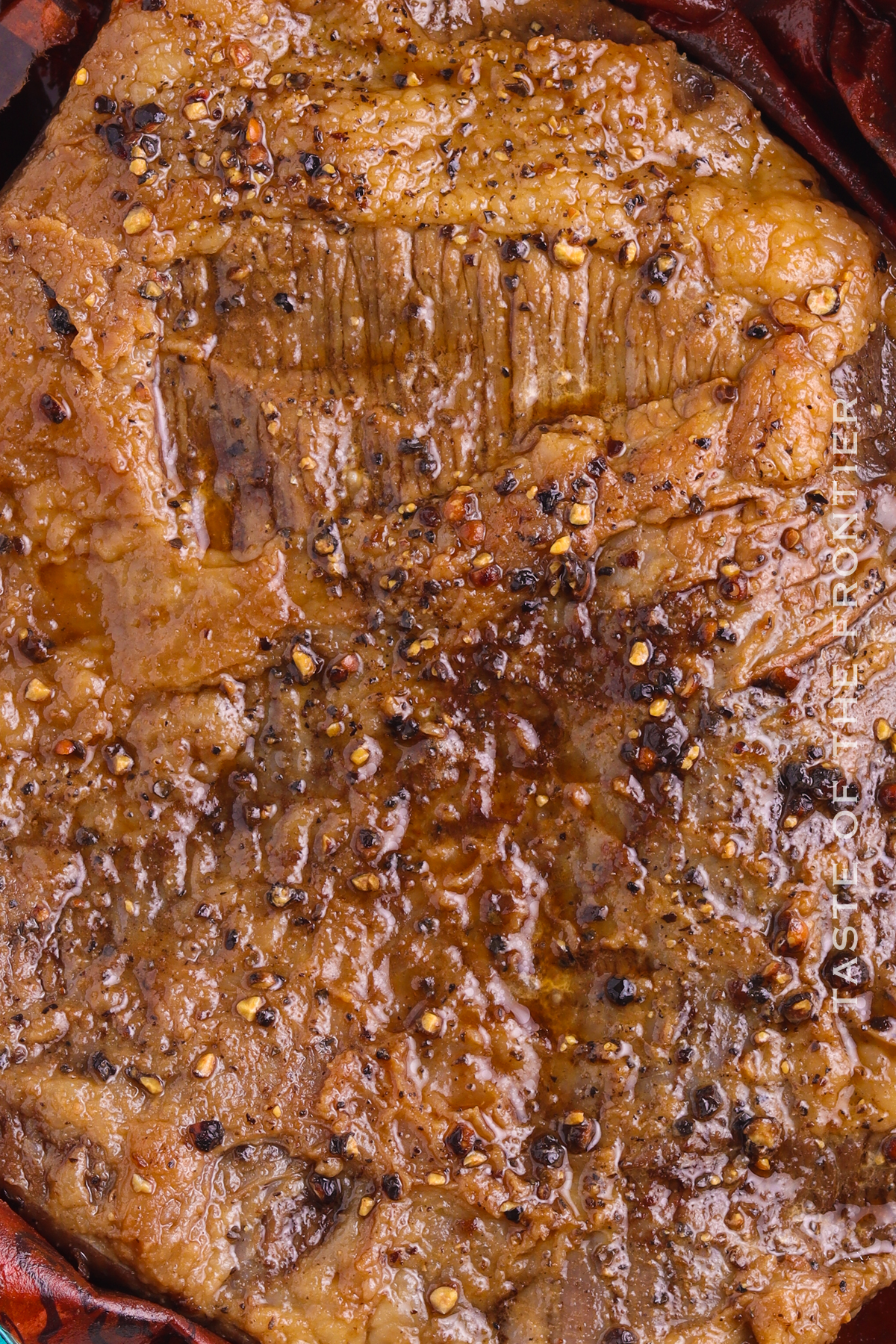 ---
If you love this easy Oven Beef Brisket recipe, you're going to love these other baked dinner ideas too. Please click each link below to find the easy, printable recipe!
Baked Salmon Recipe
This Baked Salmon Recipe is quick to prepare and easy to cook in the oven and is perfect for a busy weeknight or anytime you're looking for a healthy and delicious meal.
Check out this recipe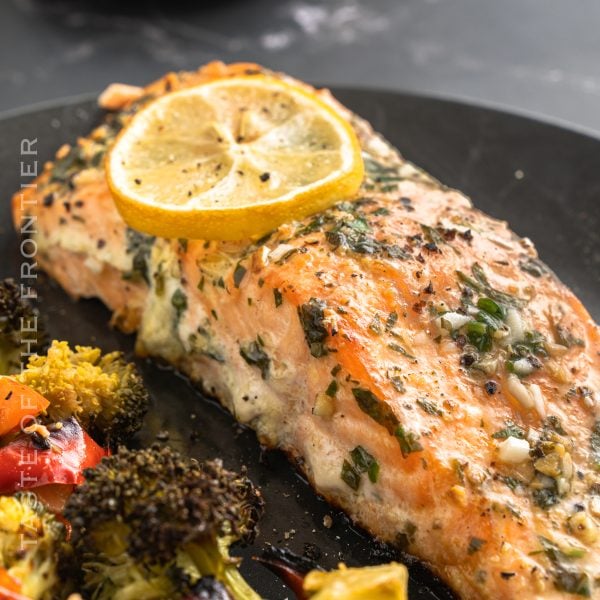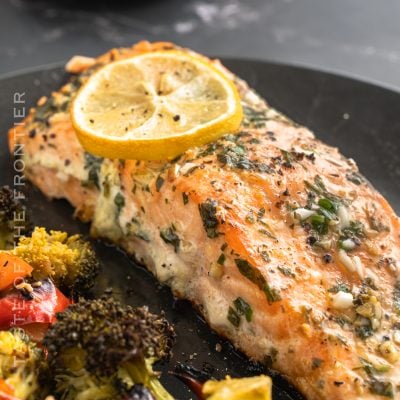 Oven-Baked Chicken
Oven-Baked Chicken is the perfect recipe for busy weeknight dinners. This dish is so flavorful and easy to make, that the whole family will love it.
Check out this recipe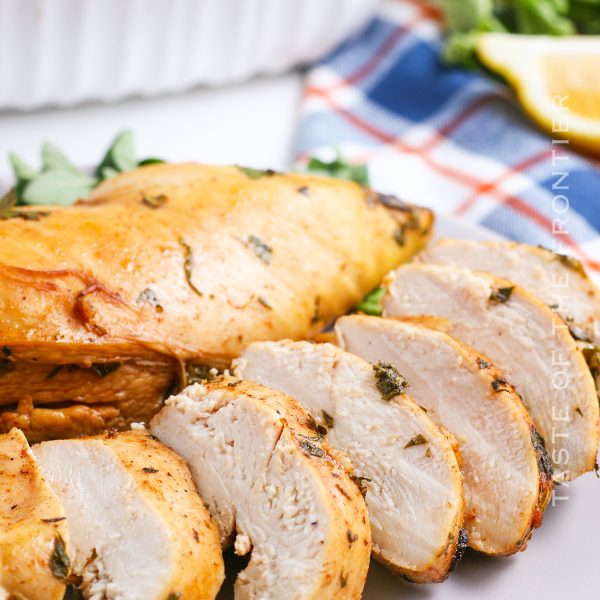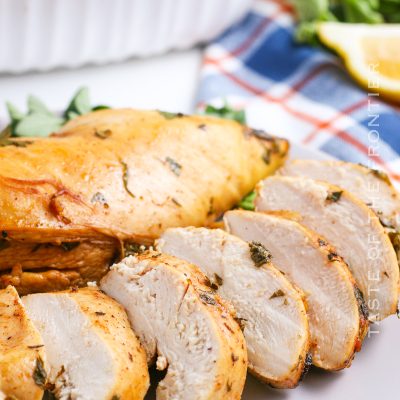 Oven-Baked Pork Chops
Get dinner on the table fast with these super juicy and flavorful Oven-Baked Pork Chops that are ready in 30 minutes, start to finish.
Check out this recipe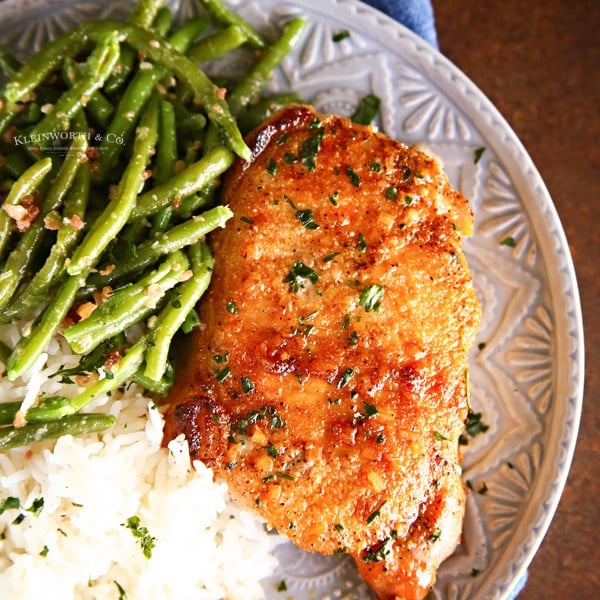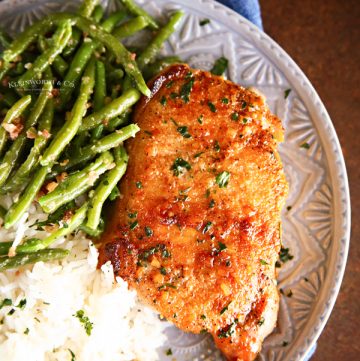 Classic Meatloaf Recipe
Classic Meatloaf Recipe is so easy & just like mom used to make. Deliciously hearty dinner that's perfect when paired with mashed potatoes & green beans.
Check out this recipe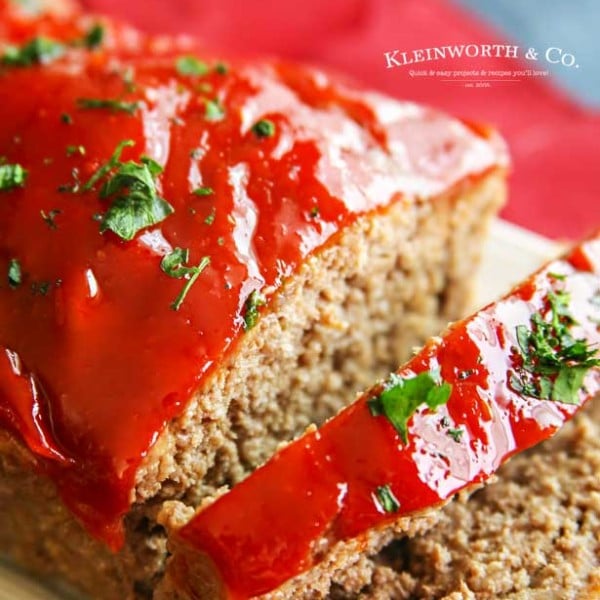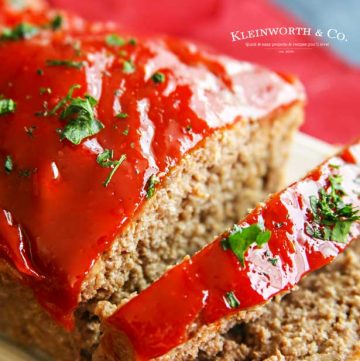 Oven Fried Chicken
Simplify your dinner with this Oven Fried Chicken that comes out crispy & delicious in about an hour. Less mess & clean up, the best baked chicken recipe. Ever!
Check out this recipe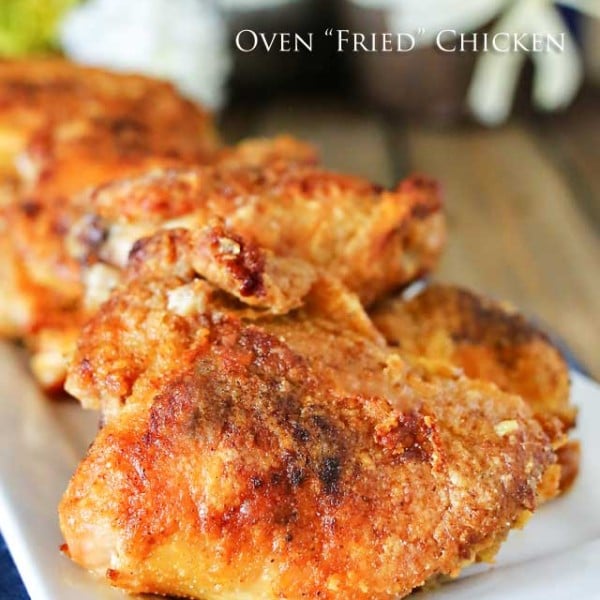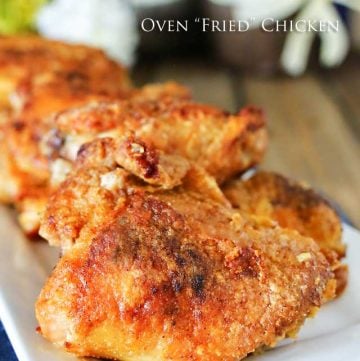 Other Beef Dishes
---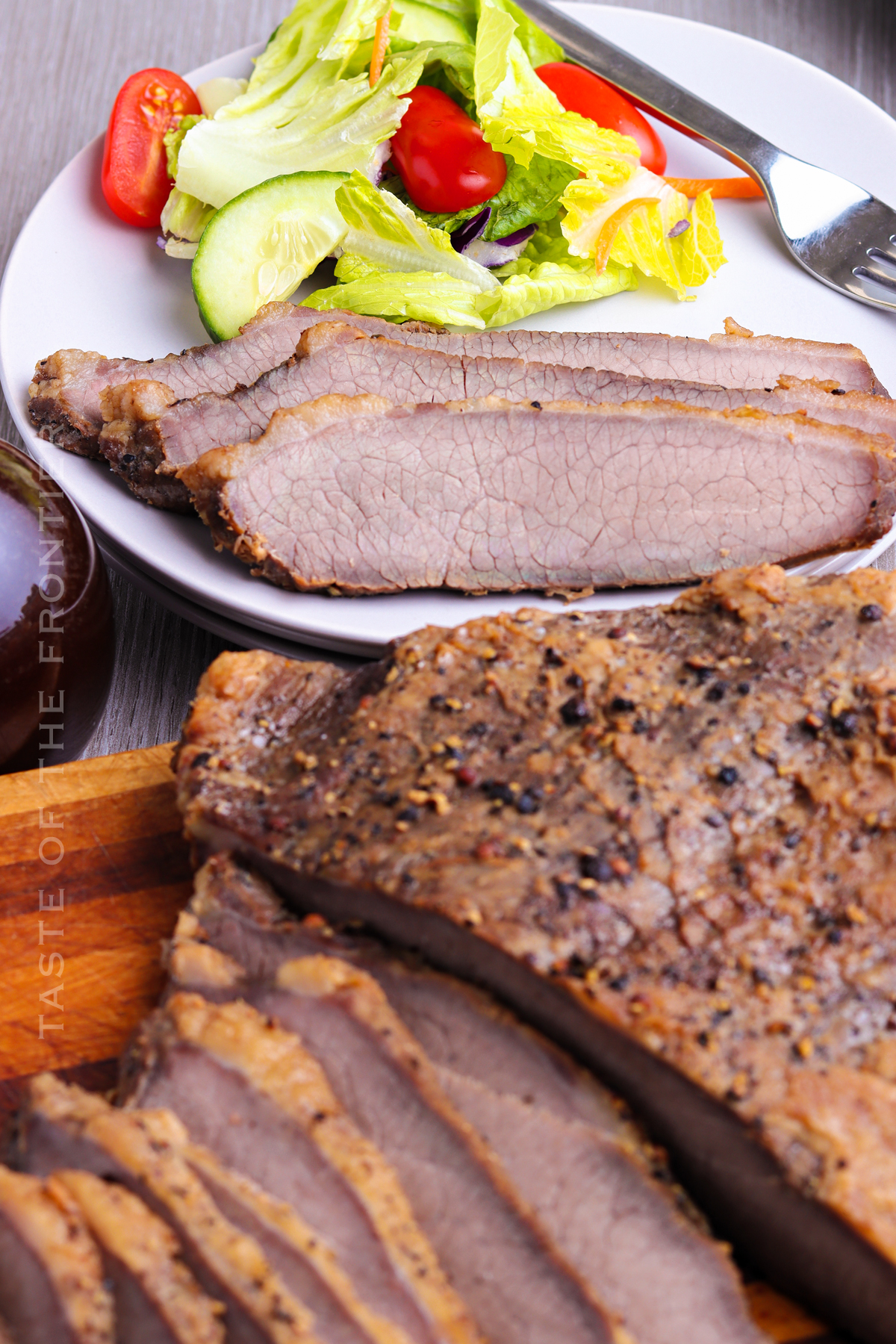 ---
CONNECT WITH TASTE OF THE FRONTIER!
Be sure to follow me on my social media, so you never miss a post!
---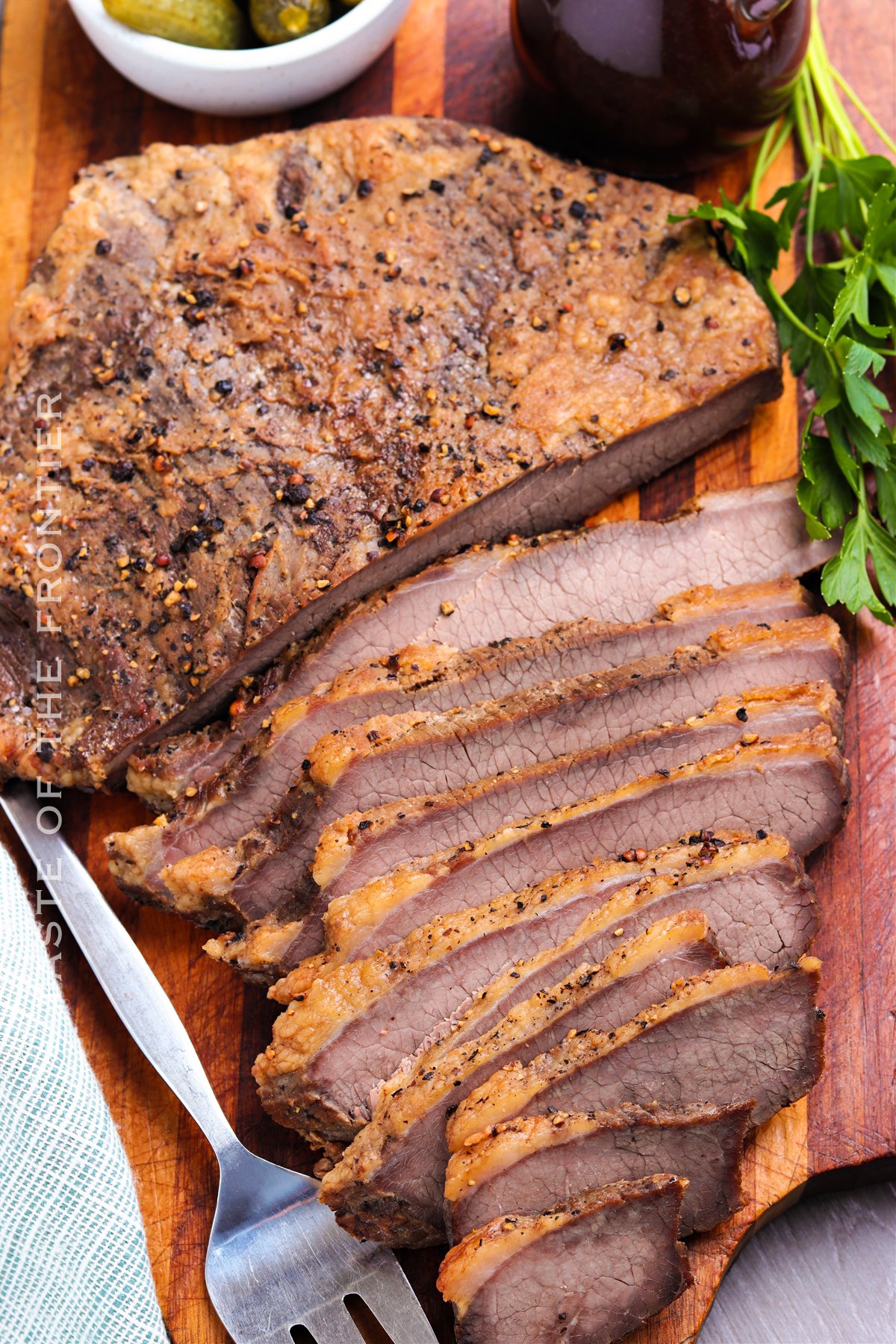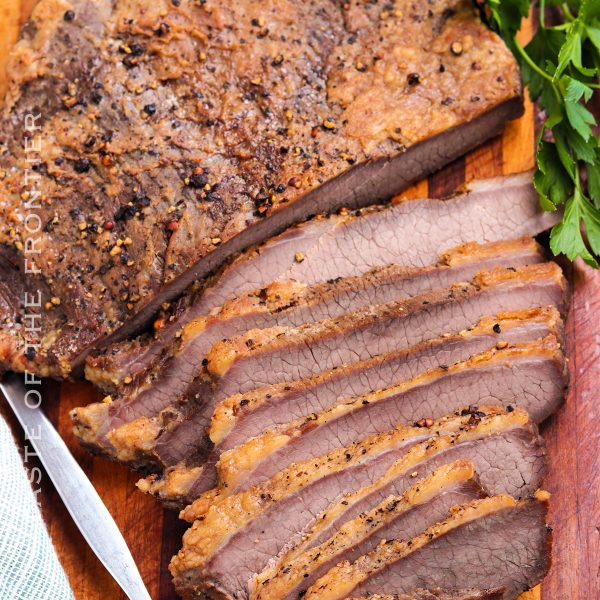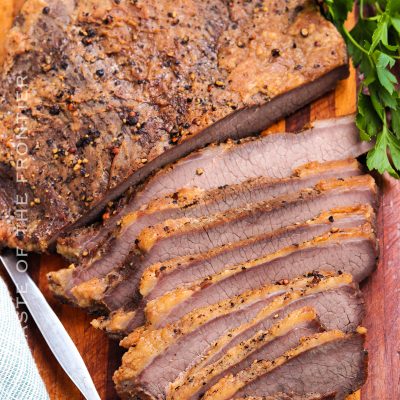 Rate this Recipe
Oven Beef Brisket
This oven beef brisket yields the most delicious smoky beef even without a smoker. It's perfect for parties and casual weeknight meals.
Ingredients
5

pounds

beef brisket

2

teaspoons

kosher salt

2

teaspoons

cracked black pepper

2

tablespoons

Worcestershire sauce

2

tablespoons

soy sauce

1

tablespoon

onion powder

1

tablespoon

liquid smoke
Instructions
Trim the brisket of excess fat and remove any silverskin.

Generously season all sides of the brisket with kosher salt and cracked black pepper.

Place the brisket fat side down in a 13×9 baking dish.

In a small bowl whisk together the Worcestershire sauce, soy sauce, onion powder, and liquid smoke.

Pour the mixture over the brisket, flip the brisket over to the fat side up, cover with foil and place it in refrigerator for 8 hours or overnight.

Remove the brisket from the refrigerator 1-2 hours before cooking to allow it to come to room temperature.

Preheat the oven to 300 degrees F.

Bake the brisket uncovered for 1 hour. Remove it from the oven and carefully wrap it in butcher paper. Reduce the oven temperature to 250 degrees F and cook for an additional 3 hours or until the internal temperature reaches 200-205 degrees F.

Remove it from the oven and allow it to rest for 30 minutes.

Cut the brisket across the grain of the meat and serve immediately.

Store the leftovers in the refrigerator for up to 4 days.
Nutrition
Serving:
1
g
|
Calories:
449
kcal
|
Carbohydrates:
2
g
|
Protein:
59
g
|
Fat:
21
g
|
Saturated Fat:
7
g
|
Cholesterol:
176
mg
|
Sodium:
1117
mg
|
Potassium:
993
mg
|
Fiber:
0.3
g
|
Sugar:
1
g
|
Vitamin C:
1
mg
|
Calcium:
25
mg
|
Iron:
6
mg
|
Net Carbohydrates:
2
g
Nutritional information for the recipe is provided as a courtesy and is approximate. Please double-check with your own dietary calculator for the best accuracy. We at Taste of the Frontier cannot guarantee the accuracy of the nutritional information given for any recipe on this site. Erythritol carbs are not included in carb counts as it has been shown not to impact blood sugar. Net carbs are the total carbs minus fiber.
Love this recipe?
Follow @KleinworthCo for even more tasty recipes!
Reader Interactions