Easy Mac & Cheese is an easy family dinner idea that is ready & on the table in just 30 20 minutes. Rich & creamy & loaded with bacon, this mac & cheese is one of our most requested dinner recipes – ever!
No, that's not a typo. Well, sort of. When I first created this recipe it did take about 30 minutes, give or take to get it on the table. But since then I have found that 20 minutes is about right.
So even though the graphic below says 30 minutes – you will be happy to know that this recipe is even FASTER.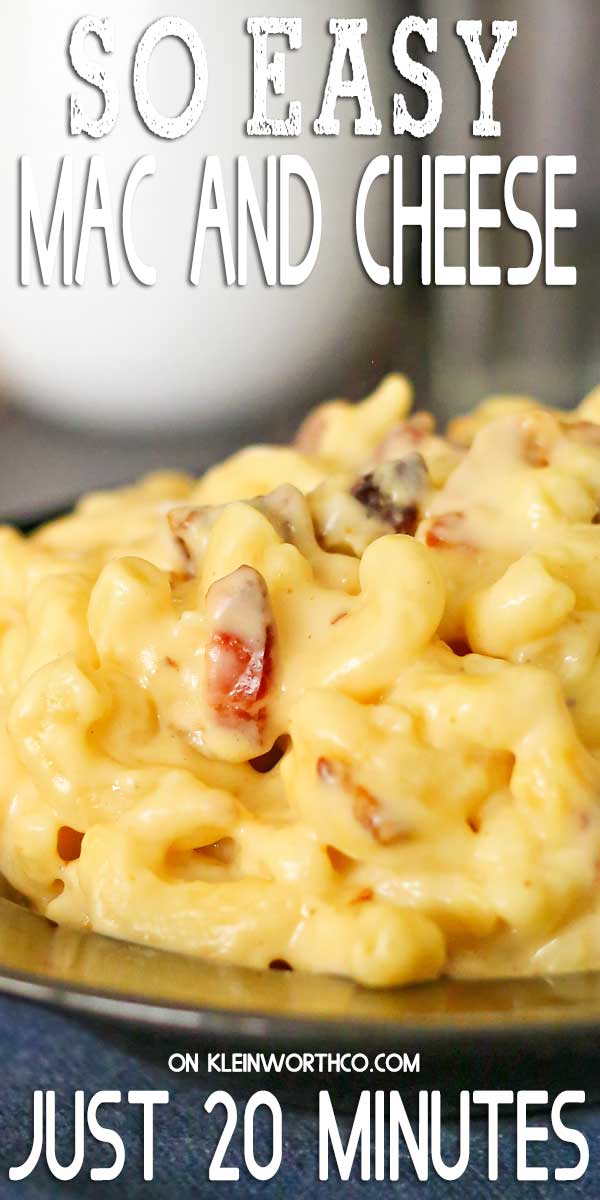 I know it's warming up for most of you & you probably aren't thinking comfort food right now. But when I think of Easy Family Dinner Ideas – the one thing that tops my list is this Easy Mac & Cheese recipe.
I like it because in the cold months I can make a double batch for our main dish. But as it warms up I can make this recipe as a side dish.
stovetop mac and cheese
This post contains some affiliate links. Click here to read my full disclosure policy.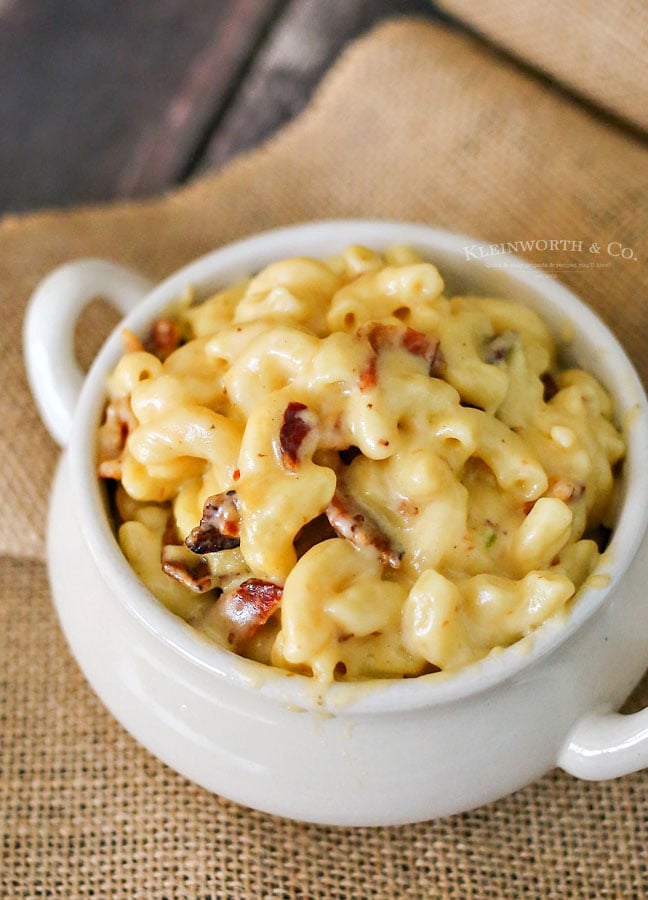 It's great with some BBQ or to bring to a potluck or church gathering. It's an absolute crowd pleaser & I guarantee you will bring home an empty serving dish.
I can't get enough.
This recipe is literally my "go-to" recipe when I need dinner on the table super quick. I always have noodles, cheese & bacon in the house, so whenever I am at a loss for what to make for dinner- this one always comes up a winner.
The whole family LOVES it & when doubled, this recipe makes enough to not only feed my super hungry family of 5 with seconds included, but we also have enough for leftovers the next day too. I bring this to our bunco nights & there's always enough.
Here are some commonly asked questions
Can I make this without the bacon?
Yes, absolutely. The bacon is completely optional.
Can I use bacon bits?
You can. I prefer using the real bacon bits, the ones that are a bit larger when I do it this way. But it really cuts the time & makes this meal fast.
Can I use another type of noodle?
Yes you can. I like to use bowties, sprirals or shells.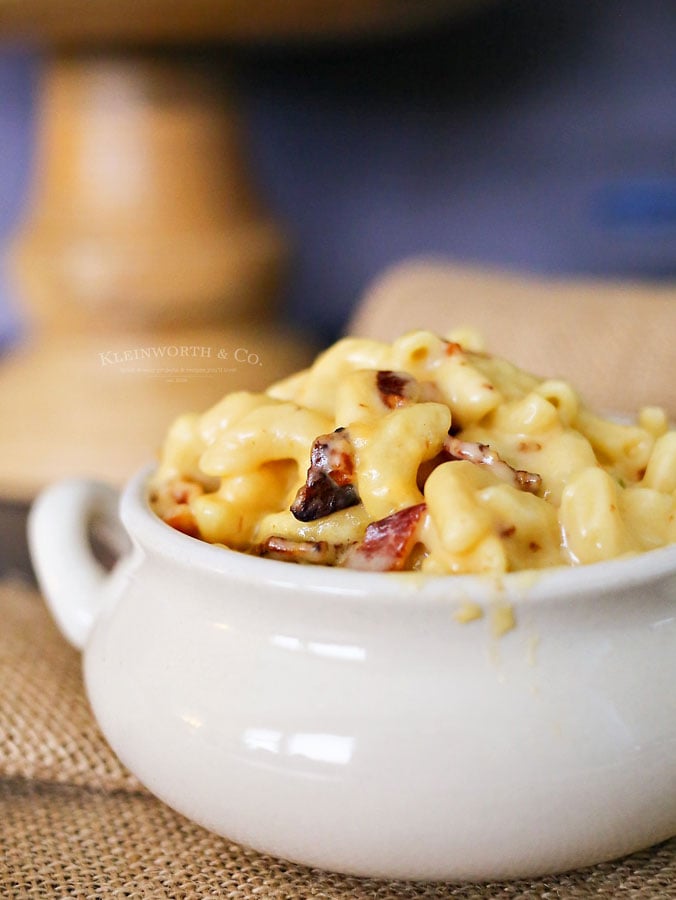 How many can this serve?
This recipe feeds at least 6 helpings, but that will depend on your portion sizes & who you are feeding. I'm feeding 5 adult appetites, and this works well for us.
macaroni and cheese
Can this recipe be doubled?
You can, and we do it often. It makes a TON & gives us dinner for 2 nights – which is great.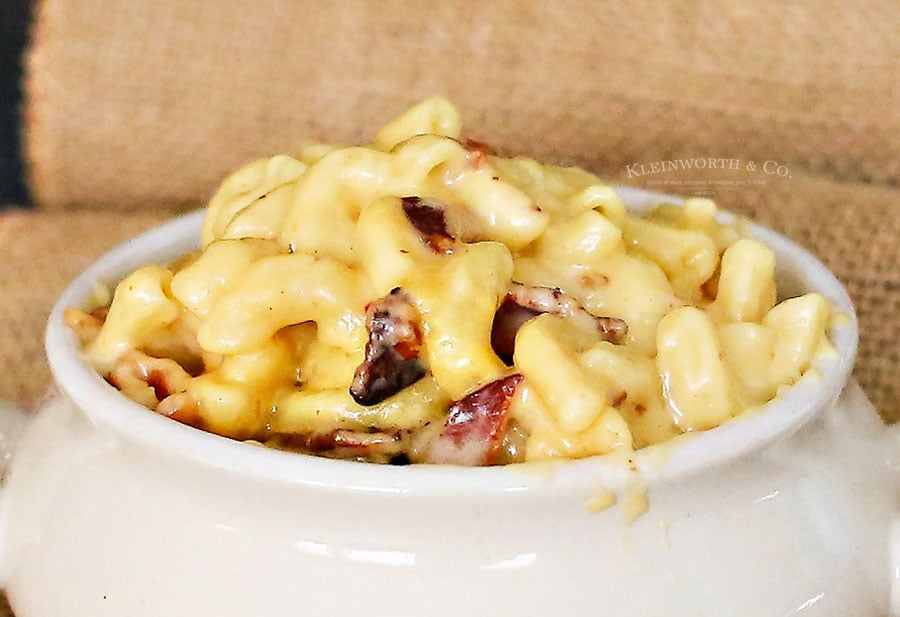 HOW DO YOU MAKE Easy Mac & Cheese?
Cook your bacon- cut & set aside.
Prepare pasta noodles to package directions- cooking al dente so they hold up in the mixing process.
Drain & set aside in large covered pot.
While the water is boiling – Prepare your roux by melting your butter in a large pot over med/high heat.
Once it's almost melted quickly whisk in your flour & seasonings.
Keep it moving & wait for it to darken slightly & come to a thick creamy texture.
Whisk in your half & half & increase your heat to high to get mixture to thicken- keep whisking.
Stir in your cheeses & heat until all cheese is melted & combined – at least 2-3 minutes.
Pour into your pot of noodles- add bacon-
Stir well to combine & coat everything with cheese.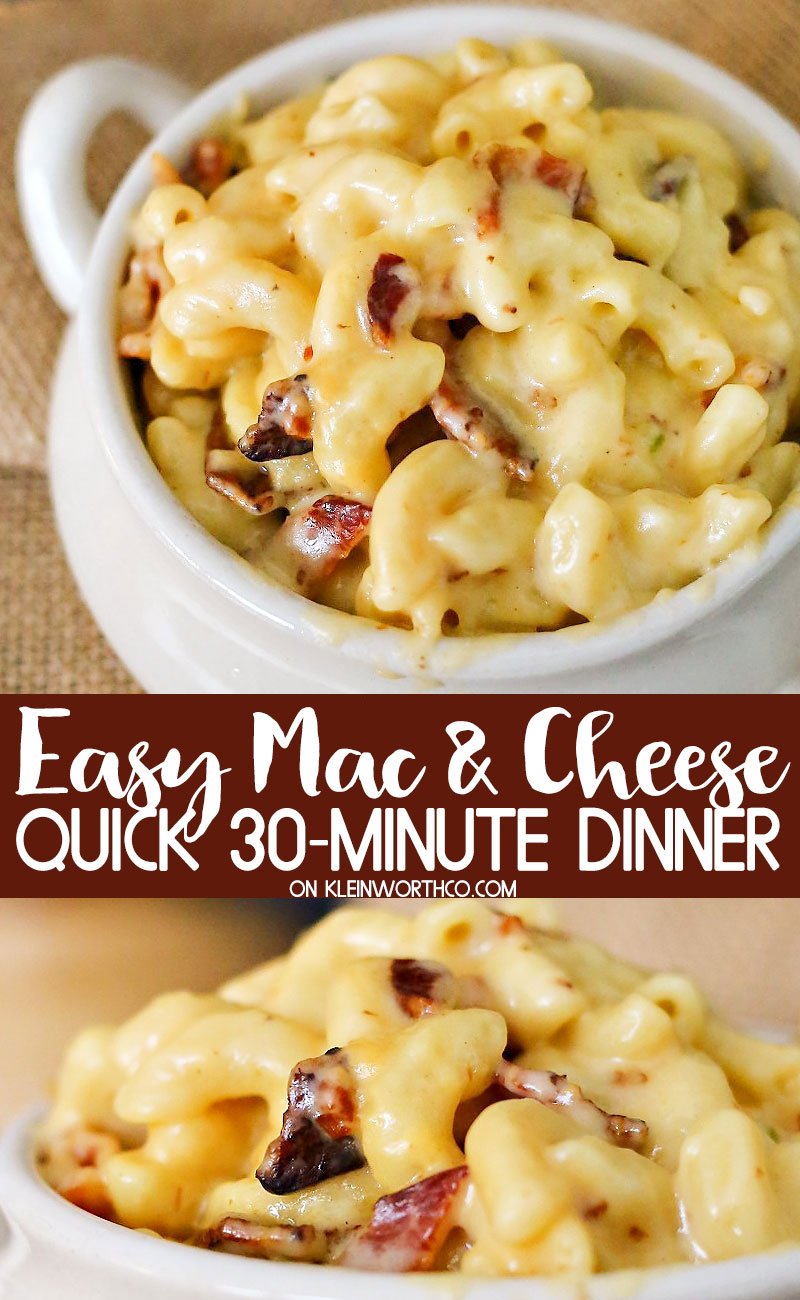 What is the best way to store leftover mac & cheese?
I like to transfer it to an airtight container and refrigerate. When reheating, add a splash of milk & heat, covered for several minutes, stirring every minute.
More Great Mac and Cheese Recipes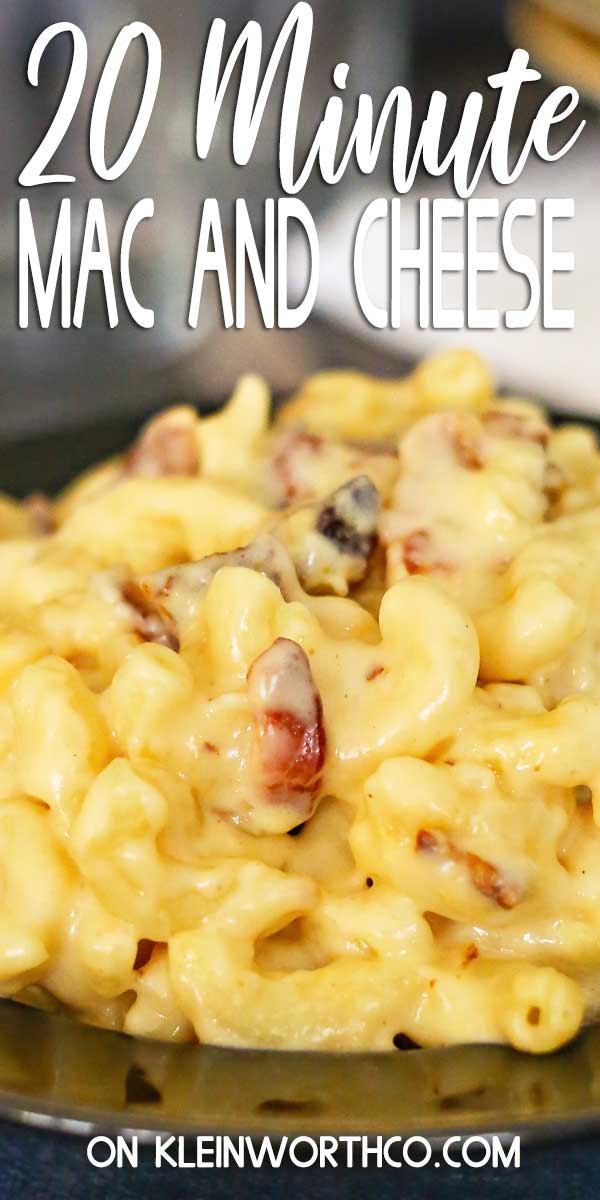 To make Easy Mac & Cheese you will need…
thick bacon
elbow macaroni
stick butter
cup flour
salt
pepper
minced onions
granulated garlic
half & half
shredded mild cheddar cheese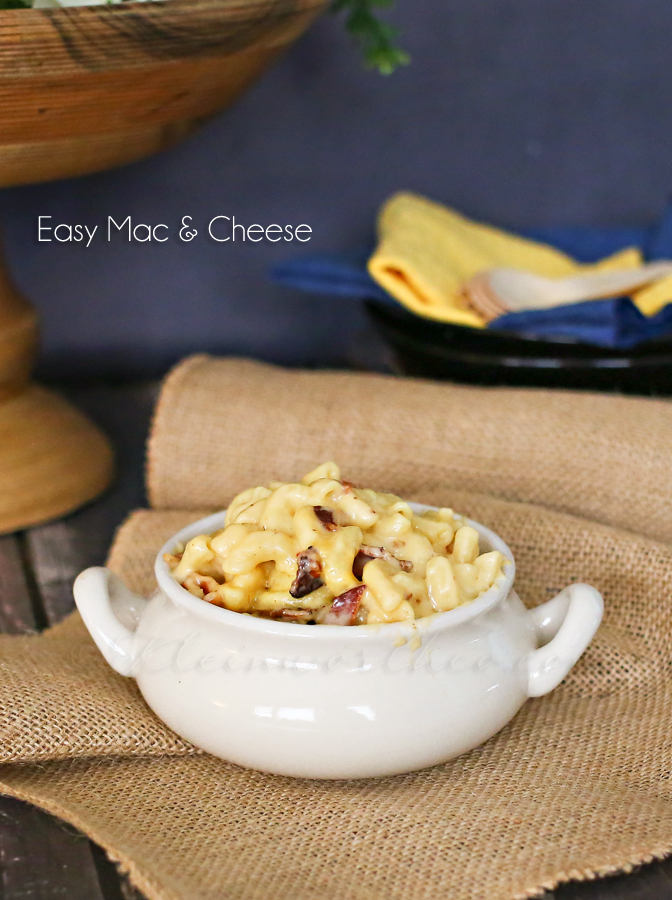 I always make this Easy Mac & Cheese for company. You could remove the bacon if you don't indulge in pork – but if you love bacon….it's the perfect crunchy, salty addition to this creamy goodness.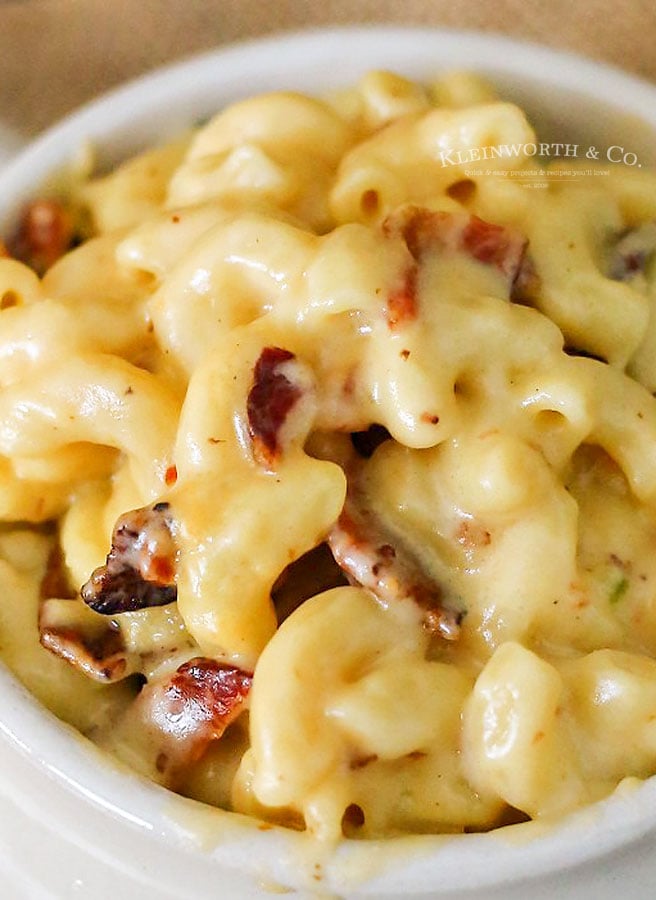 So perfect busy weeknight dinners!
best macaroni and cheese recipe
If you love this Easy Mac & Cheese recipe, you're going to love these other easy dinner recipes too. Please click each link below to find the easy, printable recipe!
recipe for macaroni and cheese
If you love this recipe for homemade mac and cheese as much as I do, please write a five star review, and be sure to help me share on facebook and Pinterest!
This is seriously THE BEST mac & cheese recipe around. It's rich & creamy & absolutely heavenly!
CONNECT WITH KLEINWORTH & CO!
Be sure to follow me on my social media, so you never miss a post!
FB, Pinterest, IG, Email Subscription
Reader Interactions