Easy family dinner ideas like Chicken Noodle Casserole are a great way to have comfort food fast. Amazing chicken recipes like this are always a favorite! I love how quick & easy this dinner is & how much my family loves it.
Love comfort food? What tops your list when you think of comfort food? For me, casserole & soup.
I was craving both the other day & couldn't decide which to make. So I decided to combine the two & create this AMAZING Chicken Noodle Casserole. It was so easily put together.
Love easy chicken recipes? If you want to make a traditional but simple pot pie, check out my
Easy Chicken Pot Pie
recipe.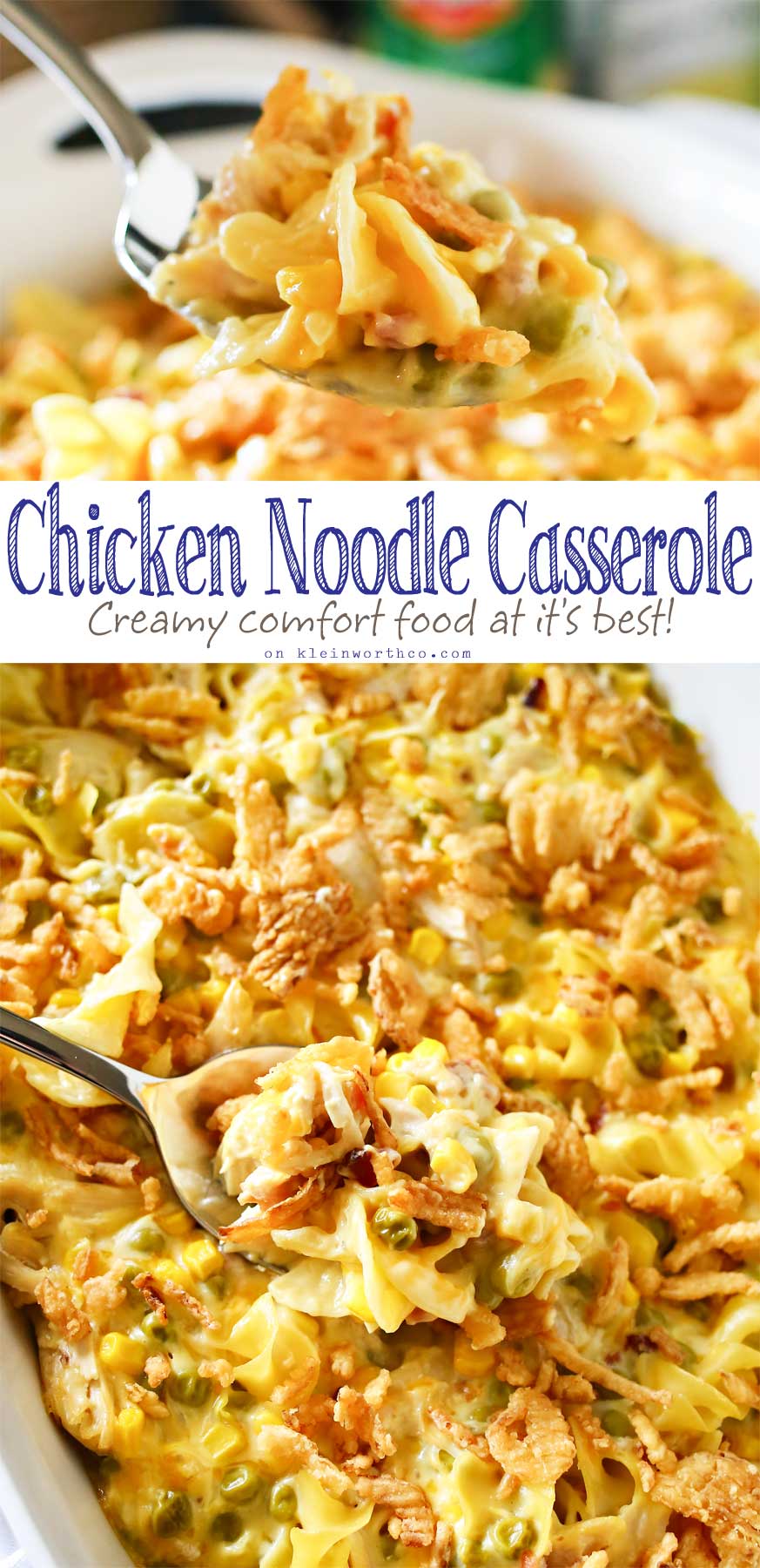 I used some extra pulled chicken I had made the night before- so it was a great use of leftovers. But – you could also use a Rotisserie chicken if you like to buy those.
That makes this dish so simple. I just mixed the ingredients, cooked my noodles- stir, top & bake. I'm not kidding when I say it's beyond easy & the family was raving over it.
chicken noodle casserole recipe
This post contains some affiliate links. Click here to read my full disclosure policy.
This casserole works out great as a make-ahead freezer meal. I just go through the prep & then place it in a foil pan & cover.
Place in the freezer marked with the date & instructions written on the outside. Then when you want to enjoy it – just transfer to the refrigerator the night before to thaw a bit. Then bake at the same temperature for about 15-20 minutes longer- or until hot & bubbling. (this depends on your oven)
I usually double or quadruple this recipe & make a bunch of these to freeze. Then I send a couple back to the apartment with the hubs & keep a couple here too.
So good to have dinner ready with such little effort. When making for dinner that night I use my favorite casserole dish, but those foil pans are so handy for make-ahead meals.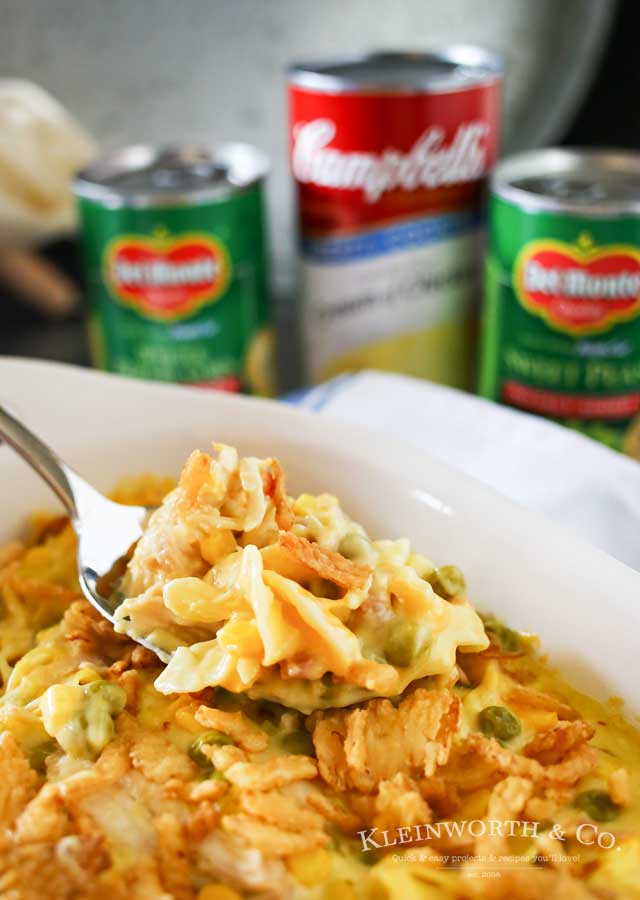 I promise – this one has everyone begging for more!
Here are some commonly asked questions
Can this be made with frozen veggies?
I don't recommend dumping them in while they are frozen. I prefer canned because it keeps the baking time to a minimum. But if you must use frozen, just run them under warm water for a few minutes and drain really well before adding to the mixture.
Can I use cream of mushroom soup instead?
Absolutely! We love using cream of mushroom, cream of celery, whatever we have on hand at the time.
What is the best way to store leftover casserole?
After serving, place any leftover casserole in a shallow airtight container. Be sure to label with the date before refrigerating. The casserole should keep for up to 3 days. As with most things, it is important to get food into the refrigerator within 1 hour after serving to prevent bacteria growth.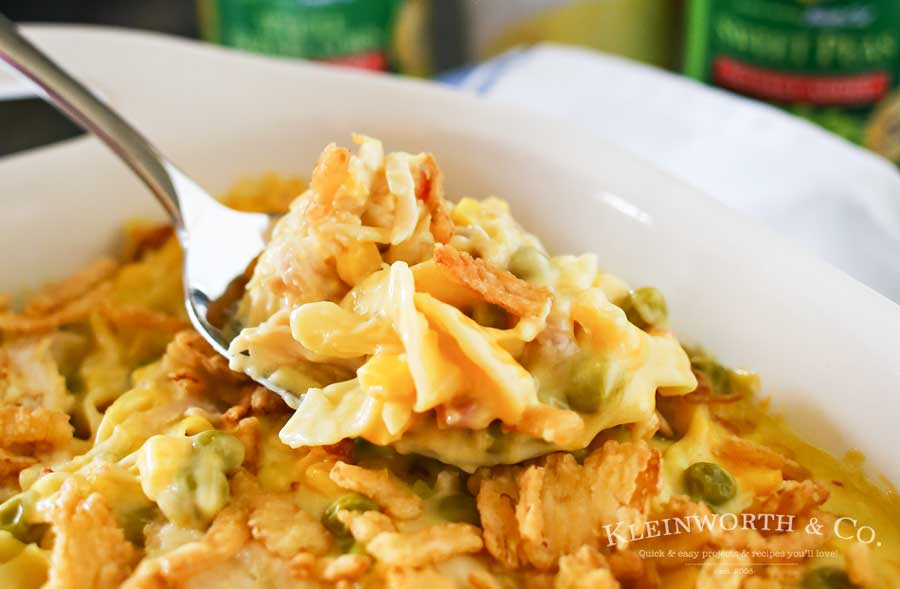 Why use a shallow container to store the leftovers?
Well, when the container is shallow, the contents chill faster than if you were to use a large, deep container. Ideally, you don't want it to take too long for the leftovers to get to their chilled/stored temperature. As I mentioned, if the food remains above about 35 degrees for more than 1 hour after cooking, the bacteria starts to grow.
So, if the deep container of food takes several hours to finally get to that 35 degrees, the bacteria has been growing in your leftovers for those several hours. Not exactly what you want to happen.
How many can this serve?
This will depend greatly on portion sizes & the appetites of your crowd. We typically get 2 nights out of this recipe for our family of 5. (we have 3 adult children)
chicken noodle casserole
Can this recipe be doubled?
Yes, you can double this recipe. But due to constraints on how much the pan can hold, you might have to do 2 baking pans and bake them side-by-side.
HOW DO YOU MAKE CHICKEN NOODLE CASSEROLE?
Preheat oven to 350 degrees.
Spray 9×13 casserole dish with cooking spray- set aside.
Cook noodles to package directions (usually boil for 6-8 minutes) drain & place in a large bowl.
Add in cooked chicken, corn, peas, condensed soup, milk, minced onions, granulated garlic, cheese & bacon bits.
Fold to combine & transfer to prepared baking dish.
Top with french fried onions.
Bake 25-30 minutes or until bubbling & hot throughout.
**Note: per reader feedback I do not advise substituting the egg noodles with another kind, such as elbow macaroni. Those tend to soak up more of the moisture & leave the casserole dry.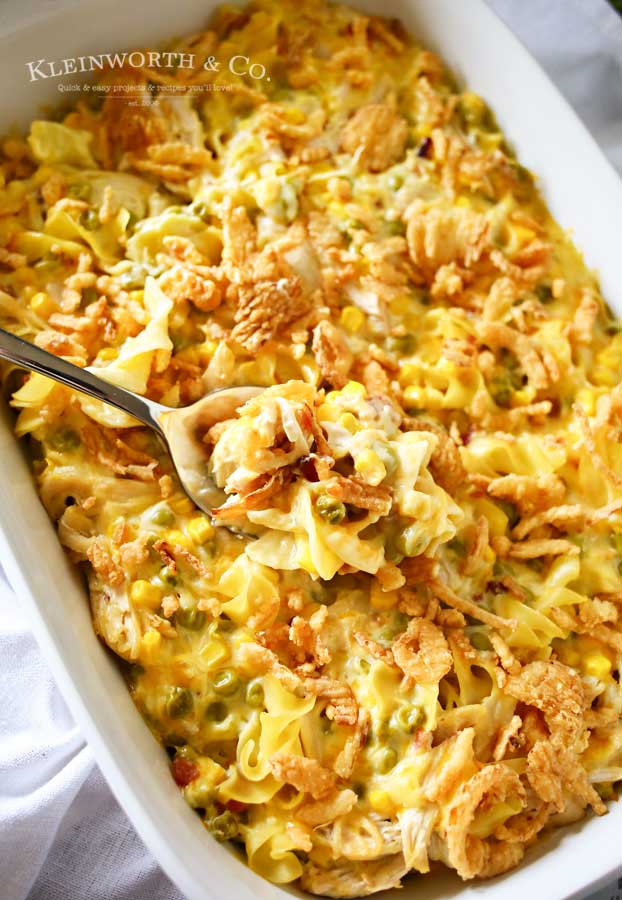 Can this be made with frozen chicken?
I don't recommend trying to make this recipe with frozen chicken. This recipe works best with leftover or rotisserie chicken. You can also used canned chicken if needed.
Chicken and Noodle Casserole
To make this recipe you will need…
uncooked egg noodles
shredded chicken- leftovers are great for this or rotisserie chicken
whole kernel corn
sweet peas
milk
cream of chicken condensed soup
minced onions
granulated garlic
shredded colby jack cheese
bacon bits
french dried onions
Products I love when making this chicken noodle casserole recipe…
This chicken noodle casserole recipe is so EASY and delicious – and if you're like me, then you probably already have many of these items on hand OR maybe you have never made a casserole before, & you might be a bit nervous – but you're going to love the how simple this recipe is. I have made a list below of the things I absolutely can't live without when it comes to making this easy dinner.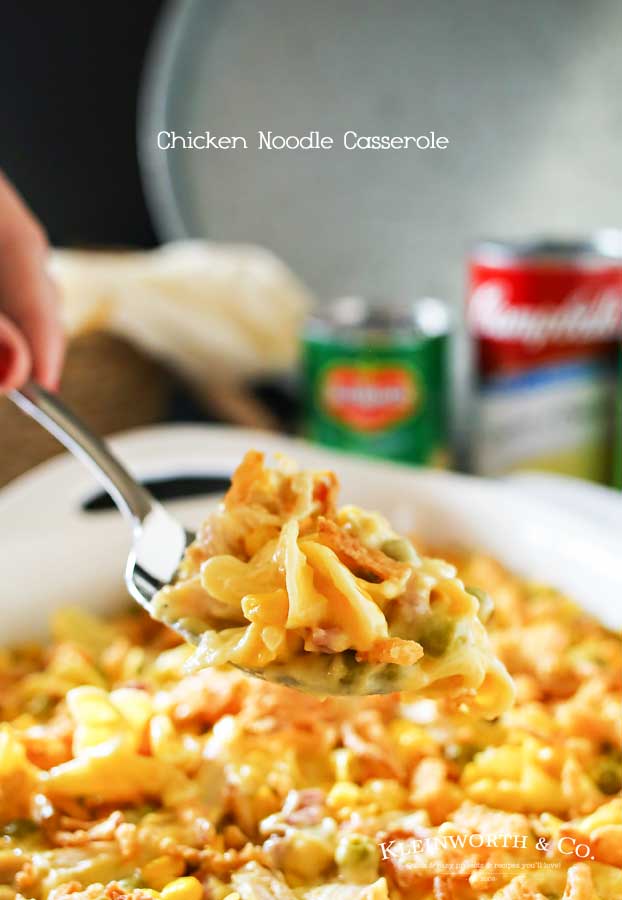 Look at that! You'll love it!!
Creamy Chicken Noodle Casserole
If you love this easy chicken casserole recipe, you're going to love these other delicious recipes too. Please click each link below to find the easy, printable recipe!
Chicken Egg Noodle Casserole
If you love this easy Chicken Noodle Casserole recipe as much as I do, please write a five star review, and be sure to help me share on facebook and pinterest!
CONNECT WITH KLEINWORTH & CO!
Be sure to follow me on my social media, so you never miss a post!
FB, Pinterest, IG, Email Subscription
Chicken Recipes
Don't miss these great ideas from these bloggers….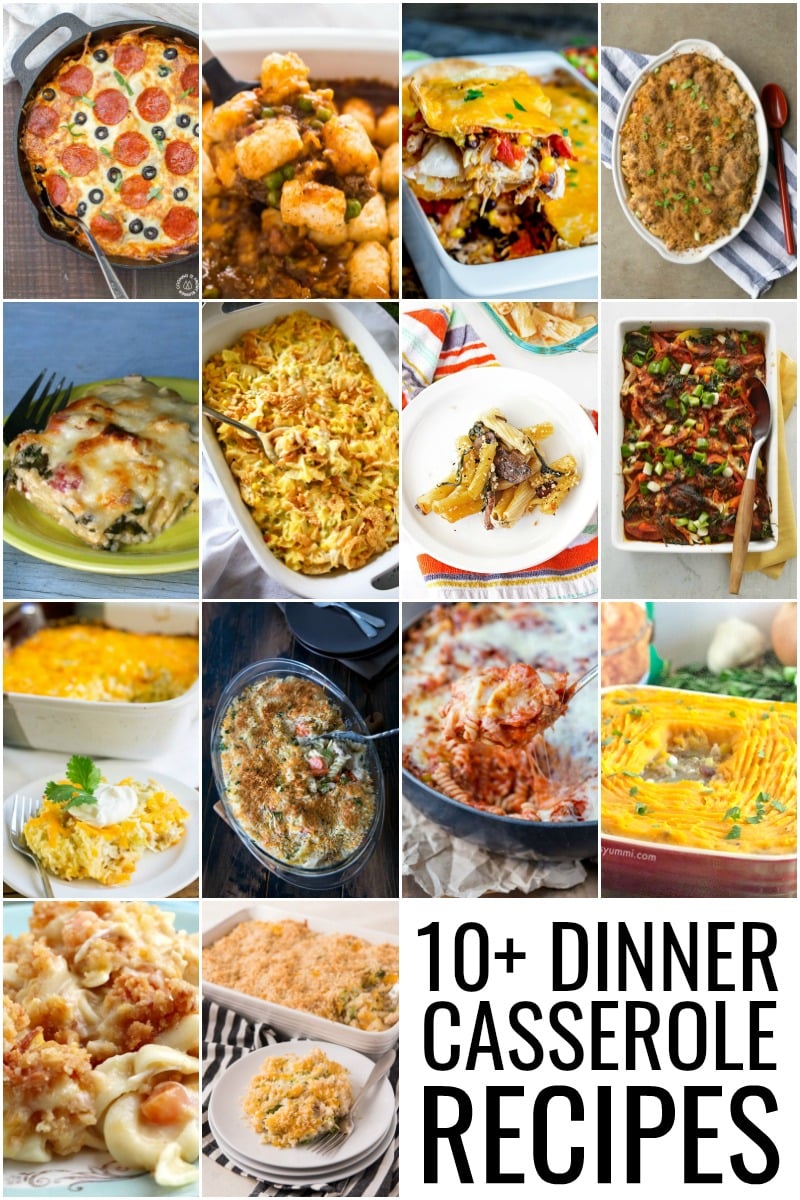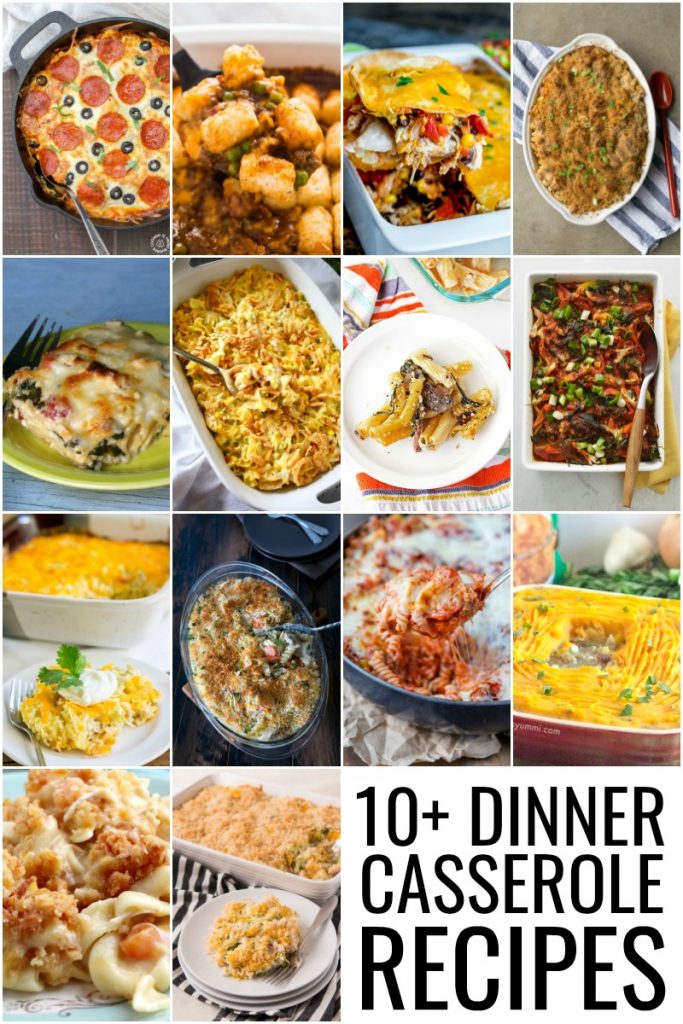 Sweet Potato Shepherd's Pie Casserole from It's Yummi!
Chicken Tetrazzini Casserole from Barbara Bakes
Spinach & Chicken Enchiladas Bake from Tara Teaspoon
Chicken Noodle Soup Casserole from Frugal Foodie Mama
Pizza Pasta Casserole from I Heart Eating
Ham & Mac Casserole from Around My Family Table
Green Chile Chicken and Rice Casserole from Bread Booze Bacon
Spinach & Mushroom Alfredo Baked Ziti from It Bakes Me Happy
Chicken Tortilla Casserole from Home.Made.Interest.
Bacon Cheeseburger Tater Tot Casserole Recipe from The Life Jolie Blog
Chicken & Spinach Pasta Bake from The Two Bite Club
Pizza Tortellini Skillet Casserole from Cooking on the Front Burner
Cheesy Chicken Broccoli & Rice Casserole from House of Nash Eats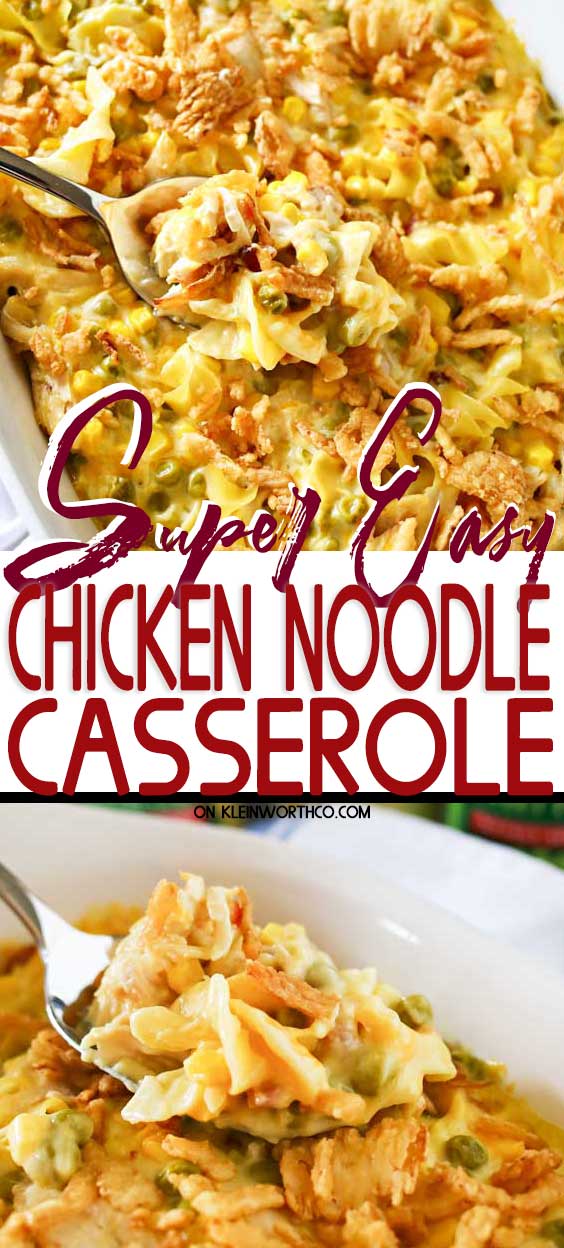 Reader Interactions