Tuscan Ravioli Soup is a hearty dinner recipe that is easy to make in about 30 minutes. Loaded with beef, sausage, spinach & cheese, this will rival any restaurant around. Delish!
It's been COLD here. Yes, I live in North Idaho – it's supposed to be cold this time of year. I know. But this So Cal girl craves some comfort food when the snow is falling & it's all chilly outside.
Easy Family Dinner Ideas are what I'm after. I have been craving a tomato-based soup since I made my Creamy Tomato Tortellini Soup several months back.
Scroll to the bottom for the Printable Recipe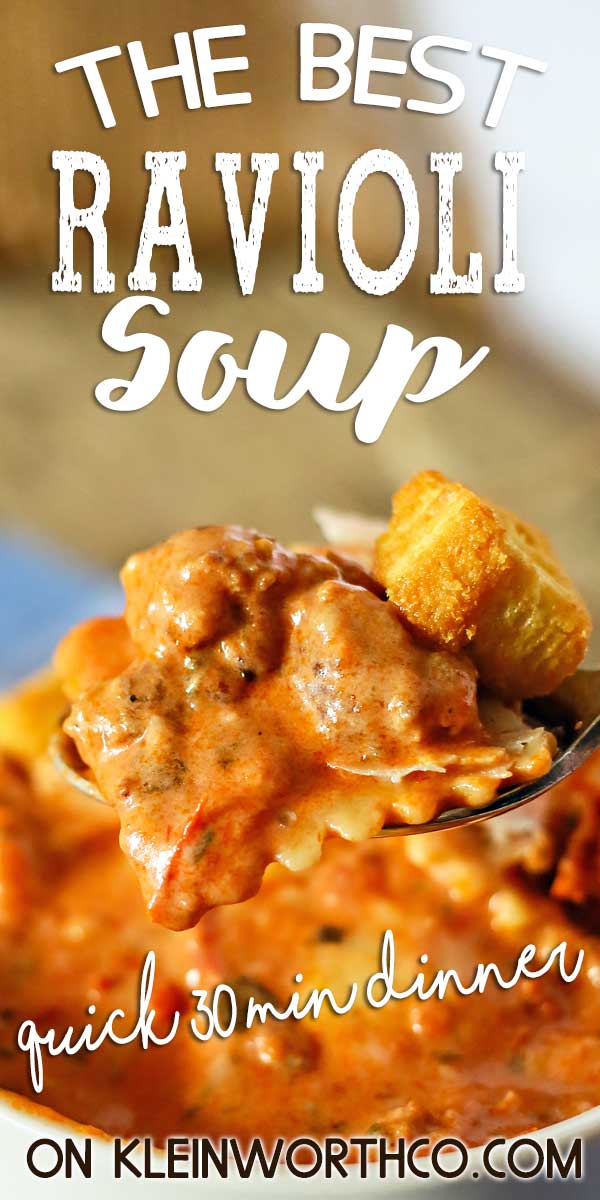 Then one day the hubs was asking me what I was going to do with all the leftover baby spinach leaves we had from our last batch of spinach dip. It popped into my head at that moment – a delicious tomato & spinach soup with sausage & ravioli & Parmesan cheese.
Oh my – the house smelled amazing- dinner tasted phenomenal. By far the best soup I have ever made. This one goes on the "for company" list. 🙂
ravioli soup
This post contains some affiliate links. Click here to read my full disclosure policy.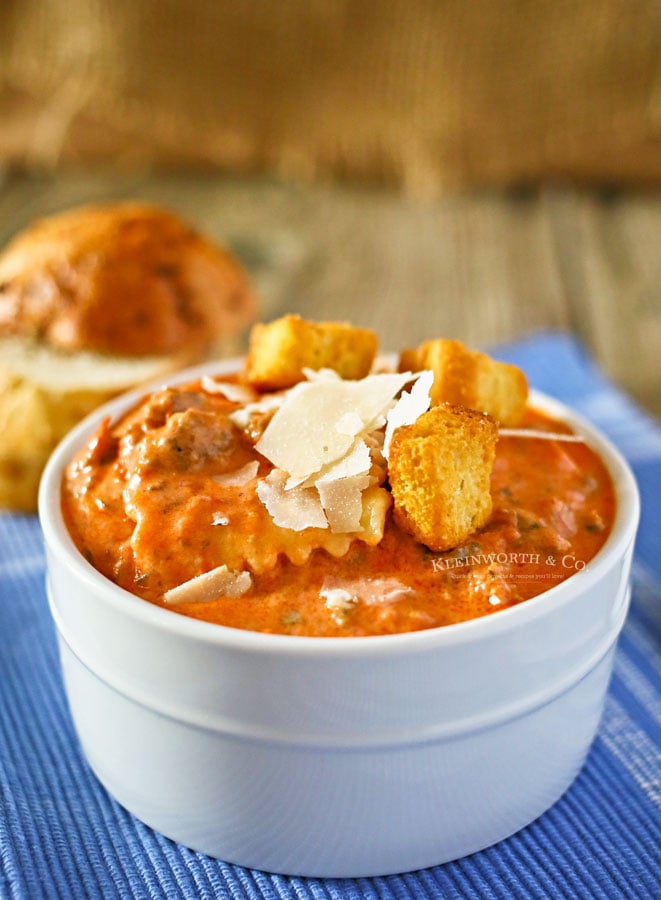 Oh my word- I can not adequately describe how amazing this tastes. The pictures do not do it justice – all I can say is YOU HAVE TO MAKE THIS. I would order this at any restaurant and it would be my "go-to" choice every time.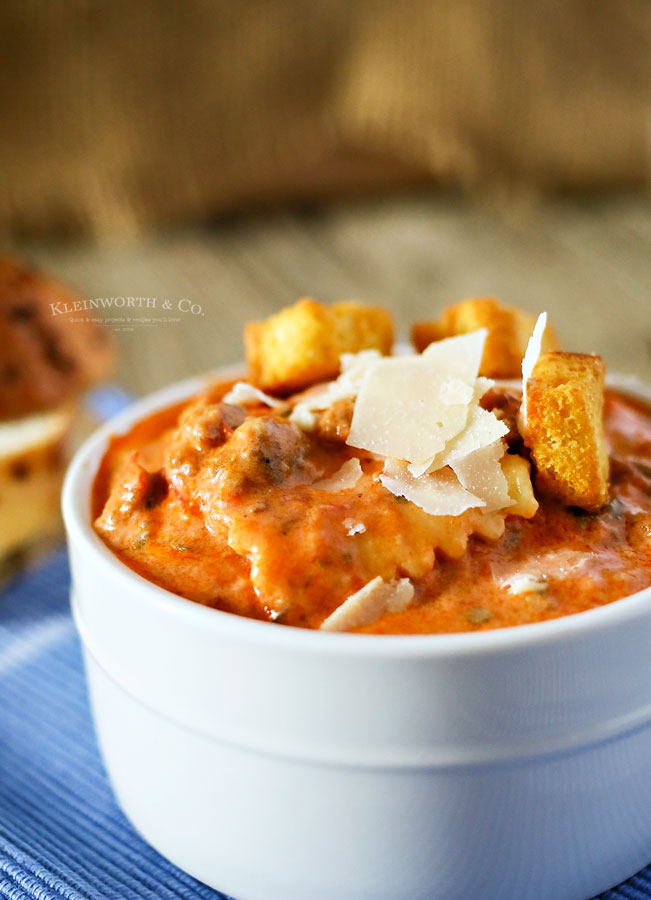 Top with some croutons & Parmesan cheese- Mmmmmm. Perfect for these winter days.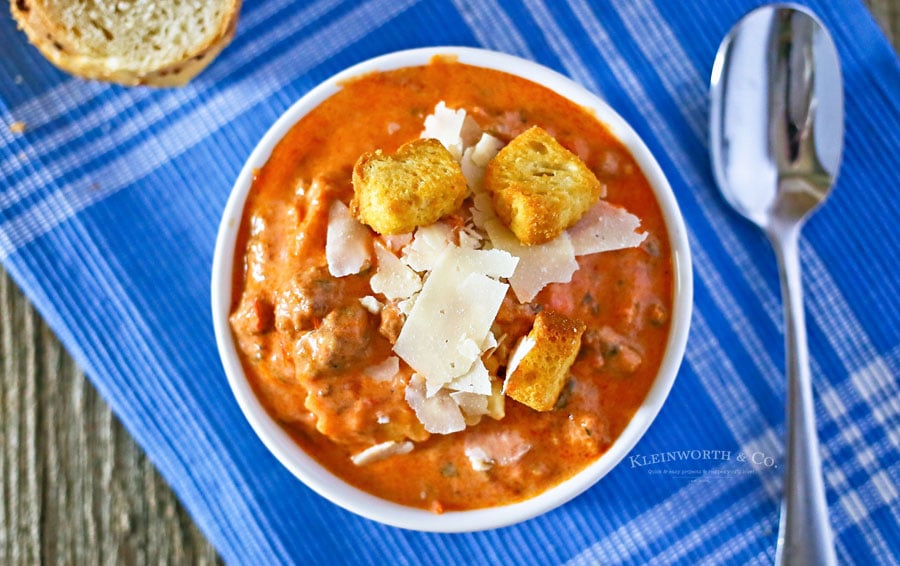 Here are some commonly asked questions
Can I use tortellini or another noodle?
Yes, absolutely, that will work just fine. This recipe is great with any noodle, but to maintain the heartiness of the soup I'd stick with either ravioli or tortellini.
Can this ravioli soup be frozen?
I have never had great luck with freezing pasta. It always tends to fall apart and become quite a mushy mess when thawed. I don't recommend freezing this recipe.
Ravioli Soup Recipe
HOW DO YOU MAKE Tuscan Ravioli Soup?
Brown the sausage & ground beef in a large skillet over med-high heat. Set aside.
In a large stockpot, cook the ravioli to package directions and drain. Set aside.
Add the minced onions to a separate large stockpot with the garlic paste and butter. Saute until soft & caramelized.
While the onions and garlic are cooking, pulse the spinach in a food processor until cut unto small flake sized pieces.
Once onions & garlic are soft, add the browned ground sausage and ground beef, chopped spinach, crushed tomatoes, chicken stock, salt and pepper.
Bring to a boil- stirring frequently. Continue to boil 5-10 minutes.
Reduce heat and slowly add in the half & half – stir well.
Bring the soup to a simmer- Do Not Boil. Simmer about 5 minutes.
Add in Parmesan cheese & cooked ravioli.
Stir until the cheese has melted. Serve with croutons & more cheese on top.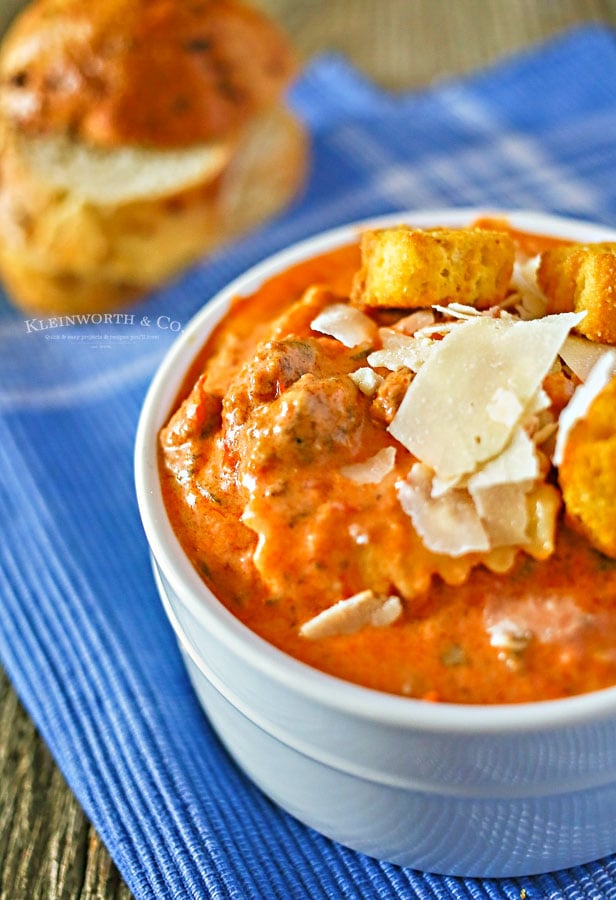 How many can this serve?
This will depend on the size of your portions. I can feed my family of 5 (with 3 adult children) for 2-3 nights with this recipe. This makes a lot of soup, which is great when schedules are busy and we don't have time for cooking.
Can this recipe be doubled?
This recipe already makes a LOT of soup, so I don't recommend doubling unless you have a very large pot and a lot of room for leftovers. But if you have the capacity, this is a great soup when feeding a large crowd.
Can this recipe be cut in half?
Absolutely. If you don't have a lot of people to feed, or you just don't want a ton of leftovers – this recipe is easily cut in half and will still make plenty for most families.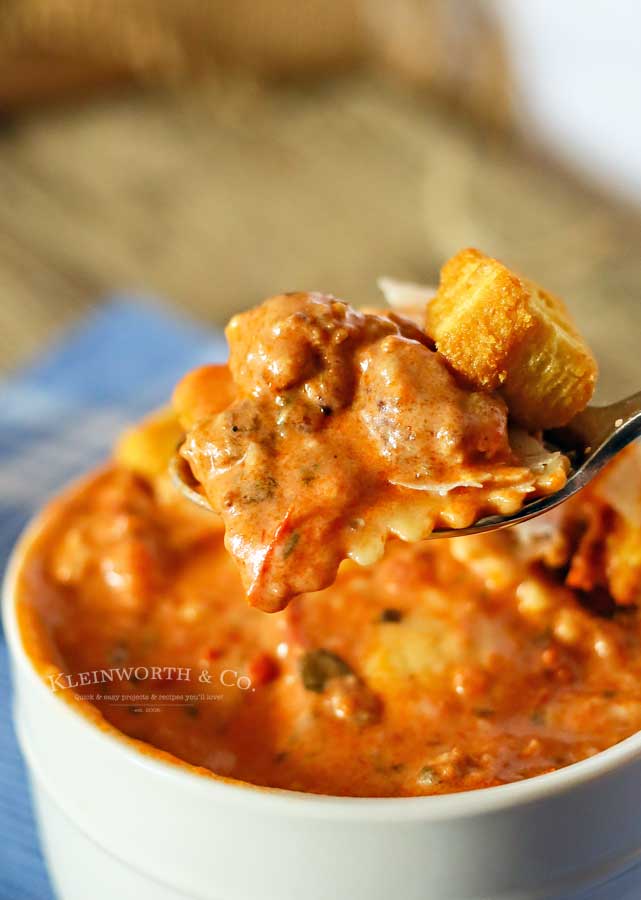 What is the best way to store leftover ravioli soup?
After serving, place leftover soup in a shallow airtight container. Be sure to label with the date before refrigerating. This recipe should keep for up to 3 days. As with most things, it is important to get food into the refrigerator within 1 hour after serving to prevent bacteria growth.
Why use a shallow container to store the leftovers?
Well, when the container is shallow, the contents chill faster than if you were to use a large, deep container. Ideally, you don't want it to take too long for the leftovers to get to their chilled/stored temperature. As I mentioned, if the food remains above about 35 degrees for more than 1 hour after cooking, the bacteria starts to grow.
So, if the deep container of food takes several hours to finally get to that 35 degrees, the bacteria has been growing in your leftovers for those several hours. Not exactly what you want to happen.
To make Tuscan Ravioli Soup you will need…
ground sausage
ground beef
fresh ravioli
minced onions
garlic paste
butter
baby spinach leaves
crushed tomatoes
chicken stock
salt
pepper
half & half
shredded Parmesan cheese
garnish with croutons & extra cheese when serving
Products I love when making tomato ravioli soup…
This quick soup recipe is SUPER EASY and delicious – and if you're like me, then you maybe already have some of these items on hand OR maybe you have never made homemade ravioli soup before, & you might be a bit nervous – but you're going to love it. I have made a list below of the things I absolutely can't live without when it comes to making this dinner recipe.
If you love this Easy Creamy Ravioli Soup recipe, you're going to love these other dinner recipes too. Please click each link below to find the easy, printable recipe!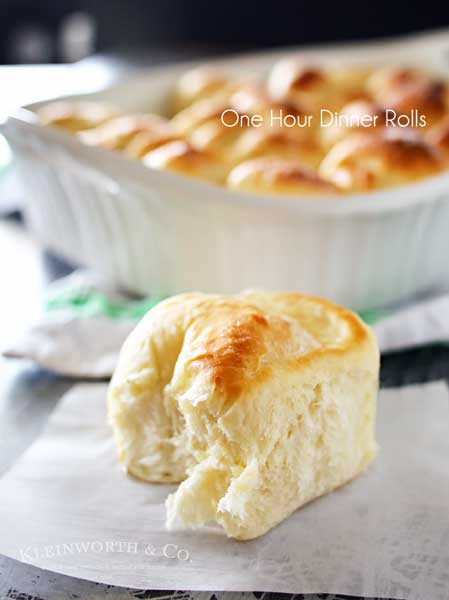 Pair with these One Hour Dinner Rolls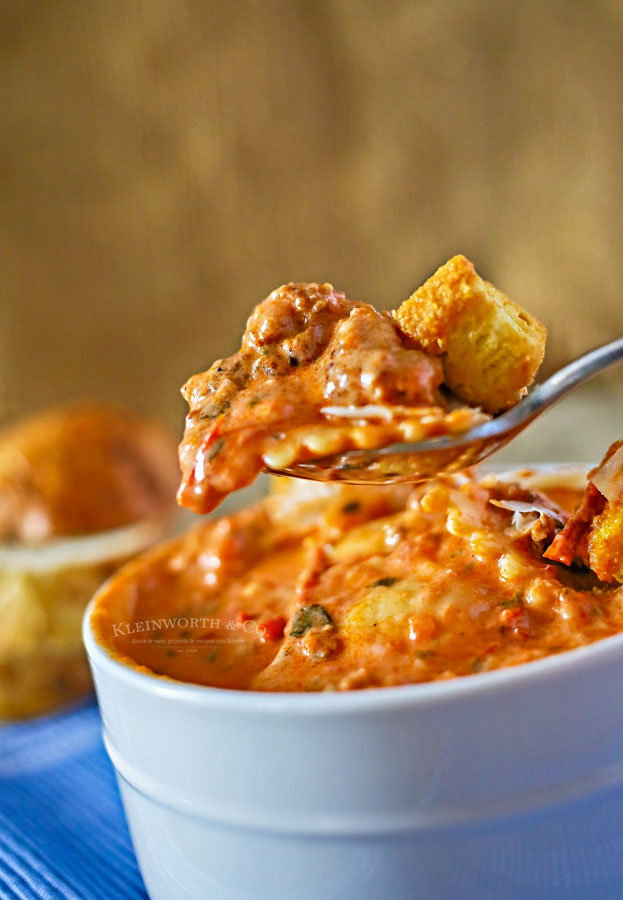 sausage ravioli soup
If you love this recipe for Homemade Tuscan Ravioli Soup as much as I do, please write a five-star review, and be sure to help me share on Facebook and Pinterest!
CONNECT WITH KLEINWORTH & CO!
Be sure to follow me on my social media, so you never miss a post!
FB, Pinterest, IG, Email Subscription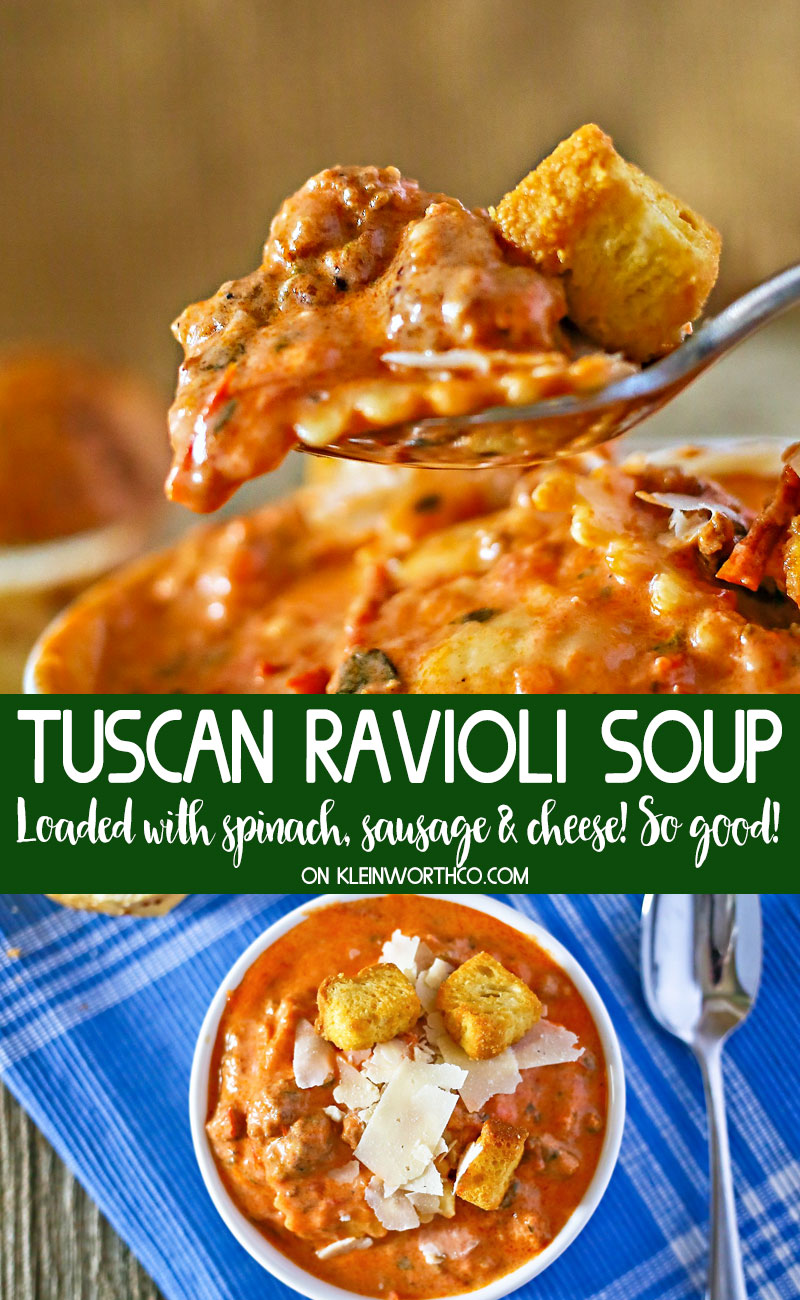 Reader Interactions