Sugar Cookie Truffles are the perfect no-bake holiday treat. With only 4-ingredients, this easy dessert is perfect for parties, food gifts & more!
As if the truffle or sugar cookie weren't delicious enough by themselves, we have upped the ante by 10 fold here my friends! For many years we have been working at finding new ways of putting a spin on the traditional sugar cookie.
But imagine biting into a delicious, soft sugar cookie and next thing you know a truffle has blended its deliciousness with your sugar cookie!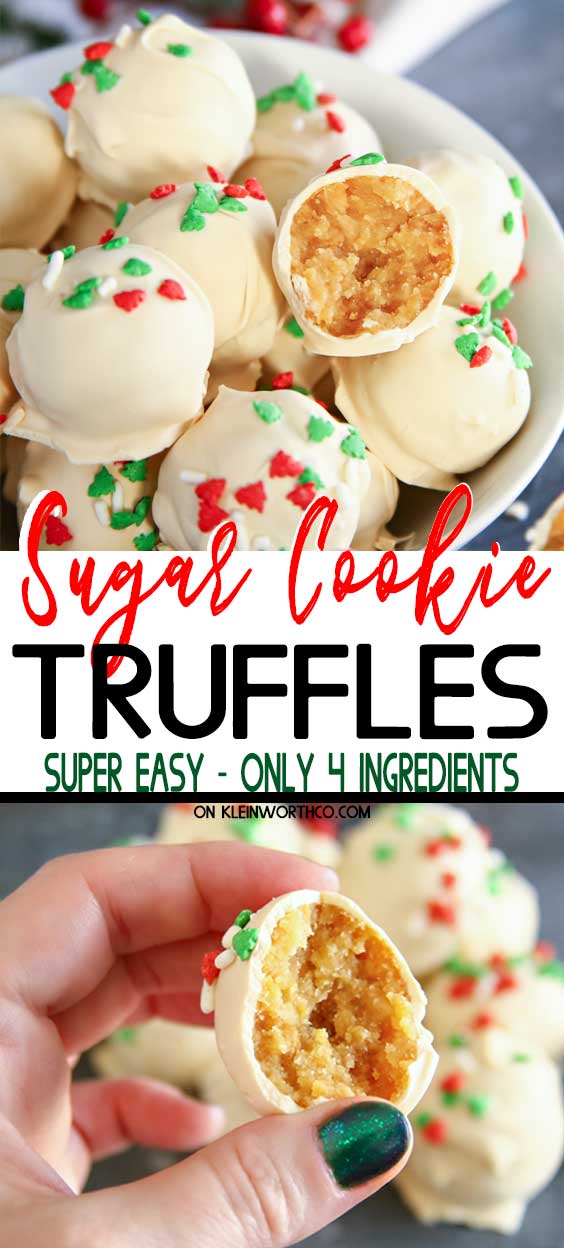 You will love this new taste & twist on the traditional truffle & sugar cookie. This one makes your taste buds dance! You will love seeing the enjoyment of your friends and family faces as they also discover this amazing new taste.
Making things that bring happiness to those you care about is love! You can't help but feel those familiar feelings that you experienced as a kid when grandma would put out a special plate of delicious treats out for you.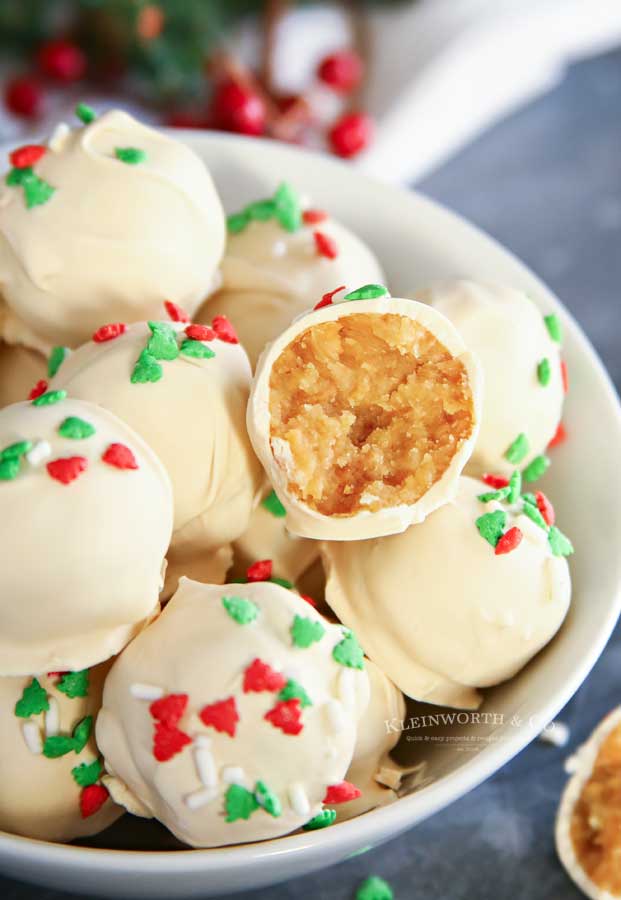 I know that I can feel the love with each and every bite and as your eyes close you allow the taste to take you away to your happy place too! You can't lose with this amazing mouth-watering treat and it will quickly become a new favorite in your household.
holiday truffles recipe
This post contains some affiliate links. Click here to read my full disclosure policy.
So put your apron on and get busy! Your friends and family will be over the top with the taste of these two amazing treats brought together as one!
You really can't go wrong with just how easy & delicious these are. Our family loves them & I'm sure your's will too.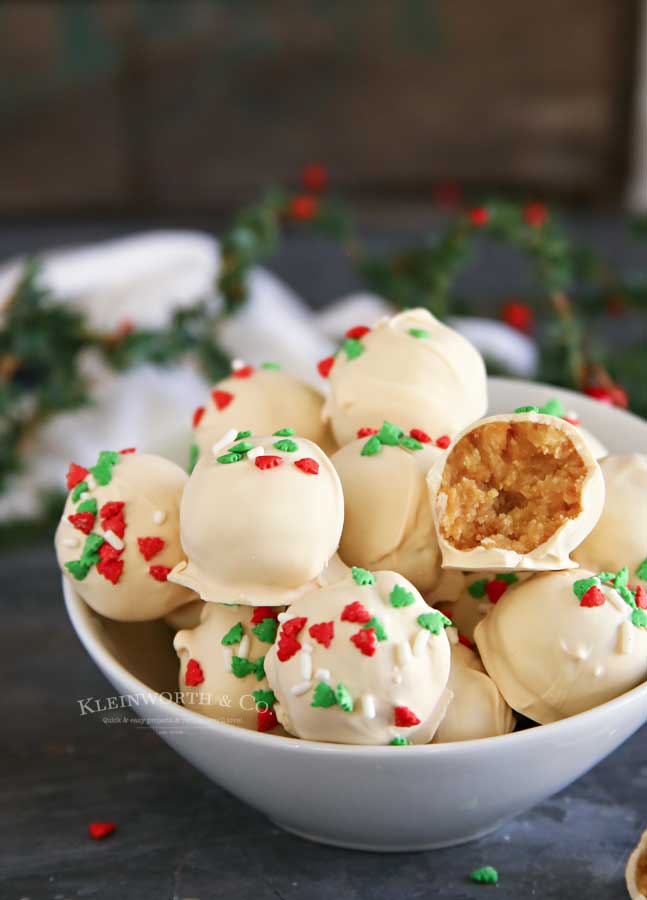 sugar cookie balls
These are great not only for holiday parties but I know our neighbors love receiving them as gifts too.
But since everyone loves sugar cookies, these truffles can be made in a variety of different themes for all the holidays, birthday parties, bridal showers & so much more!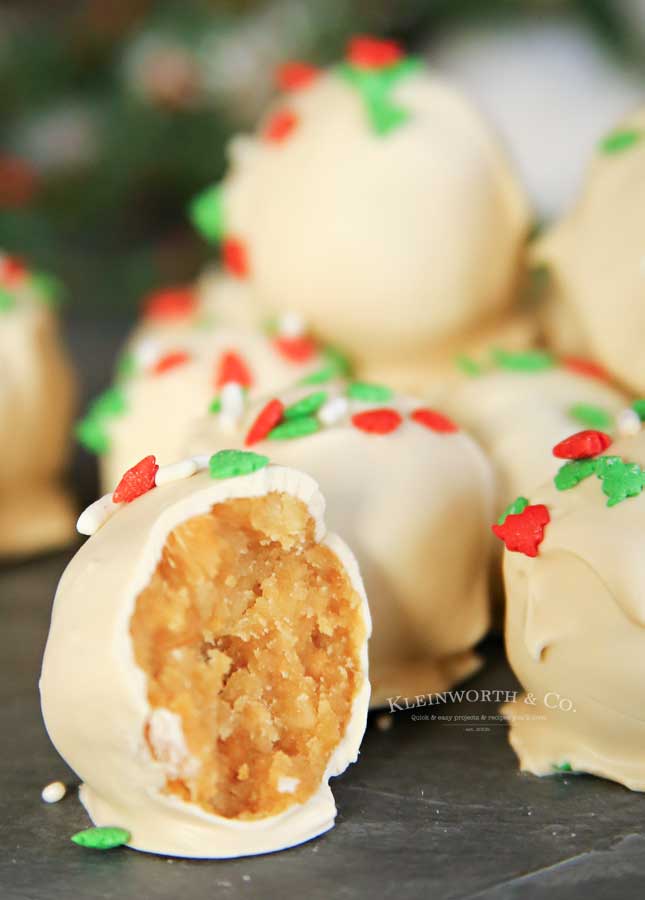 Here are some commonly asked questions
Can I use store-bought cookies?
Absolutely. If you don't have extra sugar cookies laying around, you can pick up some sugar cookies from the bakery at your grocery store. Make sure they are the harder sugar cookies – not the Lofthouse-style soft ones. Those won't work for this recipe. You need the harder crumbles for these truffles.
Can this recipe be doubled?
Yes, if you are making this for a large crowd or giving away as gifts, you can definitely double this recipe. It is easy to do & everyone will love having more of these around.
What other truffle recipes do you suggest?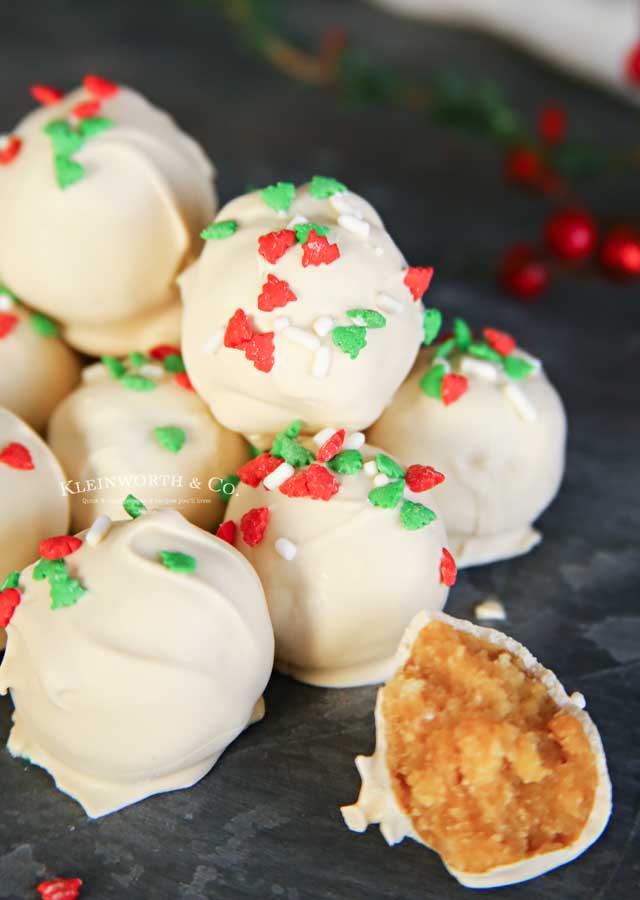 HOW DO YOU MAKE Sugar Cookie Truffles?
Line a large baking sheet with parchment paper & set aside.
Place the sugar cookies in a food processor & pulse until you have fine crumbs.
Add in cream cheese & process again until well-combined.
Scoop 1 tbsp of dough mixture & roll between hands to form 1″ balls & then place on prepared baking sheet.
Place the rolled dough into the freezer for about 30 minutes.
While the dough is chilling you can melt the chocolate by placing in a microwave-safe bowl & heating in the microwave at 50% power for 30 seconds.
Stir & microwave again for 20 seconds at 50% power level.
Continue until chocolate is smooth.
Remove the chilled dough from the freezer.
Use 2 forks to dip the chilled dough balls into the melted chocolate, turning to coat. Tap off any excess chocolate before returning the truffle to the baking sheet.
Immediately top with desired sprinkles.
Repeat the process until you have coated all of the chilled dough balls.
christmas truffle recipe
Can I freeze sugar cookie truffles?
Yes, but make sure you freeze after you coat them in chocolate. The freezer can dry out the dough over time. This will result in a crumbly center – which is not what you want when making truffles. Truffles are meant to be creamy & smooth in the center.
To make this recipe you will need…
sugar cookies
cream cheese
white chocolate candy melts
sprinkles
What is the best way to store leftover truffles?
The easiest way is to place in a large airtight container & store at room temperature. I like a large plastic bowl with a lid or a zip-top bag works great too. If you live in an unusually warm climate, you might want to keep these in the refrigerator.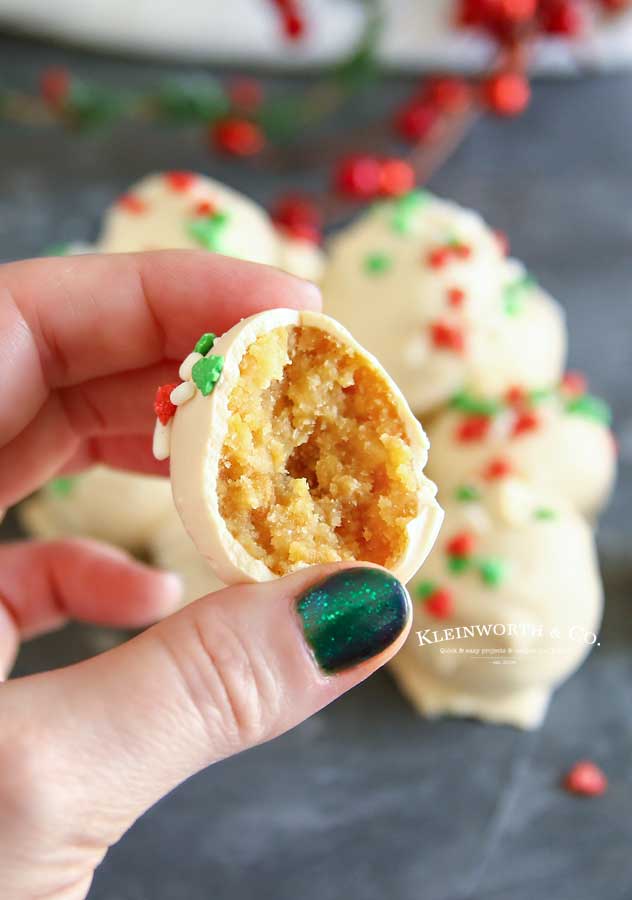 What are the best sprinkles for these truffles?
This is important – just because the package says "sprinkles" doesn't necessarily mean that it is in-fact sprinkles. I see a lot of people using colored sanding sugar that is labled as sprinkles. This will not work as well because when that sugar gets wet – like when sprinkled on top of melted chocolate or when placed in the refrigerator, it will sweat & the color will bleed out.
To avoid this – use jimmies instead. These are real sprinkles & will not only keep their color, but they won't dissolve over time either.
How many does this serve?
This recipe makes about 18 truffles. So, plan accordingly. It is the perfect size for our family of 5 to enjoy or to have along with other desserts at a party or to give away as a gift. But if you aren't going to have a lot of other desserts available – these will go quite quickly.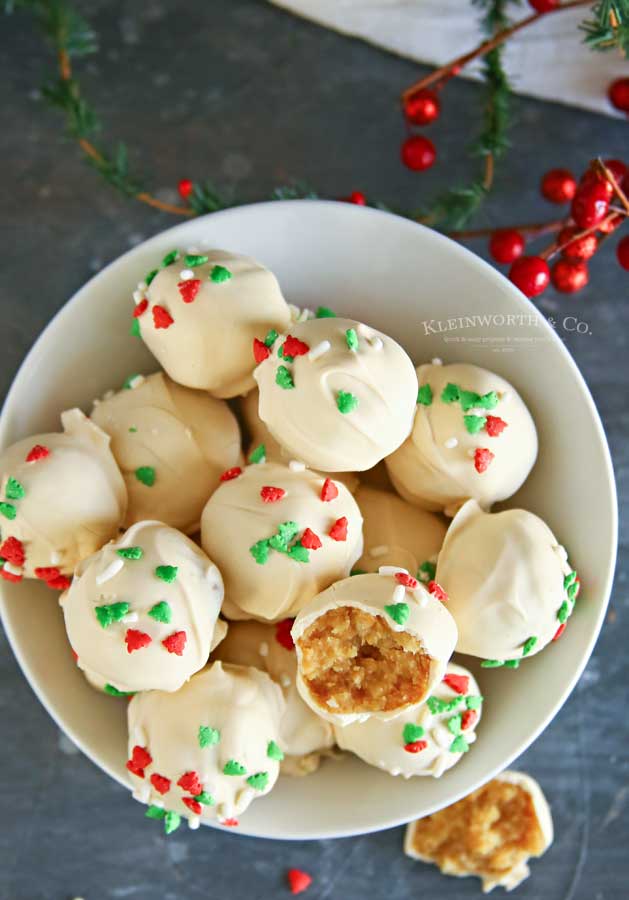 Products I love when making Sugar Cookie Truffles…
This Sugar Cookie Truffle recipe is so simple to make – and you probably already have many of these items on hand this time of year just like I do! OR If you've never made your own truffles before, you might be hesitant – but I know you are going to love this recipe for the holiday season. I have made a list below of the things I absolutely can't live without when it comes to making this truffle recipe.
If you love this Sugar Cookie Truffles recipe, you're going to love these other holiday treat recipes too. Please click each link below to find the easy, printable recipe!
Check out these awesome ideas too…
Reindeer Chow | Dinner at the Zoo
Candy Cane Pretzel Bark | Inside BruCrew Life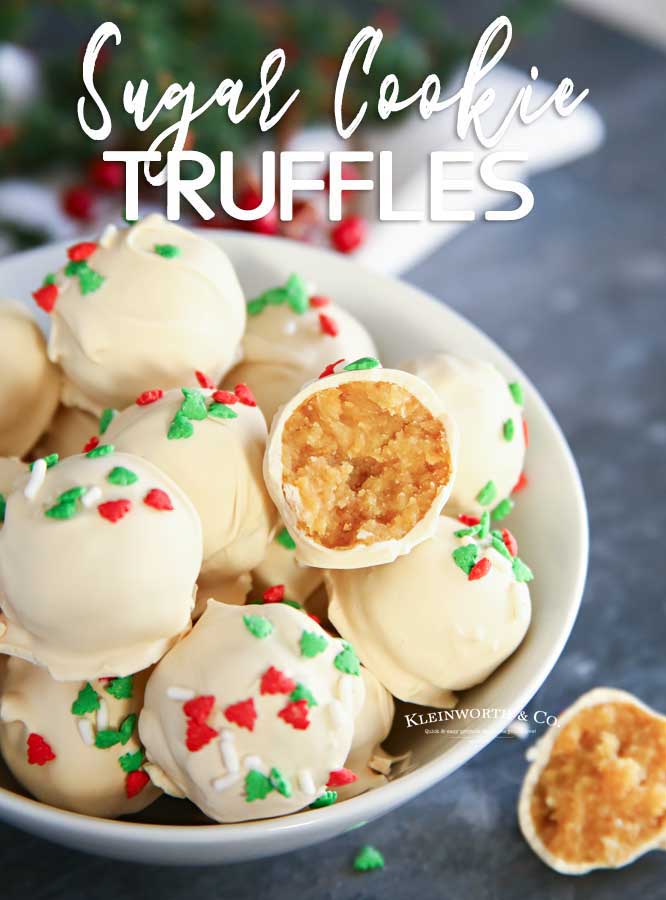 I hope you love these as much as we do!
Scroll to the bottom for the Printable Recipe
If you love this recipe for Sugar Cookie Truffles as much as I do, please write a five star review, and be sure to help me share on facebook and pinterest!
CONNECT WITH KLEINWORTH & CO!
Be sure to follow me on my social media, so you never miss a post!
FB, Pinterest, IG, Email Subscription
Reader Interactions