This Crock Pot Apple Butter is the perfect apple recipe to use all those fall apples. Loaded with all that great apple cinnamon flavor, it's fall in a jar.
What's your favorite thing about fall? Mine has to be the colors, followed by the flavors. Being a photographer and a person that grew up in a place with little change in seasons – I absolutely love the fall colors.
But second to that is all the wonderful fall smells and flavors. Things like this apple butter added to so many things just make the season so special.
Try our Instant Pot Apple Butter!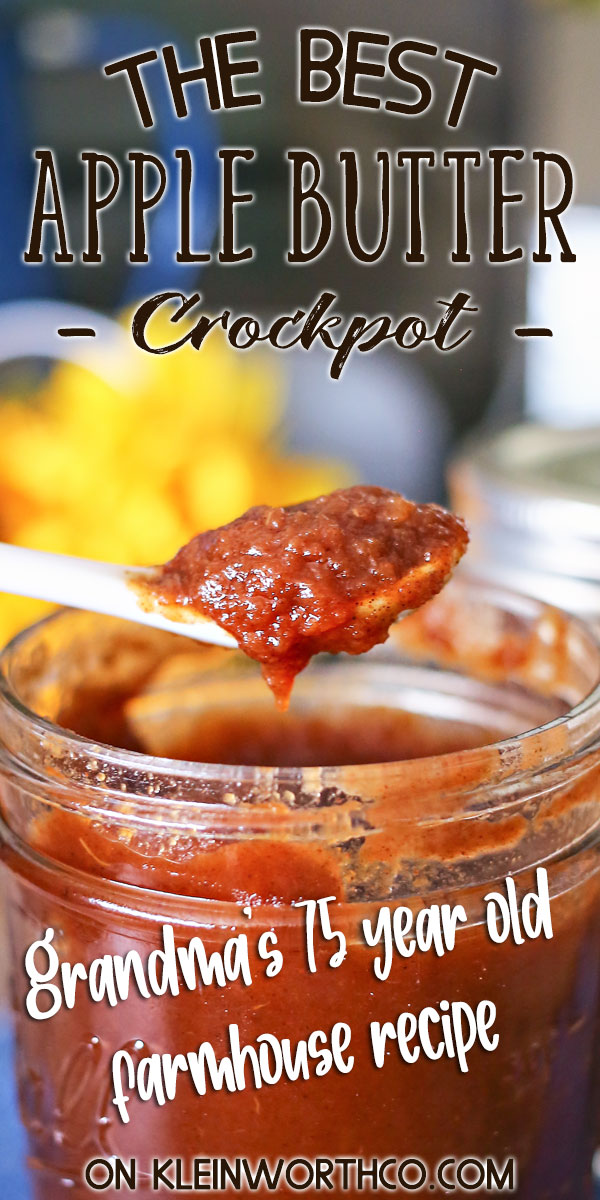 Every year since we have been here in North Idaho we visit one of our local farms and pick apples. I usually have so many that the family starts immediately naming off all the recipes they want me to make as we are driving home.
By the time we pull into the driveway, I'm feeling overwhelmed with all the things they are asking me to make with our bounty.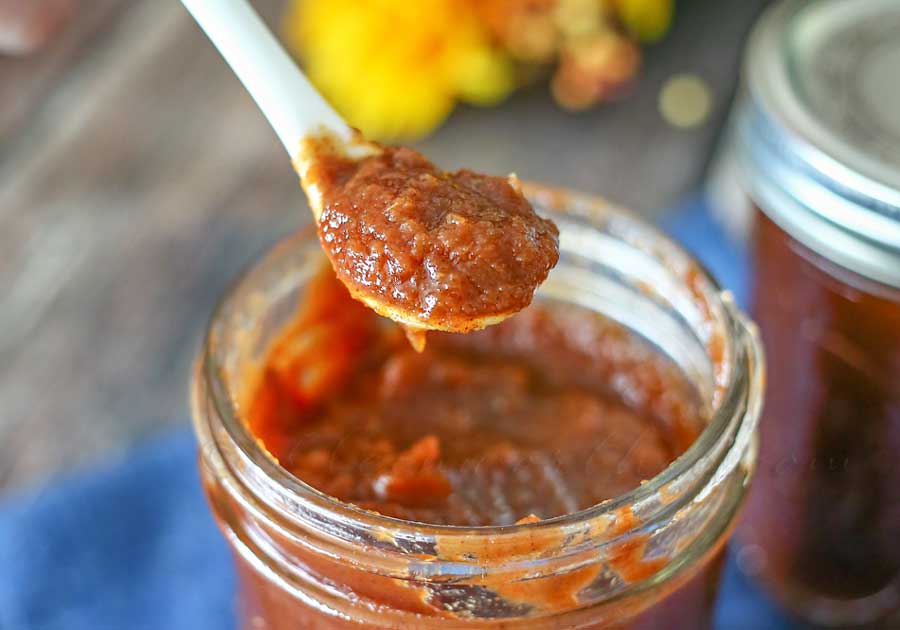 But before I jump into any other recipe I start with some of this crockpot apple butter. From the time we run out of all the jars I pack away in the freezer (sometime around February), I patiently wait until fall to make more.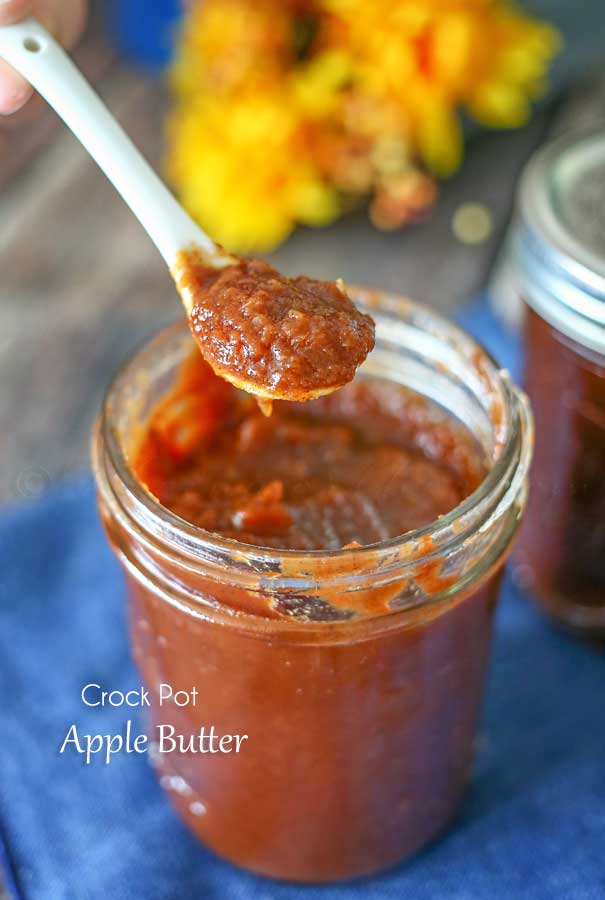 Could I pick up apples at the store and make some in June or July? Sure – but the apples wouldn't be locally grown.
Not that I always buy local – but there is something special about making this knowing these apples were grown 10 minutes from our house.
Besides – it seems odd to me to have apple butter when it isn't the fall season. It's sort of the special little taste that comes out this time of year that I look forward to. Besides, it's so simple to make – so I make it in bulk and enjoy it all season.
Here are some commonly asked questions
What type of apples are best?
I usually use what we pick up at the orchard. So that would be golden delicious, granny smith, red delicious, Fuji or honeycrisp.
Can I use a brown sugar substitute?
I have not personally tried it, so I can't say how that would turn out. But if you would like to try it, I suggest a product that offers a 1:1 swap. Please let me know how it turns out.
Can this apple butter be frozen?
Yes, that is my preferred way to store my extra jars of butter. That way I can enjoy it all year long.
How many can this serve?
This recipe makes about 4-5 jars. My jars are 16 ounces, so that is about 80 total ounces. However, this will depend on how large your apples are too.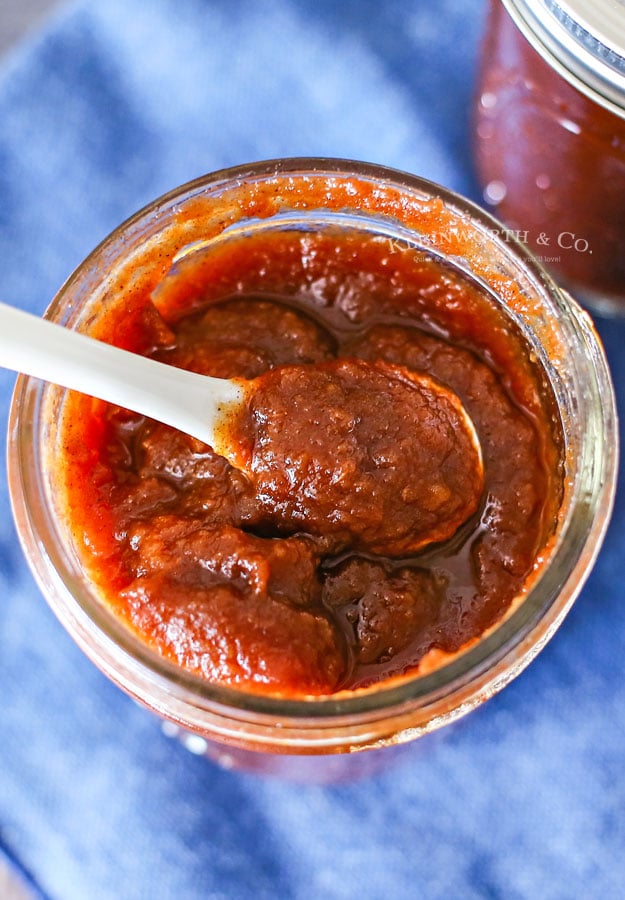 slow cooker apple butter
Can this recipe be doubled?
You can, if your slow cooker can handle the volume. I will usually just have 2 cookers going at the same time. But that makes a whole lot of apple butter.
HOW DO YOU MAKE Crock Pot Apple Butter?
Core, peel & chop the apples & put in them in the slow cooker on high.
Add brown sugar, cinnamon, molasses, vanilla, ginger, nutmeg and, salt.
Cover and cook on high for 1 hour.
Use an immersion blender & blend the softened apples carefully until smooth – or ladle them into a blender and puree (no chunks- still thick). Pour the mixture back into the slow cooker.
Stir & reduce to low & continue cooking for 1 hour.
Ladle into sterile jars.
I put one in the fridge to use the next morning & 4 in the freezer for later.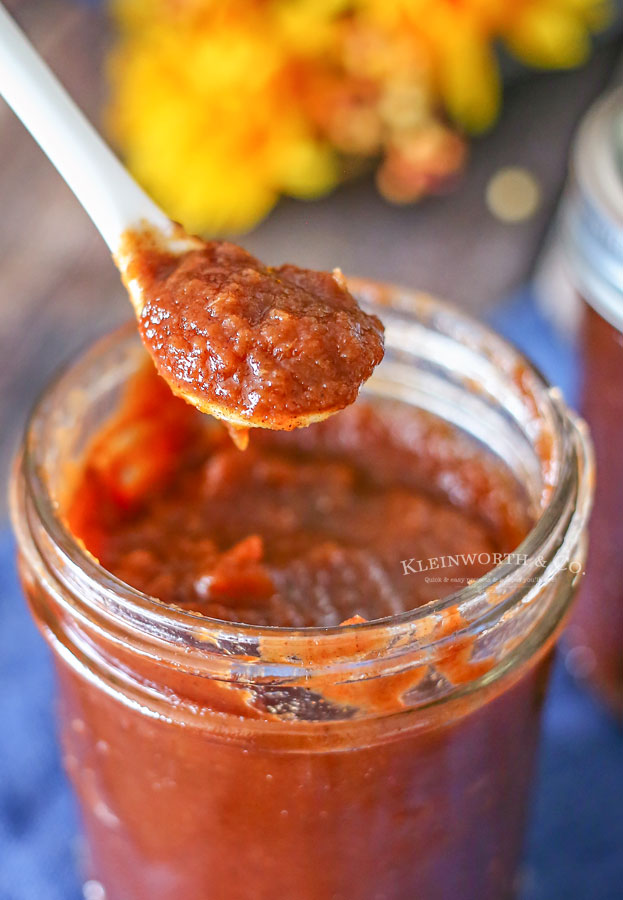 What is the best way to store leftover apple butter?
So, I like to put one jar in the fridge for us all to enjoy right away. The rest of them go into the freezer once they have reached room temperature. I don't process my apple butter.
The jar in the fridge, I use within a week to 10 days since there are no preservatives in it like you would find in the stuff from the store. The jars I stick in the freezer I try to use within 6 months or so.
Use this apple butter in this delicious Apple Butter Bread!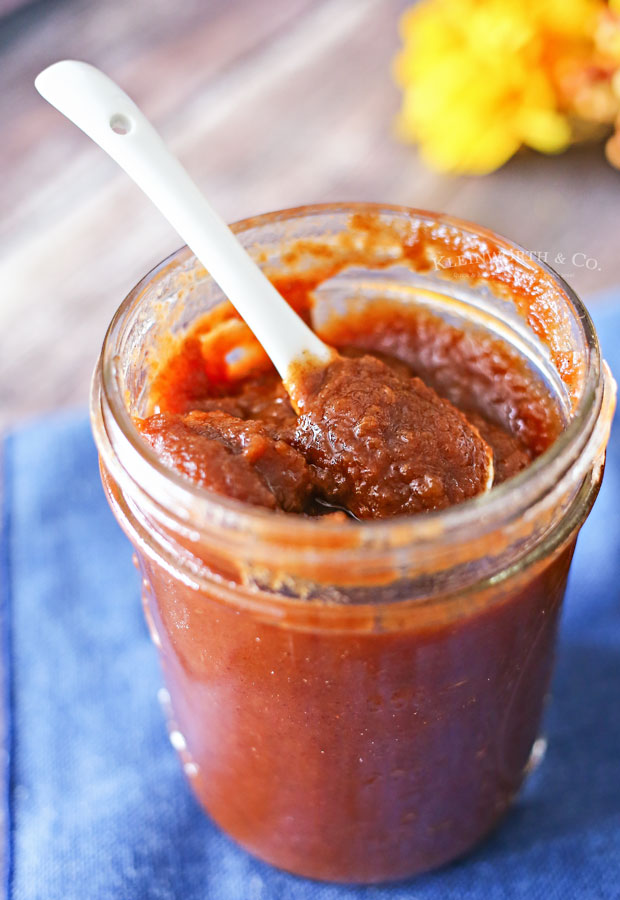 Can this Crock Pot Apple Butter recipe be canned?
I have not personally tried it. But you can fill sterilized jars with the mixture, leaving 1/4″ headspace. Wipe the sealing edge of the jar with a clean, damp paper towel. Remove air bubbles. Process jars 15 minutes, adjusting for altitude.
To make Homemade Apple Butter you will need…
large apples
brown sugar
cinnamon
molasses
vanilla extract
ground ginger
ground nutmeg
pinch salt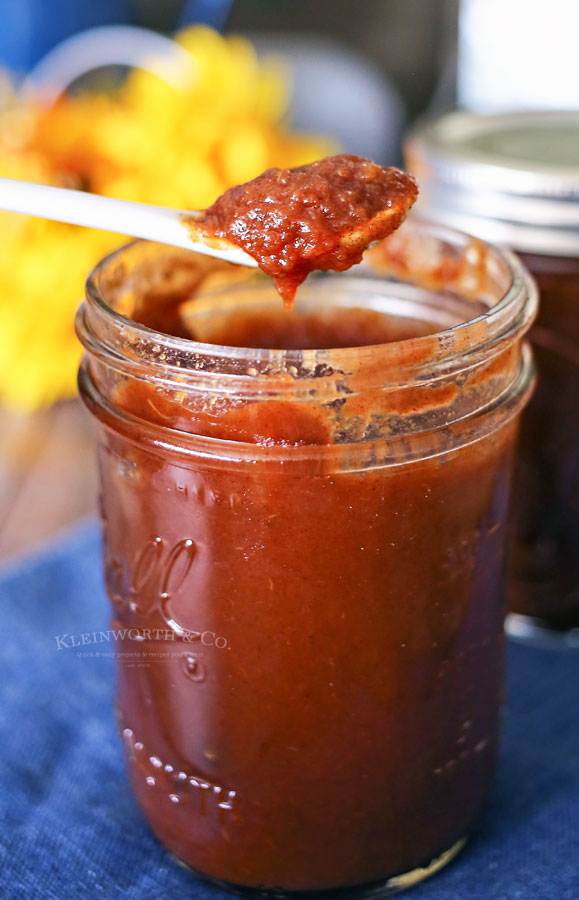 best apple butter recipe
Products I love when making apple butter…
This apple butter recipe is SUPER EASY and delicious – and if you're like me this time of year, then you maybe already have some of these items on hand OR maybe you have never made homemade apple butter before, & you might be a bit nervous – but you're going to love it. I have made a list below of the things I absolutely can't live without when it comes to making this fall spread recipe.
If you love this Easy Apple Butter recipe, you're going to love these other apple recipes too. Please click each link below to find the easy, printable recipe!
crockpot apple butter
If you love this recipe for Homemade Crock Pot Apple Butter as much as I do, please write a five-star review, and be sure to help me share on Facebook and Pinterest!
CONNECT WITH KLEINWORTH & CO!
Be sure to follow me on my social media, so you never miss a post!
FB, Pinterest, IG, Email Subscription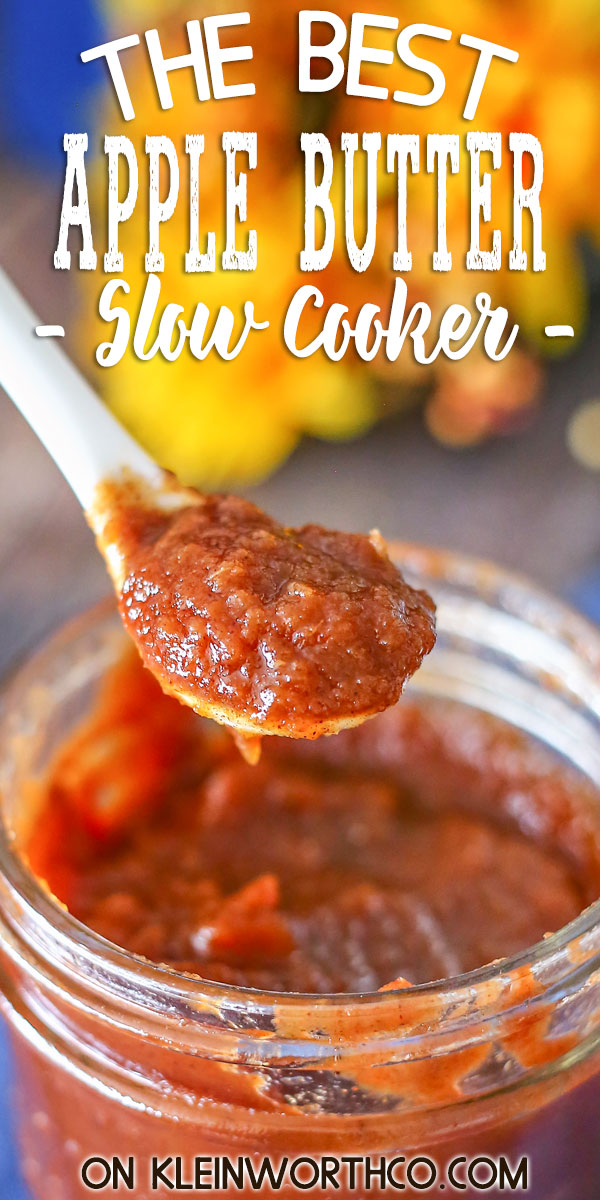 Reader Interactions