This Classic Cornbread recipe is made with buttermilk & butter for an AMAZING buttery flavor that's extra moist, with tender crumbs.
Do you all love a good piece of cornbread? It goes so well with so many dinner recipes. I grew up on Marie Callendar's – we would go there all the time when I was growing up.
But when I was married & moved out but still living in the O.C. my mom & I would meet there to catch up.
Don't miss our Mexican Cornbread Recipe!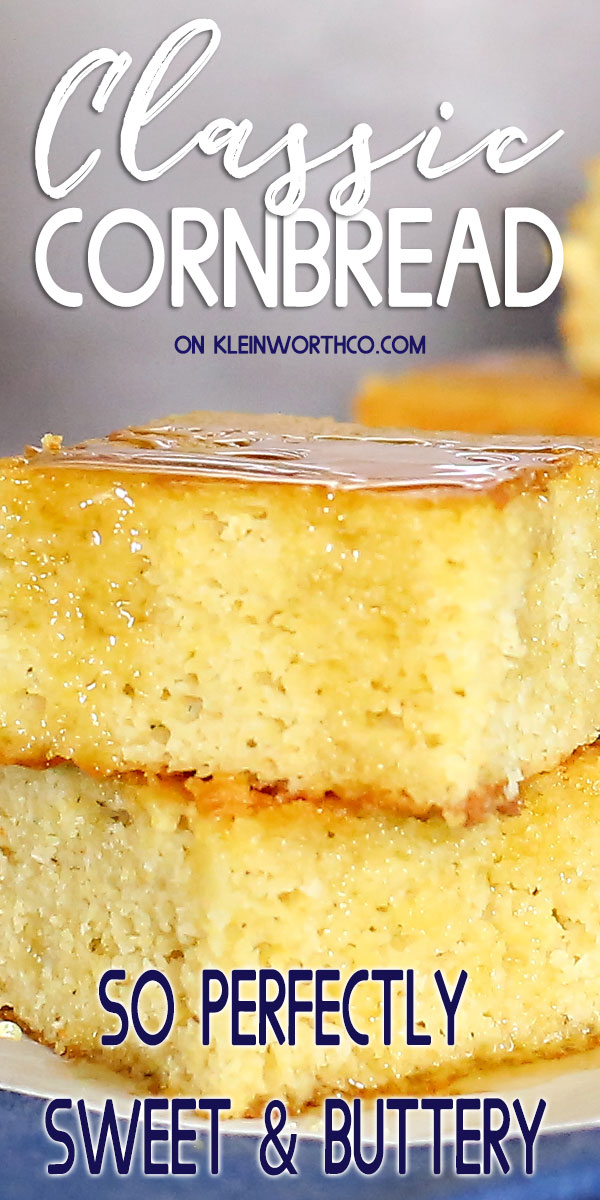 You see – the freeways are so bad in So Cal during rush hour. So sometimes if she was backed up in the area close to where I lived – she would just give me a call to meet her for a bite while she waited for the freeway to open up.
Often we would choose Marie Callendar's & our dinner would consist of those GIANT squares of cornbread followed with a piece of our favorite pie.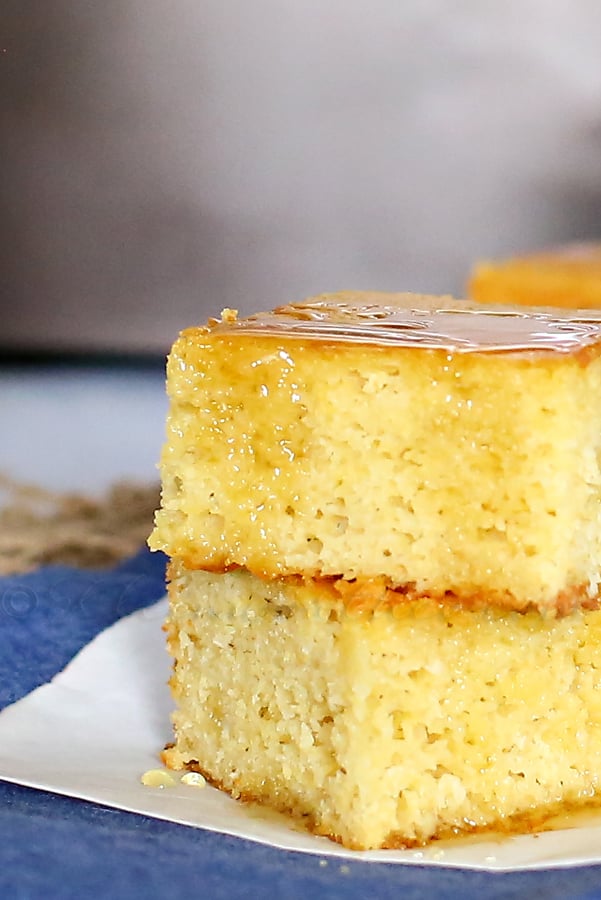 I loved those moments we shared & they still make me smile. So I have a very specific memory of what the "perfect" piece of cornbread should be like. This recipe comes pretty close.
It's light & moist, with the perfect crust on the bottom. I use shortening when greasing the pan because I think it works better than anything else to give it that crispness. I'm telling you – that is key for me.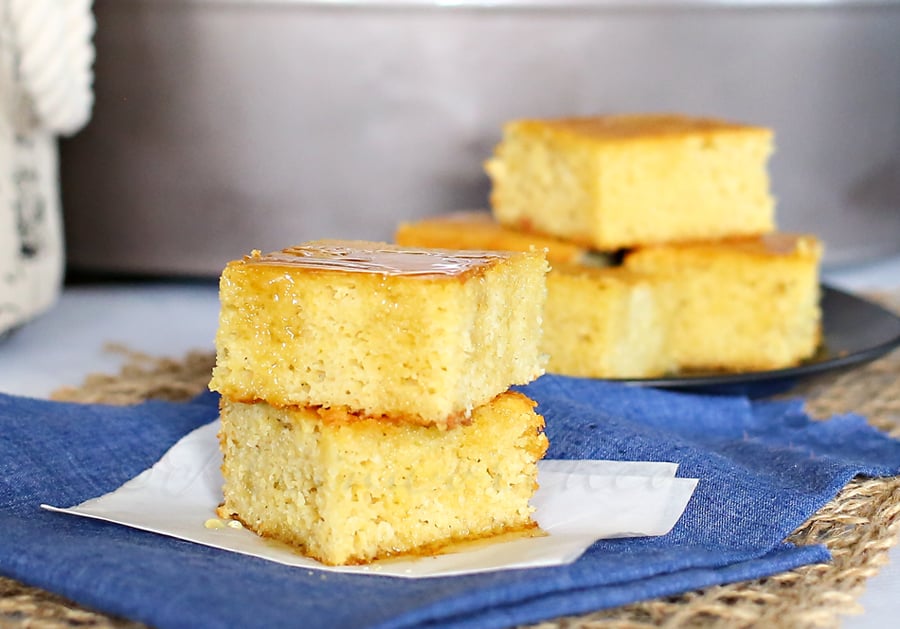 The other thing is that I like to pour melted butter over the top during the cooling process. Done before it's completely cool allows the butter to soak in but not make it mushy.
This way the extra buttery flavor is throughout the whole pan – instead of just spread on top of each piece.
Here are some commonly asked questions
Can I mix other ingredients into this?
Yes, absolutely, that will work just fine. If you want to mix a can of drained corn, diced green chiles, or sliced olives in the cornbread, that is all great.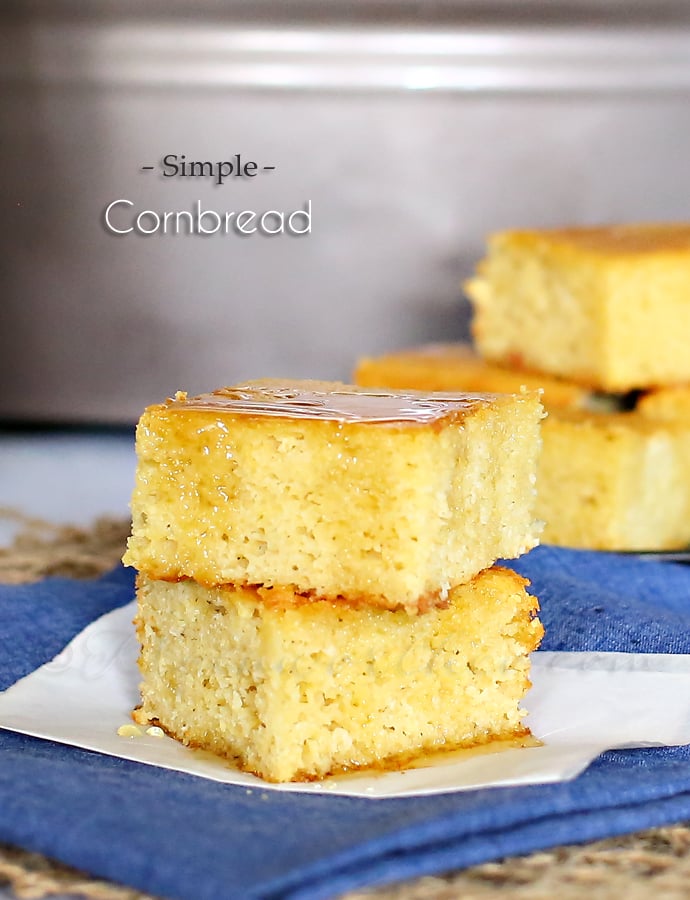 Can this cornbread be frozen?
Yes, you can freeze cornbread. Just wrap it tightly with plastic freezer wrap, or place in a heavy-duty freezer bag. Note that it might make the cornbread drier.
How many can this serve?
This will really depend on how large or small you cut the pieces. The pan is a 10×10, so we were able to feed our family of 5 adult appetites for a couple of nights with this one.
best cornbread recipe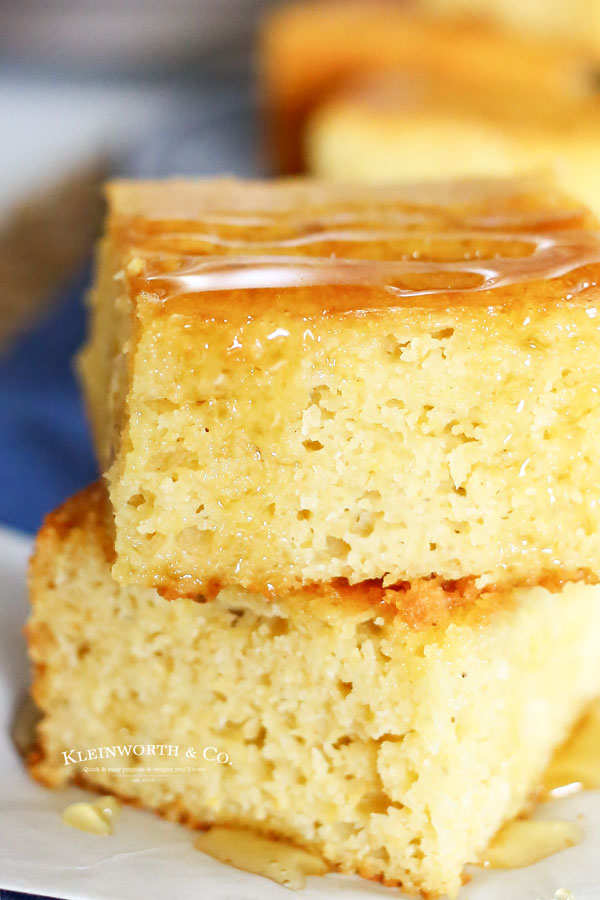 Can this recipe be doubled?
So I have found that the best way to do this is to double the batter in the bowl and then divide it between 2 pans. I have not had success in baking a double batch in a super large pan. Plus, a 10×10 pan is a pretty good size – so baking an even large one might be challenging.
HOW DO YOU MAKE Sweet Cornbread?
In a large bowl whisk together cornmeal & buttermilk until combined – set aside to rest for 35 minutes.
Preheat the oven to 375 degrees. Lightly grease a 10×10 baking pan.
Add applesauce, sugar, melted butter, honey & eggs to the cornmeal mixture – whisk well.
Add flour, baking powder, baking soda & salt & whisk until no lumps remain.
Pour into the prepared pan and bake for 40-45 minutes or until a toothpick test is clean & the top is golden brown.
Cool on a wire rack for approx 10-15 minutes before slicing.
About 5 minutes into the cooling process pour the additional 2 tbsp of melted butter over the top as evenly as you can & allow it to soak in.
Serve with a drizzle of honey & additional butter.
What is the best way to store leftover cornbread?
I like to either put foil over the top of the pan or transfer the extra pieces to an airtight container and store at room temperature. If you live in an overly hot or humid climate, you might have better luck with storing it in the refrigerator.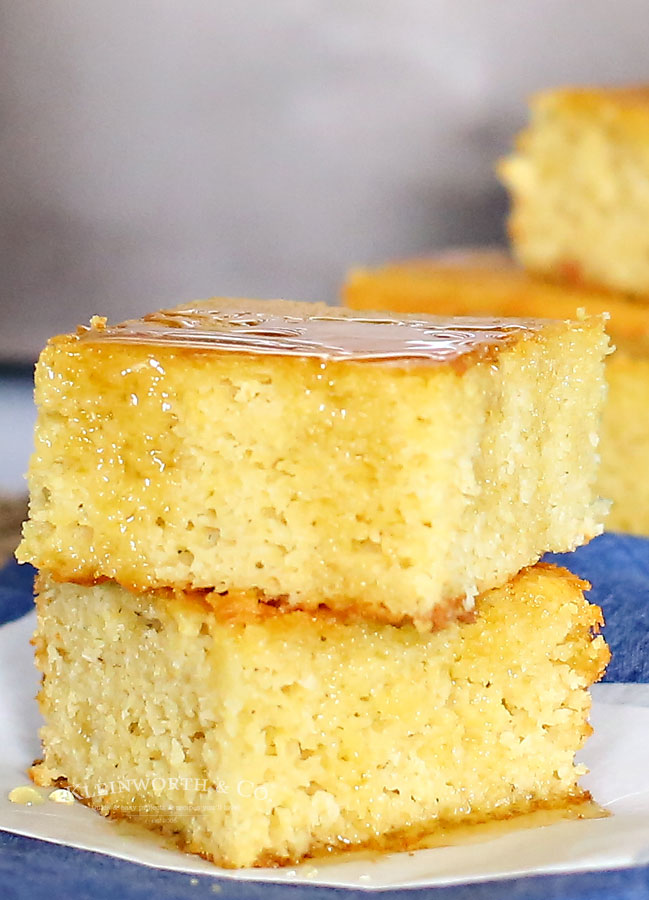 To make moist cornbread you will need…
cornmeal
buttermilk
applesauce – room temp
granulated sugar
butter – melted & slightly cooled
honey
eggs
all-purpose flour
baking powder
baking soda
salt
butter – melted for after baking
Additional honey for serving
old fashioned cornbread recipe
Products I love when making Classic Cornbread…
This Classic Cornbread recipe is SUPER EASY and delicious – and if you're like me, then you maybe already have some of these items on hand OR maybe you have never made homemade cornbread before, & you might be a bit nervous – but you're going to love it. I have made a list below of the things I absolutely can't live without when it comes to making this side dish recipe.
If you love this Easy Cornbread recipe, you're going to love these other side dishes too. Please click each link below to find the easy, printable recipe!
easy cornbread recipe
If you love this recipe for Classic Cornbread as much as I do, please write a five-star review, and be sure to help me share on Facebook and Pinterest!
CONNECT WITH KLEINWORTH & CO!
Be sure to follow me on my social media, so you never miss a post!
FB, Pinterest, IG, Email Subscription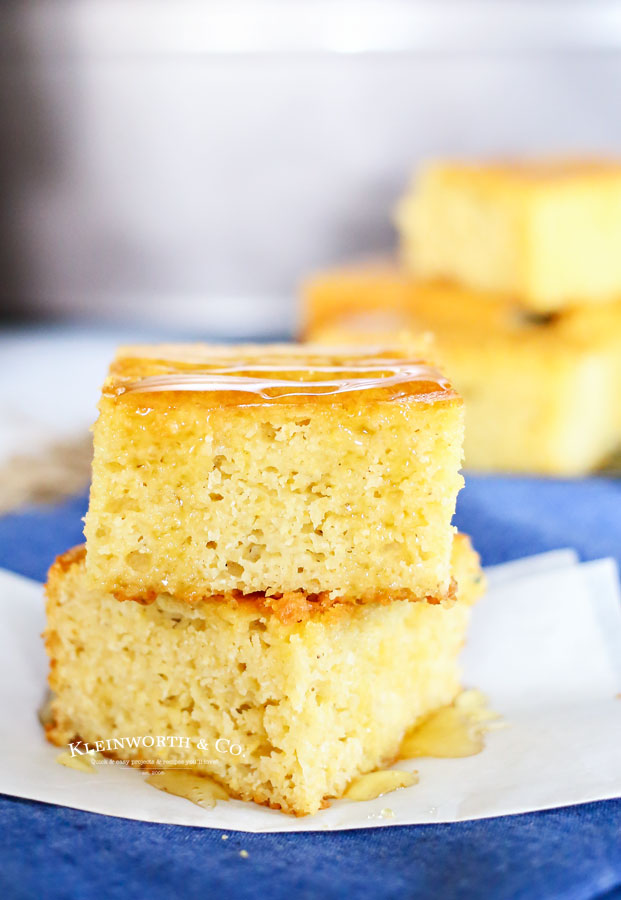 Reader Interactions