Back on December 21st the AH MAZ ING Amanda over at I Am Baker posted a photo on Instagram of her Triple Chocolate Sugar cookies that she posted on her blog that day.  I was already elbow deep in chocolate chip cookies for a party that the hubs needed to bring something to.  When I saw the post I immediately started going through my baking cabinet to see if I could make them to go along on the tray.  Well I was missing a few key ingredients to make it exactly like she instructed- so I did was I usually do- improvised & adapted the recipe to fit what I DID have on hand.  At that time in December I had already blown through most of my stockpile I started the month with so you do what you can.  But I absolutely HAD TO give these a try.  I was drooling over my screen.
Needless to say- in spite of the changes they were still delicious   I had to make another batch with snowflakes- more wintery, less Christmasy.   They were gone quick too.  My only thing is that after seeing them go so quickly- I will be doubling the batch from now on.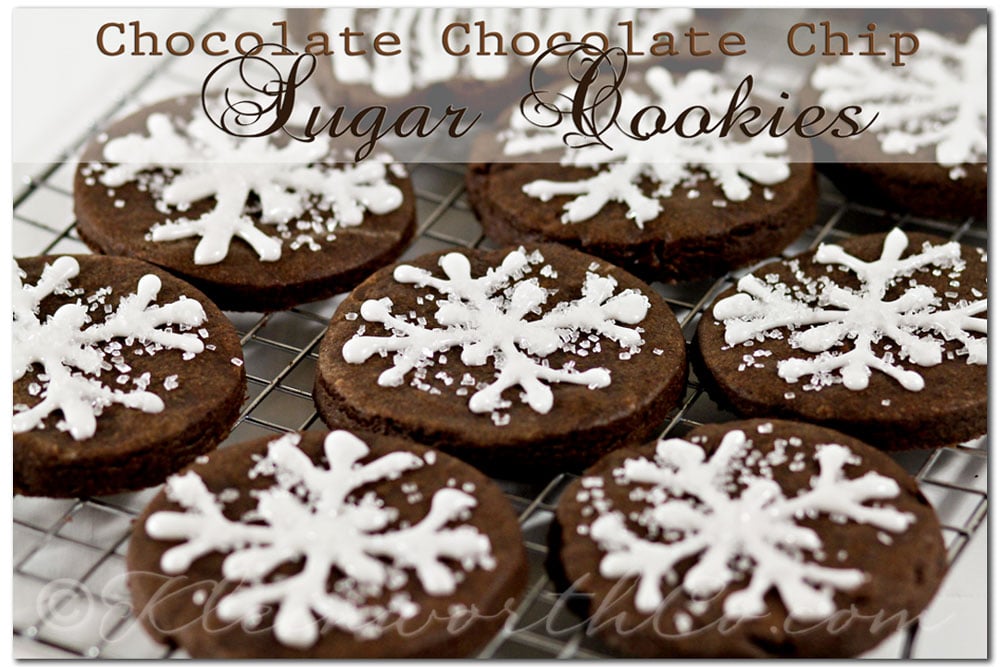 Chocolate Chocolate Chip Sugar Cookies
Ingredients
Cookies
1 1/4 Cup Granulated Sugar
2 Sticks Butter room temp
1 Egg
1 Teaspoon Vanilla Extract
2 Cups All-Purpose Flour
1 Cup Cocoa Powder
1 Cup Chocolate Chips
Pinch of Salt
Icing
1/4 cup meringue powder
1-2 cups confectioners sugar
2-3 tablespoons water as needed for desired consistency
Instructions
For the cookies

Combine butter & sugar in mixer- beating on medium.

Stop mixer & add egg & vanilla. Beat in on low.

Add flour- one cup at a time.

Add cocoa powder & pinch of salt. Mix well on low.

Stir in chocolate chips.

Sandwich between 2 sheets of parchment paper & roll out to a flat piece.

Freeze for about 10-15 minutes.

Preheat oven to 350.

Remove dough from freezer & cut into your shapes & transfer to non-greased cookie sheet.

Bake for 8-11 minutes. I did mine for 11 because I made them thick.

Cool on baking sheet & then transfer to wire rack.

Pipe on Royal Icing.

For the Icing

Combine all ingredients & whisk until smooth.

Pour into bag & pipe on cookies.

Sprinkle any decorations on after each cookie is iced. Don't wait until the icing is done for them all- the icing will be hardened enough that it won't stick.

Let firm up for at least several hours before stacking.
As you will see the ingredients & processes are the same as hers with the exception of the white chocolate she called for.  I didn't have it.  Which means that I also couldn't make her White Chocolate Buttercream icing either.  I will be picking some up so I can do this recipe the way she intended.  But for now- the family is really enjoying these.  A link to her recipe is in the top of this post.  I encourage you to head on over & print her's too.  Give them both a try.