Decorate your front door with this beautiful Blue & Gold Easter Wreath made with painted faux eggs & moss. So perfect to welcome spring!
I have to tell you- I usually change out my wreath on the front door at least once a month. But because I left at Thanksgiving and didn't return until nearly the New Year, I never got the chance to decorate for Christmas.
When I came home from my mom's I expected to see my Thanksgiving wreath still on the front door. But I found that the hubs was sweet enough to have pulled out a couple of the holiday decorations (including the wreath) and tried to make it feel like Christmas.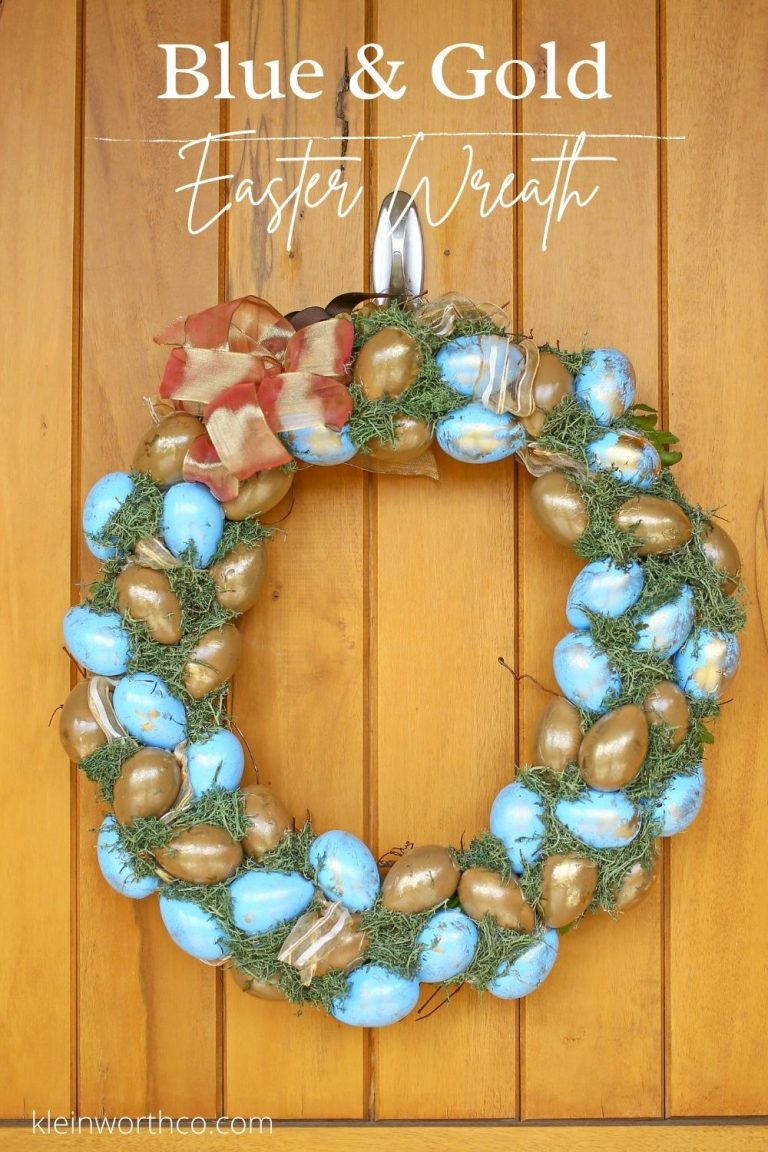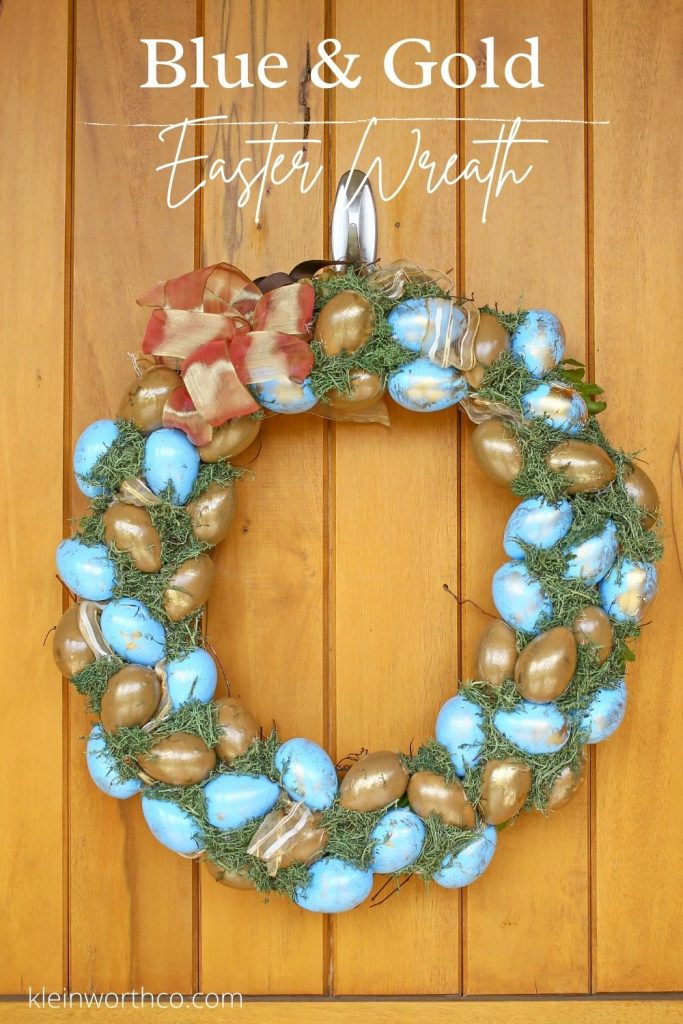 Since I came home at the end of December- I enjoyed those decorations for just a couple of days & I packed it all away. I threw up some random wreath that I actually don't even like, vowing that I was going to make some new ones.
Well- all the supplies I bought for a Valentine wreath & a St. Patty's Day wreath are still sitting in my closet & that wreath I can't stand was still on my front door when April came rolling on in. Go figure.
easter wreath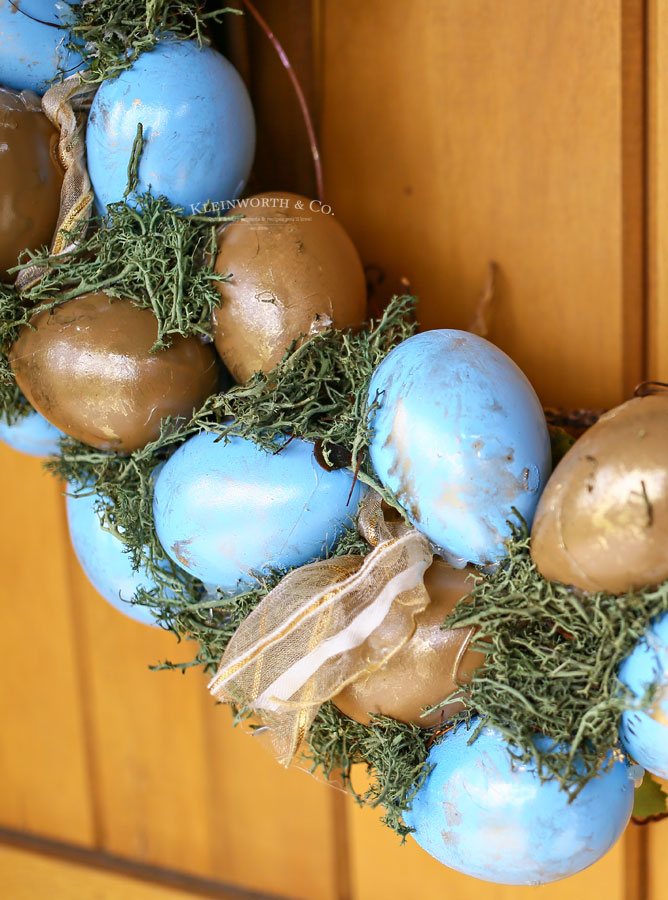 So I sent the hubs out with a list – paintable eggs & a few colors of spray paint. After a few hours, I finally have something new on my front door- this Blue & Gold Easter Wreath.
I'm thinking that if I start planning now for May, I might actually get one created before the month changes again.
easter egg wreath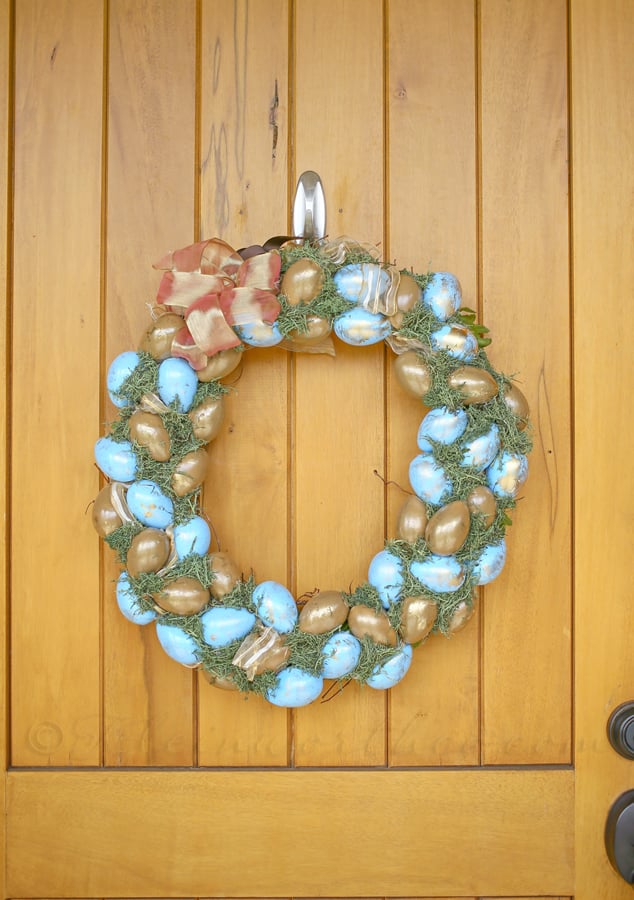 I started with 4 dozen paintable eggs. They are white & actually look just like real eggs.
I spray painted half of them in brown & the other half in robin's egg blue. Once dry, I hot glued them randomly in place along with some ribbon onto a grapevine wreath.
Then I used some reindeer moss to fill in the holes.
easter door decorations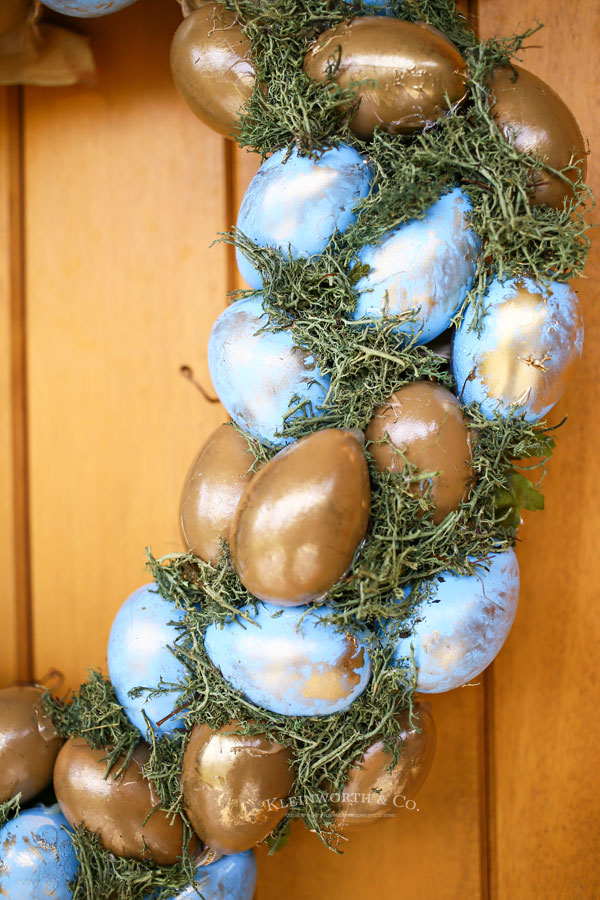 Once complete I took some gold spray paint & sprayed a little into a little bowl of tin foil so I could get enough to dip into.
Then I dry brushed it on to the eggs – just a couple dabs for each one, not being too careful with placement. That's it.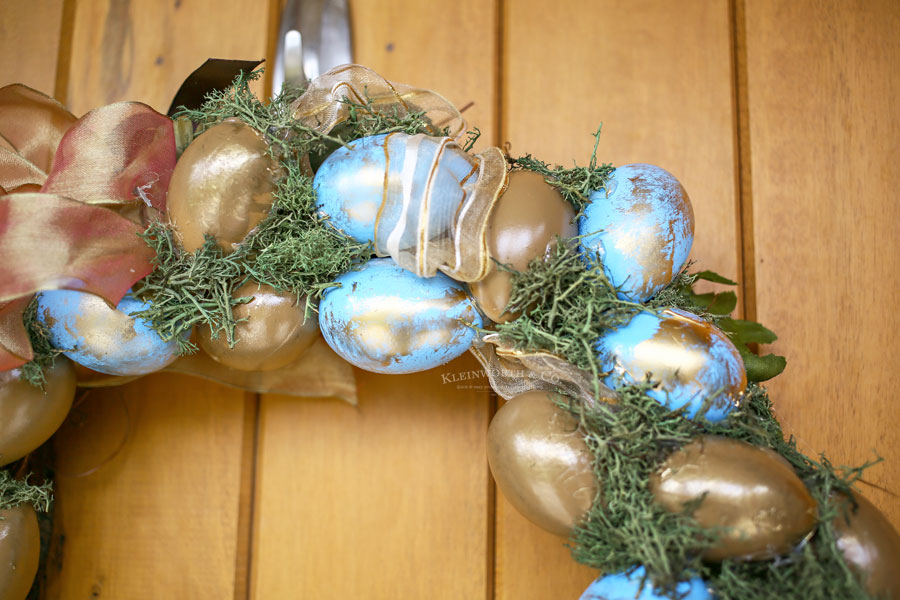 I'm sure the neighbors are thinking "geesh- it's about time". I can't tell you just how good it feels to have that little thing off my shoulders & no longer nagging me.
I can sleep again. (yes things like this keep me up at night – what can I say?!)
easter wreaths to make
Here are some commonly asked questions
Can this be made with a different type of wreath form?
I would imagine that you could do it with another wreath form, such as a styrofoam form. I don't think this would work well with a wire form as you need something to attach the eggs to.
Can this be made with another type of glue?
I would imagine that it is possible. But because it would take a long time for a traditional glue to dry before you could move on to another portion, it wouldn't be as easy to do.
I also don't know how sturdy it would be or how long it would hold.
Hot glue not only dries almost instantly, but it will hold for years – even with in-climate weather.
easter wreath diy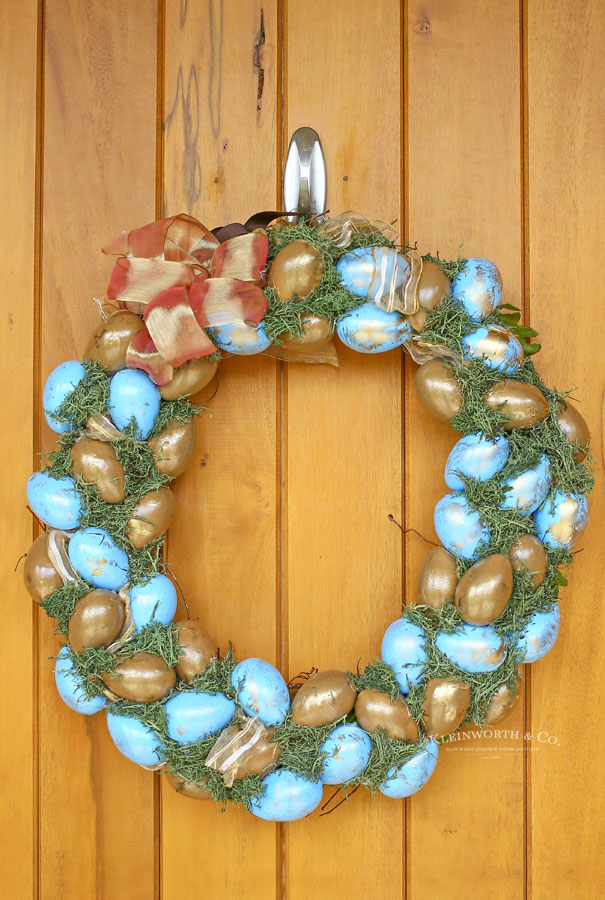 Products I love when making this Easter Wreath…
This Easter egg wreath is SUPER EASY and if you're like me this time of year, then you maybe already have some of these items on hand OR maybe you have never made your own wreath before, & you might be a bit nervous – but you're going to love it. I have made a list below of the things I absolutely can't live without when it comes to making this wreath.
egg wreath
If you love this Easy Easter Wreath, you're going to love these other Easter Ideas too. Please click each link below to find the post!

Traditional Deviled Eggs
Traditional Deviled Eggs are great anytime! Make this recipe for New Year's, Game Day, Easter brunch, Thanksgiving or Christmas dinner & WOW your guests.
Check out this recipe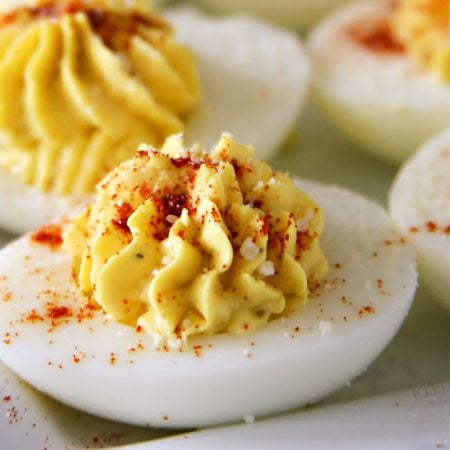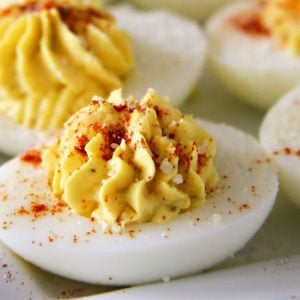 Easy Strawberry Cake Recipe
This Easy Strawberry Cake Recipe, made from scratch with fresh strawberry puree. No cake mix, no Jello in here! This is filled & topped with the most delicious strawberry buttercream frosting too.
Check out this recipe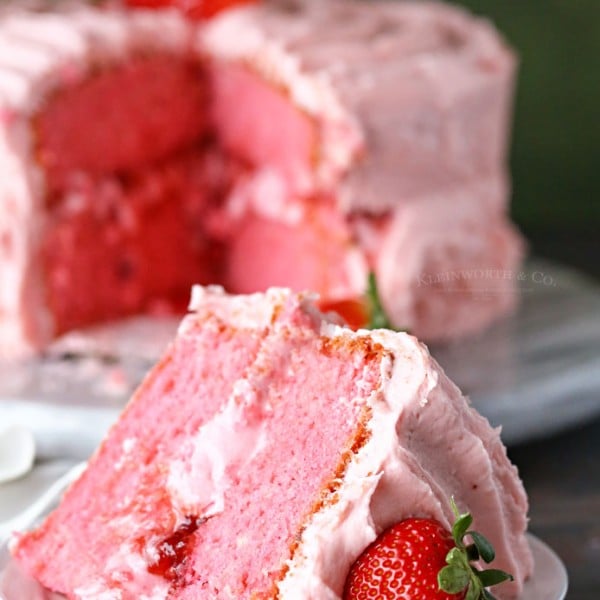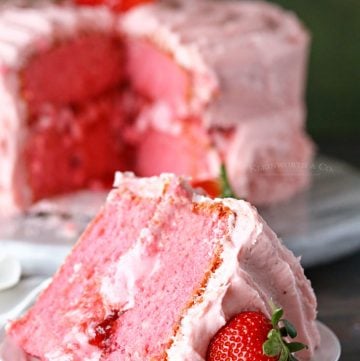 One Hour Carrot Cake Cinnamon Rolls
Everything you love about carrot cake rolled up into a sweet & delicious cinnamon roll for breakfast.
Check out this recipe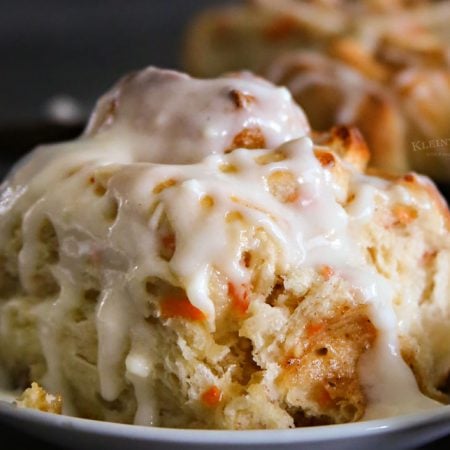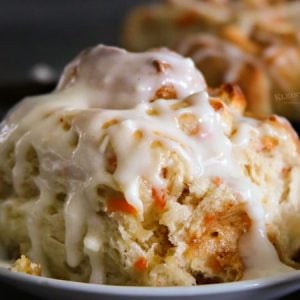 Coconut Macaroons
Coconut Macaroons are the perfect spring treat. A twist on the classic macaroon recipe, this one is made without eggs. Definitely a great Easter dessert.
Check out this recipe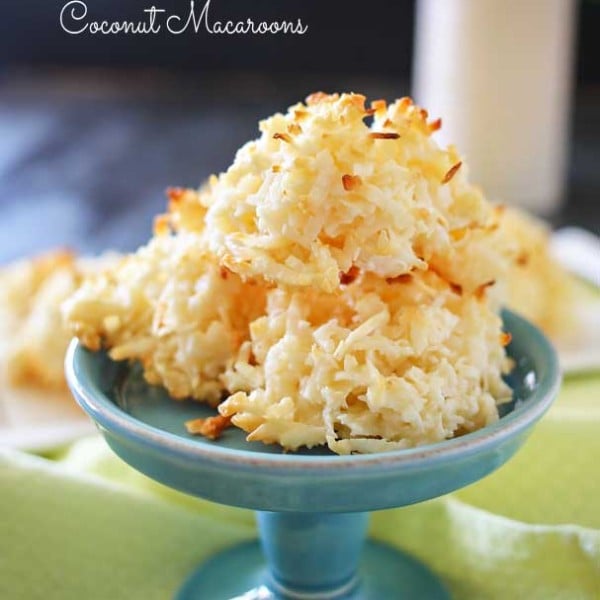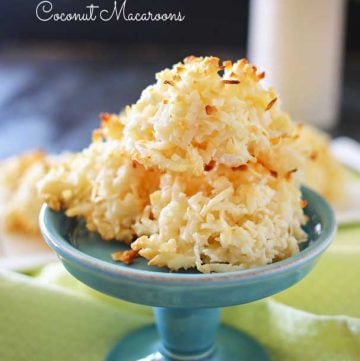 Carrot Cake Cupcakes with Cream Cheese Frosting
Carrot Cake Cupcakes with Cream Cheese Frosting & topped with OREO Carrot Cake Cookies are the perfect dessert recipe for all your spring celebrations.
Check out this recipe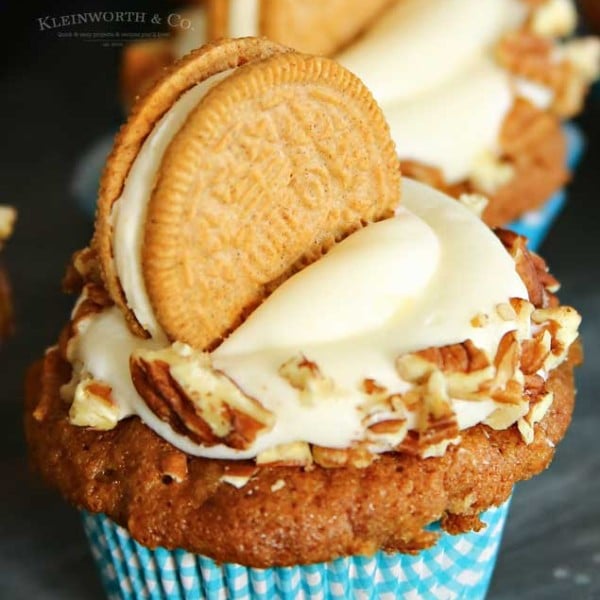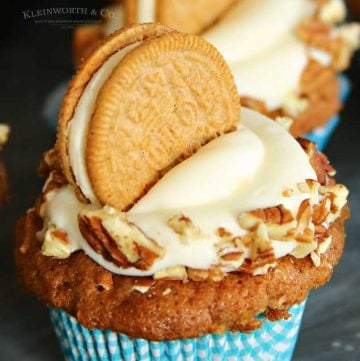 Heavenly One Hour Dinner Rolls
Heavenly One Hour Dinner Rolls that are so light & fluffy. Delicious & buttery, they're perfect for holidays but easy enough for every night of the week.
Check out this recipe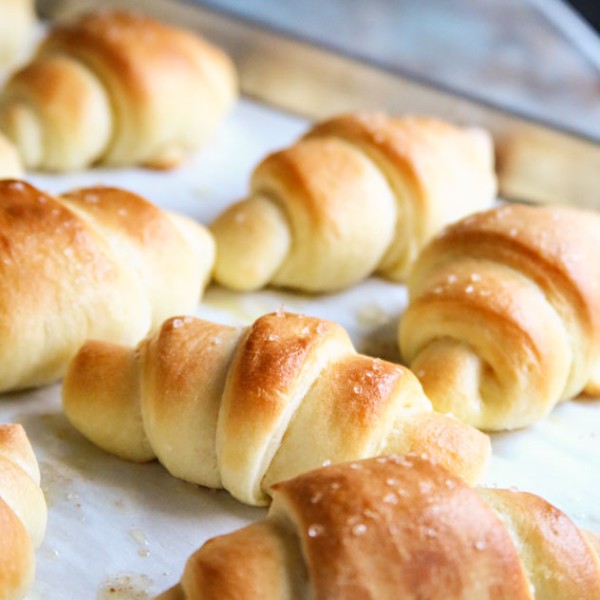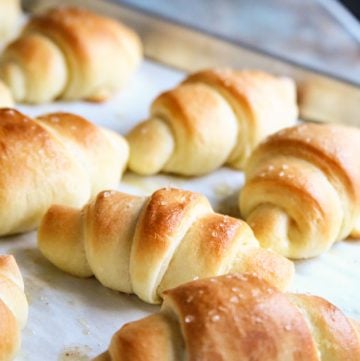 Coconut Cream Cake
Light & fluffy coconut cake topped with creamy whipped cream & homemade toasted coconut makes this Coconut Cream Cake enjoyable from the first bite to last.
Check out this recipe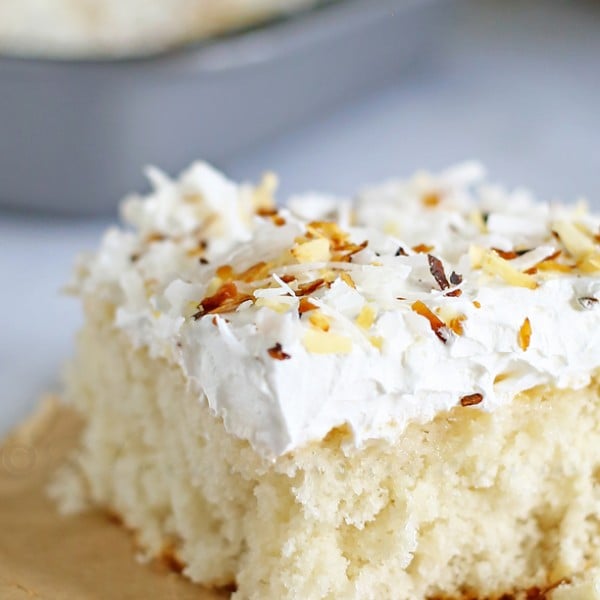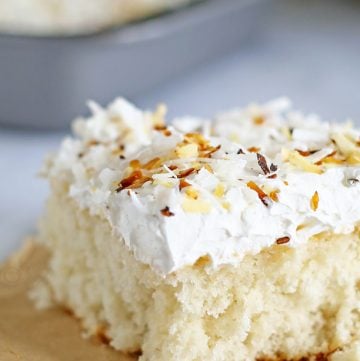 Strawberry Macaron Recipe
This Strawberry Macaron Recipe with strawberry filling is perfect for Valentine's Day, Easter, Mother's Day, bridal & baby showers & so much more!
Check out this recipe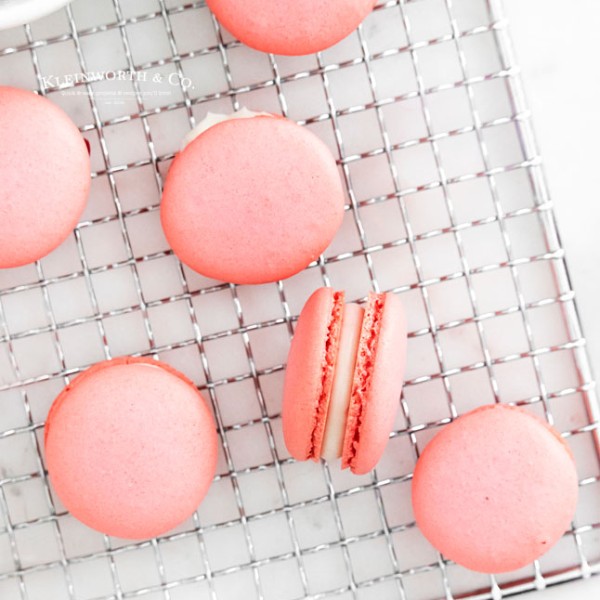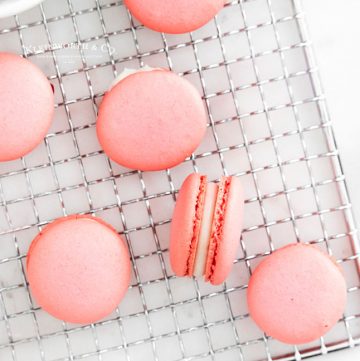 Slow Cooker Carrot Cake
Slow Cooker Carrot Cake is the perfect dessert recipe for spring. Just whisk the ingredients & let your crockpot do the rest. Just add cream cheese frosting.
Check out this recipe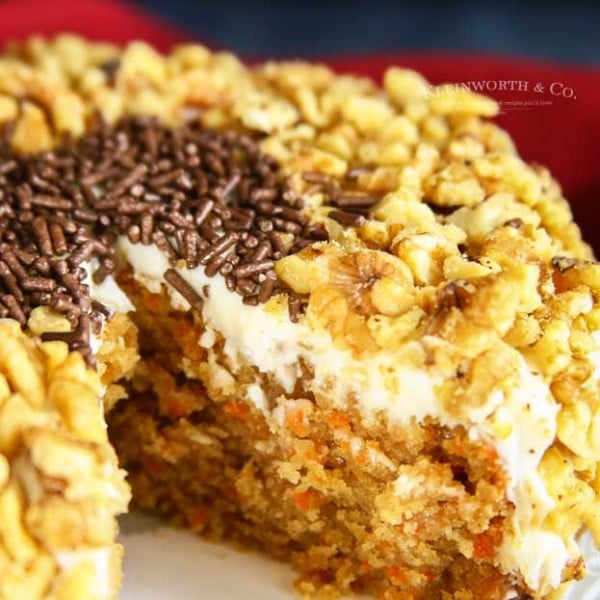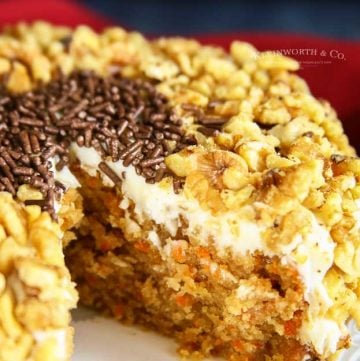 Marshmallow Easter Bars
Marshmallow Easter Bars are an easy no-bake dessert recipe that takes just 4 ingredients. These are perfect for your holiday celebrations. Delicious!
Check out this recipe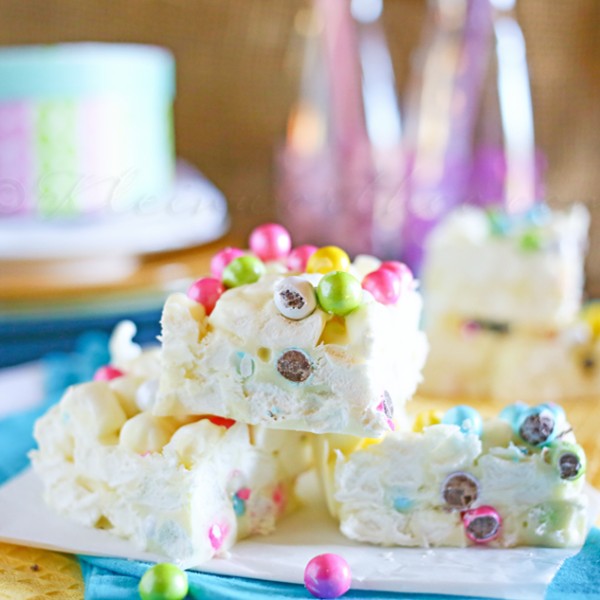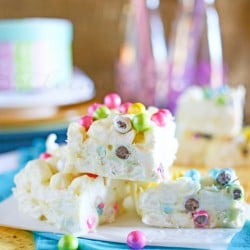 easter wreath ideas


easter door wreath
If you love this Blue & Gold Easter Wreath as much as I do, please be sure to help me share on Facebook and Pinterest!
CONNECT WITH TASTE OF THE FRONTIER!
Be sure to follow me on my social media, so you never miss a post!