Southwest Chicken Casserole is a quick & easy dinner idea that the whole family will love. Loaded with everything you love about tacos, this is comfort food at it's best.
I grew up in Southern California enjoying the flavors of the southwest all the time. I love those popular recipes from that region & we make them in our house nearly every night.
One of our absolute favorite quick & easy meals is this Southwest Chicken Casserole that is easy to make and has everyone coming back for more.
Scroll to the bottom for the Printable Recipe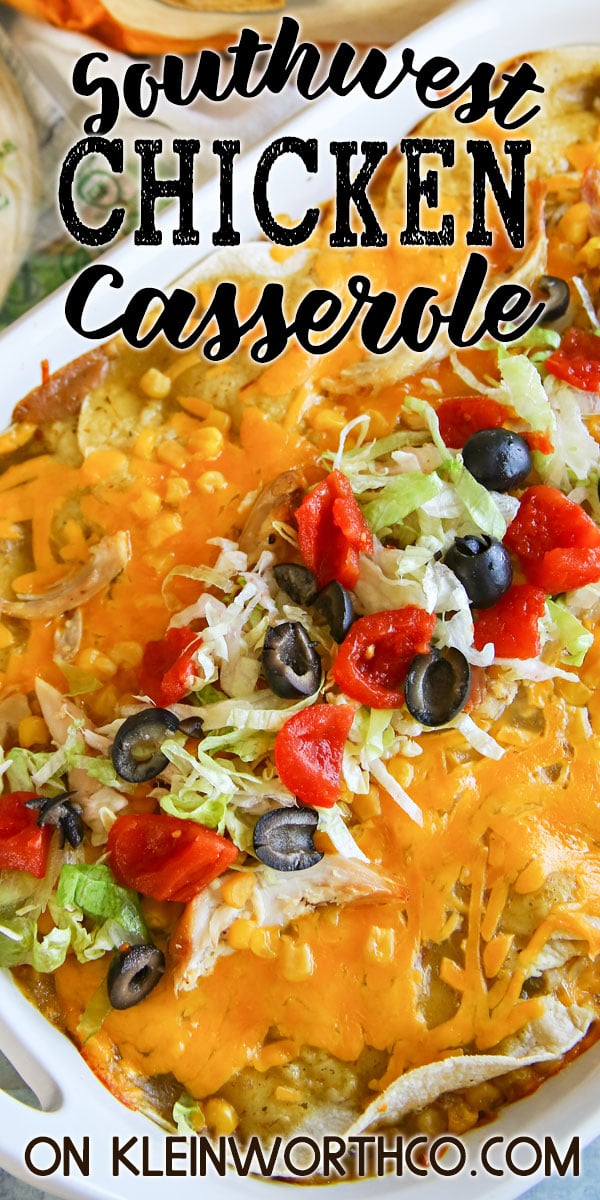 This is a sponsored post written by me on behalf of Mission®. All opinions are entirely my own.
These days it is really hard to get everyone at the table together. My son is always either at work or college.
My girls have activities & classes & work that are all at different times. Add to that our work schedules & other pressing things make us come & go so often that we really consider it quite special when we can all eat together.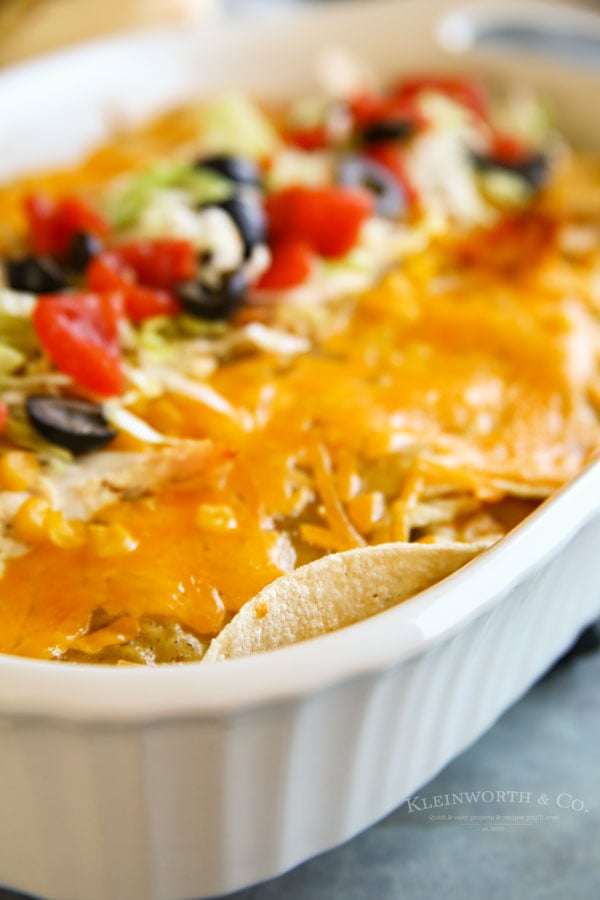 Because of that, I try to keep dinner quick & easy so we have more time eating & less time prepping & cleaning up afterward.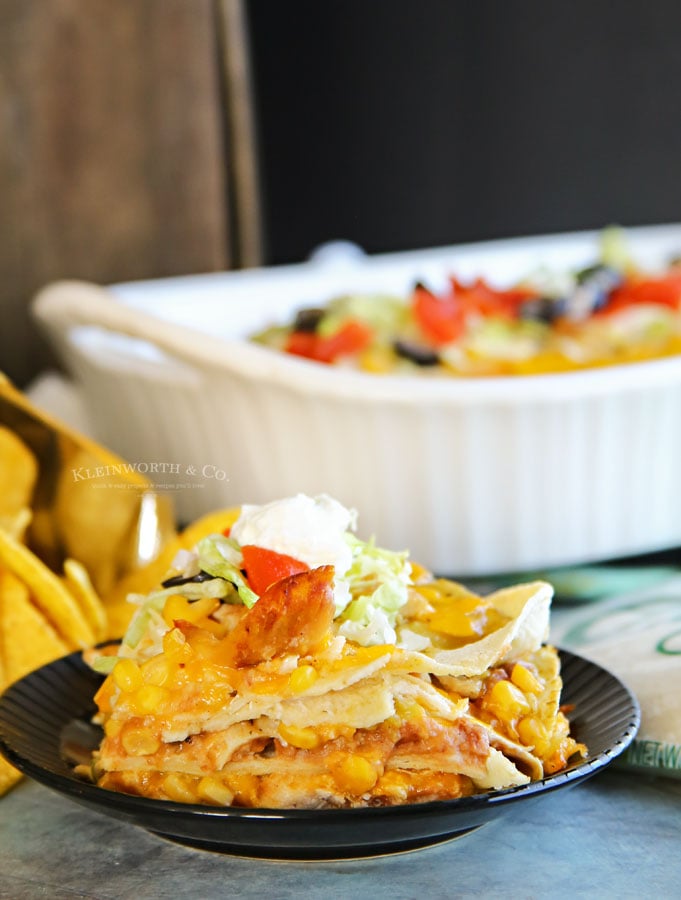 One of the things I love the most about this recipe is it is great to make from scratch or with your leftovers from tacos the night before. As I said, we make southwest recipes often & so when we have tacos, the natural thing is to take those little bits of chicken, tortillas & all the fixings & make a hearty meal.
We always have a few extra tomatoes, a whole lot of lettuce & so much more – so why not use it again for another night? It's a fantastic way to make those ingredients stretch really far. (Especially when you are feeding 5 adult-sized people like I am.)
Chicken Casserole Southwest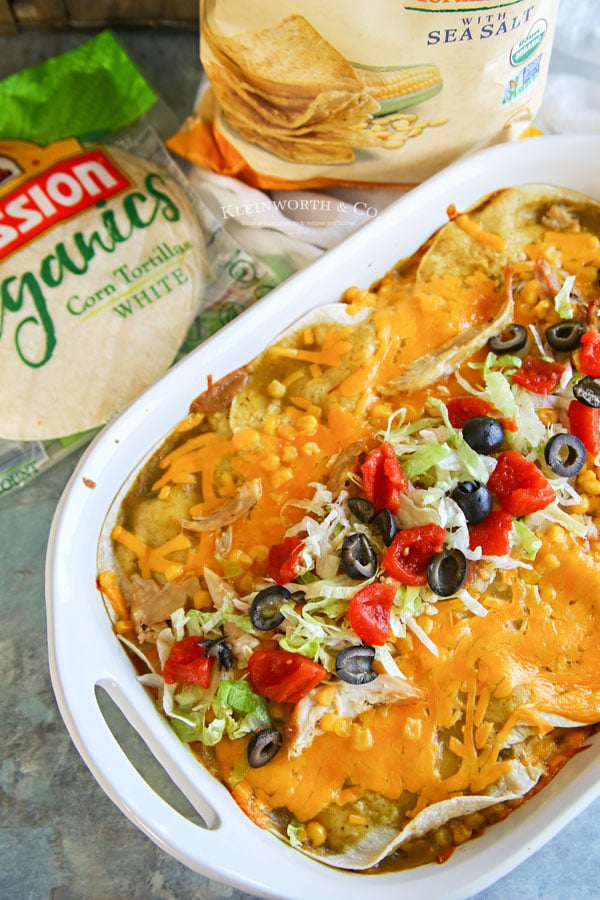 You can also make this recipe with rotisserie chicken to make this recipe even faster, but ground beef or pulled pork are great too. I have a little obsession with green enchilada sauce, so that is what we used here.
I can't seem to get enough of the stuff. But if you prefer red, feel free to substitute that in as well.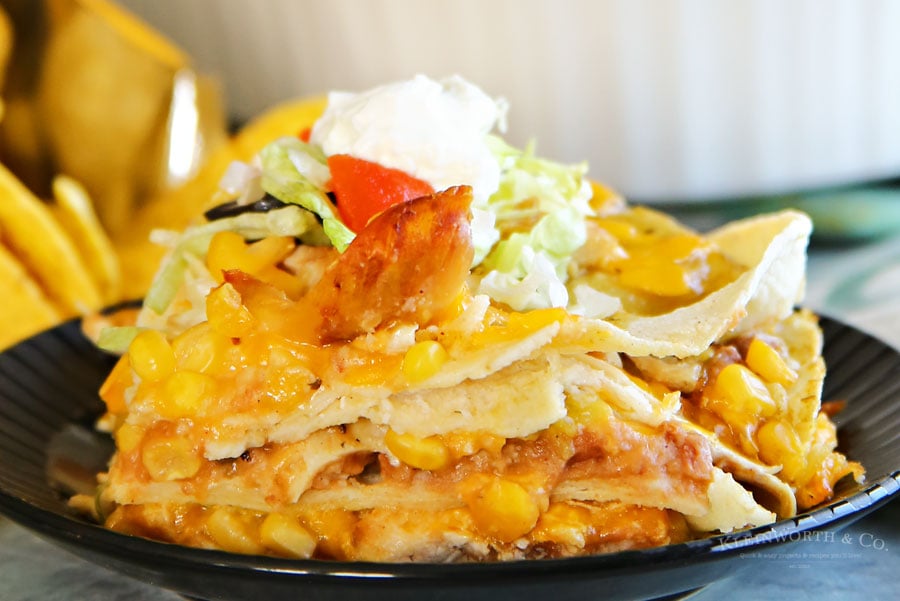 The best part of this recipe? You can toss it all together with what you have on hand at the time.
It has all the things you love about tacos, corn tortillas, beans, juicy shredded chicken, sauce, cheese, tomatoes, olives, corn & sometimes I like to add some black beans in there too. When serving you can add a bit of shredded lettuce & a dollop of sour cream to really take it over the top.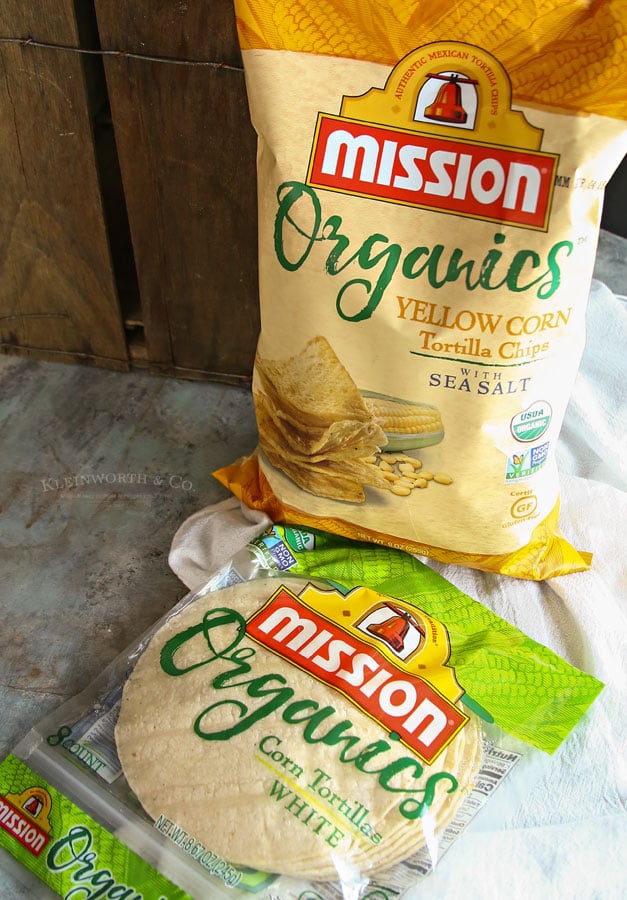 Because we enjoy these types of recipes as often as we do, we pick up Mission Organics® Corn Tortillas every time we go to the store.
I like them because they are Non-GMO project verified, contain no artificial preservatives, colors, or flavors & are USDA organic certified. You can find them in the tortilla section in grocers nationwide. Mission Organics also makes great tortilla chips!
They have the same qualities as the tortillas and more. Certified gluten-free and made with sea salt, they have the perfect shape for dipping and taste great! You can find these in the chips aisle.
The quality & flavor of our tortillas are very important to us.
I mean, we eat them multiple times a week, so they have to be GOOD! Fortunately what goes into making them is top quality, organic ingredients I can get behind.
Southwest Chicken Dinner
So what are you waiting for? Whip this up tonight, I know your family will love it!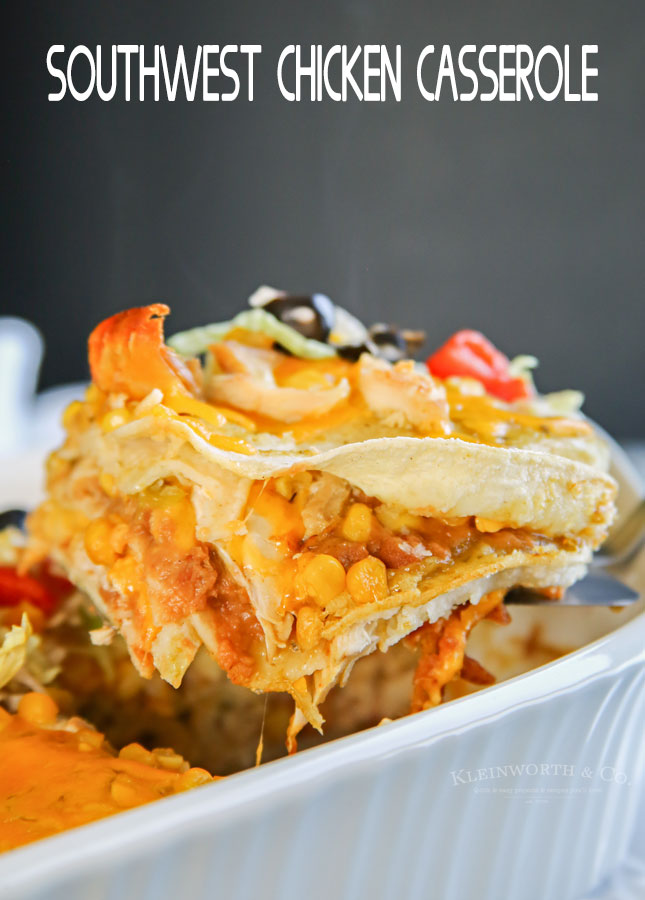 Here are some commonly asked questions
Can I use frozen corn?
Yes, absolutely, that will work fine. Heat for a few minutes and drain before adding to the casserole.
Can I use a different type of meat?
Yes, of course! We love using rotisserie chicken because it makes this recipe quick. But I have done it with leftover beef or pork roast too.
How many can this serve?
This recipe makes about 8 servings. This will depend on how large or small you cut the portions but this feeds our family of 5 adult appetites with some left for seconds.
recipe for Mexican chicken casserole
Can this recipe be doubled?
Absolutely this recipe can be doubled. Due to space constraints in a 9×13 casserole dish, you will need to do 2 separate pans and then just bake them side-by-side.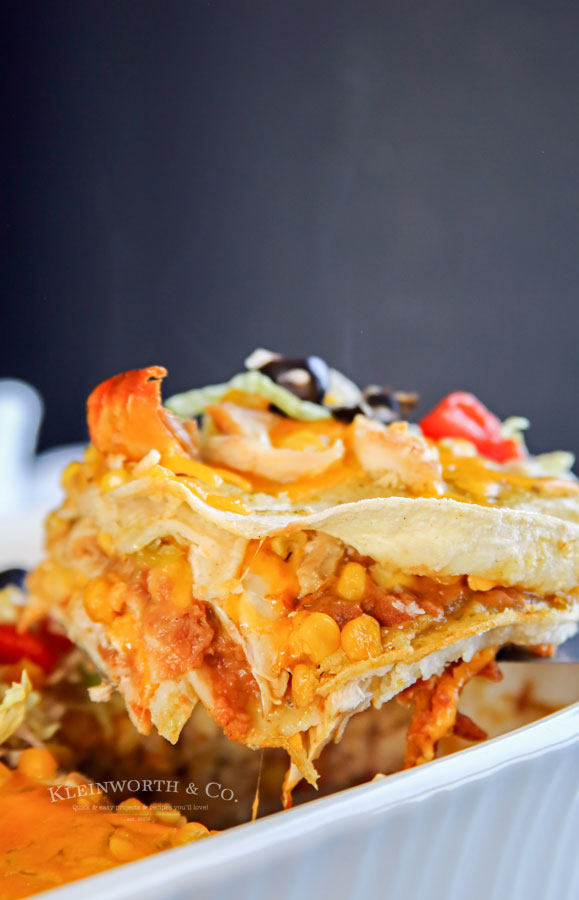 HOW DO YOU MAKE Southwest Chicken Casserole?
Spray a 9×13 casserole dish with cooking spray & set aside. Preheat the oven to 350 degrees.
Line the bottom of the dish with 6 tortillas (they will overlap a bit).
Spread half of the refried beans over the top of the tortillas.
Layer with 1/3 of the cheese, then 1/3 of the chicken, corn, chilis & enchilada sauce.
Repeat the sequence of tortillas, beans, cheese, chicken, corn, chilis & enchilada sauce 2 more times.
Bake for 35-40 minutes or until cheese is melted & the sauce is bubbling.
Let stand 5-10 minutes before serving with optional olives, lettuce, tomatoes & sour cream on top.
What is the best way to store leftover chicken casserole?
If I have a lot of casserole leftover, I will just cover the baking dish and refrigerate for up to 3 days. If I only have a couple of portions left, I will divide it out into individual airtight containers instead. Then everyone can just grab one and reheat them as they need it.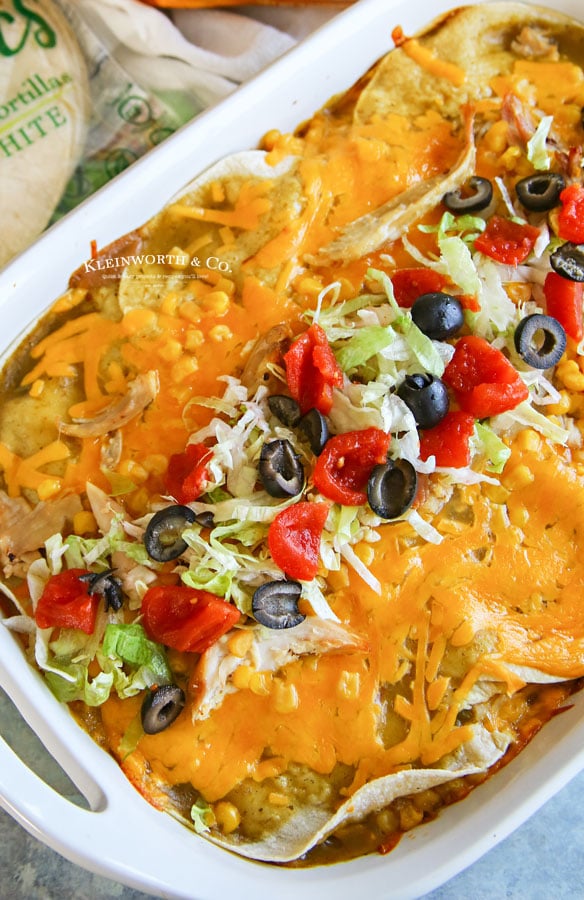 To make Southwest Chicken Casserole you will need…
white corn tortillas
refried beans cooked
shredded chicken leftovers or rotisserie chicken works great
corn drained
shredded cheddar cheese
green enchilada sauce
diced green chilis
olives, lettuce, tomatoes & sour cream for garnish
best southwest chicken recipe
If you love this Easy Casserole recipe, you're going to love these other dinners too. Please click each link below to find the easy, printable recipe!
chicken casserole dinner recipe
If you love this recipe for Southwest Chicken Casserole as much as I do, please write a five-star review, and be sure to help me share on Facebook and Pinterest!
CONNECT WITH KLEINWORTH & CO!
Be sure to follow me on my social media, so you never miss a post!
FB, Pinterest, IG, Email Subscription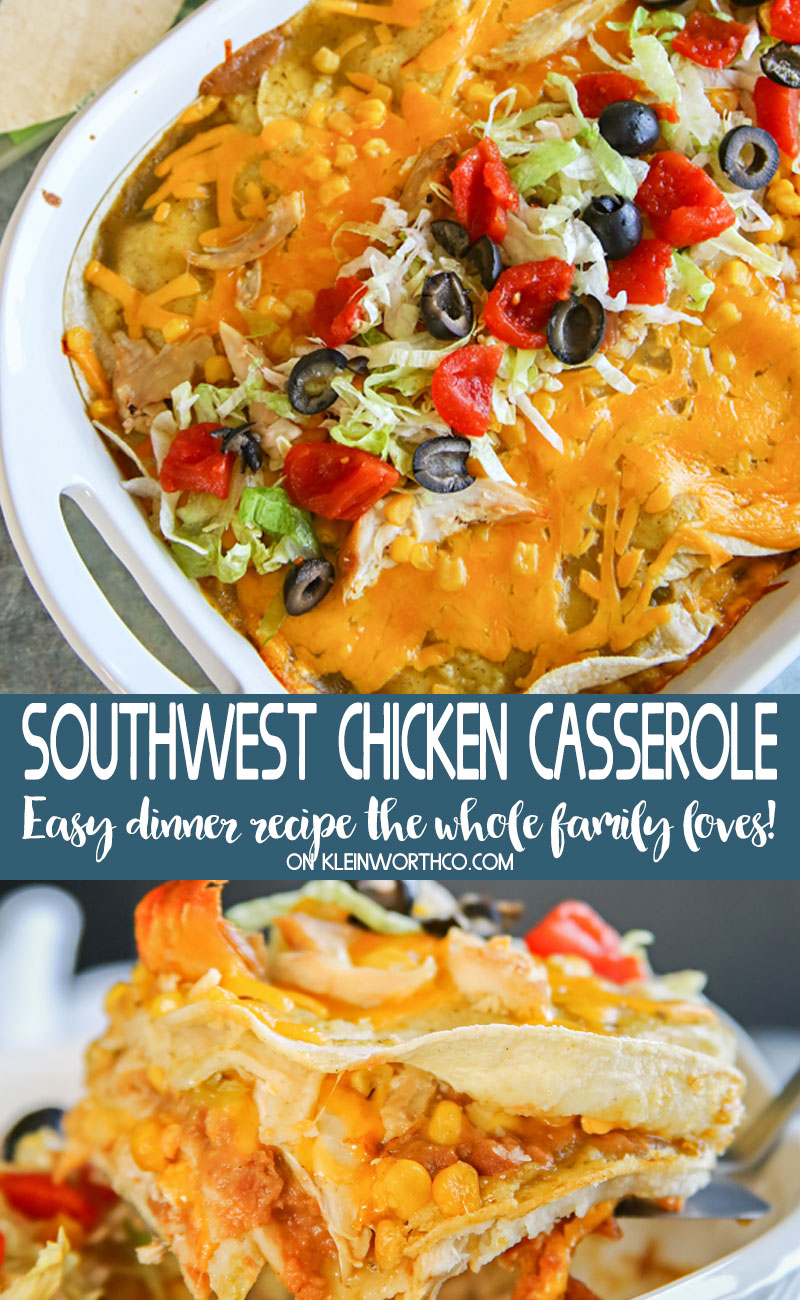 Reader Interactions