The Cheesy Chicken Spaghetti is an easy pressure cooker dinner using the leftover rotisserie chicken. Quick to make & so delicious too.
Our family loves pasta and we have made our fair share of spaghetti in our time. But sometimes I want something a little different from the marinara and beef mixed into the noodles.
Cheesy Chicken Spaghetti is really popular right now and that is no surprise. Sort of like mac & cheese with the creamy cheese sauce, but with spaghetti noodles and leftover chicken mixed in. It's a hit.
Scroll to the bottom for the Printable Recipe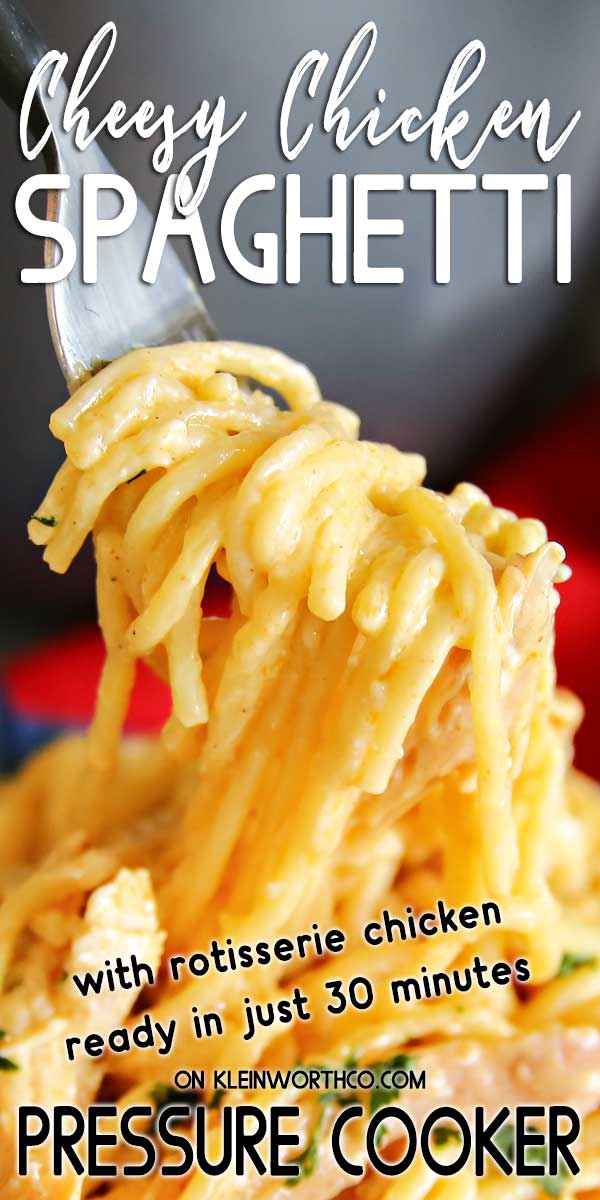 While the recipe is already super easy, I was short on time. So I decided to give it a try in my Instant Pot.
I really love making pasta in my pressure cooker. Not only is it really fast, but it keeps the mess to one pot, so you really can't beat that.
Pressure Cooker Cheesy Chicken Spaghetti Recipe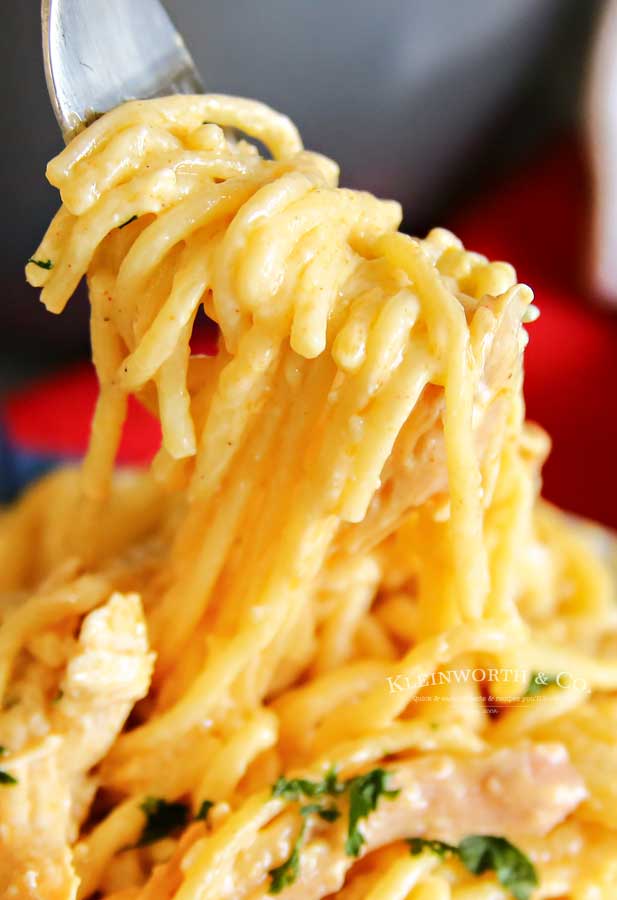 I really love that the kids rave about this. I mean, what's not to like? Cheese, chicken, noodles. It's all good.
But because it is so quick, my son can whip up his own batch after a long day in the lecture hall or at work. It doesn't take him very long and it feeds him for several days, keeping it economical for a college student on a budget.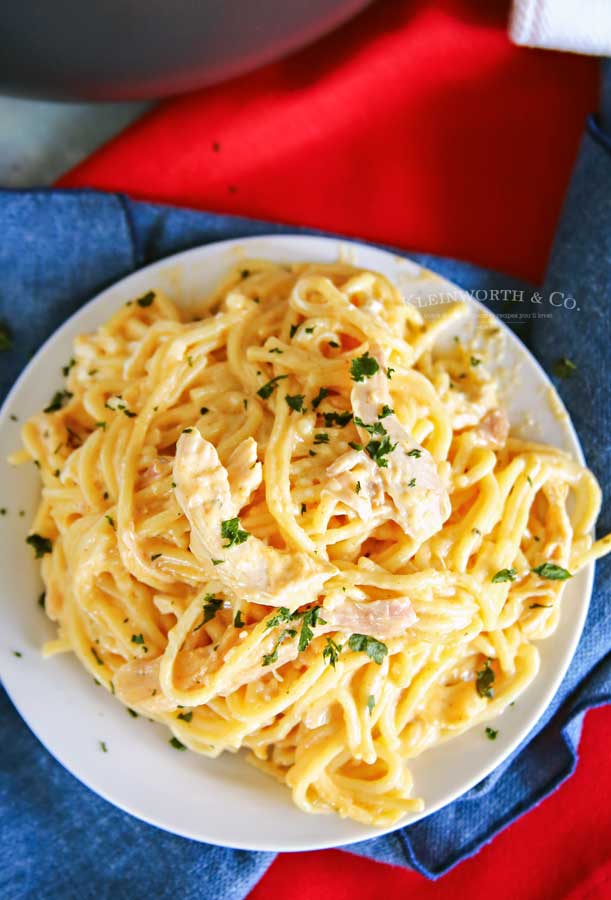 Here are some commonly asked questions
Can I use a different type of noodle?
Yes, you can use angel hair or fettuccine. I have not tested it using bowtie, elbow or spirals yet.
How to I make this recipe at high altitude?
**Live at High Altitude – Because water boils at a lower temperature at high altitudes, and pressure cooking requires water to boil in order to work, some foods may need a little more cooking time.
When pressure cooking at high altitudes you want to make sure to add 5 percent to your cook time for every 1,000 feet above 2,000 feet elevation. For example, when we lived at 4,000+ feet I would add 10 percent to my cook time.
For a recipe that called for 20-minutes of cooking time, I would then cook for 22 minutes. When pressure cooking, 1-2 minutes can make all the difference in a recipe, unlike when cooking by traditional methods.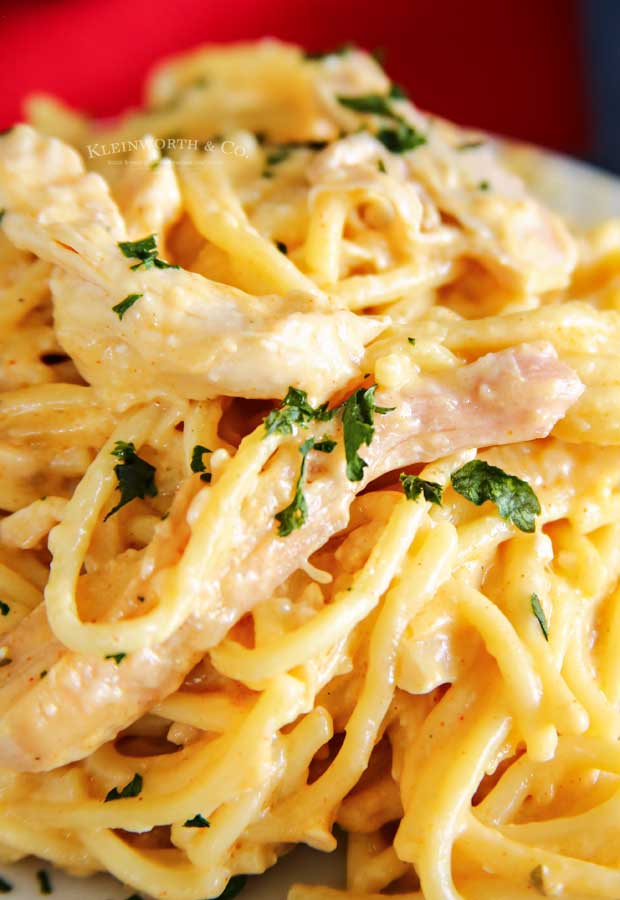 Here are my favorite Instant Pot Tools and Accessories!
How can I store the leftover rotisserie chicken?
If I am tight on time, I usually just leave them in the plastic container that they come in from the deli & refrigerate them. If I have an extra 5 minutes, I will use gloves and debone each one. I place the pulled chicken in a zip-top bag and refrigerate for another recipe the next day.
Can I freeze the leftover rotisserie chicken?
Yes. You absolutely can do that. Just make sure to label with the date before freezing. Use it within 2-3 months.
HOW DO YOU MAKE the Cheesy Chicken Spaghetti?
Place the leftover rotisserie chicken in the bottom of the pressure cooker.
Sprinkle the dried onions, ranch seasoning, granulated garlic and paprika on top of the chicken.
Top with broken spaghetti noodles and spread them out to keep them from sticking together when cooking.
Pour in the water and broth & the alfredo sauce. Don't stir.
Add the milk to the empty alfredo sauce jar, place the lid back on & give it a good shake. Then pour it into the pot.
Place the lid on & cook on manual pressure for 9 minutes and then quick release.
Remove the lid and stir in the cheddar cheese & cream cheese until melted and mixed throughout.
How do I store leftover Cheesy Chicken Spaghetti?
This dinner makes great leftovers. Just place any remaining pasta in an airtight container and refrigerate for up to 3 days. When it comes time to enjoy it again, just add a splash of water and reheat in the microwave for 1-2 minutes or until hot.
Chicken Spaghetti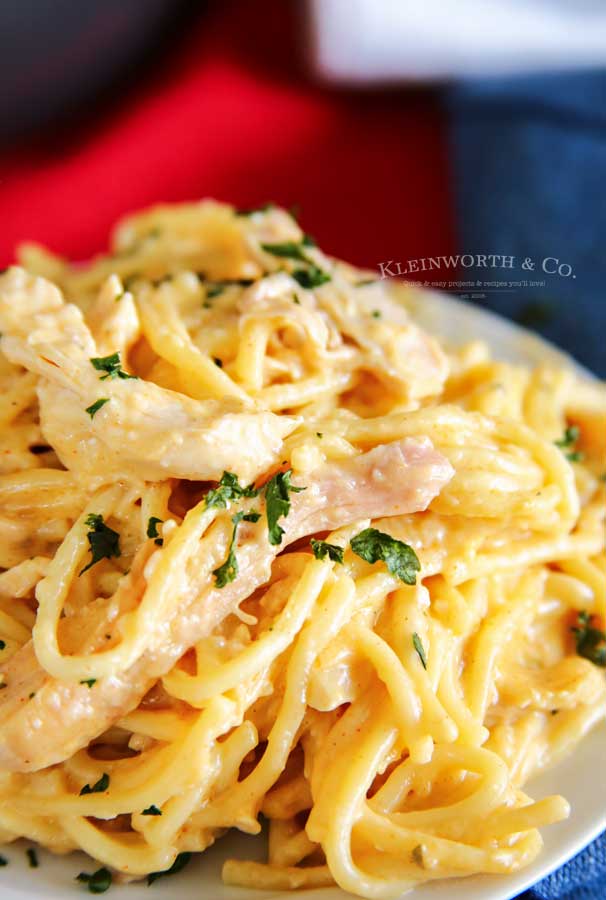 Can this recipe be doubled?
Because of the space constraints of the pressure cooker, I would keep this recipe as written. But it is so fast to make, you could do them back to back if you needed double the amount.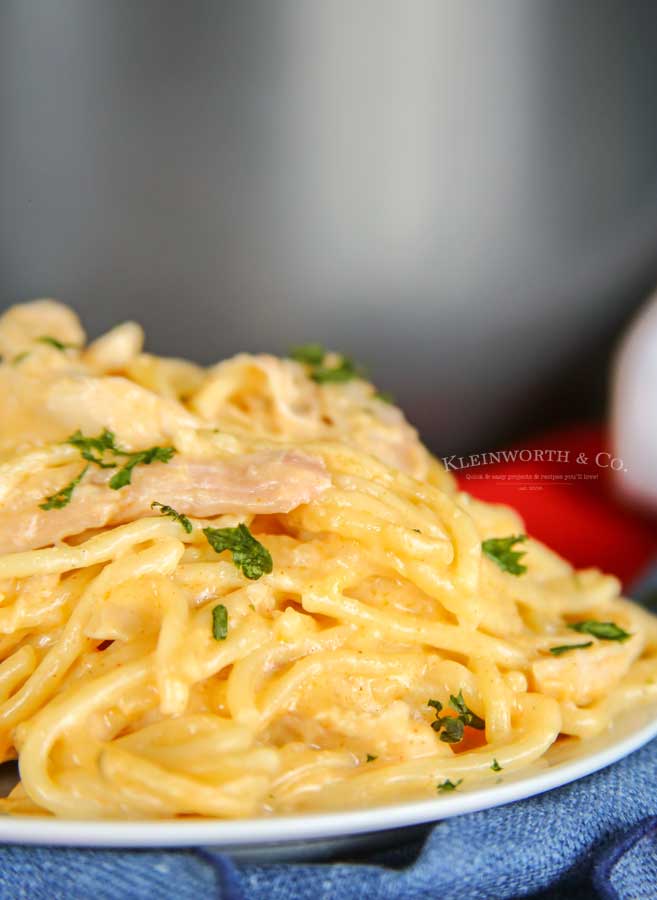 Can I use another type of cheese?
You bet! A lot of people love to use colby-jack, a sprinkle of mozzarella or parmesan instead to give it some variety.
Easy Cheesy Chicken Spaghetti Recipe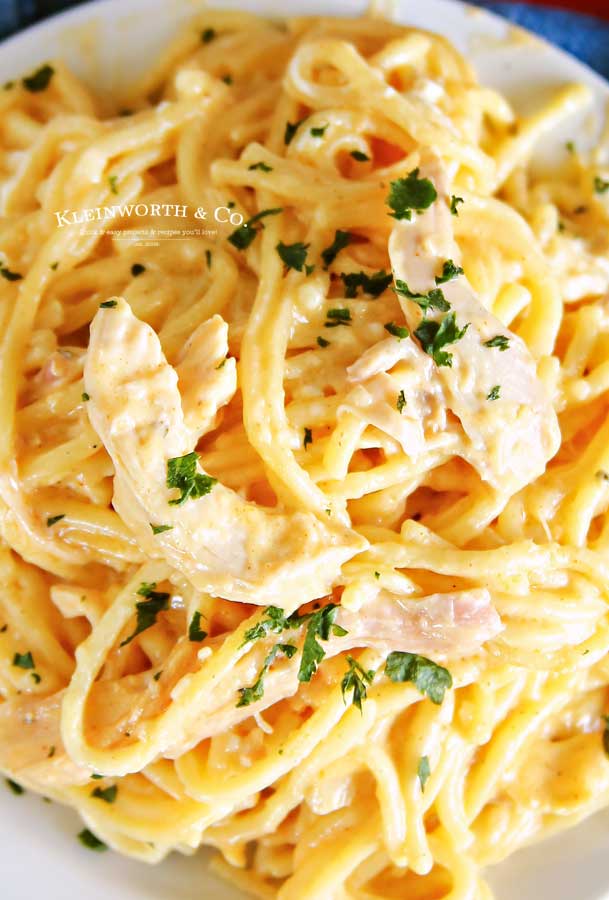 To make this recipe you will need…
leftover rotisserie chicken
dried onions
ranch seasoning
granulated garlic
paprika
spaghetti noodles
water
chicken broth
alfredo sauce
milk
shredded cheddar cheese
cream cheese
Products I love when making Cheesy Chicken Spaghetti…
This Cheesy Chicken Spaghetti recipe is SUPER EASY and delicious – and if you're like me, then you probably already have some of these items on hand OR maybe you have never made pasta in the pressure cooker before, & you might be a bit nervous – but you're going to love it. I have made a list below of the things I absolutely can't live without when it comes to making this dinner recipe.
If you love this Pressure Cooker Cheesy Chicken Spaghetti recipe, you're going to love these other quick dinner recipes too. Please click the links below to find the easy, printable recipe!
Instant Pot Cheesy Chicken Spaghetti
If you love this Easy Cheesy Chicken Spaghetti recipe as much as I do, please write a five-star review, and be sure to help me share on Facebook and Pinterest!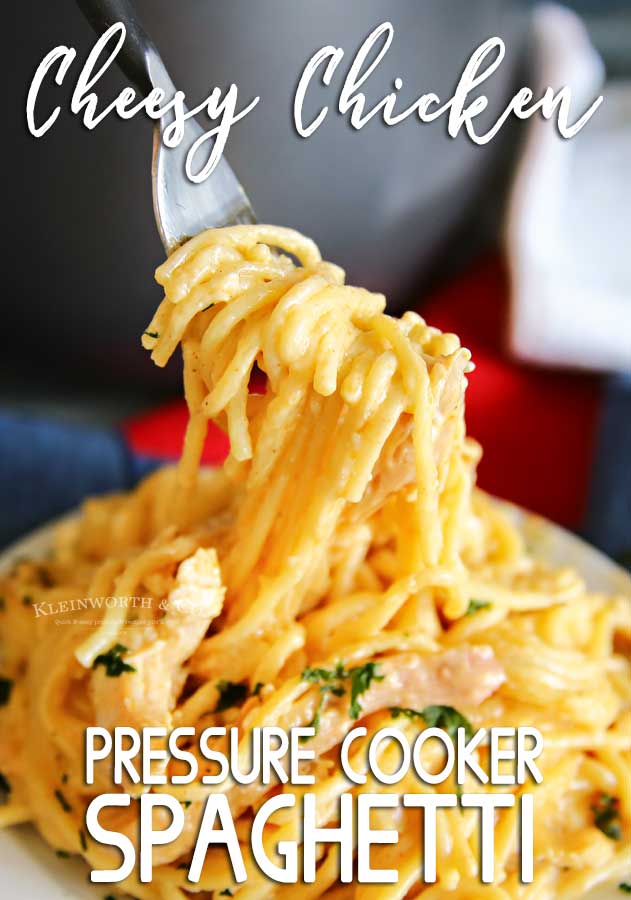 CONNECT WITH KLEINWORTH & CO!
Be sure to follow me on my social media, so you never miss a post!
FB, Pinterest, IG, Email Subscription
Reader Interactions