BBQ Ranch Chicken Casserole is a quick and easy dinner loaded with chicken, cheese, and pasta, tossed and baked with BBQ sauce and ranch.
Do you love casseroles?? I know my family does. My grandmother loved making them for so many occasions so I definitely grew up on casseroles.
I think it was the era, ways to make dinner easier. But the trend sure stuck around. Probably because life hasn't slowed down at all. In fact, it seems it is busier than ever.
Scroll to the bottom for the Printable Recipe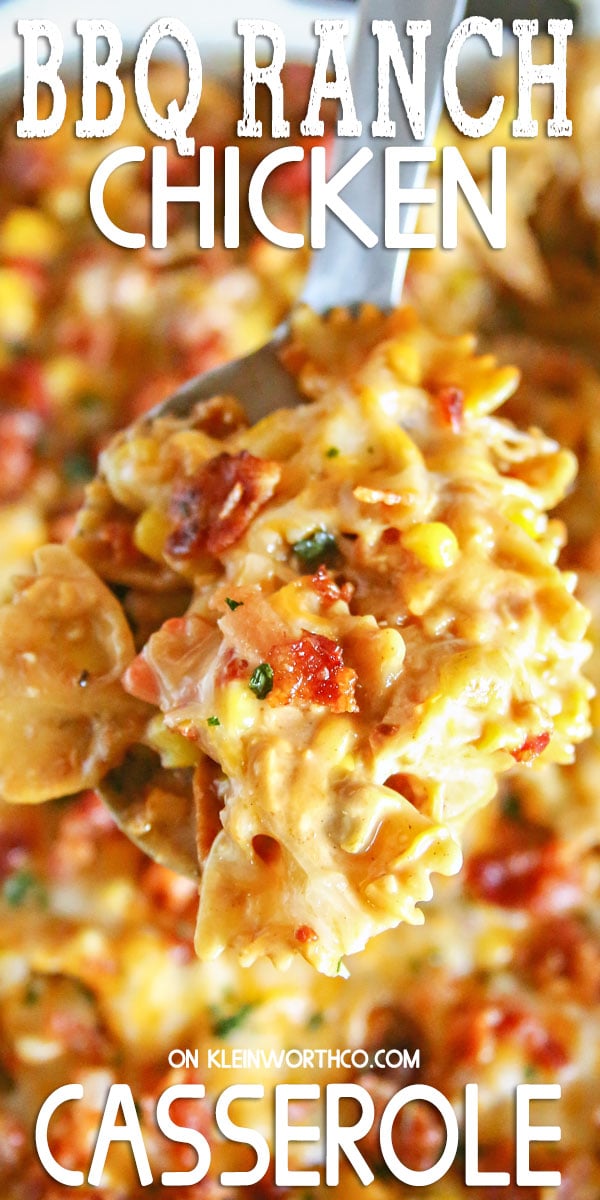 So it really is no surpise that casseroles are more popular than ever. Who can turn down a simple dinner that is made by tossing favorite ingredients and baking?
I love this one because our family is crazy for bbq and ranch. So why not put them together?
ranch chicken casserole
This post contains some affiliate links. Click here to read my full disclosure policy.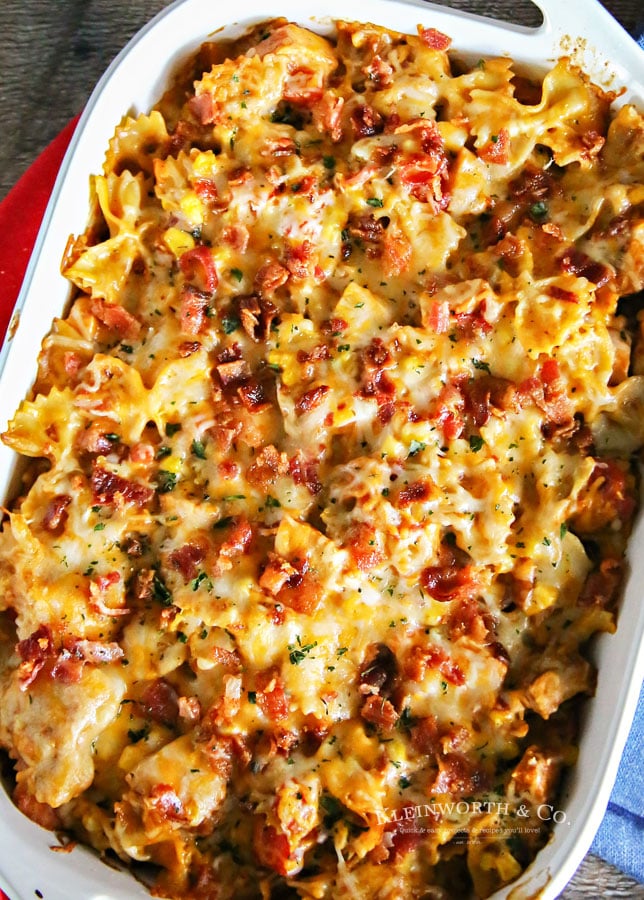 What I love about this recipe is the versatility. You can change up the flavors depending on your crowd.
I love to change things up so we aren't always serving the same thing – even when life gets too busy for a whole lot of creativity.
Here are some commonly asked questions
Can I use fresh chicken?
You sure can. Just cook it before hand. You can do this by either cutting some boneless, skinless chicken breasts into 1″ pieces and sauteing in a skillet until cooked through. Or you can cook the chicken breasts whole, either on the grill, baked or boiled and then shred once cooked.
Can I use a different type of pasta?
Absolutely! I choose bowties because that is not only what I had on hand at the time, but I like the look of them in a casserole. But spirals, elbows or penne would be great too.
Can this casserole be frozen?
I have never had much luck with freezing pasta, so I don't personally recommend it. I find that cooked pasta tends to get soggy when thawed. But if you have had a better experience with this, go ahead and give it a try.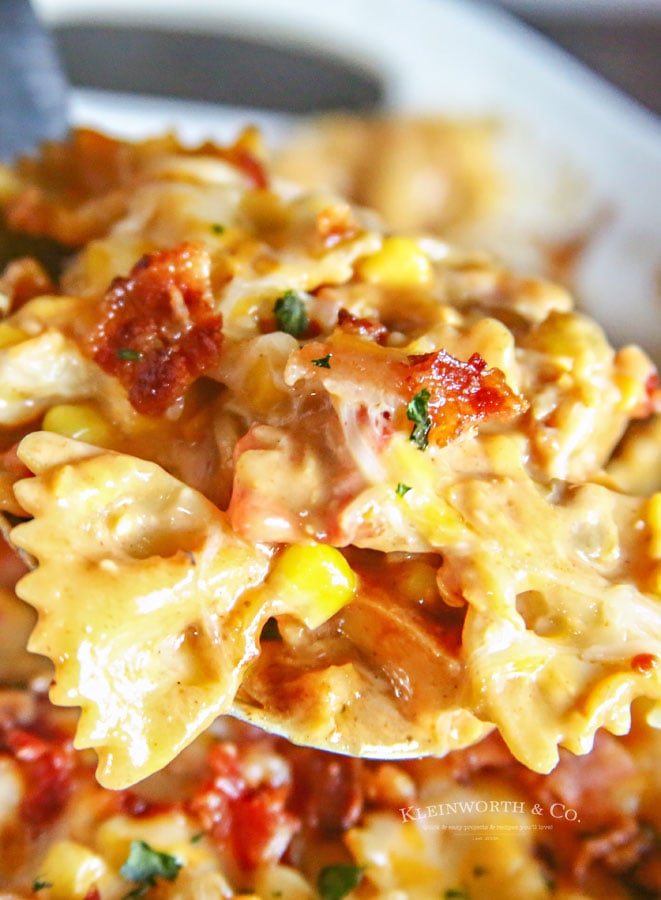 How many can this serve?
This recipe fills a standard casserole dish so it should feed at least 8 people. Or if you have a lot of large appetites, there is enough for at least 4-5 people with some second helpings involved.
bbq chicken bake
Can this recipe be doubled?
You can, when it comes to the ingredients and the mixing. But the original recipe will fill a casserole dish. So you will need to use 2 pans and just bake them side-by-side.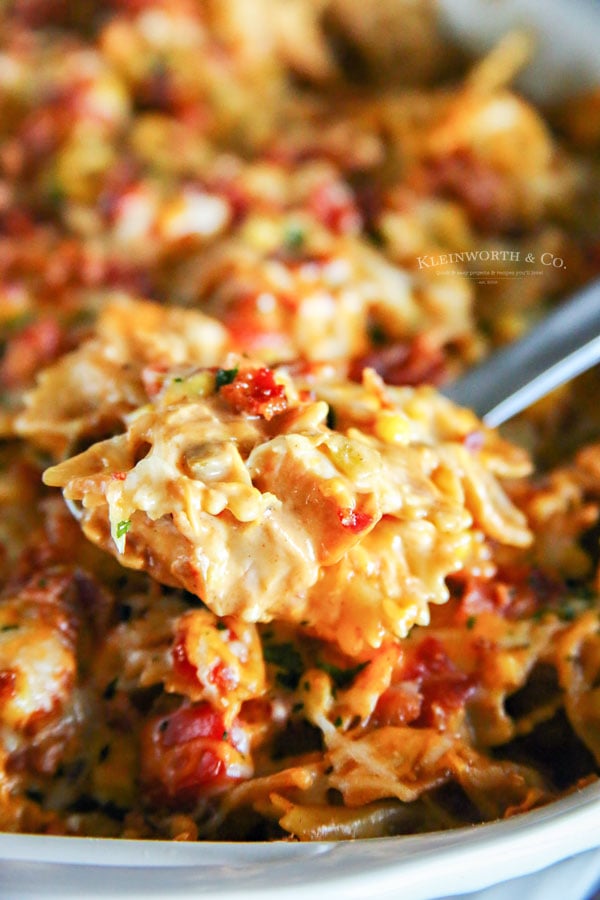 HOW DO YOU MAKE BBQ Ranch Chicken Casserole?
Preheat the oven to 350 degrees.
Cook the pasta to al dente, drain and transfer to a large mixing bowl.
Add in the cooked chicken, chopped bacon or bacon bits, cheese, corn, Rotel, diced green chiles, ranch dressing, bbq sauce, and minced onions. Toss to combine.
Transfer the mixture to a casserole dish and top with additional cheese if desired.
Bake for 15-20 minutes or until hot and cheese is melted.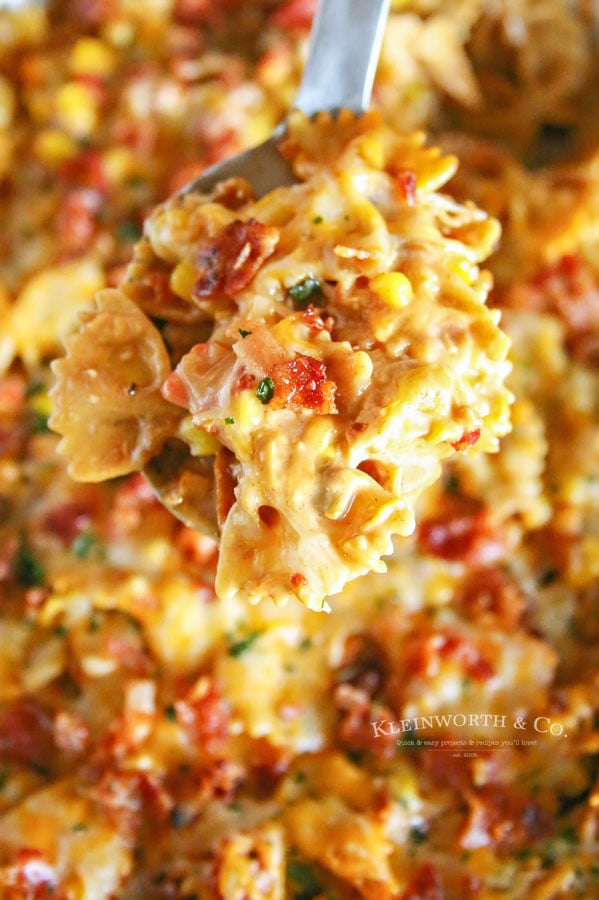 What is the best way to store leftover chicken casserole?
I like to either use my casserole dish that has a plastic lid, so I can just pop it on and get it into the refrigerator OR I top the pan with foil and refrigerate.
You can also transfer any remaining casserole to an airtight container before refrigerating. This recipe should keep well when refrigerated for up to 3 days.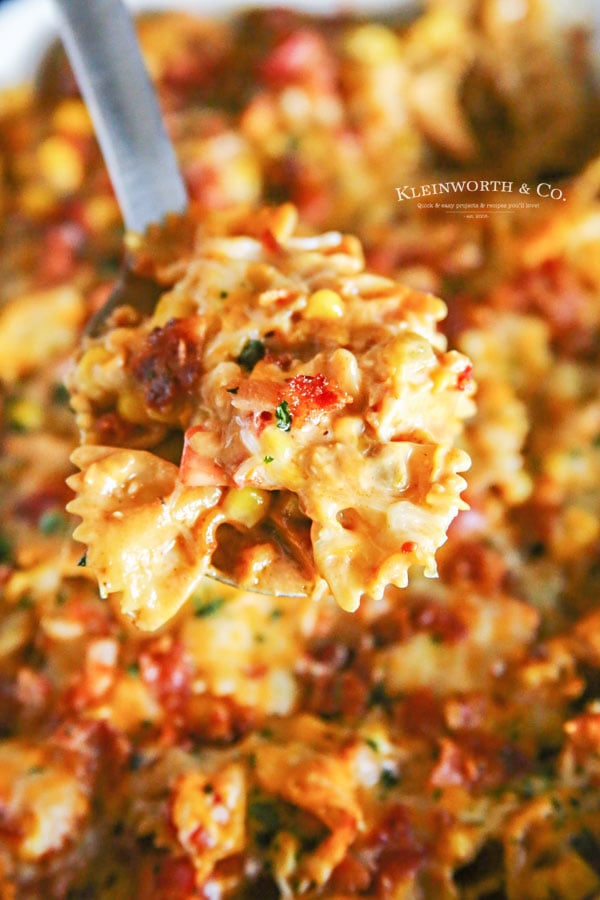 Can I use another type of meat?
You bet. If you would prefer using ground sausage, leftover holiday turkey or even ground beef – all of those are just fine.
To make BBQ Ranch Chicken Casserole you will need…
bowtie pasta
cooked chicken
chopped bacon or bacon bits
cheese
corn
Rotel
diced green chiles
ranch dressing
bbq sauce
minced onions
leftover bbq chicken recipes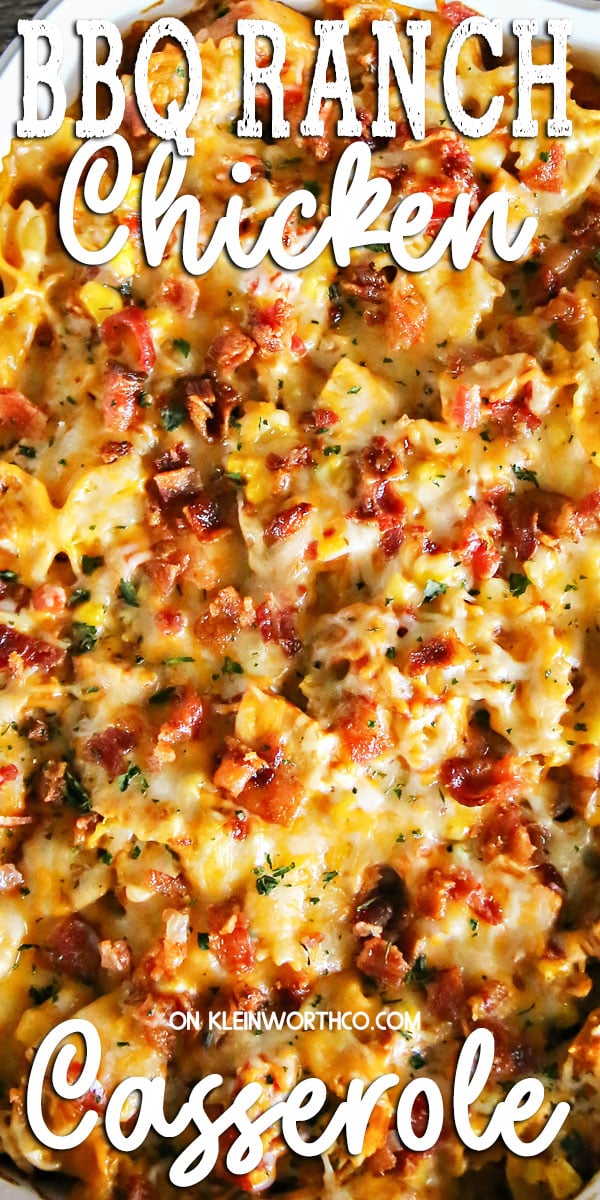 Products I love when making BBQ Ranch Chicken Casserole…
This BBQ Ranch Chicken Casserole recipe is SUPER EASY and delicious – and if you're like me, then you maybe already have some of these items on hand OR maybe you have never made a casserole like this before, & you might be a bit nervous – but you're going to love it. I have made a list below of the things I absolutely can't live without when it comes to making this casserole recipe.
If you love this Easy BBQ Chicken Casserole recipe, you're going to love these other dinners too. Please click each link below to find the easy, printable recipe!
leftover bbq chicken recipe
If you love this recipe for BBQ Ranch Chicken Casserole as much as I do, please write a five-star review, and be sure to help me share on Facebook and Pinterest!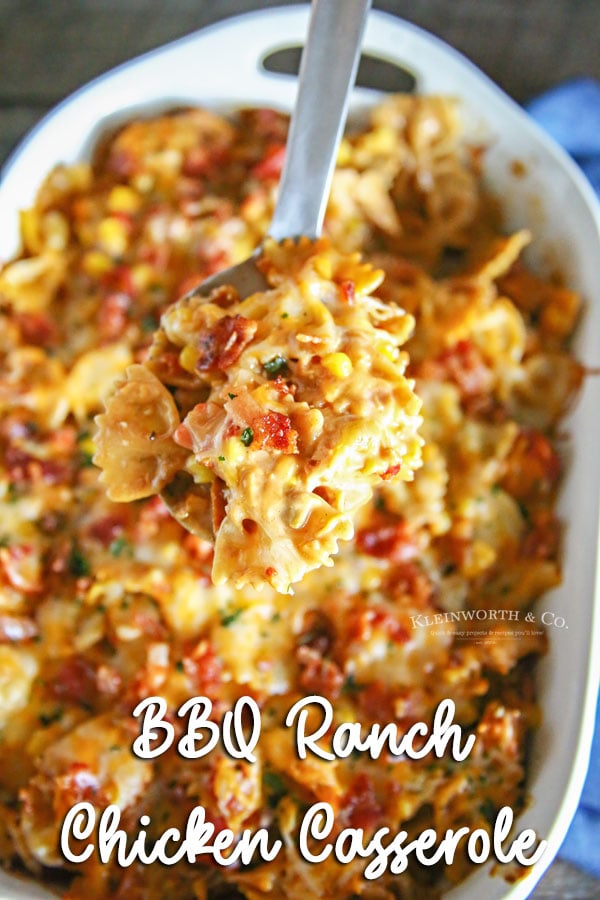 CONNECT WITH KLEINWORTH & CO!
Be sure to follow me on my social media, so you never miss a post!
FB, Pinterest, IG, Email Subscription