Start your day with a lighter version of the classic. Skinny Blueberry Muffins are easy to make & delicious too, making them the perfect breakfast!
There's something so delightful about having a blueberry muffin for breakfast in the morning. But I always feel so guilty when having the ones sold at the local market in bakery section. So I decided to create a lightened up version that I love just as much.
Don't miss our Basic Muffin Recipe for making all your favorite flavors!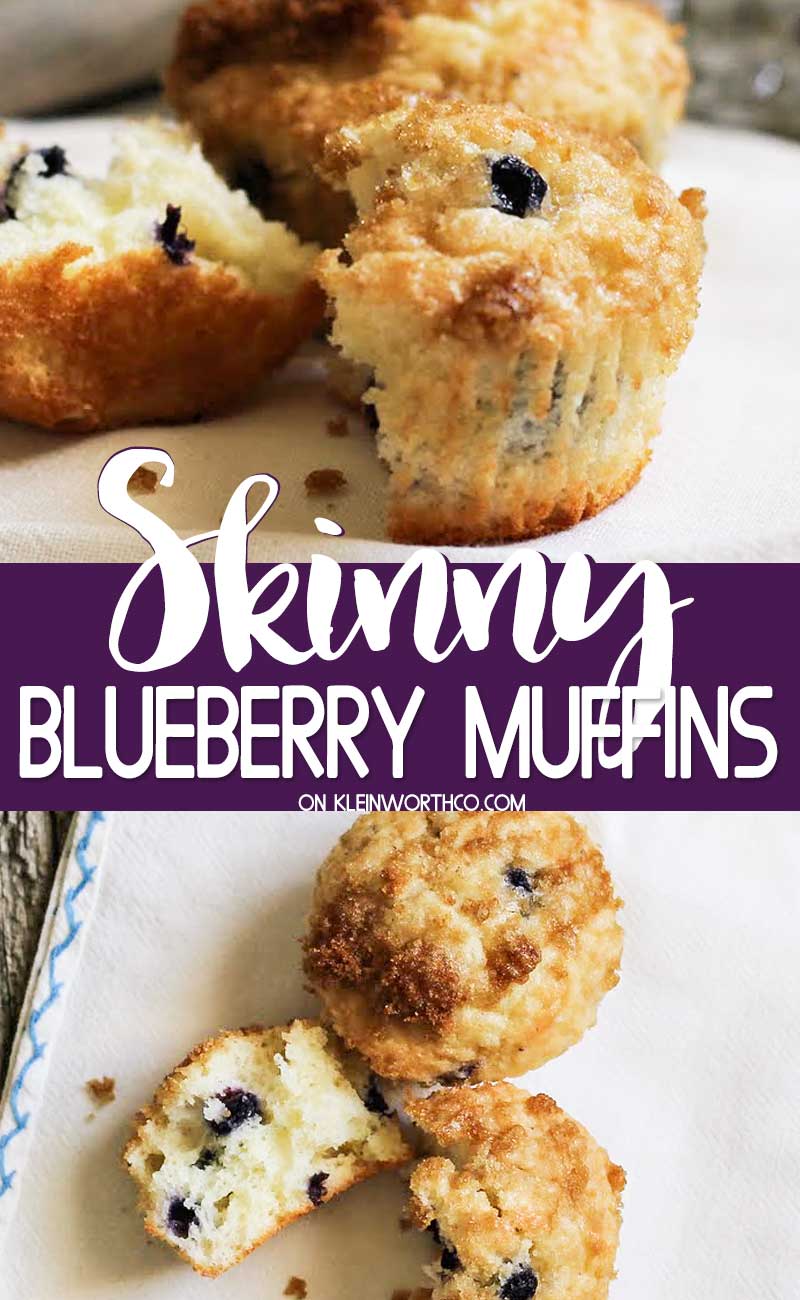 I love being able to eat what I want. The problem is that I really can't anymore because my metabolism isn't what it used to be. Sigh…it happens to the best of us, right?
But I don't want to go without because when I feel deprived is when I give up altogether. So I love to create new ways to lighten up some of my favorite recipes so we can have them more frequently without feeling guilty.
low calorie blueberry muffin recipe
This post contains some affiliate links. Click here to read my full disclosure policy.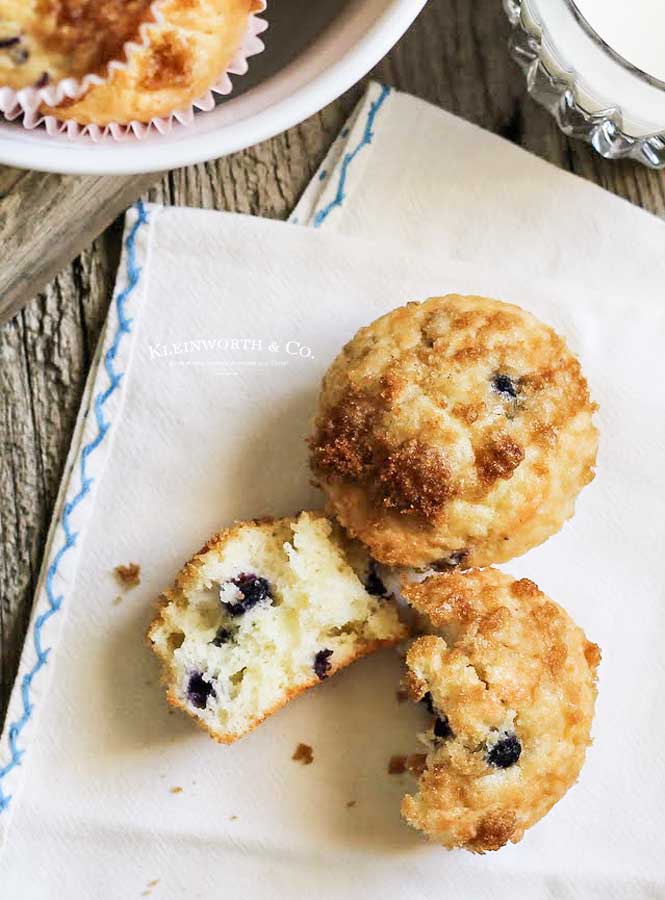 For as long as I can remember, blueberry muffins have been one of my favorite breakfast recipes. Something about a sweet & spongy muffin with those little bursts of berries in each bite.
One of the things I love the most about these is how easy they are to make. Not only does this batter mix together quickly & easily, but these muffins only take about 20 minutes to bake. So you could have a warm & fluffy blueberry muffin in about 30 minutes.
The bonus is that during the summer months I can use the berries from our garden, which makes me so happy!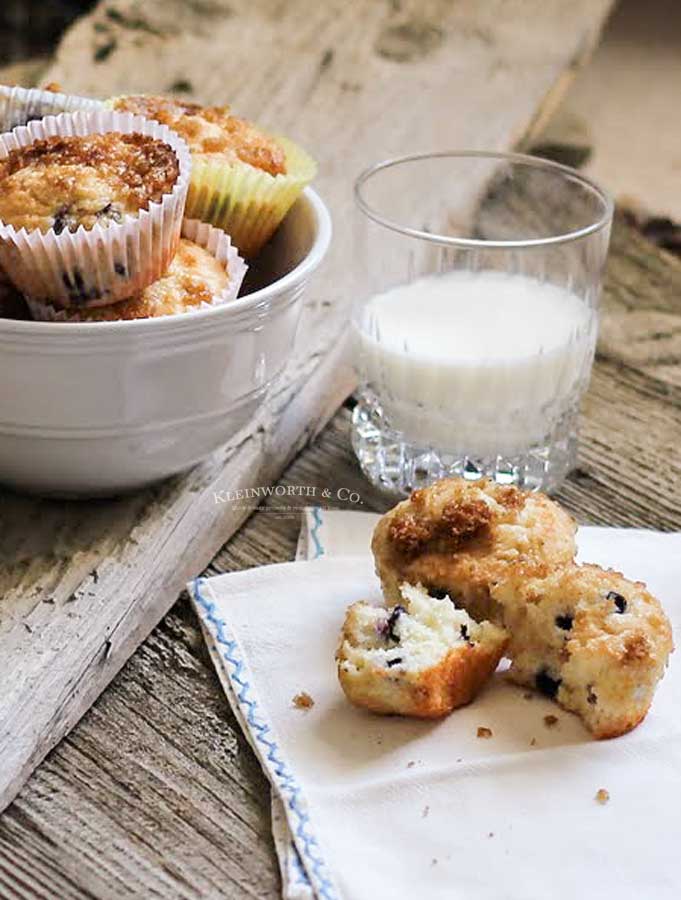 These sure are a hit with my kids. They already LOVE blueberries and pop them like candy, so anything made with blueberries always makes them happy.
They are always fighting over who gets to go harvest the ripe berries off the bushes. I'm sure there is some snacking involved while the harvesting is happening.
I would imagine that at least 30-50% of the berries that get harvested never actually make it into the house. That's fine, there is something so satisfying about eating the food grown in your own garden. I don't blame them.
Here are some commonly asked questions
Can I make this recipe with frozen blueberries?
Yes, you can use frozen berries. Just make sure to thaw & dry them before adding to your batter. If you try to bake them while still partially frozen they will let out too much moisture and the batter won't bake right.
What is the best way to store leftover blueberry muffins?
I like to place any muffins we aren't enjoying immediately into a zip-top bag or plastic airtight container. These should keep well at room temperature for up to 3 days.
If you live in an abnormally hot, dry or humid climate, these might keep better in the refrigerator. This way they don't dry out or mold too quickly due to the variations in climate.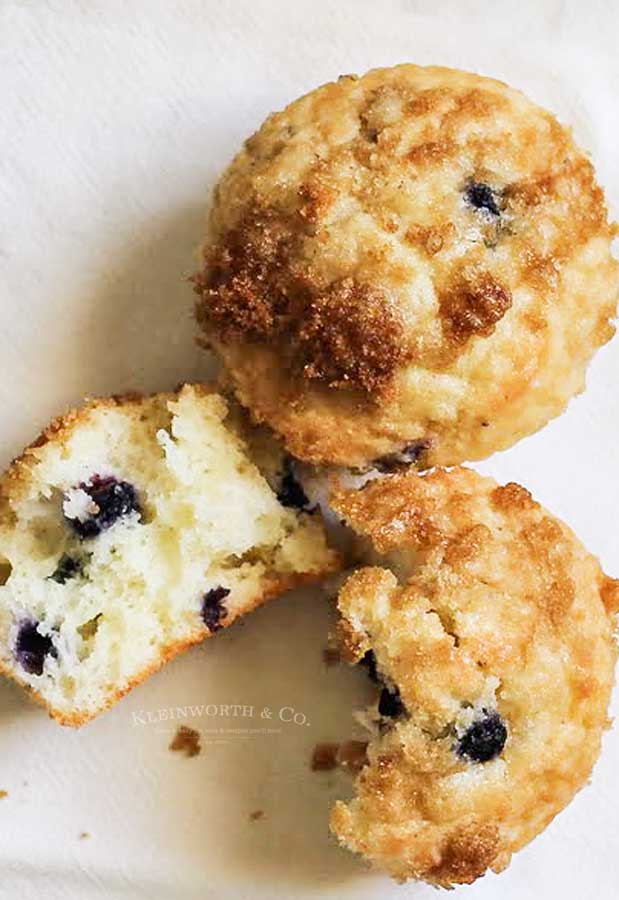 blueberry muffin recipe healthy
Can this recipe be doubled?
Yes, absolutely. I like to double this recipe and freeze the second batch. Then I take them down to my son so he can have breakfast for a week or more. It's great when he doesn't have to worry too much about making meals with all the demands on his schedule.
Can this recipe be halved?
I haven't tried making a half-batch for this recipe yet. The trick would be cutting that egg in half. You could use an egg substitute so it makes it easier for that portion of the recipe. Or you could make the recipe as it is written & then freeze whatever portion you won't use immediately or share with friends.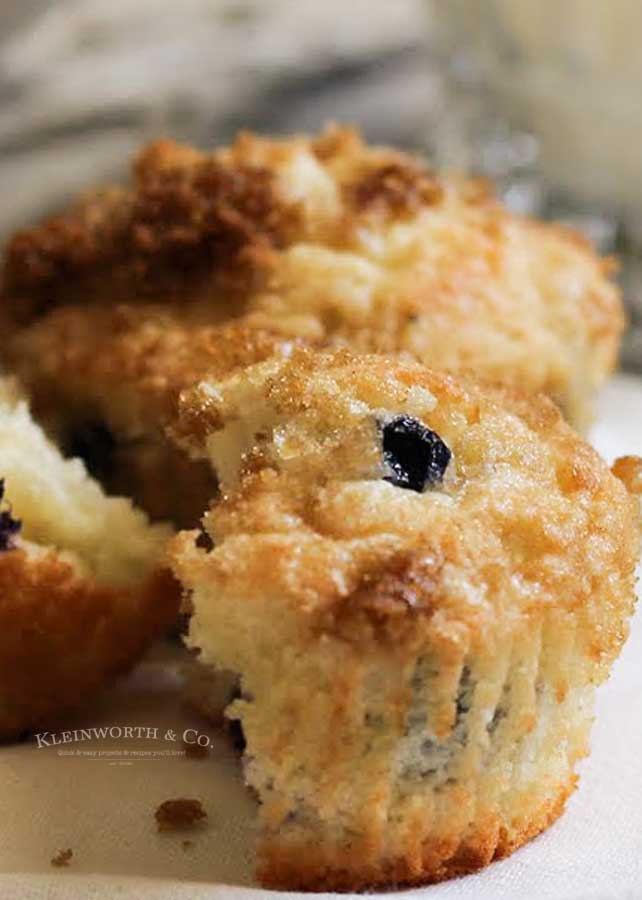 HOW DO YOU MAKE Skinny Blueberry Muffins?
Preheat the oven to 400°F.
Spray a 12-cup muffin tin with nonstick spray or fill with paper liners.
Combine the flour, sugar, baking powder, baking soda, & salt in a large bowl.
Use a pastry cutter or cross 2 butter knives to cut in the butter until the mixture is crumbly.
Whisk in the milk, yogurt & egg, in a separate large bowl.
Pour the milk mixture into the flour mixture & whisk just until blended.
Gently fold in the blueberries.
Spoon the batter into the prepared muffin cups, filling each about two-thirds full.
Bake until the muffins are golden brown or the toothpick test comes out clean, approx 20 minutes.
Cool the muffins in the pan on a wire rack for 10 minutes.
Remove the muffins from the pan & cool completely.
You don't want to miss our Apple Cinnamon Muffins too!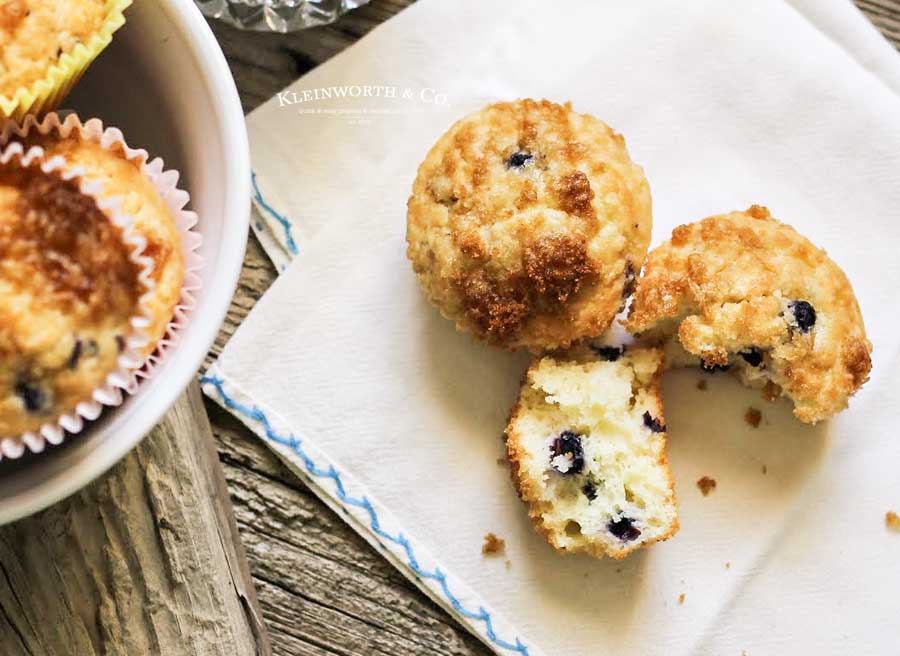 Can I use a gluten-free flour?
I'm not sure just yet. I have been meaning to give this a try but haven't had a chance. If you do try this, I would recommend using a 1:1 flour like this one as I don't believe it would require additional ingredients that are typically called for when trying to make bread-type recipes in a gluten-free version. Please come back & tell me how they turned out.
Can I use almond or coconut milk in this recipe?
Yes, if you would like to swap out the milk for an alternative like almond or coconut milk, that would work just fine with this recipe.
Can I use regular yogurt instead of Greek yogurt?
No, regular yogurt doesn't have the same properties or consistency to work well for this recipe. You can use sour cream in place of the Greek yogurt, but it would take away the healthier factor and make these closer to a regular blueberry muffin.
baking with greek yogurt
To make this recipe you will need…
all-purpose flour
granulated sugar
baking powder
baking soda
table salt
cold butter
fat-free milk
low-fat 2% Greek yogurt
egg
fresh blueberries
Products I love when making Skinny Blueberry Muffins…
This Skinny Blueberry Muffins recipe is so EASY and delicious – and if you're like me, you probably already have many of these items on hand! OR maybe you have never made homemade muffins before, & you might be a bit nervous – but you're going to love the how easy this breakfast treat is to make. I have made a list below of the things I absolutely can't live without when it comes to making these muffins.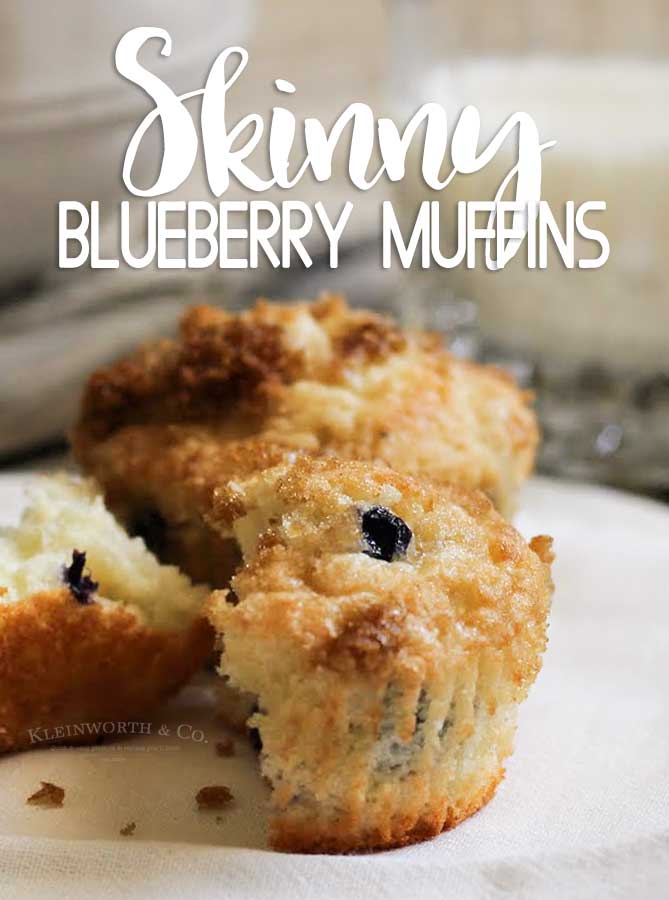 These are the perfect breakfast for any season!
Scroll to the bottom for the Printable Recipe
baking recipes with greek yogurt
If you love this Skinny Blueberry Muffins recipe, you're going to love these other quick & easy breakfast recipes too. Please click each link below to find the easy, printable recipe!

low fat muffins
If you love this Skinny Blueberry Muffins recipe as much as I do, please write a five star review, and be sure to help me share on facebook and pinterest!
CONNECT WITH KLEINWORTH & CO!
Be sure to follow me on my social media, so you never miss a post!
FB, Pinterest, IG, Email Subscription
Reader Interactions