Celebrate the fall harvest with our beautiful, natural Raw Husk Corn Husk Wreath. Designed to be hung on your front door, this wreath is a reminder of all the beauty around you.
Fall is the perfect time to add some decorative touches to your home, and a raw cornhusk wreath is a great way to do that. This project is simple and can be done in just a few hours, so it's perfect if you're looking for a quick but stylish way to decorate your porch for autumn.
Plus, it's a great way to use up any extra corn husks you may have lying around. Let's get started!
PIN THIS TO SAVE FOR LATER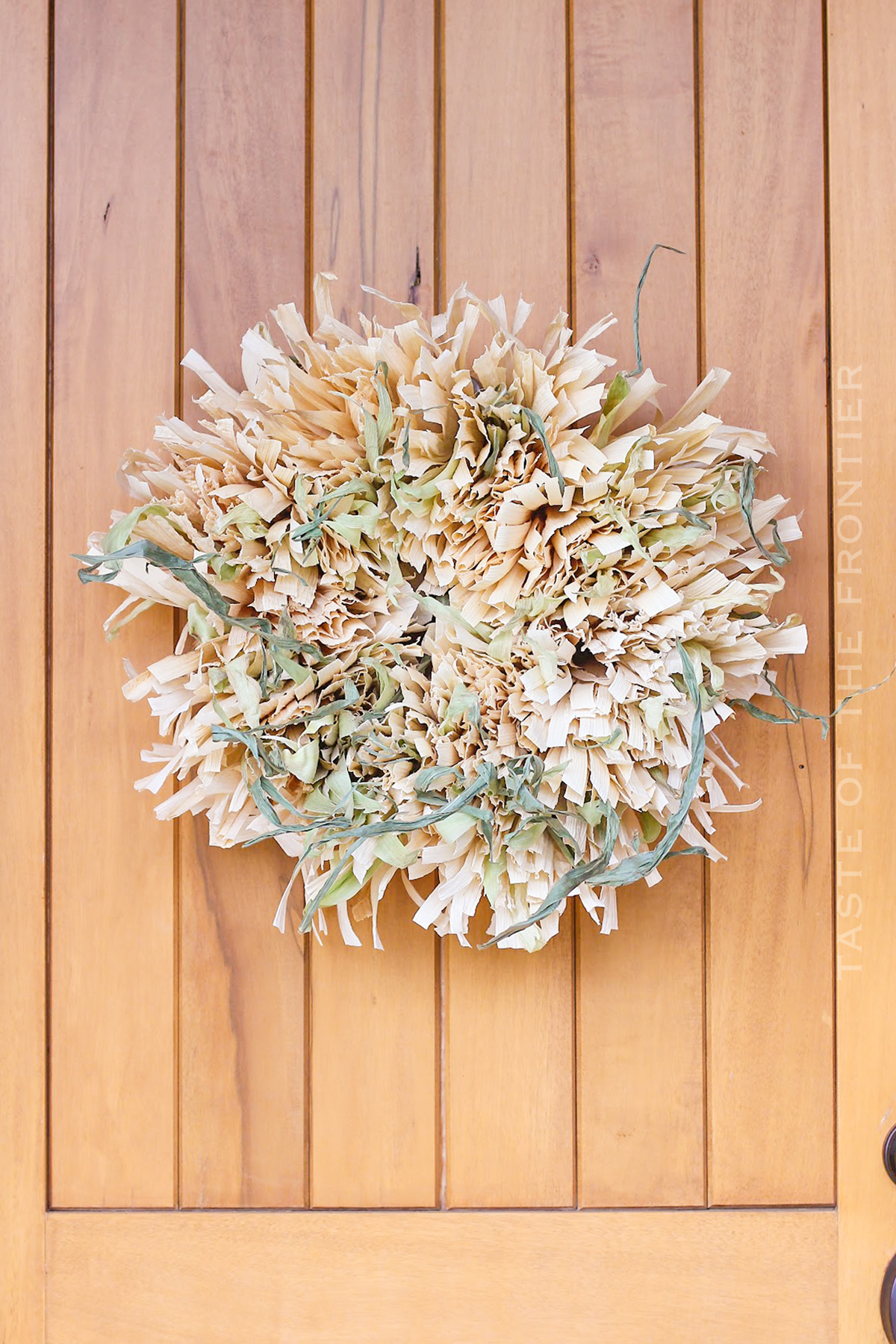 A week ago I shared with you my Frayed Corn Husk Wreath. I had said at that time that it would be more for over the mantle than on the front door.
We ended up finishing the mantle decor & I did move that wreath to above the mantle. I will be sharing that with you all soon.
corn husk crafts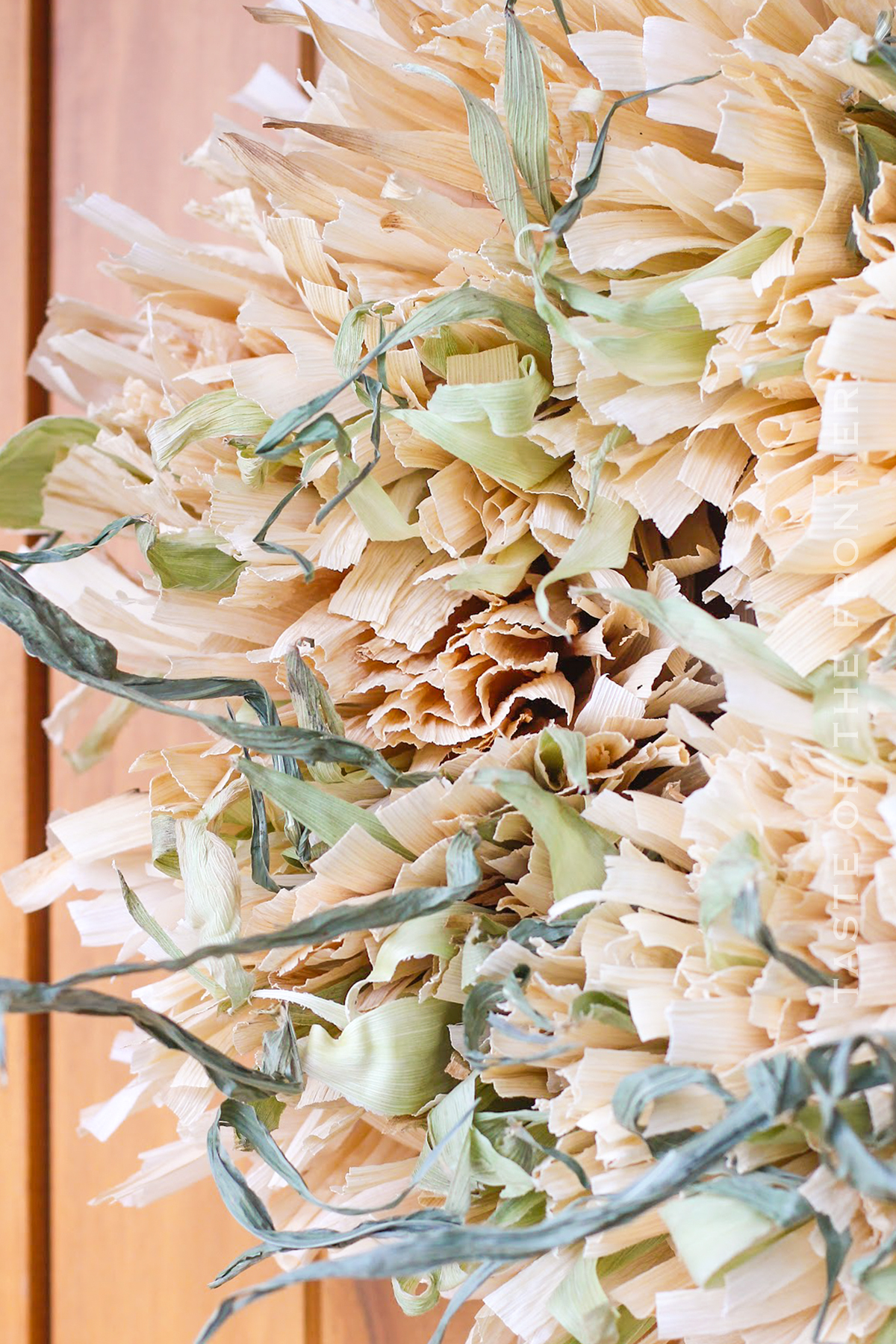 That meant that I needed a wreath for the front door. I had already picked up some bags of husks at the store- but I was standing at the counter shucking the corn for dinner when I realized that the green husks were also beautiful.
Instead of tossing them- I separated them from the silks & laid them on the counter to dry overnight. Then the next day the ends were nice & curled & I knew I could spend some time working on a new front door wreath. The finished project ended up being this…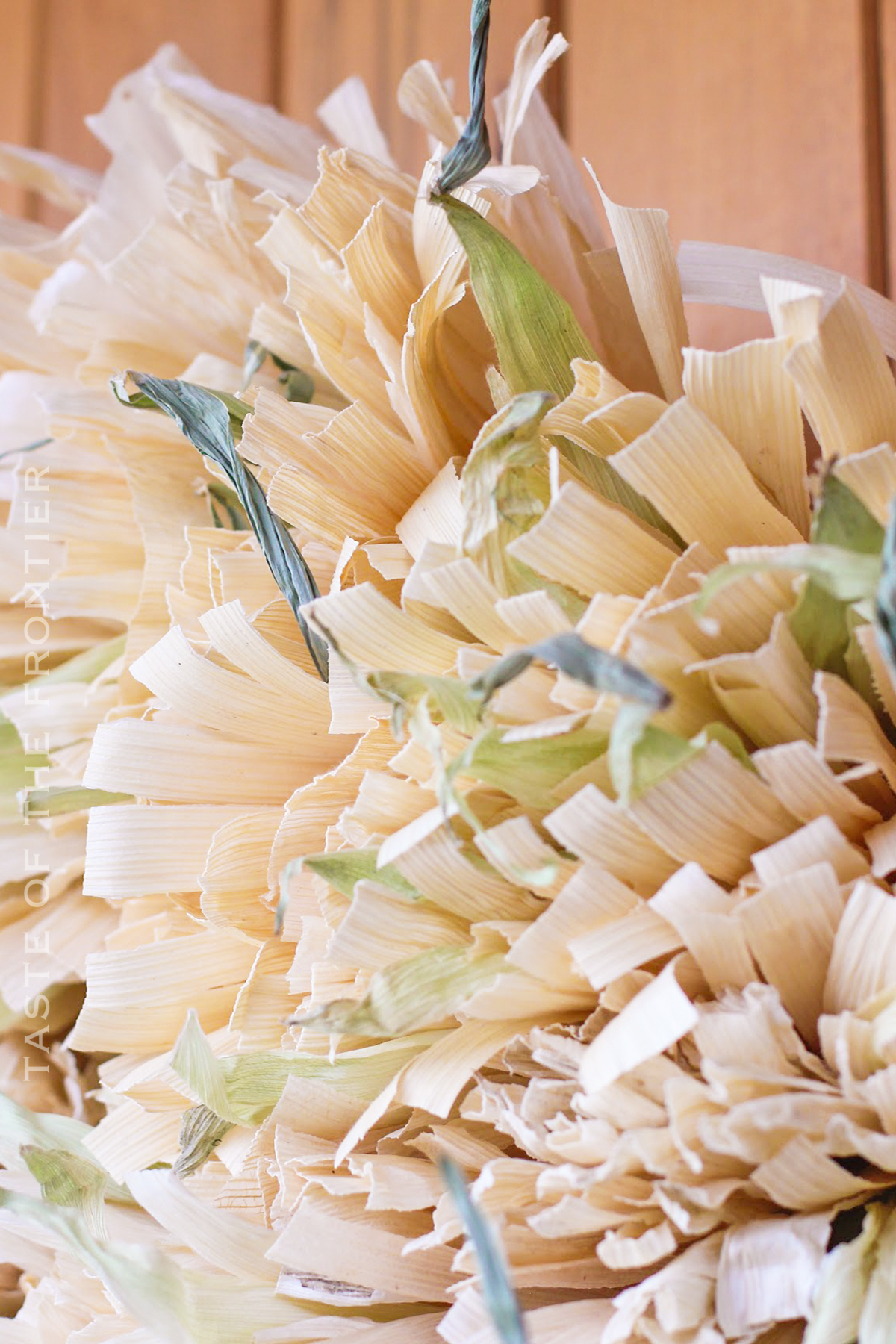 Here are some commonly asked questions
Where can I find corn husks?
Corn husks can be found in the international food section of the grocery store. I haven't bought any in a while, but I used to be able to get a decently large bag for around $2-5. Now they run about $8 a bag – but you might be able to find them at the dollar store for so much less. You will need at least 2-3 bags to make this wreath, depending on how full you want the end result to be.
NOTE: TIE THE HUSKS AS TIGHT AS YOU CAN – THEY WILL SHRINK AS THEY DRY. They will eventually fall out of the twine if they are not tight enough.
Can this be made without the raw husks?
You bet! If you want to make this wreath using only the husks you can find in the bag – that will work just fine. You won't need the raw ones for the wreath to work – it just won't have the green pieces from the raw husks.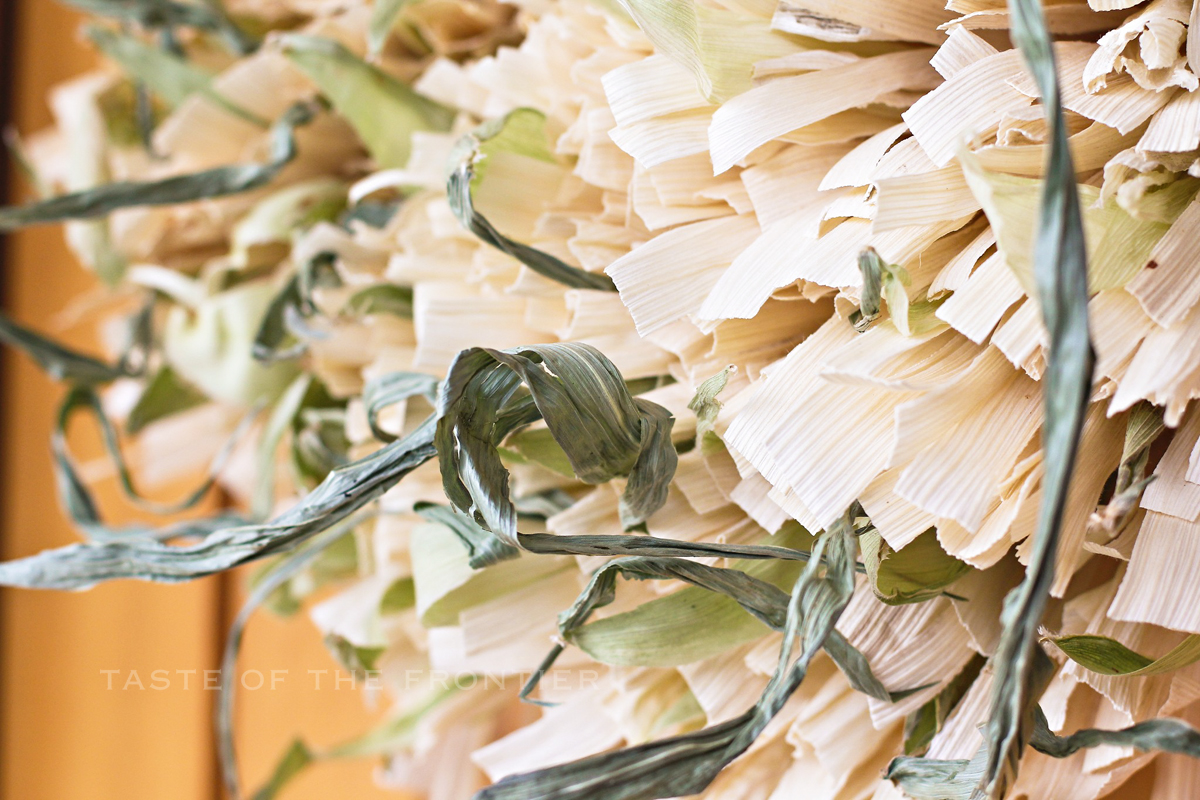 Where do I find raw corn husks?
Find raw corn husks when buying fresh corn on the cob. Just pick up some corn on the cob – shuck the corn and separate the silks from the husks. You can then use the green husks for this wreath craft.
SUPPLY LIST
How to hang the wreath
If you are using the wire form linked here, it should slide right onto a hook or nail to hang it up. If you choose another wreath form that doesn't fit nicely onto a hook or nail – you can use the twine to tie a loop onto the back of the form to make it easier to hang the wreath.
Cleaning a Corn Husk Wreath
As with most things that sit outside, the wreath can collect dust and pollen that is in the air. To clean the wreath you can take some canned air or even just an air compressor or leaf blower and gently blow the dust and dirt off of the wreath.
Do not wash the wreath with the hose or bring it inside and rinse it off with water. Re-wetting the husks will make the wreath fall apart.
NOTE – KEEP THE WREATH OUT OF DIRECT WEATHER – YOU DON'T WANT IT TO GET WET FROM RAIN OR SNOW.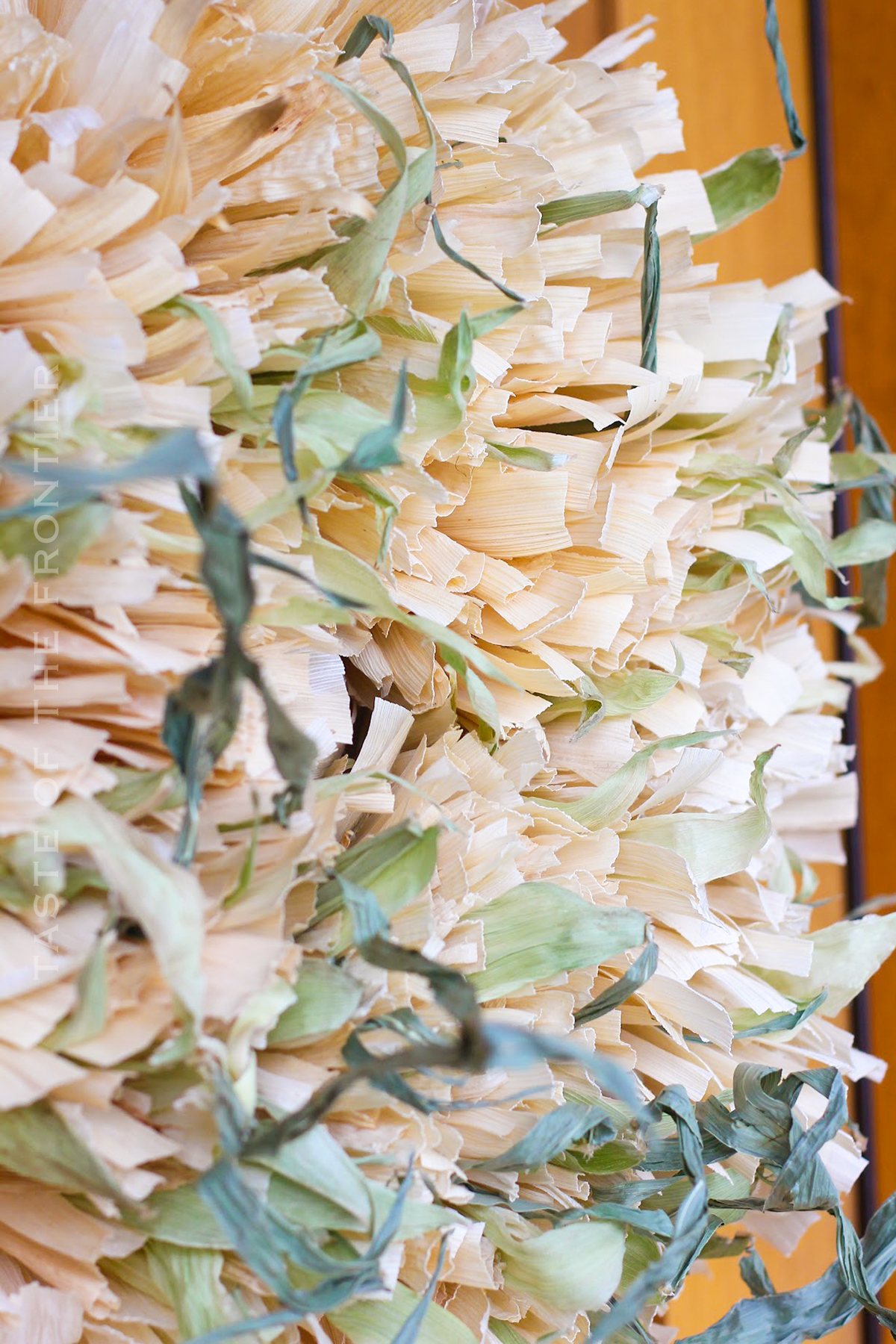 How to Prepare the Corn Husks for Crafting
Soak the natural husks from the bags in a fresh bowl of clean water.
Place another bowl or jar on top of them to hold them down in the water as they will want to float. Leave them in the water for several hours to really soften them up. The water will soften the husks and make them pliable and easier to work with.
Once soft, remove from the water and pat any excess moisture off with paper towels.
How to Make a Corn Husk Wreath
Working with 3 at a time- (1 raw green husk in-between 2 natural husks) bunch them at one end.
Take a piece of twine & tie them to the wreath form.
Continue adding the bundles of husks onto the wreath form, making sure to overlap the bundles of husks to make the wreath as thin or full as you desire.
Once you have assembled the entire wreath, hang the wreath upside down in a warm place to dry. This allows the husks to all dry straight out instead of sagging towards the bottom. I attached mine to a wire hanger with paper clips & hung it in the warm garage for a couple of days.
---
If you love this easy-to-make wreath, you're going to love these other crafts too. Check out the other fun ideas below!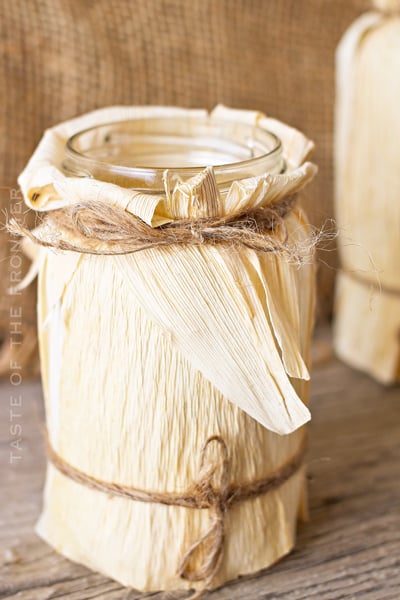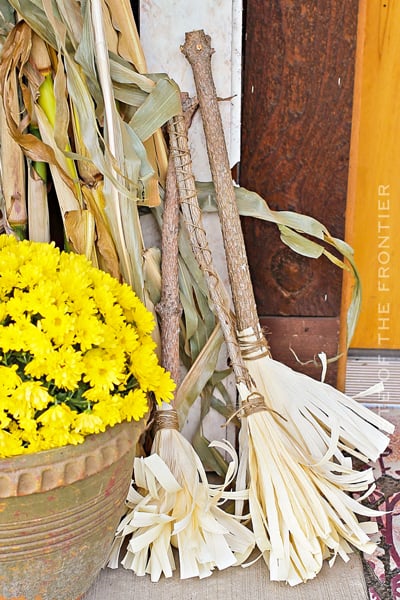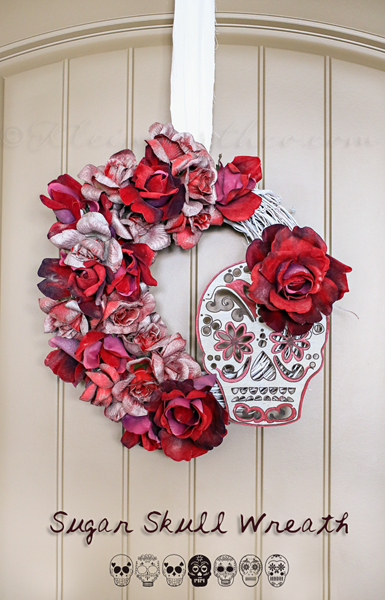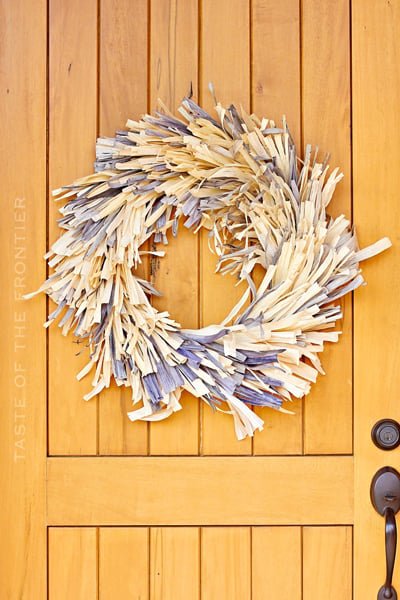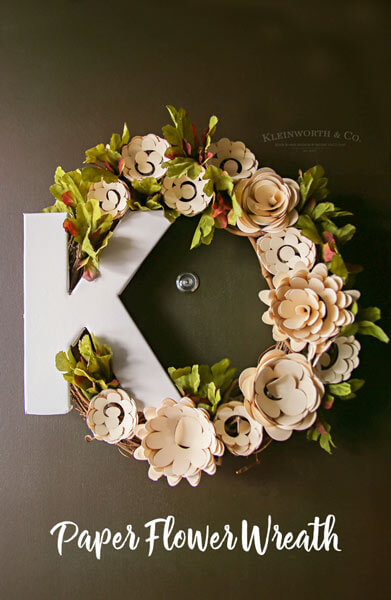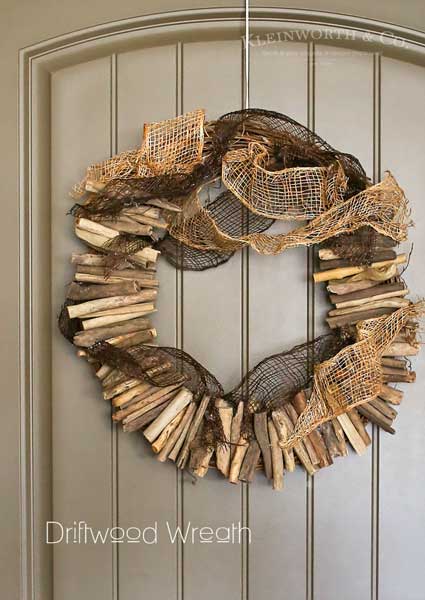 ---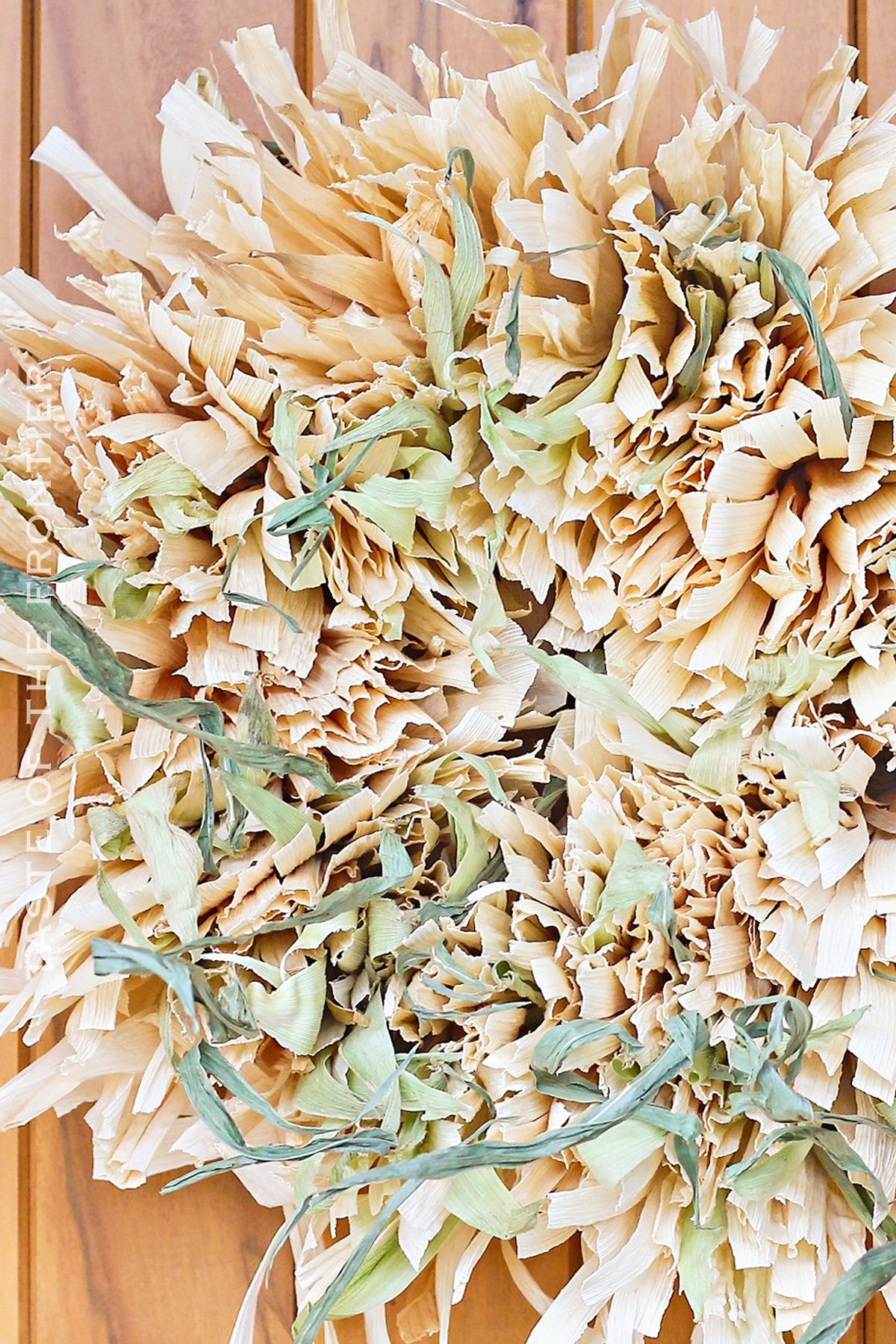 If you're looking for a rustic and chic way to decorate your porch for fall, this Raw Husk Corn Husk Wreath is perfect. It's easy to make and adds a touch of autumnal charm to any space. Give it a try and I know you'll love it!
---
If you love this Raw Husk Corn Husk Wreath as much as I do, please be sure to help me share on Facebook and Pinterest!
---
CONNECT WITH TASTE OF THE FRONTIER!
Be sure to follow me on my social media, so you never miss a post!
---