Parmesan Roasted Potatoes are just another one of my Easy Family Dinner Ideas that are simple to make. If you need easy side dishes this one is perfect.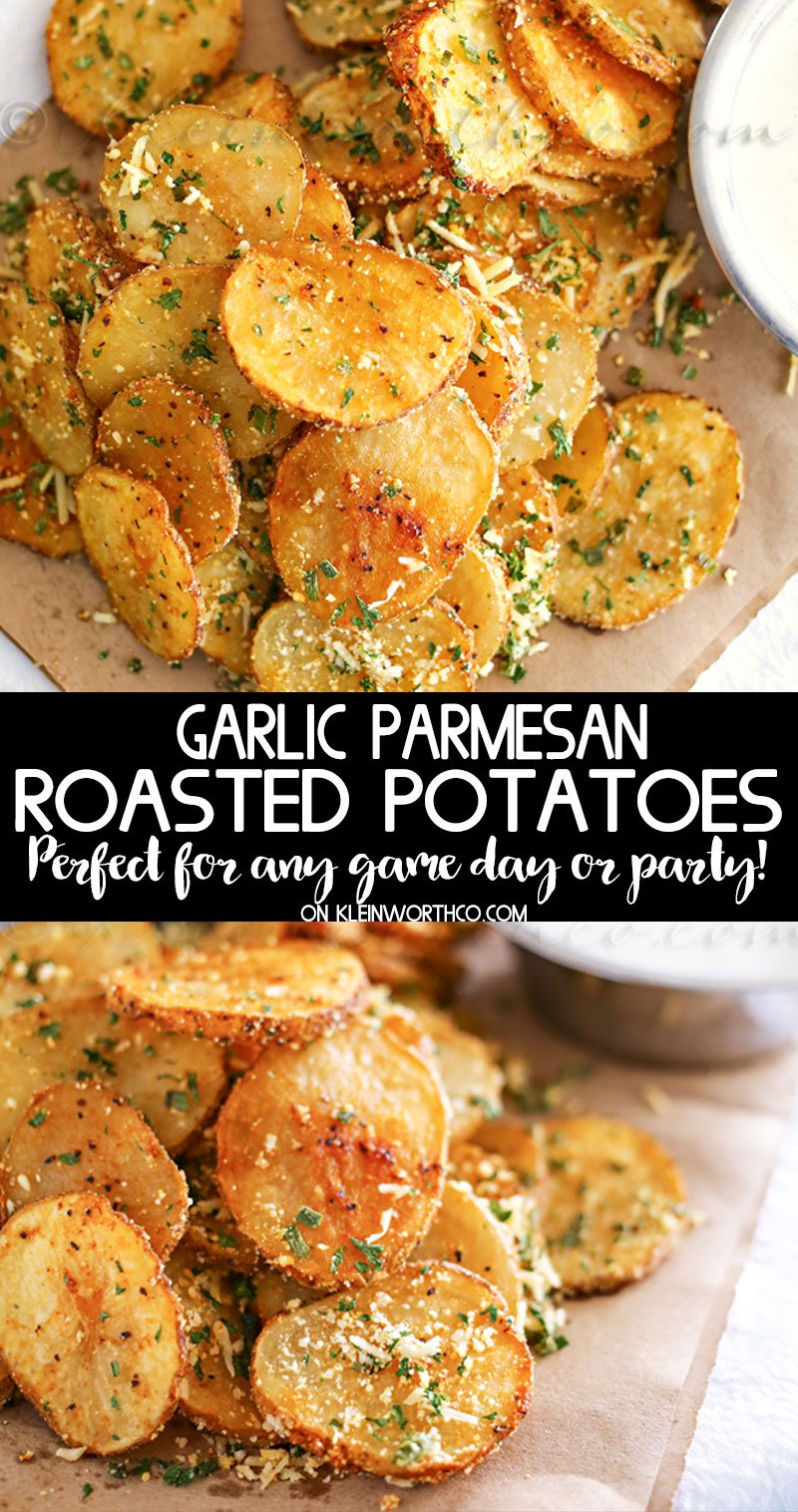 Easy Family Dinner Ideas – do you need some? Are you stumped on what to make for dinner all the time? Or is it side dishes that have you browsing Pinterest for hours when you should be cooking? Sometimes it's easiest to make a buffet of party foods & let the family graze. One favorite we make often are these Parmesan Roasted Potatoes. These potatoes are just another one of my easy family dinner ideas that are simple & quick to make. If you need easy side dishes or snacks this is one is perfect.
Game Day Recipes
This post contains some affiliate links. Click here to read my full disclosure policy.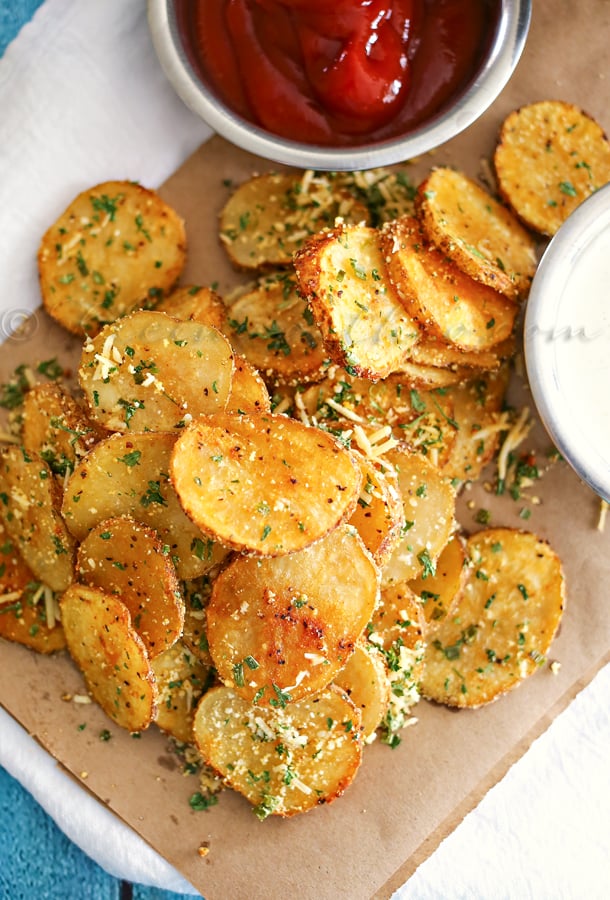 So as with most of my easy family dinner ideas I share there is a back story to this particular one. I don't always share them but this one is special – at least to me. Back when I was right out of high school my boyfriend (turned first husband) & I traveled to Oregon so I could meet his extended family. One of his family's favorite places to eat is this pizza place called Abby's. If you are from Oregon then you know what I'm talking about. We went there & along with the pizza they brought out these roasted, crispy potato rounds. I don't know if I had just never had anything like that before or if it was the way they made them. But I was HOOKED! Like- every time we went back I had to stop there. Years later when the hubs & I traveled through I had to take him there & share with him what I had been obsessed with all those years.
Parmesan Roasted Potatoes
While it's not the experience so much that I fondly remember – it's the flavor of those potatoes. I swoon over them. So since I really have no good reason to frequently visit Oregon now – I have had to learn to make my own. Only I add a little parmesan, parsley & chives at the end that takes them to a whole new level of YUM! They are over the top DELICIOUS & I know you will LOVE them as much as I do.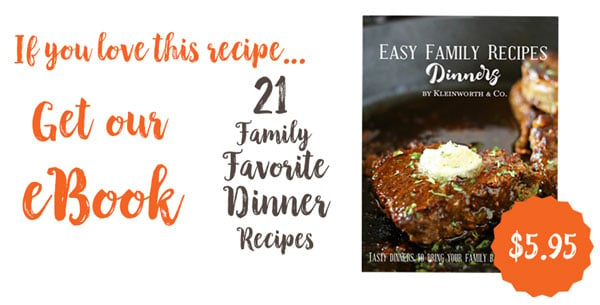 If you make this recipe- please leave a link or tag me on Instagram @KleinworthCo
Looking for more awesome recipes?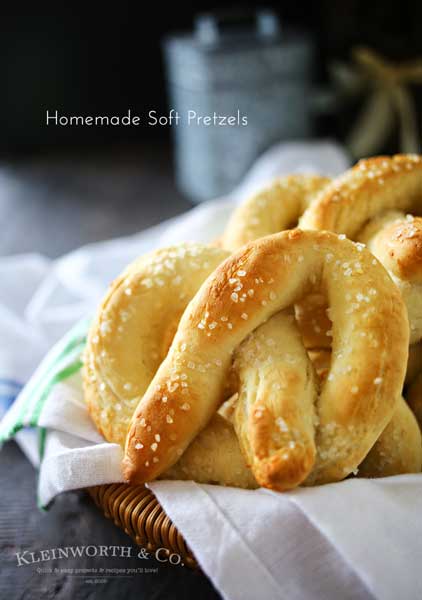 Slow Cooker Blueberry Honey Garlic Meatballs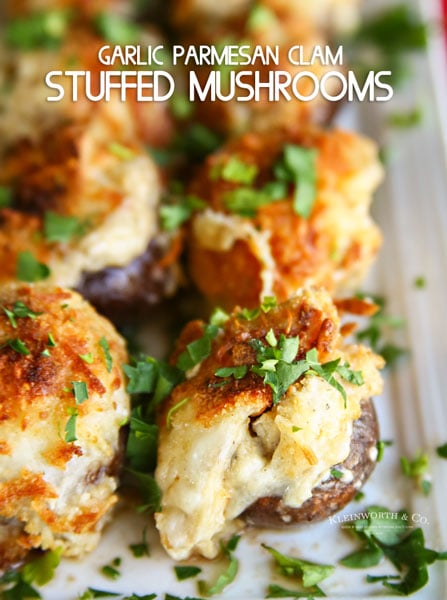 Garlic Parmesan Clam Stuffed Mushrooms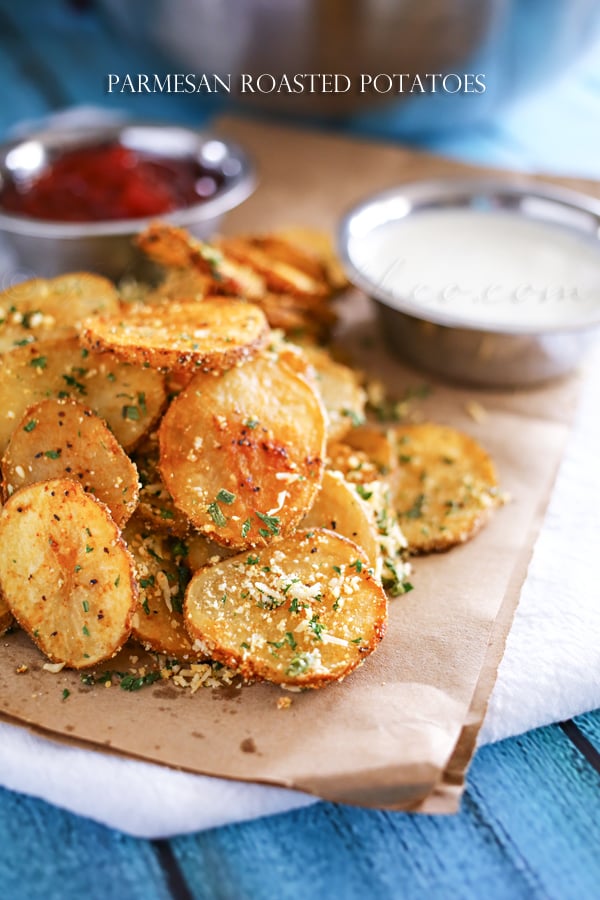 Parmesan Roasted Potatoes : Easy Family Dinner Ideas
Ingredients
8 russet potatoes
1/2 cup olive oil
1 tsp garlic powder
1 tsp smoked paprika
1 tsp kosher salt
1 tsp black pepper
1/2 tsp granulated garlic
2 tbsp chopped parsley
2 tbsp chopped chives
1/4 cup grated parmesan cheese
1/4 cup shredded parmesan cheese
Instructions
Wash & cut potatoes into thin round slices & place in large bowl

Once you have cut all the potatoes fill the bowl with enough water to cover them

Add about 2 cups ice to the bowl & let sit for about 30 minutes

Once potatoes have soaked for 30 minutes - remove from water & pat dry with a paper towel

Preheat oven to 450 degrees

Place dried potatoes in a large sip top bag with salt, garlic powder, paprika, granulated garlic & pepper - zip closed & shake well to coat potatoes

Add in olive oil, close bag & shake to coat evenly

Remove potatoes from bag & lay in a single layer on a parchment lined baking sheet - it may take more than one baking sheet

Bake for 35-40 minutes or until potatoes are cooked through & are brown & crispy on the outside

Remove & immediately transfer to a large bowl, add in parmesan cheese, parsley & chives & toss to coat

Serve with ranch dressing or ketchup while hot.
Don't miss these great ideas from these bloggers….
Chicken Parmesan Sliders | Slow Roasted Italian
perfect southern pulled pork | Kevin & Amanda
Weekend Potluck | The Country Cook