Lemon Poppy Seed Mini Loaf Cakes topped with a thin lemon glaze makes these the perfect snack cake to serve for Easter brunch or for baby & bridal showers.
Seems this time of year everyone is excited for spring. Who wouldn't be after a long, cold winter? Because of that, I am seeing lemon recipes everywhere.
While I & some of my family are allergic to citrus, there are others in this house that just go nuts for it. Don't get me wrong, I haven't always been allergic & when I was able to have citrus- it was absolutely amazing. The family was really begging for these adorable Lemon Poppy Seed Mini Loaf Cakes. I whipped some up & they were a huge hit.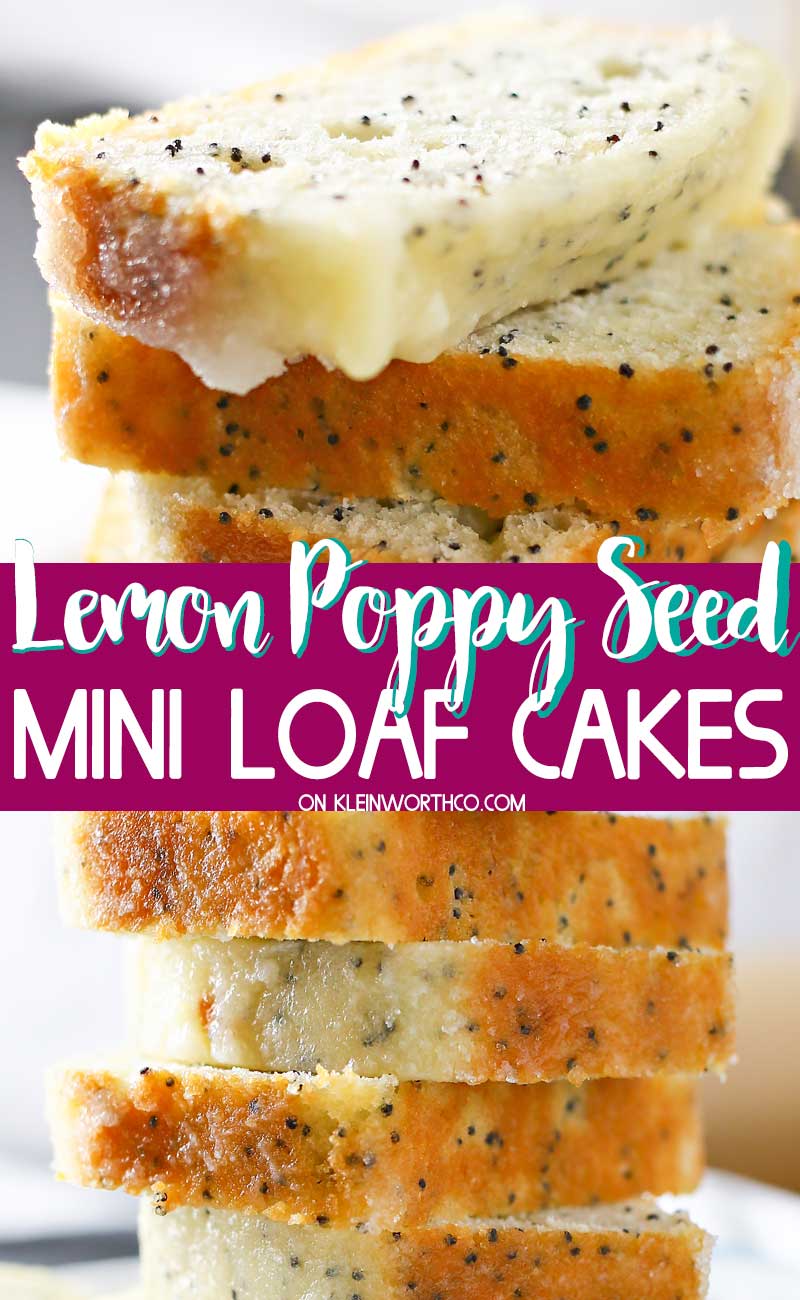 The warmer temps should be here soon – at least that is what I'm hoping for. Funny- when we lived in So. NV, I would dread this time of year because I knew the real heat was about to kick in. But now I can enjoy a true spring – which includes fresh recipes like this Lemon Poppy Seed Mini Loaf Cakes that certainly make me happy.
Lemon Poppy Seed Cake
This post contains some affiliate links. Click here to read my full disclosure policy.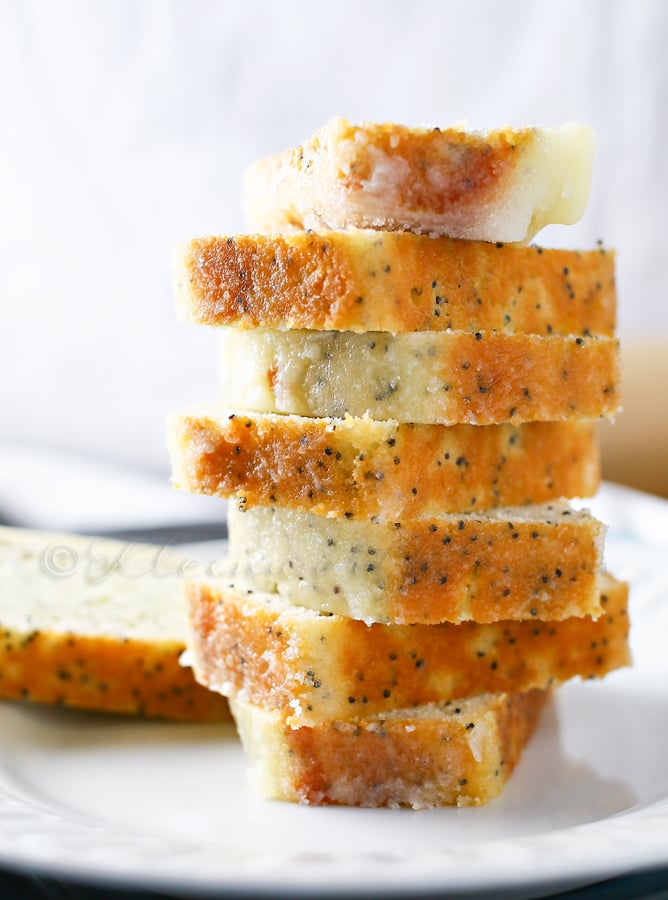 I normally would have made this in 2 standard loaves. But then I got a little sidetracked in my shopping & found some adorable mini-loaf pans.
Oh my, what is it about mini things that makes one feel the urge to buy? It's not like it makes these lemon cakes taste any different. But somehow I like them more just because they are tiny.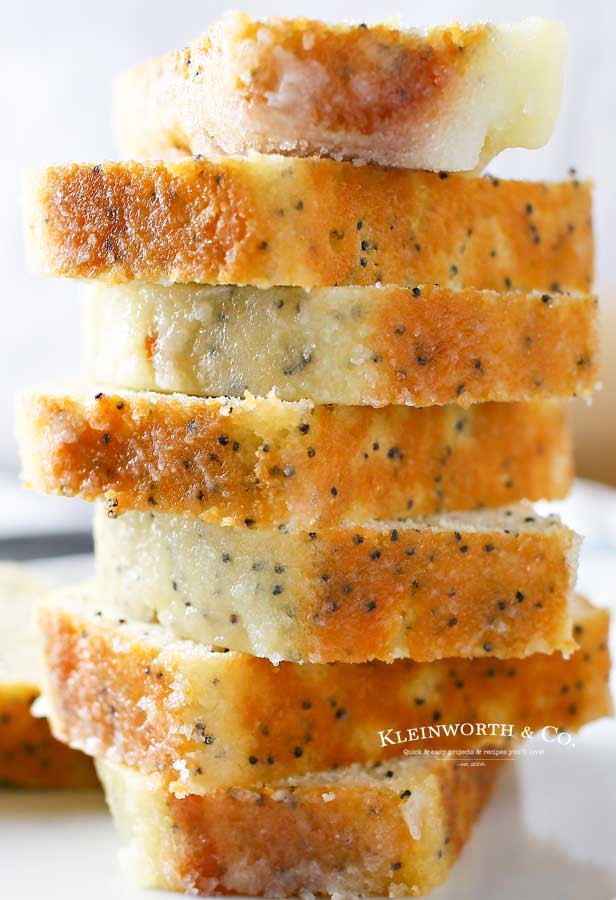 Here are some commonly asked questions
What are poppy seeds?
Poppy seeds are the tiny round seeds from the poppy plant. They are typically used as a topping or in fillings for baked goods like this lemon poppy seed cake.
Can I make this recipe in a standard loaf pan?
This recipe will fill 2 standard loaf pans. If you decide to go this route, it will change your baking time.
I have not tested this in a long time, so I can't remember how long I used to bake them for. I would say to start with this baking time & just keep checking every 7-10 minutes until the loaves are cooked through using the toothpick test.
If you come up with the perfect time – please come back here & let me know how it turned out. I would love to hear.
How do you store Lemon Poppy Seed Cake?
Keep these in the cakes in their loaf pans & covered with plastic wrap or foil. I also keep them refrigerated until we are ready to enjoy them. This extends its freshness & flavor. If you prefer your cake a little warm, or at room temperature, just heat your slice in the microwave for about 15-20 seconds before eating.
HOW DO YOU MAKE Lemon Poppy Seed Mini Loaf Cakes?
Preheat oven to 350 degrees.
Spray bottoms only of 4 mini loaf pans with Bakers Joy.
In large bowl- combine all-purpose flour, baking powder, kosher salt, eggs, sour cream, granulated sugar, canola oil, vanilla extract, grated lemon zest, fresh lemon juice & poppy seeds & beat at medium speed – scraping the bowl several times.
Divide between prepared pans.
Bake 30-40 minutes or until toothpick test is clean.
Cool on wire rack while you make the glaze.

***For the glaze

Melt butter in microwave safe bowl.
Stir in sugar until dissolved.
Add lemon juice. Whisk well until completely combined.
Pour over loaves
Lemon Poppy Seed Mini Loaf Cakes
Can I change the topping of this Lemon Poppy Seed Cake with Frosting?
Absolutely. If you want to reduce the lemon flavor, just make the glaze using 1 cup confectioners sugar whisked with 2 tablespoons milk. Then just drizzle that mixture over the top of these mini loaves.
Do you recommend these as gifts for the neighbors?
These make fabulous gifts for all your friends & neighbors. We like to pick up these super cute disposable loaf pans for gift giving. You could also just use the reuseable, mini metal loaf pans & make that part of the gift.
Can lemon poppy seed cake be frozen?
I highly recommend doing this. Since we usually only eat one loaf within a week to keep things in moderation, we have found that removing the loaf from the loaf pan & wrapping first in plastic wrap & then in foil before placing in the freezer keeps these cakes moist. Be sure to label each loaf with the date before freezing. Also, be sure that the glaze has set before wrapping each cake.
Are poppy seed good for you?
There is a reason poppy seeds are a favorite mix-in to many baked goods. Not only do poppy seeds add amazing flavor and crunch to your food, but they also provide some great health benefits. The first being that just one teaspoon of poppy seeds contains enough calcium and phosphorus to meet 4% of your daily needs. These minerals work together to build strong bones.
To make this recipe you will need…
all-purpose flour
baking powder
kosher salt
eggs
sour cream
granulated sugar
canola oil
vanilla extract
grated lemon zest
fresh lemon juice
poppy seeds

**For the Glaze

granulated sugar
butter – melted
lemon juice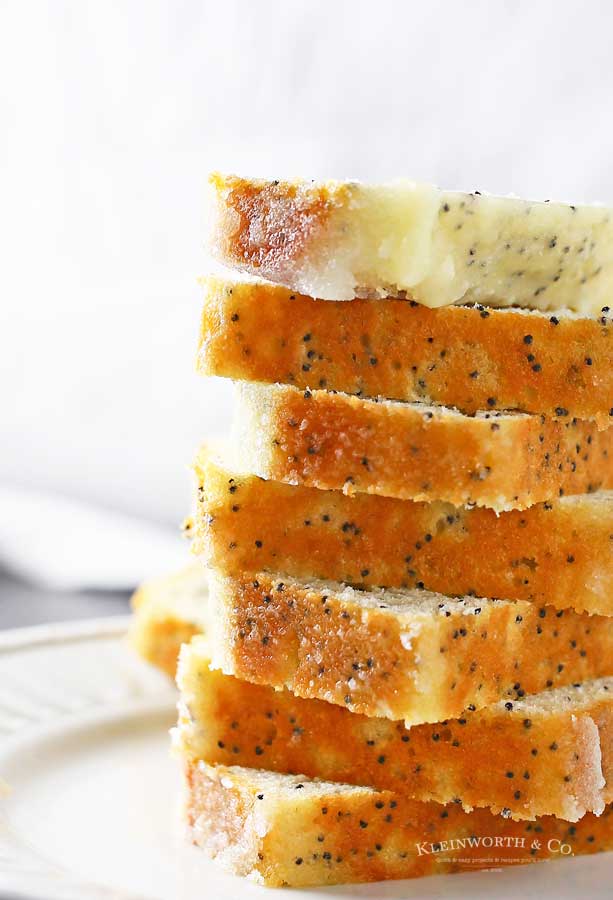 Products I love when making poppy seed cake…
This Lemon Poppy Seed Mini Loaf Cake recipe is so easy and delicious – and you probably already have these items on hand like I do! OR If you've never baked with poppy seeds, you might be a bit nervous – but you're going to love the flavors they bring. I have made a list below of the things I absolutely can't live without when it comes to making these lemon cakes with poppy seeds.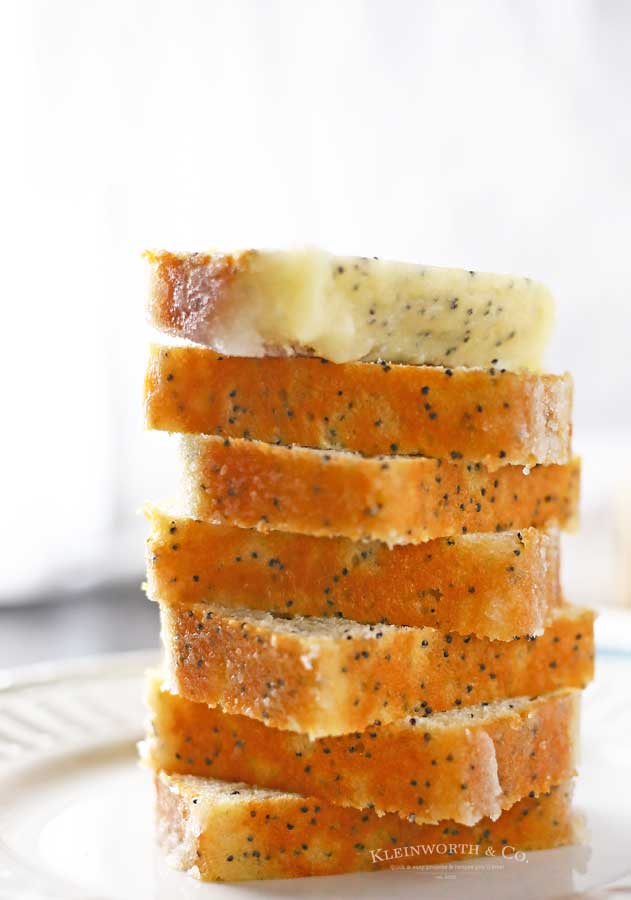 Don't these look positively delicious? I can't wait to make more.
Scroll to the bottom for the Printable Recipe
HOW TO MAKE LEMON POPPY CAKE
If you love this easy Lemon Poppy Seed Mini Loaf Cake recipe, you're going to love these other spring recipes too. Please click each link below to find the easy, printable recipe!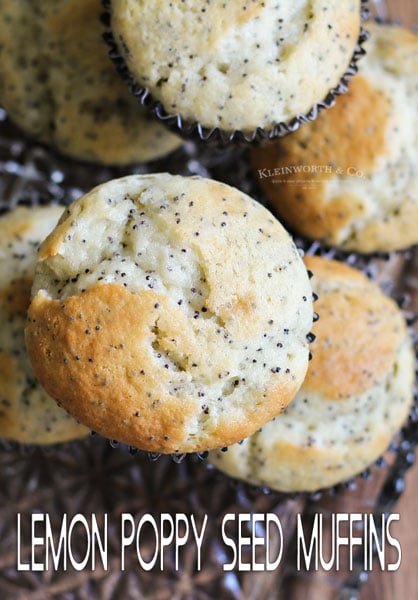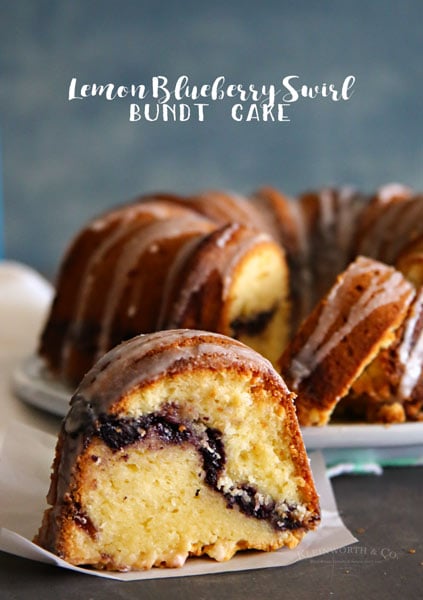 Lemon Blueberry Swirl Bundt Cake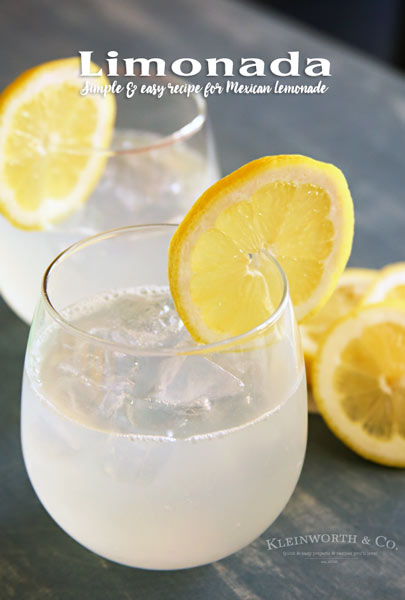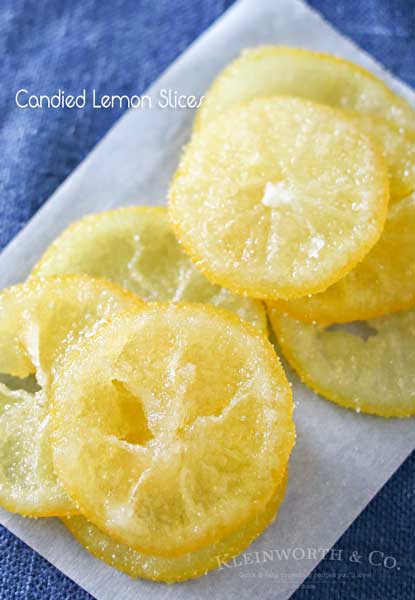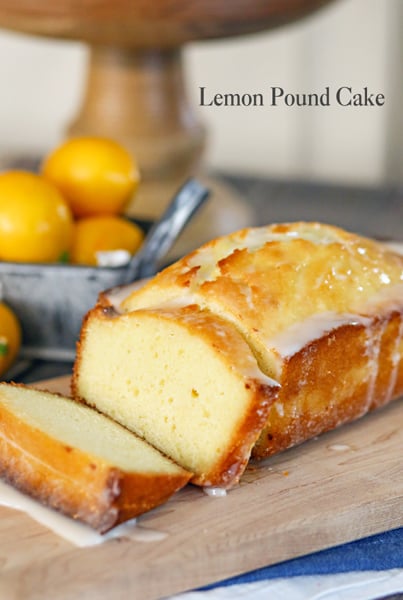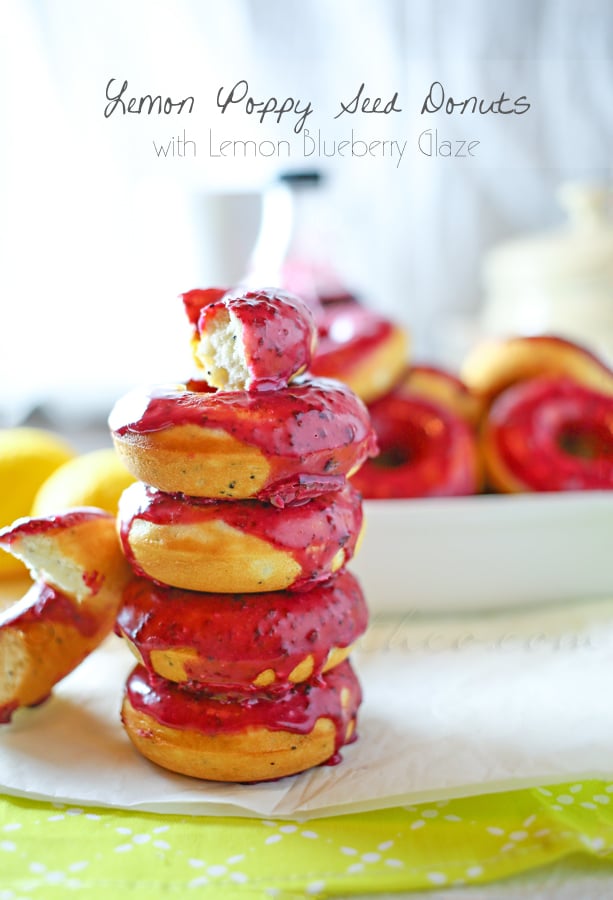 Baked Lemon Poppy Seed Donuts w/ Lemon Blueberry Glaze
lemon loaf cake
If you love this Lemon Poppy Seed Mini Loaf Cakes Recipe as much as I do, please write a five star review, and be sure to help me share on facebook and pinterest!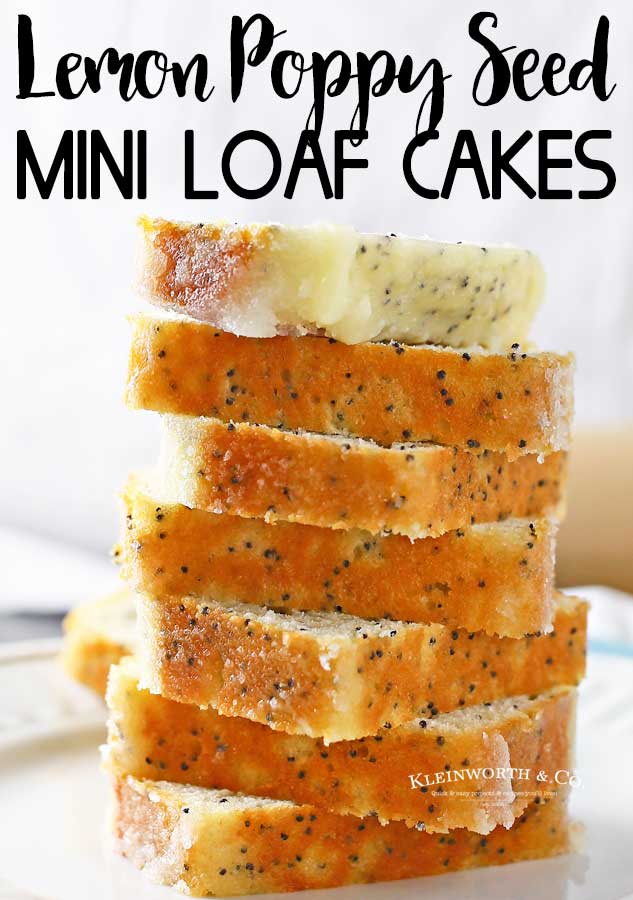 CONNECT WITH KLEINWORTH & CO!
Be sure to follow me on my social media, so you never miss a post!
FB, Pinterest, IG, Email Subscription
Don't miss these great ideas from these bloggers….
Lemon Sugar Cookie Bars | The Salty Marshmallow
Lemon Cheesecake Bars | Shugary Sweets

Lemon Poppy Seed Mini Loaf Cakes
Lemon Poppy Seed Mini Loaf Cakes topped with a thin lemon glaze makes these the perfect snack cake to serve for Easter brunch or for baby & bridal showers.
Servings: 4 loaves
Ingredients
1¾ cup all-purpose flour
1¼ tsp baking powder
½ tsp kosher salt
2 large eggs
1 cup sour cream
¾ cup granulated sugar
½ cup canola oil
1 tsp vanilla extract
2 tsp grated lemon zest
2 tsp fresh lemon juice
2 tbsp poppy seeds
Glaze
½ cup granulated sugar
3 tbsp butter - melted
1 tbsp lemon juice
Instructions
Preheat oven to 350 degrees

Spray bottoms only of 4 mini loaf pans with Bakers Joy

In large bowl- combine all cake ingredients - beat at medium speed - scraping the bowl several times.

Spread into prepared pans.

Bake 30-40 minutes or until toothpick test is clean

Cool on wire rack while you make the glaze
For the glaze
Melt butter in microwave safe bowl

Stir in sugar until dissolved

Add lemon juice. Whisk well until completely combined

Pour over loaves