I have been super busy in the kitchen this past week. The snow has arrived & so I have been finding that love for baking on chilly days again. It's nice to be in the warmth of the kitchen & look out to watch the snow falling. This time I made a big family favorite.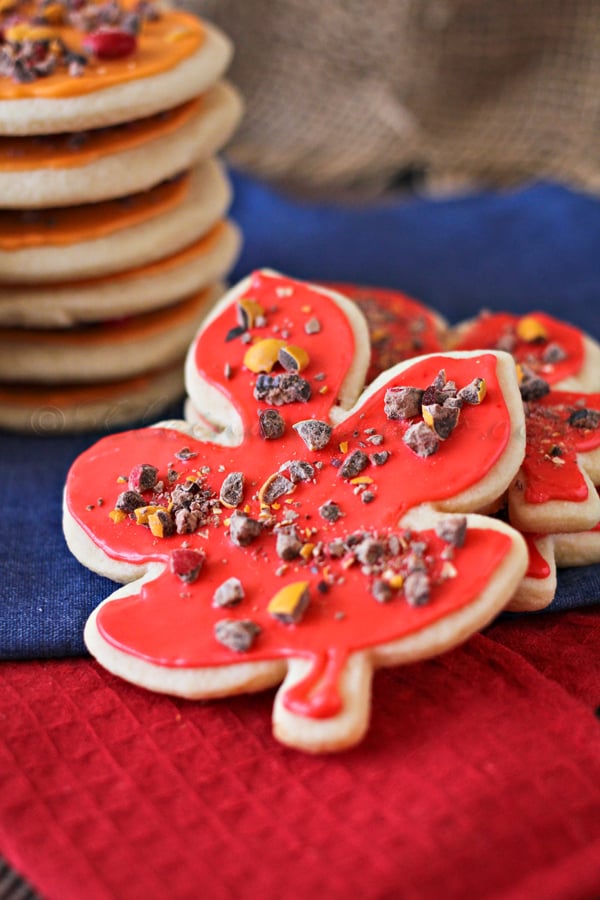 I was so excited to play with my new cookie cutters. I had this fall leaf shape for years. Then all of a sudden I couldn't find it. I must have given it to my mom since she liked it so much. That's the only thing I can think of because I would have never let go of it otherwise. So when I found it again I picked one up & I bought the pumpkin shape too.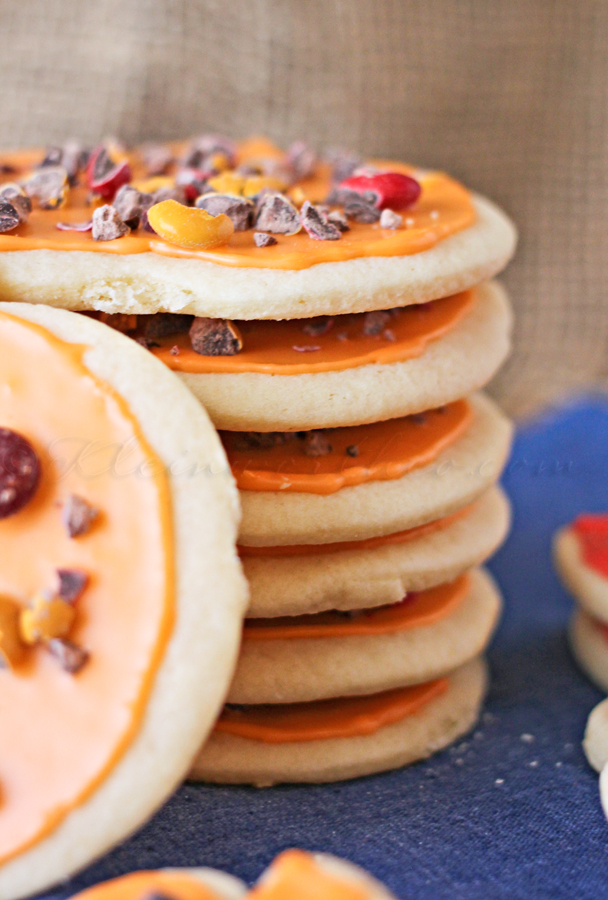 The thing like best about these is that they are super soft with a slight buttery crunch on the outer edges.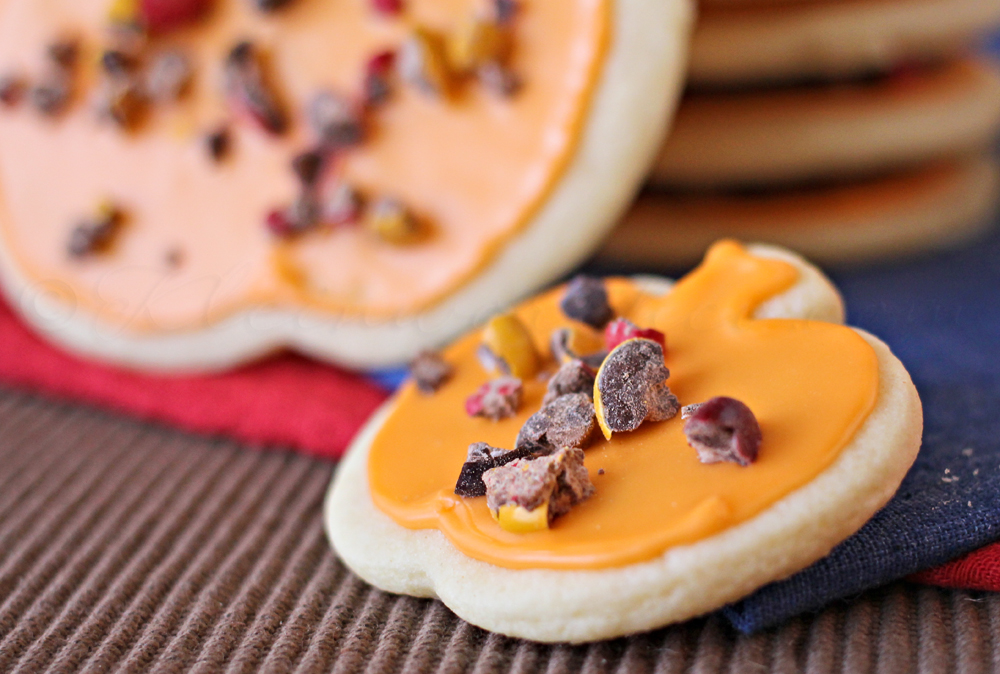 I poured 1/2 my bag of fall M&M's into a baggie & handed it to my daughter with a hammer.
She helped me get them all crunched up for the cookies.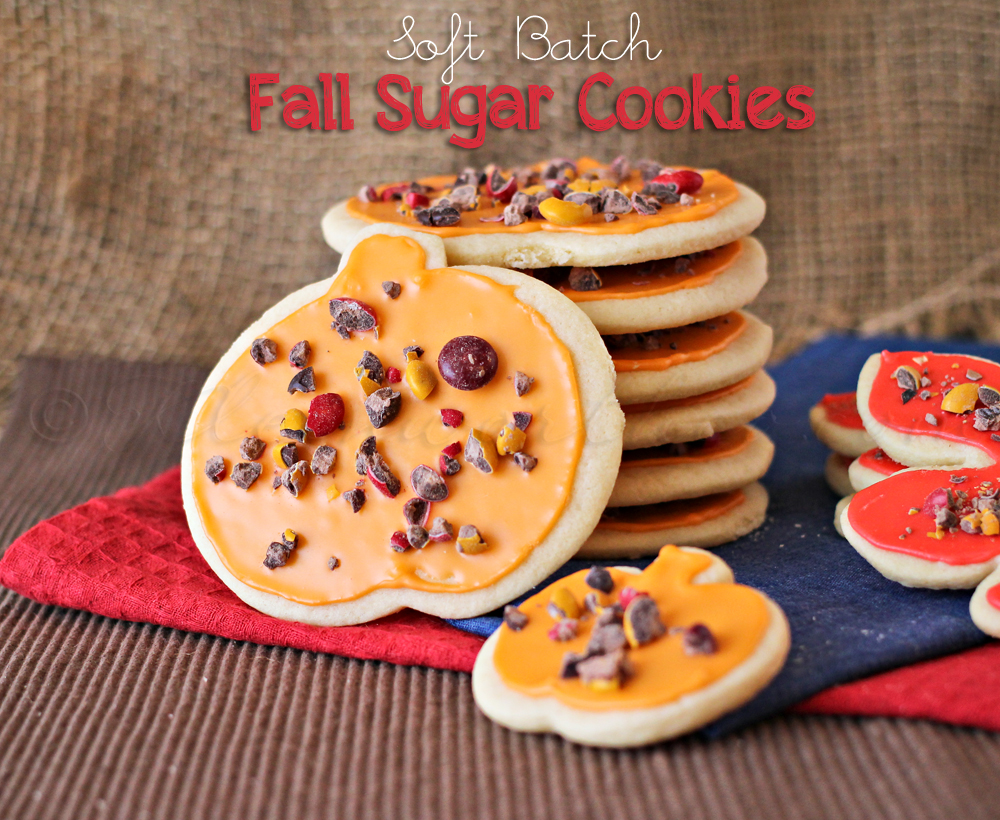 I tried to send some of these to the firehouse with the hubs. He protested because he wanted them for here. 🙂
So only 4 actually made it to the station out of this batch. Will have to make more for the boys I suppose.
Fall Sugar Cookies
Ingredients
Cookies
3 1/2 cups Sifted All-Purpose Flour
2 tsp Baking Powder
1 1/2 cups Sugar
2 Eggs
2 sticks 1 cup Butter
2 tsp Vanilla Extract
Icing
2 cup Confectioners Sugar or more to get a thicker consistency
2-3 tbsp Milk
3-4 drops Food Coloring
1/2 bag Fall M&M's smashed or Colored Sprinkles Sanding Sugar- optional
Instructions
Cookies

In a bowl, stir together flour & baking powder. Set aside.

In mixer bowl, beat together butter & sugar until fluffy.

Beat in eggs & vanilla.

Stir in flour mixture, a third at a time to make stiff dough.

Preheat oven to 350 degrees

On lightly floured surface, doll out dough to about 1/4" thick & cut your shapes

Use a spatula to transfer your cookies to your ungreased baking sheet.

Bake for 8 minutes

Cool on pan approx 2 minutes before transferring to a wire rack
Icing
In a small bowl, mix sugar & 2 tbsp milk to form a thick, smooth icing. Adding more sugar as needed.

Stir in food coloring to desired shade.

Transfer to piping bag & draw an outline around the edge of your cookie- this will work as a dam for the thinner filler icing.

Once you have completed the border, transfer your remaining icing back into your bowl & add in another tbsp milk to thin out. Stir well.

Transfer thinner icing to a squeeze bottle (like what you would use for ketchup) & squeeze on the icing to the center of your cookie. This is called flooding.

Take an offset spatula & smooth out to cover the whole inside.

Sprinkle with your crunched up M&M's

Let dry completely before stacking
Want more cookies??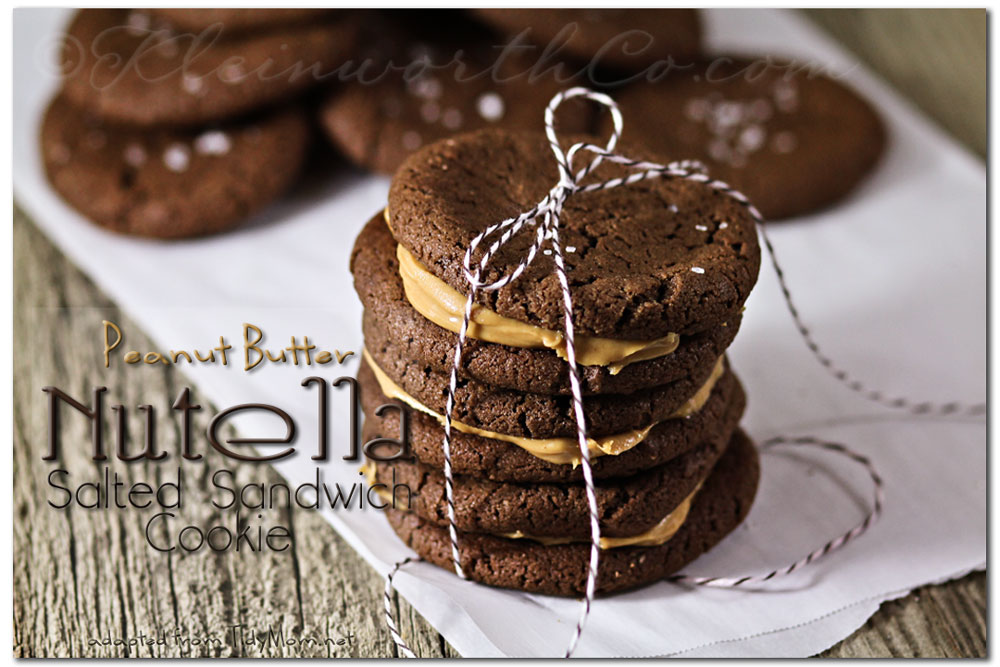 Peanut Butter Nutella Salted Sandwich Cookie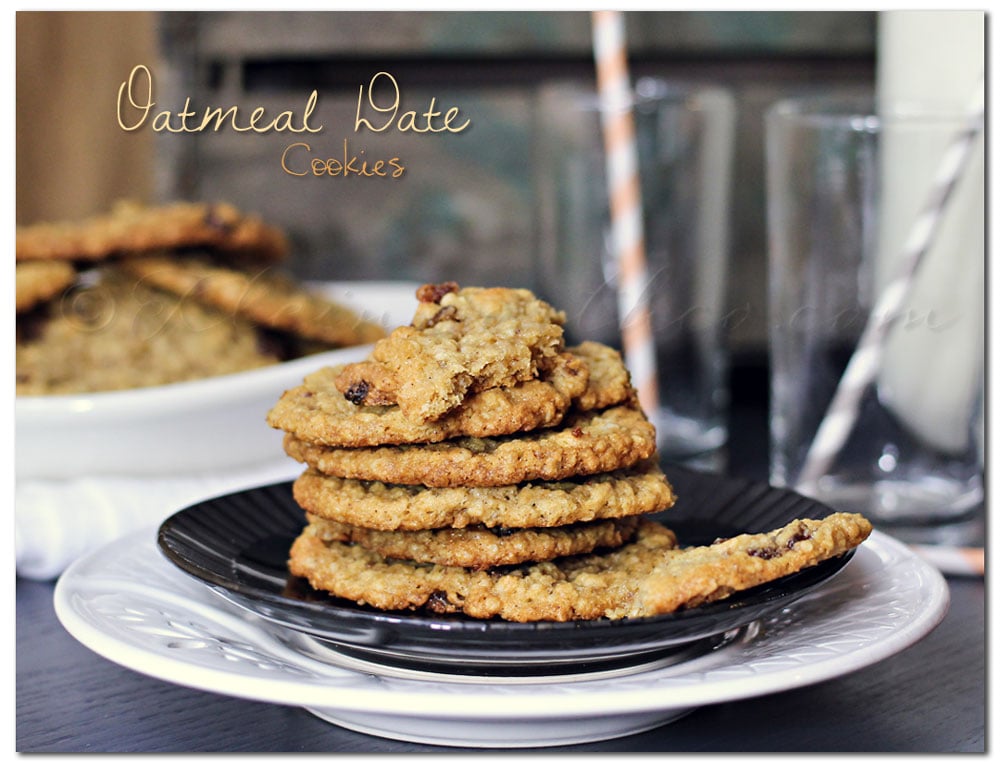 Oatmeal Date Cookies
Don't forget to come back & join me on Mondays for Project 52
To see where I am linking today- visit HERE