Light and flaky pie crust filled with sweet cherry pie filling made easily in the air fryer, no oven required. Serve with vanilla ice cream on the side.
Who loves cherry pie? It is a classic and loved by so many. What if I told you that you could make one without ever needing to turn on your oven? Yep, check this out!
Scroll to the bottom for the Printable Recipe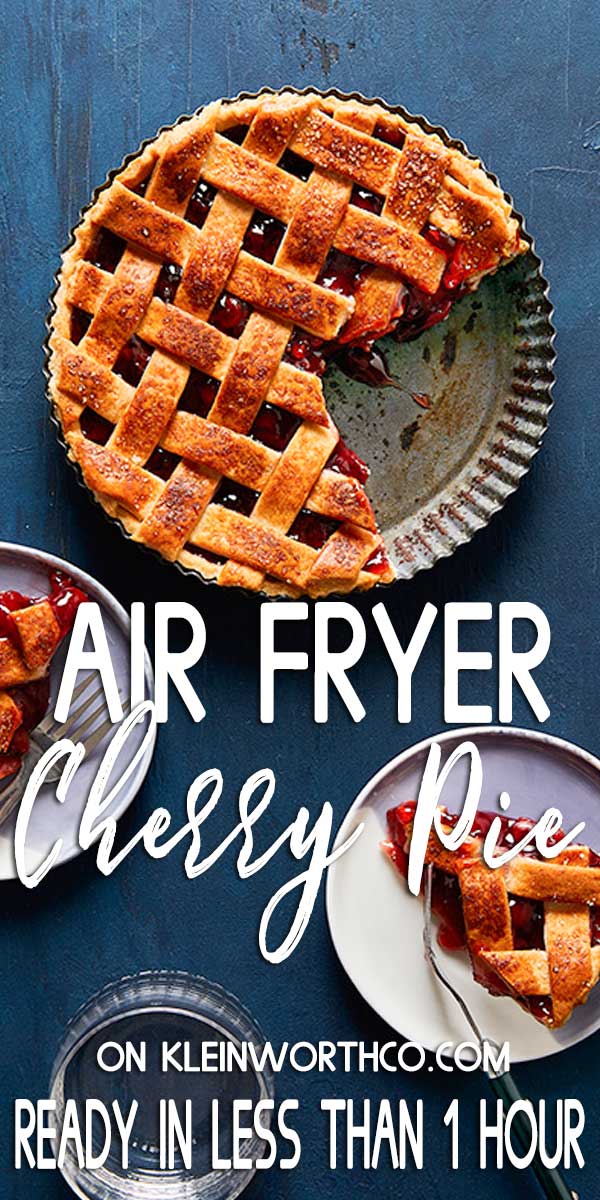 I created this cherry pie when I was testing recipes for my new cookbook – The Essential Air Fryer Cookbook for Two: Perfectly Portioned Recipes for Healthier Fried Favorites – You can Order it here.
Air Fryer Pie Recipe
This post contains some affiliate links. Click here to read my full disclosure policy.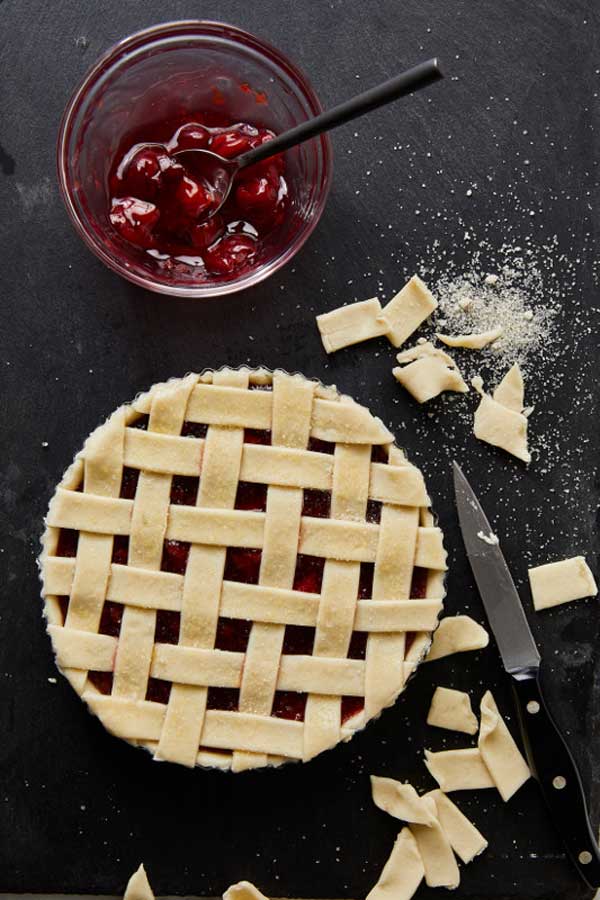 I love that this makes a small pie, instead of one that gives us massive slices and a whole lot of leftovers. Sometimes less is more and it is really nice to have dessert for a Saturday night and we don't feel like we have to eat the rest the next night too.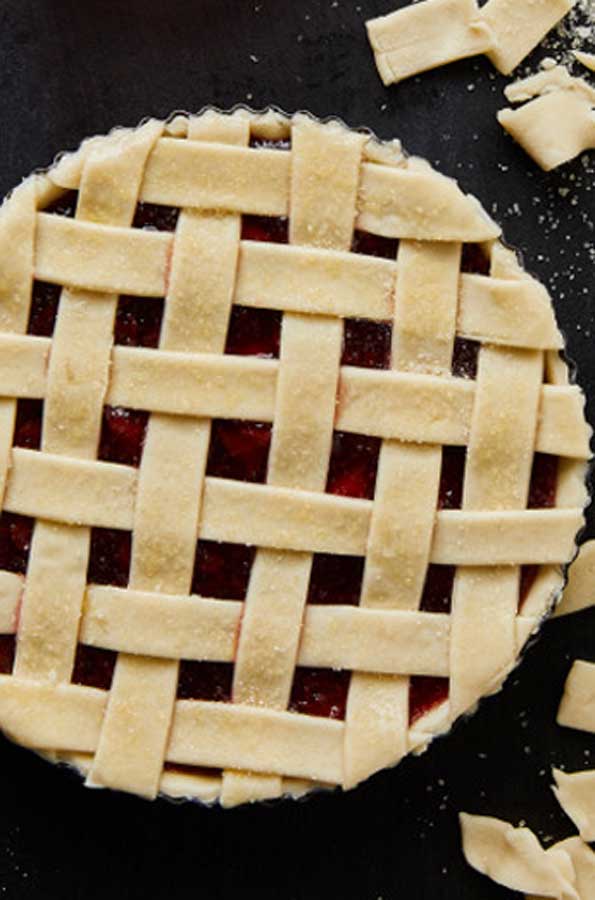 Here are some commonly asked questions
Can this be made with another flavor of pie filling?
You can replace this cherry pie filling with any other canned pie filling available. If making this into an apple pie, you can sprinkle a little cinnamon and sugar over the top of the crust.
Can this be made with homemade crust?
Absolutely! We do that all the time using my Easy Pie Crust recipe. But we also like to keep things simple when using the air fryer – which is why we chose to use the pre-packaged crust for this one.
HOW DO YOU MAKE Easy Cherry Pie in the Air Fryer?
Defrost the refrigerated pie crust, and lay it out on a flat, floured work surface.
Roll out the thawed pie crust, and invert a shallow air fryer baking pan on top of the dough.
Cut around the pan, making your cut half an inch larger than the pan itself.
Repeat with the second pie crust, only make the cut the same size as or slightly smaller than the pan.
Lay out the larger crust in the bottom of the baking pan, pressing gently into the dough to conform to the pan shape.
Spoon in the cherry pie filling.
Place the smaller crust piece over the filling, and pinch the edges of each crust together.
Make a couple of cuts in the top of the dough.
In a small bowl, whisk together the egg and water.
Brush the egg wash gently over the top of the pie.
Sprinkle with the raw sugar, and place the pan in the air fryer basket.
Bake for 30 minutes, until golden brown and flaky on top. Look for bubbling pie filling coming through the slits on top of the pie.
Serve warm.
Cherry Pie in the Air Fryer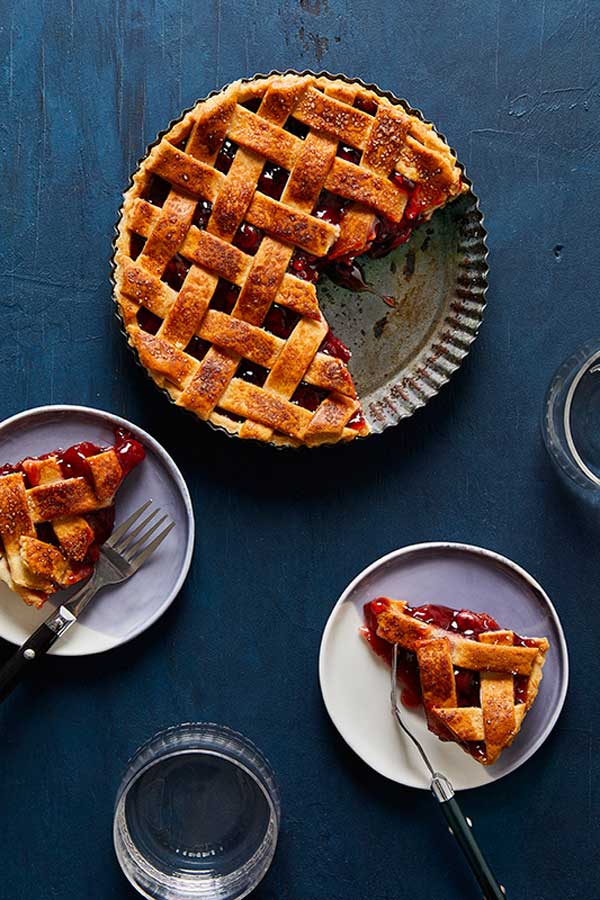 To make this recipe you will need…
refrigerated pie crust
All-purpose flour, for dusting
cherry pie filling
beaten
water
raw sugar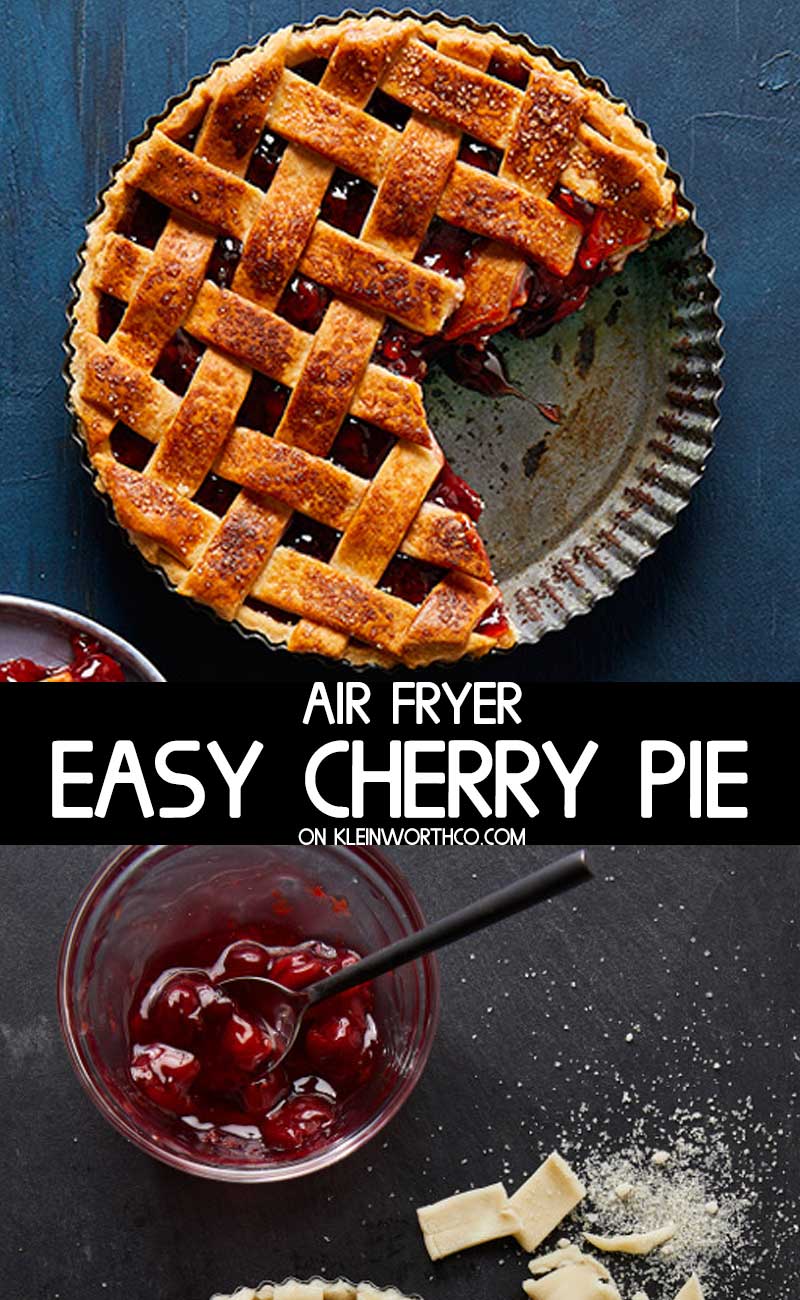 You know you want a slice!
HOW TO MAKE PIE IN THE AIR FRYER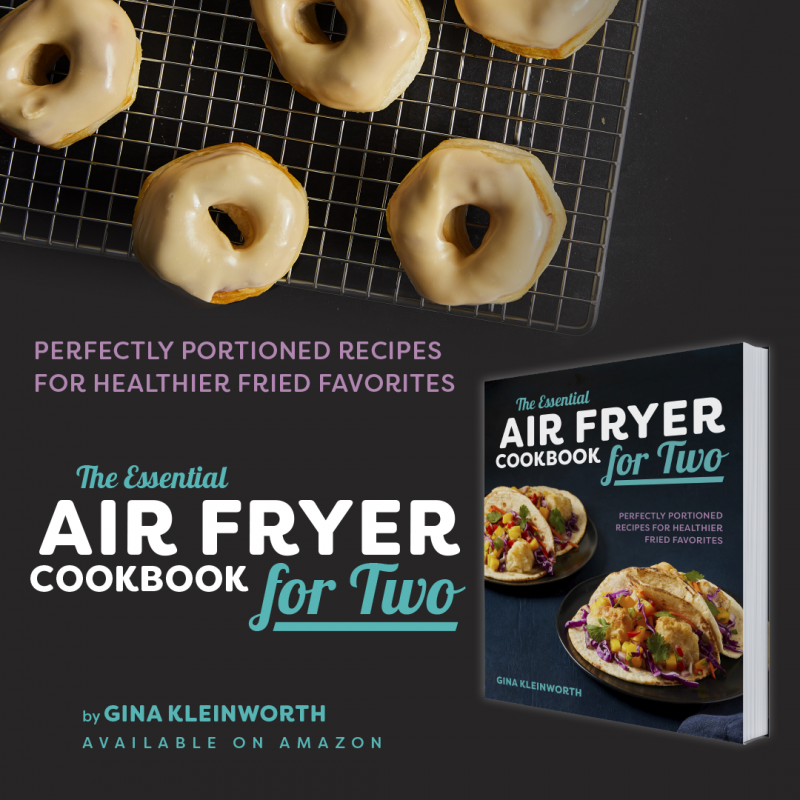 If you love this recipe – you can find it AND 100+ MORE like it in my new cookbook.
The Essential Air Fryer Cookbook for Two
Perfectly Portioned Recipes for Healthier Fried Favorites
The Essential Air Fryer Cookbook for Two also makes everything fast and easy. Most recipes take 30 minutes or less and they're designed with simple prep and minimal clean-up in mind. Nutritional information, serving size descriptions and recipes for vegetarians, vegans and the gluten-free are also included. There's so much to savor.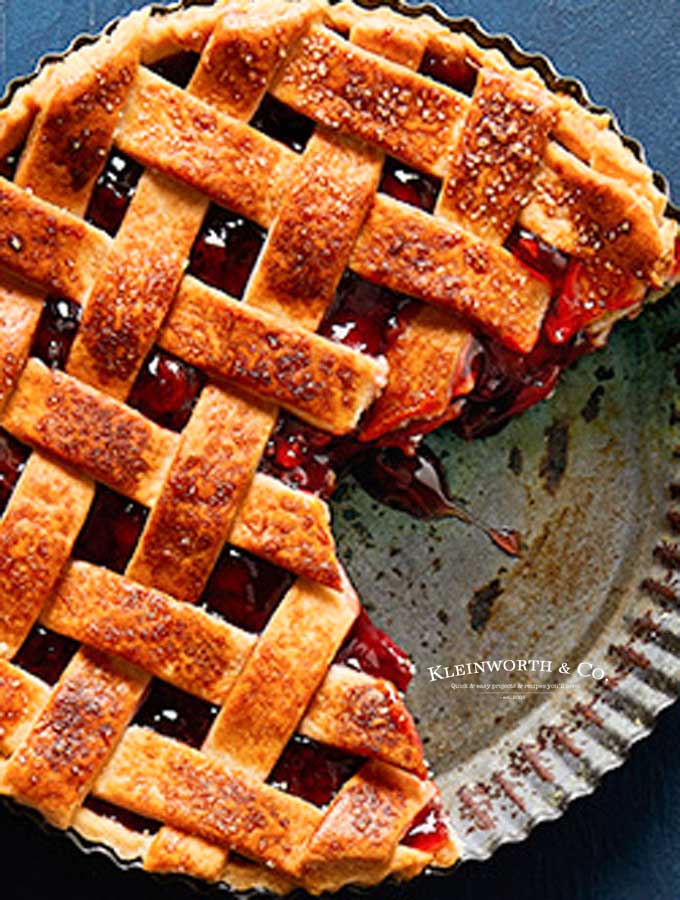 easy cherry pie
If you love this Cherry Pie recipe, you're going to love these other treats too. Please click each link below to find the easy, printable recipe!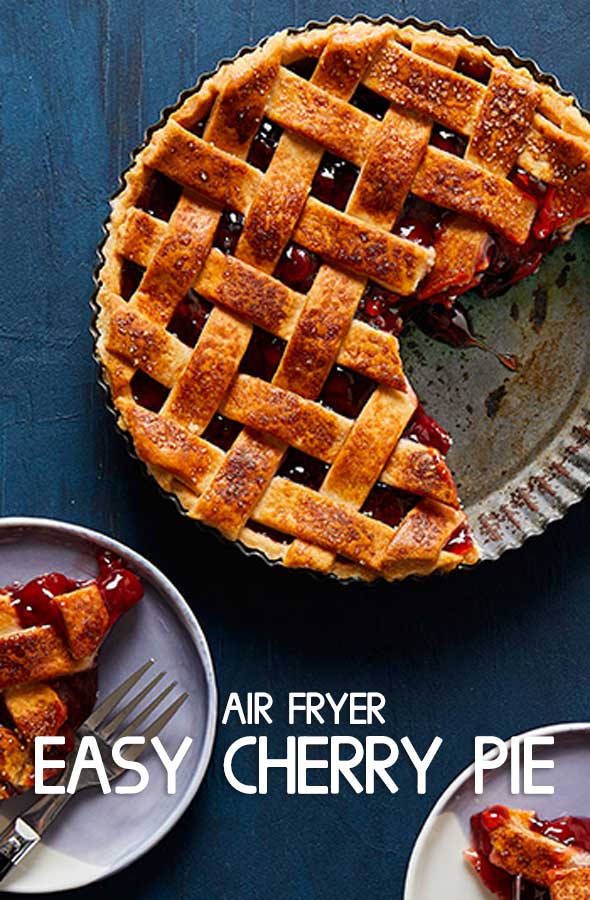 If you love this recipe for Homemade Cherry Pie in the air fryer as much as I do, please write a five star review, and be sure to help me share on facebook and Pinterest!
CONNECT WITH KLEINWORTH & CO!
Be sure to follow me on my social media, so you never miss a post!
FB, Pinterest, IG, Email Subscription