Corn Husk Luminaries will bring warmth and charm to your event. You can make these handcrafted, eco-friendly luminaries made from corn husks in a variety of colors.
Corn husk luminaries are a fun, easy way to add some fall decor to your home. You can make them with just a few supplies, and they look great on a porch or table.
Plus, they make the perfect addition to any Halloween party! Here's how to make them.
PIN THIS TO SAVE FOR LATER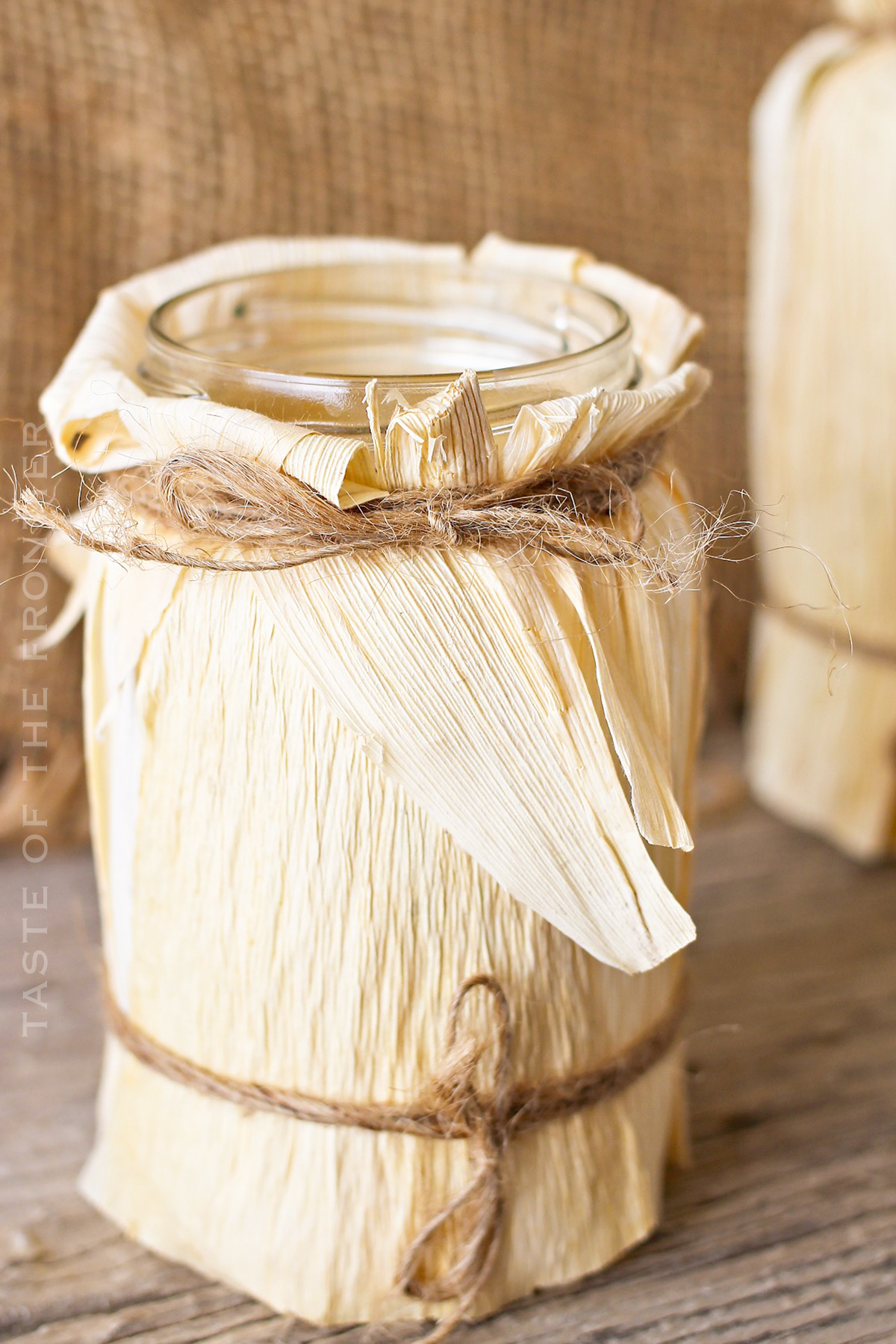 Being a photographer I like to surround myself with texture. Texture has a way of adding so much visual interest in to everything- photos included.
Fall is a perfect time for adding even more texture & richness to the things around you.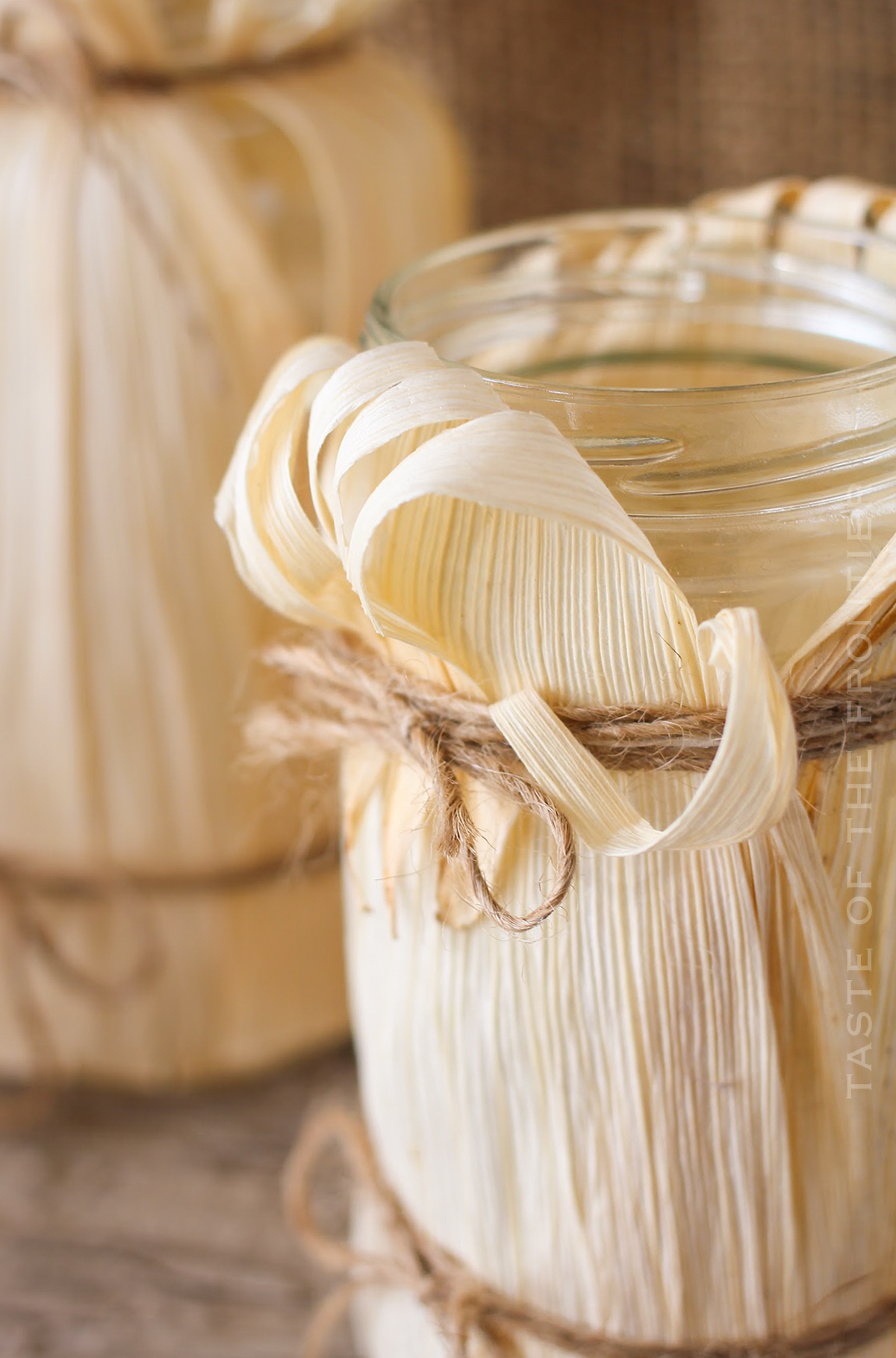 It has been a long time since I have used corn husks in my projects & I was really looking for some ways to play & add this fabulous texture & color into my home.
As I have mentioned before- we don't get much of a traditional fall here in the Southwest- so I have to bring in as much as I can to give me that fall feeling I am so craving right now.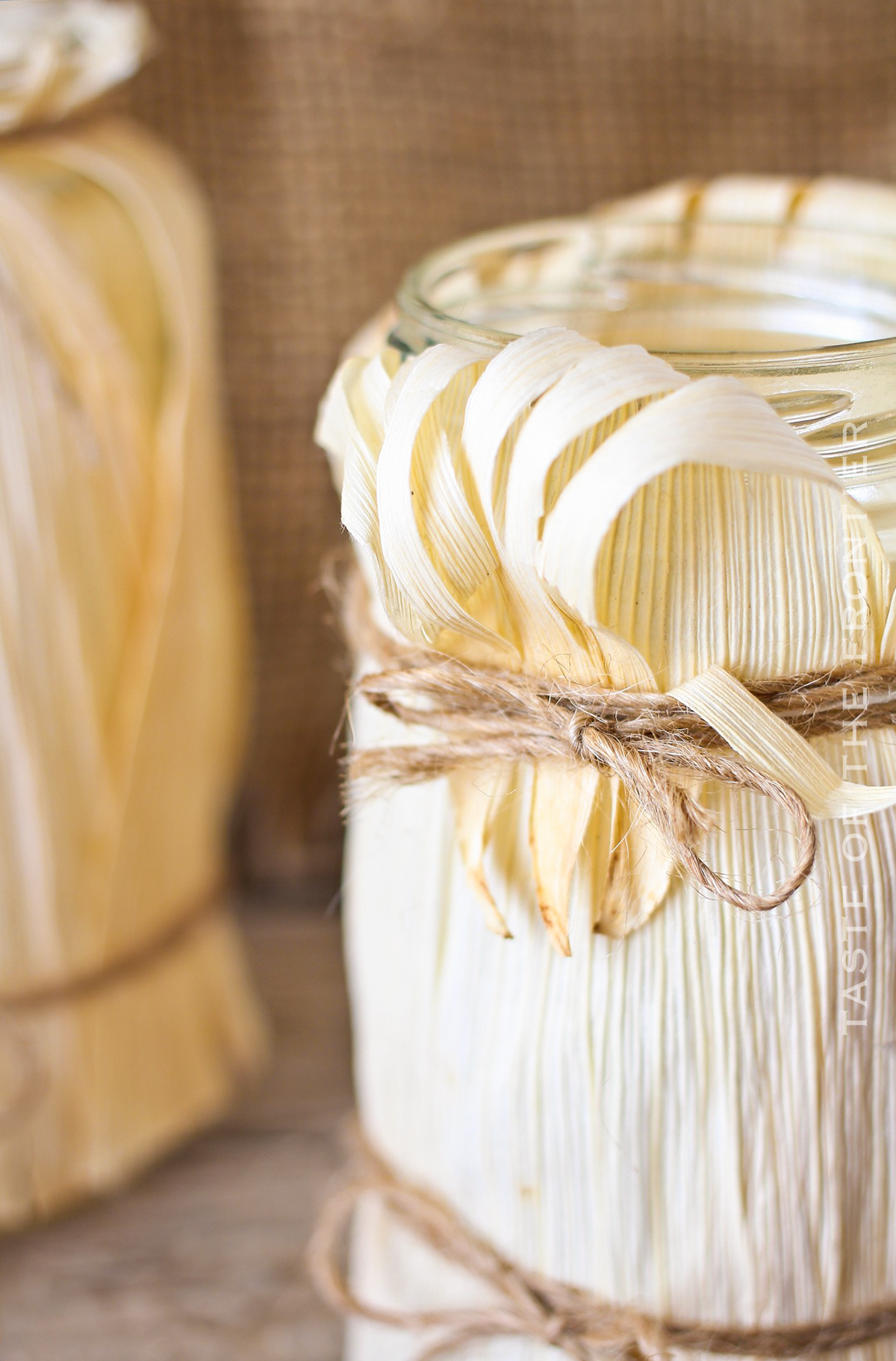 Here are some commonly asked questions
How to Prepare the Corn Husks for Crafting
Soak the natural husks from the bags in a fresh bowl of clean water.
Place another bowl or jar on top of them to hold them down in the water as they will want to float. Leave them in the water for several hours to really soften them up. The water will soften the husks and make them pliable and easier to work with.
Once soft, remove from the water and pat any excess moisture off with paper towels.
Cleaning Corn Husk Luminaries
Over time things tend to get dusty – especially if you intend to use these on your patio or porch. To clean the luminaries you can take some canned air or even just an air compressor or leaf blower and gently blow the dust and dirt off of the jars.
Do not wash the luminaries with the hose or bring them inside and rinse them off with water. Re-wetting the husks will make the luminaries fall apart.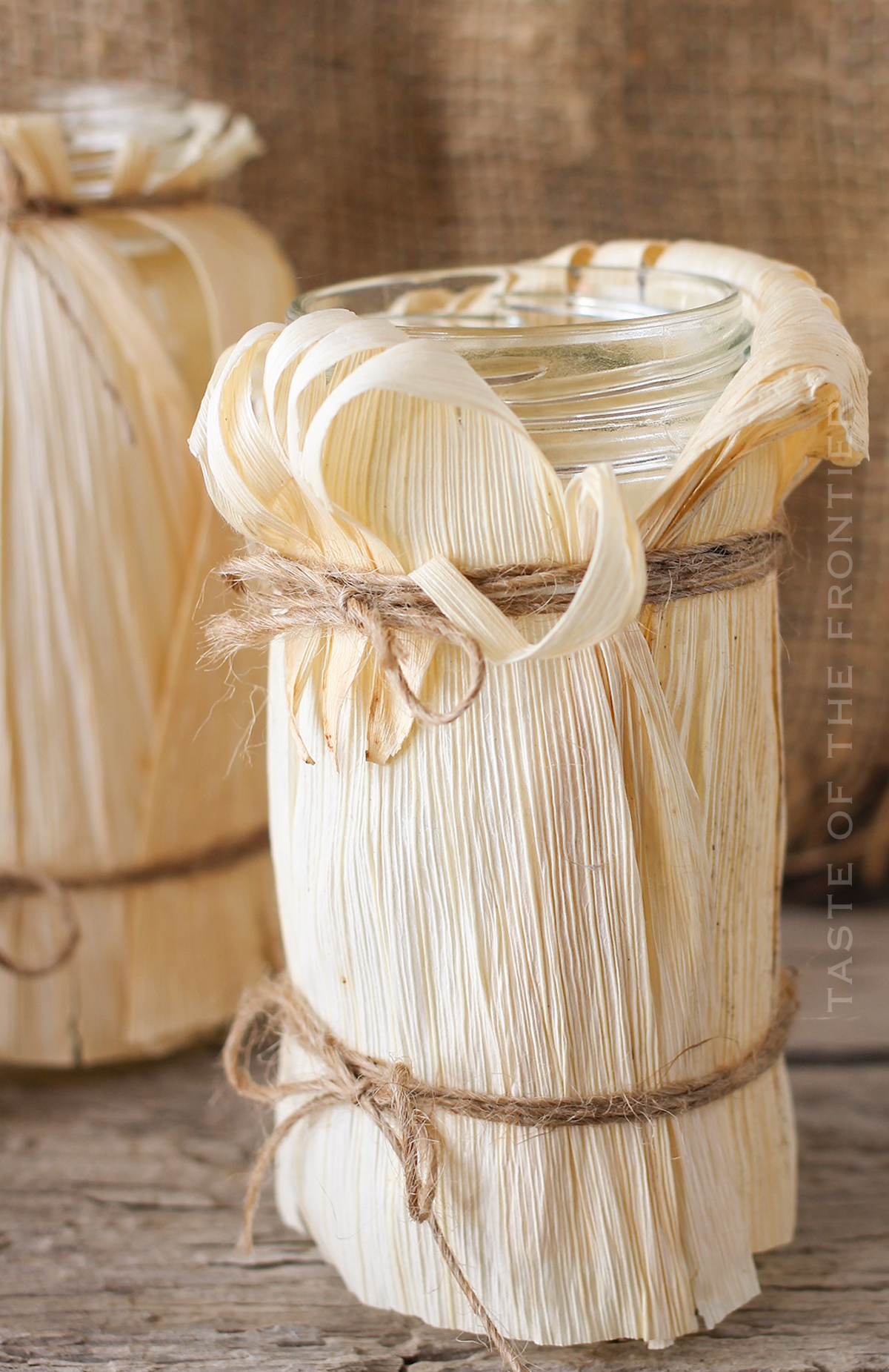 Supply List
NOTE: TIE THE HUSKS AS TIGHT AS YOU CAN AND OVERLAP THEM – THEY WILL SHRINK AS THEY DRY. They will eventually slip out of the twine or create gaps if they are not tight enough.
How to remove the lable from a jar
After years of spending a ton of time scraping the jar with a razor blade – I learned a trick that is so simple. I didn't have to soak the lable in oil first, no harsh chemicals.
Just place the jar in a large bowl or pot filled with HOT soapy water. Let it soak overnight and (in most cases) the label will just fall right off by the next morning. No scrubbing or scraping. So easy!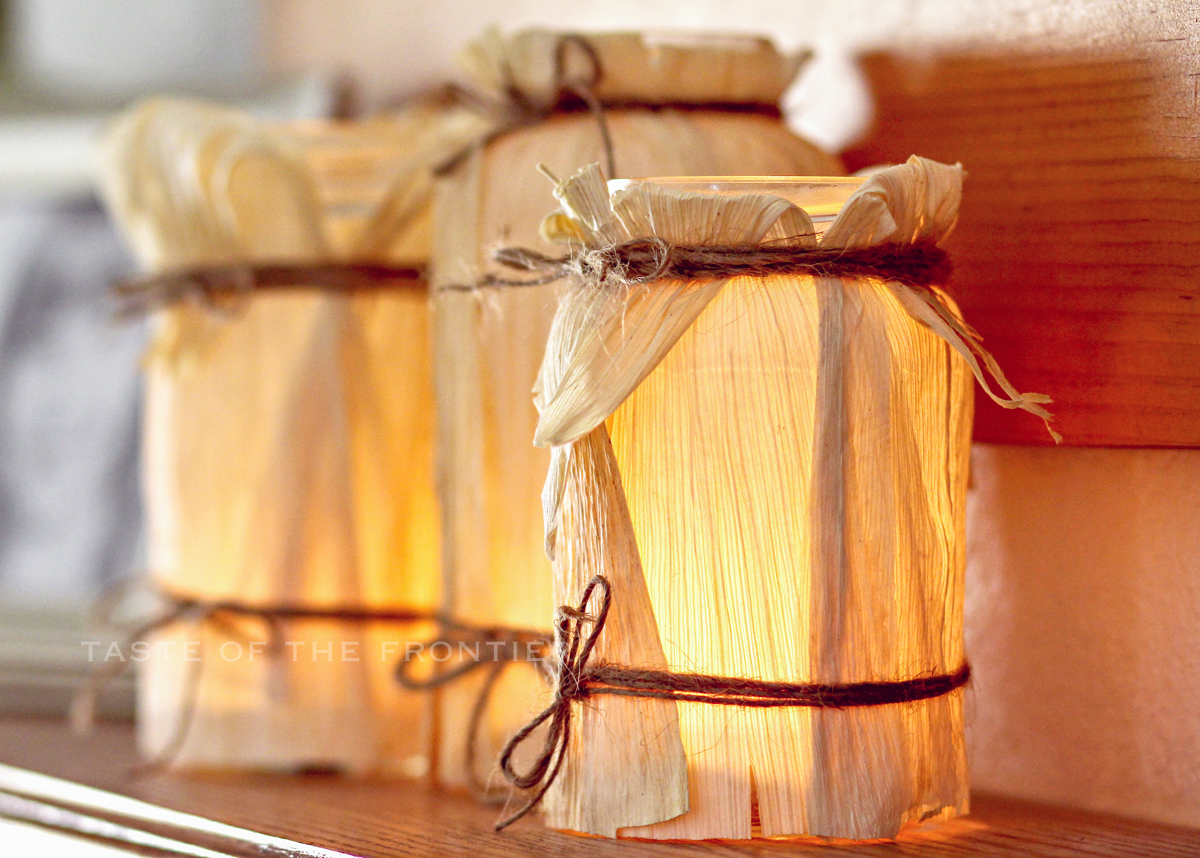 How to Make Corn Husk Luminaries
These were super easy. Took less than 30 minutes- always a plus in my book.
Separate & soak the husks in a bowl of water so that they become pliable.
Take up-cycled jars (or new ones if you prefer) in various sizes for some added visual interest. I used 2 different-sized spaghetti jars, and a pickle jar I think.
Wrap the husks around the jar & secure them with a rubber band to hold them in place.
Wrap around the jar with the twine several times at the top and the middle or bottom portion.  I started with the bottom & once I had the twine tied, I removed the rubber band & moved it to the top.  I left the rubber band on & just covered it with my twine because I had folded down the husks on 2 of them to add a little extra something to each one.  On the largest one, I trimmed the husks to the top of the jar.
Drop the tea candle inside and light it & you are all set.
Do I have to remove the label off the jar before adding the corn husk?
Technically no. The label will be covered by the husks. That being said – when the jar glows with the candle burning inside of it – the husks become translucent and then you will be able to see the labels. I recommend removing them from the jar before proceeding if you are up-cycling for this project.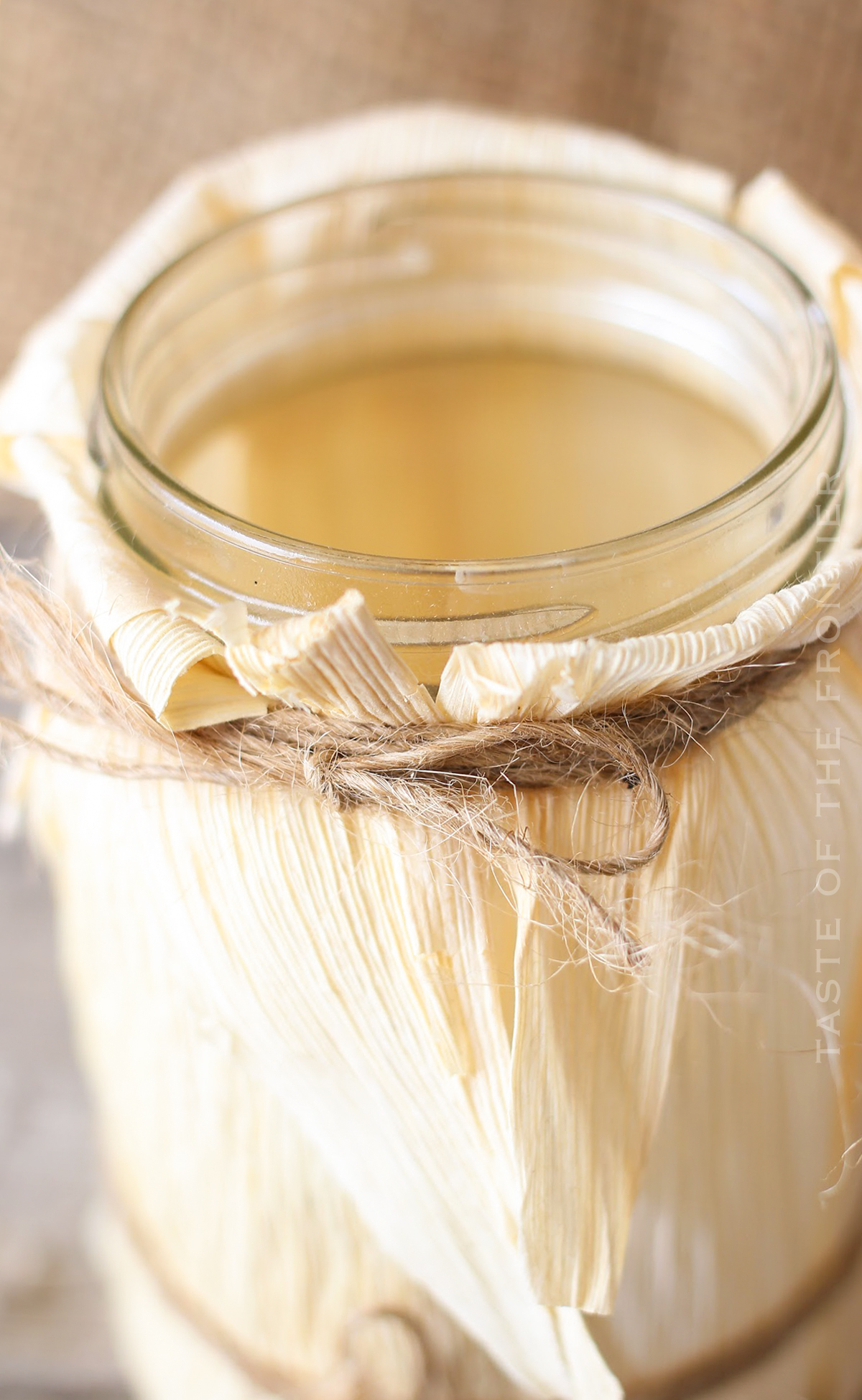 Where can I find corn husks?
Corn husks can be found in the international food section of the grocery store. I haven't bought any in a while, but I used to be able to get a decently large bag for around $2-5. Now they run about $8 a bag – but you might be able to find them at the dollar store for so much less. You will need at least 2-3 bags to make this wreath, depending on how full you want the end result to be.
**Being married to a fire chief means fire safety is always at the top of my priority list when it comes to crafts.  I want to stress that it's so important to make sure that your husks and/or twine do not extend past the top of the jar.  Please be cautious & place these out of reach of children & in an area where they can not be bumped over easily.  Remember last week was fire prevention week & October is fire safety month.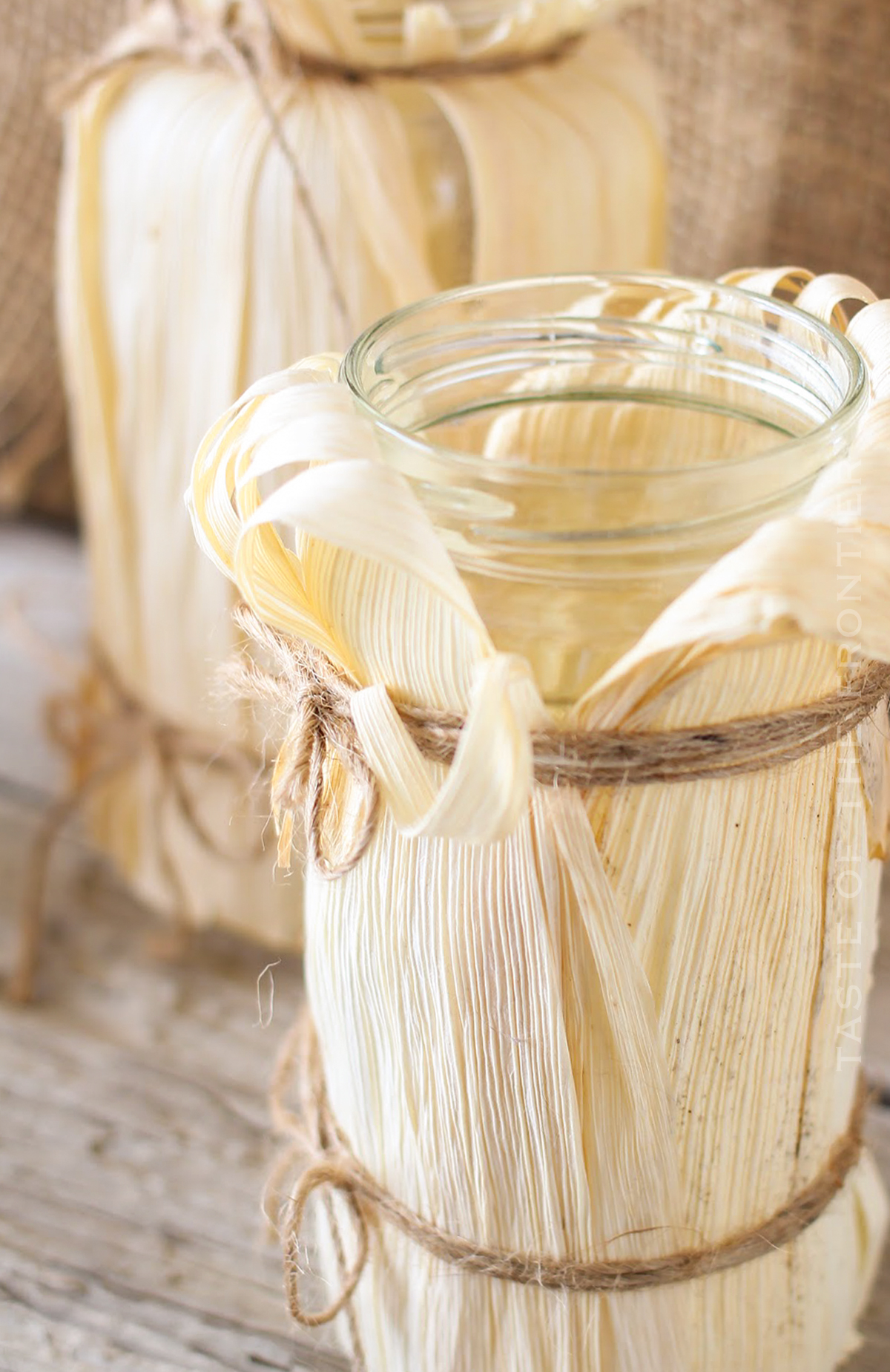 If you love these easy-to-make luminaries, you're going to love these other crafts too. Check out the other fun ideas below!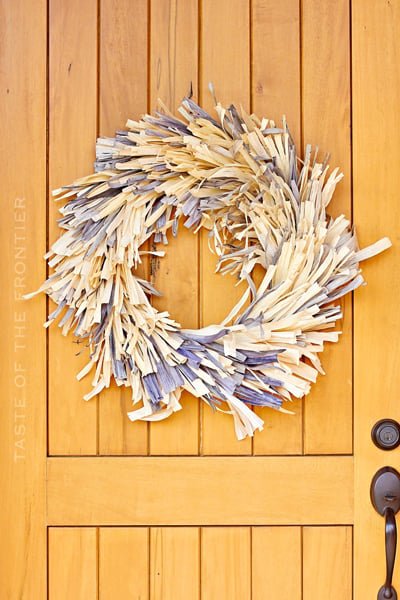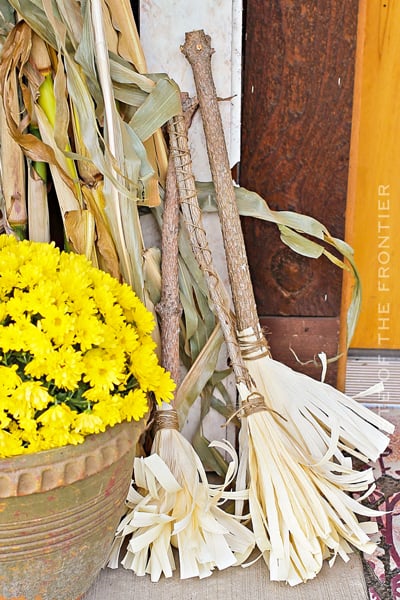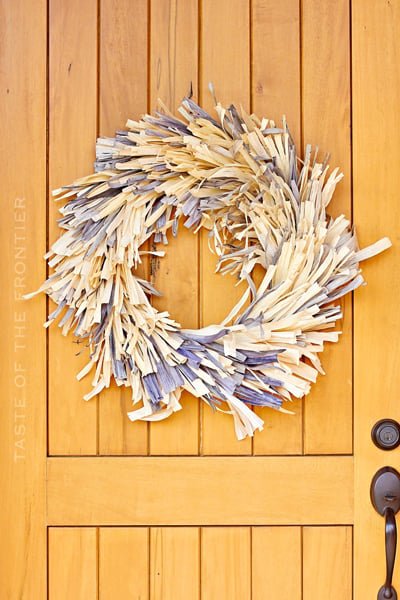 ---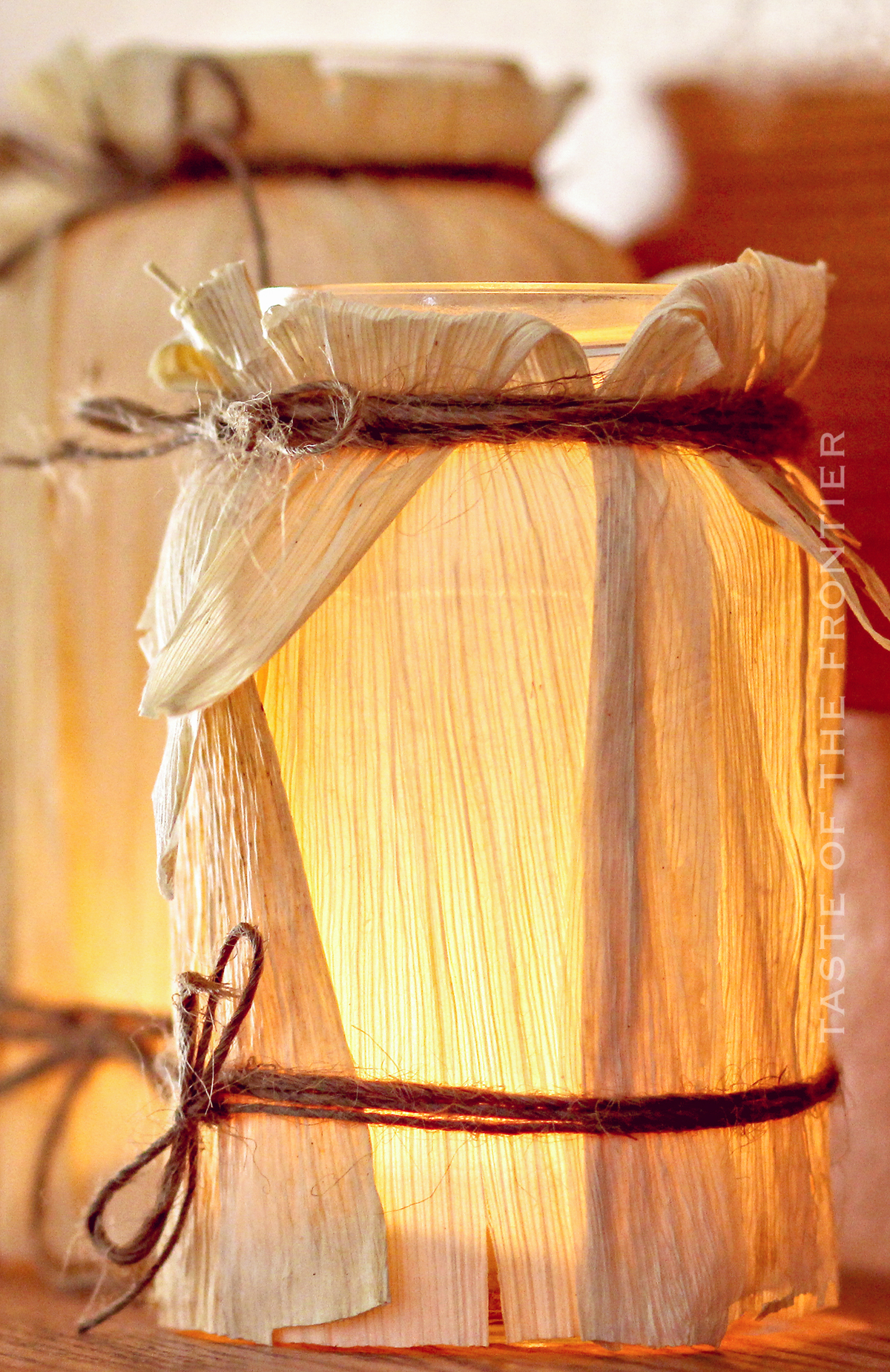 ---
CONNECT WITH TASTE OF THE FRONTIER!
Be sure to follow me on my social media, so you never miss a post!
---