Partnering with Castello for a Summer of Blue, this Blue Cheese Breakfast Burger is loaded with delicious blue cheese, layered with hash browns, a ground chuck patty, bacon & an egg – sunny side up! It's everything you love about breakfast, packed on your burger & complimented by the great taste of blue cheese. Heaven on a bun!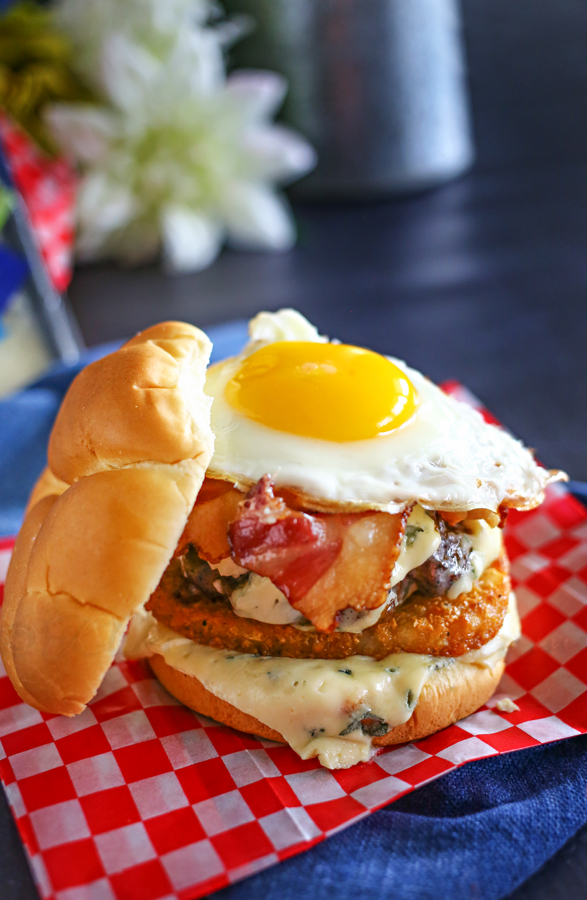 Have I mentioned before that I like my food hearty? I'm not a salad feign like my kids. Maybe you gathered that already by how few salads you find here on Kleinworth & Co. I will rarely turn down a good burger. One of my ALL TIME favorite ways to eat a burger is with blue cheese. I swoon over it!! In fact – it's also my favorite topping for steak. Can't get enough of that great taste!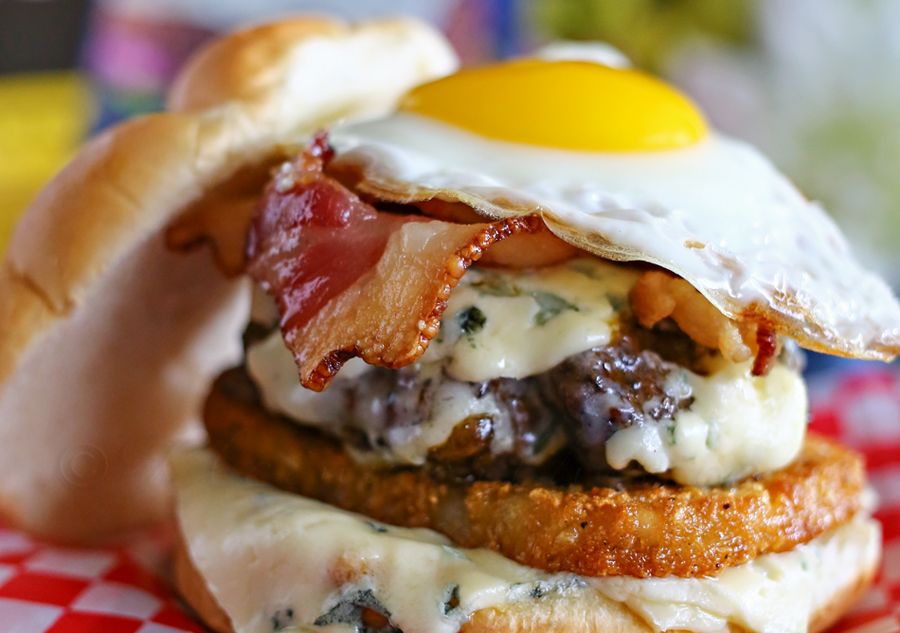 I'm practically giddy to share this Blue Cheese Breakfast Burger with you! It's been all I could do to not let the cat out of the bag because it was INCREDIBLY DELICIOUS. The last time I was back home in So Cal we visited this place a couple times for dinner. Each time my brother chose this burger with a over easy egg on it. It was gooey & messy & all things that make for a great burger. So I decided to take that up a few more notches & add all my other favorite breakfast foods on there too.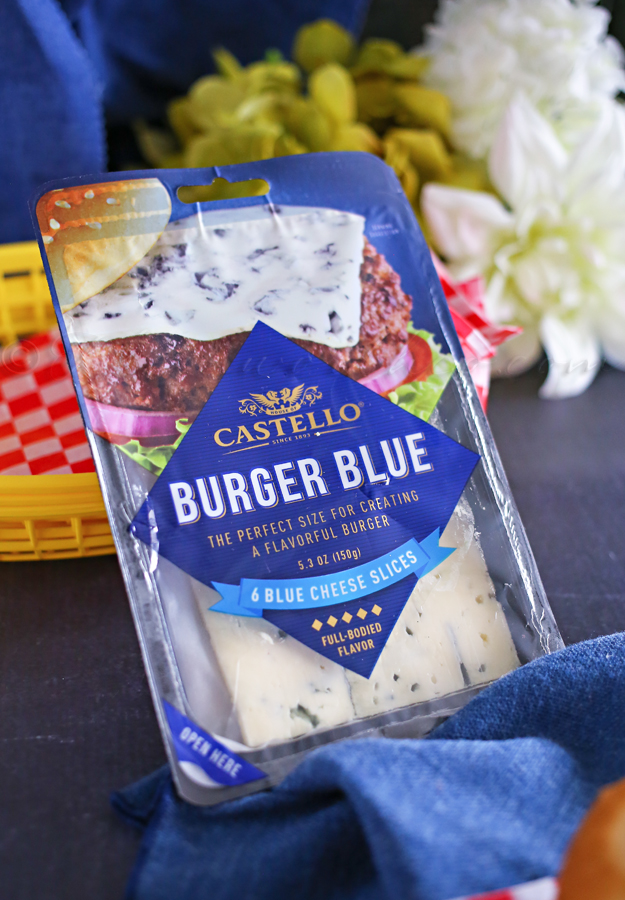 I absolutely LOVE blue cheese on so many things & yet it's so hard to try to melt the crumbles. So I was SUPER EXCITED to see that Castello now offers a Burger Blue blue cheese. It's made just for people like me that really love a good blue cheese. At first I thought I might share with you one of my favorite ways to enjoy my blue cheese burger – you know, with some beer battered onion rings & bbq sauce. But then I had an even better idea to make this breakfast burger & I'm swooning.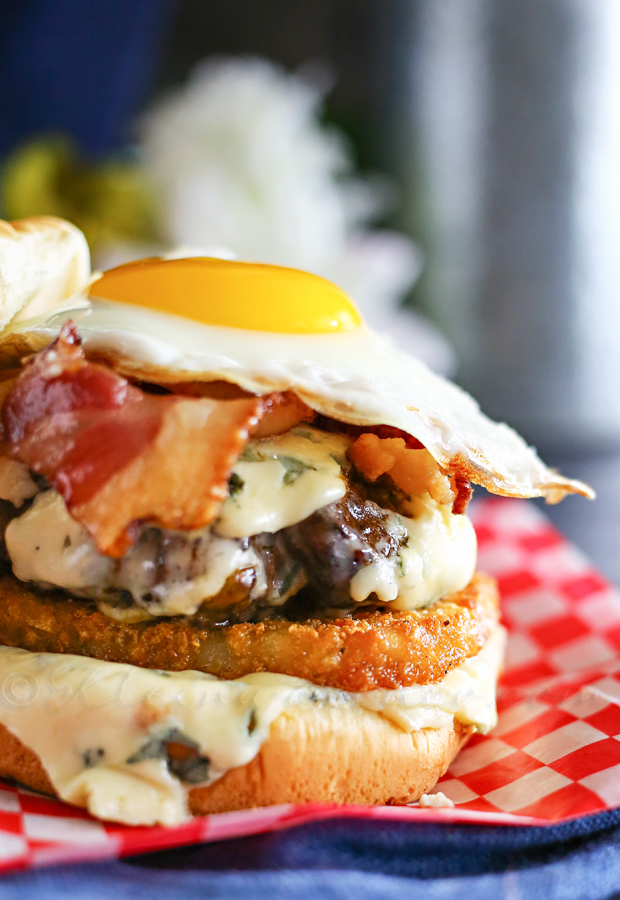 It's every bit as good as it looks. I know that most wouldn't think to add blue cheese with breakfast foods but let me tell you- you HAVE TO try it. It MAKES the burger! All those wonderful flavors all come together & it's truly an experience you have to have. The best part is that you can have this for any meal.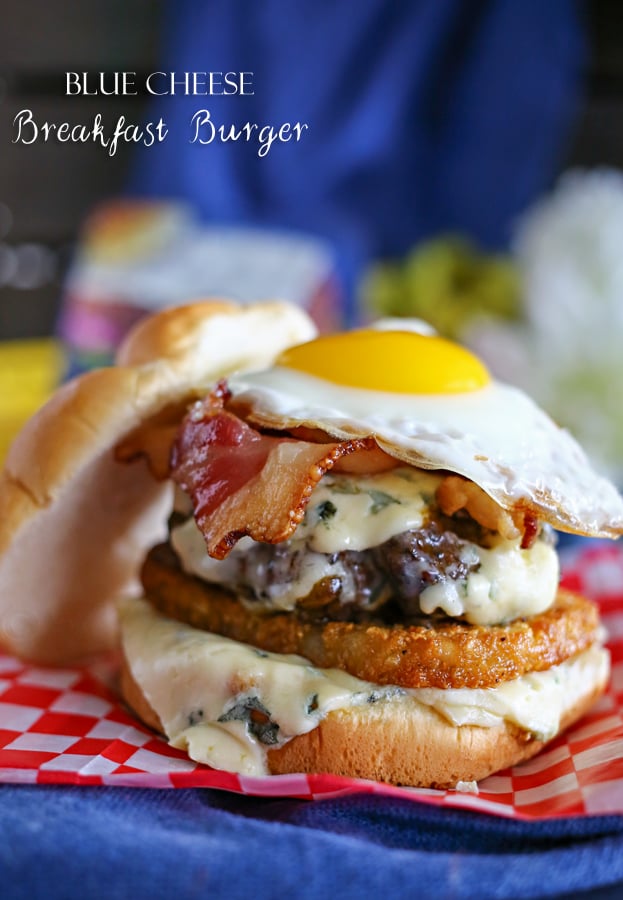 Check out Castello's website for more information on their cheeses.
Blue Cheese Breakfast Burger
Ingredients
2 lbs ground chuck
3-4 tbsp olive oil
worcester sauce salt, pepper, season salt, granulated garlic to taste
Castello Burger Blue Cheese slices
1 egg per burger
2-3 pieces of bacon per burger
1 hash brown per burger
Your choice of burger buns
Instructions
Preheat your grill to seer

Prepare your patties while your grill is heating by forming into patty shape (do not season yet)

Place raw patties on baking sheet & brush with olive oil

Once grill is ready - place patties on the grill to seer - flipping once to seer both sides

Once seered, lower temperature, add desired seasonings & worcester sauce & allow to cook for about 15-20 minutes flipping only one more time. (grass fed beef will cook a little faster than grain fed beef) Don't press down on them - or you will press all the juices out. You want to just let them cook without being disturbed, slow & steady.

When you are getting close to your time insert a meat thermometer - if it reaches above 160 degrees (if not continue cooking a little longer) - add your cheese & allow to melt slightly before removing patties from the grill.
**Have someone inside preparing the other ingredients (cooking the bacon, eggs & hash browns)
For the bacon
Lay out on a foil lined baking sheet & cook in a 400 degree oven for approx 20-30 minutes depending on the thickness of your bacon & how you like it cooked
Eggs
Cooked sunny side up, crack into a small skillet & cook over low until all the whites of the egg have firmed (about 5 minutes)- keeping in mind that the egg will continue to cook after you have removed it from the heat - do not flip
Hash Browns
Preheat a couple tablespoons of peanut oil in large skillet

Once the oil is hot- drop in your hash browns - cooking several minutes on each side until cooked through

Remove & place on a wire rack to drain & crisp
Once all your ingredients are prepared it's time to assemble this amazing burger
Place several slices of blue cheese on your bottom burger bun (it will melt from the heat of your other ingredients)

Add your hash brown, then your burger patty

Top with bacon & finally your egg

ENJOY!
Looking for more great dinner ideas? Here are some that pair nicely with blue cheese!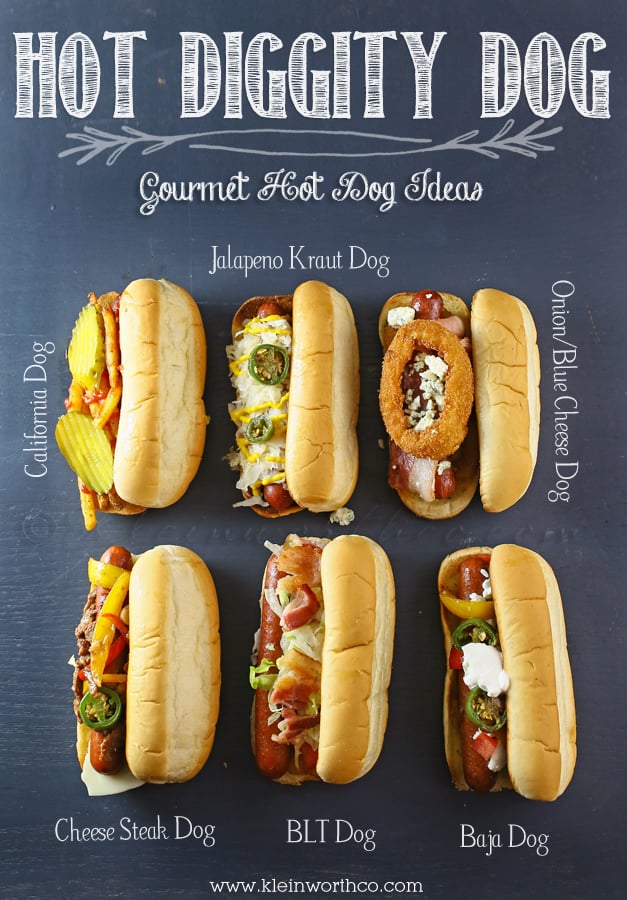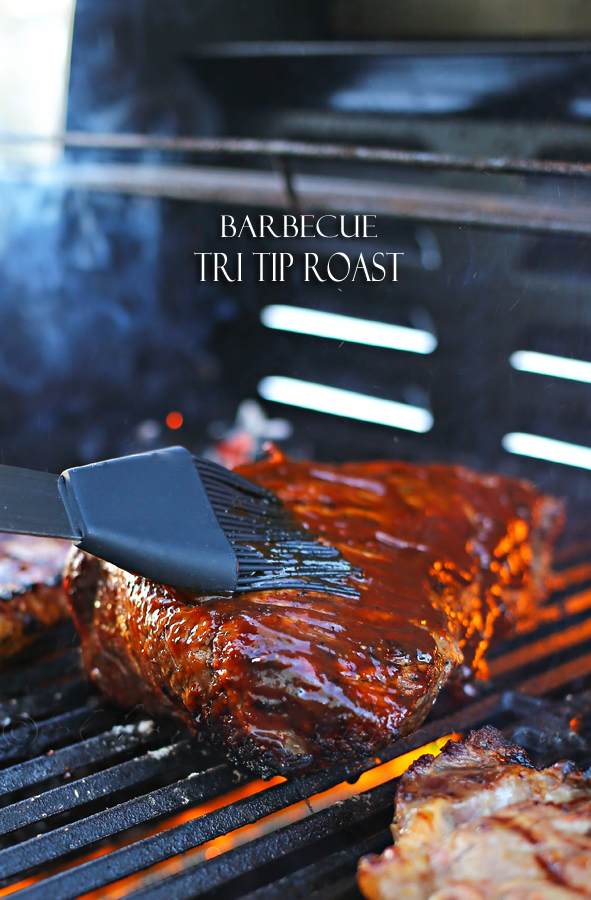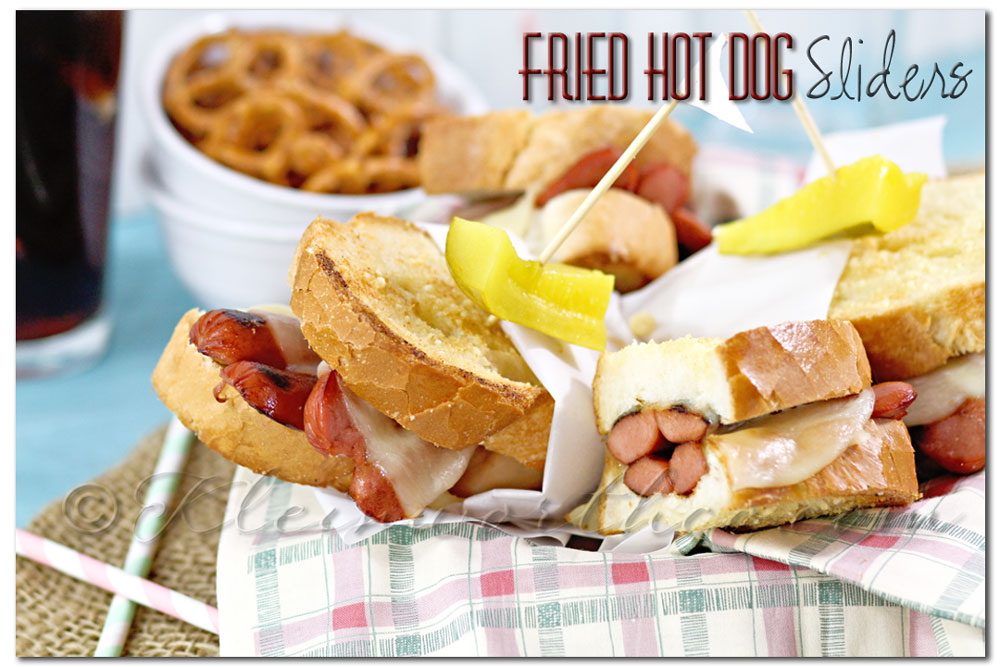 To see where I am linking today- visit HERE