Easiest recipe for FALL OFF THE BONE Baby Back Ribs that will keep them coming back for more. Perfect for summer BBQ's & parties better make a few racks!
There is one thing that I really miss about not living in Northern Nevada anymore- the Best in the West Rib Cook-Off. We used to go every year, Labor Day Weekend.
Since we moved- hubs is on call every Labor Day weekend & we have had to find ways to not go through withdrawals when it comes to Easy Family Dinner Ideas like ribs. Fortunately, the hubs has perfected his take on them & I am so very happy that I don't have to make a trip to Reno to get some mouth-watering goodness.
**Try our Smoked Beef Ribs and be sure to pair this with our Smoked Mac and Cheese!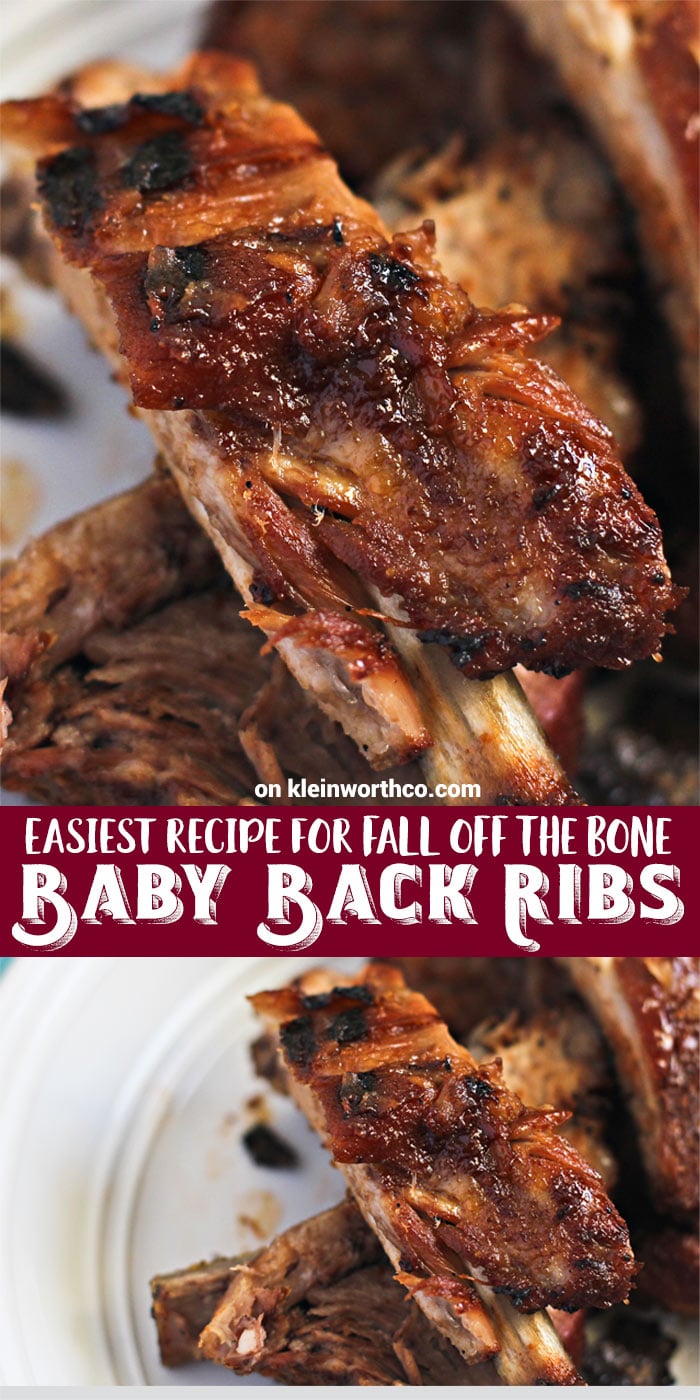 We have perfected this recipe over the years & is BY FAR the best recipe for ribs we have ever made. I have many friends all over the country that have adopted this recipe as their go-to favorite for every backyard BBQ celebration all summer long.
This recipe will KNOCK YOUR SOCKS OFF!! I'm telling you- prepare as many racks as you can handle- especially if you are cooking for a crowd. These go SUPER FAST.
**Pair these with our Texas BBQ Sauce!
baby back ribs recipe
This post contains some affiliate links. Click here to read my full disclosure policy.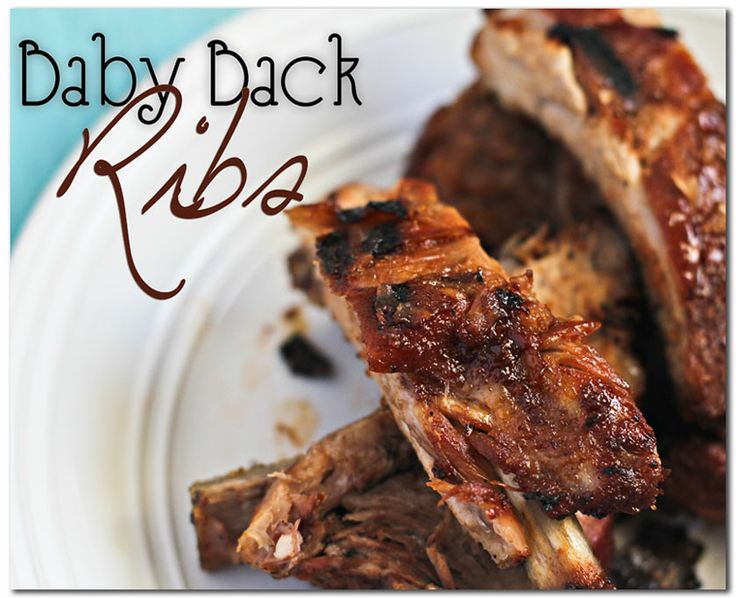 Baby Back Ribs in the oven is the only way to go & they are incredible. We are at the point where 3 racks won't be enough for the 5 of us.
You will want to make them for guests- so I urge you to make them in abundance.
Here are some commonly asked questions
Are baby back ribs pork?
Yes they are. Now, pork ribs are available in three different cuts, back ribs (also called "baby back ribs"), spare ribs, & St. Louis ribs. The back ribs come from the "loin" section of the pig – those are my favorite. The back ribs are what is left when the loin meat is cut away for making things like loin roast, tenderloin, or pork chops.
What is the best way to store leftover ribs?
Place any leftovers in an airtight container & keep refrigerated for up to 4 days. These reheat well and are jus as good the second or thrid time around.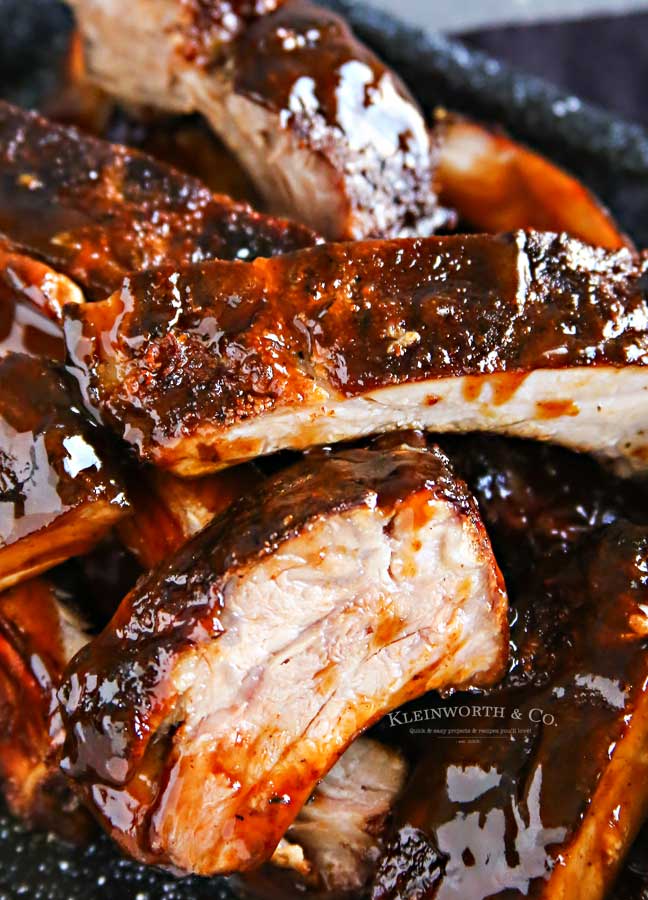 How many can this serve?
Depends on how many racks you make. I almost always push for us to make the full 3 racks, because my 5 adult appetites here can really put them away. If you figure you get about 10-12 ribs out of each rack – then figure how many you think each person will reasonably eat. Then make sure you account for seconds & people not being able to stop grabbing more.
baked baby back ribs
Can this recipe be doubled?
Theoretically yes. But you'd need a double oven to roast 2 pans. Since this recipe makes up to 3 racks, it can be adapted for most needs.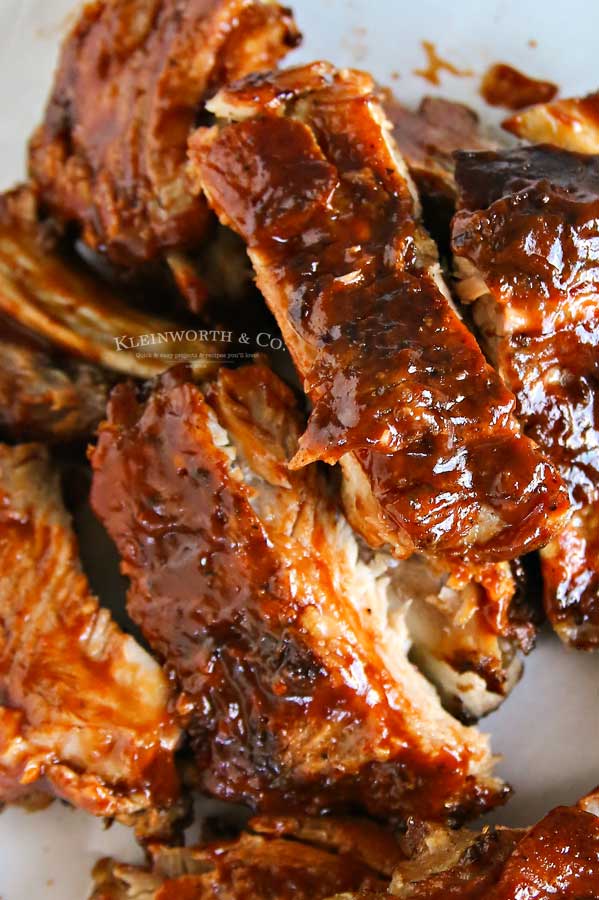 When baby back ribs are done?
According to USDA, ribs are "done" when they are 145°F internal temp, But I have found that they are still hard to pull off the bone. I like to take them up to 190 to 203°F so that the collagens & fats melt & make the meat more tender.
HOW DO YOU MAKE Baby Back Ribs?
Pre-heat oven to 350 degrees.
Spray your brazing pan with non-stick spray.
Lay your ribs in the pan- meat side down.
Pour in Mr. Yoshida's sauce & beer until the bottom of the pan is covered.
Add stick of butter & sprinkle seasonings to your liking.
Cover with foil tightly & bake for 2 hours.
*Note- if doing 2 racks bake 1.5 hrs, do the full 2 hrs for 3 racks. You don't want them so over-cooked that they fall off the bone before you can get them on the grill.
Pull out of the oven- toss them on a pre-heated BBQ for about 20 minutes give it a good smoky flavor & crisp up the outer part of the meat.
We brushed on a very light layer of BBQ sauce & let it caramelize on the grill.
They pull off the bone easily but are not so over-cooked that they fall off.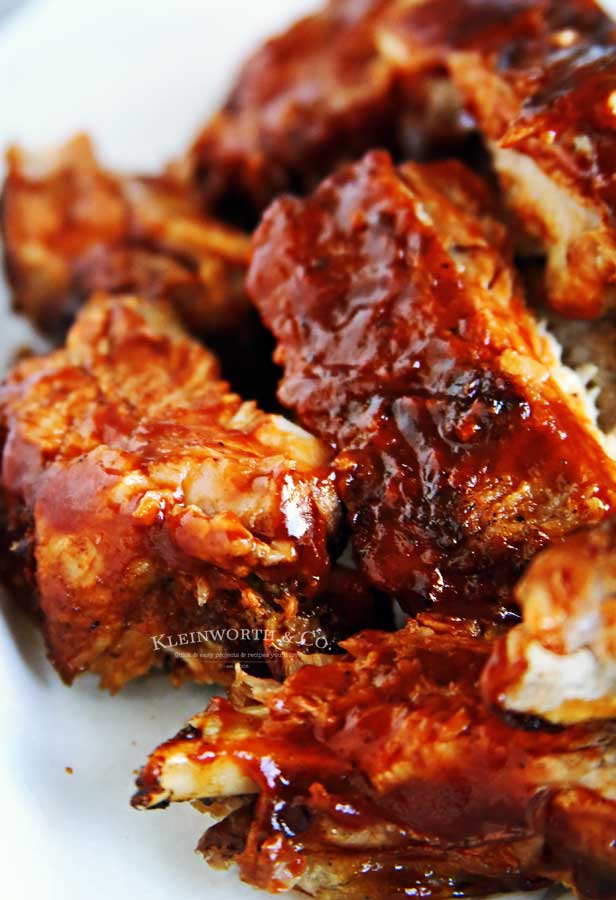 Do I have to bake them first?
This is how they become tender without drying out. I have tried making them on the grill from the start, and not baking them first and the result is a much tougher meat that is far less juicy.
What type of bakeware should I use?
I like to use a large metal braising pan. But you can use the disposable ones too. Just make sure to add a baking sheet underneath it so it doesn't collapse when you pull it out of the oven. It can get quite heavy that I would be a big mess. I have added links below to my favorite products.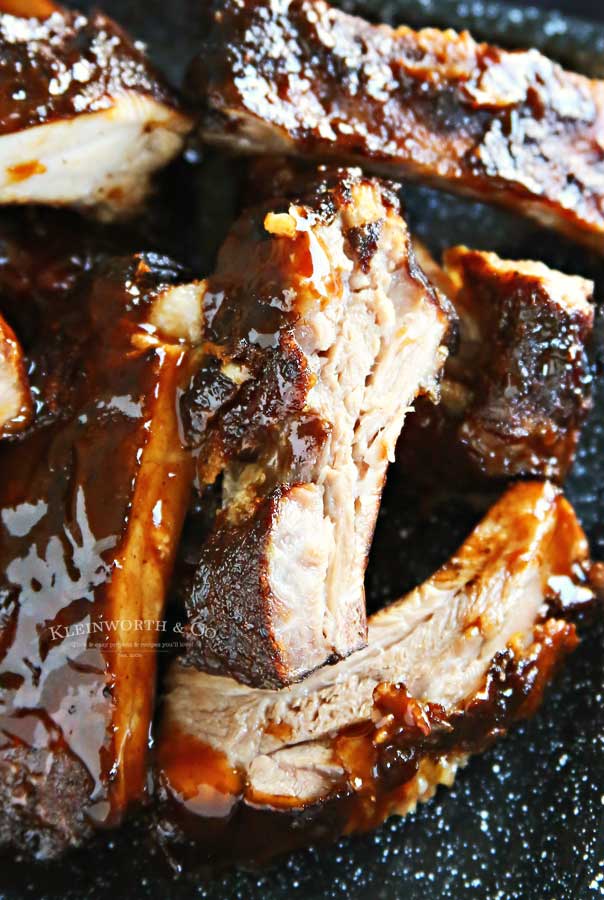 BBQ Ribs in Oven
To make this recipe you will need…
baby back pork ribs
Mr. Yoshida's Original Gourmet Sweet & Savory Sauce
Beer
Minced Garlic
Garlic Powder
Butter
BBQ Sauce
Salt & Pepper to taste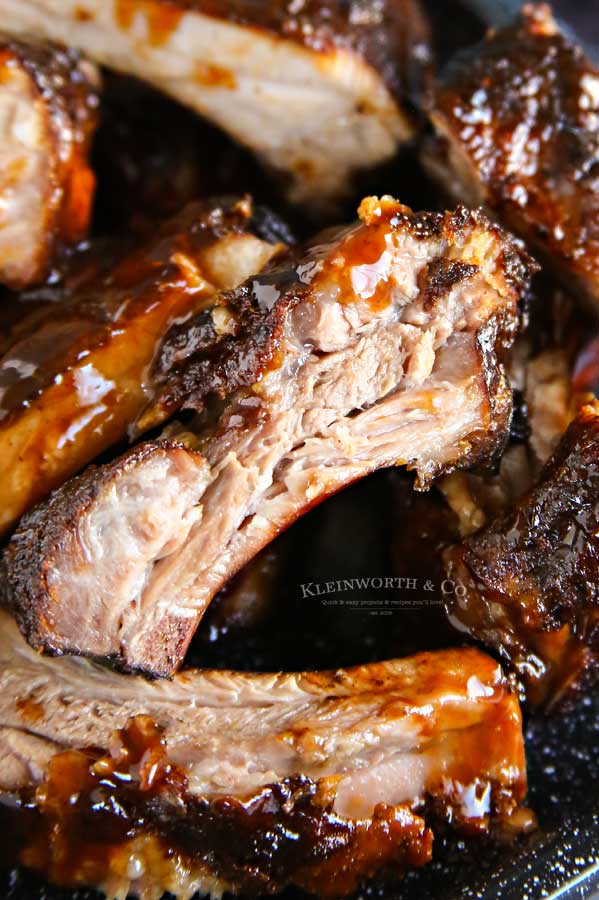 Products I love when making Baby Back Ribs…
This Baby Back Ribs recipe is so EASY and delicious – and if you're like me during the grilling season, you probably itching to get grilling! OR maybe you have never made ribs at home before, & you might be a bit nervous – but you're going to love the how easy this bbq favorite is to make. I have made a list below of the things I absolutely can't live without when it comes to making this recipe.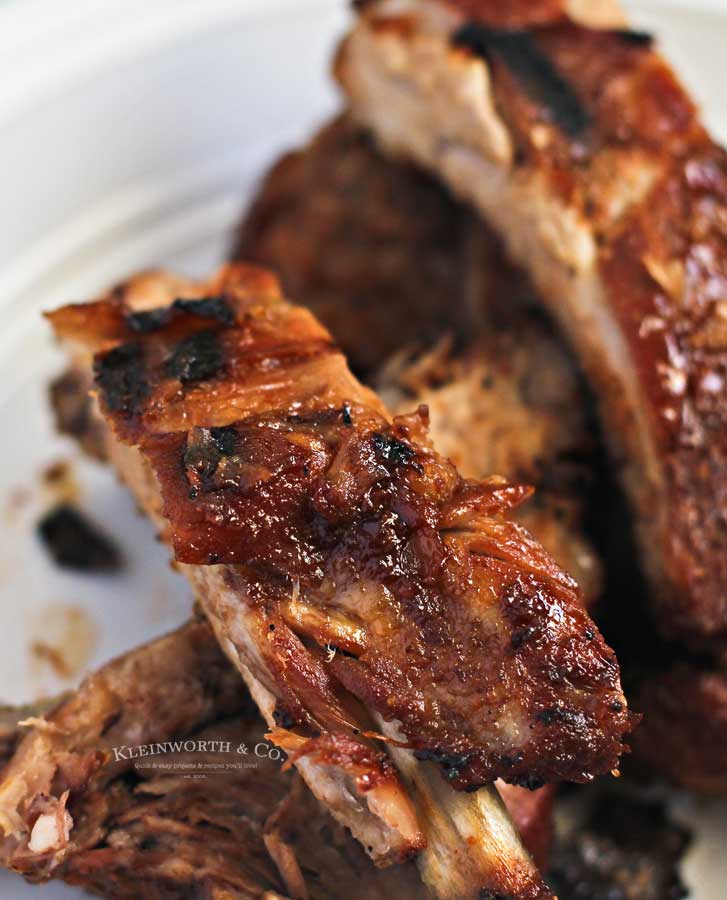 You will be making this recipe all summer long- I guarantee it!
Scroll to the bottom for the Printable Recipe
pork baby back ribs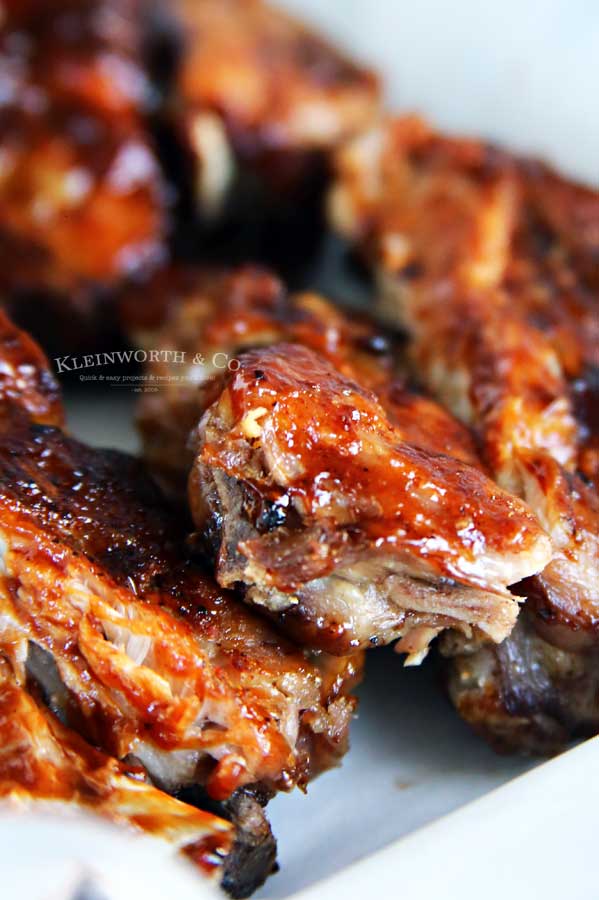 If you love this Baby Back Ribs recipe, you're going to love these other dinner recipes too. Please click each link below to find the easy, printable recipe!

best baby back ribs
If you love this Baby Back Ribs recipe as much as I do, please write a five star review, and be sure to help me share on facebook and pinterest!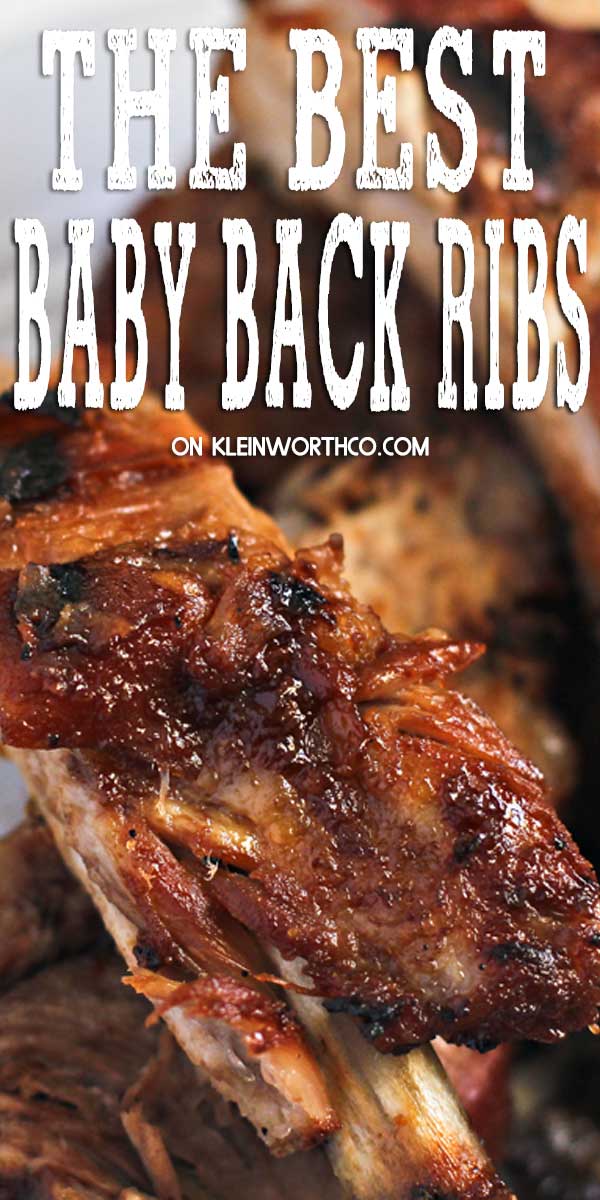 CONNECT WITH KLEINWORTH & CO!
Be sure to follow me on my social media, so you never miss a post!
FB, Pinterest, IG, Email Subscription
Reader Interactions